June 2008 Articles
Cover Story
Tim Roberts
Features
Eddy Metal
Jason Ashcraft
Columns
Berk Bryant
Mike Stout
Paul Moffett
Chris Crain
Keith Clements
Martin Z. Kasdan Jr.
Eddy Metal
CD Reviews
Tim Roberts
Kory Wilcoxson
Martin Z. Kasdan Jr.
Rob Greenwell
Bob Mitchell
Jason Ashcraft
Kevin Gibson
Kory Wilcoxson
Kory Wilcoxson
Martin Z. Kasdan Jr.
Performance Reviews
Rob Greenwell
Blogs
Got Shows?
Send Them To Us
Bookmark Louisville Music News.net with these handy
social bookmarking tools:
Available RSS Feeds
- Top Picks
- Today's Music
- Editor's Blog
- Articles
Add Louisville Music News' RSS Feed to Your Yahoo!

Issue: June 2008


I've Got A Mind To Ramble
Lil' Ed
It has been just over twenty years since Ed Williams gave up his job as a buffer at the Red Carpet Car Wash on Chicago's West Side to pursue his dream of being a full-time bluesman. Eight recordings later - six on Alligator and two on Earwig - Lil' Ed just keeps getting bigger and better. His Blues Imperials include his half-brother James "Pookie" Young, who has backed Ed on bass from the beginning in the Seventies. Drummer Kelly Littleton joined the band in 1987 when they started going out on the road. About the same time, Mike Garrett replaced Dave Weld on guitar to keep their raucous rocking sound intact. At Lil' Ed's recent show on April 28 at Stevie Ray's, I asked him how he has been able to keep his band together so long. He replied simply, "I treat them right."
Because Lil' Ed's touring van had some trouble, they were late setting up, so Nick "Hambone" Hamstra filled the gap. Hambone introduced his band: his right foot on bass drums, left foot on cymbals and the rest of the band on lead guitar. This one-man band captures the throbbing hypnotic sound of the North Mississippi Hill Country with songs like "Jumper On The Line" and "Do The Romp." During his opening set, he switched to a Fender that had "I Melt Skulls" inscribed on the body. With that kind of boast, Hambone is hot property. He was scheduled to be interviewed on "Fox In The Morning" on May 16 and will perform at Kentucky Homefront on June 14. Hambone will open again at Stevie Ray's for Tab Benoit and Ronnie Baker Brooks in May and June. His debut CD, Lighting In My Hands, is all original songs that are seething with intensity and emotion. His acoustic and slide guitar techniques reach back to the roots. Someday, the 23-year-old Hambone hopes to have a band but to use a quote from his website "right now, this stuff is all just in me with my guitar."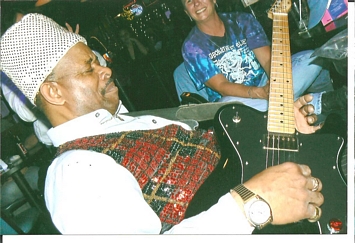 Lil Ed Leaning way back at Stevie Ray's, April 28, 2008
Lil Ed and The Blues Imperials took the stage at 8:45 p.m., with Lil' Ed wearing his trademark fez. This one was white with glittering sequins. Black pinstriped pants, accented with a red plaid vest, completed his attire. He opened with "Dust My Broom" that continued the slashing guitar sound originated by Elmore James, Hound Dog Taylor and Lil' Ed's uncle, J. B. Hutto. Both sets featured several songs from his most recent CD Rattlesnake, including "That's The Truth," "You Know You're Wrong," "Tired Of Crying" and "Icicles In My Meatloaf." Lil' Ed is a master of mixing his wild slide slinging with his slow soul wrenching. He juggles emotions without dropping the ball. One moment he will lean way back, rock his head and turn the neck of his guitar upright. The next moment, he will roll his big eyes and flash that wide grin, revealing his false teeth. When Lil' Ed got into the cold-hearted blues with "She's Gone," it reached the depths of despair. Mike Garret was given a chance to show his guitar licks and vocals on a virtuoso version of "Things That I Used To Do."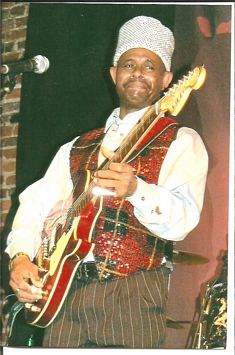 Lil Ed at Stevie Ray's, April 28, 2008
Most of us "Ed Heads" stayed for the second set, even though it was 10:30 p.m.. The first set was the warm up for the second and Lil' Ed didn't disappoint. At one point, he dropped to his knees and then went from table to table, serenading the ladies. He reached back for some of his early hits like "Compact Man," "Chicken, Gravy and Biscuits," and "Pet Cream Man." We were also treated to some new songs including "You Left Me" and "Life Got In The Way" with the lyric "It was her life or my life, who can say." Lil' Ed will be back in the studio soon, recording these songs for his next CD. Michael Garrett and Lil' Ed got into a jumping match while playing "Got My Mojo Working." Both sets were packed with high energy and when Lil' Ed finished the second set, the Blues Imperials took over and it became a frantic jam. I left Stevie Ray's with their encore "I Just Want A Little Bit" ringing in my ears.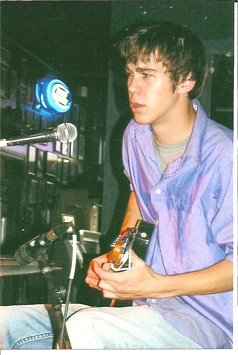 Nick 'Hambone' Hamstra at Stevie Ray's, April 28, 2008
Madison Blues
If you didn't get to see Lil' Ed at Stevie Ray's you have another chance at the Madison, Indiana "Ribberfest" on Saturday, August 16. Jimmy Hall, Deanna Bogart and Johnny Winter will also be there. Winter is making a comeback; he will also be headlining at the opening night of the Chicago Blues Festival on June 5. Winter and James Cotton will be paying tribute to Muddy Waters, just as they did at the first festival in 1984. The recent CD, Breakin' It Up, Breakin' It Down, on Epic was recorded live during a legendary tour in 1977 that united Muddy Waters, Cotton and Winter. That release has re-ignited Winter's long career and he has been burning up the festival and concert circuit ever since. The Kentucky Blues Society will be sponsoring a blues festival at the Capital Arts Center in Bowling Green on August 23 with Winter as the headliner. The Madison Ribberfest will feature Big Joe and The Dynaflows, Janiva Magness and John Hammond on Friday, August 15. If you have not heard Magness, she is a "must hear and be seen." I heard her perform at the 2001 King Biscuit Blues Fest (back when it was still the Biscuit) and her powerful pipes just blew everyone away. Her voice can moan, whisper and belt it out with the best of today's blues divas.
Garvin Gate - Postscript
Mike Suttles, who has been booking the acts for the Garvin Gate Blues Festival, has recently signed Nick Moss and the Flip Tops for Friday, October 10 and is working on getting Eddie 'The Chief' Clearwater for Saturday, October 11. Stay tuned for more details.