June 2008 Articles
Cover Story
Tim Roberts
Features
Eddy Metal
Jason Ashcraft
Columns
Berk Bryant
Mike Stout
Paul Moffett
Chris Crain
Keith Clements
Martin Z. Kasdan Jr.
Eddy Metal
CD Reviews
Tim Roberts
Kory Wilcoxson
Martin Z. Kasdan Jr.
Rob Greenwell
Bob Mitchell
Jason Ashcraft
Kevin Gibson
Kory Wilcoxson
Kory Wilcoxson
Martin Z. Kasdan Jr.
Performance Reviews
Rob Greenwell
Blogs
Got Shows?
Send Them To Us
Bookmark Louisville Music News.net with these handy
social bookmarking tools:
Available RSS Feeds
- Top Picks
- Today's Music
- Editor's Blog
- Articles
Add Louisville Music News' RSS Feed to Your Yahoo!

Issue: June 2008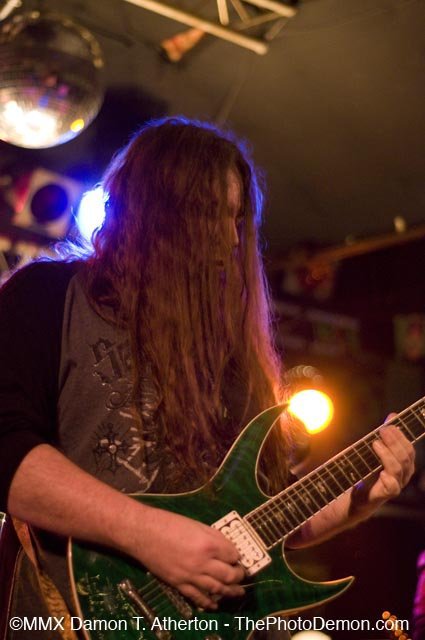 News From the Pit
I feel like punching Mother Nature in her forehead. This hot/cold, hot/cold, on/off is killin' me. It seems like I've been sick over half the month, but even for a sick dude, I'm pretty stoked. Cool things are in the making here in the good ole 'Ville.
For one, we have two great new venues to see shows: The Brewery Thunderdome is re-opening (yay) and a new very classy place called The Oasis Club is booking national and regional acts there.
Derby was a fun time, though I got sick from cruisin' with the top down a few days before the Derby, so I missed it
I checked out the rain-soaked Sevendust show on Derby Eve at the Phoenix Hill Tavern. The rain subsided for enough time that Sevendust was able to come on stage and rock out. (See review below)
I heard the Derby day Five Finger Death Punch show was off the hook. I was going to attend, but I was still a hack-a-saurus rex, so I stayed home and watched the crazies leaving the Derby walk by my house, an interesting spectacle in itself.
Other concerts I saw included Seether/Flyleaf at Coyote's, which was a complete babe-fest and a great show, (See review below)
I got to see former Fear Factory guitarist demon Dino Cavares and his new band (See review below) Hugo of Tantric invited me to come see the brand new Tantric, so I went up to the Hill and checked that out. I was very impressed with the incorporation of piano and violin in the set. (See review below)
I caught Foundation, featuring vocalist Chris Vols from Flaw, guitarist Nathan McDaniel formerly of Antikythera, guitarist Jay Daunt from Flaw, bassist Van Avery from Incursion and drummer Terry Harper, formerly with Of Sound Mind. Twice (See review below)
Yup, I've been busy!
Another thing I'm stoked about is that after a four-and-a-half-year break, I'm playing music again. Billy Burton, vocalist of Speed of Sound, called me up and bugged me to death to get the band going again, so 13th Level is back. The songwriting nucleus of 13th Level is still intact: Billy Burton, Marcus Goldsmith and newcomer former Evil Engine drummer Johnny Miller and yours truly. We intend to be playing out by late July/early August.
Cool stuff that's coming up is Ashes Divide, featuring one of the guys from A Perfect Circle, at the brand new Oasis Club on June 4. This music is amazing. I really like the song on the radio the stations have been slamming, "The Stone." On June 27 at The Oasis Club, Drowning Pool will be there with Nonpoint and Louisville's own Nova Red. I have secured free tickets to give to you peeps for both Oasis shows, see below for more info on that! Hardcore thrashers Chimaira will be here on July 10 at Headliners. If you like your music brutal and heavy, do not miss this concert. They ripped it up at last year's Sounds Of The Underground tour at Waverly Hills Sanitarium.
And on Sunday June 22, "Metal" promoter Terry Harper has brought the Hot Topic Summer Slaughter tour here to Louevil. Check out this hardcore underground lineup: The Black Dahlia Murder, Kataklysm, Vader, Crytopsy, The Faceless, Arsis, Despised Icon, Aborted, Born Of Osiris, Psycroptic and Whitechapel. It's all ages and starts early: 3 p.m. Make plans now.
That's it for me for this month, freaks. Link up with me on Myspace.com/eddymetalrocks for chances to win free tickets to shows, courtesy of Louisville Music News. And be sure to visit us online at Louisvillemusicnews.net. After all, we are the ONLY publication in the region that covers heavy metal, hardcore and regional metal.
Peace!
The Metal Grapevine
Sevendust and Nuggetslapping:
A lot of people cheesed out of this killer Derby Eve rock-fest at Phoenix Hill because of the rain. Those who were afraid of a little water missed out on one cool show. It rained all day and the forecast looked bleak, too, yes. But the rain abated for about two hours right when Sevendust was to play. How lucky was that? Saliva was rained out, but really, I didn't care one bit to see them, especially after their cheeseball performance at Churchill Downs a few years back. But not wanting to disappoint the Derby crowd, Lajon, Clint and the boys got up on the portable Jaegermeister stage and totally kicked butt. The sound that night was very good and you could hear every detail of the band's handiwork.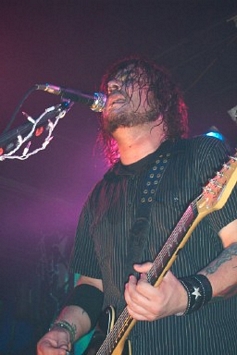 Vocalist Shaun Morgan of Seether. Photo by Eddy Burke
Some friends of mine were playing a sick joke on people they knew, though. They would walk up and slap that man right in the chicken mcnuggets. How undignified is it to be chatting with a hottie and some dude slaps your nuggets like a ping pong ball? It got so bad that several of us were walking around holding our family jewels in fear of a racking. So thanks a lot (being very sarcastic!!) Ivan Arnold (of Hanover), Lance, Chris and Andy (of Flaw).
Getting back to the show, Sevendust always puts on a great show every time I've seen them. The band played several hits, including classics "Denial" and "Waffle," as well as new tunes, "Prodigal Son" and "Scapegoat" off the new CD Hope And Sorrow Chapter VII. Dreadlocked vocalist Lajon Witherspoon was talking about how Sevendust is going to go to Afghanistan soon to play for our troops and with that they launched into "Enemy" off their fourth CD, Seasons. I commend them on their bravery and willingness to bring a little cheer to our troops in such a violent and inhospitable place.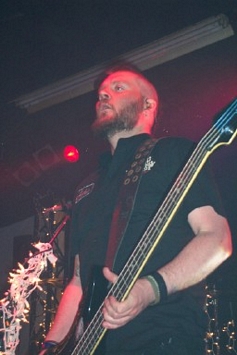 Bassist Dale Stewart of Seether. Photo by Eddy Burke
The band played excellently that night and had the crowd going wild. Lajon Witherspoon is a great singer and a very nice person, too. I met him years ago at the Toy Tiger and he was as friendly as can be. Guitarist Clint Lowery lives in Louisville, so I bet it was nice for him to be able to be home for a while. Thanks to the Phoenix Hill for arranging such a cool show.
Seether/Flyleaf Review: Wow, what a great show! Coyote's was kickin' this night! The whiskey was flowing and there were so many women there it was like a 4 to 1 ratio. Um, yeah, Seether shows rock!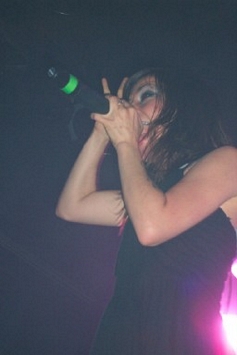 Lacey Mosely of Flyleaf. Photo by Eddy Burke
I had never seen Flyleaf before and was looking forward to them. They sounded great, but being a fan of Lacuna Coil's female vocalist Cristina Scabbia, I was comparing Flyleaf's vocals to Lacuna's. No comparison there.
Sorry Flyleaf, but as far as pure talent goes, the number one female vocalist is still Cristina or maybe Amy Lee.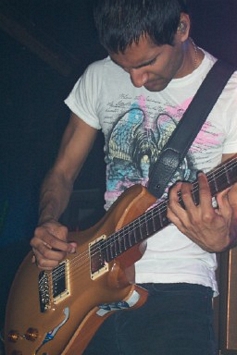 Sameer Bhattacharya of Flyleaf. Photo by Eddy Burke
But vocalist Lacey Mosely has a great voice regardless. She's tiny, too, weighing maybe ninety pounds. The band played quite well. Their bassist was a lunatic, jumping around like a madman.
Then Seether came on and the crowd went nuts. The mic stands, drums, lighting poles, had white Christmas lights all over them and little evil looking dolls in them.
As always. the band played very well. Singer Shaun Morgan has an exquisite vocal style that makes the ladies quiver. And, boy, did they quiver! There were lines of women waiting to get a chance to meet the South African rockers.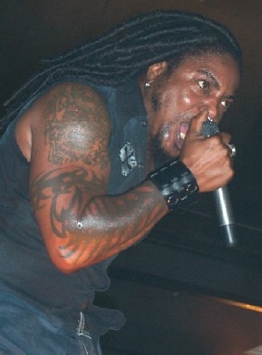 Lajon Witherspoon of Sevendust. Photo by Eddy Burke
I had VIP and they were bugging me to get a chance to get at Morgan. Shaun had a cool Schecter telecaster guitar with "kill me now!" on the fretboard in abalone inlay. The band tore through all their hits, one after another. They apparently like to give the fans their money's worth. They played a laid-back version of "Driven Under" that was nice. "Remedy" and the duet "Broken," that Shaun Morgan did with Amy Lee, was solid. The song that I think sounded the best was "Fine Again."
The PA system, sound guy, band, lighting, all of it was in perfection this night as everything came together as one unit. I have to give the devil his due: Shaun Morgan has hit a home run with these radio friendly tunes of his.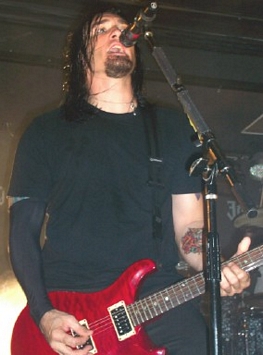 Clint Lowrey of Sevendust. Photo by Eddy Burke
I had an excellent time as did the crowd and I'd like to thank the promoters and Coyote's for treating us here at Louisville Music News right and allowing me to do my job in excellent fashion. I was able to take a bunch of pictures from up close, so look on our website for some live action shots of Seether and Flyleaf. Louisvillemusicnews.net
Tantric Review:
I finally got the see the new Tantric and, boy, what a show it was! I've never been a Tantric fan, but the piano and violin Hugo to the set a is cool. It fit perfectly with what Hugo had in mind for the new Tantric. The new tune "Down And Out" is a rocker and the violin is sweet against the guitar! The Beatles' "Let it be" with Hugo on piano and vocals and Temple Of The Dog's "Hunger Strike" both sounded great with Hugo switching off vocal duties with opening act Fosterchild's vocalist Danny Beissel. Hugo sang Eddie Vedder's part and Danny did Chris Cornell and both did very well. Danny Beissel can hit some high notes! It reminded me of Led Zeppelin and Kingdom Come, the Zeppelin clone band from the Eighties.
The guitar sounded good, but I think I liked original guitarist Todd Whitener's overall sound and guitar tone, which was much fuller and soulful than new guitarist Joe Pessia's. New bassist Erik Leonhardt may look cooler than former bassist Bruce Lafrance, but Bruce is one bad mofo on bass and hard to replace. But don't get me wrong: these new guys are excellent musicians. Hugo would not bother with any chumps.
The band played hits like "Breakdown," "Mourning" and "Astounded" and had the crowd going wild.
I've gotten to know him a bit since he's been living in Louisville and he is one down to earth guy for someone who's done so much. Hugo's reputation as a guy who will let anyone hang out with him at his house, is something you don't see everyday in this world of a-hole rockstars.
He has all kinds of tricks up his sleeve and the CD, The End Begins, is a great start to the new Tantric.
If you are a fan of the old Tantric, be sure to check out the brand new Tantric with piano and violins, because it's different and very cool and works like a charm as a whole.
Free Tix to Ashes Divide:
On Wednesday, June 4 at Club Oasis, Ashes Divide with Inner Party Systems will be rockin'. I have arranged to give out 20 pairs of tickets for you readers for being so supportive!
Ashes Divide is Billy Howerdel's (of A Perfect Circle) new project. I'm sitting here listening to it now for the first time and it's wicked.
Here is how we will determine who gets the tickets and, yes, it will be fair.
On Tuesday, June 3 at 6 p.m. sharp, I will check my myspace mail and whoever requests tickets first - starting at 6 p.m. - gets them! So mark your calendar and be ready to email me!
I am going to try to get tickets for you as often as I can, so don't forget which newspaper/writer hooks you readers up. My site is Myspace.com/eddymetalrocks, so link up with me now for future chances to get free tickets from Louisville Music News.
Free Tix to Drowning Pool:
Drowning pool will be at The Oasis Club on June 27 with Nonpoint and Nova Red and I have 15 pairs of tickets to give out for you rockers. At 6 p.m. on June 26, I will be checking my myspace mail and whoever is first to request free tickets after 6 p.m. gets the tickets. Mark your calendar!
Fear Factory's Dino:
Being a big fan of Fear Factory, I was stoked to learn that former FF guitarist Dino Cazares was coming to town with his new band Divine Heresy, so I decided to check it out.
Although short and round, Dino is a beast on guitar. Not necessarily lead solos, but Dino's specialty is the triple picking rhythms he comes off with, which are fast and precise, almost like a huge piece of machinery in a factory.
Drummer Tim Yueng was unbelievable, one of the top up and coming drummers. Dude was sick.
The whole band was incredible. Fans of Fear Factory would have loved this band. Unfortunately there were only 30 or 40 people in the audience. They did a Fear Factory cover "Self Bias Resistor" that was amazing.
The singer of DV was great (he pulled off Burton Bell just fine) but unfortunately the band lost him a few weeks later over an disagreement. I can't wait to see who they enlist to sing for them. Myspace.com/divineheresyband
A horrible, sad ending to the night ensued when my good friend Derrick Owens and his girlfriend Amanda Harshfield got into a bad argument driving home from the show. She jumped out of his car and started playing around intoxicated on a highway overpass threatening to jump off. Well, she had way too much to drink that night and accidentally lost her footing, falling 40 feet to her death.
This tragedy has been hell on Derrick and Amanda's family. Derrick hasn't been right since. He loved her. We were all partying that night and it's weird to think she is gone forever. All my sympathies go out to her family and to my good friend Derrick, who witnessed the whole thing.
Amanda Harshfield knew a lot of people in the music scene. To see her obituary look up: http://www.legacy.com/louisville/GB/GuestbookView.aspx?PersonId=108302922
The Oasis Club:
The new venue The Oasis Club is of pretty good size and it's quite nice inside. And there is a lake right outside on the outdoor deck area. This is a cool place for Louisville rockers, so we need to keep it going and show some serious support. It's located near where Hurstbourne Lane and 64 meet, behind the TGI Friday's. They are booking national and regional acts, so bands in this area should contact the club to see if they have anything available for you. They are having local music night every Wednesday, hosted by WLRS. If you live in the East End, it's only a hop skip and jump away.
And if you live in the South End as most Louevil rockers do, it's worth the fifteen- minute drive. Check them out at Myspace.com/Louisvilleoasis
Foundation Review:
I finally saw the new band Foundation, which is vocalist Chris Vols from Flaw, guitarist Nathan McDaniel from of Antikythera, guitarist Jay Daunt from Flaw, bassist Van Avery from Incursion and drummer Terry Harper, formerly with Of Sound Mind. When I first saw them I wasn't very impressed, but I know now it was the sound guy at that first show who made me think that. I couldn't hear the guitar notes clearly, the drums were overpowering and the vocals were too low in the mix and dry. I hate hearing excellent singers sing dry! It's like eating pancakes without syrup!
I just saw them at the Phoenix Hill for the second time and it sounded so much better than the first time. It changed my mind about them instantly. The guitars and vocals were crystal clear. The sound they are going with is much more commercial that some of the guys have ever played, but there are also some heavy parts that get the blood pumping as well. I liked the spooky, Egyptian sounding intro a lot. The clean guitar parts with effects were cool. Van Avery's bass was right on the money and you can't go wrong with Harper on the skins. Chris Vols has had some problems with substance abuse and I've heard stories and comments about how he has lost his mojo because of the drink, but from what I heard at the Hill, I saw no decline in talent, nor did I see him intoxicated at all. He looked sober as can be, and it sounded great. I don't like it better than Flaw but it's very good nonetheless. It's just very hard to match the hooks and melodies that Flaw created.
This band is so new that it's very impressive what they've done in so little time. Give them time and I think they will be a force to be reckoned with. You can see them open for Shinedown on Wednesday, June 11 at Coyote's. You might catch them now, because I hear they have a tour and some bigger things coming in the future. I wish them the best of luck.
Chimaira Coming in July:
Seriously, I love this band. They wail. You might have seen them totally throw down at Sounds Of The Underground last summer. Chimaira will return to Derby city on July 10 at Headliners Music Hall with guests Soilent Green, Mobile Deathcamp, Societys Plague and Buried Beneath Me. Do not miss this show!
New Band Alert, Snake Eyed Savior:
Coiled and ready to strike is Snake Eyed Savior, the new project of former My Own Victim members guitarist Jeff Toy, vocalist Victor Hillerich and bassist Todd Conn. They've started a new metal band and enlisted guitarist Jason Williams (formerly with Luther) and drummer Jason Lakes (formerly with I Will Defy). The band is currently recording and trying to get some music available for you Louevil metalheads. Myspace.com/snakeeyedsavior
Deliver Us From Evil's New CD
This new music from this Evansville, Indiana band is killer. It might be the best thrash I've ever heard out of Indiana, period. My buddy Brendon of Metal Armada promotions loves this band and he told me about their new CD. Behold A Pale Horse, so I'm sitting here checking it out and I'm liking it a lot. "Only Ashes Remain" is a top notch metal song and deserves to be up there with the big dogs. The sound quality on this recording is unreal. Perfect!
Brent Vaughn's screams are not cookie monster but are high pitched and talented. Guitarist John Matheis is one mean player both rhythmwise and on lead. The guitar rhythms are inventive, hooky and crunchy, making this metal band instantly likable. "Diabolic" starts out thrashy but goes into a slower grinding riff that sucks you in. The muted fast picking technique is sweet. Bass and drums are equally phat. I've liked this band ever since I saw them get robbed at Saint Andrews' band battle last year. I'm going to book them again soon at Phoenix Hill Tavern. In the meantime, you can see DUFE at Headliners on June 29. DUFE has the Eddy Metal two thumbs up approval. Myspace.com/deliverusfromevil
Lexington's Pownd:
Back when I was vocalist for Inhuman, we used to play gigs in Lexington, Frankfort and Richmond with a band from central Kentucky called Pownd, fronted by a diminutive vocalist who absolutely wailed.
We brought them to Louisville a few times, but their style never really caught on here. Years later, Pownd is still around and apparently kicking some butt regionally. The multi-octave vocals of Michael Duncan are very impressive and the general musicianship is unreal. The guitars and lead solos are awesome.
If you like Dio, Maiden, Queensryche, then you need to check them out. They are old school and love it that way. Even though hardly anyone in Louevil knows them, that doesn't stop them from spreading their metal to the masses. They tour all over the region, playing Kansas, Oklahoma, Ohio and Michigan. Check out what Central Kentucky's Pownd is all about. Myspace.com/pownd
E-Flat's New E.P:
E-Flat is recording an E.P at Mom's Music in Jeffersonville, co-produced by Ryan Murphy and Kevin Mcreery. Look for the new stuff in a month or so! You can see E-Flat at Tailgaters on June 20 and at the Phoenix Hill on July 4.
Dogwater News:
Dogwater is currently recording a 16-song CD at Studio K; they anticipate an early fall release. Meanwhile, you can see them at the Rustic Frog on Saturday, June 7 w/ Two Pump Chump and Anton Mink.
Fender Charging Now:
With gas prices rising daily, it was a clear that Fender of Wildliferadio.com could not keep going to every show and cover it for free like he has done for a long time. I don't blame the cat one bit though. So from now on Fender is going to charge $40 to come out to regional shows and broadcast live like he always does. Will bands/promoters/venues be willing to fork over the little cash they get for supporting original music to have an internet radio station like Wildlife radio to cover their event? That remains to be seen. Hopefully they can give Fender the gas money he needs and deserves.
Apology to 93.1 The Fox:
At the Oasis Club, I brought Saving Able onstage and I accidentally called 93.1 the Fox it's old name, 100.5 The Fox, to the crowd. So I apologize for this accident. I said "100.5 The Fox" when I was local music DJ on the Fox for over two years, so I guess it is kind of hard to get that out of your head.
But no, it was not done intentionally, nor would I ever do something like that. Louisville Music News is a neutral entity when it comes to supporting this city's rock stations! We here at LMN like both stations and want both to do well.
I have friends at both stations and will always treat both equally. So sorry, Charlie. My bad, bro.
Caldera's Singer Search:
Calderas is still currently on a search for a gifted vocalist who can both scream and sing when called for. This band has had great shows over the last year or so, so some lucky singer could be thrown right in the mix of things, fast. The vocalist they are looking for must be reliable, dedicated and able to practice 2 or 3 times a week. Contact Chris at 502-489-4096.
Upcoming Cool Shows
The Bulldog Cafe
Sunday, June 15 - Just Surrender w/ Every Avenue, The Morning Light and You, Me and Everyone We Know. $10 all ages.
Saturday, June 21 - The Tony Dana Tap-dance Extravaganza w/ Veil Of Maya, With Dead Hands Rising, Brother Von Doom, Antikythera and Lo-If Devastator. $10 7 p.m. All ages.
Coyote's
Wednesday, June 11 - Shinedown, 12 Stones and Foundation. 7 p.m.
Tuesday, June 24 - Filter and 10 Years. 7 p.m.
Headliners
Sunday, June 8 - Cottonmouth Kings w/ Expendables, Insolence and Dirt bag. $20 8 p.m.
Sunday, June 15 - Demon Hunter w/ Living Sacrifice, Oh Sleeper, The Famine and Advent. $15 all ages. 7 p.m.
Wednesday, June 18 - Mindless Self Indulgence w/The Birthday, Massacre. $20ADV/$25DOS. 8 p.m. All ages.
Sunday, June 22 - Hot Topics Summer Slaughter 2008 w/ The Black Dahlia Murder, Kataklysm, Vader, Crytopsy, The Faceless, Despised Icon, Aborted, Born Of Osiris, Psycroptic and Whitechapel. 3 p.m. $25 All ages.
Thursday, July 10 - Chimaira w/ Soilent Green, Societys Plague, Mobile Deathcamp and Buried Beneath Me. $15 7 p.m.
Oasis Club
Wednesday, June 4 - Ashes Divide w/ Inner Party Systems. 7 p.m.
Friday, June 27 - Drowning Pool w/ Nonpoint and Nova Red. 7 p.m.
Phoenix Hill Tavern
Friday, June 6 - The Original Rock Showcase Series: Of Echoes, Backroom, Seeds, Adaptive, Rafael and Morning Augment. 8 p.m. $5
Friday, June 20 - Basket's showcase: Psycho stick, Look What I Did, Power glove, War Within, Dead Nettle, Soil, Hindsight, Pill house and Sever This Illusion. 8 p.m. $10ADV/$12DOS
Friday, July 4 - The Original Rock Showcase Series: Broken Vault, Sonic Epitaph, E-Flat, Shatter stone and Sacred Sorrow. 8 p.m. $5
Tailgaters
Friday, June 20 - E-Flat.
Uncle Pleas ants
Friday, June 6 - The Unseen w/ Anvils Away, Human and The Guttersluts. $10
Wednesday, June 18 - Green Jelly w/ Mensrea (two members of GWAR). $10ADV/$12DOS. All ages. 7 p.m.
Thursday, June 26 - Halo Of Locusts featuring Randy Blythe of Lamb Of God, w/ Stonecutters, Casting Ashes, Revelation and Overthrone. $10ADV/$12DOS. 7 p.m.
Wicks on Dixie (shows are 18 and over)
Saturday, June 7 - Witness The Reckoning, Sever This Illusion, at One With Nothing and Anvil Grey.
Saturday, June 14 - Mungus, Adaptize, Boom Orangutan and One Giant Leap.
Saturday, June 21 - Spanky Nyne and T.B.A.
Saturday, June 28 - 4 Storie Failure, Hanover, Serene, Portrait Of A Suicide and Institution.
Outtatownerz and Otherz
Saturday, June 7 at the Pritchard Community Center in E-Town, Ky. - Abominant, 88 Sins, Resin8, Soul Filled Tomorrow, After Its Over and The Armed, Grindhouse, Good Morning Salute, Reminition, Mutiny On Board, Snakes With Legs and Troubadors. $10 All ages.
Props of the month
This months props go out to WLRS for supporting the original rock concerts here.
They have been up at Bizkit's and my showcases and they also do the Wicks showcase and last but not least, they have a brand new original music showcase at the Oasis Club on Wednesday nights, featuring a $3 cover and fifty-cent drinks from 8 to 9. And they have hot females from Sheer Imagery in attendance!
Since the format change a short while ago, I see a major push to help out the bands around here. Now all they need to is to get the local music radio show going.
So good job Skinny J and Big Joe. Keep up the good work.