June 2008 Articles
Cover Story
Tim Roberts
Features
Eddy Metal
Jason Ashcraft
Columns
Berk Bryant
Mike Stout
Paul Moffett
Chris Crain
Keith Clements
Martin Z. Kasdan Jr.
Eddy Metal
CD Reviews
Tim Roberts
Kory Wilcoxson
Martin Z. Kasdan Jr.
Rob Greenwell
Bob Mitchell
Jason Ashcraft
Kevin Gibson
Kory Wilcoxson
Kory Wilcoxson
Martin Z. Kasdan Jr.
Performance Reviews
Rob Greenwell
Blogs
Got Shows?
Send Them To Us
Bookmark Louisville Music News.net with these handy
social bookmarking tools:
Available RSS Feeds
- Top Picks
- Today's Music
- Editor's Blog
- Articles
Add Louisville Music News' RSS Feed to Your Yahoo!

Issue: June 2008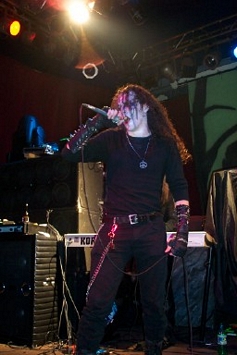 Jason Whitworth
Name: Jason Whitworth
Age: 29
Instrument" Vocals/ guitar
Band/Former Bands: I've been the vocalist for The Revenants for the past 11 years. That takes up almost all of my time although I have had the pleasure of doing guest vocal spots for many of my friend's bands including 9Volt Revolt, Human and an awesome Samhain cover band a couple of Halloweens ago. My guitar playing is limited to contributing to Revenants' song writing mostly.
How long on instrument: 16 years.
Equipment: Being a vocalist, I have the fortune or misfortune, depending on the venue, of just showing up with a mic. I bring a Shure SM58, which I have had to change the grill on about a hundred times. Dents and blood. . . For guitar I use Hughes and Kettner, ESP and BC Rich.
Influences: Growing up I listened to a lot of Samhain, Slayer, Sepultura, Metallica. Now I have expanded into older blues, punk and black metal.
8. My first gig: The first Revenants gig was actually a house party around February'97. It was the night that the whole damn city flooded and we played in our friend Chris Freel's basement with a bunch of drunk kids. I remember a guy got thrown through his wall. The second show our friend Donnie got us. The club wouldn't book us until Donnie caught the owner doing coke in his office. The rest is history!
9. Hobbies: Reading, video games, writing, going to shows.
10. Favorite movies: Classics like Aliens, Hellraiser, Hitchcock. I don't think they make real horror movies anymore. Mostly sci-fi or occult related.
11. Favorite food: Johnny Walker Red Label and a steak dinner.
12. Favorite place: On stage of course.
13. Bad habits: Besides smoking, drinking and cussing like a sailor, I guess I have the tendency to tell people what I really think. They don't always take it well.
14. What I'm listening to nowadays: Rotting Christ/45 Grave/Old Man's Child/Robert Johnson
15. Coolest thing I've done: Playing with Type O Negative last Halloween for a sold-out show right after we released "Hand Of Midnight"
16. Most embarrassing moment: Stage shows that just don't work the way they were supposed to! The lesson is don't put gas/oil mix in a gas chainsaw if you ever want it to start again!
17. Who do you love: Hecate
18. When/where did you first get some: All I can say is that it involved guns, knives, a snake cult and I have never heard from that poor girl since.