October 1992 Articles
Cover Story
Rick Mattingly
Features
Henry C. Mayer
Staff
Columns
Berk Bryant
Jim Galipeau
Paul Moffett
Alan Rhody
CD Reviews
Steve Estes
Kory Wilcoxson
Mark Clark
Cary Stemle
Allen Howie
Bob Bahr
Allen Howie
Performance Reviews
Paul Moffett
Dallas Embry
Leslie Turner
Cary Stemle
Interviews
Jean Metcalfe
Calendar
Staff
Preview
Bob Bahr
Opinion
Staff
Jean Metcalfe
Photos
Staff
LASC
Staff
Ray Yates
Jean Metcalfe
Wally Stewart
Ray Yates
Blogs
Got Shows?
Send Them To Us
Bookmark Louisville Music News.net with these handy
social bookmarking tools:
Available RSS Feeds
- Top Picks
- Today's Music
- Editor's Blog
- Articles
Add Louisville Music News' RSS Feed to Your Yahoo!

Issue: October 1992
Saddle Up Your Horses!
By Leslie Turner
Picture this: An artist rolls into town with a sound system a la Garth Brooks, complete with 38 speakers, 250 stage lights, 18 laser panels and a 25-member entourage. He's got the 1992 awards for Album of the Year and Songwriter of the Year neatly notched on his belt and a new smash hit video to go with his best-selling album. He plays to a sold-out, SRO house with a pack of screaming female fans at his feet, and all this on only the second day of a 68-day, 54-city nationwide tour.
Gotta be the newest country or pop/rock idol, right? Wrong! The artist is Steven Curtis Chapman and the event is Day Two of The Great Adventure Tour. "Saddle up" and take notice, Louisville. Contemporary Christian music (CCM)jus t"ain't what she used to be."
With an attention-grabbing orchestral prologue to heat up an already over-heated audience (no air conditioning), this concert was overflowing with all the sizzle and momentum today's Sight and Sound Generation has come to expect. Chapman charged through four songs from his new album, The Great Adventure, before serving up a trail mix of numbers which allowed us to appreciate the versatility, vocal power and musical skill of Steven and the band with everything from bluegrass to jazz.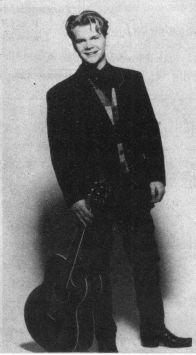 Steven Curtis Chapman
Later on, Danny DiSantis of Louisville made his debut as Chapman's guest rapper for "Got 2 B Tru," rapping the part done by Toby McKeehan (DC Talk) on the album. He won this honor through a contest sponsored by WJIE and did an admirable job rapping in front of All Those People!
By now, the audience is completely caught up. Steven's got us hanging on his every word; words which, by the way, don't get lost in the music. No stranger to the stage, Chapman has incredible audience appeal and enough albums under his belt to do a long medley of "favorites" people could actually sing along with. During the three-hour show, we ran the gamut from up-off-your-feet jammin' music to comic relief, to his more serious material, all of it highly entertaining, all of it with an underlying message Chapman is quick to point out. He manages to tell us in his no-nonsense, no-compromise, easy-to-believe manner, that "Jesus Christ is the passage to the Great Adventure" as God intended and that He indeed wants us to "live life to the fullest" through the peace of God. A This is a message he has carried from his earliest beginnings in Paducah, Kentucky.
Don't worry. doesn't preach at you, he doesn't go on and-on and on, but you'll remember. Mayor Jerry Abramson remembered. At the end of the concert Steve Butler, general manager of WJIE Radio, presented Steven with a plaque from the mayor's office proclaiming Tuesday, September 15, as Steven Curtis Chapman Day. Mayor Abramson recognized Chapman' s contribution to the people of Kentucky as well as Christians across the country and managed to mention all five of Steve's albums.
Not to be outdone, Governor Brereton Jones gave Chapman the additional honor of naming him a Kentucky Colonel. The governor cited Steven's outstanding contribution to the betterment of society. To our knowledge, he is the first Christian artist to be awarded this honor. So, who says you can't come home?
A couple more notes: Chapman had two great acts opening up for him that night. Susan Ashton, a well-established CCM artist in her own right, treated us to a sample of her own favorites, including "Amazing Grace Land" and "Down on My Knees." She's working a band into her act and admits that, after only two weeks together, they still have some work to do.
Ashton seemed tired and didn't ever quite connect with the audience, but the schedule they will be keeping ought to help them work out the bugs in no time at all.
The surprise of the night was "Out of the Grey," with Scott and Cindy Dente. Scott is amazing on guitar, filling out the sound with technique and even his own physical involvement, so that you don't even notice there are no other instruments on stage. Cindy's strong vocals, which reminded me of Amy Grant with a twist, along with a healthy does of stage charisma and energy, made this duo easy to listen to. Day After Christmas, their new album, deserves to do well as this couple finds their own niche in the CCM segment.
A word about the crew. The show started on time, set changes were smooth and well-rehearsed and the hundreds of lighting and sound cues seemed smooth (although I would bet they were having monitor problems). I also appreciated the control put on the volume throughout the concert. The music was definitely loud, but the crew managed to avoid the Damage Zone without the audience feeling cheated.
As for Steven Curtis Chapman, he seems poised to become the next CCM cross-over success, but the first to move into country instead of pop. You can't help but notice his audience. Groups of teens and young adults, entire families, older couples — he seems to cross every market segment and that's something record companies, backers, advertisers and agents like to see. He managed to pack out Memorial Auditorium and could have easily sold out a house twice the size.
This man has definitely "arrived."