October 1992 Articles
Cover Story
Rick Mattingly
Features
Henry C. Mayer
Staff
Columns
Berk Bryant
Jim Galipeau
Paul Moffett
Alan Rhody
CD Reviews
Steve Estes
Kory Wilcoxson
Mark Clark
Cary Stemle
Allen Howie
Bob Bahr
Allen Howie
Performance Reviews
Paul Moffett
Dallas Embry
Leslie Turner
Cary Stemle
Interviews
Jean Metcalfe
Calendar
Staff
Preview
Bob Bahr
Opinion
Staff
Jean Metcalfe
Photos
Staff
LASC
Staff
Ray Yates
Jean Metcalfe
Wally Stewart
Ray Yates
Blogs
Got Shows?
Send Them To Us
Bookmark Louisville Music News.net with these handy
social bookmarking tools:
Available RSS Feeds
- Top Picks
- Today's Music
- Editor's Blog
- Articles
Add Louisville Music News' RSS Feed to Your Yahoo!

Issue`: October 1992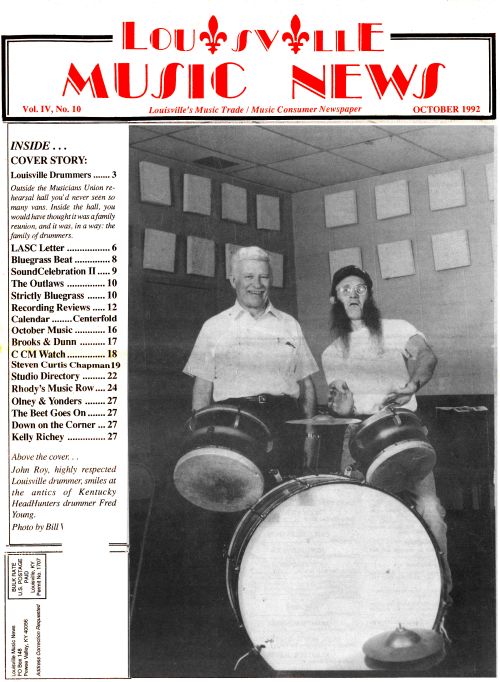 John Roy, highly respected Louisville drummer, smiles at the antics of Kentucky HeadHunters drummer Fred Young. Photo by Bill VanHook
Louisville Drummers
Introduction by Rick Mattingly
Outside the Musicians Union rehearsal hall you'd never seen so many vans. Inside the hall, you would have thought it was a family reunion, and it was, in a way: the family of drummers. Guys greeting each other with obvious respect and affection, trading stories. Gray hairs mingled with long hairs (and a couple of no hairs), and the musical styles ranged from rock to rap, jazz to country, symphonic to metal. Guys who've played with the Louisville Orchestra and guys who've worked some of the most low-down bars in the state. Those who buy drums and those who sell them. Drum teachers and drum students. Drummers who have had great national success and drummers who've only played weekend gigs around town. And they were all diggin' each other.
A lot of the big stars talk about the camaraderie that exists between drummers, and it's true. You don't find guitarists or trumpet players or pianists having yearly conventions like the one the Percussive Arts Society sponsors every year at which drummers and percussionists from all genres of music get together to inspire and learn from each other. Events such as Zildjian Days, the Modern Drummer Drum Weekend, and the Buddy Rich Memorial Concerts also bring drummers together to share ideas.
In truth, however, the Brotherhood of Drummers doesn't always have a great deal of depth. Sure, a Dave Weckl can walk into any drum shop in the country and be treated like a long-lost brother by the guys behind the counter, and drummers in every city are quick to come up to a Peter Erskine or Steve Smith after a club appearance and tell them how great they played.
But how do the local drummers treat each other? And how do they treat ordinary working club drummers who pass through their towns? Sadly, the camaraderie often breaks down at that point. In a recent issue of the California music paper Drum!, an editorial complained about the way local drum salesmen treated their customers, often showing contempt for them. Not much of a brotherhood.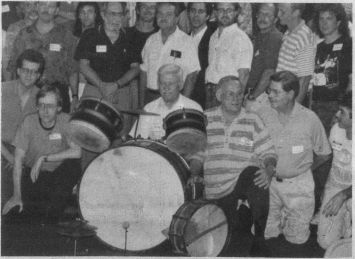 DRUM TREASURERS: Louisville drummers gather around John Roy, who sits behind an antique drum set. Photo by Jean Metcalfe
But in Louisville, that camaraderie seems to embrace everyone who picks up a drumstick. It's obvious every day of the week in clubs and music stores around town. The drummers in this community really do support and encourage each other, and nowhere was that more obvious than at the union hall this particular Monday night.
*****
The participants:
Eddie Abraham: freelance drummer.
Thumper Bartlett: drummer with Karen Kraft and Kicks.
Dave Beck: drummer with the Epics; former manager of Mom's Music drum department.
Greg B_lzle: freelance drummer.
Brad Canaday: drummer with Major Minor; manager of drum department and teacher at Far Out Music.
Jess Carman: freelance drummer.
Ronnie Cooke: drummer with Ron Peake & Open Country.
Kerry Culbreth: drummer with Uncle Pecos.
Paul C. Culligan: freelance jazz drummer; drummer with Goodnight Maxine; teacher at Mom's.
Ray Dunaway, Jr.: freelance drummer; teacher at Mom's; former instructor at Armed Forces School of Music.
Tootie Dunn: drummer with Slyk.
Jim Falvey: drummer with Carnival.
Robert Fiandaca: drummer with Bobby Lanz; drum salesman at Mom's Music.
Hubert Griffin, Jr.: drummer with Soundchaser.
David Hundley: drummer with Too Much Fun Band.
Jeffrey Jarboe: drummer with Wolfe Bros.
Paul Koch: drummer with Sassy.
Scott Lankford: drummer with Nervous Melvin & the Mistakes.
Dan Lathery: freelance drummer.
Craig Lush: drummer with the Rugbys.
David Marasco: drummer with Brother Steven & Midwest Creole Ensemble.
Rick Mattingly: freelance drummer; writer for Modern Drummer, Musician, and Courier-Journal; teacher at Shuffs and Music Center.
Max Maxwell: freelance rock drummer; manager of Mom's Music drum department; teacher at Mom's.
Jeff McAllister: drummer with Duke Robillard and Lonnie Mack.
Tom McCullough: freelance jazz drummer.
Stix McDonald: freelance drummer; former drummer with Pee Wee King.
Mike McDowell: drummer with Gibraltar.
Kerry Mefford: drummer with Grizzly River Band.
Bruce Morrow: freelance jazz drummer.
Craig Nunnelley: drummer with J.D. Black.
Terry O'Mahoney: college jazz instructor in Canada; Louisville freelance drummer; former teacher at John Roy's Drum Shop.
Ray Rizzo: freelance jazz drummer.
John Roy: freelance drummer; teacher at Bill Edwards music shop; president of local musicians union; former owner of Johnny Roy's Drum Shop.
Perry Scroggin: former drummer with Fire Dept.
Cary Shields: drummer with Rain Chorus.
Paul Turner: drummer with Ray Boltz; advertising sales for Louisville Music News.
Gary Underwood: freelance drummer.
Greg Unthank: drummer with Two Dollar Pistol.
Eugene Wickliffe: drummer with Da Mudcats.
David Williams: freelance rock drummer.
Fred Williams: drummer with Sherry & the Sure Thang.
Fred Young: drummer with Kentucky HeadHunters.
The gathering was organized by Louisville Music News' Paul Turner, with assistance from John Roy (who offered the use of the Union hall), Rick Mattingly, and Max Maxwell. After gathering for a group photo, the assembled drummers sat down to share their thoughts about being part of the Louisville drum community. The conversation was so enthusiastic that no one noticed that the tape ran out midway through the discussion, with the result that a few of the comments were lost. Also, it should not be assumed that the drummers listed below are the only prominent drummers in Louisville or the only ones invited. A few were out of town, a few had gigs, a few couldn't be reached, a few simply had other commitments.
But the fact that so many showed up with only a couple of days' notice, and the obvious respect they had for each other, was a testament to the spirit that pervades the drummers of Louisville. Highlights of the conversation follow.
John Roy: It's really great to see so many fine players here tonight. When I started playing around Louisville in the late '40s, there were just a handful of drummers, maybe six or less, who could go out and really do a highly professional job. But I've seen it grow tremendously through the years, and I think we are now fortunate to live in a town where there are so many good players and really super drummers.
Jeff Jarboe: For the size city Louisville is, it really is amazing how many good drummers there are and how supportive they are of one another. I've been fortunate enough to do some traveling, and I have some friends in other cities, and it's a competitive, cut-throat thing in a lot of places. But in Louisville, the drummers are all supportive of each other in all styles. It doesn't matter if you're a country guy or a rock guy or a jazz guy, the respect level is there, and to me, that's really cool. Not only can all these guys play well, but they respect the other guys for doing what they do. That says a lot.
Perry Scroggin: I haven't played for over a year because of back injuries, but to elaborate on what Jeff said, that's exactly right. I've played up north in places like Indianapolis quite a bit, and the drummers you meet up there are not like a family. I don't know everybody in this room, but all the guys I do know have always been real supportive.
Paul Koch: I can vouch for the drummers here in Louisville. I've lived in town for a little over a year and a half. When I first came to town I checked out Mom's Music and met Max, and then I went to Far Out and met Brad, and not too long after that I met Paul and Ray and a lot of other drummers, which is not always easy to do when you're the new guy in town. And a lot of these guys helped me find a gig. So it's pretty cool. In the town I came from, there were only four or five of us who knew each other.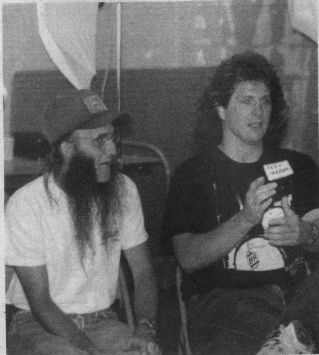 Fred Young of the Kentucky HeadHunters and Jeff Jarboe of the Wulfe Brothers Band. Photo by Jean Metcalfe.
David Marasco: It's not just drummers; there are a lot of good musicians in Louisville. But as far as the drummers go, John [Roy] deserves a lot of credit for influencing a lot of people. He was a big influence on me, and I respect him a lot. And I know he had a lot to do with the growth of a lot of musicians in this town. [applause]
Paul Culligan: The camaraderie is great. There are so many drummers that you can go up to if you really want to learn and develop yourself as a musician. Guys like Jeff McAllister and Terry O'Mahoney have been my biggest influences, and I just wish the best for everybody. Don't ever bring your hopes down. Just keep at it.
Ray Dunaway: I'm kind of new in town, so I have to kind of introduce myself. I haven't lived here for 12 or 13 years, and I'm really glad to be back home. I'm just proud to breathe the same air as these guys. [laughter]
Greg BÖlzle: I played drums a long time ago and recently picked it up again. When I got back into drums, it was from talking to people like Max Maxwell and Brad Canaday. You walk in and these guys don't treat you like a jerk or care what style you play or what your level of accomplishment is. They want to know what you are interested in and they are always encouraging. They tell you about other bands that play the kind of stuff you like and help you find people to play with. These guys bust their asses working day jobs and then play at night, and that's a good lesson right there. A lot of young drummers who start in this town get a good example from these guys. I know I did.
Kerry Mefford: I've been travelling the past couple of years, and in almost every town I've been in, I meet some drummer who's a jerk. You know, someone who comes up and says, "What have you got there, a Yamaha snare drum? Those stink," or something like that. But I've never met a drummer in Louisville who didn't treat you like a person and just open up and tell you what's on his mind. I have never met a drummer with a bad attitude in Louisville.
Craig Nunnelley: I've been fortunate enough to play for the past 11 years. I never thought I would make a living from it, but it's because of a lot of the people in this room that I started doing this.
Jeff Jarboe: There are a couple of guys who I think deserve special mention because they kind of spotlighted Louisville in the national scene. One of them is Fred Young from the Kentucky HeadHunters. [applause] I first met Fred back in '78 when he used to play in Louisville a lot, and he was a killer player. And another guy a lot of people know is James Kottak. [applause] James went to L.A. and beat out 40 other guys in a cattle call audition to get the gig with Kingdom Come. And James and Fred have both spotlighted the drummers in Louisville through their Modern Drummer articles. And there's Rick Mattingly, who was an editor at Modern Drummer for several years. We're so fortunate to have this guy here in town. And Jeff McAllister who's been out playing with Lonnie Mack. And the guy whose name is synonymous with drums in Louisville and who had the first drum shop in Louisville and who taught a lot of us how to play, John Roy.
Fred Young: I just want to say that it's great to see you guys together like this. I live a hundred miles from here, but we used to come up and play all the bars on Main St., and there are a lot of good players in this town. I learned a lot from seeing those guys play and I always considered this my home place to play. And I remember going to the music stores like Shackleton's and Durlauf's, and then in the '70s I heard about this place called Johnny Roy's Drum Shop. You know how it is, when you go into a drum shop it's like a kid going to the circus, and I got to meet John Roy and I bought a drum head and some sticks from him. And then one of my dreams, like everybody I guess, was to be in Modern Drummer, and it was a Louisville boy, Rick here, who wrote the article. So I'd just like to say thank you for letting me be part of this. [applause]
Terry O'Mahoney: I feel real fortunate to have grown up in a town where there were good teachers like John Roy and Rick Mattingly, and the good drummers that I could always go and check out. The music stores always supported us by bringing in a number of good clinicians, which is always inspiring for everyone. I've lived in Los Angeles and Miami, and I now live in Canada, and it's really nice to be able to come back to town and play with the people here, because the level of musicianship in Louisville is certainly comparable to the musicians in the other places I've been. Everybody says that you have to go to the East Coast or the West Coast because that's where it's happening. Well, there are other places that are happening, too, and I happen to think Louisville is one of them.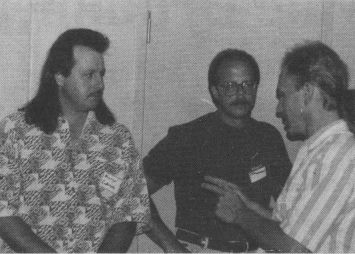 >L to R, Kerry Culbreth of Uncle Pecos, J. D. Black's Craig Nunnelley and Thumper Bartlett of Karen Kraft & Kiks. Photo by Jean Metcalfe
Ronnie Cooke: I agree with Terry. I've also lived in L.A. and worked in Nashville quite a bit, and the camaraderie around Louisville is special. You talk to drummers in a lot of towns, and they're pretty cold or they think you're trying to get their gig or something. But it's a really cool scene here. Three guys who have really nurtured that are John Roy, Marvin Maxwell and Dave Beck. Sometimes you'll need sticks or heads or something, but you don't have the bread. You could always go to those guys and they'd front it for you until you got paid. I think that's really neat.
Scott Lankford: I'd also like to mention John Roy. I'm sure I put him through a few bottles of aspirin. [laughter] It's always great to see the local drummers. I don't always understand what everyone's doing, [laughter] but it's always a thrill. Thanks to everyone here.
Jeff McAllister: Hi, my name's Jeff and I'm an alcoh...
Terry O'Mahoney: Wrong meeting, Jeff. [laughter]
Jeff McAllister: Oh, sorry. How embarrassing! [laughter] It's a real pleasure to be involved in a community like this. I've had the opportunity to play out a lot and this is a very special town. A lot of it has to do with the guys in the drum stores. Dave Beck used to bring in really smoking, world class players like Casey Scheurrel and Steve Smith that us laymen could take lessons from. You don't get that in a lot of towns. John Roy has made Haskell Harr and Joel Rothman very rich men. [laughter] I met John when I was in the 8th grade, back in the '40s, [laughter] and he means a great deal to me. Sam Harris is another terrific teacher and terrific person. And a guy named Bill Miles taught me more about two and four than any math teacher I've ever met. Rick Mattingly is also a great asset to this town. It's a real pleasure to be involved with everyone here.
Rick Mattingly: Louisville is indeed fortunate to have music shops like Mom's and Far Out that have brought in a lot of great clinicians. But as much as we can learn from one of the big stars in a situation like that, the drummers you really learn the most from are the local guys that you watch when you're first learning to play, and you can get real close and see how they're doing things. When I was first trying to figure out how to play in the '60s, I remember watching Marvin Maxwell with Soul, Inc., Glen Howerton with the Rugbys and Jimmy Guest with the Oxfords, and those were really my first teachers. And when I got interested in jazz there were guys like Charlie Craig and Jonathan Higgins that I could learn from. And then there were the actual teachers I studied with. My first teacher was Ted Otten, who was one of those five or six professional drummers that John spoke of earlier. I also studied with Jim Rago at U of L, and I know several of the guys in this room have studied with him as well. I never took formal lessons from John Roy, but during the years that I taught at his drum shop I learned a whole lot from him about how to conduct myself as a professional.
So I'm grateful for the drummers and teachers in Louisville who set such a high standard. I got to play a lot of different types of music when I lived here, and I got to hear a lot of great drummers in every style. When I moved to New York in 1980 and started working full time for Modern Drummer, it was the background and training I got right here that enabled me to do that job, because I am totally a product of the Louisville drum community. I'm happy to be back in town, and I'd like to thank all of you for the inspiration and support you've given me over the years.
Fred Young: I know I learned a lot from watching the drummers in Louisville. I was inspired to play double bass from Ginger Baker, but a guy like that can scare you to death. [laughter] So I used to watch a guy named Steve Holmes who was in the Buster Brown band, and that's how I was able to figure out how to play the double bass shuffles and stuff. I'd also like to do a little bragging on Rick, because our band has had articles done everywhere by everybody. But of all the articles, Rick is the only guy who really captured the personality exactly. No other writer has done that. I don't know if it's because he's from Louisville or what it is, but I just want to tell you what a good writer the man is.
John Roy: I'd like to add something, too. Rick is one of the few writers that Buddy Rich allowed to interview him, and Buddy complimented Rick for getting the quotes right and stating exactly what was said. I think that's the mark of a fine writer. [applause]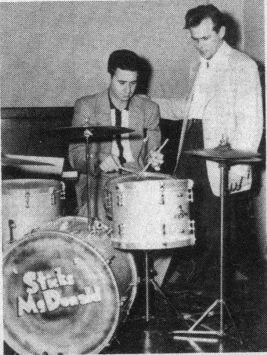 Shelly Manne tries out Stix McDonald's drum set at WAVE studios, circa 1953. The set is the only one Billy Gladstone ever made in bird's-eye maple.
David Williams: I'd like to ask Rick something. I've been listening to Buddy Rich a lot, and nobody's ever going to be as good as him. But I've also heard that he had a really bad personality. [laughter] Was he as bad as people say he was?
Unidentified: Play him the tape.
Rick Mattingly: Yeah, well, there is this tape circulating... [laughter] Obviously quite a few people know about it. On several occasions when Rich was chewing out his band on the bus or in the dressing room, someone would secretly switch on a cassette recorder, and now there is a tape going around of Buddy spewing verbal venom at his band. When you first hear it, you think the man must have been a lunatic, because you've never heard such rage. But if he had really been as upset as he sounded, he would have had a heart attack and died right on the spot, given his history of heart trouble. So I have a feeling that a lot of that was just part of his act. That was his concept of how to run a band, but he was more in control of himself than he may have sounded.
David Marasco: Rich came to town to play at the Pussycat for a week around 1969, and I was in the house band that played during his breaks. I sat down and talked with him two or three times, and he gave me some sticks and cymbals and stuff that he wasn't using. My father was a drummer, and one night I took him backstage to meet Rich. We sat down and drank tea together for 25 minutes, and and I can honestly say that he was one of the nicest guys I ever met–while he was in the dressing room. But then I saw him walk out on the stage and literally throw some guy out the front door. I think it goes with what Rick said. I think it was a front. I'm sure it got him some appearances on the Tonight Show and maybe some people got interested in him because of his personality. But a lot of it was a front.
Rick Mattingly: The first assignment I ever got from Modern Drummer was to do an article on Buddy Rich. The magazine had just started and I contacted them and told them that Buddy Rich was coming in to do a concert with the Louisville Orchestra. The publisher was a huge Buddy Rich fan, so he gave me the go-ahead to do a story.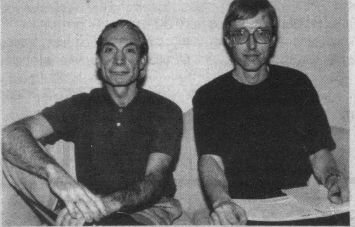 Charlie Watts was interviewed by Rick Mattingly in September 1989 prior to the Rolling Stones Cardinal Stadium appearance.
So I go to the rehearsal and see Rich standing there. People are coming up to him and he's completely ignoring them. I'm thinking, "Great, I had to pick this guy to interview to start my writing career." But I had to at least go for it so I took a deep breath, walked up to him and said, "Excuse me, Mr. Rich?" He turned to me, smiled, shook my hand and asked me what he could do for me. I explained that I had an assignment to write about the concert from this new drum magazine, and that I'd like to ask him a few questions. He led me to a table and we had a very nice chat.
Later, I kept wondering why he had been so nice to me when he was blowing everyone else off. Then something occurred to me. All of those other people were going up to him saying, "Hey Buddy." I addressed him as Mr. Rich. Maybe all the guy ever wanted was respect.
Terry O'Mahoney: I'd like to add something to what Rick said about being a product of this musical environment. It's very true that in Louisville there's enough musical diversity that if you want to go in a particular musical direction, you can find the right teachers and have opportunities to get the experience you need, which will carry you into other markets.
Tom McCullough: Like all of you, I'd like to thank John Roy for dragging me through a few books, and Terry has been a big help over the years. Someone made the comment that there are a lot of great musicians in this town, and it's true. I've been able to play with a lot of them, and musicians of that calibre are not too readily available in a lot of other cities.
Bruce Morrow: I've been around town for a long time. I started out with John and did a lot of variety shows and things like that, and John was the one who showed me how to read. So I'd like to say thanks, John. I appreciate all you've done for me. This is a great town. I was on the road for a long time, and when I came back I was really glad to hear so many young players just smoking. I go around and hear a lot of you guys play, and all I can do is stand there and drink. [laughter] I say, "Well, now I've got to learn that lick."
Stix McDonald: I've got grayer hair than a lot of you guys...
Fred Young: [removing cap and patting bald head] At least you got some. [laughter]
Stix McDonald: I was with Pee Wee King in the early '50s, and I was the first drummer to get kicked off the stage of the Grand Ole Opry. The guy told me they only used traditional instruments and he got real upset when I told him that drums had been around longer than guitars. But it's great to see drummers getting a lot more respect today.
Brad Canaday: I think one of the reasons that most of us here are the way we are with each other is because all you have to do to put your ego back in place is to go hear the guys in this room play. I get blown away every time. Everybody's got their thing they do, and we can all learn something from each other. It's not like we're standing there stroking our chins; you want them to play good and it makes you proud to see your fellow drummers do so well.
Another thing that is really neat is the way guys like me and Max and Robert and Dave Beck have always gotten along with each other. We're supposed to be competitors, but we talk to each other every two or three days, and I think it's a real healthy situation.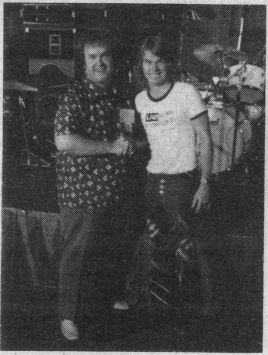 Larry Londin and Paul Turner at a NAMM show in July 1978
Finally, I thought it was pretty humorous that on the front door of this place it says "Musicians Entrance" and they made us come in the back door. [laughter]
John Roy: That's because drummers are used to sitting in the back.
Kerry Culbreth: Back in February my wife was pregnant, and there were about six or seven drummers that I called about a week before delivery and said, "I might have to leave in the middle of a set. Is there any way you could help me?" And not one of them turned me down. This ol' boy right here, Thumper Bartlett, played for me. I'm originally from down the road in Edmonton County, but there's a bunch of ol' boys up here who treated me just like I was from here. Not only are they good musicians, they are really good friends, and I'm glad to be a part of you all.
Thumper Bartlett: I came here from out of town a while back, and I've gotten to know a lot of you guys: Max and Brad and Mr. McAllister there, who's the funniest drummer I know. [laughter] It's really nice to be here.
Robert Fiandaca: I came to town in the late '70s, and this is more of a brotherhood than just a collection of people. In Boston, if you weren't in a jazz group or a hot show group, they didn't want to know you. But when I came here, it was like open arms. I made Louisville my home, and all you guys helped me do that. Right now I'm not only a drummer, I'm also a retail guy like Max and Brad and Dave. I hope I can do a great job behind the counter like Dave did.
Dave Beck: I've got to tell John Roy, I literally built a career on the momentum you started. There's not anyone in this room that hasn't been affected by Mr. Roy. He started what we have here and it has continued because of him. There's no way to express what you have meant to my life and to everyone here. [applause]
I want to say to everyone in this room, the greatest thrill I ever had was getting to know you guys, and I miss you terribly. I hope you all know you have a special place in my heart. [applause]
Max Maxwell: I really want to thank John Roy because I studied with him, and my father [Marvin Maxwell] studied with him, and he taught me things I use all the time today. Also, my father would like to thank everyone in this room for their support which allows him to support you guys. And I'd really like to thank you guys, too, because my playing improves every time I see you.
Dave Beck: I'd like to add something, too, because Marvin isn't here but I'm not going to let it go without talking about him. There's not anybody with a bigger heart anywhere, and the cat's got a shuffle that'll kick your ass. [laughter] All those clinics we had didn't pan out economically, but Marvin paid for them out of his own pocket because he loves drummers.
John Roy: I agree with you. Marvin has always been pushing the music business and he loves this town. He's been very influential, not just as a drummer but in terms of music in general. He's got that energy and he'll try ten things to get one of them to work. It's a shame he can't be here tonight, but let's give him a hand anyway. [applause]
Mike McDowell: I'd like to thank all the people who have been a big inspiration to me, like Jeff McAllister and Jeff Jarboe and Perry and Dave. Seeing you guys play is like going to a free clinic. I thank the Good Lord that there are players like this in town who let you know that you can get somewhere. And Mr. Roy sold me a snare drum when I was 14 years old. He gave me a payment plan and_
John Roy: When are you going to pay that off? [laughter]
Mike McDowell: I just want to thank all of you for being such an inspiration and helping my career grow.
Terry O'Mahoney: It always feels great to come back to Louisville because this is home in a musical sense as well as a family sense. I don't know what it took to put this thing together tonight, but I'd like to propose that we try to do it again on maybe an annual basis, and try to get the guys who couldn't make it tonight.
John Roy: I totally agree with that. It's nice to see everybody together, and we do have a lot in common. I'd like to see us get together at least once a year to socialize and have a good time.
*****
Watch Louisville Music News for information concerning future drummer activities in Louisville. You can also keep in touch with the Louisville-area drum community through John Roy at the Musicians Union, Brad Canaday at Far Out Music, or Marvin Maxwell, Max Maxwell and Robert Fiandaca at Mom's Music.
Tags: