April 2016 Articles
Cover Story
Paul Moffett
Columns
Sue O'Neil
Eddy Metal
Eddy Metal
Blogs
Got Shows?
Send Them To Us
Bookmark Louisville Music News.net with these handy
social bookmarking tools:
Available RSS Feeds
- Top Picks
- Today's Music
- Editor's Blog
- Articles
Add Louisville Music News' RSS Feed to Your Yahoo!

Issue: April 2016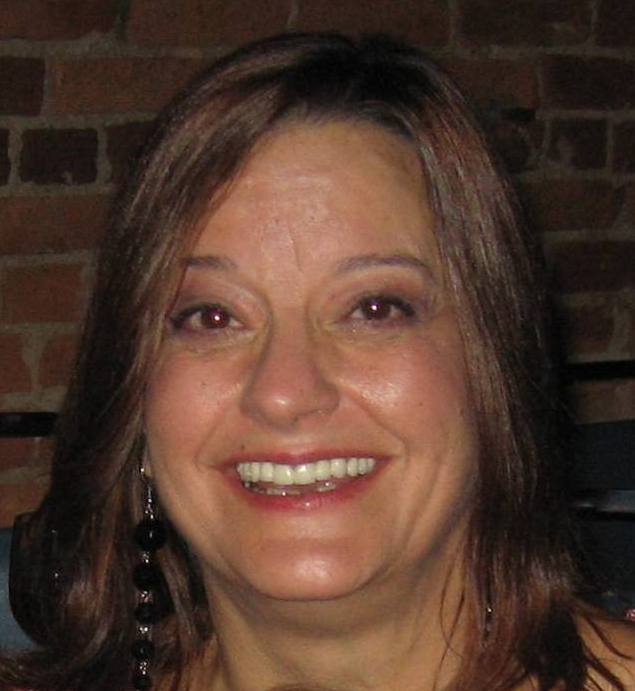 I've Got A Mind To Ramble
Stevie Ray's Hall of Fame Inductees Rob Pickett & Mark Bright
This year marks the 9th year for the Animal Care Society Benefit and the Stevie Ray's Hall of Fame induction. The event was the brainchild of Todd Webster, former general manager at Stevie Ray's, and has proven to be a successful fundraiser and coveted event for musicians who frequently play the nightclub.
The Animal Care Society is a private, NO-KILL shelter/adoption agency for dogs, cats, puppies and kittens. The policy on their website is as follows: Individuals and families wishing to adopt an animal must visit the shelter and complete an application. If the adoption pertains to a dog, any current dogs residing in the prospective home must also visit the shelter to ensure compatibility.
Applications are reviewed and references are checked to ensure that the best possible and most suitable placement is made for each animal. Visit their website at http://www.animalcaresociety.org to get more information about this wonderful and respected organization.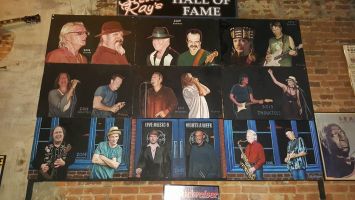 Hall of Fame Gallery
As an added incentive for animal and music lovers to attend this annual fund raiser, Stevie Ray's boosts the interest by asking patrons and performers at the nightclub to vote for the musician they would like to see inducted into the Hall of Fame. A couple of months prior to the event, a ballot box is set up at the bar and ballots are placed on the tables and at the bar for people to vote in their favorite musician. A likeness of the inductee is presented to Jim Masterson who paints their portrait to be hung on the wall with inductees from the previous years.
Each year the bands that are selected to play this benefit perform for free in support of the Animal Care Society. This year's lineup included Carla Zee and the Holy Smokes, daMudcats, 100% Proof Blues Band, and Soul Circus.
The 2016 inductees into the Stevie Ray's Blues Bar Hall of Fame are Rob Pickett, lead guitar player and vocalist for daMudcats and Mark Bright vocalist/saxophone player for 100% Proof Blues Band. Both musicians have played at Stevie Ray's and nightclubs in the region for years, both are respected by their peers, and both are absolutely deserving of the honor that goes with being placed on the wall.
Although Rob Pickett has been playing guitar for daMudcat Blues Band for 30 years, he has played guitar in a myriad of bands starting around 1973 with Mantis, a funk group that covered tunes from Tower of Power, The Commodores, The Barkays and many of the Chitlin Circuit bands. Mantis relocated from Louisville to Atlanta and quickly became an Atlanta favorite, receiving a nod from Casablanca Records. Mantis toured the Country from Florida to Canada.
Rob returned to Louisville around 1977 and joined the group Sophistifunk, playing local and regional venues. He joined the Louisville-based Matlow Band, which was a bluesy, hard rock, big production band covering Alan Parsons and J Giles. The group's original material earned them some notoriety and Atlantic Records took notice and negotiated a development deal with them. The Matlow Band enjoyed a loyal local following as they played all of the Louisville areas best live music venues. Other local groups that Rob was associated with were The F*&%#*g Hoods, Lectrix and The Front.
In 1985 Rob opened his store, Modern Music Outlet, on Spring Street in Jeffersonville, Indiana. It was in this time frame that a friend recommended him to Jim Rosen of daMudcats and thus began his tenure with daMudcats as lead guitar player and he continues in that capacity to this day, delighting fans with his flair for the Blues.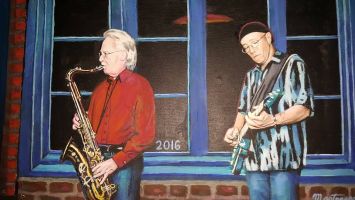 Rob Pickett & Mark Bright
Following the loss of Jim Rosen, lead singer/harmonica player for daMudcats in 1998 to cancer, Rob took over the lion's share of the vocals as daMudcats continued to perform in the region. He has worked long and hard on his signature sound in order to sustain daMudcats' status as a premier Louisville Blues band. His expertise and artistry is displayed prominently on all five of daMudcats CD's; DaMudcats 1991, Back to the Basics, I Want to Play in Your Big Back Yard, Live at Mom's, and Blue Kentucky Moon. All of these CD's are out of print but one can enjoy his work on recordings released recently on The Blues Had a Baby compilation album and The Coldest Night of the Year CD.
The Blues Had a Baby CD is a compilation produced in both CD and vinyl format and features local rock and Blues bands honoring the works of Muddy Waters. Rob's guitar work is featured on daMudcat's rendition of Muddy's "She's Into Something." Also released by Down in the Alley Records is The Coldest Night of the Year, featuring Rob's and the late Jim Rosen's acoustic duo performance at Twice Told Coffee House shortly before Jim's passing. These recordings were released in 2015 and can be purchased by going to http://www.downinthealleyrecords.com/ and clicking on "Shop."
Currently Rob is working on a new CD of original material penned by him and his bandmates as well as playing gigs around town and festivals throughout the State. One can keep up with Rob's playing schedule and band news by going online to http://www.damudcats.com.
When asked how it felt to be inducted into the Hall Of Fame, Rob said that he was surprised and happy. It was humbling for him because it is not about being better or as good as anyone in the room but to be better each time he plays. So, to be considered deserving of the honor is a reflection of everyone he has played music with and enjoyed listening to and influencing him in the Louisville music community. Rob cites some advice he received from an elder musician friend of his dad's who told him don't take yourself to seriously when you play music but be serious about how you play. Rob took that advice to heart and lives by the adage 'Learn something from everyone you hear and don't take the fun out of playing music.'
Singer saxophone player Mark Bright was also inducted into the Hall of Fame and placed on the wall alongside Rob. When I talked to him about his induction, he said that he could not have been more surprised when he got the call informing him of his induction. This was no surprise to me because Mark, like his cohort on the wall, is a very humble unassuming guy.
That said, it was never a surprise to walk into any nightclub in town to see your favorite band and find Mark Bright on the bandstand sitting in on a few tunes. Mark was always welcome to show up at one of my gigs and hop up on stage for some musical magic. He really knows how to fit into whatever groove you are putting out there and send out some sweet saxophone rides when called upon to do so.
Mark said he began playing in the mid 60's in some garage bands, none of which amounted to much more than that. He stopped playing in 1979 while he and Linda raised their family and did not start going to jams until the late 90's.
The nightlife of Louisville is where he found a jam most any night of the week to play and learn from some of Louisville's finest artists such as Tim Krekel and Lamont Gillispie. Mark stated that both Tim and Lamont taught him so much and he considered himself very lucky to have played music with them.
Aside from jams Mark played with Rick Lucas in String Relief and appears on Rick's CD First String. He also played with Mike Lefler in Crawdad Pie, and Louisville Blues with Wayne Harbin, Mike Lynch and company. He played on a couple of CD's that were recorded in 2000, Live at the Grand Theater in Frankfort, Kentucky. You can also find him on the Blues Had a Baby CD with 100% Proof Blues.
In 2005 or so Mark said he started playing with Tim Krekel on Sunday nights in Middletown sitting in and eventually earned quite of few playing gigs with them, as well as a spot on Tim's Soul Season CD.
In around 2006 he began playing with Lamont Gillispie's 100% Proof Blues Band and that is where he remains today. His role has changed considerably since stepping on stage with Lamont and the guys due to the devastating loss of bandmates Lamont Gillispie and Byron Davies.
Since joining 100% Proof, Mark had taken a support role at shows and on recordings laying down his signature saxophone sound adding to the seamless groove of one of Louisville's favorite Blues bands. Still shaken from the loss of Lamont and Byron, Mark and remaining band mates are keeping up the Blues tradition in their honor and Mark has stepped up to the daunting task of front man. These are big shoes to fill following the expert entertainer that Lamont Gillispie was. He has done an honorable job in that capacity and 100% Proof still has the crowds up dancing and enjoying their music.
To keep up with Mark Bright and 100% Proof Blues Band, you can find them on Facebook. Go 'like' their page and follow them.
Mark said that he is so grateful and thankful that people voted for him and that people think that he is actually worthy of being on the wall at Stevie Ray's, he is humbled and very honored.
I have had the honor of playing music and writing with Rob Pickett in the early Mudcat days and currently in daMudcats. I consider him a close friend and a premier artist. Creating and entertaining with him has been delightful at every turn. He has worked long and hard at his craft and I would hold him up to any guitar player out there when it comes to creativity and raw talent.
Mark Bright has always been welcome on the stage with me and of course, still is. He is a good friend and an excellent saxophone player who knows how to sell a tune. I can always count on hearing good music and being entertained when I know he and the 100% Proof band are playing.
Both Mark and Rob are most deserving of the honor of being on the wall, they have earned it and I don't think either one of them are showing any signs of slowing down. The best is yet to come so pay attention Blues lovers and congratulations!