April 2016 Articles
Cover Story
Paul Moffett
Columns
Sue O'Neil
Eddy Metal
Eddy Metal
Blogs
Got Shows?
Send Them To Us
Bookmark Louisville Music News.net with these handy
social bookmarking tools:
Available RSS Feeds
- Top Picks
- Today's Music
- Editor's Blog
- Articles
Add Louisville Music News' RSS Feed to Your Yahoo!

Issue: April 2016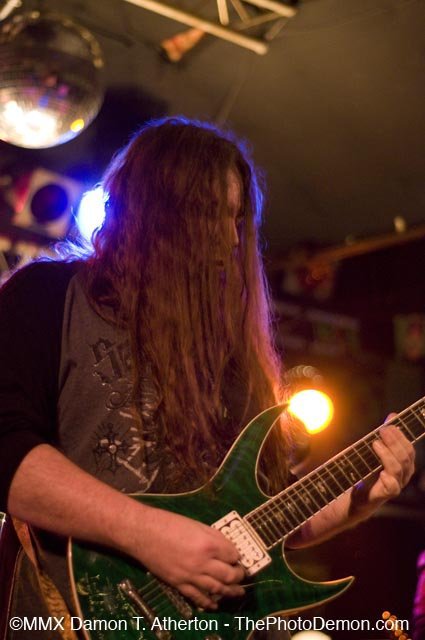 News From the Pit
Wow. One minute it seems the world is against you and next next minute you are doing pretty darn good. Life is indeed strange. Things are really looking up for me lately. The band is doing well, we are even opening for Geoff Tate's (of Queensryche) Operation Mindcrime on April 6 at Headliners and we are playing the Ron Jeremy Derby Eve Bash at Trixie's with Flaw and 40 Below Summer. I've always been a huge Queensryche fan, so this is very exciting for me! And I haven't played headliners for a few years now! I'm looking forward to it. I always liked that place, and it made me sad when the metal shows were scaled down to almost nothing over the past several years. I heard some wild stuff goes on at the Ron Jeremy Derby Eve Bash, too. Stuff I cannot print. A friend was there last year and he told me he walked in and saw something so wild he can't erase it from his memory! So that should be one Derby Eve Bash for the ages! C'mon out and party with us!
I guess good things come to those who work hard, stick to their guns, and fight off the negative shit that plagues and destroys bands one after another. Too many bands come and go in no time at all it seems. Right when you get going good, some a-hole always messes things up. I'm a picky musician nowadays. People got to have their shit together to jam with me. I don't have time to phuck around with idiots, I'm getting old!
I recently got a job as a field inspector for a few banks, but that lasted a total of 5 days, because I don't want to get murdered. It seems people don't like bank folk on their property taking pictures. Especially country folk. One home owner pulled a loaded shotgun on me, and another ham-necked vein bulging out of his neck Brock Lesnar-looking monster of a man threatened me if I didn't get off his land ASAP! Not cool at all. I wanna work, but not if I'm liable to get shot or attacked. I'd rather work at McDonalds' or at a gas station.
My band recently played a celebration of life benefit show at Jillian's, for Matt Davis, the bass player for Despite The Fallen, who was murdered not long ago. The douche that killed him may even get away with it. I hope to god that true justice comes to that man who killed such a great person.
I don't believe anything the murderer says, or his sister. Family is going to stick together apparently, even if they have to make up some bullshit. The case is going to the Grand Jury. Hopefully a petition will be created to show the courts what kind of person Matt was, and that him getting killed that way is not right, or justified at all. In front of his own kids? Hell no. If that guy walks it will be horrible beyond knowing. The smirk he had on his face after the shooting was arrogant and transparent. There was no remorse or show of conscience at all. You could just tell he was a piece of shit, and was proud of what he did. God Bless Matt Davis' soul. For once, let justice be served.
I had never played Jillian's before and I must say I had a very good time. The place was crowded and the crowd was very responsive. I loved it. Matt would have loved seeing all his friends celebrating his life. Travis Kline and Louie The Local Guy did a great job on the PA system, too! It was sounding great in there! Thanks to the bands Untold Rellik, 99 Proof Devils, Despite The Fallen, 8 LBS Pressure, Klinch, Jayson William Allen, and my band-members in Year Of The Gun, for donating a performance.
Jillian's is a medium to small sized bar, but its fun and some good peeps were there. The food is pretty good, too. If you haven't been out to Jillian's, get out that way for some good local original music! I'd play there again for sure. Hit me up, Louie!
Summer is almost here, and I am looking forward to many shows, reviewing a bunch of you regional bands for Louisville Music News! That is what I am here for.
Don't forget people, send me those live videos of your bands! If it rocks, I'll put it up on our website and all kinds of peeps will see and hear your handiwork. Good quality only though!
Send videos to Eddymetal1@aol.com
The Metal Grapevine
LMN Free Ride -win Tickets To Hellyeah:
LMN's Free Ride is back once again! It's been a few since we've done a giveaway! Hellyeah will be at the Mercury Ballroom on May 24, and you can win tickets to see them! To win, email me at Eddymetal1@aol.com on Sunday May 15 at 9 p.m.sharp. The first one who emails me at exactly 9 p.m. wins! In subject title, put HELLYEAH!!! You will be disqualified if you send more than one email though, so be ready! Thanks to the Mercury Ballroom for the Tickets. Good luck!
Geoff Tate Of Queensryche Coming To Headliners:
April 6 at Headliners, one of the great vocalists of the Eighties and early Nineties will be rockin'. Operation Mindcrime is Geoff's new band. It's not Queensryche, but Geoff's new project. I really don't know much about it. But if it's called Operation Mindcrime, it's gotta be pretty damn good!
I do love me some Queensryche, and it would be interesting to see what Geoff's solo project sounds like. My band will be opening the show, so I am very excited to open for one of my vocal heroes! Opening bands are South Of Never and Year Of The Gun. Please come early for us regional rockers!
This new live video doesn't sound bad!!! Sounds pretty killer, actually. I'm liking the guitar tone too! Geoff just got bonus points with this sweet video.
Interview With Kevin From Candlebox:
Live at The Mercury Ballroom on April 1! These guys will be starting off their tour right here in our own city! I got lucky and scored an interview with vocalist Kevin Martin leading up to the show! I've never seen Candlebox live, so I hope I get to attend this one. My new job has been killing me, so we'll have to see I guess. Here is what Kevin had to say.
Eddy: You have a new album coming out on April 22, called Disappearing In Airports. You must be very excited! So tell me, what is the difference between new Candlebox and the older stuff? And what is the meaning behind the album title? The title made me think of the airport scene in the movie Get Him To The Greek when Aldous Snow makes Jonah Hill shove Heroin up his bum.
Kevin: One of my favorite scenes in that movie! The difference with this album over all the other Candlebox records, I think, is probably consistency. This record from start to finish has an urgency to it, a sense of anxiousness if you will seeing as we really limited ourselves on how we were going to approach each song, not beating our heads against the wall over a part. If it wasn't working we wouldn't fight it, we'd just move on. Never really did that on any level with the previous five Candlebox records. If it felt right, we went with it if not, toss it and move on.
Eddy: What is your favorite two songs off the new album? And why?
Kevin: I'd say "Crazy" and "Spotlights" right now but than can change at any moment. They both just feel so right to me, amazing textures, introspective lyrically and cool melodies through both tracks.
Eddy: What is your tour schedule looking like? Any foreign tours going to happen?
Kevin: No foreign dates yet but we're working on that now. Full tour starts April 1 in Louisville!
Eddy: Are there any pre-show rituals that you guys do before every show to get ready?
Kevin: Not really, mostly sit around chatting about the set list, maybe a cocktail or two and then it's on!
Eddy: What is the best show/crowd you have ever played to? And the most memorable tour you've ever had?
Kevin: Can't pick one but will tell you that Santiago, Chile is always hard to top! They are such an amazing people and I think truly live, eat and breathe music.
Most memorable is probably playing Madison Square Garden. Opening for RUSH in '94 and playing in NYC at the holy grail of venues was super cool.
Eddy: What did you want to be as an adult when you were a young kid growing up in Seattle?
Kevin: A fireman, still do!
Eddy: What is in your CD player at the moment? What are your favorite bands, old or new?
Kevin: What's a CD player? Favorites at the moment are The War on Drugs, Of Monsters and Men and Tobias Jesso Jr.
Eddy: You have a show here in my hometown of Louisville, Kentucky on April 1. I will be there reviewing the show! What do you want to say to your fans leading up to the show?
Kevin: So excited to play Louisville again, it seems like ages since we've been there. Lots of great songs in the set!!
John 5 and The Creatures Review:
OMG. I recently went and saw John 5 and The Creatures and, boy, was that a great show! For those who don't know, John 5 is the guitarist for Rob Zmobie and formerly Marilyn Manson. He is a beast. This show was a highlight of his skills, along with that of his highly proficient band as well. These guys killed! John 5 played about every kind of guitar known to man I think. Classical, metal, bluegrass, Spanish guitar, country, rockabilly, speed metal, dude does it all. His band had no vocalist and it was kinda bummed about that at first but then I saw that that probably wouldn't have worked so well with this band's show. Every song was a wild roller coaster ride of guitar madness with John 5 at the wheel. It would have been a total bitch to add vocals to that madness. But the no vocals thing worked out well. The insane guitars and horror rock props like masks, banners, and John's crazy outfit was cool and entertaining. The place was crowded, but I expected it to be a bit more packed than it was.
I tried to get pics, but I couldn't get close to the stage without getting sweated upon and such.
John really likes his Fender telecasters a lot. And I found that he uses his neck position pickups almost religiously throughout the whole set, except for the heavy parts. He had a guitar that lit up and was filled with oozing green slime; it looked like a lava lamp guitar, and he had another with tons of LEDS in it that were so bright it almost lit up the entire room.
The band backing John 5 was awesome. Bassist Ian Ross was going off, Rodger Carter was badass on drums as well. John 5's guitar tone was excellent and the PA system at The New Vintage was kickin'. I hadn't been there in many years and I'm glad I went.
The new owner has that place going like it should be. There for a while I quit booking shows there because of bonehead mistakes like double booking. Twice that happened so I said "phuck it." I had no time for that horseshit. But now I think the place is in good hands once again, and they have my support again 100%. I'm looking to get my band in there sometime soon.
Opening bands Kingslayer and Ohlm did great. Kingslayer has one of the best vocalists in Louisville for oldschool power metal styles. And Ohlm was very good too. I had not seen them before and was digging the guitar tone and playing style of Nathan McDaniel. It's a very progressive style, and the tone made me wish I had bought one of those Carvin Steve Vai amps for dirt cheap when I had the chance a year or so ago. Good local stuff right there. Nathan and I had an argument a while back, but I gotta give credit where credit is due. The guy jams on guitar. Thanks to Hunter Embry for having this show. I had a blast and John 5 and The Creatures blew everyone's mind it's safe to say. People were in awe of John 5's solo act and playing style of his own project! It was badass.
New Flaw Album To Be Released:
The new Flaw album is due out in a few short months and the band is prepped and ready to kill. I don't think I've ever seen the guys so pumped up, confident and positive. I didn't really know too much info on the new album coming out, so I chatted with guitarist Jay Daunt about things and what's up with the new record about to be released!
Eddy: Jay, tell us about the new Flaw album and what it means to you, and when will it be released? how many songs and What is the album called?
Jay: We are crazy proud of the new album and about its release. This has been a long time coming and we can't wait for people to hear the material. The album will release mid-June and I will have the exact date in a week once we have approved the final masters coming back from the mastering house. For real, everyone outdid themselves on this album and for me it is the perfect follow up to Through the Eyes. Flaw once again has the emotion, groove, melodies and songwriting that we started with and that drew people to us in the first place. The album is 12 songs and is called Divided We Fall. We are finishing the artwork currently and will tour our asses off in promotion.
Eddy: What are your two favorite tracks? And why?
Jay: They are all so incredible I simply can't choose two. Nah, just fucking with ya. I honestly don't have favorites and never really have had favorites on other albums. I would say I am happy with the album front to back and for me the key to an album and my satisfaction with it is that it be complete, front to back with no filler tracks. I think many consider Through the Eyes a front to back listen and I am confident that we have achieved that on Divided We Fall.
Eddy: What are your tour plans after the album release?
Jay: We will be on the road both stateside and overseas in support of the album. Shows will be the songs people already know and songs from the new album and as always people will get a thought out energetic show when the see the band. We will do some headlining runs and some package runs and that is all being set up by TKO as we speak. With the lineup being the original three along with Corey, who is a beast on the skins, this is the first time I have truly loved touring. It is also by far the best Flaw show that people have experienced.
Eddy: Are you guys going to remain a four-piece band? Or are you gonna get another guitarist at any point?
Jay: We started as a four-piece and had only recently added the other member as a package deal, with adding Chris Ballinger right before we signed and released Through the Eyes. With technology and technical ability on the engineering side we sound much better as a four-piece with production. It also is much easier to write and stick to Flaw's sound as a four-piece. The new album sounds like Flaw with a current topping and that was the goal the day Chris Volz and I first spoke of getting back together.
Eddy: You have a show coming up on May 6 at Trixie's w/ 40 Below Summer and the infamous Ron Jeremy. Sounds like a Derby Eve bash from hell. What would you like to say to your fans regarding the new album and May 6 show date?
Jay: Come get fucking nuts with us in the 'Ville. The show lineup is nice and the man with the golden penis will be in the house. It is always great to play at home base and we will be ripping off some new and old material so I can't fucking wait. Thank you for your support as always Eddy, much love brother.
Ron Jeremy's Derby Eve Bash W/ 40 Below Summer, Flaw and Others:
Ready for a raunchy Derby Eve, Friday, May 6, rocking out with some good music and friends? Then head up to Trixie's for a bitchin' show featuring Flaw, 40 Below Summer, 7DaySun, Signal The Revolution,Year Of The Gun and Chadillac Dundee.
Here's some new Flaw for ya.
Solo Of The Month:
So the second monthly Solo Of The Month feature is bass guitar! Who better than bassist Chip Adams? Dude is rightous on the bass and is currently with several bands including - AvantgardeDog, Mad Luck, Bryan Fox and The Good Chiggens, Full Contact Karaoke Band and Strumbeat. Here he is in all his glory! You future Solo Of The Month feature's learn from chip. Add some ambiance and soul to the background! Wine and rock! Classy.
Sevendust Coming In May!
Sevendust is coming on May 25 at the Mercury Ballroom, to be exact. This will sell out, so get your tickets asap if you want to go! Like A Storm (I opened for them last year. Great band!) will be opening so that promises to be a good show. I saw Sevendust at Louder Than life and they kicked some serious butt. They were one of the better bands there. Anyways, those guys are awesome, and when I met them years ago, were very cool and down to earth. So support them! Not many touring rock bands are that cool.
Ghost Coming In May!
Yay, more metal! Well it's kinda metal, in a weird, progressive, sullen way. A few friends turned me on to this newer band and I like them, so I'll probably go check them out and get some pics for you peeps! This music is eeire. See these guys May 11 at The Mercury Ballroom!
Candlebox Coming On April 1:
Check out Nineties rockers Candlebox at The Mercury Ballroom on April 1. I've never seen these guys live, so this could be interesting. Chicks love Candlebox, so thats good!
Black Sabbath Coming To Indy:
September 2 at the Klipsch Music Center! I saw them in 2013 and OMG, it was killer. That was the first concert I paid to get in, in like 20 years! I usually get in free being with the media and all, but that was one time I didn't mind paying, because it was great. Ozzy sounded awesome, despite rumors of him sucking live these days. It was a lie. Ozzy killed! The whole band killed. What a show. Seeing Tony Iommi play his guitar solos and Geezer Butler play "N.I.B" sent goosebumps all up my spine! Supposedly this the end for Black Sabbath, so trust me on this, do not miss this show!
Check out this ancient footage from 1975. It's awesome. Look at Ozzy!
Savage Master Interview and Album Release:
I recently had the chance to meet Stacey and see her jam out recently. What a cool chick! And the band Savage Master is the real deal! Some no nonsense oldschool metal right there! These Louisville rockers have a new album coming out very soon! I chatted with Stacey a little bit about whats new in the Savage world.
Eddy: Sup Stacey! Ya know, I have mad respect for you chick! Your band has basically come outta nowhere pretty fast, and really did well playing nonconformist heavy metal. Playing all over the country. I frikkin' love that! That takes guts! And lots of confidence. That's rare these days. Especially in a small town like Louisville. So tell us a bit about you, the chick behind the mic. Are you from Louisville and have you been in other bands before Savage Master?
Stacey: Thank you Eddy! I moved from Chattanooga, Tennessee to Louisville about three-and-a-half years ago. Savage Master is my first band. I've been singing my whole life and I wanted a band since I can remember, but I never met people with the ability and vision to do something I could get behind until Savage Master was formed.
Eddy: So what's up with this kickass new album you guys have coming out? What is the album title, release date, and how would you describe it?
Stacey: Our upcoming album is called "With Whips and Chains." It will be out in North America May 13th. (That's Friday the 13th!) In Europe it will be out a little earlier, April 22nd. It will be out on CD with Skol Records, Vinyl with High Roller Records as well as digitally with Itunes. It's a fun classic metal and NWOBHM influenced album with a lot of memorable songs that are fun to sing along with.
Eddy: What are your two favorite songs off the album, and why?
Stacey: My two favorite songs on "With Whips and Chains" are "Looking for a Sacrifice" and "Ready to Sin." They are both really strong, visual, catchy songs with a lot of feeling that are also fun to perform.
Eddy: What are your tour plans after the Album release? I hear a rumor that you may be going to Europe! Is that true? Those Europeans love their metal, so you would do well I'm sure.
Stacey: The rumor is true. We have the great honor of playing Germany's 19th annual KEEP IT TRUE Festival along with a handful of other shows in Germany as well as Holland, Austria and Switzerland. This will be our first time over in Europe, so I can't wait. Following the European Tour we will embark on a big North American tour.
Eddy: What was the coolest gig you guys have played so far? Stacey: Oh, that is a difficult question! I think my personal favorite was Wings of Metal in Montreal. We got to hear Angel Witch sound check for fuck's sake!!!! They also slayed live! The energy there was so cool and it was our first time ever playing outside of the U.S. After the bands were finished playing Annick Giroux was dJing kickass classic metal songs and everyone was singing along together and having a great time. I loved that. But then again, we also had a killer time at Frost and Fire Festival in Ventura, California that our friends in Night Demon put together. They kicked ass live, as did Manilla Road – who are a favorite band and also super nice guys by the way, and Ashbury was beyond belief. Eddy: Thanks for doing the interview and I wish Savage Master the best. Give 'em a taste of Louevil metal this summer! Any final words to your fans regarding the new album or upcoming shows?
Stacey: Thank you for the interview, Eddy! To our fans: People will often give you advice and doubts, but if they aren't where you want to be then you're better without it. Follow your passions, always! See you on the road!
The Velcro Pygmies Tribute:
Condolences go out to the whole Velcro Pygmies family for their recent loss of the Sanders brothers in a boating accident. This news has rocked the city. I didn't know those guys but any senseless loss like this is one to be mourned by all. Something sounds fishy to me with all this. Surely two strong men could have prevailed over any boating accident. Those guys were in great shape and should have been able to swim to shore in an accident. I dunno. This is horrible. Prayers to The Velcro Pygmies and their families in this rough time. R.I.P guys.
Unleashed's New Song Review:
I'm sitting here checking out the new Unleashed. I love this band and their whole danged family. Some of the best people I know. Not only that, but these kids are frikkin' amazing to say the least. The song is called "Reality" and it sounds great. Hunter Borowick is not only an amazing guitarist but he is also a great vocalist as well. I'm hearing elements of Rush in the music. Great lyrics. Great songwriting. And the lead guitar solo's are epic. Awesome tone and very tasteful in their delivery. The vocals remind me a little bit of Todd Whitener of Whitener's vocal style. Very melodic and subtle with crystal clear lyrics that you don't have to strain to understand. I'm digging the second solo and the effects used on the guitar. Perfect! It's a laid-back chill song with a good vibe/feeling. The band is awesome, every member. And for such a young group (ages 16 – 22) it seems the sky is the limit. I haven't seen them play for a while now, I hope they get some good shows this summer so I can go check them out. They never fail to put on a great show. They are playing Thunder Night at Baxters! So get yo asses in gear and go see Unleashed.
Disturbed, Breaking Benjamin 2016 Tour- Two Shows In Our Region:
Wednesday, July 20 at Klipsch Music Center in Indy, and also at Riverbend in Cincinnati on Wednesday July 27. Sounds like a pretty sweet show, for real! Lots of ladies will be there, too I'm betting. Might have to make one of these shows! With them are special guests Alter Bridge and Saint Asonia.
Musician Of The Month, Lee Lanham:
I don't wanna hear any crap about me featuring my bassist.
Year Of The Gun bassist Lee Lanham has been a rockin' MF from the time I met him in 1989, and I am not going to deny him his deserved right to be featured just because it might anger some! Piss off! This guy is a funky bass machine and he deserves this feature if any Louisville musician does. Not only is he a dedicated awesome bassist who has played many great shows in this town, but he sings backups as well. So here he is. Be sure to check out his feature this month!
THC Hitting Louisville Soon:
Texas Hippie Coalition will be at Trixie's on May 15! The undercard is Sons Of Texas, Boozer, Gravelswitch and Downtrend. 6 p.m. I've never partaken of THC before so I think I will attend. This should be fun!
I like this THC song.
Whitesnake Coming To Riverbend:
Tuesday, June 14 at Riverbend, Whitesnake returns! I know what you might be thinking, Those dudes are 900 years old! Well, let me tell you! I reviewed them there about 7 or 8 years ago, and they were unreal! David Coverdale is still amazing. Actually better than ever! He hit the notes in "Still Of The Night" and everything! I was wondering if he could do it, and he did. Not to mention the awesome guitar work of Reb Beach and legendary drumming of Tommy Aldridge. How can you lose?
Just In – Bullet For My Valentine Coming May 17:
Ok, I don't know shit about this band, but I do know a lot of young peeps like them, so here you go! Tuesday, May 17 at the Mercury Ballroom w/ Asking Alexandria and Cane Hill. Get your tickets!
Pearl Jam coming to Rupp in April:
Never been much of a fan, but I like a few of their songs I guess. If you could only understand what the hell Eddie Vedder says when he sings. He is one mumbling mofo. Anyway, the show is on April 26 at Rupp Arena in Lexington. Get your tickets now! People love this band so it might sell out. Who knows, maybe I'll go check this show out and expand my musical tastes some more. This would be a good show to take a chick to!
Eyehategod Coming To Trixie's:
New Orleans sludge metallers Eyehategod are coming to Trixie's on May 1. With them will be locals The Stonecutters, Luther and VAMT.
Rockaway Drive Seeking Vocalist:
Oldschool heavy metal band Rockaway Drive is seeking a vocalist. These guys jam and are cool, so if you wanna join an established band already going strong, here is your chance. Email Mick at mickwatkins85@yahoo.com
Here is sample of their music.
LMN Live – Littledidweknow:
Here's a little Louisville metal for ya.
LMN Live – South Of Never:
Central Kentucky's South Of Never rocks!
LMN Live – Chadillac Dundee:
Louevil Rap rockers Chadillac Dundee in action.
LMN Live – Jayson William Allen:
Here is solo artist Jayson William Allen in action a few years back.
Upcoming Shows
Diamond Pub
Thursday, April 7 – Fallujah w/ Littledidweknow, Left To The Wolves, Cryptic Hymn and Rejected Creations.
Friday, April 22 – The Faceless w/ Scale The Summit, Rivers Of Nihil and Native Construct. 6:30 p.m.
Thursday, May 5 – Prong w/ Granshaw, Devil And The Darkness, Klinch and Kentucky Ugly.
Wednesday, May 25 – Sevendust w/ Like A Storm and Pick Your Poison. 8 p.m.
Tuesday, June 14 – Insane Clown Posse. 8 P.M
Saturday, July 11 – 10 Years w/ He Is Legend and Spoken. 7:30 P.M
Headliners
Wednesday, April 6 – Operation Mindcrime, featuring Geoff Tate of Queensryche w/ Year Of The Gun and South Of Never. 8 p.m.
Jillian's
Saturday, April 16 – Zeroking (WV) and All Saints Fade and TBA.
Massies Entertainment Venue
Saturday, April 30 – Atomic Thrillride w/ Mass Driver (Knoxville), All Saints Fade and The Transmissions.
Wednesday, March 23 – Crowbar w/ Kentucky Ugly and Old Wolf.
The Mercury Ballroom
Thursday, May 5 – Parkway Drive w/ TBA.
Wednesday, May 11– Ghost w/ Pinkish Black. 7:30 p.m.
Tuesday, May 17 – Bullet For My Valentine w/ Asking Alexandria and Cane Hill.
Wednesday, May 25 – Sevendust w/ Like A Storm and Pick Your Poison. 7:30 p.m.
The New Vintage
Sunday, May 1 – Bane, Expire and Malfunction. 7 p.m.
Red Bicycle Hall In Madison Indiana
Saturday, April 23 – The Care For Kids Benefit - O' Kingdom w/ Lifelines, Gallifrey Falls, A Rumor Of War, Closesure and Illustrator. 6 p.m. This organization helps pay for bills, medicine, gas, ect that families who have children suffering from cancer can not pay because they are paying for medical bills themselves.
Trixie's Entertainment Complex
Sunday, May 1 – EyeHateGod w/ The Stonecutters, Luther and VAMT. 8 p.m.
Friday, May 6 – Ron Jeremy's Derby Eve Bash w/ 40 Below Summer and Flaw, with special guests 7daySun, Signal The Revolution, Year Of The Gun and Chadillac Dundee. 6 p.m.
Sunday, May 15 – Texas Hippie Coalition w/ Sons Of Texas, Boozer, Gravelswitch and Downtrend. 6 p.m.
Saturday, May 21– Luther w/ VAMT and Hells Fire Sinners. 9 p.m.
Turntable Bar and Grill (1823 Morgantown Rd, Bowling Green Ky)
Saturday, April 9 – Luther w/ The Ghost and The Human Hoax. 9 p.m.