April 2016 Articles
Cover Story
Paul Moffett
Columns
Sue O'Neil
Eddy Metal
Eddy Metal
Blogs
Got Shows?
Send Them To Us
Bookmark Louisville Music News.net with these handy
social bookmarking tools:
Available RSS Feeds
- Top Picks
- Today's Music
- Editor's Blog
- Articles
Add Louisville Music News' RSS Feed to Your Yahoo!

Issue: April 2016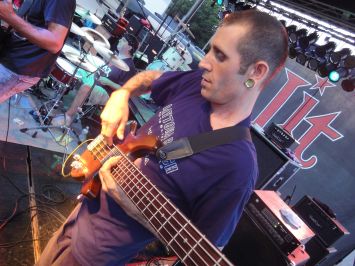 Lee Lanham
Name: Lee M. Lanham
Age: 45
Bands and former bands: Currently with Year of the Gun, formerly of Hearsay Theory and Intake.
How long on instrument: Roughly around 18 years on the bass but I play several other instruments as well just felt more comfortable on the bass.
Equipment used: Ampeg B4R and 6x10 Ampeg cabinet with Warwick 5 string Corvette and a few effects but I like to keep it clean.
Influences: Anything that grabs me by the booboo! But been checking out a lot of David Pastorious.
My first gig: Staind at Headliners Music Hall back in late 90's.
Hobbies: Music, music and more music!
Favorite movies: Devils Rejects, Old School, The Shinning, Dazed And Confused, The Wall plus many more. Mostly border around comedy.
Favorite food: Anything Italian, Mexican and Chinese.
Favorite place: Home! lmao!
Favorite sports/ team: Not to big on sports but when I do I go for college basketball. Don't have really a favorite but would have to go with Kentucky.
What do you listen to now days: Lots of music nothing specific but listening to a lot of Deftones here lately and as well oldschool classics but hell I listen to a lot of different stuff.
Coolest thing I've done: Becoming a dad!
Most embarrassing thing I've done: Well, I'm not really sure! I've done some silly shit but never cared if I was embarrassed or not. lol
Bad habits: Smoking ciggs but that's all I'm sayin,lol!
My first concert: Kiss back in 1974 when my mom worked at City Lights. She had to take me to work cause of no babysitter. Think she said I freaked out, lol! But the Doobie Brothers is the only one I remembered back then cause she took me to a lot plus Alice Cooper.
What rock star would I like to meet past or present: Kurt Cobain, would like to know how someone can move a generation of music lovers like he did and then take his own life. Just doesn't add up.
Who do you love: Love for all my friends and family also my kiddo's and my queen, oh and of course my first love music! lol