February 2016 Articles
Cover Story
Paul Moffett
Columns
Les Reynolds
Martin Z. Kasdan Jr.
Eddy Metal
Eddy Metal
Blogs
Got Shows?
Send Them To Us
Bookmark Louisville Music News.net with these handy
social bookmarking tools:
Available RSS Feeds
- Top Picks
- Today's Music
- Editor's Blog
- Articles
Add Louisville Music News' RSS Feed to Your Yahoo!

Issue: February 2016

Jazzin'
PRELUDE:
Well, continuing to run behind. I posted a "Show of Note" for local writer Syd Bishop's band Visiting Nurse and Chicago's Galaxxu at Dreamland, but couldn't make the gig. One of my resolutions (from last month, ha ha) is to get back on track. I do miss the print edition, and sometimes have a bit of trouble adapting to the online-only Louisville Music News. Thanks for reading.
RECENT CONCERTS
Dave Liebman and Expansions at Clifton Center
Saxophonist/composer/educator/bandleader Dave Liebman returned to Louisville for a 90-minute concert at the Clifton Center on October 21 with his new group, called Expansions. It features rising star Bobby Avey (piano/keyboards), Alex Ritz (drums/frame drum), Matt Vashlishan (alto sax, flute, clarinet), and the only member from prior bands, Tony Marino (electric and acoustic bass). "Lieb," as he's known, told Louisville Music News about the current lineup: "Every decade or so throughout the history of jazz, the way the new generation conceptualizes the music changes. With one holdover from my last band (which was together for 23 years), bassist Tony Marino, I have indeed 'expanded' my horizons with these exciting young artists. An older musician like myself has to stay current and these gentlemen are indeed helping me bridge the generational differences."
Opening with Wayne Shorter's classic "Footprints," the musicians followed with "The Moors." On "The Sky" (for Ornette Coleman), Lieb's soprano led off, followed by ensemble playing which, in turn, opened up for acoustic bass and piano solos, Avey's fingers flying and moving into free territory, with the band coming back for a Coleman-like crescendo. Another master, Thelonious Monk, was honored in a rendition of his "Ugly Beauty." "Vendetta," from the group's 2015 album The Puzzle, was introduced as a song to solve musical problems relating to harmony, with soprano sax and clarinet leading off, with solos following by Avey, then Liebman, and then Vashlishan's subtle clarinet. The band closed with a piece from their first album, Samsara, entitled "Liberian Hummingbird." The leader introduced it as "James Brown on steroids, as if he needed that." Marino held down the bottom on electric bass, locking in tightly with Ritz's drumming. As the piece progressed, it sounded not just like the Godfather of Soul, but some Ornette Prime Time thrown in for good measure. Funky and freaky. It's always interesting to hear Dave Liebman when he comes to Louisville, but it's especially rewarding on those occasions, like this one, where he has his current band with him.
The Jeremy Cunningham Quartet at Dreamland
The Jeremy Cunningham Quartet features Jeff Parker (Tortoise) on guitar, Josh Johnson on alto saxophone, and Matt Ulery on bass. Their debut album, Pulses, is slated for a winter release on ears&eyes Records. They played at Dreamland on Friday, October 30. Bret Berry opened with an intriguing solo set of ambient, sometimes fuzz-toned electric guitar. Cunningham's group then played a short but inventive set, opening with a piece that featured Parker in seemingly Monk-ish mood. The second song, after a pretty bass introduction, moved into skronk territory. A Johnson original, "Jeanette," evoked Brazil, with playing that was the most mainstream of the night. Throughout the songs, leader Cunningham led from his drums, without getting overbearing. It would be great if they could return for two full sets.
Bill Frisell at the Clifton Center
Bless Bill Frisell, for being not just a wonderful guitarist, but a great human being. He volunteered to play for the Give-a-Jam benefit for the Louisville Coalition for the Homeless, flying in from Seattle to play a solo concert on Thursday, November 19. My interview to preview this concert may be found at http://insiderlouisville.com/lifestyle_culture/jazz-musician-bill-frisell-donates-concert-fee-help-coalition-homeless. Vibraphonist Dick Sisto opened, with longtime musical colleague Tyrone Wheeler on acoustic bass, except for their initial offering, Jaco Pastorius' "Three Views of a Secret," on which Wheeler fittingly played electric. The remainder of their set consisted of standards, ranging from "Smoke Gets in Your Eyes" to "A Little Help from My Friends." They swung mightily on Monk's "Trinkle Tinkle" and the closing "All the Things You Are," featuring a guest appearance by Frisell. He proceeded to play a varied set, starting with "The Days of Wine and Roses," continuing into a medley which began with "Both Sides Now" and ambled into loop territory. The next segment began with a Thelonious Monk composition, which morphed into Muddy Waters' classic "I Can't Be Satisfied" (with a bit of Mississippi John Hurt thrown in for good measure). Frisell took the audience into ambient music territory after starting with (I think) the "Theme from Summer of '42" before journeying through the Fourth Dimension. Returning for an encore, he played a sweet version of "Don't Cry for Me, Argentina." I was a bit surprised (but not disappointed) that he didn't rock into some surf music from Guitar in The Space Age! He has a new album coming out any day now, of music from movies, entitled When You Wish Upon a Star, and is also a key member of Charles Lloyd and the Marvels, whose debut album is just being released. Louisville is fortunate to have a musician of Frisell's stature feel ties to our city.
Zach Brock's Triptych at the Nachbar
Lexington native, now Brooklynite Zach Brock, continues his adventurous violin playing with many different lineups. On November 6, he brought two old colleagues, Matt Ulery on bass and Jon Deitemyer on drums, to the cozy confines of the Nachbar. The venue's reverse L-shaped contour helped to minimize the potential conflict between socializing bar patrons and music lovers. The trio performed two sets, with compositions by each of the members. Early on, they tested the audience's counting skills with Deitemyer's funky blues in 15-meter, cleverly titled "Fifteen" (cf. The Grateful Dead's "The Eleven"). Next up was a piece rearranged from the quartet of Brock's Purple Sounds to the trio setting, "Folkloric," featuring melodic work from Brock and Ulery, subtly accompanied by Deitemyer. "Triple Dutch," a song from Brock's collaboration with Phil Markowitz, Perpetuity, closed the first set. The setting made it a bit difficult to keep up with song titles, so I will note that the second set ended with a rousing barnburner from Sonny Rollins ("Tenor Madness"?), and a Ulery original, "The Queen." The musicians seemed stoked throughout the evening by the warm reception from their Louisville fanbase.
ON THE HORIZON
Donny McCaslin at The Clifton Center
Saxophonist Donny McCaslin has recently come to the attention of many outside the jazz world as the bandleader for David Bowie's final album, Blackstar. He has long been respected in the jazz world, having played professionally since his teen years. Over time, he played with luminaries such as Gary Burton and the Maria Schneider Jazz Orchestra, as well as performing and recording with his own band. His most recent album, Fast Future, has been described as "Jazz meets EDM." He comes to town for a concert at the Clifton Center on Friday, February 12, joining local luminaries Craig Wagner (guitar), Chris Fitzgerald (bass), and Mike Hyman (drums). Look for my mini-interview with McCaslin on Louisville Music News' homepage or, if you see this after the fact, e-mail me for a copy.
University of Louisville Jazz Fest 2016
The University of Louisville School of Music's Jamey Aebersold Jazz Studies Program presents the 2016 Jazz Fest on the final weekend of February. The series opens Friday night, February 25, with baritone saxophonist Denis DiBlasio. On Saturday, drummer Carl Allen brings a hot band, consisting of Freddie Hendrix - trumpet, Tivon Pennicott - tenor sax,
Eric Reed - piano, and Yasushi Nakamura - bass, in a presentation featuring the music of Elvin Jones and Art Blakey. On Sunday, Guggenheim Fellow Ryan Cohan performs; he was introduced to many of us here by the Jazz Factory. Ticket information, etc., at http://louisville.edu/music/academics/areas-of-study/jazz/2016-jazz-fest. Look for a preview with more details in LEO Weekly the preceding Wednesday.
SELECTED CLUB AND OTHER LISTINGS
Dreamland, 810 E Market St., is presenting a wide-ranging series of events this month. They include films, non-mainstream rock, and more. Not much of specific interest to jazz fans is set for the second half of December, but there's an intriguing schedule of adventurous and often improvisational music, plus film nights. Dreamland is in Nulu and Dreamland's Facebook page may be the best way to stay informed on these and other events.
The Decca Lounge and Restaurant (812 East Market Street, Louisville, Kentucky 40206; 502-749-8128; http://deccarestaurant.com) presents weekly jazz on Monday nights, featuring The Buzzard, with Tim Whalen, tenor; Pete Petersen, keys; Danny Kiely, bass; and Mike Hyman, drums. There are also other occasional jazz events, for which the website and Facebook page may be the best ways to keep updated.
The Nachbar (969 Charles Street, 502-637-4377, www.myspace.com/thenachbar)features "Nachbar Jazz" on Wednesdays, for free, with Jacob Duncan. Check the club for updates or changes. The club also has a Facebook page with occasional updates.
The Jazz Kitchen (5377 N College Ave., Indianapolis, IN 46220; phone: 317-253-4900; www.thejazzkitchen.com), presents nightly offerings of local and regional jazz; check the website for the full schedule and updates. February offerings for the second half of the month are local and regional in nature. Special upcoming concerts in early March, for which a road trip might be advised: Christian Atunde Adjuah Scott, bringing new vision to his New Orleans roots, March 6; Steve Wilson + the Steve Allee Trio, March 12.
Please sign up for updated local jazz listings: The Louisville Jazz Society provides weekly e-mail updates for local jazz happenings. Be sure to sign up for the Louisville Jazz Society's e-mail "Jazz Insider" at www.louisvillejazz.org. A monthly calendar of local jazz events is at the Louisville Jazz Society's website: http://louisvillejazz.org/calendar. It is both impossible for me to try to provide complete listings here, and it would be duplicative of the weekly listings in the Courier-Journal and LEO and the Louisville Music News monthly music listings, www.louisvillemusicnews.net.
EIGHTH NOTES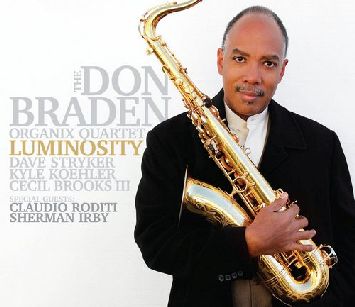 Luminosity:(Creative Perspective Music, donbraden.com)
Don Braden Organix Quartet
Raised in Louisville, saxophonist and flutist Don Braden has performed with the top names of jazz over his career, including Betty Carter, Roy Haynes, and Wynton Marsalis for starters. He's also prolific as a leader, with albums on Criss Cross, HighNote and other top labels. More recently, Braden has released recordings on his own, Luminosity being his latest. Bandmates Dave Stryker (guitar), Kyle Koehler (organ) and Cecil Brooks III (drums) are truly a band, not just pickup musicians, and they join Braden for soul, bop and funk, mostly originals. They open with the fast bop of the title tune, followed by the tight'n'funky "Jive Turkey." Chick Corea's "Bud Powell" is fast-paced modern bop. It's followed by "Do Love Me Do," a stand out for several reasons. Braden's composition is at once familiar yet fresh, sweet but not saccharine, and the ballad features his eloquent flute playing. Soft organ undergirds Braden's warm alto flute, Brooks' elegant brushwork never intrusive, while Stryker stays in the background, strumming gently. He returns to flute on "A Whole New World," inspired by watching Disney's Aladdin with his daughter when she was young. Another showstopper is Braden's a capella tenor take on Strayhorn's "Chelsea Bridge." This album makes me hope Braden will return soon for another visit to Louisville.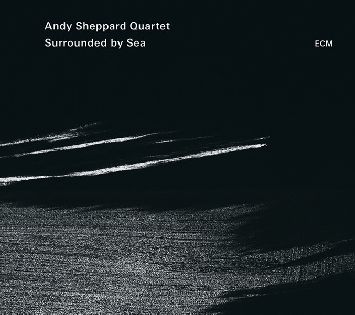 Andy Sheppard Quartet
Although this has been out several months, I still wanted to cover it. Sheppard, long a solo artist in his own right, has a resume which includes work with Carla Bley, George Russell and Gil Evans. He composed or co-composed most of the pieces, also co-arranging the Gaelic traditional ballad "Aoidh, Na Dean Cadal Idir." Sheppard's soprano and tenor saxophone playing is enhanced by the subtle work of his bandmates, Michel Benita (double bass), Sebastian Rochford (drums) and Eivind Aarset (guitar). The music does not swing so much as it swirls, creating waves of atmospheric auditory images. I can't help but refer to the seminal work of Eberhard Weber's 1970s ECM albums and more recent work by label-mate and fellow British composer and saxophonist John Surman. "Tipping Point" begins the album with a fast-paced swath of atmospherics. "I Want to Vanish" an arrangement of an Elvis Costello song, is next, floating with soft spaciness. Later, a Sheppard original entitled "The Impossibility of Silence," sounds like trance music inspired by the likes of John Coltrane and Charles Lloyd. Next, "I See Your Eyes Before Me" (also by Sheppard), opens with a conversation between bass and saxophone, before cymbal shadings emerge, followed by drumset and guitar. Bassist Benita wrote and is featured in "A Letter." Throughout the eleven pieces, Sheppard and his colleagues demonstrate that quiet can be forceful in its own way.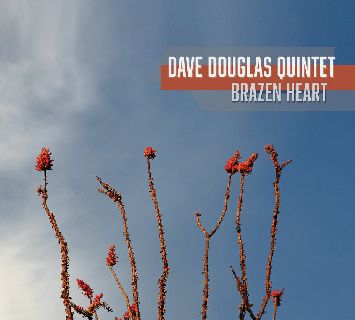 Dave Douglas Quintet
Composer/bandleader/trumpeter Dave Douglas has kept the personnel of his working group together through the course of several years, so that this latest release reflects the intuitive interplay that can only be achieved through regular gigging and recording. Joined by tenor saxophonist Jon Irabagon, pianist Matt Mitchell, bassist Linda Oh and drummer Rudy Royston, Douglas leads off on the opening title track with burnished tone, virtually inviting the other musicians to join him on a new journey. Except for two hymns, "Deep River" and "There Is a Balm in Gilead," all the pieces are by Douglas. "Deep River" is played straightforwardly, with very soulful saxophone work by Irabagon. Next up is the "Monk meets New Orleans feel of "Hawaiian Punch," with a section calling to mind the historic exchanges of Don Cherry and Ornette Coleman. Royston's roiling drums propel "Inure Phase," as the band digs deeper and deeper. "Lone Wolf," the shortest piece (2:55) is like a fast-paced interlude, leading to "Miracle Gro," which deftly mixes updated funk rhythms with modern soloing. Douglas has acknowledged study of Wayne Shorter's music, and this seems to be underscored in "Ocean Spray," where the Miles Davis/Wayne Shorter connection seems strongest. The remaining songs on the album continue the balance between precision and freedom, pushing the classic instrumental quintet sound without abandoning it.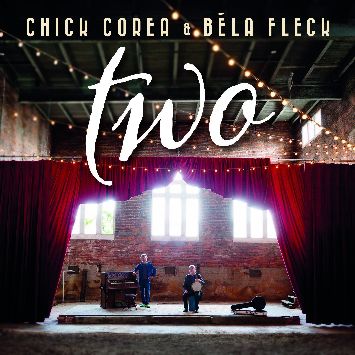 Chick Corea and Béla Fleck
Despite coming from differing musical backgrounds, it's hard to imagine a more compatible pairing of musicians than pianist Chick Corea and banjoist Béla Fleck. It's also hard to imagine that it's been eight years since their first collaborative album, The Enchantment, came out. Perhaps to make up for lost time, they released a 2-CD set, simply entitled Two, a few months ago. Most are live versions of the songs from their prior release, but they take on new life in live performance. Of course, both Corea and Fleck are fond of conversing both with words and music to their audience, so the songs are interspersed with lots of banter, some of which was probably more entertaining in the moment than captured for posterity. Nonetheless, they shine from beginning ("Señorita," with its "Spanish tinge") through the "new" (for these two together) closing, a short and snappy take on Corea's classic "Armando's Rhumba." Two other previously unreleased songs from the pair stand out. "Bugle Call Rag" evokes Fleck's Bluegrass roots, down to Corea's ebullient pianistics. "Prelude en Berceuse" by Henri Dutileux, is preceded by a brief discourse on the proper pronunciation of his name. The performance itself is a lovely Classical miniature, allowing Fleck and Corea to collaborate in a style unlike what either usually plays. One fascinating piece is the burning "Sunset Road." A Fleck composition, it sounds like something Corea might have penned. In short, throw away categories and enjoy this collaborative effort by these two masters.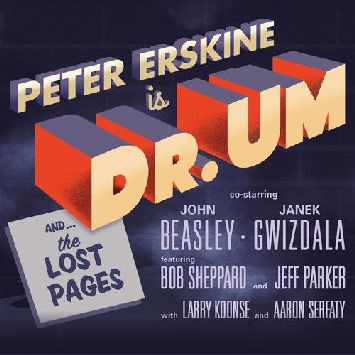 Dr. Um (Fuzzy Music, http://petererskine.com/)
Peter Erskine
Drummer Peter Erskine is much in demand these days, recording with a wide variety of artists in all genres. He came up, of course, in the jazz world, playing early in his career with the big bands of Stan Kenton and Maynard Ferguson before joining the seminal band Weather Report. This new release features a core band of John Beasley, keyboards; Janek Gwizdala, electric bass; Bob Sheppard, tenor saxophone; and Jeff Parker, guitar. Taken as a whole, the record is more fusion than straightahead, albeit the grooves are generally more relaxed here than in Weather Report. Erskine's "Little Fun K" calls Stevie Wonder to mind. Beasley's arrangement of a Mahler composition unfolds with stately grace, the leader providing subtle brush support. "Sage Hands" lets the band blow on a laidback blues. They also revisit Weather Report's "Speechless," an elegant Zawinul ballad. Overall, the album is enjoyable, but doesn't quite catch fire like Erskine's work with Weather Report.
LOCAL JAZZ CONTACTS
With two now-seventeen-year-old daughters, it's hard to get out as much as I would like to hear music. As a result, picking and choosing which performances to catch sometimes require that I postpone seeing some of the local musicians and singers in order to not miss the one-night-stands from out-of-town artists. Invariably, I feel guilty, so in an effort to assuage my guilt and, more positively, to provide more exposure to our community of great local jazz performers, I am initiating this feature containing website and e-mail contact information. I am only including those artists who have given their permission to me; some have indicated a preference for website listing only; others have only e-mail addresses. If you wish to be included, drop a line to me with your permission and preferences, at mzkjr@yahoo.com. I reserve the right to edit and to exclude those whose connection to jazz is, in my opinion, tenuous; and this feature may end up online if it begins to take up too much space in print.
MIKE TRACY: www.michaeltracy.com, michael.tracy@insightbb.com, saxophonist and teacher Mike Tracy
UNIVERSITY OF LOUISVILLE JAZZ PROGRAM: www.jazz.louisville.edu
BOBBY FALK: www.myspace.com/bobbyfalk, drummer and composer Bobby Falk;
WALKER & KAYS: www.walkerandkays.com, singer Jeanette Kays and guitarist Greg Walker;
JENNIFER LAULETTA: www.jenniferlauletta.com, singer Jennifer Lauletta;
JEFF SHERMAN: jeff.sherman@insightbb.com, guitarist Jeff Sherman;
RON JONES: www.ronjonesquartet.com, rjmusic@ronjonesquartet.com, saxophonist Ron Jones;
STEVE CREWS: www.jazzcrews.com, jazzcat@iglou.com, pianist Steve Crews.
CODA
1) I am always interested in your comments. Contact me at mzkjr@yahoo.com.