February 2016 Articles
Cover Story
Paul Moffett
Columns
Les Reynolds
Martin Z. Kasdan Jr.
Eddy Metal
Eddy Metal
Blogs
Got Shows?
Send Them To Us
Bookmark Louisville Music News.net with these handy
social bookmarking tools:
Available RSS Feeds
- Top Picks
- Today's Music
- Editor's Blog
- Articles
Add Louisville Music News' RSS Feed to Your Yahoo!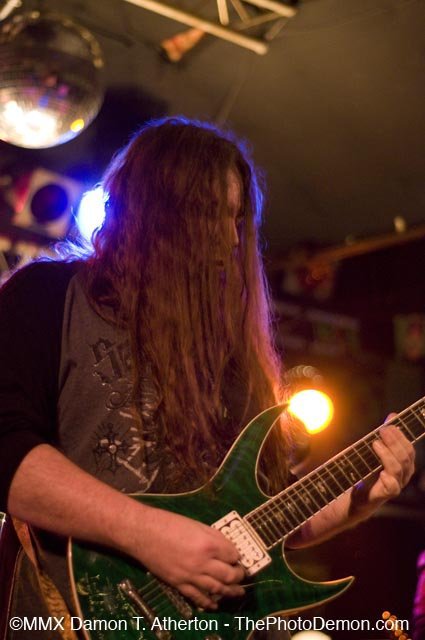 News From the Pit
I'm feeling real optimistic about 2016 people! I'm outta the dark and on to positive things. I'm on a deflect negativity path nowadays and so far it's working out great for me. Very little stress in my life these days. You can't let someone else's little petty and ridiculous bullshit mess up your life. You only live once, so make the best of it! Cast out anything that hinders your path. Trust me, you will feel better about everything. I've been getting out a bit more recently, too. I've been having a blast being single. I went to several concerts! Did some reviews! Had some fun! Consumed some beverages.
I was bummed out about what happened with our guitarist in December, but he is now long gone, and after a month-and-a-half search, we have a new guitarist and I couldn't be happier. Time to kick some musical ass in 2016! Finally, someone else that is as dedicated as me on guitar! I'll be honest, it's really hard finding musicians who have their stuff together, with the time and desire to play music professionally, especially older guys like me! The right gear, the right tone, good playing ability, stable, responsible, anti-drama. And all of those things are crucial. The new guy, Kris Walls, don't mess around. He is ready to rock, so I'm looking forward to what 2016 will bring now that I have a second guitarist who is willing and able to put in the necessary time and effort into the music. A few other decent guitarists tried out, but were lacking in gear. One guy actually said it doesn't matter what kind of gear you have. Okay, I'm tired of seeing/hearing that ridiculous shit! I saw a post of it on Facebook as well. Let's get this straight once and for all. Proper gear is crucial, especially when the rest of your band has pro gear! It's like trying to have a Kia Rio keep up with a Porsche on a dragstrip!
Do you mean to tell me you think a band with two guitarists, one that has a top-notch tube-driven guitar amp w/ Marshall cabinets and a quality guitar, trying to match up sounds/tones up against someone playing a $200 Crate head, a Kustom cabinet with crap speakers and a Fender Squire guitar that sounds like a 2x4 with strings nailed on it would work? It would sound like total crap! Matching guitar tones in a two-guitar band is very important. I know, shut up with the guitar geek talk. I'm shuttin' up. I HAD to address that, though. If you want to be taken seriously as a musician, then you have to pay the price and have the proper equipment. And if you don't believe that, then you are dumb as phuck.
'Nuff said.
I'm really missing my old venue I booked at for 15 years, The Phoenix Hill Tavern, lately. Yeah, yeah, I was getting a lil' too old for the place but I still loved it, and had so many good memories there with several bands I've been in, and several GF's. Not to mention I missed having Rock For Kosair! Oh well, we'll definitely have one in fall 2016! I'll find another venue!
There's no more meat markets anymore! All the slutty places are gone, and that makes me sad. We need some more slutty places. Just sayin'. Places like the Toy Tiger and Phoenix Hill were a bit raunchy, as you could go in there and who knows who you would meet and run into! Perhaps some new chick who wants to do things with you behind the dumpster (this never happened!), or an old ex GF who still wants to play! It got kinda wild from time to time. I miss that. The atmosphere and feel of the club. Oh well, it's history now, and soon to be a trendy apartment complex. Yay. Just what the Highlands need. Pssshhhh!
Oh, well, times change, and you cannot stop that. I just hope some badass new venues open up their doors for local music. Our scene really took a hit when the PHT closed. I've never been one for playing little dive bars either, so I'm kinda spoiled! I've had some amazing times playing music in my day, and I wish for those times to continue until I'm too old or lame to keep going!
So get out there, hunt some venues down like I used to when I was young. Find a place that would be perfect for shows, and talk to them. It don't hurt to talk. You never know what kind of cool stuff you could get going with a little effort and positive attitude. It always worked for me! I booked badass shows for 20 years at two of Louisville's legendary clubs! You couldn't get rid of those memories if you tried!
But now I'm getting old, and it's up to you young folk to get out there and keep our beloved scene going strong. You can do it!!!
The Metal Grapevine
Breaking Benjamin at Mercury Ballroom in February:
An unplugged acoustic performance by Breaking Benjamin will be happening at The Merc on February 10. This should be a hot ticket. And will probably sell out, so get your tickets now. I saw them at louder than life and was very impressed. I'm looking forward to this show, and all the ladies they will bring! It will no doubt be babefest 2016!
Get your tickets NOW! You have been officially warned! Here is a lil' preview of some acoustic BB.
The Rock 4 Chase Warriors Benefit at Hard Rock Cafe – Help Us raise money for a little boy with Brain Cancer:
Back in December I had the chance to do some good by playing a benefit at The Hard Rock Cafe for poor kids for Christmas and for a three-year-old little boy named Chase Strong, who has brain cancer. Well, his family is in dire need with all the bills and whatnot, so we musicians are gonna do our best to raise money for the lil' guy's family in late February. Promoter Kristi Stewart calls us "Chase's Warriors" since we are fighting for him. I'm all for helping those less fortunate, especially if I get to rock out doing so! There will be all kinds of prizes, drawings, raffles for some cool stuff. A bunch of sponsors have jumped on, so this will be fun and great for the scene! God knows we need more venues to play at, and The Hard Rock Cafe is a very nice venue. The warriors, um, I mean, bands participating, are Jefferson Tarc Bus, Klinch, Year Of The Gun, On My Six and Untold Rellik. This will be an awesome event, so be sure to come out and support the cause. Chase has just been through his 4th round of chemo, so his family could sure use our support. The show is on Sunday, February 21 at the Hard Rock Cafe at 2 p. m. sharp.
Sevendust coming in May!:
May 25 at the Mercury Ballroom to be exact. This will sell out, so get your tickets asap if you want to go! Like A Stormz (I opened for them last year. Great band!) will be opening, so that promises to be a good show. I saw Sevendust at Louder Than Life and they kicked some serious butt. They were one of the better bands there. Anyways, those guys are awesome, and when I met them years ago, were very cool and down to earth. So support them! Not many touring rock bands are that cool.
Ghost coming in May!:
Yay, more metal! Well it's kinda metal, in a weird, progressive, sullen way. A few friends turned me on to this newer band and I like them, so I'll probably go check them out and get some pics for you peeps! This music is eeire.
Graveyard at Headliners Review:
Louisville metal veteran Vic Hillerich told me about a Swedish band that is awesome, so I went to check them out at Headliners. I hadn't been to Headliners in years! Actually I can't even remember the last time I went there! The band is Graveyard, a 70's rock, psychedelic, bluesy, stoner rock endeavor that left me speechless. I had never really heard about this Swedish band, but these guys are über talented. Great vocals, both lead and backups! Nice, clean, pretty guitar tones from their orange amps, and some dirty stoner rock, heavy grunge sounds when called upon, too. All these sounds made for one great musical treat. Vocalist/guitarist Joakim Nilsson is a vocal monster, hitting some real high notes a la Led Zeppelin, as well as some grungy harder vocals. Towards the end of their set, he really let loose and wowed the crowd. To be able to play those riffs AND sing those harder high notes while playing is impressive! It sounded great. You never would have expected a blues master to come from Sweden, but here they were in all their glory.
The lead guitarist Jonatan Ramm didn't really impress at first. Don't get me wrong, he was good, but not spectacular. But as the night wore on, I noticed he really was holding back on what he could do. He opened up and started to let loose more and his talent came out. He is a damn good blues guitarist. He was all over the place on that Gibson Les Paul fretboard and was singing backups well at the same time. The drummer, Axel Sjoberg was a madman, an absolute beast! He reminded me of Jon Bonham a little, the way he played and sounded. He was killing those drums. I dug his vintage see-thru green acrylic drums too! Very hippie-like! The bassist held his own as well. No complaints here.
Some songs were energetic and rockin' but most were laid-back tunes that stir the soul. It was like Kingdom Come meets Zeppelin meets Kyuss meets Stevie Ray Vaughn meets Black Sabbath. All of those artists mixed into one sound that delved into all territories of these bands styles. The musicianship was off the hook. and the place was packed! Tons of people. I saw Vic there, Frank Green from The Ass Haulers, a few guys from Chigger, Stephen Cleveland and Jason Williams from Luther (that dude is too cool), and a few more Louisville rockers. There were some cute hippie chicks in attendance as well. I was torn between going to see some other shows that night, but I'm glad I made the right decision. The sound system at Headliners was sounding great these days. I have missed Headliners. They don't have as many metal shows there anymore, for whatever reason. But I didn't really notice anything different about the place, that was supposedly fixed up and redone. It looked the same to me. One guy in the crowd did say he thought that the place didn't smell anymore. I think I do remember the bathroom did always smell like pee. It didn't this time though!
The opening band, Spiders, was very good, too. The female vocalist, Ann-Sofie Hoyles, was awesome; not only did she have a great Janis Joplin-type singing voice, but she could play guitar and wail on a harmonica like a 60-year-old bluesman from New Orleans! She was cute, too. This band was from Sweden also, and this was their first time ever in the United States and you could tell they were having a blast and were so happy!
Spiders was the perfect opening band for Graveyard I must say. The fat crowd loved Spiders, so the band was all smiles from the get go. Spiders' sound was very similar to Graveyards, really. The guitar tones were similar. I wasn't expecting this kind of packed crowd from a Swedish band I never really heard of, but one never stops learning. I expanded my musical tastes for one night, as well as my waistline by drinking several beers! But it was worth it. Met some cool people, some really cute but apparently blind chick called me gorgeous (made my night), got to party again at a venue that I like, hang with good friends and saw two really good rock bands from another country. Then I went home and ate leftover pizza and passed out! What a night! Thanks to Terry Harper for another great show!
Pearl Jam coming to Rupp in April:
Never been much of a fan, but I like a few of their songs I guess – if you could only understand what the hell Eddie Vedder says when he sings. He is one mumbling mofo. Anyway, the show is on April 26 at Rupp Arena in Lexington. Get your tickets now! People love this band, so it might sell out. Who knows, maybe I'll go check this show out and expand my musical tastes some more. This would be a good show to take a chick to.
Signal The Revolution review:
Here is some brand new STR for you! It's a bit darker and more energetic. Killer guitar tones. And new guitarist Nathan Strange is working out great. Cool guy, too.
Nile at Diamond Pub Review:
Winter blows, so I needed to get out of the crib, so I went to see Greenville, South Carolina's Nile at Diamond Pub. The night was marred with technical difficulties from the start and it looked like promoter Terry Harper was stressed out, big-time. The show started over an hour late. I felt bad for him. When the show finally got going, it was all good, though! Indy's Into The Devine was awesome, but they looked like they were so young, still in high school. Killer music though! Wicked guitars, a good drummer, nice death metal vocals, my only complaint was the bassist's bass tone was atrocious, oine of the worst bass sounds I've heard. He could play but that sound was not right at all. Nice layered guitars, intricate soloing, technical playing styles. The musicianship was good with these really young guys, though, and I think maybe they stole the show as far as locals go.
Dysphorium was a new band from Louisville that was also pretty good. The vocals weren't really doing anything for me. Pretty tight band, though! Left to The Wolves came on and kicked some butt. Those guys got some good shit going on! They have like 9000 Facebook likes, so that' something! Nice guitarwork and drumming! Good bass player! It's some pretty brutal shit there. That was the first time I saw them live.
Abominant had to be canceled because of the time constraints with the technical difficulties, so that kinda blew. I was looking forward to seeing those guys in action.
Nile came on and kicked ass. I'm not a huge fan of death metal, but some of it I do like. I like Egyptian stuff as well, so I thought I'd check out some Egyptian metal from South Carolina!
As I thought, the musicianship was crazy. Lightning fast technical soloing by duo guitarists Karl Sanders and Dallas Toler Wade really make Nile a beast to be reckoned with, and drummer George Kollias is a frikkin' monster! Wow. Such an exhibition of pure drum savagery. He truly made that drum set his bitch.
I like how Nile delves into all kinds of speed timing, from super-fast picking to slow and chugging. Proving that you don't have to go 900 miles an hour just to be considered super heavy! I was always more of a slow grinding metal fan myself, as opposed to the death metal fast stuff. Nile had it all as they waded through a nice long set of Nile classics. (I'm sorry I don't know the song titles. They have such interesting song titles too, so I wish I knew what they played.) The crowd was loving it. I saw a bunch of peeps I knew at this show. At one point, Dallas Toler Wade started to get verbally abusive on one fan, saying the Nile fan wanted a South Carolina beat-down. But I heard the fan's comment, and he wasn't starting anything. If anything he was seriously loving the band, so he didn't deserve that asshole comment really. But Karl Sanders defused the situation and made Dallas look like an asshole by telling him the fan was on Nile's side! Way to go Karl. You gotta respect and love your fans, bro! Karl was killing it on lead! My date was like, "Damn, he looks old!" I responded "Who cares! Listen to Karl ripping those leads!" Age don't mean shit. These guys aren't that old, but they are getting up there a little bit, I guess. But considering the way they play, they are doing great! Trust me, it's not easy playing drums like that, or ripping up guitars that way under those hot lights night after night! The duo vocals were what I expected. Brutal, low, growl-y death metal vocals. Pretty cool stuff, really. I like how they mix it up vocally, with highs and lows, instead of just lows all the damn time! THAT gets on my nerves!
Nile sounded badass, and I'm glad I finally got to see them. I have one of their albums, Amongst The Catacombs of Nephren Ka. The new album, What Should Not Be Unearthed, which also is a song they played that night, sounded real good as well, and maybe a little bit slower than what they used to do back in the day. That's okay by me, though.
Bassist Brad Parris was all over the place and has quite a stage presence as he got the fans riled up again and again. I had to get up early the next morning, so I didn't stay for the whole show, but I saw enough to make me realize why I liked Nile in the first place. They are so serious! I could not help be a little bit humorous if I was a South Carolina redneck playing Egyptian-themed death metal, though! The elaborate song titles would get changed up a little, if it were me. I would come up with song titles like "The Fart That Should Not Be Unleashed," "The Opening Of My Girlfriend's Mouth Ritual," "A South Carolina Egyptian Ass Beating," "You're Mummy Is Calling" and "It's One Of Those Rip Your Brian Out Of Your Nose Kinda Days." It's all in good fun though. I enjoyed their set of brutal music and so did the crowd of peeps in attendance! Thanks to Terry for having Nile play Louisville. Awesome!
40 Below Summer at Trixie's Review:
I went out to Trixie's to support my buddies in the band Intak, and to see what's up with this 40 Below Summer band my bassist Lee Lanham and guitarist Kris Walls love so much. I wanted to see why they love this band so much. I can see why now. Good music and good people.
Intak hit the stage and played an energetic set of modern rock to a pretty good opening crowd. Vocalist Billy Burton was decent, but probably should have put more time into practicing and getting ready for this show. Billy is a top-notch musician, but sometimes he slacks and that hurts him in the end. The band, however, was tight and you can tell they had worked hard to get ready for this event. It was at this show that I decided I wanted guitarist Kris Walls to try out for our band Year Of The Gun, and now he is a full-time member! Kris has always shown the ability to rock with the best, he just had trouble finding the right people to jam with.
Dayomn Minton, a guitarist turned bassist, did fine in his new position. He did great, as did drummer Tommy Wright. Incursion was supposed to play, but they canceled at the last minute, leaving a hole in the band lineup that surely stressed out the club and event promoter. It's a shame that there wasn't time to bring in any other band to help out with the missing time slot. I'm sure plenty of bands would have loved being on this bill.
Next up was the Surviving Thalia reunion. Those guys tore it up, big-time! The band was super-tight, and I was very impressed with their set. Guitarist Mike Taylor looked real happy to be performing once again. David "Sailor" Bryant was in fine form as he belted his way through classic ST tunes. That guy is one of Louisville's top metal vocalists, for sure. He is a nice guy as well. He should do some more consistent metal, instead of playing every so often. I like their anthemic song "Fish, fight and F**k. "
That drummer for ST is a beast. The band sounded like they didn't miss a beat even though they haven't played a show in so long. Survivng Thalia is one rocking Louisville metal band!
40 Below Summer came on next and rocked out. I know nothing about this band, so I was in the dark. What I did find out was that this New Jersey band has some very good, seasoned musicians who do things their own way. They have a modern-ish nu metal (vocalist Max Illidge calls their music Aggressive hard rock though), but melodic sound that is sometime brutally heavy, but other times is beautifully melodic. They mix things up well, musically. Vocalist Illidge can sing or scream with equal intensity; he has a good singing voice. Guitarist Joey D'Amico is apparently the backbone of 40 Below Summer, as he has been with them a long time and is a founding member. The rest of the bands lineup consists of newer, and talented, members. The band played a bunch of good songs like "Ticket To The Dance," "The Mourning After," "End Of My Rope," "The Sideshow," "Medicateh, Mangina," a heavy tune called "Bottom Feeder," which was probably my favorite, and they also played a Justin Timberlake song called "Cry Me A River." Joey D' Amico is badass on guitar and conveys emotion well in his playing style. He was having a few technical issues with his pedal-board (I can relate) but he got it fixed pretty fast, thank god! Max sounded good on vocals, mixing things up nicely.
He didn't use as much vocal effects as I thought he would, which is respectable. Max was hanging out with the crowd a lot, and being a good dude meeting his fans and all. You gotta respect that as well. A lot of national bands don't give a crap about that stuff. It was a good, fun set of new music to me, by a band of talented songwriters. They write songs very well. Good hooks, good melodies. Nice singing and harmonies. Good guitar work. Adequate drumming and bass playing. No complaints here for my first experience with 40 Below Summer.
The crowd seemed to enjoy themselves. It was a fun night at a good venue. I've gotten to know Trixie's manager Trey Landrum a little better more recently and I like the guy and his club! Some of you people need to get over the fact that part of the club is for exotic dancers. Who cares! I tried to get a date to go with me, but she said she would not go to a strip bar!
You females who are intimidated by this do not even have to go on that side at all to see bands play live! So you are missing out on a great venue with great sound, for nothing! It's dumb. But whatever.
The Trixie's shows are happening! I've had a great time every time I've went. I'm looking forward to playing there again soon.
Hairbangers Ball – A Tribute to Eighties' music, at Mercury Ballroom on February 26:
This Chicago-based Eighties' hairband tribute sounds like a good time! With names like Sakk Wylde, Gigi Kixx, Kidd Khaos and Rikki Rhoads, you can tell these glammed-out rockers like to entertain. Apparently they have done quite well as a top tribute band, landing some substantial gigs!
Sonata Arctica coming in March:
Finnish power metal masters Sonata Arctica are coming to Diamond Pub on March 25. I've never seen them live and maybe it's about time I remedied that! They are pretty awesome.
Theories Of The Apocalypse Album Review:
Time to review some Lexington metal for you peeps! The band is Theories Of The Apocalypse, member9s are David Langley-Bass/Vox; Anthony Grigsby-Guitars; Gaige Blankenship-Guitars; Will Jordan-Drums. The first song is "Plea To The King." So far it's pretty epic sounding with nice soloing and a melodic intro. I'm not sure what kind of metal this is. It's a bit different, but cool. It's almost like old "And Justice For all" Metallica, heavy but melodic. Some of the leads are too dry though, for my tastes, anyway. The solos are ripping though! Not bad! I like the rhythms when it gets heavy. The vocals of David Langley are death metalish and are decent. They remind me a little of the legendary Chuck Schuldiner's vocals. So that's not a bad thing! The drumming is rocking. This metal band is not like most heavy bands, I'm thinking. They are a bit more creative and against the grain. It's like old Metallica meets Death or something.
"Acid Lake" is a bit more brutal. I'm loving this riff already. That's sick. Much better than the first song. This one reminds me of Death, too! I like the creativeness of guitarists Anthony Grigsby and Gaige Blankenship. I'd like to see these guys in concert soon. I like the vocals better in this song, too. Awesome! The sound quality of this album isn't bad either. Good job, guys! Killer drumming. Nice bass slide too on the ending! "Chosen By The Sword" is old-school like a MF'er. Almost mid- to late-Eighties metal, which is a good thing.
Really nice soloing on this track! I just wish it wasn't quite so dry. A little delay and chorus woulda helped. I like how it goes from fast to slow in no time. This is some good Kentucky metal for sure. I'm surprised I haven't seen them live yet. I gotta be honest, I get tired of the same ole death metal schtick, but these guys have something a lil' different going on. A mixture of old and new, melodic and heavy, and some creative riff writing, backed up by brutal bottom end and a shrieking sonic vocalist that could be Death's long lost little brother. Yup, Theories Of The Apocalypse have some good shit going on. I wanna hear more from these guys! In the meantime, here is their whole album to check out! It just came out, so you peeps get the first listen! Enjoy!
Get Well My Friends:
Two of my friends have had a bad way to go the last few weeks. Louisville rock veteran bassist Kenny Phelps, formerly with Dump Gang and Stripmind 502, had heart surgery and is in recovery right now. And Aaron Fogle of Guerrilla Red was in a bad car accident and is all busted up, but alive, thank god! You both went through some tough scary stuff, but you made it. So get well soon my friends! You've got more rockin' to do!
Year Of The Gun finally finds 2nd Guitarist:
The new guitarist for YOTG is Kris Walls, who is also guitarist for Intak. He has been outta the scene for a few years but he is back and ready to rock out. We'll see you peeps on February 21 at The Hard Rock Cafe, and March 5 at Jillian's!
Dave Moody's Lawless Radio:
Louisville rock veteran Dave Moody now has a radio show on Cinci's 88. 9 Classxradio. com from 10A. M to 2p. m., Monday through Thursday! Dave will be showcasing new and classic rock and he will be throwing some local unsigned music in there as well, so be sure to tune in to possibly hear your band! Support Lawless Radio now! Go to the website and download the app.
LMN Live- The V illebillies:
Here's a lil' Villebillies for ya.
LMN Live- Devil And The Darkness:
Old-school brutal shit, and they'll be playing again on May 5 opening for Prong at Diamond Pub.
LMN Live- Year Of The Gun:
Here is a real old song of my current band. It's about 7 years old. I think it's pretty decent! You be the judge.
LMN Live — The Ass Haulers:
I like these guys!
LMN Live — Kinghorse:
Louisville legends in action. Never knew much about these guys, but I'm thinking I was missing out all these years.
Upcoming Shows
Armed Forces Of America Clubhouse (155 Hargan Rd, Vine Grove KY)
Saturday, February 20 — My last Chance, Rust N' Bones, Murica, Lethean, Rob Lyon, Abbuie (Luie Brangers and Abby Henderson) and Chris Toczko. 7 p. m.
Diamond Pub
Friday, February 19 —Enforcer w/ Warbringer, Exmortus, Cauldron and Savage Master. 7:30 p. m.
Saturday, March 25 —Sonata Arctica w/ Delain, Murica, Hydrawolf and Solar Flare. 8 p. m.
Thursday, May 5 —Prong w/ Granshaw, Devil And The Darkness, Klinch and Kentucky Ugly.
Expo 5
Friday, February 19— Enforcer, Warbringer, Exmortus, Cauldron, Savage Master. 7 p. m. $12
Hard Rock Cafe
Sunday, February 21 —Jefferson Tarc Bus, Year Of The Gun, Klinch, On My Six and Untold Rellik.
Thursday, March 17 —Uh Huh Baby Yeah w/ Assuming We Survive, Reckless Serenade and foxbat. 7:30 p. m.
Headliners
Sunday, February 4 —Vice Tricks, The Queers, Boner City and Frank Rocket. 8 p. m. $10AD/$12DOS. 18+
Jillian's
Saturday, February 27— Untold Rellik, Guerrilla Red, Springliner, Hello Agony, Jayson William Allen, Sons Of Medusa and Systix. 4 p. m.
Massies Entertainment Venue
Saturday, February 13 —Lethean, Untold Rellik, Seccumb to Demise, Theories Of The Apocalypse and Sacred Souls. 5 p. m.
The Mercury Ballroom
Wednesday, February 3 —Badfish – a Tribute to Sublime. With special guests Shrub and Tropadelic. 8 p. m.
Wednesday, February 10— Breaking Benjamin "Unplugged" Acoustic Performance. 8 p. m.
Friday, February 12— Here Come The Mummies.
Sunday, March 13 —Mayday, Parade w/ The Maine. 7:30 p. m.
Tuesday, March 29 —Comedian Jim Breuer. You know, the guy who was in the movie "Half Baked,' and the guy who does the hilarious AC/DC impersonation with his live rock band onstage! He is funny. Don't miss this if you are a huge old-school rock fan!
Wednesday, May 11— Ghost.
Wednesday, May 25 —Sevendust w/ Like A Storm.
New Albany Production House
Monday, February 22 —Being As An Ocean w/ A Rumor Of War, Street Sense, Closure and Rosewater. 7 p. m.
Thursday, March 10 —Like Moths To Flame w/ Ice Nine Kills, Make Them Suffer, Light Up The Sky and Gallifrey. 7 p. m.
The New Vintage
Sunday, May 1 —Bane, Expire and Malfunction. 7 p. m.
Wicks on Baxter
Saturday, February 6— Unleashed! 10 p. m. -2 p. m.