September 2015 Articles
Cover Story
Paul Moffett
Columns
Sue O'Neil
Eddy Metal
Eddy Metal
Blogs
Got Shows?
Send Them To Us
Bookmark Louisville Music News.net with these handy
social bookmarking tools:
Available RSS Feeds
- Top Picks
- Today's Music
- Editor's Blog
- Articles
Add Louisville Music News' RSS Feed to Your Yahoo!

Issue: September 2015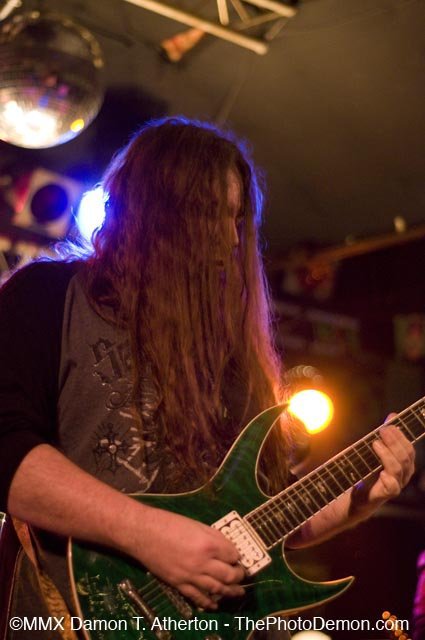 News From the Pit
Finding The Right Musicians To Jam With 101
I've noticed it's kinda hard to rock out with a messed up foot, so being tired of the daily pain, I finally went to the fargin' foot doctor and got a hideous cortizone shot in my heel, all the way to the damn bone. The doc was very thorough in hiss application and went in in three different spots. Well, I'm usually one of those people you know who only go to the doctor if they are frikkin' dying! And I hate needles! So needless to say, I was a little bitch. You shoulda seen my face when the doc was raping my foot! I'm sure it was twisted and goofy looking. Unfortunately, the shot didn't even work! I endured that needle probing for nothing! I was still having heel pain. So I went back and the doc asked me if she could give me another heel shot! I was like, "Oh god, not that again!" But I ended up letting her abuse my foot again for the good of it all. It's a little better now but still kinda painful. So now I probably will need some kind of surgery I guess. I hope not. I've never been under the knife before and don't wanna!
It's been an interesting summer for real. Some big changes for me and the scene. I recently went and saw Down at The Mercury Ballroom and Great White at the Fair. Down was good, but the Fair concert sucked. Talk about the Fair? Who in the hell booked these Fair shows? There were some real mismatches on some of the concerts! The object is to book bands that are sorta similar in sound to one another, so they match sound-wise. I wouldn't have been surprised if they had Miley Cyrus opening for Slayer! Idiots. What do you expect from Fair concerts, I guess.
There are a lot of bands breaking up, splitting up and plenty of member changes going on recently, I have noticed. Bury The Wicked, Caducus, Krosjoint, Popkiss Chainsaw, etc. It's an on-going thing. Nothing lasts forever. Especially with sooo many unreliable MF'ing musicians running around.
Let's face it. We are some messed up individuals! We have issues.
My metal band Krosjoint will be breaking up in October, since our singer is retiring, but I still have some ass-kicking to do, so I will be recruiting musicians soon to form a new metal project. I will be choosing wisely, for finding the right musicians has become a chore from hell. One bad apple can cause major problems for the whole band. What qualifications do you need to find the right person to jam with? I'll tell you what I have learned from my 20 years playing music in our Fair city. I ain't pulling no punches either, so ya better cover up!
One - Find someone who has good gear and a job and a car that can haul that gear. Musicians with horrible gear make you sound horrible. Any self-respecting musician should have decent gear and maintain their stuff, and a lot of bands these days have shitty gear. It is rampant and it totally shows in the music. The other day, I saw a known metal band play a set and they played crappy guitars with horrible pickups. The notes were muddy and indistinct and did not come across as sharply. The band was good and can play, but that fact ruined what good they earned with good musicianship.
Two – Find someone who isn't pussywhipped, or dickwhipped if you are a female rocker. Very Important! No one's girlfriend or spouse should have a say in band matters nor interfere with band practices or band schedules, unless its an emergency. I've been through this a few times now. Discord/disappointment will happen every time. From the girlfriend who thinks its more important to go out to eat or go shopping, than for her man to be at band practice, to the girlfriend who poisons her man's ear with her own agenda, wants and plans for her man, it's not something you want in your band, trust me! Find someone with the balls to say "Sorry, but I have band practice today, babe."
I once had my band destroyed by some teenybopper 19-year-old my band member was dating. Coming off of playing to a record amount of people! It's not a good feeling, knowing you were so close.
Three – Find someone punctual and reliable. Being late wastes time and valuable time that you can be spending jamming and writing music! It's hard enough to get five people with full schedules together to jam, let alone getting a late start. I have had a band member show up at big shows at the last minute when the sound guys were asking where he was. Not cool. It makes the whole band look bad!
Four – Avoid drunks, lazy people and pillheads. Drunks will think of any way they can to get out of jamming because they have a hangover. Excuse after excuse. I'm sick. I gotta work. My vagina aches! Lazy people put off work and chores to lounge around and when band practice comes around they are so swamped with shit they didn't do, they don't have much time to jam, if at all.
Pillheads? Omg. Pills are the destroyer of bands! Sadly, I know a bunch of pillhead rockers, and I've seen the damage it can do. In a day where pill abuse is sooo bad, it's hard to find someone who doesn't do that crap. But if you can, make sure you avoid this person at all costs. They have to have pills to just get through the day and if they don't have them, then look out. Fights and arguments are bound to happen. And if they are broke and need pills/drugs, they will pawn/sell their gear! Avoid like the plague.
Five – Avoid band migrators! Band migrators are musicians who play in about three to five different bands at any given time. These people don't give a shit about your band and would jump ship for the slightest offer from another band, especially cover band musicians. They are used to making cash playing music (which is great and all) but when it comes to original music, it's best to find peeps that are not in it for the money. Band migrators are popular and well-loved, but not very reliable, tend to have big heads and are not usually around for the long haul.
Anyways … I hope this helps you if you are looking for musicians to jam with. I hope to god it helps me this time around! I need it, starting from the drawing board this fargin' old!
I love the challenge. I'm a stubborn f**ker.
The Metal Grapevine
Down Review:
First off, I would like to thank photographer Johnny Hubbard for donating some Down pics after my camera accidentally went for a swim in the Atlantic ocean a month or so ago. Great job on the pics, bro! Wow, what a night. I had a blast seeing Down and friends on this evening. I didn't get there in time to see Childbyte, even though I had heard two different accounts of how they sounded. One person said they were awesome. Another said they were terrible. It's all a matter of taste.
I did get to see New Orleans Mountain Of Wizard and, boy, were they good. It was doomy, Southern, heavy and progressive and I liked it very much. One thing was that there was no vocalist and that kinda threw me off, because I love my vocals! But I still enjoyed seeing this band very much despite no singing. I think I might have pissed off the guitarist though, accidentally. I went up to tell them I loved their set and that I was there to review them for the paper and that I felt like grabbing a mic and throwing down some vocals because I liked the music so much. I don't think he liked that very much because he walked away. I meant no disrespect. Oh well, some people are just overly passionate about their music. I did love Mountain Of Wizard though. Those guys were getting down n' dirty! The guitar playing of Grant Tom was awesome and right up my alley. I could watch that guy play for hours.
Down came on to an excited crowd and put on one helluva show! The band sounded super-tight and extra chunky this night. Guitarists Peeper Keenan and Bobby Landgraf wove a tapestry of Southern metal with feeling that shook 4th street to its core. The place may not have been packed to capacity, but the folks who were there loved it. I saw all kinds of people I knew at this show! The sound was fat as f**k and it was pretty darn crushing for real. Former Pantera vocalist Phil Anselmo sounded good. He has calmed down quite a bit from the old days. And I'm thinking he is sober now too, which is great!
His addiction to heroin was terrible to see. Of course he still the same ole Phil deep down. Blustery and always talking like he is a badass. All I know is that Down sounded killer and I'm glad this show happened.
The drumming, bass work and duo guitar team was sweet. Rhythm guitarist Bobby Landgraf has a killer guitar tone! These cats are getting up there in age, but that don't seem to stop them one damn bit. I'm sorry I'm not too knowledgeable about Down's music so I could give you a better in-depth review.
The band played a nice long set of songs like "Eyes Of The South," "Witchtripper," "We Knew Him Well," "Lifer," "Lysergik," "Pillars Of Eternity," "Hail the Leaf," "Ghosts Along the Mississippi," "Conjure," "Losing all," "Stone The Crow" and "Bury Me In Smoke." The band sounded much better this time than when my band opened for them about five years back at Expo 5. Phil may not have the stamina and range he did in his youth, but he makes do with what he still has and he still rocks! I'm just glad the guy got off that heroin crap! That was a huge disappointment back in the day, to see a talent like that thrown away. I'm glad Phil kicked those inner demons' asses! Now it seems its all business and music once again comes first. That is the way it should be.
Props to Down, the Mercury Ballroom, Mountain Of Wizard and the soundguys at The Merc. It always sounds great there, and It's one of my favorite places to see a smaller-scale national show here in Louisville now. There was a nice crowd in attendance and everyone seemed to have a great time. I'm so glad The Merc is having metal shows now!
Horns Up Against Cancer:
This Cancer benefit show at Diamond Pub on September 19 is gonna be awesome! Total props to the HUAC crew for doing a great job on this benefit. Very professional. And I'm betting this is gonna be local show of the year! I myself cannot wait to play the show with Krosjoint. I'm psyched to be rocking with so many great bands on this bill. Be sure to show up early for all the great bands! Bands playing are:
Primer 55, Xfactor1, Krosjoint (we can't wait!), Signal The Revolution, Despite The Fallen, Modifire, 99Proof Devils, 8 Lbs Pressure, One Pretty Minute, Patchwork, Bareknuckle Bullseye, Chadillac Dundee, Ey Ov The Storm, Klinch, Stolen Remains, The Crowned and more! Tickets are $15 and they will be selling shirts for the cause as well. Be there! Starts at 10 a.m.
Louder Than Life Is Almost Here And Louisville's Flaw Has Been Added On The Bill:
The time is drawing near. People are getting excited! And I know Louisville rockers Flaw are stoked to be included on the bill again this year! So congrats to those guys for landing such a sweet gig. Bands playing this year are: ZZ top, Rob Zombie, Lynyrd Skynyrd, Seether, Breaking Benjamin, Godsmack, Shinedown, Slash, Three Doors Down, Bring Me The Horizon, Collective Soul, Of Mice And Men, Blackstone Cherry, Hollywood Undead, Atreyu, Sevendust, Skid Row, Kentucky Headhunters, Tremonti, Hinder, Issues, We Came As Romans, Saint Asonia, Nothing More, 10 Years, Butcher Babies, Starset, We Are Harlot, Beartooth, Turbowolf, The Temperance Movement, Marmozets, Art Of Dying, Aranda, Glorious Sons, Dorothy, Like A Storm, Kill It Kid, All Them Witches, Whiskey Myers, Jelly Roll, Red Sun Rising, Goodbye June, Raveneye, Cilver and Romantic Rebel. This is quite the lineup and a monstrous show for sure! I had a blast last year covering the show in LMN and I'll be right there again, covering / photographing the event for you good peeps! Killer food, merch booths, booze, hot chicks wanderin' around drunk and some rockin' bands! Sounds like just what the doctor ordered! You can visit their website for more info and info on tickets!
Great White At The Fair Was Horrendous:
First off, I love the band Great White and have been a fan since I saw them in 1984 opening for Judas Priest on their Defenders Of The Faith tour. I was a bushy-tailed rocker youth who loved the vocals and guitar stylings of this new LA rock band called Great White. Over the years I followed the band and come to realize that they were one of the most talented bands that came out of the Eighties. So naturally I was excited to see that they were coming to the State Fair with Slaughter.
I already wrote off Slaughter from a hideous performance a few years back at the Fair, but I was looking forward to seeing Great White once again.
Unfortunately, the original singer Jack Russell split with the band several years ago and formed his own band Jack Russell's Great White. And who can take Jack's place? Apparently nobody. It's a damn shame that Jack Russell and guitarist Mark Kendall can't get along, because together they are magic. But I thought I would go see the band anyways with the new singer and see if he could even partially fill the huge shoes of Jack Russell. Slaughter came on and rocked! I was pretty shocked. I have come to the conclusion that several years ago at the Fair, that it was the sound man who screwed Slaughter, because this night Slaughter sounded damn good. It was awesome seeing bassist Dana Strum, the guy who introduced Randy Rhoads to Ozzy Osbourne, in action on the ole four string. Everything sounded good. Mark Slaughter even came really close to hitting those ultra high notes in "Fly To The Angels." Mark sounded good as he weaved his way through an entertaining set of Eighties rock. It was fun!
Then came the ultimate disappointment. Great White came on and totally sucked beyond all knowing. WTF? The new singer sounded somewhat like Jack Russell, minus the soul and looks. This new guy Terry Ilous has some singing ability, no doubt, but his movements, his look and the slacking on critical parts were VERY cheesy. The guy looked like Elvis. Toupee and horrible outfit included! For some reason the band with this singer was soooo cheesy that I had to get up and leave. And I frikkin' love Great White! Singer Jack Russell is irreplaceable.
It was unwatchable to hear such a legendary Eighties band with such talent reduced to this horrible version.
I understand that it would be almost impossible to replace such a good singer in Jack Russell, but to continue on with this guy? I'll pass. I am sad to write these words, but the truth is the truth.
Many people who were there felt the same way. A lot of people were talking of the cheesiness of Terry Ilous. The music and the band sounded good though, the music wasn't the problem. I hope to god that Mark Kendall and Jack Russell can put aside their differences and rekindle that old spark that is Great White, otherwise I think it's the end for Kendall's version. Meanwhile Jack Russell's Great White sounds pretty damn good on some video I've seen lately. The Fair booked the wrong Great White it seems. Some bands are defined by their singer and no replacement will ever be as good as the original.
Interview With Louisville Hardcore Veteran Vic Hillerich About His New Band Vamt:
After a several year hiatus from playing music, former My Own Victim vocalist Vic Hillerich is back to doing what he loves. Rocking!
Vic has a new band and is excited about being onstage once again. I caught up with Vic to see whats new in his world. Here is what ol' vic had to say!
Eddy:
What's up, dude! The Louisville metal scene hasn't seen you onstage in a few years. Tell us a little about what you've been doing and about your new band VAMT. What kind of music is it? Describe it the best that you can! And What does VAMT mean?
Vic:
VAMT stands for Victor, Andy, Marcus &Troy! We've been creating music together for three months now .We have 6 songs complete with 5 in the works! Some titles are Soulripper...Demon dagger...Born to burn...create destroy and Paint it black(Stones cover all Vamt out! It's mid paced metal with catchy hooks and killer tones!
Eddy:
Tell us about your band members in VAMT and what bands they have been in? Looks to me you have a very strong lineup of experienced rockers!
Vic:
I couldn't be happier with a line up! I've played in The Names stroker with Andy Garrett 4 years ago and I enjoy his style he writes happy mistakes! I've always wanted to jam with Marcus Goldsmith (Caldera) and thought it would never happen until this opportunity to create music again came around for me. Up until recently I was on a wacky work shift that basically kept me from being part of something I've done most of my life. so it feels good to be able to create/perform music with my friends again! Troy Edlin former (Gravemouth) plays the shit out of his drum kit and we are very happy to have him involved with the outfit!:)
Eddy:
So whats on the agenda for VAMT? Play a bunch of shows? Outtatown gigs? The studio maybe? Enquiring minds wanna know!
Vic:
We are gearing up for a full length release for 2016 to be called Demon Dagger! That will contain 8 to 10 songs to be released digital and we are most definitely investing in wax!
Eddy:
Cool. Thanks for taking the time to let us know whats up with VAMT. It's good to see you rocking once again. And good luck to you guys!
Pink Floyd Tribute Band, Dark Side Of The Wall, To Play Iroquois Amphitheater On Sept 12:
If you love Pink Floyd like so many folks seem to, then get yer butts out to Iroquois amphitheater for this amazing show! Get your tickets now because this may sell out! I've seen them before at Coyote's a few years back and they are awesome.
>The Dark Side of the Wall, the premier Tribute to Pink Floyd, returns to Iroquois Amphitheater on September 12th! We're less than month away, so don't delay! Get your reserved seating tickets here –– http: //bit.ly/1IXR1lZ

Posted by Production Simple- Concerts & Events on Monday, August 17, 2015
Appetite For Destruction, The Guns N' Roses Tribute Coming To The Mercury Ballroom:
I like G N' R, always have, so i'm kinda excited about seeing this famous cover band live in action! The singer sounds like Axel! On Saturday, September 5 at The Mercury Ballroom you can see a helluva rock show as one bitchin' cover band takes to the stage to let go! Be sure to check it out!
Machinehead Coming To The Mercury Ballroom On November 17:
You Machinehead fans should be happy about this one! More metal at The Merc. Sweet.
Rock For Kosair, To Be Or Not To Be:
I'm not sure it will happen this year. With the Phoenix Hill closing, it has thrown a huge monkeywrench into my plans for this years benefit. I'm in talks with a few venues, but if I cannot make it worthwhile for the Kosair Kids(a haul that will actually do some good)then I might just pass on it. The potential venue will have to make a sacrifice to help the cause. I hate to let the kids down, but if I can't take what I'm used to taking down there toywise, then it is simply not worth it. I will continue to try, so we will see what happens in the next few weeks. Keep your fingers crossed.
Savage Master to Release New Single on Sept 11:
`On September 11, 2015, American female-fronted heavy metal act Savage Master will release brand new seven-inch single, "Black Hooves," on High Roller Records. The single will be limited to 1000 copies, from which 300 will be available on orange transparent vinyl, 200 on clear vinyl and 500 on black vinyl. Title track, which is brand new and previously unreleased recording, will be coupled withtheRiot cover "Swords and Tequila" (taken from the Riot tribute album that came out earlier this year on Skol Records) on side B.
`The single can be pre-ordered on this location:
http://bit.ly/SAVAGEMASTER_BlackHooves
`In other news, Savage Master recently announced North American Tour and in April and May of 2016 the band will be touring in Europe. Savage Master debut album "Mask Of The Devil" came out on Skol Records on October 31, 2014.
Caducus Going Through Changes:
Louisville rockers Caducus are going through some member changes as of right now. Word is that some of the members were unable to tour due to family, jobs, children, which is understandable really, I deal with the same stuff. But some musicians want to take it to the next step and to do that, you have to be able to tour and leave home. That has always scared me to death to be honest, but to succeed, its something you must do. Vocalist Michala Bouska is currently trying to find the right individuals to make that happen. I'll let you know what's up when I know something. Good luck to all those guys and gals in Caducus, I really like those people and hope to see them all onstage again real soon.
Popkiss Chainsaw Problems Again:
More member changes have once again surfaced in the long line of lineup changes in this Louisville band's history. The band is now without a vocalist and a guitarist. But knowing drummer Troy Ford, he will be back in business in no time with all new players! I do admire Troy's dedication and perseverance to continue on rocking.
Billy Idol Coming To Iroquois Ampitheater On September 15:
I've seen a lot of concerts, but I've never seen Billy Idol. I have always liked his music too, so that is kinda weird to never have seen him live. Great songs like "Rebel Yell," "White Wedding" and "Dancing With Myself" flooded the radio back in the day! You could not escape it. The show at Iroquois amphitheater is on a Tuesday and I might try to make it up to see Billy in action, if I can get out of band practice at a reasonable time. I'll have to crack the whip on those guys so I can go sing along to "Rebel Yell."
Fear Fuckin' Factory On Sept 11 @ Trixies:
Hell yes! I love this band! And will most likely be going to this wicked show! These guys are awesome so don't miss the return of Fear Factory! They have a new album out and I bet It's pretty brutal.
Kamelot and Dragonforce coming in November:
Two rare metal powerhouses are coming to Expo 5 on Sunday, November 15. This is a must see show! I've never seen Dragonforce or Kamelot before. Talk about some shredding guitars and soaring vocals! Wow. Besides, you never see these bands come around here much, especially Dragonforce! Yup, this is an old-school metal show of the ages and I hope to see you true metalheads there in force for Dragonforce! Here are a few videos for ya!
Thrash Cult Favorites Sanctuary and Prong Coming:
Wow! Looks like my luck has finally changed when it comes to seeing one of my favorite bands in my hometown, finally! Seattle thrashers Sanctuary will be here in Louisville for the first time ever on Monday, October 12 at Expo 5. And NYC metal beasts Prong will be here again on Tuesday, November 10 at Expo 5 as well. The last time Prong was here, they got screwed bigtime by the Louder Than Life event that just happened to be going on the same night. Needless to say it wasn't a big turnout since everyone and their mother was at LTL, sadly. Hopefully, this one will be much better for them. I love me some Prong!! They rock.
Year Of The Gun to Record 3 song Demo in Late Sept:
Well, we have finally set a date to record at EarlyGrayce Studios in late September. I've been wanting to return to the studio and now it is finally happening. YOTG will be recording the songs "Can't Find My Wings" "Head In The Sand" and "Freaks And Black Sheep." I expect this to be some of my best studio work. Wish us luck! Here is a smaple of our last demo at EarlyGrayce Studios.
Musician Of The Month – Trey Landrum Of 7daysun:
Check out this months feature musician Trey Landrum of 7DaySunday
Motley's Last Ride:
Talk about trying to milk a dead cow? Well then this is the epitome of that saying! On Sunday, October 11 at Rupp Arena in Lexington, Motley Crue will supposedly being playing their last show in Kentucky ever. Suuuuuure. Alice Cooper will be opening the show. So if you have the itch to see the Crue one last time before they ride off into the sunset, then this is your chance! Get your tickets now!
Van Halen At Klipsch Music Center:
If you didn't get a chance to see Van Halen last go around, then you are in luck! Well maybe that is. It seems Eddie Van Halen has lost his marbles and pissed off half the VH fans with rude remarks about former bassist Michael Anthony, saying Michael had to be taught the bass lines. It is some rude ass shit. I, for one, loved Michael Anthony and his driving bass lines and beautiful backup vocals, it is what made VH who they are. No fargin way does Wolfgang Van Halen replace Michael in my eyes. Well, a lot of people seem to think that same way! And Eddie has also been saying bad stuff about David Lee Roth again in the media, so who knows how long this tour will last. I doubt it will last the summer.
Anyway, the Eddie Van Halen show is embarking on a massive US tour and the band has two stops in this general area: August 31 at Riverbend in Cincinatti and September 2 at Klipsch Music Center in Indianapolis. I haven't seen original Van Halen since they played at Freedom Hall in 1984!
I tried to get tickets to cover VH when they were at YUM! Center, but those Yum! Center people are kinda douches and I was left out, even though I've been writing a music column in this town for fifteen years. Not cool. Hopefully the good people in Cinci will take care of me on this one.
LMN Live – Fatal Step Playing "Painkiller":
This Louisville metal band kills! See them open for Sanctuary at Expo 5 on October 12. This singer is badass.
LMN Live – New Band Alert, Sacred Souls:
Check out some good new music from the Lexington/Frankfort area! Sacred Souls.
LMN Live – Lethean:
I love these guys! Good peeps. Good band! A credit to our scene.
LMN Live – Indy's Join The Dead:
These guys are sick! You oldschoolers might remember a band I used to bring to Louisville back in the day called Dent. This is drummer Jason Carr's new band Join The Dead!
LMN Live – Luther:
Check out some recent live footage of this legendary Kentucky band. This sounds killer! Great job.
Upcoming Shows
Bogarts (in Cinci)
Tuesday, September 22 — Stone Temple Pilots
Brewskees
Saturday, September 12 — Untold Rellik.
Diamond Pub
`Thursday, September 17 — The Matador w/ Sons Of Medusa.
`Saturday, September 19 — The Horns Up For Cancer Benefit. Featuring Primer 55, Xfactor1, Krosjoint, Despite The Fallen, Modifire, 99Proof Devils, 8 Lbs Pressure, One Pretty Minute, Patchwork, Bareknuckle Bullseye, Chadillac Dundee, Ey Ov The Storm, Klinch, Stolen Remains, The Crowned and more! 10 a.m.
`Saturday, October 17 — Psycho Soul, Shattered Reality, Creed502 Reunion show!
`Thursday, October 22 — Wednesday 13 w/ Byzantine. 8 p.m.
Expo 5
Thursday, September 3 — Insomnium w/ Omnium Gatherum, Dysphorium, Shodow Of The Mountain and Svartskjold. 7 p.m.
Wednesday, September 9 — Avatar w/ Gemini Syndrome, Huntress and Decree.
Friday, September 11 — SayWeCanFly w/ Wind In Sails, Sounds Like Harmony and Casey Bolles. 7:30 p.m.
Friday, September 18 — XXI w/ Burn Halo, Heartist, O' Kingdom and Lifelines. 7 p.m.
Friday, October 9 — One Eyed Doll w/ Stitched Up Heart and Run To Cover.
Monday, October 12 — Sanctuary w/ Fatal Step, Krosjoint, Kingslayer, Rockaway Drive and South Of Never. 7 p.m.
Wednesday, November 4 — Cannibal Corpse w/ Cattle Decapitation and Soreption. $22. 7 p.m.
Tuesday, November 10 — Prong w/ Granshaw, The Devil and The Darkness, Ky Ugly and Klinch.
Wednesday, November 11 — Bless The Fall, Stick To Your Guns, Emarosa, Oceans Ate Alaska and Cane Hill. 6 p.m. $20
Sunday, November 15 — Kamelot and Dragonforce. 7 p.m.
Headliners Music Hall
Wednesday, September 30 — Four Year Strong w/ Defeater, Superheaven and Elder Brother. $18 7:30 p.m.
Home Grown Mayhem(155 Hargan Rd. Vine Grove 40175)
`Friday, September 18— Primer 55, Untold Rellik, Guerrilla Red, Hello Agony.
Jillian's
Tuesday, September 8 — Untold Rellik, Desecrate, S.I.C,Hello Agony, Prodepressants, Calling Calamity.
Massey's Entertainement Venue (in Danville Ky)
`Saturday, September 19 — Apostrophe w/ TBA.
`Saturday, September 26 — Apostle of Solitude, Kentucky Ugly, Gods Below Us.
`Wednesday, September 30— Micawber, Thoeries of the Apocalypse, Mangled Atrocity, Synapse.
The Mercury Ballroom
Saturday, September 5 — Appetite For Destruction – The Guns N' Roses Tribute. 8 p.m.
Saturday, September 12 — The Struts.
Thursday, October 1 — Epica w/ Eluevitie and The Agonist.
Tuesday, November 17 — Machinehead.
New Albany Production House
`Friday, October 2— Too Close To Touch w/ TBA.
Rubbie's
Saturday, September 12 — 5th Annual JDRF Benefit featuring White Crosses and VAMT.
Third Street Dive
Saturday, October 10 — Luther, Hellfire Militia, Left Hand Twist and VAMT. 9 p.m.
Trixie's
Friday, September 11 — FEAR FACTORY w/ Once Human, Before the Mourning and The Bloodline. $20