September 2015 Articles
Cover Story
Paul Moffett
Columns
Sue O'Neil
Eddy Metal
Eddy Metal
Blogs
Got Shows?
Send Them To Us
Bookmark Louisville Music News.net with these handy
social bookmarking tools:
Available RSS Feeds
- Top Picks
- Today's Music
- Editor's Blog
- Articles
Add Louisville Music News' RSS Feed to Your Yahoo!

Issue: September 2015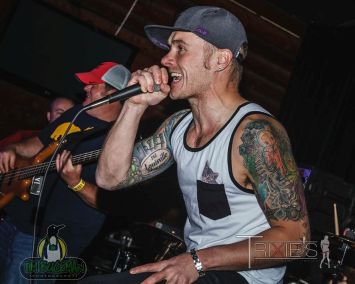 William Dennis Landrum III (Trey)
Name: William Dennis Landrum III (Trey)
Age: 32
Instrument: vocals
Band/Former Bands: 7DaySun, A.T.Kemp, and Execrate
How long on instrument: 17 years.. God I'm old
Equipment: vocal chords and diaphragm
Influences: Brandon Boyd, Chino Moreno, Jason Mraz, and Justin Timberlake (don't judge me)
My first gig: Swiss Hall back in THE DAY! Execrate played with Terry Harpers band (SEN). I do believe that was their first show too. If not, one of their first few.
Hobbies: Xbox, hitting the gym, spelunking, playing with my kiddos, finger painting, carving eagle statues out of fruit
Favorite movies: Forgetting Sarah Marshall, Get Him To The Greek, Superbad, Spinal Tap, Evil Dead (Original)
Favorite food: Protein Shakes, Questbars, Veggie Burgers, Sushi
Favorite place: Home with the family
Favorite sports or team: Kentucky Wildcats ALL DAY
What I'm listening to nowadays: I'm really not into the majority of rock music that's coming out nowadays. I listen to anything from Deftones to Kendrick Lamar. I'm on a huge Riff Raff and Lil Dicky kick.
Coolest thing I've done: Hands down, having my two children (Courtney & Liam). Performing in front of 10,000 at LRSfest wasn't too shabby either...
Most embarrassing moment: falling flat on my face ON STAGE at a gig in Cincinnati (Sudsy Malone's). I kept on singing though!
Bad Habits: staying too busy and not sleeping.
What was your first concert: Gloria Estefan. No, I'm not joking. Thanks mom
If you could meet a Rockstar ( past or present ), who would it be, and why: James Hetfield.. He's a god to me.
Who do you love: my bae (Emmalee), my kiddos, my mother, and my sister. RIP DAD! Miss you everyday