March 2015 Articles
Cover Story
Paul Moffett
Features
Eddy Metal
Columns
Mike Suttles
Martin Z. Kasdan Jr.
Eddy Metal
Blogs
Got Shows?
Send Them To Us
Bookmark Louisville Music News.net with these handy
social bookmarking tools:
Available RSS Feeds
- Top Picks
- Today's Music
- Editor's Blog
- Articles
Add Louisville Music News' RSS Feed to Your Yahoo!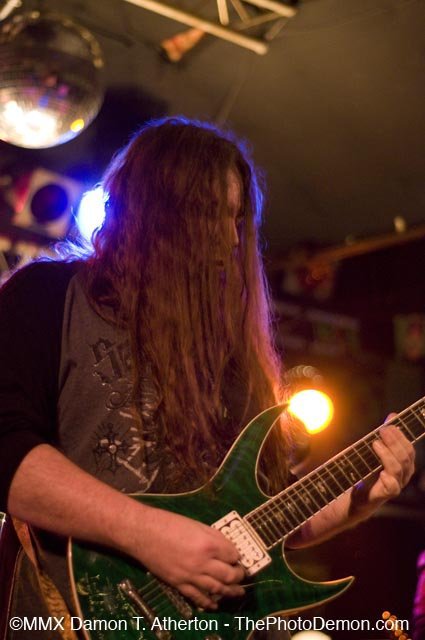 News From the Pit
We Saved The Pitbull From Termination!!! Yay!
Many, many of you have been following the story of my Yorkie being attacked by the Pitbull next door, and my horrible neighbor's reaction to me calling the authorities on them for not restraining their dog properly. Well, this story has finally come to an end after a torrent of threats of violence, death threats, harassment, arguing and just plain idiocy on the part of my terrible neighbors. Thank god! First, I want to thank you all for the overwhelming support regarding this messed-up tale of mine. It has been rough and I'm truly glad it's over, and that I have such good friends and good people in my life. I am happy to report that the Pitbull was not put to sleep, instead we found a great home for Princess the Pitbull. A home with actual human beings! A really good man adopted her. When we went to get her, she was scared, and her ribs were showing from not being fed properly by her former A-hole owners, and she was literally one hair from being put to sleep by Metro Animal Services for a human's consistent careless actions. But, thanks to all you people caring, the huge heart of her new owner, and Metro Animal Services changing their minds, this young dog now has a second chance at life! A young life of a normally sweet dog that was nearly cut short by idiot humans. She is now very happy in her new home and she has fattened up nicely, and you can no longer see her ribs anymore!
People, please. If you can't properly care for an animal. It's simple. Don't fargin' get one!!
BTW … my mini Yorkie Roo is doing fine! He has recovered from everything and has been a big ham, begging for treats like there was no tomorrow, and totally milking the whole "oooohhhh pooor meee, I'm huuuurt" routine! Ha. He is a portly little furry bugger now!
I'm sooo over all this ice and snow and winter crap! Spring please! This is the coldest winter in a long-ass time! I live in an old house and these windows suck! So it's cold as Siberia up in here!
So far, 2015 is starting out pretty awesome for me, as my bands have two sweet shows coming up, opening for Flaw on Friday the 13th of March at Diamond Pub, and the other one is a doozy: opening up for Hellyeah at The Mercury Ballroom on May 16! Very few local bands have played there and to be one of those chosen few makes me all warm and lovey inside. It's good news to me, because, to be honest I have kinda felt a little undeservedly dissed by some elements in our music scene as of late. But that's okay, ya can't make everyone happy I guess! How boring would that be? Haters are gonna hate no matter what. Seriously though, to hate on someone for nothing is a pretty shitty thing to do.
Sometimes I don't understand people these days. No honor. No morals. Maybe that's why I'm kind of a shy, laid-back, quiet, animal person, I guess.
Despite these small petty setbacks, I have remained persistent and professional, worked hard to write music and to maintain a lineup of damn good musicians to rock out with, and I guess "it is true" that if you keep plugging away at what you do and stay true to your music, then good things will happen to you. I'm stoked about these upcoming shows! I'm tired of being couped up in my crib because it's frikkin' cold! Hell, I'm hoping to get on a lot of national shows this year! When you get to be my age, it's best to not waste time lollygagging. It seems local shows' attendance has really suffered these last few years, anyways. People just don't want to go out much anymore. Or can't afford to.
Me? I want to live my remaining years rocking out like a MF.
I don't have to have hundreds of people at each show. Nor do I care about how much money will playing out put in my hand, like a lot of musicians do. It's petty shit. I just wanna jam my music.
Wanna make cash playing music? Start a cover band MF! Ha.
Otherwise, shut the f**k up.
Thank god, spring is almost upon us. A glimmer of light breaking through a cloudy, dreary season of cold, bitter doo-doo. I can't wait to see what 2015 holds for our music scene.
I'm going to be one busy bastage! A sweet vacation out West awaits me and I have a bad-ass field party to plan, and a shitload of shows to book and play! Not to mention my Louisville Music News column – which is all for you good folk, and our city's musicians and rockers! You peeps make it worthwhile.
I'm going to enjoy life, and do what I do best – write and play music and support our music scene for those good people that deserve it. The rest can eat a peter! Ha.
For life is too short to deal with shitty people....
Nuff said....
The Metal Grapevine
The Mercury Ballroom Opens Its Doors To Metal, Yes!!!
Oh hell, yeah! The wicked new club downtown on 4th Street, The Mercury Ballroom, has now opened its doors to metal music! I'm one of the few lucky musicians in town to have played this great venue (it is bad-ass!!) and I have wished and hoped that they would open their doors to more heavy, nonconformist music, and now they finally have! I don't know why the all-of-a-sudden big change has come, but I (and plenty of others) could not be happier! We have two big metal shows (Testament/Exodus and also Hellyeah) to look forward to this coming spring, and that is just the beginning! After all, ya just gotta include us metal folk, because we buy mucho tickets and drink enough booze to kill even George Jones! It's a winning situation for everyone. So all you metal folk, Listen Up!!! Be sure to support this awesome venue for these next two shows coming through, for there could be much more metal on the way if we kick some butt, attendance-wise. Metal rules, so let's all come together for these next two shows coming up! We will make it two nights to remember! God knows what kind of a perpetual metal avalanche of shows could invade us if we open this gift box in excellent manner. So I say "let's do this!"
Testament/Exodus Coming!!!
On April 21, at The Mercury Ballroom, The Dark Roots Of Thrash Tour II heads into Louisville for one night of mayhem, old-school style! If ever there was a bad-ass show on 4th street, this would be the one! I'm very stoked about this one! If someone would have told me that Exodus and Testamant would be playing down at 4th Street, I would have said "Yeah right, go smoke some more crack, fool" But its really happening and I'm thrilled about it! Texas metalheads Shattered Sun will be opening the show. This will be a meeting place/gathering for old-school thrashers for many miles around. There will be rockers from all over at this one! Indeed. So don't wait, get your tickets now! There is also a VIP Package you can get! Check this chit out!
The Dark Roots of Thrash II tour is your chance to meet TESTAMENT and EXODUS via a combined VIP Meet and Greet Experience package – available for the first time during this tour via www.slotix.com.VIP packages for all dates will be available on Friday, February 27th.
The combined VIP experience includes:
One Premium Reserved ticket or One General Admission ticket
A Meet and Greet with select members of TESTAMENT and EXODUS
Individual and Group Photo opportunities with select members of TESTAMENT and EXODUS
Exclusive TESTAMENT/EXODUS poster
Collectible TESTAMENT/EXODUS commemorative laminate
On-site check-in staff.
Flaw's Friday The 13th Metal Massacre w/ Faceplant, Krosjoint And Klinch:
On Friday the 13th of March, at Diamond Pub, all hell will break loose for an old-school Louisville metal show from hell. One that calls up memories from the mid- to late-nineties! Flaw will be taking a break from recording their new album to come play for their fans, and Louisville metal veterans Faceplant will be doing a long-awaited reunion show, and Krosjoint and Klinch will be there kicking some ass as well. I've never had a bad show playing with any of these bands, so I know its not going to start now. I remember my first show with Faceplant was in 1996 at a party at my house (what a bash!), and my first show with Flaw was in 1997 at an outdoor show at The Borderline. Time flies! Anyways it will be great to get up there with some old friends and just let loose! I can't wait! Make plans for Friday the 13th at Diamond Pub!
And be early for the opening bands!
Hellyeah Coming To Mercury Ballroom On May 16:
Another awesome metal band, HELLYEAH, is confirmed for May 16 at The Mercury Ballroom. This bad-ass band features members of Mudvayne and Pantera. This should be another barn-burner of a show! I'll have more info as the show draws closer.
I do know that my band Krosjoint will be the opening band on the bill. We are very excited to be given this chance at showing what we can do, and we plan to make the best of it! This is a prefect show for Krosjoint!! I hope to see you all there early to cheer us on!
Nightwish Coming!!!
This band is ridiculous! In a good way! Pure awesomeness. I've seen this Finnish band at least twice and I would surely go see them again. I'll get my chance to see the new Dutch singer Floor Jansen in action on Tuesday, May 12 at Expo 5.
Bassist Marco Hietala is a beast who does incredible vocals while playing at the same time, and keyboardist Tuomas Holopainen is a flat-out musical genius. Watching him play keyboards is a wonder in itself. He brings excitement and baffling skills to that instrument, an instrument that is often overlooked in rock/metal. This symphonic metal band is a force to be reckoned with, so you might want to get your tickets for this one-night-only deal, for they don't travel here very often!
I'll see you good folks at the show!
Musician Of The Month- Bassist Ryan Juhrs Of Flaw:
Be sure to take a few minutes and find out more about one of the area's finest musicians. This months feature is bassist Ryan Juhrs from Flaw, a cool dude I've known for years whom I have never had a bad word with. A good laid-back cat with mad skills is Ryan! Check out his feature!
Randy Rhoads' New Tribute Album Review:
Randy is my favorite guitarist ever, so when I had the opportunity to review his brand-new tribute album that comes out on March 3, I jumped at the chance! After all, who wouldn't get excited hearing such artists as George Lynch, Chuck Billy, "Ripper" Owens, Rudy Sarzo, Brad Gillis, Vinnie Appice, Gus G, Doug Aldrich, Alexi Laiho, Frankie Banali paying homage to one of rocks greatest axe masters?
It starts off with a horrendous version of "Crazy Train" by Tom Morello and Serj Tankian. The drums of Vinnie Appice are stupid in the beginning, and Serj's voice is almost comical. He is a fine singer, but not for this music. Sorry. And Tom Morello? Sure he is a talented guitarist, but he should have kept with his own style of playing instead of trying to make good on a classic like this. Tom's solos were whack and did not do Randy justice at all. Hell, why not get Prince to do a Randy cover, too?
"Over The Mountain" sung by Tim "Ripper" Owens is pretty good! Shadows Fall guitarist Jon Donais' tone sounds good until he tries to duplicate Randy's solo. The first part of Jon's solo was good, but the end part wasn't up to par. That is a total bitch of a part to play in his defense though. I couldn't play it in a million years. Nice try, though! Much better than Tom Morello's! The drums of Frankie Banali and bass of Rudy Sarzo are bad-ass, though.
"Mr Crowley" is sung by Testament's Chuck Billy, and features Children Of Bodom guitarist Alexi Laiho, Randy's brother Kelle on keyboards, as well as Ruday Sarzo and Vinny Appice. I love me some Chuck Billy! And Alexi did a great job on the ridiculously hard solo for this song! Best solo so far on the Tribute! Killer guitar tone and riffage!! Props to Alexi. Chuck is a bit too gruffy for this song, but he does okay. Kelle does great on the keyboards! "Believer" features "Ripper" Owens and guitarist Doug Aldrich (Whitesnake) as well as Sarzo and Appice. I saw Aldrich live with Whitesnake about six years ago and he blew me away! Dude is amazing on guitar! OMG...this solo is unreal. It's not exactly like Randy's solo, but it's close enough with his own twists and takes on the legend! Doug Aldrich is the man! This is right up there with Alexi Laiho's solo! So far Laiho and Aldrich own the day on this Tribute!
"Back to The Coast" is a Quiet Riot song featuring Randy's bolder brother Kelle on vocals, former Kiss guitarist Bruce Kulick on guitar, Sarzo on bass and Banali on drums. I never was a fan of early Quiet Riot, even with Randy, and now I see why Randy and Kelly Garni didn't want Kelle to sing for Quiet Riot. Kelle isn't so great, but he's not terrible, either. Bruce Kulick's solos are good, especially the wah parts, but nothing special in my opinion.
"I Don't Know" features former Dokken guitarist George Lynch (George rocks!), "Ripper" Owens, Rudy Sarzo, and Brett Chassen on drums. George's tone seems a bit lacking in the gain necessary to the driving main riff. "Ripper" sounds great! As much as I love Lynch's style, he strayed a little too much from the Randy format to me. He made it too much Lynch, without paying the proper homage to the fallen guitar great. It was too different from the original. But Lynch is one of my favorite current guitarists! I just wish he would have made it more like the original. At least a little bit. But it does sound killer regardless, so don't think it sounds bad, because it doesn't!
Lynch is in a league all his own at guitar playing now. His style is easily recognizable and very different from anyone else out there. Dude is a beast!
"SATO" sounds awesome! "Ripper" is killing it on this one! Bob Kulick is on guitar on this track, along with a lead solo by Dweezil Zappa, and Sarzo and Appice backing! Great song! Well done! Sounds classic! But Dweezil's solo could have been better! I expected more from a guitarist of that caliber.
"Goodbye To Romance" sounds weird with "Ripper" singing on it. Not sure this is his type of song.
Gus G's guitar sounds great though. Killer solo by Gus G. Good representation by Gus, while adding a bit of his own style to boot. Nice! That's how you do it.
Brad Gillis is on this next one? I love Brad Gillis, he is the most underrated Ozzy guitarist ever! "Suicide Solution" has "Ripper" again, and Gillis on guitar, as well as Sarzo and Chassen. "Ripper" does well, and Gillis tears it up on rhythm! Awesome. Gillis' solo however is a little disappointing considering how good he is on guitar. Brad was always a whiz at whammy techniques, but his time it don't sound so great. The solo in the breakdown at the end was lackluster. C'mon Brad, you can do a solo a hundred times better than that! Sounds like a guitarist farting around in between songs. Bummer.
"Flying High Again" has "Ripper," Sarzo, Chassen and the Irish guitarist who replaced Randy for a very short time after his death, Bernie Torme. That is one scary position to take, and I couldn't even imagine wanting that job or even trying to fill Randy's shoes in a very short time. No fargin' way! Bernie had balls of iron to even attempt it. Mucho props to him. Not sure about the tone of amp he used in this solo, but the playing is rocking, for sure!!! I can see why Ozzy begged him to help after Randy's death.
Dawg is killin it! Wicked. Not many effects were used, if any, and the solo was clean as a whistle.
This is decent tribute album, but I would have liked to have heard more artists who fit the bill better than Tom Morello or Serj Tankian. In my opinion, they are not even metal!! And why was "Ripper" Owens singing on almost every song? I like "Ripper" just fine, I met the cat and he is awesome, but they should have mixed it up more vocally. They should have used random vocalists like Michael Starr from Steel Panther, Bruce Dickinson, Rob Halford, or even … Ozzy? If Sharon would have allowed it that is. Probably not, I'm thinking. Or used some up and coming vocalists? And maybe brought in other players who were in Randy's life, like former Ozzy bassist Bob Daisley and drummer Lee Kerslake or Randy's good friend and Quiet Riot bandmate, Kelly Garni?
I dunno. I do know that as a guitarist myself, my opinion is that Alexi Laiho and Doug Aldrich owned on this Tribute when it came to representing Randy and doing their best at paying homage to Randy's riffs! With George Lynch and Gus G. coming in at a close second!
Randy would be happy that so many people still think of, and respect him even so long after his death. His playing will live on forever. R.I.P Randy!!!
Speed Of Sound Reunion and Maloik Review:
The cold weather had me all bottled up, so I went out for a night on the town to see some friends perform, and I'm glad I did!
I finally got to see the great new band Maloik play, and, wow, These young rockers are sick!!
Maloik consists of Hunter Borowick on guitar, Alex Constante on guitar, Ross Meatloaf on bass and Nick Denham on drums. These young guys kill! They do covers from an era that they never lived in, and that to me, is soooo cool its ridiculous. They don't care for modern trends or styles, they love the classic metal and rock from the 80's and 70's. Black Sabbath, Kansas, Megadeth, Warrant, Pat Travers, Dio, Bulletboys, Metallica, Accept, Kingdom Come (how cool is that?). Despite the duo guitarists being only fifteen and seventeen, their skills defy their age as they rip into song after song. People are left in amazement when they see these kids rock out. A band this young playing "Carry On, My Wayward Son?" That's unheard of.
That is one hard song to cover! And they pull it off great! Awesome.
Newcomer to the scene, Alex Constante is a beast on guitar, a true shredder. His skills and lightning fast speed are through the stratosphere. You almost expect flames to leap off of the guitar neck when he makes a scale run! I just wish the sound guy would have had him up in the mix more! He was kinda hard to hear at times. And that's not good when you have such a shredder on the six-string! I wanna hear some more playing by this young man.
Drummer Nick Denham is a monster on the skins. You couldn't ask for a better, more professional drummer. Hail to the young rockin' Mr Denham! Ross Meatlof is a bitchin' bassist and quite a good singer as well. His harmonies were good, and he even stepped up to sing a song or two, and he did well! Of course we all know I'm a fan of guitarist Hunter Borowick, a great kid with a ton of talent! So much talent, in fact, that he recently went to Chicago when he received an invite to try out for The Voice. Unfortunately he didn't make it, but he should have! Still, what an experience at such a young age! His day will come for sure. It's only the beginning.
Hunter's voice is changing these days, I'm thinking. His usual super smooth voice has been going through some stuff and manhood is approaching Hunter, and with that a vocal change is imminent, and it seems to be showing a little bit in his live shows. Maybe he is putting too much stress on his young vocal cords all at once? He has a great singing voice, no doubt, and when his voice completes the transition, he will be 100% once again, this time for good! Maloik is one fun band to watch, and whatever you do, if you like old-school rock and metal, give these kids a listen and go see them live!
Speed Of Sound had their reunion the same night at PHT, so I got to go upstairs and see these guys in action once again. I miss this band. They were one of my favorite cover bands in Louisville, and it sucks that they are not together anymore. In fact, there aren't too many cover bands in town that I even like that much anymore, save a very few. The guys had a packed reunion show, that's for sure. You couldn't even walk in the Roof Garden that night. And you never see the RG full like that, anymore!
Vocalist Billy Burton was in a zone. He obviously misses the fun of being in a popular cover band, so he was happy as hell up there sucking it up. He was a ham.
I love the guy though, even though I wanted to choke the guy to death when I was in a band with him! He has that voice and stage charisma that the people love, though. He sounded pretty good this night, no complaints. Highlights of the night were when they played "46 and 2" by Tool and "Aeroplane" by The Red Hot Chili Peppers. The place was bumpin'. Bassist Kevin Garr is one mean bass player. Dude has excellent bass skills. Drummer Jeff Williams looked very happy to be up on stage with his old friends as well.
My only complaint was the guitarist's tone. Guitarist Marcus Lambert used an amp that was not right for what the band was doing, and his amp came across as very muddy and had a very bad distorted tone that kinda ruined the overall sound in my opinion. Nothing against Marcus or his playing, as an awesome guitarist, he nailed it! But the combo of his choice of guitar and that muddy, unclear, distorted tone was a no no that came at a big cost. Several people besides me noticed the bad tone, so I'm not the only one who noticed. His clean tones were fine, though! Just the heavy parts suffered.
I dunno, maybe I'm just a tone junkie! To me, having the perfect amp/guitar is crucial to the sound you are going for. Aside from that, it was great seeing Speed Of Sound in action once again. I'd like to see these guys get the band back together full force! If fargin' Billy can get his ass to practice!
Louisville needs Speed Of Sound, so think about it guys!
New Band Alert - Driving Beast Daisy And Last Question Reviews:
I got to check out some good new metal bands recently that could use some exposure! First up is Lexington's Driving Beast Daisy. A five-piece extreme metal band that is some pretty brutal shit for real! Driving Beast Daisy is:
Jesse Williams on vocals, Chris Dukes and Kris Clark on guitars, Eric Parks on bass and Nathan "Deadman Walking" Jackson on drums. These youngsters come together in an explosion of brutal metal styles all combined into one potent juggernaut. The low, down-tuned chaos in the guitars are a bit much, and sometimes come across muddy because of their choice of amps, but there is some good metal there for sure. Fast, powerful and technically sound is DBD. The vocals of Jesse Williams are what you expect from a brutal metal vocalist, and he doesn't let down. He puts forth a lot of effort into his vocals. The bass-playing and drums were competent but the bass amp sound was not very good at all, so that was kind of a bummer for me. It was very muddy and not clean at all. The songwriting and ideas the band has are good, and they can play with some powerful groove.
These guys got some real potential, but first they have to acquire some better gear. Their sound is truly mean with the ultra-low riffage, but with low, distorted sounds like that, the notes require top-notch amps/cabs to bring out the best in Driving Beast Daisy. Low tunings like that HAVE to have decent amps or it sounds inaudible at times. It's the equivalent of trying to race in Nascar with a car designed for small-time tracks. Sure you'll get out there, but you will not be nowhere near 100% in showing what you can do. But if these rockin young metalheads upgraded their gear, look out for world domination!
Last Question is another metal band from Lexington that kicks butt. This rockin' three-piece progressive metal band is comprised of Josh Childers on guitar/vocals, Chelsea Hunter on bass/vocals and Ben Sherman on drums. I liked these guys 'n' gal quite a bit! There is some tasty guitar playing in this band!
Both Josh and Chelsea have ample skills on the fretboards! The band has a mad-scientist gimmick that is different and cool. They wear white scientist overcoats and have lab beakers onstage and stuff!
I've never seen that! It's good to see bands that like to indulge in the art of theatrics! I love that stuff.
And there is so much more they could do with that gimmick! Crazy lights. Props. All kinds of stuff really. The music is technical and rockin'. It's old-school thrash meets death metal meets progressive rock all rolled up into one big fat joint of fun metal. Josh is all over the place on guitar while singing at the same time! Some of that stuff isn't easy to play either, let alone singing at the same time. I never could pull that off very well on the metal stuff, at least! Well done, Mr Childers! Josh's guitar tone sound pretty good too. Chunky and clear. You can hear the notes. Chelsea Hunter has some damn good bass skills as well. I was watching her fingerwork and she is quite the skilled player. Cool hair, too! Chick bassists rock! And you can tell this little lady has some good charisma and stage presence, too. The drums of Ben Sherman were good! No complaints there! I enjoyed seeing this new band in action, and I would love to see them play again sometime soon.
Central Kentucky has a lot to offer musically. It sucks they don't have a good venue to play at there.
Somebody needs to step up and open a venue in Lexington!
Regional Metal Compilation Seeking Past/Present Metal Bands:
A guy named Thaniel Lee is putting together a compilation CD from unsigned bands from Louisville/Lexington/Cinci bands that existed from 1985 – 1995. His goal is to have volume 1 out by March 15, so each volume will include a photo and a bio of each band and a printable cassette j-card. If your interested get in touch with him at thanielionlee@gmail.com. The deadline for submissions is March 1, and he will accept demos, live recordings, and garage tapes, but I need everything in a high quality .wav of .aiff file. He will also need a bio of the band and a good photo.
Terry Harper's New Local Music Showcase At Expo 5:
Promoter Terry Harper has a new local music showcase at Expo 5 for local unsigned talent. Every weekend for the next few months, he has live bands playing Expo 5. Every kind of rock/metal you can think of will be playing. Get out to these shows, Expo 5 is a real good place to see a concert, and for bands to play at (I've played both stages and it's cool!!) and they are owned by very good people! It's $10 to get these shows. Support local music!
Bands, Send Me Your Youtube "Live" Videos:
Bands, send me some live footage of your band kickin' some butt on video. And if I like it, I'll put it online in Louisville Music News. Have many people see your band live in action, where it counts the most! Nothing beats a live performance. Please make sure the sound quality is decent. If it's not, I cannot use it. Send video links to:
Upcoming Shows
Diamond Pub
Friday, March 13 - Friday, the 13th Metal Massacre w/ Flaw , Faceplant, Krosjoint and Klinch. 7:30 p.m.
Expo 5
Sunday, March 1 – Littledidweknow, Order Of Leviathan, Internal Spontanious Combustion, Granshaw, sons Of Medusa and Intercession. 7:30 p.m. $10.
Friday, March 6 – 10 Years w/ Otherwise, The Glorious Sons and Luminoth. 7 p.m. $15
Saturday, March 7 – Signal The Revolution, The Dammit, The Everyday, Losers, Townie, Dose Response, Ghost Bomb and Ars Enigma. 7 p.m. $10
Sunday, March 8 – Mod Sun, Dillon Cooper, Blackbear, KR, Karisma and DJ Gnash. 7 p.m. $15- $50.00
Tuesday, March 10 – Memphis May Fire, Crown The Empire, Dance Gavin Dance and Palisades. 6 p.m. $18
Friday, March 13 – Popkiss Chainsaw, Audible Point, Sounds Like A Lawsuit, Six 2 Six, Decanted and Left In Despair. 7:30 p.m. $10
Saturday, March 14 – Too Close To Touch, Secrets, Fubar, Fraility and Illustrator. 7 p.m. $10
Sunday, March 15 – Lazy Sunday,, The Formalities, Hoosier, Powell, Belladonna and Before The Streetlights. 7:30 p.m. $10
Saturday, March 21 – Silent From The Struggle, Gravemouth, Shines Negative, Reign Of Revelation, Rockaway Drive and Deviance. 7:30 p.m. $10
Sunday, March 22 – Mushroomhead, Dope, Doyle, Chaos And Reason and Beyond Duplication. 7 p.m. $22- $60.
Wednesday, March 25 – The Ghost Inside, The Acacia Strain, Veil Of Maya, After The Burial, Gideon, In Hearts Wake and Invent Animate. 5:15 p.m. $20
Saturday, April 4 – Alesana, Capture The Crown, The Browning, Conquer Divide, The funeral Portrait, A Rumor Of War and Revision Revised. 7 p.m. $15
Tuesday, April 7 – Orgy w/ 9Electric, Death Valley high, Velvets Saints, Empyrean Asunder and Rayon Prime. 7 p.m. $20-$50
Wednesday, April 8 – Secondhand Serenade, Ryan Cabrera, Nick Thomas, Wind In Sails and Runaway Saint. 6:30 p.m. $20
Wednesday, May 6 – 36 Crazyfists, Johari, Brought By Giants, Gallifrey falls and Driving Beast Daisy. 7 p.m. $12
Tuesday, May 12 – Nightwish w/ Sabaton and Delain. 6 p.m. $35 - $170.00 –
Friday, May 15 – Incantation w/ Funerous, Abominant, Created To Kill, Esoteric Burial, Theories Of The Apocalypse and Gorgy. 7 p.m. $12
Gilbert's
Saturday, March 14 – Redline.
Headliners
Thursday, March 26 – Circa Survive, Balance And Composure and Chon. 7 p.m. $20
The Levee (1005 W. Market Street)
Friday, March 20 – Atomic Thrillride and Rust N' Bones. 9 p.m.
The Mercury Ballroom
Tuesday, April 21 – Testament/Exodus and Shattered Sun. 7:30 p.m.
Saturday, May 16 – Hellyeah and Krosjoint. 7:30 p.m.
New Direction
Friday, March 6 – Redline.
New Albany Production House
Saturday, March 14 – Code Orange, Harms Way, Eternal Sleep, Knocked Loose, Drowning, 2x4, Sons Of Southern Darkness. 6:30 p.m. $12
Tuesday, April 7 – Defeater, Counterparts, Capsize, Hotel Books, Better Off and The Weekend Classic. 6:30 p.m. $15
Phoenix Hill Tavern
>Friday, March 6 >– >The Dammit, Left Hand Twist, Manic Methed, Atomic Thrillride and The Tunesmiths. Free before 9p.m., and only $5 after 9.
Friday, March 13 – Lethean, Join The Dead and TBA.
Friday, April 3 – Bury The Wicked, Untold Rellik, Hello Agony and TBA.
Wick's (Baxter)
Saturday, March 14 – Unleashed. 9 p.m.