March 2015 Articles
Cover Story
Paul Moffett
Features
Eddy Metal
Columns
Mike Suttles
Martin Z. Kasdan Jr.
Eddy Metal
Blogs
Got Shows?
Send Them To Us
Bookmark Louisville Music News.net with these handy
social bookmarking tools:
Available RSS Feeds
- Top Picks
- Today's Music
- Editor's Blog
- Articles
Add Louisville Music News' RSS Feed to Your Yahoo!

Issue: March 2015

Jazzin'
PRELUDE:
Thanks for your patience.
RECENT CONCERTS
Marbin, Us, Today, and Zvezda at Tim Faulkner Gallery
Kudos to the Tim Faulkner Art Gallery in Portland for promoting not only visual art, but the performing arts. On Saturday, January 31, three bands with a jazz-rock flavor played. Opening was one of guitarist Brandon Coleman's groups, Zvezda, with Jeff Mellott on drums and Matt Wiles on bass. They played an entertaining set of edgy, funky music, stretching out. Us, Today features Kristin Agee playing vibraphone, keys, and electronic sounds; Joel Griggs on guitar, Theremin, and drones; and the return of drummer Jeff Mellott. They describe themselves as "Post-rock/avaunt-garde/experimental," and indeed, the rhythms were definitely more rock than jazz. Much of the music was characterized by what I would call minimalist motifs, leading to ever more pronounced soloing. They have three albums out, including the just-released TenEnemies. The band's site is www.uscommatoday.com, and information on the new disc is at www.indiegogo.com/projects/us-today-tenenemies. Chicago-based road warriors Marbin, co-led by guitarist Dani Rabin and saxophonist Danny Markovitch Slor, killed it as the closing act. The lineup has changed, with a new bassist, John Lauler, and drummer, Greg Essig, both of whom were on top of the music throughout, playing with fierce intensity. Much like their live album, Third Set (MoonJune, reviewed here in December, 2014), the focus was on the rock side of jazz-rock. One piece, "Redline," was heavy-hitting, and another, "Shoutdown (?)," evoked the energy of the Mahavishnu Orchestra. Rabin shredded, Markovitch from time to time summoned the spirit of Ornette Coleman, and the crowd clearly enjoyed the playing.
Alan Broadbent at the University of Louisville
The 22nd Annual University of Louisville Jazz Festival took place the last weekend of February. Although I couldn't make it to the Saturday night concert, featuring brothers Derrick (trumpet) and Vincent (trombone) Gardner, I was delighted to see pianist Alan Broadbent on Friday night. Between his playing and writing, Broadbent really should be more of a household word in the jazz community. He played an opening set with Chris Fitzgerald on bass and Mike Hyman on drums, followed by a big band set with U of L's Jazz Ensemble I (JEI). Broadbent paid tribute to his former employer, Charlie Haden (with whom he played in Quartet West) with a touching version of "Hello, My Love." Next, he revved up the tempo with Tadd Dameron's bop classic, "Hot House," with Fitzgerald and Hyman swinging hard. Another Dameron standard, "If You Could See Me Now," opened and closed with Broadbent soloing beautifully; all three played with exquisite grace at a very slow tempo. The trio set closed with an early Miles Davis piece, "Solar," taken at breakneck speed, yet played with precision. After the briefest of breaks, JEI performed Mark Taylor's "Full Count," paying tribute to Mr. Basie, with a patented Basie-esque solo by pianist Kendall "Keyz" Carter. Broadbent then returned to the piano for some big band bop on "Between the Lines," based on the Bird/Dizzy version of "All the Things You Are." This was the first of five pieces from Broadbent's recent collaboration with the NDR Bigband, America the Beautiful. "The Long White Cloud" was next, a swaying midtempo number whose title, explained Broadbent, comes from the Maori name for his native New Zealand. "Sonny's Step" was a bop workout, followed by one of Broadbent's earliest compositions, the beautiful "Love in Silent Amber." The evening closed with what Broadbent described as his variations on "America the Beautiful," which turned out to be intriguing and unique, not just a brassy flagwaver. It was clear that the students had done their homework, as JEI proved up to the challenge of Broadbent's original compositions and arrangements. Kudos to Professor Jerry Tolson for his conducting, filling in for new father Ansyn Banks. I had the pleasure of speaking with Broadbent and U of L's Mike Tracy for my first piece for Insider Louisville; anyone interested may find it at http://insiderlouisville.com/lifestyle_culture/u-l-jazz-fest-continues-pull-top-notch-talent.
Irma Thomas: Blues at the Crossroads: The Soul of the Blues at the Brown Theatre
Sometimes high expectations can lead to a letdown. That was emphatically not the case for the Blues at the Crossroads: The Soul of the Blues revue at a full house in the Brown Theatre on Saturday, February 28. From the first notes of The Dynamites' opening number, this was a night of deep blues and R&B, old school. Guitarist Eric Krasno (Soulive, Lettuce) joined the Dynamites for some numbers throughout the night, playing with grit and restraint. Up-and-coming singer Alecia Chakour joined the band for a set which started with "You're No Good" (Linda Ronstadt's cover of Betty Everett), and stayed strong with "What a Man," a 1968 Linda Lyndell song known to many from the remake by Salt-n-Pepa with En Vogue. Can you say "funk?" Next up was a deep rendition of Barbara Acklin's 1968 song, "Am I the Same Girl," (the vocal version of Young-Holt Unlimited's "Soulful Strut"). I mean, these folks were on TOP of it. Chakour ended her segment with an Etta James medley: "Tell Mama/Security/I'd Rather Go Blind." Next up was "The Soul Queen of New Orleans," Irma Thomas, whose set was a brilliant summation of her early years' hits, including "Hittin' on Nothing," "Ruler of My Heart," and "I Done Got Over," with a Mardi Gras Indian second line segment including Iko Iko and "Hey Pocky Way." Soul singer Lee Fields was the last act, opening with the 1971 8th Day hit "She's Not Just Another Woman," doing some restrained James Brown moves and interpolating the classic "It's a Man's Man's Man's World" into one of his originals. Irma Thomas returned for the encore, doing her classic "Time Is on My Side," and ending with all the artists on stage for what appeared to be an impromptu version of Bob Dylan's "Forever Young," a song which epitomizes Ms. Thomas. This was one of the most thoroughly enjoyable concerts I've attended in Louisville for a long time, marred only by the absence of dance space. I was fortunate to have a phone interview with Irma Thomas and an e-mail interview with Eric Krasno to preview this concert. If you're interested in checking it out, go to http://insiderlouisville.com/lifestyle_culture/irma-thomas-soul-queen-new-orleans-sings-blues-brown-theatre/.
ON THE HORIZON
Galactic at Headliners
New Orleans' Galactic is one of my favorite working bands outside of the jazz world. That said, their drummer, Stanton Moore, has released several jazz side projects. They return to Headliners,1386 Lexington Rd. Louisville, KY (502-584-8088), http://headlinerslouisville.com/ for a show on Thursday, March 18. Singing with them this tour is Erica Falls. Look for a day-of-show interview with Rich Vogel, Galactic's keyboard player, in LEO Weekly.
The Wailers at Mercury Ballroom
Nobody seems to be covering reggae, so even with minimum jazz connection (think Jamaican jazz pianist Monty Alexander), I'm going to tout it here. Before the world knew "Bob Marley and the Wailers," the band was known simply as the Wailers. Apparently bassist Aston "Family Man" Barrett is the last link to the original lineup, but this band should still be able to be "jammin'" with some "roots, rock reggae." They're at the Mercury Ballroom, 611 4th Street, on Thursday March 19; 502-583-4555. Ticket information http://www.livenation.com/events/433771-mar-19-2015-the-wailers.
Preservation Hall Jazz Band at the Kentucky Center
The Preservation Hall Jazz Band (PHJB) returns to Louisville for a concert in the Brown-Forman Midnite Ramble Series, on Sunday, March 29, 2015. Ticket information is available at 502-584-7777, or 1-800-775-7777; online at http://www.kentuckycenter.org/Kentucky-Center/14-15/Preservation-Hall-Jazz-Band/13131#tab-show-information-link. Look for my interview with PHJB's Creative Director and tuba player, Ben Jaffe, in Insider Louisville before the concert.
New Orleans Jazz and Heritage Festival
The 2015 New Orleans Jazz and Heritage Festival ("Jazzfest") runs from April 24-26, and April 30 - May 3. I'm particularly excited to see some top jazz artists throughout the weekends, including Kenny Garrett, Cassandra Wilson the Charles Lloyd Quartet, Terence Blanchard E-Collective, the Christian McBride Big Band with special guests Dianne Reeves and Jeffrey Osborne and Nicholas Payton, Butler, Bernstein & The Hot 9, and Tony Bennett and Lady Gaga. Some non-jazz highlights include the Tedeschi-Trucks Band, "The Who," The Meters Reunion, The Word, and Lil' Ed and The Blues Imperials. Details, including the full lineup, ticket information, etc., is at nojazzfest.com.
During Jazzfest, there are club and concert dates galore. The best "1-Stop Shopping" for who's playing where is jazzfestgrids.com. San Francisco's Boom Boom Room is presenting a series of shows at various venues with artists including Stanton Moore and Skerik, among others (http://www.boomboomtickets.com/evlist.php?vstate=LA&events=search).
SELECTED CLUB AND OTHER LISTINGS
The Laughing Derby at The Comedy Caravan, 1250 Bardstown Road, Louisville, KY 40204, 502-459-0022, http://laughingderby.com. The Don Krekel Orchestra will continue its gigs there on the third Monday of each month, which will be March 16. Please contact the club for any post-deadline information.
The Decca Lounge and Restaurant (812 East Market Street, Louisville, Kentucky 40206; 502-749-8128; http://deccarestaurant.com) presents weekly jazz on Monday nights, featuring The Buzzard, with Tim Whalen, tenor; Pete Petersen, keys; Danny Kiely, bass; and Mike Hyman, drums. There are also other occasional jazz events, for which the website and Facebook page may be the best ways to keep updated.
The Nachbar (969 Charles Street, 502-637-4377, www.myspace.com/thenachbar)features "Nachbar Jazz" on Wednesdays, with Jacob Duncan. Check the club for updates or changes. The club also has a Facebook page with occasional updates.
HAPPY 20th ANNIVERSARY To The Jazz Kitchen (5377 N College Ave., Indianapolis, IN 46220; phone: 317-253-4900; www.thejazzkitchen.com), presents nightly offerings of local and regional jazz; check the website for the full schedule and updates. A road trip might be advised for: saxophonist Jim Snidero and the Steve Allee Trio on March 6; our Nashville neighbor, saxophonist Rahsaan Barber & Everyday Magic on March 13; pianist Aaron Goldberg on March 15; pop/R&B pianist Alex Bugnon on March 20; The Mike Clark/Donald Harrison Project on March 21; and a special Women in Jazz Month night, featuring Monika Herzig and New York flautist Jamie Baum on March 28. The rest of the month features the best local and regional talent. Early April brings guitarist Wayne Krantz on the 4th.
Please sign up for updated local jazz listings: The Louisville Jazz Society provides weekly e-mail updates for local jazz happenings. Be sure to sign up for the e-mail "Louisville Jazz Society's "Jazz Insider" at www.louisvillejazz.org. A monthly calendar of local jazz events is at the Louisville Jazz Society's website: http://louisvillejazz.org/calendar. It is both impossible for me to try to provide complete listings here, and it would be duplicative of the weekly listings in the Courier-Journal and LEO and the Louisville Music News monthly music listings, www.louisvillemusicnews.net.
Two Jamey Aebersold Summer Jazz Workshop Artists Release Albums
For decades, I have attended concerts presented by the artists who teach at the Jamey Aebersold Summer Jazz Workshops. In my writing, I have made a point of emphasizing that many of the visiting faculty command high cover charges when they play elsewhere, and are respected within the jazz world. Two of the "regulars," bassist David Friesen and saxophonist Jim Snidero, have recently released new albums on two of the top indie jazz labels, Origin and Savant (a Highnote sister label), respectively. Here are my thoughts about them.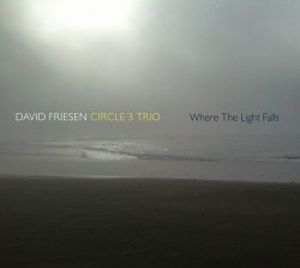 David Friesen - Where The Light Falls
David Friesen Circle 3 Trio
Where the Light Falls (Origin Records, www.originarts.com)
David Friesen's working trio, with pianist Greg Goebel and drummer Charlie Doggett, has released a 2-disc live set, with guest guitarist Larry Koonse on nine of the nineteen tracks. The trio tracks are from a 2013 set in Germany and a 2014 set in Portland, OR, with Koonse added for a 2013 date in Tempe, AZ. On disc, the songs switch back and forth between trio and quartet; all are composed by the leader. Opening the first disc is the bright and airy "Playground," with solos handed effortlessly from one musician to the next. Friesen is nimble on "Dance With Me." Koonse takes an unusual strummed solo on the boppish "Left Field Blues." Friesen's bass provides a strong pulse to "Stepping Stones." Goebel and Friesen engage in a delicate duet to open the ballad "Song For Ben," before Doggett joins with taste and subtlety at the 2-minute mark. The closing "Tribute" begins with an almost 3-minute bass introduction, leading into a sprightly quartet. Throughout both discs, whether the trio or quartet numbers, the musicians convey the feeling that this is truly a group effort, not just a showcase for Friesen's exemplary bass work.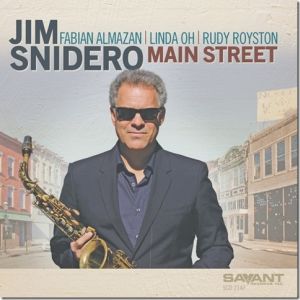 Jim Snidero - Main Street
Jim Snidero
Main Street (Savant, www.jazzdepot.com)
Altoist Jim Snidero has reconvened bassist Linda Oh and drummer Rudy Royston from his 2013 release Stream of Consciousness, but has switched from the guitar of Paul Bollenback to the piano of Fabian Almazan for this record. Five of the eight songs are originals, and the closing is a Snidero arrangement of the traditional "The Streets of Laredo," which conjures a taste of the Sonny Rollins classic Way Out West. Snidero takes his time on the first piece, :"Duluth at Noon," allowing the trio to set up a knotty groove before he enters. "Post Time Saratoga" is the closest I can recall to hearing Snidero in a Coltrane mode, with Royston doing an admirable Elvin. On "Las Vegas Tango," Almazan's delicate piano undergirds Snidero's improvisation. "Oxford Square" is updated blues, played soulfully. The only standard here, "Autumn in New York," is given a straightforward treatment, with plenty of room for Oh to stretch out. Two more originals follow, before "Laredo," with a deceptively slow bass introduction, switches to high gear, pushing the old western tune into new spaces. This marks another high point in Snidero's still-growing discography.
EIGHTH NOTES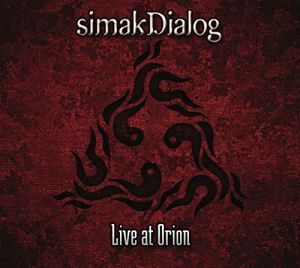 simakDialog - Live at Orion
simakDialog
Live at Orion (www.moonjune.com)
I can't help but think that the late Joe Zawinul would have liked this band. Where Zawinul approached "world music" from European
and jazz perspectives, this Indonesian band seems to approach jazz from its own cultural background. This 2-CD set was recorded in September of 2013 in Baltimore, and features Riza Arshad (keyboards), Tohpati (guitar), Rudy Zulkarnaen (electric bass), and Endang Ramdan, Erlan Suwardana and Cucu Kurnia on percussion. The percussionists create deep grooves, percolating and carrying the music forward. The band plays with intensity, whether on the growling "Stepping Inn" or the more subtle "One Has To Be." The 18-minute "This Spirit," which opens the second disc, calls to mind the early electric Miles Davis of In a Silent Way and Bitches Brew. "Kemaru" follows, seemingly melding freeform and fusion, akin to the more coherent "Drumz'n'Space" of the latter day Grateful Dead. I particularly like the flowing feel of "Disapih," with its graceful keyboard playing and subtle (for fusion) guitar work. In short, I recommend this to fans of intelligent fusion who want to stretch their boundaries.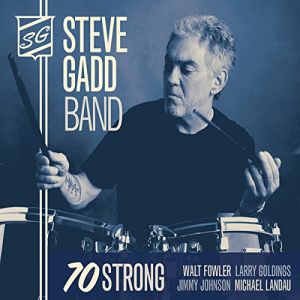 Steve Gadd Band - 70 Strong
Steve Gadd Band
70 Strong (BFM Jazz, bfmjazz.com)
While the title refers to drummer Steve Gadd's 70th birthday (officially April 9), it could also refer to the 70+ minutes of strong playing by Gadd and his colleagues, guitarist Michael Landau, keyboardist Larry Goldings, trumpeter Walt Fowler and bassist Jimmy Johnson. For those who slept through the last half-century of American popular music and jazz, Gadd has been the drummer for projects as disparate as Paul Simon (remember the drum intro to "50 Ways to Leave Your Lover"), many Chick Corea albums, studio sessions with Steely Dan and the Brecker Brothers, and more. This lineup has backed James Taylor for many years, although that wouldn't be apparent from the stylistic range here. Many of the tunes incorporate Gadd's "less-is-more" approach to funk, including the opening "Foam Home" (a collaborative composition) and Landau's "The Long Way Home." The second song is a reimagined version of the classic Eddie Harris piece, "Freedom Jazz Dance," with a spooky electric Miles Davis. Indeed, several of the songs have that spooky, voodoo feel, including Goldings' "Sly Boots." Goldings also contributes "Written in Stone," a slow piece with martial drumming and an Acadian feel. Fowler's "Duke's Anthem," a soulful waltz, is followed by more mysterious funk on Goldings' "Elegant Squares." Johnson's ballad "Desu" provides Gadd the opportunity to use brushes on snare while eliciting crisp cymbal tones with his sticks. Speaking of the Brecker Brothers, Gadd and company turn Jan Hammer's "Oh, Yeah?" into a workout which would have fit well on one of the Breckers' albums. They close with a slow blues, another Landau number entitled "Blues for . . .." No showboating here, just down-home and greasy. I had the good fortune to interview Gadd for DownBeat (September, 2013: http://www.downbeat.com/default.asp?sect=news&subsect=news_detail&nid=2208), in which he said "I try to play whatever helps [the music] grow so it's as good as it could be." This new record provides ample evidence of how his approach works to the benefit of the music presented.
LOCAL JAZZ CONTACTS
With two now-sixteen-year-old daughters, it's hard to get out as much as I would like to hear music. As a result, picking and choosing which performances to catch sometimes require that I postpone seeing some of the local musicians and singers in order to not miss the one-night-stands from out-of-town artists. Invariably, I feel guilty, so in an effort to assuage my guilt and, more positively, to provide more exposure to our community of great local jazz performers, I am initiating this feature containing website and e-mail contact information. I am only including those artists who have given their permission to me; some have indicated a preference for website listing only; others have only e-mail addresses. If you wish to be included, drop a line to me with your permission and preferences, at mzkjr@yahoo.com. I reserve the right to edit and to exclude those whose connection to jazz is, in my opinion, tenuous; and this feature may end up online if it begins to take up too much space in print.
MIKE TRACY: www.michaeltracy.com, michael.tracy@insightbb.com, saxophonist and teacher Mike Tracy
UNIVERSITY OF LOUISVILLE JAZZ PROGRAM: www.jazz.louisville.edu
BOBBY FALK: www.myspace.com/bobbyfalk, drummer and composer Bobby Falk;
WALKER & KAYS: www.walkerandkays.com, singer Jeanette Kays and guitarist Greg Walker;
JENNIFER LAULETTA: www.jenniferlauletta.com, singer Jennifer Lauletta;
JEFF SHERMAN: jeff.sherman@insightbb.com, guitarist Jeff Sherman;
RON JONES: www.ronjonesquartet.com, rjmusic@ronjonesquartet.com, saxophonist Ron Jones;
STEVE CREWS: www.jazzcrews.com, jazzcat@iglou.com, pianist Steve Crews.
CODA
1) I am always interested in your comments. Contact me at mzkjr@yahoo.com.