September 1989 Articles
Cover Story
Jean Metcalfe
Features
Jean Metcalfe
Joyce Trammell
Jean Metcalfe
Columns
Paul Moffett
Earl Meyers
CD Reviews
Paul Moffett
Performance Reviews
Paul Moffett
Paul Moffett
Dallas Embry
Mark Sickles
Jean Metcalfe
Mark Sickles
Jean Metcalfe
Keith Clements
Calendar
Staff
News Item
Staff
Staff
Preview
Staff
Staff
Staff
Staff
Errata
Staff
Photos
Mark Sickles
Staff
Staff
LASC
Paul Moffett
Diana Black
Kelly Wilkinson
Jean Metcalfe
Diana Black
Jean Metcalfe
Diana Black
Staff
Mark Sickles
Staff
Diana Black
Letters
Staff
Industry Review
Paul Moffett
Music Business News
Staff
Jean Metcalfe
Staff
Staff
Paul Moffett
KYANA Blues Society
Rocky Adcock
Blogs
Got Shows?
Send Them To Us
Bookmark Louisville Music News.net with these handy
social bookmarking tools:
Available RSS Feeds
- Top Picks
- Today's Music
- Editor's Blog
- Articles
Add Louisville Music News' RSS Feed to Your Yahoo!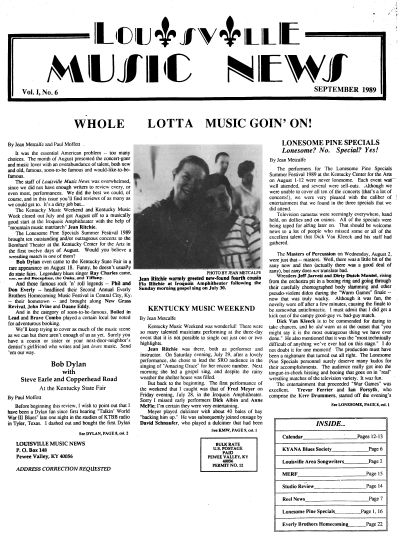 Whole Lotta Music Goin' On
By Jean Metcalfe and Paul Moffett
It was the essential American problem -- too many choices. The month of August presented the concert-goer and music lover with an overabundance of talent, both new and old, famous, soon-to-be famous and would-like-to-be-famous.
The staff of Louisville Music News was overwhelmed, since we did not have enough writers to review every, or even most, performances. We did the best we could, of course, and in this issue you'll find reviews of as many as we could get to. It's a dirty job but...
The Kentucky Music Weekend and Kentucky Music Week closed out July and got August off to a musically good start at the Iroquois Amphitheater with the help of "mountain music matriarch" Jean Ritchie.
The Lonesome Pine Specials Summer Festival 1989 brought ten outstanding and/or outrageous concerts to the Bomhard Theater at the Kentucky Center for the Arts in the first twelve days of August. Would you believe a wrestling match in one of them?
Bob Dylan even came to the Kentucky State Fair in a rare appearance on August 18. Funny, he doesn't usually do state fairs. Legendary blues singer Ray Charles came, too, as did Bocephus, the Oaks, and Tiffany.
And those famous rock 'n' roll legends -- Phil and Don Everly -- headlined their Second Annual Everly Brothers Homecoming Music Festival in Central City, Ky -- their hometown -- and brought along New Grass Revival, John Prine and Duane Eddy.
And in the category of soon-to-be-famous, Boiled in Lead and Brave Combo played a certain local bar noted for adventurous booking.
We'll keep trying to cover as much of the music scene as we can but there aren't enough of us as yet. Surely you have a cousin or sister or your next-door-neighbor's dentist's girlfriend who writes and just loves music. Send 'em our way.
Tags: