June 1993 Articles
Cover Story
Bob Bahr
Features
Earl Meyers
Staff
Paul Moffett
Paul Moffett
Karen Le Van
Karen Le Van
Columns
Henry C. Mayer
Berk Bryant
Jan Winders
Paul Moffett
Keith Clements
Todd Hildreth
Duncan Barlow
Elaine Ford
Alan Rhody
CD Reviews
Mark Clark
Kory Wilcoxson
Bob Bahr
Allen Howie
John Goodin
John Goodin
Bob Bahr
Bill Ede
Steve Estes
Allen Howie
Performance Reviews
Letha Marshall
Pete Strojny
Jean Metcalfe
Cary Stemle
c. d. kaplan
Henry C. Mayer
Rob Nichols
Jan Winders
Darrell Elmore
Earl Meyers
Calendar
Staff
News Item
Staff
Staff
Deanna Surles
Staff
Preview
Bob Bahr
Book Review
Allen Howie
Photos
LASC
Staff
Michael Layman
Ray Yates
Jean Metcalfe
Staff
Blogs
Got Shows?
Send Them To Us
Bookmark Louisville Music News.net with these handy
social bookmarking tools:
Available RSS Feeds
- Top Picks
- Today's Music
- Editor's Blog
- Articles
Add Louisville Music News' RSS Feed to Your Yahoo!

Issue`: June 1993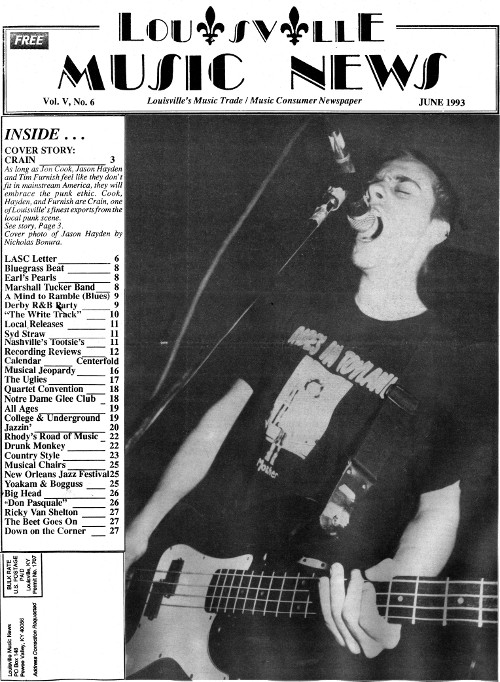 Jason Hayen of Crain. Photo by Nicolas Bonura
Crain By Bob Bahr Photos by Nicolas Bonura
As long as there are rock bands out there playing gigs with no emotion rippling through, as long as some bands slide by on technique, until anarchy reigns, punk rock will thrive.
As long as Jon Cook, Jason Hayden and Tim Furnish feel like they don't fit in mainstream America, they will embrace the punk ethic. Cook, Hayden and Furnish are Crain, one of Louisville's finest exports from the local punk scene. They are known to Steve Albini, punk rock-noise guru and Chicago producer. They are road dogs on the 21-and-over and all-ages punk circuit. They are heroes to many who feel the need to thrash and flail at conventional thinking, feeling and recreating.
Crain is about abandon, emotion, living to the hilt in your own personal way. And they are about taking everything a bit less seriously once you've gotten your angst-ridden rocks off.
Hayden, the bassist in this relentless, riveting (in the hammering, binding securely way) band of three, identified the appeal of Crain during a wide open, wiggy conversation in their van after a late-night gig at Tewligans Tavern a while back.
"There's one word that makes people relate to anything," he said. "It's intensity that makes people cling on to anything.
That's the deal with any kind of music. If they can relate to the intensity in it, it clicks. Anything."
"If you're already speedin' and drinking a lot of caffeine and sh—, then we're your band. You want something that's a little more urgent than you. And that's us," added Cook, the vocalist, drummer and leader of Crain, if Crain can truly be led.

Jon Cook, left, and Tim Furnish
Crain's last LP, Speed, is a study of driving rhythms and effective use of dynamics. Live, Crain is very loud. The tempos vary, but even the slow songs contain a portion of balls-out wailing. Slow songs drip with as much emotion as thrashing tunes, but with the added twist of anticipation, tension. It's music that must always be played loud.
"When we get together, we've got things that build to like a big ... ejaculation said Hayden, prompting lusty yells from Furnish and Cook. "We start off with something and build upon it. Or, we start off with hugeness and build down. I don't think we write songs on the same level as most people."
"You've got to turn it up full volume even for the extremely quiet songs because they are meant to be loud," added Cook. "Even the quiet songs, are meant to be loud. I mean like ..."
"Loud and full, like it is the only thing around you," finished Furnish. "That's the way we want people to perceive us."
"Like how?" Cook asked, intrigued.
"Like we're the only thing around [laughter] when we're playing," answered Furnish.
"We need undivided attention," replied Cook, picking up the thread.
"Like your teachers ask," laughed Furnish.
Cook, imitating an emcee, "Please give me your undivided attention for ... Crain!"
They joke about the band, but the three musicians, aged in their extremely low twenties, believe most desperately in Crain. The band is simultaneously their sole lifeboat and their ticket to chaos. From the outside, the band lives quintessentially slacker lifestyles. But open your ears and you 'll hear abstract discussions of art and passionate apologies about their music. Spoken in down to-earth, bullcrap-free terms, of course.
"We're not like the new, popular grunge thing and we couldn't really relate to like, sh—rock, or like, f—in' politically correct punk sh—," said Cook. "We're what I would call the New Punk. It's still very punk, but passing what people think is grunge or the early punk thing in the '70s or the hardcore thing in the '80s. We're kind of like, New punk. Heavier, but still like, fast and driving. We have a breadth of sounds. We don't have like, one narrow thing where every song sounds alike."
"Another thing that makes us a really good band is that we're still really excited about playing music," he continued "I mean, we don't go to clubs and say like, 'F—, we gotta play again. G—d— it. I want to call my girlfriend.' We're still pretty happy about playing music and want to do it. We WANT to do it. We want to build this f—in' rack in the van and put carpet in it and we're happy about doing things in music. We want to screen T-shirts and stay up really late and f-ing quit our jobs and not have money. And we want to play music."
"There's like degrees of security that keep most people going and right now, I think the three of us have a sense of like, being totally insecure," said Hayden. "There's no real basis, there's nothing that really holds us to it, but we keep doing it anyway. As far as the future goes, I think the three of us are in the same direction and don't really care about the way things are headed. The way the whole system goes, the whole direction of things ...
"Yeah, like the same f—ing thing," Cook jumped in. "Be a man, go to college, get a job. What's the big f—ing deal?" "We want to totally be kids AND be adults, f—ing ride around in the van, play music ... "
"Buy an El Camino," concluded Furnish.
.Crain headquarters is an old three-story house on Fourth Street nicknamed the Rocket House. Cook and Furnish live there with various musicians and artists. The house serves as a crash pad for visiting rock bands, as well as being the site of legendary parties featuring performances from special guests such as Bikini Kill, the Nation of Ulysses, Young Juanita, Western Block and Sebadoh. Cook bought the house in September of 1991 with money he received from the insurance company after the passing of his father. Although it shelters some rowdy people, the Rocket House is not run like a commune.
Residents can make noise only between noon and midnight. A business operates out of there, in fact: Cook's record label, Automatic Wreckords.,
Automatic Wreckords provides an outlet for bands Cook knows and likes, including Hula Hoop and King G and the J Crew and Crain, of course. The small label has made a big noise, despite its small output. The idea for the Rocket House was initially one that bordered on utopian.
"I bought the house so that my friends could come there and do what they wanted," said Cook.
"He's a landlord illegally," Furnish ratted.
"Actually, I found out a little while ago that it's legal. You can pay me with checks now," said Cook.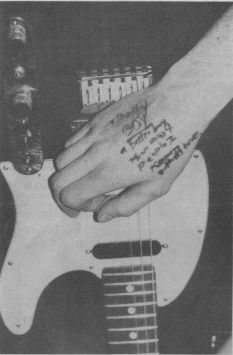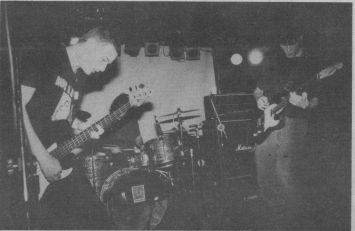 "Oh. Oh thanks," Furnish replied sarcastically.
"I thought it was illegal, but it really wasn't," Cook explained. "You can have like, up to eight people living with you. You have to claim it as money you got, but if you're not making any money, you get it all back or you can write it off or whatever."
"The most incredible aspect of the Rocket House is that it has two practice spaces, one for us and one for Rodan. We can both practice at the same time …" said Furnish.
"Yeah, and not p—s our neighbors off. Or each other. There's also like a really good bunch of people there that are involved in music and art and really happy about doing it instead of being like dicks and not really caring about anything," said Cook.
"There's also a lot of room to house traveling people," commented Furnish.
"So if other bands are in town we can put them up for the night. Rocket Hostel," laughed Cook.
Practices at the Rocket House get pretty intense, the Crain guys report. Lamps in the practice space get broken, housemates come in and dance around resulting in more breakage. Cook detailed this while absentmindedly rubbing his bloody right hand, which he busted on the rim of his floor tom during that night's pummeling set. Cook expressed some frustration with trying to capture the spirit of Crain on vinyl.
"A lot of people that have our records feel like it's just nothing like what we are live," he said. "It's hard to make a really good record that stands up to a live performance where a listener can see them as two different things and enjoy them both a whole lot, instead of one more than the other. I think it's really bad for a group' to have a really good record and not so great live. I'd much rather see a band that has a really good live show and a poor record than the other way around."
The shows are therapeutic for the musicians too.
"I feel really released," Cook said. "I feel relieved. I feel complete after shows. Usually... sometimes I'm like, really touchy and stuff. But if I can get all my equipment off the stage and not fall down and break something, then I'll feel really good."
"When things are good, it usually gives a definite meaning to me," Hayden said. "I don't want to sound cornball-ish or anything, but when it comes down to it, there's nothing the three of us would want to do more than to have a good show. And when we do, we get off on it. We're like, 'Wow.' And we can relax for a couple of days and then start thinking about the next time we play."
The days in between shows mean distracting paycheck jobs and skateboarding. And working on Crain stuff, be it songs, publicity material or band equipment.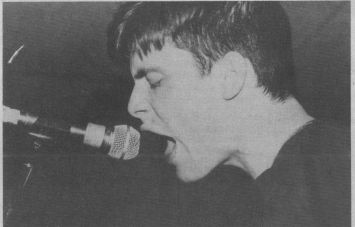 Tim Furnish, guitarist and vocalist for Crain
"It's kind of sad at times that we don't have a life," Cook said to unanimous laughter. "I never thought of myself as anti-social because I'm always doing stuff. But we totally are, we're like unsocial. We're under-social.
"I really haven't had a steady job in ages," Hayden confessed somewhat proudly. "We'll do the worst job - f— in' wash dishes or whatever. The worst f—in g restaurant job ever, just to make a couple bucks to do what we want to do. It's a f—ed up life 'cause we're really not doing a whole lot of anything."
"Yeah, like, we're not sitting around reading books or reading the paper and talking about it, or even f—ing watch TV..." Cook said half-seriously.
At the time of this interview, Crain was preparing for a grueling 30+ date tour. The band was practicing their set over and over to ensure Cook's stamina behind the kit.
Cook started off as a bassist, then he learned drums, then guitar and vocals.
"I like, got into music totally by accident," he said. "This kid I used to skate with said, 'Man, you want to be in a band?' And I was like, 'Sure, but what am I going to do? Sing? I don't know how to play an instrument.' And he was like, 'No, man, you'd play bass. I'll teach ya tonight.'
"They were like, 'Our bass player just quit. He was a total dick. So I started playing bass and I was like totally tone deaf for about a year. Then I started to really play bass and get good at it and I played bass and played drums in the high school orchestra."
Cook first met up with Furnish in the group Cerebellum. He sold Hayden his first skateboard, a sacred transaction of sorts. The band members are clearly friends as well as co-workers, which bodes well for a long association. Crain will celebrate their fourth birthday at a June 1 show at the Butchertown Pub.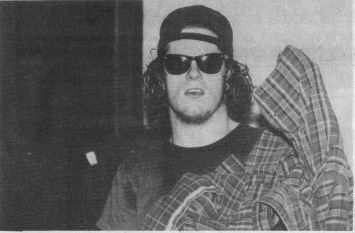 Jon Cook cools after a set behind the drums
The band's changing lineup has putCook in the role of utility man. They are presently looking for a drummer, so Cook can step back out front for a twin-guitar front line.
"We're definitely meat-fisted right now without another guitar, but it gets kind of like more delicate with two guitars, but also more powerful at the same time," said Cook.
"My guess is that if we find another drummer, it's probably going to be somebody from out of town who's just crazy enough to give us a shot," said Furnish. "Somebody that's a fan."
"They're kind of bonkers too," worried Cook. "Sometimes they're kind of creepy to be around. Hopefully it will be somebody we don't know that just wants to rock, that likes our music and has never heard us before. Somebody like, 'Yeah I'll rock with that! F— yeah!' We did have a drummer, but he quit because I was an a—hole."
While Cook was explaining Crain's drummer problems, a man came into view through the van's windshield. The T-shirted figure started punching the Tewligans backstage door.
"That guy right there should actually be the drummer," Hayden said.
"He's the most incredible drummer that ..." Cook began.
"But look at him. He's f—ing insane!" laughed Hayden.
"That's our fourth or fifth member right there, John Crain-schaefer," said Cook, amused. "I'd call him the most bad a— drummer in town."
"Yeah, he is, definitely. That guy can do anything He's incredible. Man, that guy's f-ing incredible, said Hayden.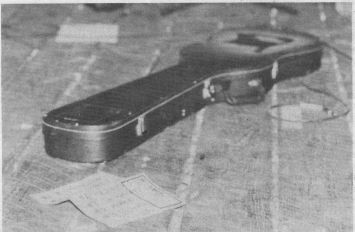 Cook laughed maniacally in acknowledgment out the driver's side window at John Kampschaefer, the unofficial photographer for Crain. Kampschaefer reacted by giving Cook the finger, his face contorted in rage He screamed "F— you" at the top of his lungs.
Then Kampschaefer answered with similar cackling, then he grabbed a pole supporting the awning by the backstage door with both hands and lifted himself horizontally four feet off the ground with the strength in his arms. The Crain members laughed like hell and screamed encouragement.
"But he's married to his job," Hayden said in a surreal deadpan. "Yeah, he's married to the stability of his job.
"He's the f-ing crew chief of a swimming pool maintenance team, said Furnish.
That s all he does, that's all he cares about, is staying stable in his job," said Haden.
"Pay his debts," added Furnish.
"Heb can't cling to something so unstable as a punk rock job playing drums, man,"commented Hayden.
"The two things beside Lakeside he cares about are finding that real hard to find Kraftwerk bootleg and ..."
".. taking pictures of the band."
" ...and rockin' out."
flower power is dead;
Crain lives
Q: What are three ways that Crain is better than the Grateful Dead?
Jon: 1) We haven't been around for 35 years,
2) We don't wear stupid clothes,
3) We don't have lots of f—ing hair,
4) And we don't lie to f—ing people.
"And his love in Idaho."
"That's a whole story you can write another article about," Cook said amid laughter.
Under the ground/ Beneath the earth I'm looking for ways/To show you my worth
To dig deeper than I ever could
To stand taller than I ever stood
Covered feelings you'1l know me when /You crawled inside my skin
Expose all of me/See what it is to see
Show you everything that makes me up
Slice to the middle peel of layers/Search through the debris to find
The part of me that cares/I'm an uncovered mess
- Crain, "Skinminer Pastel"
"Every song we write is completely different from the other," said Furnish.
"But a lot of our songs, we end up kind of copping ourselves,"countered Cook. "Sometimes it's like, 'That sounds like our last song, but that's okay because that last song was cool. That Crain band is a pretty good influence,'" he said laughing.
All three members of Crain write songs for the band, with the "primary writer usually singing the song. The band develops ideas that a member brings to the group, often changing the original idea completely. The entire process usually happens very quickly.
achy breaky feet
Jon: We wrote a new song yesterday that is great. We're happy with it. "Foot-sanding Holiday." It's a holiday that Tim Furnish invented for October. It's a holiday where you take time off and take a pumice stone to your foot and go.
Tim: Scrape off all that age. . .
Jon: Watch the years fall away.
Q: Is that what the lyrics talk about?
Jon: Sh—, we don't know.
Tim: We haven't written them yet, but that's the theme.
"It's almost unexplainable the way the songwriting goes with us," Hayden said. "We agree on a lot of things, it's... "
"It's totally ... it's the most insane thing the way things go together," interrupted Furnish. "It's incredible. It's like, I'll come up with an idea, Jason will come up with something instantly and Jon will come up with something instantly too. It's like, 'Oh my god. Here's the song. Cool.' We all love it."
"Usually we're able to crank it out pretty quick and be real happy with it," echoed Cook. "We can make not necessarily good decisions, but decisions that are really right for us. It doesn'treal1y matter what anybody else thinks, as long as we like it.
"What also makes us better than other punk rock bands is we try to make things interesting and sound different, instead of 'Okay, here's the riffs. Let's go.' Especially an ear for production. We don't try to set the levels for the whole record or whatever recording we're doing.
We try to make each song even on the same record sound different or dissimilar in the way it's produced or the way it feels," he said.
Crain's songwriting, together with their intensity and attitude, have raised the attention of record companies. Highly respected independent labels Amphetamine Reptile, Restless, Matador and C/Z have been calling the Rocket House looking for a deal. A recent 35-date tour of the Eastern United States has put Crain in the minds of all-ages and over-21 fans. A new 7" record titled The Monster is due out soon on the Compulsiv/Automatic Wreckords label featuring three Crain songs: "Hey Cops!," "Bricks," and "Crackhouse." Things are chugging along, but Crain has more amorphous things on their minds.
"Like, like, all right, for instance, my dream is to find ..." said Hayden excitedly. "... the ultimate bass sound!" said Furnish laughing.
"That's totally it! That's totally it," Hayden answered excitedly; "It's like, the three of us are playing and like I finally figure out the ultimate bass sound. [laughter] No, no, I'm serious! And Tim's got this super guitar thing and no matter what Jon's playing ... if things are right with all of us, I'll play ten shows and then f-, man, I'll be ready to quit. It's finally come and we've written all these songs, and ..."
"Oh, man! Don't say that sh—!" said Cook, alarmed at any mention of post-Crain life.
"No, no. It will never happen for me," Hayden said quick1y."Seriously, it will never happen, but. . ."
"It's like you're always striving for that, so you're never gonna give up on it," said Cook.
"Yeah, yeah. I really don't think I'll ever find it, because by the time I do, I'll have a totally different idea of it."
"I totally agree with you," Cook replied to Hayden."It's cool in a way to sound like we're still uncertain and stuff. You know, it's like, 'Whoa, something cool just happened right there.' or 'Ooo, man, that was really bad that that happened. Oh no.' But it would be just the wildest f-ing thing when we're all confident and we know just how things are going to go. But my totally dream is to have a record label that's ... or not even a record label. Past that, to be able to put records out on our own where we can put our own records and be able to help out our friends that make really good music in this town. I mean, there's not even a band from out of town that has a record out that I'd want to put a record out of because I'd rather put the money into Louisville.
There's so many great rock bands here."
"Hula Hoop and Rodan," offered Hayden.
"This band called Drinking Woman, this band ca1led Lather," continued Cook. "And this band called Nitrous. There's like so many bands I couldn't even name them all. I can't believe how much music there is in Louisville. What are your dreams, Tim?" Cook asked.
"I just want to write music and do great graphics. Be king graphics designer," he said.
Cook picked it up, "I'd like to get in a situation where Tim and Jason could have a register screen printer so they could do color posters and stuff like that. I think that any band in this town who knows any of our fliers or any of our stuff would say hands down that Tim makes the greatest looking fliers."
"We'd like to get sponsored by Macintosh," joked Furnish.
"Actually, goal-wise, if I could keep playing music and keep doing graphics for friends and other people on a free-lance basis ... imagine a warehouse situation where all my friends are doing what they do best and profiting from it in order to survive. That kind of scene would be the ideal situation," Furnish said.
in the ears of the beholder
Q: Do you ever have a day without music?
Jon: I don't know, man. Because, like, the car going down the street is music to my ears.
"Being able to live off art instead of starving at other jobs," added Cook. "We'll do music no matter what. You can't stop us."
"Like, on our first record ... you know how vinyl has that little scratch on the very inner layer? We wrote 'We'll never go away," 'said Furnish.
"We care a lot more about rock than we should. One day we hope to not give so much of a sh— about it. We want to have more ftm," Cook said at the end of a night that seemed to be nothing but fun.
"We basically spend 23 hours a day dealing with rock. That's insane," said Furnish.
"Yeah. We want to deal with more stupid stuff." Like guns and sleep and Colt 45," Cook said to laughter.
The conversation ended with a warning for the future.
1. large wading birds 2. machines for lifting heavy objects
Q: Where did the name came from?
Tim: Brainstorming ...
Jon: ... "-ain" words. And this meant nothing.
Tim: We liked "-ain."
Jon: Ain! Strain! Cocaine!
Tim: We didn't want to have a connotation to it really. So...
Jon: There's no real attachment to anything, really. I mean there's the obvious attachment to the other word and stuff like that. But We really weren't thinking that body would be speaking it without see it written.
"We plan to change too, man," Cook said.
"I wouldn'tbe surprised if we came out with some f—ing techno-sounding record. We f—ing change so much. We'll do a singer-songwriter record. Jason will be playing acoustic guitar and Tim and me will be singing, 'O00 yeah! Ooo yeah!"
That would probably be one of the most intense singer-songwriter albums ever made.
Is life a struggle for self description?
Q: Are you guys as angry as your music?
Jason: As uptight maybe.
Jon: Kinda uptight ...
Jason: Nervous ... ,
Jon: Sometimes we're sort of p-ed off, but ...
Jason: paranoid ...
Jon: ... most of the time we're just kind of goofballs.
people try to put us down
Q: Do you think punk is a young person's music?
Jon: Sort of. It's definitely for people under 30.
Q: So what happens when you turn 30?
Jon: I don't know. We'll probably be dead
Tags: