April 1992 Articles
Cover Story
Jean Metcalfe
Features
Bob Bahr
Kimble Howard
Steve Millikan
Columns
Berk Bryant
Jim Galipeau
Paul Moffett
CD Reviews
Bob Bahr
Leonard L. Horten
Kelvin Bailey
Performance Reviews
Staff
Dallas Embry
Wally Stewart
Jeannette Kays
Allen Howie
Paul Turner
Diana Black
William Brents
Calendar
Staff
News Item
Staff
Jean Metcalfe
Staff
Jerry McBroom
Staff
Jean Metcalfe
Terrabeat
Preview
Bob Bahr
Opinion
The Slugger
Tim Dennison
Robin Wise
Brad Canaday
Paul Turner
Jeff Hutchins
Photos
Staff
Jean Metcalfe
LASC
Staff
Staff
Staff
Diana Black
Jean Metcalfe
Blogs
Got Shows?
Send Them To Us
Bookmark Louisville Music News.net with these handy
social bookmarking tools:
Available RSS Feeds
- Top Picks
- Today's Music
- Editor's Blog
- Articles
Add Louisville Music News' RSS Feed to Your Yahoo!

Issue`: April 1992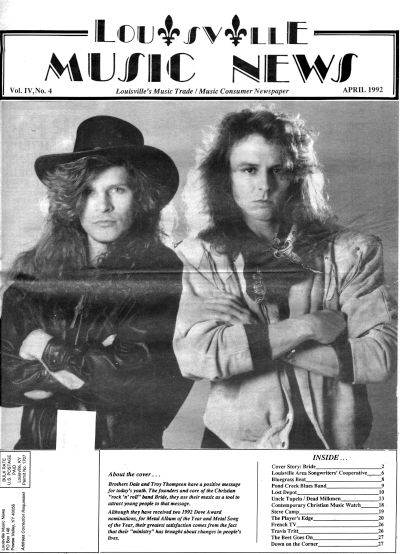 A Conversation With Bride
By Jean Metcalfe
Bride is for those people who have nobody and they find an outlet in music. We are there for people who need something. We want to win souls for the Lord.
These are the words of Dale Thompson, lead vocalist and lyricist for the Christian metal group Bride. He and his brother Troy, who plays guitar and composes for the group, feel that music is a powerful tool to help them accomplish their goal.
And I John saw the holy city, new Jerusalem, coming down from God out of heaven, prepared as a bride adorned for her husband.
Revelation 21:2.
•
Dale and Troy Thompson, the only. children of Philip and Linda Thompson, grew up in Bullitt County, Ky., in an environment filled with a variety of music, including country, bluegrass and southern gospel.
"My Dad and all of his brothers would get together and play music," Troy recalled.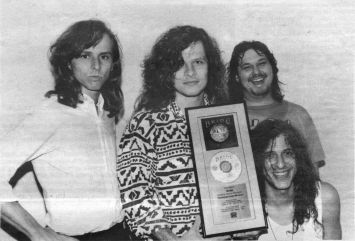 Bride members proudly display their award for their #1 hit, 'Everybody Knows My Name. L to r, standing Troy Thompson, Dale Thompsoh and Jeffy McBroom. Seated, Rick Foley
When Dale was nine years old and Troy was seven, they started a little southern gospel band with two cousins and performed their music in churches. From that beginning they formed other bands off and on until 1983, when "we really got serious about music" and formed a band they called Matrix.
As Matrix, they wanted to play in Louisville but, according to Dale, it was "too much for the churches," so they played venues such as The Toy Tiger.
But most of their crowd is under 21. "That's the problem with playing bars," they said.
Even today, they would like to play Tewligans and Uncle Pleasant's but, again, the problem is the same.
It wasn't the Thompson brothers' intention to go into rock music.
"I was a fan of Kenny Rogers," Dale chuckled.
"One thing led to the other and we woke up one day and we were playing heavy metal music," he said, still chuckling.
"We weren't even listening to rock music," Dale said, "that's the whole bizarre thing about it and when we chose to go into — or we were actually chosen, I feel, by God, to do what we're doing. It's ironic that we went into something like rock music rather than country music."
Troy said he always had the idea he would one day play in an orchestra, "and Dad always wanted me to be on the Grand Ol' Opry."
"My parents had no vision for me," Dale joked.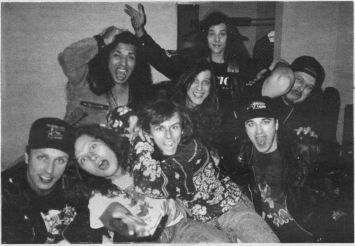 Bride and Stryper ham it up on their 1991 U. S. Tour.
Said Troy, "We grew up in a Christian home, but I think the whole religious aspect of it got deeper as our family got older . . . We always went to church . . . but I think that until we got up to high-school age, I think them's when everybody really started focusing in on our relationship with God . . . rather than what we had done in the past . . . just attending church because it's what you're supposed to do We were never introduced to rock music in a big way until, probably, I graduated [from high school], Dale recalled.
Both boys attended Bullitt Central High School and Troy earned a bachelor's degree in business at the University of Louisville. Dale took a different path:
"When I graduated from school, I went right into (he paused) life .. . bills and car payments and the whole house thing and the working thing."
Troy said that when they formed the band Matrix, "I didn't have a vision like we do now with Bride. Bride's vision is to be able to go full-time, be able to pay our salaries and our house payments, car payments and all that without having to depend on an outside source, so we're gonna take this thing as far as we can take it."
Dale said that it was in about 1985 that he started thinking, Hey, you know, I think maybe we should do this full time."
"I'm married I have two kids now, I have a house and all that I'm a family person, but yet I play rock music You have to keep your balance really smooth."
Troy, a personnel management specialist at Ft Knox, spoke of the difficulties of trying to work at a job and also play music. He cited the strain of rehearsals, travel to and from performances and other responsibilities.
Dale said that he and bassist Rick Foley are "professional musicians."
"Till I need some money," he laughed. "Then I'll go back and do electrical work. That's what I do."
The fourth member of Bride, drummer Jerry McBroom, is employed at Mom's Musician's General Store.
Dale said that he and Troy are more the "ministry" of the group.
"Jerry and Rick are the musicians of the band . . . They know a little bit more about it than we do, as far as playing."
"We're very blessed to have those two guys playing for us," he said. "We looked everywhere . . . we've been through lots of band members . . . but me and Troy have always stuck it out. Jerry and Jeff have been with us now about two years . . . Without them, we wouldn't have the appeal of the kids . . . it all works together."
Dale said that his wife understands and approves of his musical career.
"That was the stipulation. When we were talking about getting married I said, 'I love you, but I love my music and that's what I know I have to do. And if you can't walk this road and go through all the trials and tribulations and ups and downs, don't even go out with me.'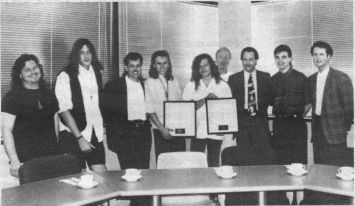 Bride at SESAC reception honoring their two number one hit single. Pictured L to r: Jerry McBroom, Rich Foley, Mike Keil, Troy Thompson, Dale Thompson, Steve Griffith, Tom Casey, Jason Parker, and Jonathan Watkins.
"Just like with Troy and Michelle Thompson, Troy's fiancee]. She's been with him for a long time."
"Six years, two months and thirteen days," Troy informed.
Michelle smiled and looked up from the book she was reading during the interview. They teased her and said that since she is a professional student she can "take off anytime she wants and make her studies up the next semester."
Michelle often travels with Bride to performances and helps out with merchandise sales.
Dale continued, "So we're very blessed to have people in our lives who support us."
The brothers sometimes spend three or four hours a day answering letters from their fans, which are currently coming in at the rate of 40 to 50 pieces a week.
"We always have answered our mail personally," Troy assured me. "We never had anybody do it for us or just threw it in the trash or whatever."
A typical letter, from Houston, Texas, reads in part:
"Man, your albums are rad and full of talent, musically and lyrically. God has really touched me through your tapes . . . I think it's great what you guys are doing and your willingness to serve God. I can see God working through you (I can see it in my life) through your songs. I'll be prayin' for you guys. Keep it up!"
Since 1983, they have accumulated "a garage full of letters in boxes that the kids wrote. They mean a lot to us," Troy assured me.
"At one time we packaged 25 pounds of letters and sent them to our record company — actually, to our would-be record company, who we eventually got signed to — to show them the type of support that we had. And that was kinda cool," he said.
"We've been really blessed," Dale told me, "because the people that support our band have stuck by us no matter what type of album we put out, whether it was a good album or a bad album. They've always believed in what we're doing."
Their current album, Kinetic Faith, has been out for about seven months and the reaction has been very positive, they said.
Said Dale, "We're getting letters from kids who are thinking about suicide, kids with family problems, kids . . . well simple things like boyfriend or girlfriend problems.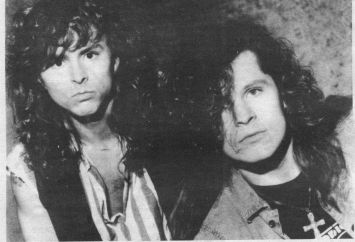 Troy and Dale Thompson
Now we've got a hot line [see end of story] that we have kids call. And that rings off the hook."
"We published that on the album so anybody can reach us long distance," Troy said. "We get calls . . . from California, New York, Poland, Germany, Australia"
The phone rings from about noon until 4 a.m. and the brothers feel that most of the callers from other countries aren't aware of the time differences.
"There's a guy from Germany who calls about once a month at three in the morning and I don't have the heart to tell him that I'm asleep," Troy chuckled.
Bride's manager, Scott Hall of Axiom Music Group, said that he is working through their record company with distributors in Europe and other foreign markets.
A promoter in Guatemala who has promoted other Christian artists there and in El Salvador and Costa Rica wants to bring Bride to those countries.
A contact in Brazil had five February dates booked there for Bride, but a severe recession and unrest in the country forced a postponement.
Other concerts are in the works for this fall or winter in Denmark, Belgium, France, Sweden and — "a real long shot" — Japan.
Bride will be going into the studio to record their next album in May, with plans for an August or September release.
For the most part, album songs are written by Troy and Dale. Hall penned the lyric to one of the songs on their second album and played bass on about half of the songs on their first album. From time to time they receive input from the other band members.
Foley and McBroom each have a song on Kinetic Faith.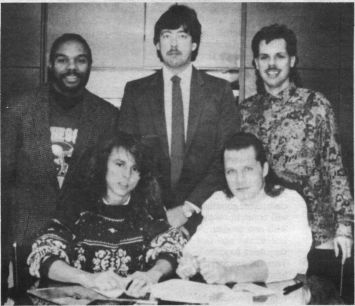 Bride signs an exclusive multiple-album contract with Pure Metal. Front row: Troy and Dale Thompson. Standing, Dez Dickerson, Scott Hall and Mike Keil
Their upcoming album will consist of about 95% of Dale's lyrics and 5% of Troy's, with Troy contributing an estimated 90% of the music.
"Troy writes the 'ands' and 'thes,'" Dale teased his brother.
Troy described how he and Dale collaborate: "He writes all these lyrics and I'll be working on all this music and he'll come over and I'll think what I have is a great hook on the guitar and he'll think he has a great melody hook or lyric hook. And we'l1 try to combine the two until we beat each other up enough that we come up with something ...
Dale interrupted, "Troy and I, we're brothers and we never fight and we're like business partners and we never fight and the worse anything will get is I'l1 say, 'Well, I don't like that guitar riff,' or he'll say 'I don't like your phrasing on that'..
Troy interjected, "You deal with an ego, too, you know. You're thinking, 'Well, I've got this great . . . ' "Dale interrupted with a teasing, "Well, I'm glad you finally admitted it."
Troy continued, "You're thinking, 'I have this perfect guitar hook and he doesn't want to sing over it 'cause he doesn't like it.' "They agreed that after each has presented his side they eventually reach a satisfactory compromise.
When a song has been completed, the guys sit down and decide who contributed what, in order to prevent hard feelings or a sense of being left out.
Bride's last four songs released to Christian metal charts have gone to No. 1.
"That's the first time any band has done that," Dale informed.
"And, actually, today we have the No. 1 [Christian metal] song in the nation," Troy added with understandable pride.
Bride has received two nominations for the 1992 Dove Awards (gospel music's equivalent of the Grammys). "Everybody Knows My Name" is vying for Metal Song of the Year and Kinetic Faith for Metal Album of the Year.
(The Dove Awards show is slated for live broadcast on The Nashville Network at 9 p.m. on April 9 and will be re-broadcast on April 11 at 6 p.m.) Although their music receives little airplay in the Louisville area, they are being played on other area stations. WXLN in Eminence, Ky., is one. The brothers feel that they are probably bigger in the northern and western parts of the country than in the south.
"We're one of the only Christian rock bands on our label that has the cross-over potential . . . Our lyrics deal with Christianity and morality, but it doesn't necessarily just slap you in the face with the gospel," Dale said.
An interesting fact, they said, is that their older albums can be found in such record stores as Camelot and Recordtown in Louisville and other places around the country, while their newer stuff cannot be found in the secular music outlets. Efforts are being made to remedy that situation.
"We would love to be on every major rock station in the country," Troy said, adding that it is very difficult to get airplay if you're not playing the circuits.
"'QMF has played our music," Troy said. "I had one guy tell me that he was driving home from working at UPS at three o'clock in the morning and he heard one of our songs ... it's, like, weird programming . . . it's not conducive. .
" . . . When somebody says, 'We're supportive of local music,' I'd like to see that really happen, you know. Not let local bands take over the station. But I don't believe that it would wreck a station to play a [local band's] song once in a while," Troy said.
"Nobody's gonna drop their sponsorship from a radio station [if they did]."
Dale mentioned that there are a lot of good local bands that are airworthy.
"We've got friends in [the band] Spanky Lee … they write some of the most commercial songs . . . Spanky Lee's Max Maxwell has drummed for Bride on as many as eight past occasions, they said.
We spoke of the fact that most local programming is not decided upon by the local program directors or music directors at the stations, but that the format is decided upon by someone in Texas, for instance.
"Everybody that's involved in music in a big way here in Louisville talks about how they want to make Louisville the big Nashville, you know. But until you get the radio . . . and the local papers and everybody behind you, this will not turn into a Los Angeles or Seattle or New York," Dale allowed.
Troy added, "We have songs that I know people out in the market would like. You don't have to be a Christian to like our songs. I think we write really good songs, but they're not exposed to it at all."
Said Dale, "We're not doing Christian rock like Stryper . . . and Christian rock like you heard in the '60s. Our stuff is right down the line of Soundgarden, Guns N' Roses, Alice in Chains; anything that's popular today with the kids, that's the style of music we play."
"Radio's kinda been rendered impotent, too," Dale added, "in terms of breaking artists. It used to be you'd go travel around the country like [Loretta Lynn did] in 'Coal Miner's Daughter.' MTV took care of all of that. Radio is still very important and has a lot to do with the money that's made in the business, but as far as breaking an artist . . . it doesn't happen like that."
Dale and Troy have talked with music directors of a couple of local stations in an effort to get their music played.
Although Bride's music is probably most compatible with WQMF's format, they feel that a ballad on their current album could fit in well with WVEZ's format, but Troy was quick to say that "you'd never catch 'VEZ playing one of our songs."
"Another thought, too, going back to the secular distribution," Dale said, "it's kinda defeating the purpose if a kid hears it [on the radio] and says, 'Oh, great, I wanta go buy this,' and he can't find it anywhere. Cause they're not gonna go into Family Bookstore or seek out a Christian bookstore. They're not gonna know we're Christian . . . so you've gotta get secular distribution . . .
Their label is currently working on a distribution deal with virtually every major label.
Although Bride albums are always for sale at their performances, audience members may not always have the money to buy them on the spot, they said. Later, when they do have the money, they don't know where to buy the albums.
While Bride turns over a lot of product at performances, most of their sales come through Christian record stores.
And Bride T-shirts are a hot item at their concerts as well. At a recent weekend performance they sold newly a hundred shirts.
Looking ahead to their concert on March 21 at Evangel School [it had not taken place at the time of our interview], they said they had "a pretty good idea" of who would come: kids wanting entertainment, kids there because they've heard the name Bride and parents who "want to know what in the world is going on."
They were expecting quite a few fans from Lexington since Shophar, the opening group, is from the bluegrass. But fans from as far as Canada have come to Louisville to hear Bride; they promote their concerts by using a 500-name mailing list they have compiled from fan letters.
A good crowd for a Bride concert is 500 people, they said, adding that about 425 fans recently paid $10 a ticket to hear the group perform in Minneapolis.
(In a post-concert phone call to Bride's manager, Scott Hall, I learned that the Evangel concert had attracted some 300-350 fans.) I asked the Thompson brothers a question that my husband had suggested: "What about groupies?"
Dale, whose rugged good looks and nice build suggest that he might well be a prime target for young ladies, fielded the question: "Our groupies are . . . 15-, 16-year-old boys who want to be musicians. Hardly ever is there somebody that you would consider a groupie . . . somebody like you'd see on the Phil Donahue Show (everyone laughed). . . hardly is there anybody like that wanting to get backstage . . . and most of the time it's just people that are admiring what you do . . . I think that a groupie for us is an over-zealous fan."
Troy, no slouch himself, gave his opinion: "I don't like the word groupie. It's such a sleazy word."
I asked if Bride's music has mellowed somewhat from their earlier style.
"Our music was going in the direction of thrash music like Metallica, Megadeth and bands like that and we caught ourselves before we slipped completely over the edge," Dale said.
"People really like Guns N' Roses [and] Led Zeppelin. So we said, 'Well, let's just do what we know how to do and that's play bluesy rock 'n' roll, because we were having to compromise our styles and our techniques in order to play thrash music and real hard, hard heavy metal stuff. So now we've been able to play kind of a hard rock blues Arrowsmith, Gun N' Roses style. It makes it easier on us, so in that regard we have mellowed out. Now, some people would think we're still too hard rock."
"We've definitely mellowed from one thing to another," Troy summed up.
The brothers seemed to agree that age probably had something to do with the mellowing. (They seem to agree on most things musical.) "Like myself," Dale said, "I'm approaching 30 and once you get that old and you have kids and you're saying, 'Now, do I want my 5-year-old little boy . . . acting like I was acting a couple of years ago onstage?'"
"That's always something I try to tell people: 'If you're doing drugs [and] alcohol . . . when you have kids would you want your kids to walk in your footsteps.' And they kinda stop and go 'Hmm.'"
Both Dale and Troy said that drugs and alcohol were not a temptation to them because they didn't have the problem of low self-esteem, which they feel is a big factor in drug use.
"Music for us is a drug," Dale said. Troy agreed.
There was an interesting and funny exchange between the two brothers after Dale started a sentence with "I kinda have a laid-back personality . . .
He was stopped mid-sentence by snickering within the group and a teasing "He's lying," from Troy. Dale grinned and quietly shot back, "I've not even raised my voice this whole conversation."
There was a general consensus among the group that artists are somewhat moody and not noted for being even-tempered.
Troy and Dale downplayed their talents, saying that talent is what an engineer, for instance, has.
"What we have are gifts that we lucked into," Dale said. Or was it Troy? They allowed as how if they made a mistake onstage it wouldn't be fatal, but that if an engineer messed up, a car could fall into a ravine.
And they spoke of the importance of passion in singing, citing U2's vocalist.
"He's got real passion when he sings. He's not the greatest vocalist in the world, but he sings with conviction. You have to feel it, you can't learn that . . . It's either there or it's not." Both Dale and Troy agreed on this point as well.
Hall, who had sat quietly through most of the interview, gave his view: "I think that, in addition to the talent, they enjoy doing what they're doing. And that comes across on stage. I can sit and watch a band and I can tell after their first song if they would rather be doing something else. You can listen to a record and hear that and I think that's why these guys have such a loyal following . . . they give it everything every night. There's never an off night. On their worst night I've seen them be ten times better than a lot of bands on their best night, because that passion is there . . . They love what they're doing."
Dale had a complaint: "That's one of the things that bugs me about MTV . . . used to [be] you'd drive down the road and you'd visualize this song in your head. Now they visualize it for you. So now they tell you what to think about a song and it's not necessarily what the songwriter wrote about."
Spoken like a true songwriter.
The brothers feel that in the '70s when people went to see a band they wanted to fund out if they could sound like their album. Now, they said, fans want to know if the groups can look like their videos.
I asked Dale and Troy what kind of music they listen to, supposing that they do not listen exclusively to Christian music.
"We don't listen to hardly any Christian music," Troy replied.
Dale said that while Troy has been listening to a lot of jazz lately, he has been listening to classical music "just because I'm tired of hearing people (he chuckled, apparently at the irony) sing. I just want to hear music."
He did say that he enjoys Rick Elias "because he sounds modern, he's not outdated." And he also enjoys "on the other extreme of the harder rock bands" - — The Crucified.
Troy enjoys easy listening, from Lisa Stansfield to Taylor Dane to Mariah Carey.
"I like music that's not taxing on your brain," he explained. "To me the '70s was the best time for music."
"The reason people want to play '60s music today," he continued, "is because it's artsy, it's like the 'in' thing."
He further said that Bride does not follow a rigid structure of measures and song lengths, etc., while they are onstage. The brothers allowed as how they have become so accustomed to each other that they are able to improvise the whole night.
"It's not quite as good as a James Brown thing, yet, but we're working on it," Troy said with a chuckle.
Referring to Bride, Hall said, "They kinda have the Robert Plant approach for live shows. You never see the same show twice."
Dale and Troy agreed, adding that it wasn't because they were intoxicated like Jimmy Page.
"Jimmy Page never played the same note twice," one said.
I raised the issue of censorship of The brothers are against it "If they're gonna censor the profane," Dale said, "then they're gonna go to the extreme and they're gonna censor the good.
They're gonna say, 'Well this is Christian music and it just doesn't fit with the overall format.' "' "Censorship in any form isn't very hip," Troy added, although he said that he does agree with the labeling of records.
Dale concurred.
"They give you ingredients on what is in vegetable soup, but they don't tell you [that] you can't eat that vegetable soup just because it's fattening."
Dale believes that if someone wants to sing a song and use "the F word" throughout the entire song, it is their right as an American to do so, "but it doesn't necessarily mean that you should go out and buy the thing."
"I don't see any sense in being profane to make a statement," he said.
They spoke of how on two recent Guns N' Roses albums "they'd be hittin' a cool groove and a hook and all this stuff, then all of a sudden he [Ax] Rose] just comes up with a string of something . . . or waits until the end of the song and says something just totally perverted and I just think, 'Why?'"
Dale feels that it is just "the whole rebellious thing."
They commented wryly that getting an "Explicit Lyrics" sticker translates into more album sales.
Dale elaborated: "The danger is if they tell Judas Priest today that they can't sing about Satan or whatever, then think about it, how long is it before they tell us we can't sing about Jesus?'
Troy is really "bummed out" by politics in music.
"You'd think with Christian music you'd avoid some of that with the so-called brotherhood . . . but the politics in Christian music is outrageous.
It's really ridiculous."
Dale added, "When you get into Christian music you find out that to a certain extent they censor what you can say about God to make it fit into a format. You know, 'If you want to be on Christian radio you have to sing a certain way.' But we haven't felt it as much because they still give us a lot of liberty as a heavy metal band. But if we were trying to move into the contemporary music field you really have to doctor your lyrics up-11 Troy went a step further: "It's real cliquey, too. If you're with the clique — we've never teen able to get with the clique, I don't know why — but if you can get with the clique hen all of a sudden you're appearing at all these really cool things and you're in all the magazines . . . it's very political."
Said Dale, "We've been able to rise above the problems.
"Despite the magazines," Troy wickedly finished his brother's sentence.
But Dale had his own ending: "I think that Star Song has been a big supporter of us and I don't feel like they're in the clique.. .
. They know what rock music is. I don't think there's too many Christian labels that know what rock music is. But they [Star Song] definitely know what rock music is all about. As a matter of fact, the head of their A&R department was Prince's ex-guitar player . . . so they really understand what we're doing."
Troy said that although he feels it is important to take control of your own career, he also thinks you have to have faith in your record company and the people who work there in order to make it work.
They gave Star Song high marks: "They ask us what we want on the cover of our album, they ask for input, they ask what we want to call the album . . . That makes a big difference."
"They know, I think, to keep us out of that clique. Because I think that once you get in there, we'll wind up on the 700 Club (at this point there was much laughter and it was hard to tell who said what) smiling, with suits on and roses in our hair and it won't be us, you know . . . You just can't be a slave to it."
"Actually Stryper kinda got in the clique . . . and when they rebelled, the clique turned against them and they were ruined," Troy declared.
The brothers stated that some of the biggest record companies are not owned by Christian organizations, but rather by secular organizations, "so all that is to them is just another way to make money," Dale said.
"Christian music outsells jazz music and classical music combined," Troy declared, adding that 15% of all album sales are of Christian music.
Dale said that in the past five years or so the mainstream churches have warmed up a little bit to rock music "not because the music has changed, but because they see the ministry value. They see us go out and we're rockin' as hard as Guns N' Roses, but then at the end there's a message and it's more effective on the kids than anything any preacher in a suit can say to 'em."
Hall spoke up: "And it's not to say that the preachers are doing anything bad, it's just we want to peacefully co-exist and find our niche and do what we do. I think a lot of people in the mainstream churches are afraid. They think that they're gonna throw out the hymnals and put Bride songbooks in there."
Said Troy, "We're not aiming at the group of people that are congregational . . .
Dale interrupted: "Dale wouldn't mind getting a car endorsement . . . if Mr. Swope is listening, Lee Iacoca or somebody. . . . we could do a jingle for them."
Bride currently has a Peavey endorsement.
I asked Dale and Troy what the most satisfying part of their work was.
"Just seeing the kids getting something out of it," Dale said.
"Not many bands can honestly say that they have the power to change people's lives, you know. Sure, everybody is affected by music, but it's like we see real changes in people's lives because of what we do and that's a power . . . that really fascinates me."
Said Hall, "It's an interesting curiosity with these guys. I see a really healthy balance in that they take it very seriously what they do, but at the same time they don't take it really that seriously. And what I mean by that is they know that they're not going to save the world with Christian rock music, but they know that it's a very powerful tool. And, again, that's what I think the mainstream churches are starting to see. With the PTL and the Swaggart scandals, a lot of people have fallen away from church. And I think a lot of wise people maybe see the rock music, especially the heavier styles, the alternative and the rap, as a way to draw the younger people back into the church."
Moving on to a lighter subject, I asked about funny things that h a v e happened to them in their musical career.
Dale had a quick answer: "The big thing that comes to everybody's mind was on the Stryper tour. We were in Oklahoma City and there was about a five-foot stage up off the ground and I happened to miss the stage and over I went. And we've got it on video from the back . . . It looks like the floor opened up and swallowed . . . my feet are just.. . I caught myself as I went down, luckily, because it was a concrete floor."
"And he never missed a note," Troy tossed in "I never missed a note," Dale echoed.
"The next day I felt like I'd been in a car wreck . . . but we went on playing the tour."
They traveled — all four of the band members — with all of their gear (personal luggage, sound equipment, merchandise, everything a band travels with) in a Dodge Caravan.
"We got to know each other very well," Dale promised.
From Louisville they drove (more than 18 hours) to Boston for the first show, then to Minneapolis, through Oklahoma, South Dakota and other cities, finally winding up the tour in San Antonio.
At the last show, the Stryper band members "borrowed" from Bride's dressing room the silly string that Bride had planned to blast Stryper members with, turning the tables on them while they were onstage. And there was also the matter of several deli trays being commandeered for ammo.
"Food fight!"
I was pleased to learn that they hadn't broken any guitars.
I asked how many band members had been with them over the years. I had innocently apparently touched a slightly sensitive nerve, but they handled themselves well, jokingly naming an outrageously high number before answering.
"What we do, because the money is not great . . . it's hard to get great musicians that are willing to stick it out when they can go get a good-paying gig and not have to leave town."
Said Dale, "The biggest benefit we get is just seeing people enlightened by something we've said, or maybe solving a problem [for them] while we're there [at a concert]. It's sad to see people leave and you know that they've got to go home to something they don't want to go home to. But we were there for an hour or hour and a half and we were just a nice release for them, to get out."
Troy added, "Some kids, when they leave, they go home to abusive parents or to bad relationships or drugs problems or whatever."
Dale again: "And I've talked to women before who've said that it took them forever to talk their husband into letting them come. And I think with a situation like that it has to be like living in hell at their house to have to beg their husband to go to a show . . . there's no reason why people should have to live like that. We live one time on this Earth and it's best that you really enjoy yourself and get something out of this life other than misery. There's no need to live your life in pain and suffering."
Dale would like for his two sons to select a career in which they can help people, but he doesn't necessarily want it to be in music.
Troy, on the other hand, said that if he had children he would encourage them to go into the music field.
Dale clarified his earlier statement by saying that he is definitely exposing his son to music. He feels it is a good vehicle for discipline "because if you don't rehearse religiously you just don't get good at it. You are always rusty."
"We're his favorite band," Dale chuckled proudly. "He's got our posters and stuff on his walls. And that's kinda weird. You walk in your son's room and there you are, you know."
"And it's interesting with his son," Troy said, "because we know what's going to be a good song whenever we see him really get into it . . . He's not influenced by MTV. He just knows what sounds good."
The brothers said that although their mother doesn't listen to much rock music, she too knows when they have written a good song.
She tells them when a song is good — and when a song is bad.
What was the scariest thing that has happened to them so far in their musical career? "The Stryper tour," they laughed.
It was during the Stryper tour that Dale inadvertently got them into a potentially dangerous situation.
Troy narrated: "I did a lot of the driving on the Stryper tour, but I had to fly home from Minneapolis. Dale was driving down the road at about 90, asleep and Rick and Jerry aren't helping him out because they're asleep, too."
Dale picked up the story: "I had just told Jerry . . . 'I'm really tired. You're gonna have to drive at the next exit.' And I'm running at probably about 90 miles an hour, according to the police officer that I almost rear-ended."
"The police officer told me, 'I seen you coming up and I started speeding up . . . I couldn't outrun you so I had to get in behind you to stop you.' . . . It woke me up, needless to say."
I asked if they are able to enjoy any measure of anonymity when they are in public. They said that being recognized by the fans and spending time with them is one of the best parts of what they do.
Dale theorizes that musicians who are mobbed by their fans bring it on themselves. With the exception of entertainers such as Michael Jackson, they feel that if the artists would act just like regular people, they wouldn't have a problem with crowds.
Dale related that he had spent some time in Los Angeles and it was not unusual to see rock stars walking freely on the streets without creating a mob scene.
He did add, however, that if they were to do that in a town where it is a rarity, they would have their clothes torn off them.
"That's never happened to us yet," Dale laughed, "but I'm sure we'll pay somebody sooner or later for a publicity stunt . . . Tom Jones and the underwear thing . . . paying girls to do that."
How would they like for our readers to think of Bride? Dale answered for the group: "If anyone doesn't really know who Bride is . . . to tell you who we are musically.
Troy interrupted, "We're a rock 'n' roll band."
Dale continued, "A rock 'n' roll band. Lyrically, we 're just trying to help people in their spiritual life and in their mental life to be able to cope with the things that are around them by just choosing God . . . With a great deal of conviction, Dale and Troy spoke further about their ministry.
"I remember growing up in school that you're very influenced by what's around you. You want to fit in. You want to be cool.
You don't want to be the geek or the outsider," Dale said. "So part of what we're trying to do is to bring kids' self-esteem up and let them know that they're more important than trying to impress friends by doing drugs or by going out and drinking or by doing things that they're not supposed to be doing."
Troy added, "Some kids have some real problems growing up and I think that what we do helps bring them in, helps keep them from being outcasts, gives them a place to belong."
"Kids need role models," Dale continued He feels that the heroes of today's youth, especially in the inner cities, are the pimps and drug dealers.
"They've got it in the back of their head, 'When I get old enough, I'm gonna make the money like this guy does 'cause he's got big diamond rings and drives a fancy car,' but there's no role models now and if we can be role models to kids and have a good, positive message, then I would much rather do that than to . . . play what we call secular music that doesn't have a positive message always."
"Hopefully, we're shedding some light on a real dark society."
Hall said that his goal is to get Bride some recognition locally for what they've done.
He referred to their two Dove nominations and their four No. 1 singles.
"It's just phenomenal," Hall said. There's not too many people in Louisville that are into music that have five albums in international distribution and that are receiving and have received the accolades and all the industry things that go along with that, that these guys have. And that's something I wanted to let the public know."
•
Bride will be playing most of the big Christian festivals throughout the United States this year. The biggest one is Cornerstone, which is staged south of Chicago. A four-day festival of all types of Christian music, primarily rock, it is "sorta like a Christian Woodstock."
In Louisville, Bride will perform at the Contemporary Christian Music Festival on June 20 at Aldersgate U.M.C., 6633 Dixie Highway.
Bride albums are available at Baptist Book Stores, Family Book Stones, Wellspring Christian Book Center in Louisville and The Christians Bookshelf and Expressions of the Heart in Southern Indiana. Early albums may be available at Camelot Records and Recordtown.
Bride merchandise information can be obtained by writing to: BRIDE, c/o Dale & Troy Thompson, 295 Churchview Road, West Point, KY 40177. To talk with the band, call (502) 922-4870.
Booking information can be had by writing or calling Axiom Music Group, P.O. Box 91225, Louisville, KY 40291-0225, (502) 231-0161.
Bride Discography
Show No Mercy, l987, LP, Cassette (Pure Metal, a division of Refuge Music Group.
Live to Die, 1988, LP, Cassette, Compact Disc (Pure Metal, a division of Refuge Music Group).
Silence Is Madness, 1989, LP, Cassette, Compact Disc (Pure Metal, a division of Refuge Music Group).
End of the Age - Best Of Bride, 1990, Cassette, Compact Disc (Pure Metal, a division of Star Song Communications).
Kinetic Faith, 1991, Cassette, Compact Disc (Pure Metal, a division of Star Song Communications).
Bride's music has also appeared on six compilation albums.
Bride is one of four bands on Metal Mission: Hard Rock On the High Road, Vol. I, 1991, Videocassette, (Pure Metal, a division of Star Song Communications).
Tags: