February 1992 Articles
Cover Story
Jean Metcalfe
Features
Kevin Gibson
Jean Metcalfe
Paul Moffett
Karen Le Van
Columns
Berk Bryant
Paul Moffett
Earl Meyers
Henry C. Mayer
Alan Rhody
CD Reviews
Bob Bahr
Bob Bahr
Michael Campbell
Performance Reviews
Paul Moffett
Bob Bahr
Jean Metcalfe
Patricia E. Finger
Dallas Embry
Patricia E. Finger
Cary Stemle
Interviews
Bob Bahr
Calendar
Staff
News Item
Staff
Staff
Preview
Staff
Bob Bahr
Errata
Staff
LASC
Karen Le Van
Diana Black
Staff
Jean Metcalfe
Staff
Staff
Blogs
Got Shows?
Send Them To Us
Bookmark Louisville Music News.net with these handy
social bookmarking tools:
Available RSS Feeds
- Top Picks
- Today's Music
- Editor's Blog
- Articles
Add Louisville Music News' RSS Feed to Your Yahoo!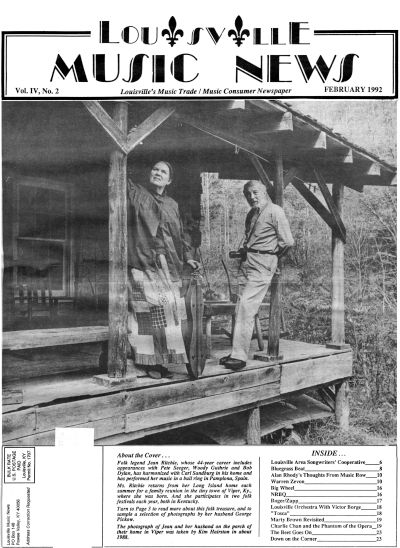 A Conversation With Jean Ritchie
By Jean Metcalfe
On January 20 I spoke by telephone with folk legend Jean Ritchie at her home on Long Island, where she was recuperating from knee replacement surgery. Her doctor had allowed his "star pupil" to leave the hospital earlier than originally planned, because she was progressing so well.
Before resuming her concert schedule, Jean will travel to Florida to continue her recuperation at the home of her husband's sister. She anticipates that their pool will hasten her recovery.
Jean Ritchie is a lovely, caring person and it was a pleasure to talk with her.
In a career that has spanned more than 40 years, Jean Ritchie has recorded some 40 albums and has written a book that was called an American classic.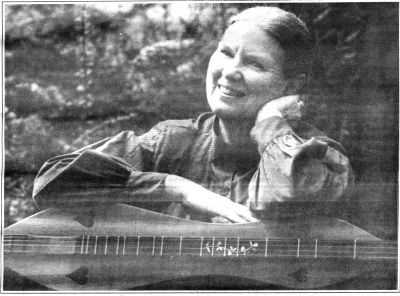 Photo by George Pickow
She has shared the stage with Pete Seeger, Woody Guthrie and Bob Dylan. She has harmonized with Carl Sandburg at his home.
But when I asked Jean what has brought her the most happiness, she replied:
"Some of the very happiest moments of my whole life have been rockin' my children."
And Jean would sing to her children as she rocked.
"The songs always had a peaceful influence in them," she said.
"On me, too," she added, laughing. "I Usually went to sleep before they did. I loved 'ocking the babies."
•
Jean Ritchie was born on December 8, 1922, in Viper, Kentucky, a tiny town in the Cumberland Mountains.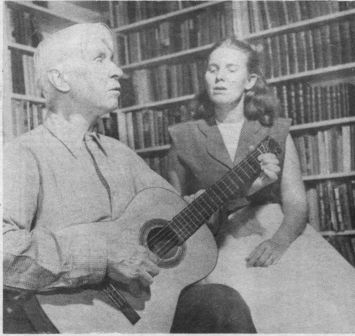 Jean harmonizes with Carl Sandburg at his ome in 1950 or '51. Photo by George Pickow
She was the fourteenth, and last, of the children of Balis and Abigail Ritchie. Her arrival brought an end to four-year-old Wilmer Ritchie's reign as baby of the family.
In her book "Singing Family of the Cumberlands," published in 1955, Jean gave this account:
"I think I was a little of a surprise to my mother who had thought that if a woman had a baby in her fortieth year it would be her last. Mom had my brother Wilmer when she was forty and she settled back to raise her thirteen young uns without any more interference. Then when she was forty-four, I came along.
"It must have been hardest on Wilmer; he had himself all fixed to be the baby of the family for life. Mom says that the day I was born they found him, in the middle of all the excitement, away out behind the house all alone. He was leaning up against the old June-apple tree just crying his eyes out."
Jean's earliest memory was of a house filled with crowds and noise and laughing and singing and crying."
And she remembers spending the spring and summer days working in the comfields:
"I began my work in the fields as a water-carrier but by the time I was ten I was an all-day worker taking my own row with my hoe. I felt mighty important and grown-up those first few days, but then the shine was gone; and it was just a tired back bending over the green rows that had no end. . . the clinking sound that came too often of hoes fighting the millions of rocks; Dad's tired swearing at the old mule and Mom's weary fussing at him for it; it was sweat that made you wringing wet and bees and pack saddles that stung because of the sweat; it was the stubborn pride that made you keep up with your own row, even though the pace set by the older workers would almost burst your lungs; it was the heaven in the cool shade at the end of the round, the ecstasy in a gourdful of spring water, the foolery in a snatch of song.
"Our singing in the cornfield ran to funny songs. They made us laugh and lifted us back to our hoes in a good humor and not so tired. . . . Dad would generally always let us finish the song before he hollered, 'Back to work! "'
In the winter time the family would gather around the fireplace after the evening meal and sing and talk about the weather and the crops. But it was the "hant tales" that the children longed to hear and they were seldom disappointed.
In her book, "Singing Family," Jean says:
"I have never been able to decide which times I liked better, those winter evenings around the fireplace, or the summertime twilights when the song and tale-telling moved out onto the front porch. Even before I was old enough to take much part in anything else the grownups did, I was doing my share in singing the moon up on those soft summer nights."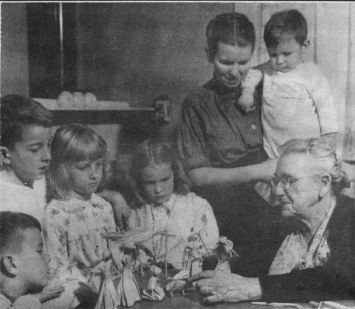 Grandma Abigail Ritchie sets up her cornshuck creche. Jean holds her son Peter Pickow. Photo by Peter Pickow
Jean describes those summer evenings: "My favorite place on the porch was the swing, in between Mom and whatever sister got there after I did. I loved the lazy motion of the old swing and the way it creaked in time to the music, fast little squawks with the quick tunes, melancholy moans with the slow sad ones. What a safe, warm world it was for me then, leaning sleepily against a soft round arm, watching the darkening air twinkly with lightning bugs."
As the evenings wore on and Jean's eyelids began to droop, her mind would wander and the people in the ballads would come to life.
Jean would later bring to life selections from her repertoire of some 300 traditional songs at her first formal concert in 1948 at Columbia University where she shared the bill with Pete Seeger; and she would perform them at a concert in the bull ring at Pamplona, Spain.
Forty-two of the songs Jean remembers from her childhood are contained in "Singing Family of the Cumberlands." The publishers had wanted her to include only ten, but Jean had prevailed.
Her editor, from New England, told Jean that no one would understand the mountain expressions she had used throughout the book. He also felt that the grammar should be corrected. Again, Jean won out and the book is made all the more enjoyable and authentic because of her determination.
Further evidence of Jean's strong resolve is contained in her book:
"In my high-school days at home, I found my family history much more of an interest to my mind than the book history we had to study.. . . I would follow anyone around all day if he would talk to me about old times."
Assigned by her high school English teacher to write an autobiography, Jean put together bits and pieces and came up with a paper that she was "right proud of." But she longed for the information she was certain that "Uncle Jason" Ritchie (her father's first cousin) could provide.
"He knows all the old songs and stories and will set for hours on end with anyone who likes to listen. That's his best liking," her mother had told her.
When promises from Jean's family to invite Jason Ritchie to spend a week or so with them did not result in his arrival, Jean "determined to go, alone, to see him."
One Saturday, after telling her mother that she was going to nearby Hazard, Ky., Jean boarded the bus. But instead of getting off the bus in Hazard, she continued on to the point on the bus route closest to her destination. From there Jean had to walk five or six miles across the mountains to reach the home of Jason Ritchie.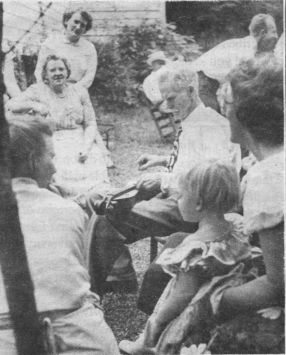 Balis Ritchie plays dulcimer for his family. Photo by George Pickow
Uncle Jason was just about to sit down to a hearty dinner when she arrived, but he delayed his meal so that he could visit with his young relative.
He sang for her the ballad of the Turkish Lady and Jean joined in. The words and the tune were very close to the version she sang at home.
Then Jean began to ask Uncle Jason about the Ritchie ancestors.
"I could tell that he was surprised that one of the flighty generation should take an interest in old-time things. He began to smile and clear his throat and look pleased," Jean recalls in her book.
Later, after they had eaten the ample meal prepared by Uncle Jason's daughter, they sang and talked some more — until Jean could tell by the slant of the sun's rays that it was time for her to begin her long walk back to the road, if she were to arrive there before dark.
Her book quotes Jason Ritchie's reaction:
'People's getting so they a-living too fast. Now, what sense was it for to come all this way up in here and just stay these few minutes? Ought to stay a week, anyways. Take that long for me to get started singing good. Well, all right, if your Mammy don't know your whereabouts you best go I reckon. Wait about for a second whilst I hunt up my old hat and I'll walk a ways out with you. I've not talked to you enough to see my satisfaction yet.'
Jean continues the story in her book: "We walked on, Uncle Jason talking slow and steady and we came to the crossroads where two forks of the little branch rolled in together and made one. He stopped and 'lowed that this was the place to say good-by. He promised to come over to see us soon and then he said, 'Now what song of all the ones I sung you today did you like the best? That one about the Lyttle Musgrave? It is a pretty thing, the language of it and the dainty music. Reason I asked you is, I aim to sing your best liking to you for a parting.'
"Whereupon he stood up very straight, put one hand on my shoulder and looked away off somewhere into the pale fall sunset and sang that lovely lonesome song. The little branch waters sang along in a sweet dulcimer drone, like its music was made just in tune for the ballad. Uncle Jason's tall, black-clad frame swayed to the quavery ups and downs of the song and his eyes clouded over with memories. He sang the whole song, all twenty-seven verses of it and I don't have to tell you that I was black dark getting home."
I have quoted freely from Jean's book, "Singing Family of the Cumberlands." It would be very difficult to improve upon this "American gem."
When the book was first published in 1955 by Oxford University Press, it was called an American classic. It was reissued in 1988 by the University Press of Kentucky and there is a possibility that the book may be made into a movie.
"That's very exciting," Jean told me, then added with a chuckle, "I never count those eggs until they hatch."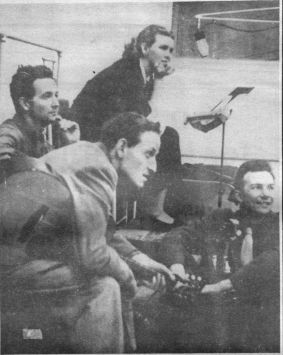 :L to R, Wood Guthrie, Freddie Hellerman, Jean, and Peter Seeger at WNYC for the Oscar Brand radio show, in 1948 or '49. Photo by George Pickow
Jean has been told that Jessica Tandy reads the book's Christmas chapter aloud every year and that after one such reading, Tandy said, "This was written by a little old lady in East Kentucky who's probably dead by now."
Although Jean can pinpoint the exact moment when, at the age of twelve, she realized that she was unique, she had no idea of the many interesting twists and turns that her life would take.
A graduate of the University of Kentucky, with a degree in social work and a Phi Beta Kappa key, Jean went directly from college to New York City.
Abigail Ritchie's prediction that her daughter would "meet some northerner and marry him and never come home," was only partially fulfilled. Jean met photographer George Pickow, married him and settled in a house on Long Island, where they reared their two sons. But she frequently returns to Viper, Ky., where she and Pickow have a log cabin. It is situated just up the hill from the house in which Jean was born, which has been extensively remodeled.
George Pickow is a film and video producer. His Folklife Productions also handles merchandise sales through the Folklife Family Store.
He and Jean frequently work side by side on projects and their sons, Peter and Jon, now in their thirties, frequently work with their parents.
Neither son has married, so as yet there are no grandchildren for Jean to sing her songs to while she rocks them to sleep.
The eldest son, Peter, lives in New York City where is the music editor for a publishing company that carries old publications; several other companies are under its umbrella.
Jon, who once sang with the Norman Lubof Choir, lives with his parents and works in the family businesses. He "does video and whatever else, to make a living, 'cause he can't make a living singing," Jean laughed. She was not making an unkind reference to his musical talent, but was speaking frankly about the modest sums most musicians can command.
Both Peter and Jon have earned musician credits on several of their mother's albums.
Jean answers letters and pays the bills for "all of our little corporations."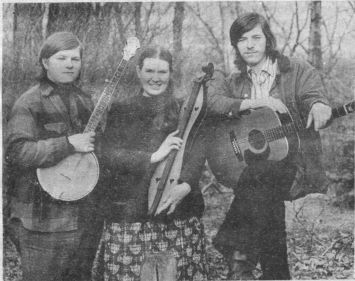 Jean with sons Jon, at left, and Peter Pickow. Photo by George Pickow
Besides Folklife Productions, there is Geordie Music Publishing Company and Greenhays Recordings, whose product is distributed by Flying Fish.
In addition to the albums, videocassettes and books, the recently reborn Jean Ritchie Dulcimer can also be ordered from the Folklife Family Store.
Jean Ritchie shared the stage at the first Newport Folk Festival in 1959 with the likes of Pete Seeger, Flatt and Scruggs and John Jacob Niles and was one of the seven original directors of the festival.
Backstage at the 1965 Festival, while Boy Dylan sang an electric version of "Maggie's Farm," Jean noticed Pete Seeger running around frantically, apparently searching from something. She asked what he was looking for.
Ronni Lundy, in an excellent feature on Jean Ritchie in the July 23, 1989, Courier-Journal Magazine, gives Jean's account of that event. Jean quoted Seeger:
"I'm looking for a rock. I'm going to throw it through that electric thing, that amplifier and put a stop to this."
In 1989 Jean and members of her family were featured on aPBS special that examined the history of the enduring song "Amazing Grace."
"Amazing Grace" had played an interesting part at the 1969 Newport Folk Festival:
By not including his hit song "Alice's Restaurant" on his song list, Arlo Guthrie had provoked the audience and they were stamping and yelling for "Alice."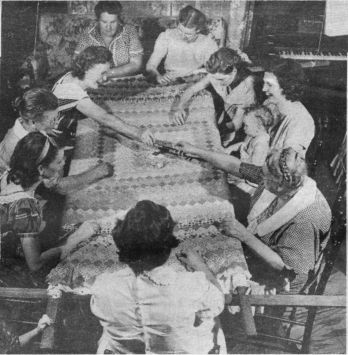 A 'quilting' at the Ritchie home in Viper, Ky., in 1950. Mom Ritchie is at lower right, Jean is at top right.
Lundy's 1989 Courier-Journal Magazine article quotes Jean:
"It was getting ugly and that's when Pete [Seeger] pushed me out on the stage and said, 'Close the festival, Jean. Sing something gentle.'
"I was scared to death. So I starting singing 'Amazing Grace' the old way. I lined it out and everything. And you know, it calmed them right down. It's a truly powerful song.'"
In 1977 Jean's album None But One won the Rolling Stone Critic's award as Best Folk Album of the Year.
Emmylou Harris, Michelle Shocked and the trio of Harris, Dolly Parton and Linda Ronstadt have also recorded her songs.
Harri, a long-time Jean Ritchie fan who frequently includes Jean's songs in her live performances, was responsible for Jean's "My Dear Companion" being included on the very successful Harris-Parton-Ronstadt Trio album.
Shocked included only one song on her album Short, Sharp, Shocked that she did not write — Jean's "The L&N Don't Stop Here Anymore."
Said Shocked, who traveled to New York to play for Jean a tape of a portion of her in-progress album and to get her permission to use the song:
"There's something melancholy about the song that makes it timeless. It speaks of things that are a part of the eternal human condition, of loss and the decay of community. That song will always continue to be sung."
Jean's songs are often mistaken for ones that are much older. Shocked said:
"[Jean] told me she would set songs out on their way, pack them a little lunch and send them out into the world and then wait and see how long it took them to come back as a 'traditional song.'"
One of the two festivals at which Jean regularly performs is Kentucky Music Weekend in Louisville.
It was my good fortune to hear her perform at the 1989 and '90 festivals. And I especially enjoyed the gospel sing she led on a rainy Sunday morning in '89.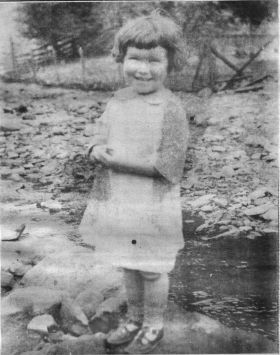 Jean at age four.
Jean was unable to attend the 1991 festival because of a departure from the usual weekend that it is scheduled. She would be visiting friends in Ireland during that weekend. Jean told me how the Ireland trip came about.
"In 1952 and '53 we had a Fulbright Scholarship to England, Ireland and Scotland and we collected [songs] from a farm family down in County Cork, among a lot of other people. But there was a wonderful old lady named Elizabeth Cronin and she gave us a lot of wonderful songs and ballads and so on.
"She's dead now, but her family, last year, got together. . . for a big reunion in her honor and they invited us to come back after, well, practically 40 years. . . It was wonderful. They gave us a party and made us guests of honor.. . . And we met a lot of other singers and did a little more collecting. They made a video tape for us and just in general we had a wonderful sort of homecoming, not our family, but our folk-song family . . . So that was the reason we went in the first place. Kind of an extension of a family reunion. . . in the whole world."
When word got around that Jean would be visiting friends in Ireland, the calls for her to perform started to come in, she said.
She laughed as she described the calls: "While you're here, would you. . . ."
So, while she was there she played at the annual Galway Art Festival.
"The whole town is in celebration," Jean said. It's a beautiful time to be there."
In Dublin she performed with a group called The Voice Squad, three a cappella folk singers.
"They were really great.. .
so pleasant to listen to, and I made friends with them."
They invited Jean to the Isle of Man for the weekend.
"So one thing led to another.
We had a wonderful time.
We only stayed two weeks."
In addition to the Kentucky Music Weekend, Jean regularly performs at the Pine Mountain Great American Dulcimer Convention, at Pine Mountain State Park in Pineville, Ky. The event will take place on September 25.
"It's a very discreet little festival, but it's lovely. It's out in the woods and very nice and nice people come from several different states."
Jean had carefully scheduled her appearances around her knee surgery, which was performed early in January.
She had been in concert in Louisville at the first Unitarian Church on Saturday, December 21, to help raise money to replace the church's organ that had been destroyed when the church burned in 1985.
Jean said that her appearance had been well-publicized and that the show was a sell-out. When a Courier-Journal phone interview with Jean appeared on the day of the performance, the number of people turned away would have sold out a second show, Jean said, even though it fell on the Saturday evening before Christmas when many people have already made plans for parties.
Following the first Unitarian concert Jean traveled to her hometown of Viper, Ky., for a Christmas visit with relatives.
"They do that every year. The people who live in Lexington and Winchester . . . come up and bring Christmas to the old folks at home, sorta," she chuckled.
Although Jean and her husband have a cabin home in Viper, the water is turned off during the winter months, so they stayed "down the hill" in the home in which Jean was born. The interior of her birthplace has been extensively remodeled. When they visit in warmer weather, they take up residence in their own cabin.
Jean will resume her concert appearances with a performance in New York during the latter part of April.
She does not go out and "beat the bushes" for concert dates," she said, but maintains "for me, a pretty full schedule."
"I just sorta take what comes along (that she is interested in)," she said.
We spoke again of the PBS special "Amazing Grace," hosted by Bill Moyers, which included footage of the Ritchie family reunion and the singing that is a part of the annual gathering that takes place in late spring.
Climbing a hill near her homeplace to the graveyard is one of the features of the Ritchie reunion and "Amazing Grace" is one of the songs they sing. They tell stories about relatives who have gone before and sing some of their favorite songs.
In the Courier-Journal story in the summer of 1989, Ronni Lundy quoted Jean:
"It's something that we've started to do up at the graveyard, to remember one another by stories and songs and to mark the way these things are passed on from generation to generation. And really when you think about it, the best immortality anyone can have is that all the generations that come after you still have a little part of you in them."
Jean told me about the upcoming '92 reunion:
"Saturday is visiting day, so come if you can. I think it's going to be over the Memorial Day weekend," she laughed in her pleasant lilting laugh.
I asked Jean to tell me about some of the high points in her life:
"I'm the kind of person that's made happy by personal things, like the birth of my children and getting together with my family. . . all those homey things."
She did take a few minutes to expand on her answer to my question, mentioning several other enjoyable events in her career:
"I met Ralph Vaughn-Williams, Maud Karpeles, all the folk-song people in those early days.
"And Carl Sandburg, we went to his house, at his invitation. We were on the road and sorta called him up one day," she laughed. "And he said, 'Come on over.'
"I had met him in New York at a book-and-author luncheon before that and so he remembered me and he had us stay all night. And he gave us a bedroom and we sat up late making music and that was one of the high points, I guess, in my life.
"He was just so, as we say at home, 'common' Very easy to talk with, very friendly. His wife was a wonderful person, Paula, and she just took us right in and gave us goat's milk," Jean said, laughing heartily.
I asked if she recalled any of the songs she and Sandburg had sung.
"He was singing and I was kind of joining in choruses on some of his songs that he collected. Probably 'Colorado Trail,' 'Careless Love.'"
I remarked on how peaceful and serene she seemed (both in performances and our telephone conversations) and asked if I had gotten a correct impression.
"Well, I'm a Sagittarian," she laughed. "That sorta goes with being a Sagittarian, they say. 'Wise and serene,' I believe it is," she chuckled. She did admit to not paying much attention to astrology beyond knowing what her sign is and being able to give the right answer when someone asks.
"Yeah, I'm pretty unflappable. I don't have much of a temper. I used to, when I was a child. They said I had a strong temper, but I've been able to curb it or redirect it, or something, I guess, in growing up, growing older. Life's too short to be agitated all the time.
"I sometimes think I haven't done enough in giving, helping the world come along, but I try every chance I get. I try to do a benefit . . . I don't drive and so that keeps me from going out and volunteering for a lot of things.
"But I would like to help the hungry and the homeless. All those things are very real causes to me. Up to now all I've been able to do is either do a benefit or write a song or (she paused) send money," she laughed.
Jean had told me in an earlier conversation that she didn't consider herself a skilled musician. She described her playing: "It's strictly by ear and by feel, sort of. The instrument that I play most is the dulcimer and I've played it since I was a child. And I started out using it as another voice, you know, as a sort of harmonic voice along with my voice. I couldn't hear the dulcimer if I played the melody and sang as a little girl. It sounded so much the same timbre that I couldn't hear the instrument. So, if I played the instrument louder I couldn't hear the voice. (She laughed.) So I started playing a melody against the melody, against what I was singing. And that's how I sorta developed my style for ballads and things like that. I play a counter melody and sorta make it up as I go along. And that just comes with having a good ear and a sense of timing and, like my father used to say, 'fillin' in the gaps.'"
I asked Jean about the movie "Next of Kin" that she had made in Hazard, Ky., with Patrick Swayze in 1989.
"Well, I did it because I had never done it before," Jean said.
"[While she was in Kentucky] They offered me a part and I thought, 'Why not?' Here I am in my late sixties and I've never made a movie."
There have been home movies and documentaries with her husband, "but I had never been in a big Hollywood movie, so I just did it. And, boy, it was a different world. A whole different world."
She spoke of the film makers spending about a million in Hazard, Ky., not far from Viper, during the month they were filming there.
"Hazard loved 'em. I was shocked at the money that sorta goes down the drain . . . There's a whole two days' shooting that I was in that . . . just wound up on the cutting-room floor and they spent so much money and so much time and they had so many extras and it all just ended up not being used at all."
"Getting up at four o'clock in the morning and getting over and getting your makeup on before six. . . She laughed at the incongruity of the movie business.
"Each one of us that had a speaking part or a feature part had a little room in one of those long trucks with our name over the door and a little bathroom inside and a little dressing room. And wardrobe would come around and bring your costume about 7:30 and then breakfast would come, and then about 11 (she laughed) they might call you . . . I understand that's very common, that's very usual."
"I wouldn't like to do it all the time, but I sure enjoyed doing it for one time, seeing how it works and meeting all the people and talking to them. I got a feature credit on that that I didn't know I was gonna get."
She had sung "Leaning On the Everlasting Arms" in a group of singers in a wake scene, she said.
She also had a solo part in a lengthy Old Regular Baptist hymn that she lined out for the crowd to sing. And although it hit the cutting-room floor, she feels it was for that scene that she was given feature credit. She was surprised to see her name as the credits rolled at the end of the film, she said.
Although the movie was set in recent times, Jean said that their costumes looked like outfits from the thirties and forties.
"It was quite unrealistic as far as that (their costumes) goes. They must have known, because they had shopping malls all around them when they were there, but they just wanted that sort of look to it for the country scenes."
Yes, Jean did get to meet the star, Swayze, and was in a couple of scenes with him.
"Every once in a while it gets rerun," Jean said of "Next of Kin." "I don't think it's the world's best movie. In fact, there's a lot of shooting and violence . . . towards the end. And they edited it so much that the plot of the movie gets a little bit obscured. As I say, I wanted to do it because it was offered to me and because I'd never done it. I don't go around telling people it's a great thing," she laughed.
I asked Jean what she would like to tell our readers; how would she like for people to think of Jean Ritchie?
"It's so hard to talk about yourself. I imagine I want to be known . . . All my life I've tried to be a good person . . . if there's any such thing as a good person. Honest and caring. I just hate violence and needless brutality. It's hard to live in this world sometime and exist with the things that are going on. I think God gives us a cut-off switch or some sort of button that we can push when things get too hard. You have to ignore a lot of what is going on because you couldn't stand it otherwise."
"I think it's important to be active, with a goal in mind that you want to make the world a better place."
"When you live as long as I have, so many things have happened to you (she laughed) and so many wonderful things have happened to you and if you named them all you'd be here all day, so I guess the best thing is just to shut up and let you pick out what you want to say," she laughed.
•
Jean Ritchie will return to Louisville for Kentucky Music Weekend at Iroquois Park, which an educated guess suggests will take place on Saturday and Sunday, August 1 and 2. I look forward to seeing her again.
For additional information about performances by Jean Ritchie, or to receive a copy of the Folklife Family Store catalogue, write to Folklife Productions, 7a Locust Avenue, Port Washington, New York 11050.
Tags: