January 1992 Articles
Cover Story
Jean Metcalfe
Features
Paul Moffett
Columns
Berk Bryant
Paul Moffett
Earl Meyers
CD Reviews
Staff
Scott Metcalfe
Paul Moffett
Cary Stemle
Jean Metcalfe
John Goodin
David DewBerry
David DewBerry
Leonard January
William Brents
Leonard January
Berk Bryant
Bob Bahr
Performance Reviews
Dallas Embry
Jean Metcalfe
News Item
Staff
Staff
Jean Metcalfe
Preview
Bob Bahr
Book Review
Lee Bash
Photos
Staff
LASC
Paul Moffett
Diana Black
Wally Stewart
Ronnie Dee
Diana Black
Diana Black
Jean Metcalfe
Blogs
Got Shows?
Send Them To Us
Bookmark Louisville Music News.net with these handy
social bookmarking tools:
Available RSS Feeds
- Top Picks
- Today's Music
- Editor's Blog
- Articles
Add Louisville Music News' RSS Feed to Your Yahoo!

Issue`: January 1992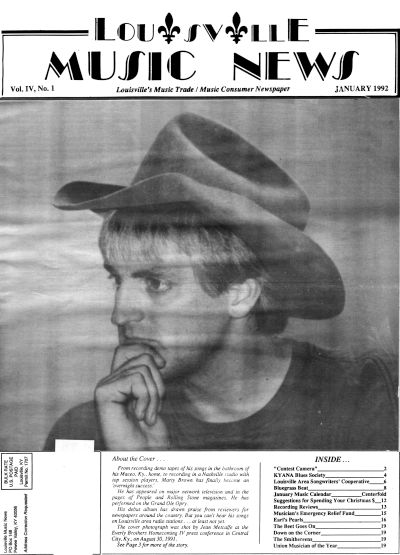 A Conversation With ...
Marty Brown
Singer of "good down-home, honest, true country music"
By Jean Metcalfe
On August 30, 1991, at The Everly Brothers Homecoming IV in Central City, Ky., a youthful country singer stole the evening on a stage that included John Prine, John Hartford, The Kentucky HeadHunters, and Don and Phil Everly.
Earlier in the day the lanky singer-songwriter had charmed those assembled for a pre-concert press conference. He spoke of his admiration for all the people he would be sharing the stage with that evening, and related that some time back he used to cruise Wendy's restaurant in Central City.
In a telephone interview with Marty Brown on December 5, I asked him about his Central City cruising. He said that he had cruised not only Wendy's but an ice cream and yogurt place as well.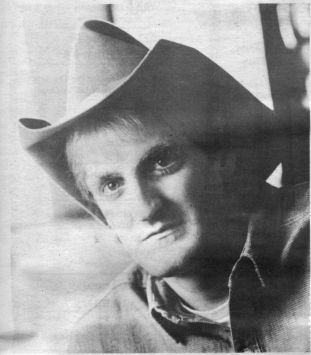 Marty Brown
"I just knew that they [the Everlys] were from there, and [I] went there, you know," he explained with a boyish laugh.
I had a great time talking and laughing with Marty Brown. The expressions he used were quite familiar to me, and added immensely to my enjoyment of our conversation. The 26-year-old MCA recording artist's frequent use of the words "you know" didn't grate on the ear. It was instead a genuine style that seemed very natural. Marty didn't pronounce the "g" in words ending with "ing" and it was charming.
I have tried to portray for you the true Marty Brown. I think he would approve.
"It's doin' good," Marty said, when I asked about his debut album, High and Dry. "I believe this week it's 44 or 47 on the charts. It's selling great."
He eagerly brought me up to date on his career:
"You know, my new video, my new single and everything's out. And they've just got all kinds of stuff, plans, goin' on. You know I went on the Cadillac tour, you know. Well, now the Wal-Marts, it was such in demand, they actually had Wal-Marts callin' 'em and wonderin' why they were left out.
"It's in the works now [another tour] ... after the first of the year. They're gonna put me on a train this time. ... It won't be as grueling as the first one."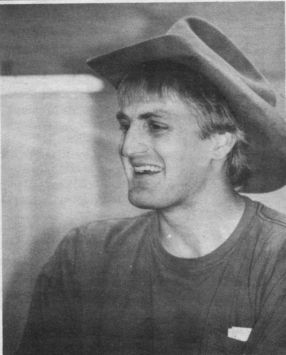 Details of the train tour had not been firmed up as our deadline arrived, but it is hoped that Louisville will be a stop on the tour. If the The Wal-Mart store in the Louisville area, but that didn't happen. Perhaps the train will stop hereabouts. Are you listening, tour schedulers?)
Marty recounted how he had been on the road with Hank Williams Jr.'s road manager, Raymond Hicks, who drove the now-famous Wal-Mart-tour red Cadillac.
"We were out there. ... We hit 43 Wal-Marts in 45 days," Marty laughed. I could almost see him shaking his head in amazement.
A man from Alabama now drives the famous red Cadillac. He won it in a promotional give-away at tour's end, Marty related.
I confessed to Marty that I had not yet seen his video, but hoped to catch it soon.
"You'll like it," Marty assured me, then enthusiastically described the making of it. He said the video had been filmed in Lebanon, Tennessee, and was based on the movie "Norma Rae," which starred Sally Field.
"I come and serenade this girl at this woolen factory. It starts off, I'm outside on this picnic table, but you can't tell where I'm at until the song keeps goin' on, you know. And it ends up ... Okay? They start showin' shots of people lookin' out this woolen factory at me, factory workers, and they start comin' out. And then you start to see images of this girl, and she's got her back to the window and she's sewin', you know. But eventually somebody tells her that I'm out there, and she turns around and sees me, and she comes out and (Marty laughed), you know, I get the girl."
Marty has already taped appearances for CBS's This Morning, The Tommy Hunter Show, and Hee Haw, as well as being interviewed by US magazine, he said. I told him that I had seen the nice three-page article about him in the November 18, 1991, issue of People magazine.
I mentioned to Marty that it seemed he is not as well known in Louisville as he is in the rest of the state and in other parts of the country.
"I'm small potatoes, I guess, you know," he said. I disagreed, and quickly told him so.
It is my feeling that Marty Brown and his music will soon be well known and appreciated in Louisville. And until WAMZ and WTMT start including Marty's songs on their playlists, I will continue to listen to my own personal copy of High and Dry.
Referring back to the Wal-Mart tour, Marty said, "It's really weird, you know, to go to places like that and, you know, you think you don't know nobody, you know. Just like at the Wal-Mart thing. You've got 200 people there with VCR cameras and they know everything about you. And they know that you're from Maceo. They know what your band ... they comment on my big bass player, you know."
I mentioned that in an article about the 1991 Everly Brothers Homecoming I had described his bass player as "Buddha-like," and said that I hoped he hadn't been offended.
"You know, he saw that. We saw that. He got tickled over that," Marty laughed. "He's just a jolly old thing," he added affectionately.
Besides bass player John Rochner, Marty's band consists of Randy Lanham, fiddle; Chris Gillum, drums; and Landon Taylor, electric guitar.
"I call 'em the 'Maceo Misfits,' Marty said gleefully.
Despite the fact that some people in Nashville want him to relocate there, Marty has elected to remain in Maceo, Ky.
"I do a lot of writin' by myself, and there's a lotta people [in Nashville] wantin' to co-write with me ... we're already talkin' about my next album."
Plans call for studio work to being in April, but Marty said that they wouldn't be rushing to get the album out.
"High and Dry still has a lot of life left in it," he explained.
"I've got a lot of songs," he said, and I asked how many of the reported 300 songs he has written were of album material.
"Oh, I'd say at least half of 'em."
Does he still have time to write, I wondered.
"Well, yeah, I do. I don't have near as much time, but I kinda like to spread my time out, you know. ... Whenever I write, I mean, I just don't sit down at a desk or somethin' and say 'Well I'm gonna write a song.' ... It's just really weird, because all of a sudden, you know, the Lord, he just gives me this whole thing, all at once. And if I don't sit down and get it out and write it on the paper and put it on that tape player, at that moment, then I forget it. ... I've written songs in some strange places," he chuckled.
He said, for instance, that he had written the song "Indian Summer Blues," a cut on his album, in a truck on the way to Nashville.
"Picture me," he said, and I actually could, as he continued:
"I wrote that last Fall, and I smelt Fall in the air, and got up out of bed -- I was goin' to Nashville that day -- and I wrote that first line down, 'The leaves are fallin' again, and the harvest moon hangs so high," and I got in my truck, and, picture me (he laughed) drivin' down I-65 or the Bowling Green Parkway, tryin' to write on my steerin' wheel and drive. (Both of us were laughing heartily by this time.) I had it written, you know, [by the] time I got to Bowling Green. It ended up on the album and stuff."
"You don't have to rewrite very much?" I asked.
"No. no."
I had read that Marty's mother and father had sung the songs of Jimmie Rodgers and Hank Williams, and I asked him to tell me more.
"Me and my mother, see, we sang in a church for about two and a half years. We sang together at St. Columbia Church in Lewisport, Kentucky. And my daddy, he played a lotta honky-tonks."
"See, I started workin' in tobacco whenever I was eleven years old. My daddy instilled ... I learned very early the value of a dollar. ... He worked hard all of his life, and I tell everybody I get my, you know, just me growing up with him and learning his values and stuff gave me the drive to have a dream and go for it 'cause my dad, he don't say too much, but he's a very smart man and he's got a big heart. ... He's very talented, too. And I get my drive from him. And my mother, I get my talkin' from her, and my heart from her and my grandmother, Helena Estes. She's no longer with us, though," he quietly added.
"She's gonna be on Entertainment Tonight. I had her picture and everything on there. That's another thing that's comin' out on me. They come to Maceo, and (he laughed) it was wild."
I asked if he had bought the bean field that he has been quoted as wanting to buy for his father to put a garage [repair shop] on.
"Oh, yeah. I've got it picked out. I've got it picked out. I haven't gotten it yet. I hear tell that ... well, see, my father, he'd been lookin' at that for a long time. It's actually right by the house there."
"I'm gonna fix him up," he said.
We discussed how his "overnight success" probably didn't happen overnight.
"I really did [work hard at it for a long time]," he said.
"Now, then, I've got songwriters and artists comin' up to me, askin' me, 'How'd you do it? What'dja do?,' you know. And I look back at what all I did and how hard I tried .... For one, like I said, I got my values from my parents, but I always believed in the Lord, you know, I always believed that, you know, he didn't give me this talent just to write songs for 'em to sit in the drawer. And I tell 'em, you know, to make it you have to believe in yourself and believe in the Lord, and if He wants you to do that, he's gonna make you do it, and if not, then you just need to go on and ... He's got plans for everybody."
"You have to believe it in your heart and soul and you have to believe in yourself, and, you know, like I said, my dad instilled that, you know, that drive and that work ... cause my dad, he sits and thinks on things. And if he sees something he wants to do, or something that he wants to get done, he's not satisfied until it is done. I mean, in anything he does. I mean, if he's building a ... he builds a lot of bird houses for the birds and stuff, you know ... he just can't rest until it's done. ...
"And that's the way I write a song, you know. I mean, whenever I've got a song goin', I mean, I just can't write half a song and then go off somewhere. I've gotta finish it. ... when I do finish that song it's like 'Whew.' It's done. I'm ready for the next one."
"Oh, I've woke up at three or four o'clock in the mornin' before, you know, and have a song idea, you know. ... It's really wild, you know, I remember, you know, when all this started goin' down, 'cause all of a sudden it's like everything that I ever dreamed of was comin' true. I mean, gol-lee, this can't be happenin', why me?, you know. But now I look back on it, you know, I try to, you know, I was like my grandmother, Helena Estes, the same thing I told 'em on Entertainment Tonight, you know, I just try to pattern my life after her, you know, because she meant so much to me.
"I 'member I used to go down and play on her porch ... and she'd bring me out cookies or she'd bring me out, you know, something to eat and everything. She could cook real good," he said with a laugh.
Although his grandmother passed away about two years ago, Marty said "She's still right there, you know, ... she's was the closest thing to Heaven that I knew."
Although Marty is the "baby boy" in his family, he is the third born. In birth order, the Brown children are Mike, Mark, Marty, Donna, Helena and Angie.
"Just like the Brady bunch," Marty laughed.
I asked Marty when he first felt that something good was happening with his career.
"Well, I guess to me, I just always knew. I always knew, you know, 'cause I just believed that He had a plan for me, the Lord did, but I guess the thing that really did it was whenever ... well, first of all, whenever I went into the studio -- and they didn't tell me who I was in the studio with -- I mean, they gave me the top, top, top. I didn't know it. And I went in and I'd never played with musicians like that before in my life. I had been used to playin' by myself, you know, in honky-tonks or political rallies, anywhere I could go, you know, to make tips and play. I guess that's the first thing that really blew my mind and made me think, 'This can't be happenin',' cause I had one of Elvis Presley's old drummers and (he laughed) it's just, you know, really, why, Ernest Tubb's old steel guitar player, and just some of the top-line players, you know."
When he found out who the players were, Marty said, "I was runnin' [to them and] askin' for their autographs. That's what I was doin'. But then, I never will forget, the thing that really made me think 'Well, yeah, yeah, I did do somethin', somethin's really happenin',' was whenever I went to Nashville to see my first video, 'Every Now and Then,' the one we shot in Maceo? I went there to see that, and I couldn't believe it was me. Me and my fiddle player, Randy, went. Me and Randy -- all my band members -- are real close. They understand me and I understand them and stuff, but we're all close.
"But when we come home -- we brought the video home -- and all day long Mom had been gettin' calls, you know, because everybody from Maceo was in the video, and they were wantin' to see their self. And me and Randy didn't get home until about twelve o'clock that night. And when I come in through the door, (he laughed as he spoke) there was about thirty people in the house at twelve o'clock, eatin' popcorn and drinkin' coffee, wantin' to see their selves on TV. And I walked in the door, and I was like, 'What in the world?' And we watched it 'til about three o'clock in the mornin', you know, all these people. It was wild. It was wild."
Marty continued:
"We get people callin' from Canada ... I had one guy come from New Orleans, brought his eight-month pregnant wife up there, and another baby, just to see me. ... I had a preacher drive from Georgia. I ain't kiddin'. You don't know what a feelin' it is to wake up and you see this lonnng Cadillac, white Cadillac, in your driveway (he started to laugh again) you don't know who in the world it is. And him and his wife comes up, and [says] 'I come here to pray for you. I seen you on TV, on Ralph Emery [host of The Nashville Network's Nashville Now program], and just somethin' told me I needed to come pray for you,' and that's a weird feelin'."
I asked the obvious: "It's still hard to believe, isn't it?"
"Oh yeah, it is. And I don't let it go to my head, you know. ... I still eat at McDonald's. I love McDonald's food. And my band gets sick of it sometimes."
Marty, who is divorced, has two children from the marriage. They are Crystal, who will turn 5 on January 3, and "Little Marty," whose fourth birthday comes on the last day of 1991.
"He's just little Marty. I didn't want him to be called Junior," the proud young father said.
"My little boy is just like me. He's got cotton-top hair and big o' saucer eyes and he loves music. ... Already I believe he's got the drive to him," Marty chuckled.
"He'll probably do the same thing that you did, then," I suggested.
"You never know. I wanta make sure it's around him, and if he takes up on it, you know. I don't believe in parents, you know, makin' kids take piano lessons just because they're payin' for it. ... They're gonna balk."
"My little girl, she's very special. She's just her own self. She's just a little angel," he proudly said. "She likes to ... play with her Barbies and stuff. She's very, very neat. She's a neat little girl. And every now and then my little boy, he gets into her stuff, and she don't like that."
"We've been through a lot, you know, me and the kids and everything, but you know, the Lord really helped us out when he blessed me with all this, you know ...."
I asked how his children had reacted to his success, seeing him on television, etc.
They are in the background of his first video, he said, then lit into another interesting story.
"But I never will forget, we filmed the Crook and Chase show [a talk show on The Nashville Network], and that was a taped-early segment. ... And I had enough time to drive back home after we taped it. And I just barely got in the door ... and I was on the TV. ... And I popped into the livin' room and you know you wouldn't believe, I got a double-take from my little boy. He was sittin' there watchin' me on TV and he turned around and I was standin' there. (Marty chuckled proudly.) It was like, 'Wait a minute.'"
I told Marty that I had enjoyed seeing him on the CBS television program 48 Hours when it was aired earlier this year. I meant it. I also enjoyed the rerun.
"I didn't like it cause they showed me cryin' and everything. It took me about an hour and a half to ... they had to stop the show. It was just [that] I was goin' through a tough time."
When I mentioned that I understood he had recently gone through a divorce, he said:
"And I was goin' through that at that time. ... We're doin' great now," he said convincingly.
Something in his voice seemed to give me permission to ask if he currently had a special woman in his life.
"Yes, there's a special woman in my life," he laughed.
"Other than your mother and your grandmother and your daughter?," I asked.
He replied in the affirmative, and I asked if there was anything more he wanted to add.
"Well, I'm at her house right now," he laughed boyishly.
Now that his music has started to pay off, had Marty bought anything special for himself, I asked.
"I got a new truck. And other than that, I just let it lay," he laughed happily.
"The trouble that I have with a lot of the people that I deal with, you know -- and there's nothing wrong with it, but I just can't get used to it -- is I'll go to a meeting or something and we'll have the meeting, and then they'll wanta go eat. And they'll wanta go to the fanciest restaurant in the world, and you know they don't eat there every day, you know. And they don't know, but I'd rather go down to the local meat-and-three, you know. ... I feel kinda out of place. They're doin' it out of bein' nice and everything. But I'm just not used to those fancy restaurants, you know."
"Me and Ricky Skaggs, we ate Indian food while we was in Canada at two o'clock in the mornin'," he laughed. "I did like that, and I like Mexican food. I don't like Japanese food, but Chinese food, I kinda like that.
Marty vividly described a dining experience he had while on the Wal-Mart tour. Hank Jr.'s road manager had selected the restaurant:
"I was sittin' there and the guy, he actually made it [the food] right there in front of us, you know. He come out there and he knew he was gettin' to me right off, cause I'd never seen anything [like it]. He asked me where I was from, and I said 'Kentucky,' you know, and he starts laughin' and then he threw somethin' on that skillet, the plate, and made a big fire, and I like 'Dang,' and then he got his knives out, and he started chop, choppin' with his knife and every now and then -- I was sittin' right next to him -- he'd poke a knife underneath of his arm (Marty laughed at the recollection.) and then got to skippin' me. He would serve everybody their meal and he would skip me every time, and he would go, 'Oh, I forgot you, didn't I?' And he got his knives together and he started whupin' this stuff around and he had this bowl, and he threw this bowl up in the air and he caught it on top of his hat.
"You ever been to one of them restaurants?," Marty asked.
I had, I said. Nonetheless I enjoyed immensely Marty's vivid description.
I asked about Marty's upcoming performances.
"There's a bunch of them. I don't have my itinerary here with me now. I know I'm gonna be playing in Owensboro, Kentucky, at the Executive Inn. Come on down."
He did recall that he would be appearing in Kansas City and "a bunch" of places after the first of the year.
He spoke again of his MCA album High and Dry. A lot of people tell him they have bought the album, he said, and he often asks them which of the songs is their favorite.
"A lot of 'em, they'll say, 'Well, I like 'em all.' That's a good feelin' to know."
My favorite cut on the album, I told him, is "Wildest Dreams." I like ballads, I said.
"Oh, I got some new ballads that you're gonna like, too. Like I said, we're gonna start on my new one in April. But my favorite is 'I'll Climb Any Mountain' 'cause, you know ... I wrote it at the kitchen table back home. I wrote it for the girl that I'm looking for. And like I said, I've found her. She's a very nice girl."
I told him that I knew he had seen some difficult times. I said I was very happy that his personal life and his career were going so well.
"Oh, I've been through a lot," he admitted.
What are the best parts and the worst parts of being Marty Brown, I wanted to know.
The best part, he said, is "knowing that you could go to just about anywhere in the United States and ... your music is somewhere in those stores. That's just unbelievable. And knowin' that somebody's listenin' to songs that you wrote when you was 15. 'Old King Kong,' I wrote that when I was 15, and 'Honky Tonk Special,' I wrote when I was 17. And then also being able to go out there with a good band and playin' for people, you know, that's the best part.
"I'll never forget, it was a little while after my album was released and I was driving through Owensboro, Ky., and I heard 'Climb Any Mountain' and I was lookin' around, and I said ... 'What in the world?' and then I looked behind me and here comes this Z28, man, with his T-tops down, and he was just crankin' 'I'll Climb Any Mountain'. I hit my steerin' wheel. I said, 'Yeah!'"
As for the worst part of being Marty Brown, he said:
I wouldn't say that there are any worst parts. I mean, I get tired sometimes, you know. You have to see me perform, you know. That's right, you saw me at the Everly Brothers show. (Yes, I did, and the energy he put into his performance was truly remarkable.) But, you know, I get tired, but other than that, you know, I'm havin' a ball. This is like a vacation for me. And, like I said, you know, I found somebody to share it all with, too."
How would his mother describe Marty Brown?
"Well, just somebody, you know, 'cause my mother and father both dreamed of doin' exactly what I'm doin'. I mean, you should've seen their faces when I come off the stage from the Grand Ole Opry. I mean their faces were lit up like Christmas trees, and they told me it was like them goin' out there. ... And I guess they would describe me as a, you know, somebody, you know, that they can see, and they're very proud of and they see their dreams comin' true in me, you know, I guess. Cause my mom and my daddy always believed in me."
"My dad, there was times when he would tell me -- you know, I told you he instilled the work in me -- he'd tell me, 'Well, look, you better get you a good job and settle in it' and everything. But it seems like ever' time I'd get me a job, somethin' would happen. I'd either get laid off or ... I got fired a couple of times, too. I'll be honest.
"One time I got fired because of my music, you know. I was workin' at a grocery store and ... I'd be out in the parkin' lot -- I'd take the groceries out -- and I'd stay out there, talkin', and I'd go get my guitar out of my trunk. And they'd be hollerin', 'Marty Brown come up front,' and I'd be out there playin' the guitar."
How would Marty Brown like for our readers to think of him?
"I would like for your readers to think of Marty Brown, to think that he's somebody who believed in his self and who had a dream and who believed in the Lord and is still the same person that he was, you know, yesterday, the day before that, ten years ago, and that he appreciates them likin' his music, and he stood up for what he believed in, and he didn't try to be somebody that he wasn't. That's what I'd like to say."
He told me that he'd like for people to be singing his songs 50 years down the road.
"A hundred," he corrected, "let's just go for broke. I'll go into the next century," he assured.
I asked if he had a parting word:
"Well, let's see. Well, I guess, I'm proud of who I am and I'm proud of where I come from in Maceo, Ky. And I'm proud of my album. And I'm very proud of the people that I've surrounded myself with, my family, my friends, and in music and personal. And I'm lookin' forward to making new friends down the road, and just comin' out there and playin' some good down-home, honest, true country music."
After I thanked Marty Brown for the interview and expressed how much I had enjoyed talking with him, he signed off:
"Look forward to seein' you in Owensboro."
That would be very nice, I thought. Very nice indeed.
A post-concert check with the management of Executive Inn in Owensboro revealed that both of the shows on December 14 with Marty Brown and the Pirates of the Mississippi had been very successful; the first show was sold out.
Marty Brown's High and Dry album is available locally in most record and discount stores. If you like "good down-home, honest, true country music" in the style of Hank Williams, then by all means rush right out and buy High and Dry.
See album review elsewhere in this issue.
Tags: