September 1991 Articles
Cover Story
Jean Metcalfe
Features
Henry C. Mayer
Bob Bahr
Columns
Berk Bryant
Paul Moffett
Alan Rhody
CD Reviews
Leonard January
Leonard January
Performance Reviews
William Brents
Karen Le Van
Jean Metcalfe
Jean Metcalfe
Karen Le Van
Jean Metcalfe
Calendar
Staff
News Item
Staff
Staff
Paul Moffett
Staff
Staff
Preview
Bob Bahr
Opinion
Staff
Errata
Staff
Photos
Craig W. Davis
Staff
LASC
Wally Stewart
Staff
Diana Black
Diana Black
Jean Metcalfe
Blogs
Got Shows?
Send Them To Us
Bookmark Louisville Music News.net with these handy
social bookmarking tools:
Available RSS Feeds
- Top Picks
- Today's Music
- Editor's Blog
- Articles
Add Louisville Music News' RSS Feed to Your Yahoo!

Issue`: September 1991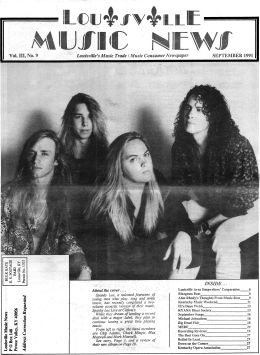 Spanky Lee
By Jean Metcalfe
333
"Our mom can sing great," Mark Maxwell said, "and she used to play the piano when she was younger, (and she) used to sing all the time in church."
"We sang in church, too," his brother Max Maxwell chimed in.
"That's how Max and I really got started, Mark continued. "They (the boys' parents, Beverly and Marvin Maxwell) started taking us to church when I was in the sixth grade. And I hated it, but we learned to sing. We were in the choir."
The four members of the band Spanky Lee were gathered for this interview in the upstairs recording studio of the Maxwell family business, Mom's Musician's General Store on Frankfort Avenue.
Max, who plays drums and provides harmony vocals, and Mark, lead vocalist and guitar player, were joined by Chip Adams, bass guitarist and harmony singer, and Chuck Mingis, lead guitarist and harmony singer.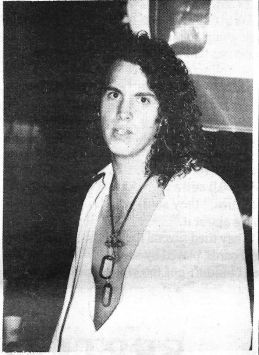 Mark Maxwell paused between sets at Strassenfest '91. Photo by Jean Metcalfe
The guys gleefully took Mark to task for saying he hated to go church.
"Hated going to church," one said.
"I hate Jee-sus," Max teased. "That's what you said."
"No, Max, don't say that," Mark chided, then laughed as he tried to explain:
"I am a believer in God. It's just that ... I'd much rather ... go fishin'."
Max confessed, "Mark and I sat up in the choir drawing pictures of big stacks of Marshalls (amplifiers) and big double-bass drum sets, goin', 'This is what I want our stage to look like.'"
Besides minding the store, Marvin Maxwell plays drums for The Kingbees and The Shufflin'Grandads. In the sixties he filled that position in such well-known local groups as Elysian Field and Soul, Inc.
Beverly Maxwell works in the family business, as does Max and Mark's younger sister, Margot. She isn't interested in pursuing a career in music.
I asked the Maxwell brothers if being the sons of Marvin Maxwell made the music business more difficult or less difficult for them.
Mark spoke to the question. He said that in times past some people have said, "Oh yeah, those are the Maxwell boys, they've got everything."
"But," he added, "I think nowadays, more and more, it's getting away from that. I think they understand that we're working just as hard ... If your dad owns a car lot you get a good deal on a car," Mark said.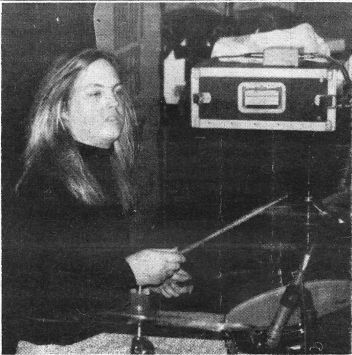 Max Maxwell drumming with Rhino Ivory and the Monkey Paws at Rascals on April 14, 1990. Photo by Jean Metcalfe
"And it doesn't mean you know how to drive it either," Chip piped in.
Mark went on to say that there are many people in Louisville whose fathers are in the music business and they choose not to go into the music business.
"We choose (to be in the music business), we enjoy doing what we do, we work very hard at it ... every person in this band .... It's not the case ... being Marvin Maxwell's sons, even though he's the greatest father in the whole world. He is really great. He has taught us everything. He has been great to each one of us, and he's a father to all of us in one way or another. It's great being his son, I'll tell you that. I'm not ashamed of it."
Mark admitted that early on he did have a bit of "an attitude" about it and didn't know what to say when it was mentioned.
"Now I say, 'Yeah, man, I'm darn proud of it.'
"We don't get anything free, believe me. We pay money (for studio time, etc.), believe me. It's not like we get off easy. It's just not."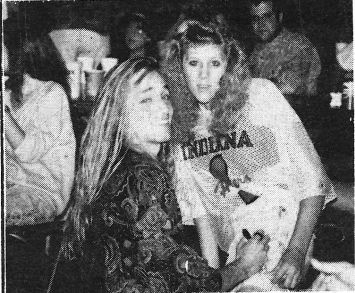 Chip Adams autographed Shawn Abbott's jeans at Strassenfest '91
Max took his turn:
"It's harder on me than it is on him (Mark) because Marvin is known more as a drummer than anything else, and it was hard for me to get respect from anybody ... from a musician point of view.
"Most of the public, they don't know what's going on. They think Spanky Lee is this band. They understand that there's this store. But a lot of them don't even know that our father owns this store. They just think we work here."
"I've got to live up to what my father already has going on here. (People say or think) 'Oh, he's Marvin's son. He should be able to play good.' ... I just gotta keep fightin' and keep trying to learn new things in order for anybody to go 'Hey, this guy is actually pretty good.' Nobody can give you your talent. Nobody can give that to you. ... It has made me work a lot harder."
The group that was to become Spanky Lee started in late 1984 with Stuart Johnson and Mark Maxwell, who were writing songs together in the summer of 1984.
"My dad always told me, 'You're never gonna get any further than the local club scene if you don't write tunes,'" Mark related.
Although Stuart was a fine drummer, Mark told him that in their band he would have to learn to play bass because "I gotta have my brother play drums."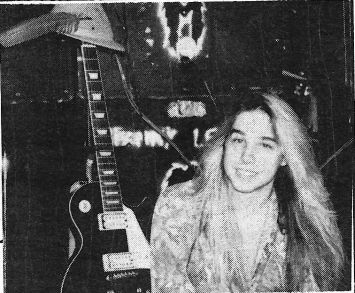 Chuck Mingus relaxed between sets at Strassenfest on August 10.
Very soon they started auditioning for another guitarist.
"It was really weird," Mark said, "because I was opening the door to let one guy out and here came Chuck, walked into the room, and we all just kinda turned to each other and (then) said (to Chuck) 'You got the job.' We didn't know what he could play like. We were sold on him ... I guess he was probably sixteen years old (Chuck corrected Mark, saying that he was 17). ... He wasn't like anything we'd seen ... or heard ... once we started playing with him."
After playing with the trio for a few years, Chuck left.
"More my fault than his," Mark said.
The guys had been trying to think of a band name very early on, Mark related. One night while he and some friends were at a Jerry's restaurant, one of the guys, referring to someone he knew, said, "Spanky, he plays lead guitar."
Stuart, their first bass player, then said, "Spanky Lee."
Later as they were walking to the parking lot, Mark thought, 'What a great name for a band.'
"It just kinda hit me like a door, I guess," he said.
There is no connection with Pinky Lee, an entertainer from some years back, or the character Spanky of "Our Gang" movie fame.
"It absolutely means nothing," Mark said emphatically.
"If we had known there was a Pinky Lee, we wouldn't have called it Spanky Lee," Mark said. (Later they admitted that since the name is easy for people to remember, they were lucky to have chosen it.)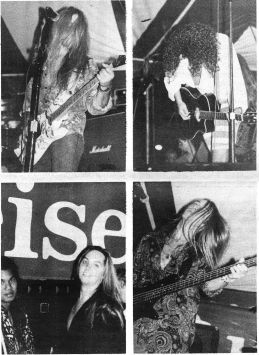 HAAAIR'S SPANKY: Chuck and Mark, Max and Chip, Strassenfest '91. Photo by Jean Metcalfe
After Chuck's departure the Maxwell brothers' cousin Scott Caudill joined the group as the bass player. They played with Scott for a while and also, for a short time, with guitarist Shane Hunter. That combination didn't quite work, and the guys realized it had been a mistake to let Chuck get away.
"And so we got Chuck back, thank God," Mark said.
"So I was working on my solo projects," the usually quiet Chuck said. His tongue-in-cheek description of how he spent his time before returning to the group brought forth peals of laughter from the Spanky Lee quartet.
Chuck defined those solo projects: "Actually I cut my hair and was washing dishes for a living."
After he learned that Shane had left the band, he said, "I called them."
Finding themselves without a bass player, they took on Tim Halcomb for about six months. (Halcomb later played with the popular, short-lived group Mr. Popular, and for a while with Rhino Ivory and the Monkey Paws.)
"That's when ... we tried to go in a more alternative direction ... we were still rock 'n' roll ... but we were trying to go with what we thought was the 'in' thing at the time and that was the first mistake we made," Mark said.
"We felt like we were going places because we had such a great following," he added.
"This band has had from day one ... a really great following. And thanks to those people, they kept us alive for the last six of seven years. We're all still very young ("lower- to mid-twenties," they said) which is the greatest thing about it."
They tried several things, including adding keyboards, played by several different people, but couldn't get the right feel back in the band. They decided to take some time off.
It was during that time that Max and Chip met. They were scheduled to play on the same album project in Florida. Max offered to pick up Chip in Lexington, where he was living at the time, and together they made the trip south in Max's van.
Meanwhile, Mark and Chuck were writing songs.
Max spent about four months in Hollywood, Calif., playing music with former Spanky Lee band members Scott Caudill and Shane Hunter. The young men had gone west to pursue the music business. Max had several job offers, but he didn't take to the lifestyle there.
"I didn't really like the living situation out there. ... I liked it here better, and it was easier to survive here."
"I called them and said, 'I'm leaving, I'm coming back, I want to put the band back together, I want Chip to play, and let's do it this way. And so I came back and we put the band together," Max said.
Prior to meeting Max, Chip had also once moved to California to pursue the music business, he said.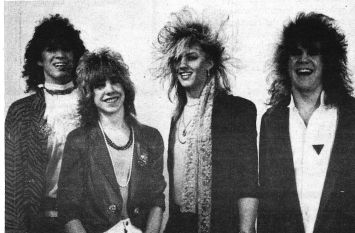 Vintage Spanky Lee: L to R, Mark Maxwell, Chuck Mingus, Max Maxwell and Scott Caudill
"I was actually looking for players, and that's what's ironic about meeting Max ... I'd been everywhere. I thought 'If I can find a drummer that I can work with, then I can take it from there,'" Chip said.
He had "kinda gotten fed up with the scene and kinda got into New Age for a while. I was doing some recording at home and stuff," he told me, "and I had kinda given up ... (and thought) 'Well, I'm not gonna find my drummer that I'm looking for. I'll just take the next offer that comes along ... and when I met Max, it was like, wow! I'd spent years looking for this drummer, and he came right to me, in a way. ... That was my goal, to put that together, and we hit it off very well ... I knew that I'd found the drummer that I had wanted for a long time. ... We knew we wanted to do something together. We weren't sure exactly what was going to happen, but eventually (they became part of Spanky Lee)."
At one time Chip had put together a band called Contour. He also played with a band called Tangent, and others, most of them cover bands. He had wanted to have an all-original band, but couldn't find any good writers.
"Finding good players is very hard to do. Finding good chemistry is hard to do. But then finding all that in a group ... is probably the hardest thing in the world to find."
When Max returned from the West Coast the group rehearsed for about a month before reviving Spanky Lee, and that same combination has been together ever since.
"At the time that we were first starting the band the scene was different. All the bands helped each other all the time and there was a lot of teen things going on," Max said.
"That's really where it started for us," Mark added, and Max agreed.
"When we first started," Mark explained, "we were kinda a half-and-half (half cover, half originals). We did some cover tunes, but only by choice in the songs we wanted to use.
Approximately five years ago, when the guys were "probably a couple of years into it," they made an important on-stage decision:
"We had done the whole show original," Mark said, and they walked back to where Max was seated at his drums and said to him, 'Okay, what tune are we going to do?'
Mark said they wanted to "kinda knock 'em down, you know, come out and kill 'em."
Mark described what transpired:
"Max said 'No cover tunes.' And I got scared."
Nevertheless they did an original tune for their final number, Mark said, "and people dug it, and from that day on we have mainly played all original. And that's been pretty exciting for me, because I don't know of many bands who've gotten away with (playing originals at) ... major clubs."
"We have two or three solid hours of original material. Actually, we have three one-hour sets of original material. I think all of us work so hard to make this band what it is. Everybody's got their plusses. We work well together," Mark said.
Although all four of the members of Spanky Lee write songs, they don't try to play everything they write, because some of the originals don't fit their band.
"We all have our different influences," Mark emphasized. "Everybody writes."
"Mark writes the majority of the good stuff, in my opinion, anyway," Chip said, adding, "I think he's the highest caliber songwriter I've ever met in my life."
"Not that I'm a great songwriter," Mark chimed in, "I write a lot."
They write in many different member combinations, which accounts for the diversity of the tunes they write.
Said Chip, "That way you've got something different, every song that comes out."
"Chuck and I have written quite a few of the songs together," Mark said, "and he comes with an idea and I just help him finish it."
Because the band has been playing a lot of gigs recently, they find it difficult to get together to write as a group.
"If we didn't have to worry about, number one, day jobs; if we didn't have to worry about just a lot of the other hassles outside of it; if we could actually work on music all the time, I'm sure it would become more of just the band working (writing) together," Mark explained.
"When I write a song, I write lyrics and I write melody and I write a chord progression," Mark continued, "but when the groove goes in the band, man it can turn around like that, and it can be a really hit song out of something I didn't think was any good."
"Everybody does their part, and that's what matters," Chip said.
All four agreed that teamwork is what makes the band work.
"If you don't do that, if you don't do that, that's where the band's gonna get hurt, eventually," Mark emphasized. "Everybody here works so hard for each song we do it blows me away. It doesn't matter who brings it in, the rest of the guys, man, just throw in so much of themselves ... I think a lot of times with bands, people will hold back, and I don't understand that. ... My songs, in my opinion, would not be nearly as good if it wasn't for these guys playing on it," Mark said.
I commented on the high energy Spanky Lee exhibits onstage.
"I'll tell you what it is. I think it's just havin' fun." Mark asserted.
"It's not only that," Max said, "It's (because) right now, we don't care (to the exclusion of all else) ... the record label and things goin' on. Before we were so one-sided, like, 'We have to get a record deal. We have to get a record deal. We said p--s on all that. Let's just go have fun and play music. That's what we're in this to do is have fun. And now we're finally loosening up enough to have a real good time, and people like us a lot better because we're havin' a good time."
Mark said, "I think it came to me more than anybody, because these guys had ... course, Max and I ... everybody wanted it ... everybody wants a good deal. But there's been too many bands that fall by the wayside that depended their lives on that. They did. And ... now that we've said, 'Aw, to hell with that ... we're just gonna play and we're gonna be friends,' because that's very important, especially now to me. Because for so long all I wanted for was the kill. I wanted to have it. But everybody in this town wanted it that way. But for us ... we just say 'If we get the deal, great, we get the deal. It's not that we don't want one. ... We're just out there, man, we're playin' our tunes. We're writin' tunes. We're havin' a ball playin'. Saturday night we were at the Strassenfest. You were there. It was a packed place. It was great. Everybody on stage ... we just felt that band vibe ... like we've been feelin' for the last six-eight months. It's been extremely great." Mark said.
Max added, "We're playin' music that we wanna play. All of us. Most cover bands, or even a lot of original bands, aren't playing some of the material that they like to play. They're not enjoying what they're doing, and I think the only way that we're really gonna get a record (deal) like we all really dream about having ... is from being ourselves. And the only way we can be ourselves is if we can all be happy. And the only way we can be happy is doing what we want to do."
"Not to say that there is a constant happiness in this band," Mark emphasized, "because we're probably crazy anyway, and we know that. (Laughter) I guess if there wasn't that craziness here we wouldn't have survived so long. I mean, we're a band that's been together for six or seven years."
Chip said, "You only live once, you know. I see so many musician friends of mine, they spend five, six, ten, twenty years sellin' out, doin' everything they possibly can, you know, paying people off, whatever. And then when it doesn't happen, they look back and go, 'Man, I wasted ten or twenty years of my life on that, and now I hate music.'
"I don't ever want that to happen to anybody in this band. If we get nuked tomorrow, I wanna look back and say, 'Man, guys, we had a good time last night at the show, didn't we?' We had a real good time, we played good and we had fun and we did what we were believin' in.' And Max said this one time: 'You can't make somebody else happy if you're not happy yourself.'"
I commended them for having reached that conclusion so early in their lives.
"We thank God for it," Mark said.
"It's from too many people tellin' us no," Max said.
"We've heard "no" more than any other band in the entire world," Mark declared.
"It's that big roller coaster ride everybody takes. Some people get sick of it and have to get off. Man, we're still ridin'," Mark further added.
"We're also taking things somewhat in smaller steps than some people want to take them. We're not trying to do something that we know that we can't reach. We're doing things one step at a time, real small steps, because if you try to take that big leap right off the bat, it's disappointment," Max further explained.
Mark said that Chip had taught him a lot about that.
"Man, enjoy it, we got it today, we've got something happening, we have a lot of good people coming out to see us, people enjoy what we're doing, we're alive, we're well ..."
"We're getting to travel," Max added. He always seems to inject a little humor when Mark gets intense.
Mark continued, "We're getting to go out and play different clubs, and play places that most bands don't have the chance ...."
"We had never really been on the road too much," Max explained, "and we all thought that that was going to be such a drag ... and for me ... it's like being on vacation ... it's really great."
Mark named some of the places they had traveled to: Atlanta, Nashville, Knoxville, and Memphis, where they went to Sun Recording Studios.
"We were playing a block down the street from Sun, where it all happened."
There are tentative plans to play in New York.
"It's like being kids again," Chip said. "When we get ready to leave, we all put our shorts on and get a big cooler full of stuff and scream and holler. It's the greatest fun in the world."
Their enthusiasm was contagious, as they described traveling to out-of-town gigs. I happily noted that they frequently said this experience or that experience was "the greatest thing in the whole world." There was no evidence that they had become jaded, although theirs was the voice of experience in many areas where that is an important trait.
Max, who is two years older than Mark, started playing drums when he was ten years old. Referring to his choice of instruments, rather than to his choice of a career, Max said, "I had to ... pretty much. I wanted to play something else, but he (his drummer father) wanted me to play drums, so I played drums."
At age eight Mark remembers Max playing drums, "and I just thought that's the thing I should do."
"I wanted to play drums later on, but Max was already playing drums, so I couldn't play drums."
Max: "This is all I ever wanted to do. Hell, we saw the Rolling Stones on TV and we listened to Rolling Stones albums when we were kids ... and that's all I knew.
"I knew the Partridge Family," Mark quipped, "and the Monkees. They were my first influence. And then Kiss came along."
"H.R. Puffenstuff," Chip chimed in, eliciting laughter from all who were gathered in the second-floor recording studio at Mom's.
Max: "All I ever wanted to do was play in big rooms and play for millions of people and have them all love me. (Max's almost tongue-in-cheek, sing-song tone when he suggested that he just wanted to be loved brought much laughter.
"I wasn't doing it because I wanted money ... I didn't want any girls, (we had talked earlier about how musicians seem to "get the girls.") I just wanted people to love me," he reiterated.
When the other three teased Max about his statement, he clarified, "Too young to know about girls, man."
Mark came to Max's defense: "I know Max and I, we wanted, and we still want, to play in front of lots of people. That's where it's at."
Mark: "I'll tell you the truth, if I would've gotten in this thing for money, all of us would've quit twenty years ago ... before we were born (exaggerating to make his point.)"
"We ... want ... to work," Chip amened, "that's what all this is about."
"We want to record," Mark added. "We love to record. We love to play live, but we are so into creating an idea and putting it down on tape ... that it's ridiculous."
They have recorded two albums. Their first effort, an EP titled It's Time, was recorded in 1989 around Kentucky State Fair time.
Chip remembers the time frame because it was shortly after he joined the band and he told them "we're going to do this all original ... or I quit."
According to Max, they made up only 500 copies of It's Time, all of which they sold at their performances during the ten-day run of the fair.
"And there's never going to be another copy of it," Chip said.
"We sold everything. We were sellin' our shoes ...," Chip said.
"Everything we could get ahold of ...," Mark added.
By the time the fair rolled around the following year they had completed their self-titled second recording. Spanky Lee received a lot of regional attention, including airplay on about a dozen radio stations, thanks to Marvin Maxwell's taking time off to promote the album to the stations.
On radio stations that had segments with such names as "Yank It Or Crank It" and "Love It Or Shove It" their songs received good audience response, in some instances receiving more requests than name acts.
They also received a good deal of publicity in the print medium, including mention in several music industry magazines.
The gentlemen of Spanky Lee have just completed their third recording project, which will be out on cassette the weekend of September 6.
Mark described how the project came about: "About 45 days ago I came in and said, 'Let's record a live album down at Clifton's (Pizza Company),' 'cause we'd been playing acoustically every Monday night for a little while there, and they all went 'Yeah, right' and then they went 'OK.'"
Mark admitted that they really didn't think they would be able to do it, given the difficulties inherent in doing a live album. But they pulled together to pull it together.
"Everybody had their own jobs to do," Mark said proudly.
"I just had to show up and play," Chuck piped in.
"Don't take that the wrong way," Chip said, "Mark is the king of the bright ideas. We get ten (ideas) every time we see him and we always say 'Yeah, right.'... We have to say that to him, but it was a great idea and I'm really glad we did it."
The acoustic version of Spanky Lee that plays at Clifton's on Monday nights consists of drums and bass and two acoustic guitars, plus vocals. They started performing acoustic some six months ago, doing the same songs that the electric Spanky Lee plays.
The acoustic version of the band came about because, according to Max, "people who are over 21, most people, don't like to listen to distorted guitars and they don't like to listen to everything very loud, they just want to listen to alternative music that plays clean guitars ... not as loud. ... And we wanted a lot of those people to really hear what we were saying. ... If we came out ... like we do electric, they're going 'Wow, this is a heavy metal band.' But we're not a heavy metal band in any way .... It works out real well because a lot of people get to see us ... who would normally not come to see Spanky Lee."
"It was a real test of how good this band really worked," Mark explained.
The latest recording project, Spanky Lee Live at Clifton's, will be released in two volumes. With an hour's worth on each cassette, the combined project offers two dozen "mostly new, but some old songs."
Howie Gano, using a rented board, engineered the project from another room.
"It was the scariest thing in the whole wide world," Mark said, "because we were on the spot, you know, it was live. And it was the very first time any of us had done it and we were scared to death."
They recorded two nights in a row, and performed some of the same songs both nights, enabling them to choose which version they would use. They had wanted to record an additional night, but the cost was prohibitive.
When asked what they do besides play music, they chose not to elaborate, but Chip said, "At least we're not flippin' burgers ... we're at least scrapin' by doin' something to do with music ...."
Max, reflecting on an earlier statement, said, "I think we might've made a mistake by saying that we want to do this because we like it, because now maybe all of these club owners are gonna come up and go, 'Hey ... you wanna play in our club because you like to?'"
After the laughter subsided, Mark added, "Needless to say, if we can go out and play gigs and cover our butts and put some money in our pockets, that's great for us. That's really great."
I asked Chuck, who had spoken very little during the interview, if there was anything he wanted to say. My reference to his youthful appearance led to a spirited rehash of some of the events surrounding their Strassenfest performance on August 10, just two days earlier. They spoke of how the police had cautioned them not to cause a riot with their performance, apparently having heard that they were "a rock 'n' roll band that really gets the crowd going." (Mark had apparently kept track of how many times the officers had said the word riot: three.)
At one point during their first set at the German street festival Mark had shinnied up the pole that supported their beer-sponsored performance tent. The police advised the stage crew to get him down so there wouldn't be a riot, Mark said indignantly.
They admitted that the problems at a recent Guns N' Roses concert probably caused the officers to be especially vigilant, but it was apparent they didn't like being hassled by the police.
They related that the youthful-looking Chuck had been carded four times that evening, even after he had already purchased beer.
During the second set of the Strassenfest performance, Max, who, according to Mark, likes to hit his cymbals and let his drum sticks spin off them, did just that.
"One of the sticks smacked him (a police officer) in the forehead, is what happened," Mark explained, "and the guy was just all p---ed off about it, tryin' to find out who did it."
"And at the end of the show, which really made me mad, twelve midnight exactly, a hundred police officers came and pushed everybody completely off the streets and told them to go home. I don't know, I just have this real problem with authority I guess."
Mark described the onstage antics that evening, including "a big beer fight up on stage."
"Man it was great. It was great."
"We've always had this thing about spitting water, and down there, of course, it was a beer festival, so what else are we gonna do but spit beer?"
"We had a good time down there; that's all that counts," Mark summarized.
"We don't have a problem with drinking or anything," he was quick to explain. "It's not like we were down there smashed or anything. We don't have that problem. Or drugs. We believe in a drug-free America, you know, that's the way we are."
During their performance they had in fact admonished the audience not to drive if they had had too much to drink.
This fall the band will travel to Memphis, Murfreesboro and Nashville, Tenn., and Jackson, Miss. to promote their new two-volume album. They will be showcasing in Atlanta during the first week of October.
"This album is for our fans," Mark declared, "because we love our fans. We love the people that come and see us and we are very happy that they've supported us for such a long time."
"And we're not pocketing any of the money," was heard in the background. Was it Max or was it Chip?
They explained that virtually all the money the band earns goes back into its projects -- recording, etc.
"We've never been paid for this band," Mark said. "I've been in this band for seven years, and I'll betcha I've made less than 500 bucks playing with this band. And that's the truth with each one of us ... it's not a money-making band."
"It wasn't intended to make money," Max added.
Mark continued, "Hopefully one day we will be making a living doing this. ..." but all of the money that we make on all of our tapes and all of our albums always goes back into the Spanky Lee pot ...."
At this point Mark began to talk about a new album, which apparently was another idea from "the king of the bright ideas" that brought a groan from at least one of the other members.
"We're also gonna record a new live album ... it looks like the first week of November. It's not definite yet, but we are going to do a live, full album, totally electric. ... We're only gonna release one, but it's gonna come out on CD and tape, and there will probably be about fifteen songs on it. They will be all new songs also."
"We're gonna release our new songs live (referring to the current album) and then you can look forward to buying the studio," Chip countered.
With that, Mark back-tracked, once again praising the newly completed live album that had not yet been released.
"We're a band that's gonna keep putting out material," Mark said. If somebody picks us up, go for it. This band is gonna stick together, this band is gonna write, this band is gonna record, they're gonna do the studio albums, they're gonna do the live albums. Nothing's gonna hold us back. Period." (He paused, then lightened up.) "Unless one of us dies, which is probably a likely situation the way we live our lives sometimes."
Chip offered a few insights into how musicians are sometimes viewed:
"People seem to think you're not human anymore if you're in any kind of public status," he said. "My neighbors come out and watch me mow my front yard ... they don't believe that someone who plays music onstage does those things, you know. And I eat Lucky Charms and have dinner and do laundry. ... We go to the grocery."
He related that on one recent evening at a grocery store a young lady came up and pointed her finger at him and said, "Chip Adams ... grocery shopping."
"And she didn't even smile," Chip said, "and I said 'Yep.'"
Mark spoke for the group: "We're as normal as it gets and we're no stars."
They admitted to enjoying the adulation of their fans, many of whom ask for autographs.
"It's great," Mark exclaimed. ... I think that they think, like we believe, that this band is gonna go on and really do something big eventually. And I think that they believe it as much as, if not more than, we do."
Max interjected, "Like we said, we're not thinking about that (making it, which translates record label and the big time)."
"That's great if it happens," Mark hastened to explain, " ... but we're not goin' for that goal. In my opinion we'll put out albums till the day we die. We will get along. We will do what we have to do. This band will just keep puttin' our own albums out. If somebody else wants to pick us up and distribute us throughout the United States (he apparently realized he was getting intense, and shifted to low-key mid sentence), and show our pretty faces, then great. We're ready for it."
I asked Max and Mark if their father had ever given them any advice on whether or not to get into the music business.
"The thing is, this is the road we chose," Mark explained. My mom would have given us anything probably to stay out of this business."
Mark: "But Max and I, it's just a bug, man, we've got it.
But did Marvin Maxwell ever give Spanky Lee advice?
Mark quickly answered: "Every day of the week. Every day of the week there's something else. ... Even though he's not a singer, he said 'You gotta learn to sing.' I think that's what we really thank God for more than anything we can do. There's nothing better than hearing somebody sing well. Especially harmony singing. ... I remember sitting in the back of the car going to my grandmother's when I was twelve years old and Max was fourteen and him (Marvin) saying, 'You sing one note and you sing a harmony note, and I went 'What are you talking about?' And Max went 'I know what you're talking about.' And we couldn't do it then, but by the age of 16 man, here we were, really learning to sing, trying to sing."
"We value his advice more than any person's we've ever known," Mark said, but admitted that they don't always agree with the advice.
"You've got to have your inner strength to pull you back up," Mark said, after admitting, when I asked, that they had each in different periods of their lives hit "rock bottom."
Chip said, "I think it's hard to keep going in this business ... especially when you're all original, there's not a whole lotta bread regardless of what everybody thinks ... people think you're always onstage. You're not. You go home and you have to deal with things that every other person has to deal with and bad things happen. Things pick you up, take you down, just like anybody. ... There's no where to hide. You have to always be happy. You always have to put on a good show. It gets hard sometimes to get up in front of people when the worst thing in the world has happened to you, and you're pouring your heart out on a song ... sometimes it's just real hard to keep going and believe in yourself.
"That's why I think it's good when people come up and they want to hang around and meet us and be our friends and say 'Hey, take a picture with me' and you go (think) 'Man, somebody believes in me. I've got reasons to keep doing this.'
"And I think it's just as important as us believing in each other ... no matter what kind of problems we have, it's just like a family. You're together with somebody a whole lot, you're gonna have problems. ... And I think it's important that we all try to respect each other ... and I think we have this communication between us that keeps us going no matter how bad things get."
"And it's getting better, too," Mark added. That's the greatest thing."
Chip continued: "If you know somebody believes in you, whether it's somebody else or somebody in your own project, it's worth having. It's something you can't buy."
Max offered, "If any one of has a bad night the group has a bad night. And lately that hasn't happened at all. We're all in the same mind frame. ... Once we get onstage we don't ever think about 'Well, you know, my car payment's due next week and I don't have the bread for it.' ... We're all one piece of machinery that's working together ... and any one of these links that's not working properly makes the whole thing tilt to one side."
"Let me grease you up," Mark teased.
We discussed the sensitivity inherent in most, if not all, people who write songs.
"Any artist of any kind is moody," Chip declared.
"That's my definite problem -- I'm too moody," is what he's trying to say to you folks," Mark said in a mock grave voice.
"There needs to be something in there (a song) that you can relate to, something real about it," Chip continued. "I want somebody else to feel as good about a part of the song as I do, or Mark does. Mark might write about something that hits home with me and he doesn't even know it. ... it reminds me of something that happened to me, good or bad, and it really makes me that much more emotional."
T.T. Bussey, who Mark described as "kinda like a shadow fifth member of this band, helps the group with their song lyrics.
"We use pieces of his lyrics all over the place," Mark emphasized. "Co-writing is a very important thing to all of us." He further said that they would like to co-write with established songwriters to become the best songwriters they can become.
"Everybody here feels the songs that we do. And it doesn't matter if Chuck brings in this new song. ... We have a new song that he wrote that absolutely floors me every time we sing it. Every time. ... If they (anyone in the group) comes in with a riff and I can do something over top of it, lyrically and musically, the mood, everybody here falls into it. When that song's rockin' man we're rockin' on the edge of our seats. We're goin' for it, working the crowd with our arms up in the air. When we lay back and do a ballad we feel it. There's no doubt. You can tellBy watching these guys ...."
Chip: "And it just happens. We don't sit around and go 'You play this here, and you play this here.' ... Some things you never even talk about. ... And then you record that piece and that's your moment of happiness. That's what I did all this for. You hear that song. When we cut "Something New," I took it home and listened to it all night long -- a hundred times. Man! It makes me happy."
Max spoke of how they try to make their music grow, they don't just record it and decide that's all they're going to do with it. They try to vary their treatment of their songs, and their mood is often reflected in the way they sing a particular song on a particular performance.
Max: "It's not always exactly the same way every night. I don't think it would be any fun to us if it was that way. ... It would be sickening."
Chuck said that he doesn't like for musicians to be so technical at concerts.
"I like people to go off in different directions," he said.
Mark said that the several songs from their self-titled album that they repeated on their new live album have evolved considerably.
"You would not believe the difference in the playing, the singing," he said.
The group members feel that it is important to be able to improvise onstage, saying that the current overuse of sequencers has been detrimental to bands.
"That's the way the pop rock thing is now. It's so stale. It's a joke," Chuck said.
They all agreed with Chuck's assessment, and spoke of groups who do whatever it takes to make money.
"There's a place for that ... if it keeps kids out of trouble or whatever, that's fine. But we have to stand up and say, 'There's still a place for real music, people who can sing and play and we've gotta keep that in the eyes of the kids ....'"
Mark said that he was never a big rap fan because of all the "junk" in the background. When he first saw LL Cool J on MTV "where the drummer actually played the drums, the bass player actually played the parts ... and people working the song and it was incredible. ... Now that it what I would like to hear rap music be. Not (and then he did a funny imitation): "Uh, uh, uh, uh, uh, uh, I'm-nev-ver-wronggg-I'm-uh-muh-sheen. And that's ridiculous."
Chip: "That's ridiculous and so is the sampling. Whether you got permission to do it or not, it's stolen art, is all it is and all it will ever be to me. When that first started happening -- I guess maybe it's a trend and hopefully it'll go away soon. But, I mean, I would probably jump off the Kennedy Bridge if I heard a part of one of my songs sampled ... and put into a hokey something like that ... (with) a drum machine behind it and somebody screamin' and yellin' about nothing."
Chuck: "It's like Keith Richards said. They're not just copying your song, they're copying your licks, your actual lick, your actual drum skill or your guitar lick ...."
Chip: "And the kids today think that's the people that came up with it. The musician that actually created that part doesn't even get the credit for it, because the kids don't know that. They hear a sample of something (and think) 'Oh boy, that's cool, isn't it?'"
Mark: "If Vanilla Ice was creative enough ... to do something, he wouldn't have to use somebody else's tunes.
Chip: Everything he had was somebody else's thing."
Mark: "Everything he used he copped off of somebody else and he made millions of dollars off of it. The guy went to Number 1 for a week ... and I don't understand why people don't say ... 'Hey, there's nobody real on that album. There's nothing going on on that album that has anything to do with him.' ... Too much sequencing, too much sampling and too many drums and etc. ... There's no art to it."
Mark raised another issue: "We believe in not censoring the albums and CDs that are out today. ... I know everybody does not want this to happen. I think they ought to take their pucker string and loosen it a little bit, as my dad would say."
I asked about self-restraint and whether they feel that an artist should refrain from seeing how filthy they can be and still get by with it.
Mark: "I have a lot of friends who write dirty tunes. ... They write about every sex thing you could imagine. But the thing is, they believe in it. Now, how do you tell somebody 'Oh, well, you can't be this dirty? You can't say 'You gotta draw the line here.' You just can't."
Do they think artists should exercise self-control, knowing the influence they have on young fans?
Mark: "That's moral. That's moral. And the very thing I'm talking about is artistic. Now being an artist and using that, whatever you're using, talking about sex or doing whatever, that is an art in music. ... I'm talking moral ... When you're talking this way, that person owes something ... that's his moral judgment. Now I can't say that this guy shouldn't do this. I'm judging. ... The Bible says do not judge, and I'm not gonna judge that guy, but at the same time it's morally up to each person to do what they do. But it's also that person being so big, of being able to say .... "
Chip: "Everybody is influenced by somebody. We all have our influences in the band. Kids today ... they go home and watch television. The television tells 'em what to wear, what to eat, what's cool. If you go to school and you don't have on the shoes that everybody else is wearing, you're gonna get laughed out. You're gonna be an outcast. ... (Chip was becoming very intense as he continued.) You turn on MTV and here's the lead singer with the drug image. ... And he's on the news right after the song; he got arrested for smoking crack or doing heroin or whatever. And then people come to my shows ... and they say 'Look at the musician. He must do drugs, too.'"
Mark spoke about growing up in the country and how he and Max were judged by the fact that they wore their hair long.
"That was really bad because here I was, I had long hair and back then it was ... everybody who has long hair does drugs. ... We'd walk into the ball games on Friday and everybody went 'There's the rock 'n' roll druggie there,' and I could've turned to any one of those folks sitting up there in the crowds and said, 'Do you know where your kids are ... the ones who have the nice short hair and are out there getting high in the parking lot right now?' Drugs were never my problem. And I'm saying that rock 'n' roll has really gotten a bad image over that. And morally I can't tell anybody what to do."
Chip: "We have to start stopping stereotypes. ... Somebody's got to start saying 'Hey, wait a minute. ... The Rock Against Drugs, I guess that was a start. It's gotta calm down. I get sick of people coming up to me and asking me if I want to buy drugs all the time, just because I look ... that would be a lifetime achievement goal for me, is to do something strong enough -- not just to say 'just say no or anything like that -- but to get that image out the door, say 'Wow, this guy's cool, he's in this band, I wanta be like him. He doesn't do drugs.'"
Mark: "We're not the druggies ... that people put rock bands up to be. ... And it would really surprise you how many kids' moms are standing out there with 'em (at performances), watchin' us."
Max: "A lot of these kids are gonna experiment ... I don't care what anybody says, they're gonna experiment with the cuss words they say, (Mark interjected, "the drugs they do"), you're not gonna stop those kids from doing that. ... If parents would be more open with the kids and explain to them ... our parents were that way. We knew what drugs were. We knew what marijuana looked like. We knew what alcohol would do to you. We knew they when we were kids. That's why we don't have problems with it. Some parents are so scared to talk about that because they think, 'Oh, if I show my son, here's a bottle of whiskey, he's gonna go out and drink it.' But he's gonna do it anyway. ... But if you explain it to him in a certain way, he's not gonna do it. He's gonna try it and he's gonna understand 'Wow, this isn't the way to do it.'"
Max said only half-jokingly that he thought children should be able to see what bars are like when they are fifteen ... they'll get so sick of it they won't want to do it."
"When I turned 21," Chuck interjected, "I thought 'Yeah, I'll hit every bar in town.' ... Nowadays I'm all grown up."
Mark: "You gotta be open with your kids."
I asked the members of the group what they would like to say to our readers.
Chip said, "I think that if everybody could just find peace and get along with each other in every situation, find their places to hide that aren't bad places, and things to do and be creative and enjoy music -- hopefully, our music -- and (we hope) that we've made some people happy and gave some people a place to go and something to believe in, 'cause I think we all believe in it."
Chuck: "I don't know. I don't really have anything ...."
Chip: "I'll say something for him. ... 'I really believe in this band and I wouldn't trade these three guys in it for anything.'"
Then, as young people are sometimes wont to do when they have just seriously expressed their true feelings, they switched to a lighter ending.
Said Max, "Christmas is right around the courner. Not very many shopping days left. All the people who are my friends, or wanta be my friends, please buy me something for Christmas."
The interview ended with everyone laughing and trying to work out the logistics of getting to their performance at Clifton's later that evening.
Mark got in a few parting words:
"I like everybody in this band and it means so much to each one of us. We're not lettin' go. We just hope that something good happens."
I do too, Mark ... and Max and Chip and Chuck.
I believe it will.
Mark had his tonsils removed the day after the August 12 Clifton's performance. He had been instructed not to talk for two weeks. ("And you know how hard that is for Mark," his mother laughingly said to me a few days after the surgery.)
About eight days post-operative, Mark telephoned me with a list of the titles of the songs on the brand-new cassette album. (What's a mother to do?)
The new album, on Mom's Records, will be available on September 6 at Phoenix Hill Tavern when Spanky Lee performs for the first time since Mark's tonsillectomy. Copies will also be available at Camelot Record stores, ear X-tacy, and Disc Connection. Information about the band can be had by calling the Spanky Lee hotline, (502) 364-0539, or by writing to Spanky Lee, P.O. Box 624, New Albany, Ind. 47151-0264.
An album release party is planned for September 7 from 5:00 to 7:00 p.m. at the Camelot Super Store at Shelbyville Road and Hurstbourne Lane. "Everyone is invited," Mark said.
Tags: