August 1991 Articles
Cover Story
Jean Metcalfe
Features
Paul Moffett
Jean Metcalfe
Columns
Berk Bryant
Paul Moffett
Earl Meyers
Performance Reviews
Race Bannon
William Brents
Steve Farmer
Wally Stewart
William Brents
Jean Metcalfe
Calendar
Staff
News Item
Dave Regneri
Preview
Bob Bahr
Opinion
Staff
Photos
Kevin Gibson
LASC
Staff
Staff
Diana Black
Diana Black
Diana Black
Jean Metcalfe
Blogs
Got Shows?
Send Them To Us
Bookmark Louisville Music News.net with these handy
social bookmarking tools:
Available RSS Feeds
- Top Picks
- Today's Music
- Editor's Blog
- Articles
Add Louisville Music News' RSS Feed to Your Yahoo!

Issue`: August 1991
" Let me tell you about . . . "
Joe Peebles and his band The Experts
By Jean Metcalfe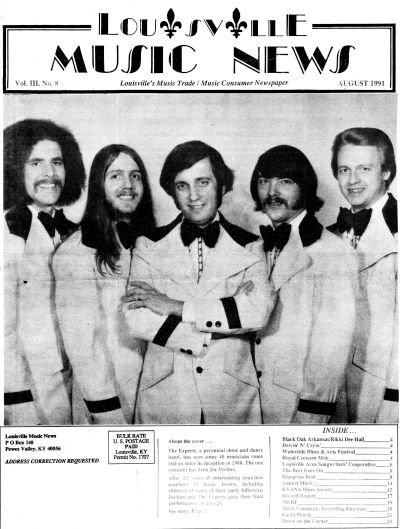 This story is not about a band that has earned gold records or signed a lucrative recording contract with a major label. It is instead the story of a dedicated entertainer who has sung and played music for a living for the past twenty-three years. Joe Peebles and his band, The Experts, played their farewell performance at a "Christmas in July" dance at St. Aloysius Church on July 26.
When Joe Peebles was sixteen years old he wanted a motorcycle "real bad." A couple of his buddies owned motorcycles ... big motorcycles. Joe also owned a motorcycle, but it was "a little bitty one, a moped type thing" that he had bought from a buddy who had moved up to a big motorcycle.
The year was about 1963 or '64 and The Beatles and The Beach Boys were "real big." Their enormous popularity had rekindled Joe's early interest in playing music. Besides a big motorcycle, he wanted to buy an organ.
In a recent interview with Joe, he described for me how the dilemma was resolved:
"My Mom told me, 'Look, I'll help you financially to get a motorcycle or an organ, but there's no way we can afford both, so make up your mind.'
He continued the lessons until he was twelve. During that time he graduated to a larger accordion, which he still has to this day.
Joe attended Camp Taylor Elementary School which was located directly across the street from his home.
"And I still live in that house. I was born in that house, my younger brother Gary was born in that house, my grandmother died in that house, my mother lived there until ... about six days before she died (when) we had to take her to the hospital. ... In 1947 they (his family) moved in there. I was born there in June of 1947. The house was a year old at that time."
Joe recalled that in about 1955 or '56 one of his three older half-brothers, Richard, went to California to visit his father, and brought back some 78 rpm records by artists such as The Robins and Little Willie John. These artists were among his early influences, but the artist who made the biggest impression on Joe when he was a child was Little Richard.
"I thought about it for just a very short while and decided, 'If I get the motorcycle, that's going to be transportation, and that's all it's going to be. If I get the organ and I can get into a band, then I can get the money to get a motorcycle," he laughed.
Smart boy, that Joe Peebles.
A door-to-door salesman from the Central Conservatory of Music stopped at the home of the Peebles family in Camp (Zachary) Taylor one day in 1956 or '57. He sold Mrs. Peebles on the idea of music lessons for her young son.
"So the next thing I know I'm nine years old and I'm playing the accordion," Joe told me.
"The guitar hadn't hit big at that time," he explained.
Joe began by taking a series of lessons on a small accordion. He would ride the Blue Motor bus to Third and Walnut Streets, then walk to the Central Conservatory located on Third between Chestnut and Broadway.
"So there I'd be, with my little accordion, gettin' on the bus and goin' downtown. Ten years old. I went by myself."
He continued the lessons until he was twelve. During that time he graduated to a larger accordion, which he still has to this day.
Joe attended Camp Taylor Elementary School which was located directly across the street from his home.
"And I still live in that house. I was born in that house, my younger brother Gary was born in that house, my grandmother died in that house, my mother lived there until ... about six days before she died (when) we had to take her to the hospital. ... In 1947 they (his family) moved in there. I was born there in June of 1947. The house was a year old at that time."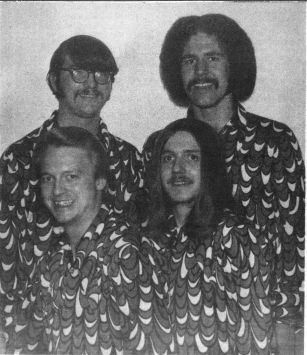 THE EXPERTS IN 1972: L to R, Jim Kalbfleisch, Dave Sisk, Joe Peebles, and Gary Peebles
Joe recalled that in about 1955 or '56 one of his three older half-brothers, Richard, went to California to visit his father, and brought back some 78 rpm records by artists such as The Robins and Little Willie John. These artists were among his early influences, but the artist who made the biggest impression on Joe when he was a child was Little Richard.
"He's still marvelous. The guy's amazing. He hasn't lost it."
"So when I was a kid I had these rhythm and blues records from the Coast, because that stuff was really just almost unheard of in Louisville, Ky. WLOU was the station you listened to if you wanted to hear any of that kind of music.
"There was no rock 'n' roll station ... WINN was kinda trying ... but that was pretty wimpy radio. Paul Cowley and WKLO was the next step ... that's when things kinda started to be rock 'n' roll."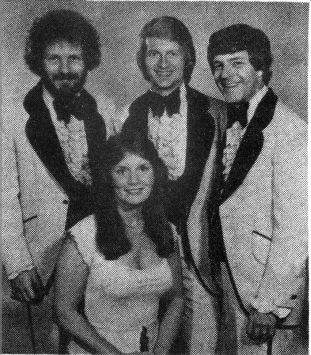 THE EXPERTS IN OCTOBER 1977: L to R, Don Hudnall, Marilyn Kington, Joe Peebles, and Benny Devine
When Joe became the owner of an organ at the age of sixteen, he started taking music lessons again. He continued the lessons for about three years, until he was 19. (And he plans to take additional lessons in the future, he said)
In 1967 or '68 Joe bought a 1967 model motorcycle. A big motorcycle.
After attending the seventh and eighth grades at Durrett High School, Joe moved with his family to California. They didn't like living there, and returned a year later, moving back into their old house in Camp Taylor.
While living in Hawthorne, California, some 16 miles southwest of L.A., Joe went to Hawthorne High School with brothers Carl and Dennis Wilson, members of The Beach Boys. Carl Wilson and Joe were freshmen at Hawthorne High. Dennis Wilson was a senior and Brian Wilson was already out of high school. Beach Boy Mike Love went to Hollywood High. One of the Wilson brothers' cousins or a neighbor was on a couple of The Beach Boys' early albums, Joe said, before being replaced by Al Jardine.
Joe also said that The Beach Boys had already made their first record, "Surfin'," at that time.
I suggested to Joe that living in California might bring a person into contact with someone in the business who could be helpful to a musician's career.
"Well, going to high school with the Wilsons never did anything for my career," Joe laughed.
Joe did recall one specific music group that came to entertain the students at Hawthorne High. The group's guitar player had performed with Ricky Nelson on his famous family's television show, The Adventures of Ozzie and Harriet.
Back in Camp Taylor, Joe returned to Durrett to finish his high school education. He went on to complete two years at Spencerian Business College before enrolling at the University of Louisville in the spring of 1968.
Joe didn't play in the band at any of the schools he attended, although he once played in a group that he and his friends put together for the purpose of performing in the Junior class variety show at Durett. They played a Rolling Stones tune, with Joe on keyboard.
Joe's first actual band experience came in the fall of '67 when he was 20 years old. He was asked to audition with a group called The Glows, and he passed the audition. The band was headed up by singer Sonny Evans, an "operator" who didn't play an instrument.
"He was a real operator, too, believe me," Joe said.
Although Joe could read music well and play the popular songs of the day, he didn't know about playing in a band.
"I didn't know anything about four-chord turnarounds," Joe admitted.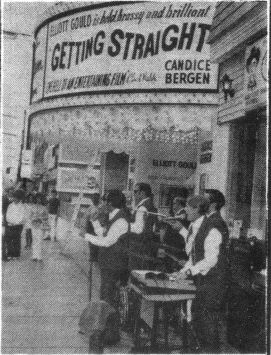 The Experts play for a movie premiere at the Mary Anderson Theater on Fourth Street in 1969. PHOTO BY JERRY SPANYER
The Glows was the only band that he played with before he and Jim Kalbfleisch started their own group, The Experts.
Joe played with The Glows from October of 1967 until around May or June of 1968. They played for dances at Whispering Hills and other clubs. One of the clubs was Brady's in St. Matthews. Joe's father tended bar at Brady's until it changed hands and he went to work at Bauer's.
"From the time I was born until the time he died (a span of 33 years) he was a bartender," Joe said.
Under new ownership Brady's was renamed R.B.'s and then Sir Eric's, and it subsequently became a gay bar. The Glows continued to play at the club.
"We had to take our equipment, set it up, play a set, then we took everything off the stage, put it behind the stage, then the female impersonators would come out and do a show ... then when they finished (they used recorded music) we put our equipment back on the stage, played another set, take it off, female impersonators would do another show. (Joe laughed at the recollection) We had to set our stuff up and take it down two times a night. Of course we could leave it up for the next night."
The Glows lost their job at Sir Eric's after about four weeks because a patron complained to the manager that some of the wives and/or girlfriends of the band members were making fun of the dancing couples.
The wives and girlfriends were asked to leave and the band members decided to go with them, leaving Evans and the job behind.
They were getting kind of tired of the situation, anyway, Joe said, then added, "We were getting kinda tired of Sonny Evans, I guess, too."
"So, basically, the whole band quit Sonny at that point. That was it. The end. ... We didn't play the last set that particular night. We didn't get paid either. We didn't care. ... In those days we were making big money. We were making like $15-18 a night ... at Whispering Hills you might make 22 or 24 bucks for a one-nighter ... that's what we were making ... of course, I don't know how much Sonny was making. ... I didn't care ... I was getting an opportunity to play."
Besides Sonny Evans the members of The Glows were Bernie Goebel, the lead singer, Joe on keyboard, Jim Kalbfleisch on guitar, and several different bass players. George Green was playing bass when Joe got in the group. The Glows had several different drummers.
During that time Joe was attending the University of Louisville (he majored in business and got a bachelor's in marketing), playing music about three nights a week, and working in the restaurant of Walgreen's at Fourth and Chestnut three or four days a week.
After their association with The Glows ended, Bernie, Jim and Joe, who had worked together for about nine or ten months, were at loose ends.
A one-time Glows drummer, Jack Knipe, wanted to get a band together, and had lined up a gig at the Maple Inn in Jeffersontown. It would be Kniep's band and he would name it Jack and the Rippers. Bernie, Jim and Joe got together with Knipe and played some, but they soon decided that it wasn't going to work out.
The three then decided to start their own band, but Kalbfleisch, about to be drafted, joined the Air Force. So Bernie and Joe rounded up two guys from the neighborhood, guitar player David Sisk, and Phil Hoagland, who played bass. Virgil Tidrow and a couple of other drummers tried out with the band (drummers were always a problem, Joe said) and they put it together and got their first gig as The Experts.
"Thinking of a name for a band is always a pain," Joe said.
Will it fit on somebody's marquee? Is it memorable? In those days, Joe said, bands had simple names such as The Epics, The Monarchs, The Mystics. Two-syllable, simple names.
Joe said the name The Experts just sorta came to him one morning at the breakfast table.
"I didn't have that much ego," Joe hastily added, "that I thought I was an expert at playing music. It was just a catchy name."
Goebel and Joe were kinda "co-running" the band at first, Joe said, but after just a few weeks, Bernie, who had a day job and was married and had children, told Joe that he thought Joe should run the band. Joe, single and going to college, agreed to accept that responsibility, and set about lining up jobs.
Frankie Tackett, who leased Mr. Kelly's on Poplar Level Road, was the first person to hire The Experts.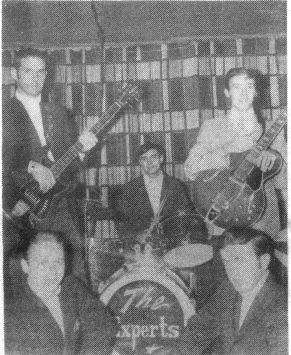 EARLY EXPERTS: Clockwise from lower left, Joe Joe Peebles, Dudley Haycraft, Mike Silliman, Louie Fogle, and Bernie Goebel at Mr. Kelly's in late 1968.
"She was the first person to hire us and the first person to fire us," Joe laughed.
"But I worked for her many times after that."
They also secured work at another place just down the street, called Anderson's.
"Back then (at) most of the joints we played Wednesday, Friday and Saturday. Wednesday was the happening night."
The Experts would try to work as long as possible at each place. They would usually ask to work for one week, then if they were well-received they would be invited to play another week and so on.
Joe found that his college degree came in handy in the music business, although it was not unusual, Joe said, to have someone express surprise that anyone with a degree would be playing music.
"Before I went to U of L to study business, I had gotten a catalog for the music school, and I took one look at that and knew there was no way. I would probably have had to study for two years on the piano to be able to play well enough just to get into the school. And after I got in, my choices would have been to follow a course of study that would have led me into teaching, which I wasn't interested in, or follow a course of study that would have led me into playing classical music, which I wasn't interested in either."
"I was working my way through school by playing (music) and working another job and all of a sudden, by the time I graduated in December of '71, why I was having a pretty good time playing music, really enjoying it, and I wasn't too fired up about getting into the nine-to-five world at that point. So in '72 ... I thought well it's time to do something here, whattya gonna do?"
He asked the guys in the band how they felt about trying to play full time -- five or six nights a week. They apparently felt it was a good idea.
Although Joe has played a couple of seven-night weeks during his career, most of the jobs required them to play six nights a week.
In about 1969-71 there weren't a lot of clubs; mostly small ones, Joe said. He mentioned The Sahara and Colonial Gardens.
"All the other clubs were over on Seventh Street ... the Brick Tavern, Domino Lounge, Arcade Club," Joe explained.
And there was also the Caribbean Lounge at the Algonquin Bowling Alley. Originally called the Boom Boom Room, it was a show room where the popular show bands played in the sixties and early seventies, Joe said. Although Joe hadn't played in a lot of those places, Bernie had.
At one time, when The Experts had five people in the group (guitar, bass, drums, keyboard and front man), they were a show and dance band.
Joe said that their first full-time gig was at Garland Flaherty's Dark Horse Tavern in the old Rose Bowl bowling alley.
"Back then that was the place to play."
"We were playing at the Audubon Lounge, Garland came to hear us, we had been working there for a while, off and on. He thought we could do the job and we went to work for him."
That gig lasted for two months until Garland's son put together a band and they got the gig.
"Now that was a good group," he said of Larry Flaherty's band.
Since then the times have been pretty good for The Experts, up until the last two years, Joe said, due to the economic downswing and implementation of the TAP program.
I said that I had been told by a number of other people that the TAP program had played havoc with the livelihood of musicians.
"Nineteen eighty-five. November '85," Joe said, his tone indicating that the date was indelibly stamped in his mind.
"We were playing at the Barrel House Restaurant in Clarksville (Ind) so it didn't affect us ... except for the fact that people from Louisville were very hesitant ... to cross the bridge. They didn't know what was waiting for them on the other side."
I asked Joe to tell me about some of the interesting things that happened during his career, good or bad.
"Tales of the bars," he said in a mock grizzled-war-veteran voice.
"I was working my way through school by playing (music) and working another job and all of a sudden, by the time I graduated in December of '71, why I was having a pretty good time playing music, really enjoying it, and I wasn't too fired up about getting into the nine-to-five world at that point. So in '72 ... I thought well it's
"Tales of the bars," he said in a mock grizzled-war-veteran voice.
"We've all seen those fights. ... back in the days of Mr. Kelly's, out in the little bar room that was off to the side, I can remember seeing guys swinging pool cues at each over the bumper pool table ... (but) not too many ... (fights)."
"And the band played on?" I asked.
"The band always played on. That was something I was taught early on." Apparently Bernie Goebel was the teacher, since Joe mentioned Goebel's name and then went on to speak about the man:
"We worked together for nine and a half years. Bernie was a great guy. He was really easy to work with. I don't think we had more than two or three times ... where we had a disagreement. We never raised our voices at each other. ... never was anything that permanently damaged our relationship."
"The guy had a really nice voice. He still sings with a one-nighter band called 500 Proof."
Joe talked about recently running into a "big, tall, blonde-headed kid" at a local music store. The "kid" recognized Joe and spoke to him, identifying himself as Jeff Goebel, Bernie's son, who Joe had remembered as a little lad.
"I about fell through the floor! " Joe said.
He also expressed his amazement at having played for two generations of audiences.
"I started out playing for people in night clubs and then I ended up playing for their kids," he added.
My conversation with Joe took a number of twists and turns, as he spoke of the milestones and events of his long career in the music business:
When The Experts first started playing at Flaherty's they did a floor show at midnight every night there.
And there was the time when The Experts worked at the Sahara from February of 1975 to November of 1977.
"That was the longest anybody had ever worked there at that period of time," Joe told me. "The band that preceded us, Jack Smith and Gene Cahill, had worked there one month less time than we worked there. So I really felt superior," he said tongue-in-cheek. "Thirty-two months. They worked there thirty-one."
Because of family pressures and the difficulty of trying to play music while working a day job, Goebel left The Experts in early 1977.
That same year Joe had Marilyn Kington working as a vocalist for the group, and Sam Stockard was with them for ten months that year, after his group dissolved.
Stockard later put together a group and went to work at Sahara East while The Experts were working at the Sahara on B*ardstown Road. A couple of other people also filled in during that time, including the late Ron Deetch a saxophone player, who at one time played with The Sultans. There were a couple of other singers as well.
The numerous personnel changes probably brought the record 32-month run at the Sahara to an end. But there were no hard feelings, Joe said.
"Economic times for musicians were never tremendous. We never made a lot of money playing music. But cutting down one person helps because ... you could make a little bit more per person and still hope to get a raise occasionally."
The Experts were constantly learning new songs.
"We'd work up a couple of new tunes every week. ... When you work as a house band ... to be able to stay in one place that long you gotta have new material."
"I would watch the charts, go to Shively Records and listen to ten or fifteen records, and the ones that I thought were the most danceable and that would be the best received and that our group could play, that's what we would learn. And that was always my criteria.
"Danceable? Can we play it? Do I like it?" he laughed.
Because of the difficulty of keeping the fourth spot filled, when they left the Sahara Joe decided that The Experts would be a three-piece band.
"The way it always was in my band, it was my band, but I didn't consider myself ... I never wanted it billed as Joe Peebles and the Experts. It was The Experts. And as far as I was concerned, everybody in there was as important as the other person. Everybody got their chance to be in the spotlight."
Joe said that when Goebel was with the group, the two of them split the singing fifty-fifty. The other guys sang a few tunes, maybe three or four each. But as time went on, and with the difficulty of keeping the fourth spot filled, Joe had the bass player and the drummer learn more tunes.
After leaving the Sahara, The Experts began a 14-month stay at the Audubon Lounge, and at that time the lounge was "going five nights a week and they were really busy," Joe said.
They played from 10:00 p.m. until 3:00 a.m. five nights a week, "and we were busy four out of five nights. ... That place was going great guns."
As a trio, they tried to split the vocals three ways, Joe said, but because Joe already had a large repertoire of songs, he wound up handling about half of the vocals, with the other two doing about 25% each.
"It was three-part harmony all the time. ... Three people makes it really nice," he said proudly.
Joe said that the drummer he had when he left the Sahara and went to Audubon was Danny Devine. Devine had been with a group called The Town Criers, a group Joe described as a "great show group from down in Gatlinburg, and he was an excellent player and had a nice voice."
Donnie Hudnall was the bass player, and he used the name Donnie Hondell. He had been on the road for a long time with the Johnny Green show, and he wanted to get off the road because he had a wife and child.
Those were the musicians who made up The Experts when they left the Sahara in November of 1977. Hondell soon left the group, and they replaced him with Dudley Haycraft, who had previously played with The Experts. Joe said that on several occasion former band members would return to the group. Kalbfleisch and Sisk were among that number. In its 23-year history, some 40 musicians have played with The Experts.
The current group besides Joe is John Hord on bass ("He's an excellent slide guitar player ... very much a blues-oriented player.") and Joe's brother Gary Peebles, who played for about five or five and a half years, before going on the road with the Irvin Twins, where they would share the bill with country performers such as Tommy Cash and others. He returned to the group in 1981.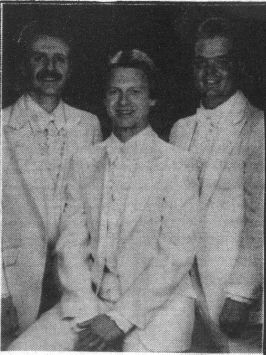 RECENT EXPERTS: L to R, Gary Peebles, Joe Peebles, Mike Oakes. Gary and Joe Peebles and John Hord comprised the final version of The Experts. PHOTO BY NORBERT SPECK
When Gary Peebles first started playing with the group he was 16 years old.
"He was underage. He started with the band in 1969. My brother's sixteen years old (at that time), he's playing in the band, he's got a fake moustache ... a fake I.D. that belonged to a buddy of mine that I worked with at Walgreen's, a guy named Jerry Collins, so we called him Gary Collins."
Actually, Joe said, Gary had started playing with the group in 1968. One night a representative from the ABC came to where they were playing out on Poplar Level Road and said "He's gotta go. He's not old enough."
"There were other guys that were that young that were playing but we just ended up getting a hard time at that point," Joe said.
"He was a great drummer," Joe said of his younger brother, adding that at age 13 "he was great. He didn't take lessons, he had very rudimentary lessons and then just learned by playing and playing and playing with people and playing with records ... and jammin'."
He played with the group from about 1969 to 1974, left and came back in 1981 and has been with The Experts ever since.
Hord has been with the group just since February of this year.
Joe mentioned that Mike Oakes, who left two years ago, was a bass player who worked with The Experts for a long time before leaving to start his own group.
"About a year and a half ago I started to lose it because things were getting tougher, (it was) tougher to work the band full time, the money wasn't getting any better. ... Guys in Louisville are playing for the money they were making in 1972 and '73. There were six- and seven-piece bands and the guys were making $300 apiece back then. And now if you can make $300 apiece, you're lucky. It's the truth, and it's a shame."
"If it hadn't been for hotels, I would probably have been out of the business several years ago."
The Experts left the Sahara for the second time after playing there for six years straight, from July of '79 to July of '85.
"I played there exactly six years straight, 52 weeks a year, five nights a week."
"We had a lot of long-running gigs, and that makes it easier to sell yourself to the next place. You've got a following. Obviously people like you or you wouldn't be working in these places. Six years straight -- that's a long-running gig."
And, Joe said, they would get repeat gigs.
"It wasn't like we worked there one time and got canned and never worked there again."
They worked at Jim Porter's under several different owners. And at the Audubon Lounge they worked for three different owners.
"They (the new owners) would come in and say, 'Well, we'll keep the band, they're pretty good."
Asked about the size of their repertoire, Joe said that before Oakes left the group two years ago The Experts had a repertoire of over 700 songs.
"We played by request ... some bands have a total song list of, say, 60 to 80 songs that they work from to play four or five sets a night, and they learn a song and drop a song. That's OK. We dropped tunes.
"Gosh, if I had five dollars for every song I learned and don't play anymore, I'd be calling you from Hawaii!"
"There are certain songs that just stay with you over the years that are great tunes. ... 'Only You' and 'The Great Pretender' by the Platters and 'My Way' ...
"You know, to younger musicians who are playing new music, that's a real cornball thing, but to all the hundreds and thousands who've come out over the years who wanted to be someplace where they could have a nice evening out and dance to a nice band, those were the songs they wanted to hear. I'm not going to apologize."
"I'm sure a lot of people say, 'Well, that's kinda sad, this guy didn't have much ambition.' Well, my ambition was to work steady in clubs and make a living at it, and I did that probably as long (as) or maybe longer than anybody in Louisville."
"I've had some of the longest-running gigs in town. I never had any ambition to make it as an artist. I didn't write music. I never tried. I never wrote songs."
Joe recently auditioned with The Fanatics and they called him back the next day and offered him the job. He'll be playing with them when they play their first gig in August.
Joe said that The Fanatics play a limited number of times a year at clubs such as Yogi's in the Bon Air Shopping Center. Joe played at that location with The Experts when it was the Pirates Cove and when it was the Del Rio Lounge.
Gary Peebles is working as an electrician for a company in Clarksville, Ind. He wants to play music, but not full time.
Joe said that he had told Gary in January of 1990 that it would be his last year in the business, and Gary had told him that it was easier said than done.
"It's taken me a little longer," Joe admitted.
Joe hopes to start working for the state of Indiana as a case worker for Medicaid and Medicare in the next couple of months. His wife is already employed by the state as a case worker in Clark Co., Ind.
Joe married his present wife, Suzette, in February of 1990. He has no children by either of his marriages.
John Hord has recently been doing solo work at nursing homes, sometimes two or three in one day, where he accompanies himself on acoustic guitar.
Joe said that on recent gigs people have come up to them and said that they had heard Hord play at a nursing home where they worked, and that "they rave about what a good job he does" with the residents of the nursing homes.
"So I know the people at the nursing homes are real fond of him."
A musician's worst nightmare?
"For me," Joe said, "the worst nightmare would be being physically unable to play.
"I played twenty-three years and I never missed a night. Twenty-four years, counting the time I worked with Sonny. Never missed a performance."
"I was in motorcycle wrecks where I came in on crutches and sat on a stool and played. I came in times when I had laryngitis and couldn't sing a lick and the other guys had to do all the singing. ... Broke my toe, different things. I've never had any really serious physical illnesses."
Does he still ride a motorcycle?
"No, the last one I had, my minister's wife bought it for him for his birthday. I got a boat in 1979 and that's my pleasure."
Joe had earlier in our talk mentioned the clubs on Seventh Street. I asked him if he had ever played at strip joints.
"I played at the Domino Lounge with Fred Scroggin. He was the house band leader. This was between the time that I left The Glows and we started The Experts in June of '68. I worked out there for about four weeks ... five weeks. It was a learning experience for me, musically, because Fred had been there a long time. And he'd had a lot of different players, good players that worked in town. The Irvin Twins worked with him there ... Paul Penny, Joe Stodgill -- he's from my neighborhood.
"There are a lot of good musicians from out of Camp Taylor. Paul Stodgill, Mike Murphy, Leon Middleton who plays with The Monarchs, Tommy Jolly ... a lot of real good players. And I'm sure I'm leaving some out."
Did he actually back up strippers?
"Back then when I played at the Domino ... they had go-go girls. ... I don't know what the law was, but I know what the fact was. These girls wore bikinis or bikini pants and bras that were decorated. ... they wore skimpy clothes but there was no outright nudity."
The Experts also did a week's vacation gig for Rick Hipple at Riney's early in '69, and the go-go girls would get up on the bar and dance, with similar decorated costumes ...
"It was real tame ... not like the Deja Vu or Show N Tell," Joe said. I said that I hadn't been to either of those clubs and Joe admitted that he hadn't either.
Joe also admitted, when I asked him, that there had been times in his career when he was subjected to the barbs of hecklers.
"Sometimes you bring it on yourself. Like when I first started at Sahara -- I was pretty high-strung back then -- and there are certain performers around town who I can name who are friends of mine, past and present ... a certain group of us that were pretty adamant about the fact that we felt like people coming to hear us play that they ought to pay a modicum of attention to us and give us some applause. And if they didn't applaud, we were likely to kinda start rippin' 'em. And there's a lot of entertainers that didn't have the nerve to do that, probably wanted to, but we did it."
"One of my lines was, 'I could put a .357 magnum to your head and you all wouldn't clap. You'd say, "Pull the trigger."' I was the smart a-- of Bardstown Road. I admit it."
"I'm a Christian and I believe God sends messengers to us at different points in our lives. ... There was an old race-track tout named Mac (who) used to come to the Sahara. I'll never forget that old man. He was as nice as he could be. Just an old race-track tout. That's how he made his living. Playin' the races. When the horses were here in town, he'd be at the Sahara.
"And he'd hear me giving people grief over the microphone about how I thought they ought to treat us. And I was at the bar one night, and he said, 'Joe, you just gotta humble yourself a little bit.' I never forgot that. And from that time on I made an effort to do that, and I did really change my routine then."
"I'm sorry that I gave so many people a bad time back then ... I was young and hot-tempered, I guess, compared to what I am now."
We spoke for a minute or so about the lack of attention musicians, receive at local clubs.
"The musicians are taken for granted so badly," Joe said. "It's like 'Well, we're paying your salary.' They are, in a sense, you know, just because they come in and spend their money. ... It's like the background for their social life, and I realize that ... boy meets girl ... that's what it's all about."
"I'd have to say that for the most part people have been very appreciative. We've had some wonderful people follow us ... I've had people follow me for years and years. I had a guy who followed me from '68 when I worked at Mr. Kelly's on up into the eighties when I played at the Sahara the second time. I mean, that's a long haul ... he wasn't the only one."
Joe also spoke of watching budding romances bloom. He would estimate the relationship would last about four months. And he knew he'd lose one of the two as customers when the romance ended because they wouldn't want to run into each other.
Joe's most requested songs?
"Old Time Rock and Roll," "The Great Pretender," "My Way."
The Experts' musical acitivites were not limited to stage performances. They once did some Army recruiting ads to be played on radio and TV.
"The first time you hear the notes," Joe said," ... you're sitting ... on a Saturday ... you've got your TV on and you're not paying too much attention, and all of a sudden you hear these notes and you say, 'I recognize that. That's our spot. I played that commercial.' And you get on the phone (and say) 'Gary, they're playing that commercial'"
They did the commercial in different styles -- country, rock, R&B, and Latin versions -- because it was going to be used all over the eastern United States.
They also once did some session work for a group who released an album on their own private label, sometimes referred to as a "vanity" album.
The best part about playing music for a living?
"To be able to do something I liked ... it's been great ... no matter that the money wasn't the greatest ..."
"I don't consider myself an artist. I'm a craftsman. ... A guy who makes furniture (such as an ordinary wooden stool), well, he's a craftsman, not an artist. If a guy makes a hand-carved chair that's tremendously ornate, then I can say he's kind of an artisan. ..."
"I never liked to say I was a musician. I always just told people I was an entertainer, because I knew a lotta guys who were better players than I was ... I think I can sing pretty well, and obviously I played well enough to do what I set out to do, which was to play music for people to be entertained by, for a long time."
Does he have any twinge about leaving the business?
"No, because the last two years have been so difficult, I really don't."
Joe never did go on the road with his group.
"That's something I never had the desire to do, was to live out of a suitcase. And I've been extremely fortunate, not only in the fact that I've been able to work all these years steadily, but I was able to do it in town. Course, maybe that didn't broaden my horizons travel-wise, but it gave me the opportunity to have some normal things in my life, too. ... to have a boat and be able to enjoy it every week. And have a home and have relationships with people over a long period of time.
"I've had musicians come up to me and say, 'God, how can you stand playing in one place week after week after week? We play in a place two weeks and we're ready to get out of there.' Well, you make friends with all those people that you play for every week."
Joe is a charter member of the Musicians Emergency Relief Fund (MERF), a group whose purpose is to provide financial help to musicians who are in need. He was the first vice-president (Marvin Maxwell was the president) when MERF chartered in the state of Indiana in 1982. In 1984 Joe took a break, but returned to the MERF board in 1988. He continues to be very active in the organization and currently serves as its secretary, his second term in that capacity.
"We're there to put beans on the table. That's always been the bottom line," he explained.
Joe is also active in his church, Salem United Christ of Christ, on Newburg Road in Louisville.
"After my first divorce I decided ... my relationship with God got a lot better at the time of my separation and I decided it was time for me to be more involved with the church."
Besides being a deacon in his church and the secretary of its board, Joe also serves on the evangelism and audio-visual committees.
Joe is frequently asked why he doesn't sing in the church choir. Although he occasionally does special music, accompanying himself on the organ (sometimes he sings a cappella), he is usually playing music in the clubs -- working at his job -- on the nights when the choir practices, and he doesn't play the organ for services. He will, he said confidently, be drafted into the choir for the church Christmas cantata. He has also sung at funerals.
Due to his involvement in church work, Joe was tapped to serve on the board of directors for Southeast Associated Ministries, a group comprised of 23 churches in the Hikes Point-Buechel neighborhoods that work together to minister to the needy in that area.
They provide youth services such as a juvenile diversion program. The program allows a young person who gets into trouble for such crimes as shoplifting, to do community service to repay his debt, rather than being sent to a detention center. They are also involved with the GED program, and have food and clothes closets.
Because of his business background, Joe is also called upon to work for numerous other charitable causes, including fund-raising.
How would Joe like for our readers to think of him?
"Gosh ... (when LMN first talked with him about doing this article) I thought, gosh, you know, I read the paper every month and all these really talented people are in there ... I don't know ..."
"My minster is a good friend of mine ... there were times when I wasn't so sure that having spent all these years in the music business (I) had necessarily contributed much. And he said, 'I'm sure you've made an awfully great number of people, thousands over the years, feel good by having entertained them on their night out ... whether it was once a month, or once a week, or three times a week, that you gave them some pleasure.'
"I've met an awful lot of nice people over the years, playing. People have been really kind to the band, have done tremendous things for us, given us gifts and had us to their homes for dinner and baked cakes for us, and sent us post cards when they were on vacation. That's been a real treat for me. ... I'm just an entertainer. I'd like to think that I was a good entertainer. I've had a lot of fun. (pause) Can't talk about all of it for the paper ... in my younger days ... in my wilder days," he laughed.
He went on to explain that he was never really wild.
Advice for musicians?
"You definitely have to realize that it's a business and you have to approach it as a business. ... If you're serious about making a career then you have to be able to play, and I would advise them to get as much musical education ... and practice as much as they can."
Joe also feels that musicians need to have some business acumen even if they are going to have a manager.
I asked Joe if he had any parting words for our readers.
"When you think back on your career, you (want to) thank all those people who came to see you faithfully and were fans over the years. That is one of the main things that you have to appreciate is how tremendous the support has been. Even in the recent past we still have people who faithfully come to see us and support us.
"And you have to thank the people who were nice to you in the business, too. Other musicians. Although there was always competition, there were friendships there too. You competed with other groups for jobs but you tried to keep it on a friendly basis.
"And there have been times when I didn't go see a club manager or club owner because friends of mine were playing there and I knew they needed the job as bad as I did, maybe worse sometimes."
"My mother was extremely supportive of my brother and myself in our playing (music). She was our biggest fan ... and a critic. She used to come (to their performances) all the time," Joe reminisced.
His mother had surprised him one Christmas with the gift of a scrap book, containing photos and mementos of his musical activities, that she had secretly started for him. As the years passed and scrapbook items increased, Joe had switched to a larger book. The new book contains the note from his mother that accompanied the original scrapbook.
As Joe and I looked through the book we spotted a few faded color photographs of The Glows, and an ample selection of interesting mementos and photographs of The Experts. Preserved for posterity were the ever-changing costumes, hairstyles, and faces of the 40 or so musicians who were once members of The Experts. It was a veritable history of the 23 years (24, counting The Glows) during which a band provided entertainment for countless thousands of people.
And those numbers were not racked up in huge stadiums, but in clubs were boy met girl and where old race touts passed out free advice.
Joe Peebles' pastor was right.
Tags: