June 1991 Articles
Cover Story
Jean Metcalfe
Columns
Berk Bryant
Paul Moffett
Earl Meyers
Performance Reviews
Henry C. Mayer
William Brents
Leonard January
Karen Le Van
Leonard January
Henry C. Mayer
Calendar
Staff
News Item
Staff
Staff
Preview
Bob Bahr
Staff
Staff
Opinion
Staff
Photos
Jean Metcalfe
LASC
Staff
Jean Metcalfe
Diana Black
Diana Black
Diana Black
Staff
Staff
Blogs
Got Shows?
Send Them To Us
Bookmark Louisville Music News.net with these handy
social bookmarking tools:
Available RSS Feeds
- Top Picks
- Today's Music
- Editor's Blog
- Articles
Add Louisville Music News' RSS Feed to Your Yahoo!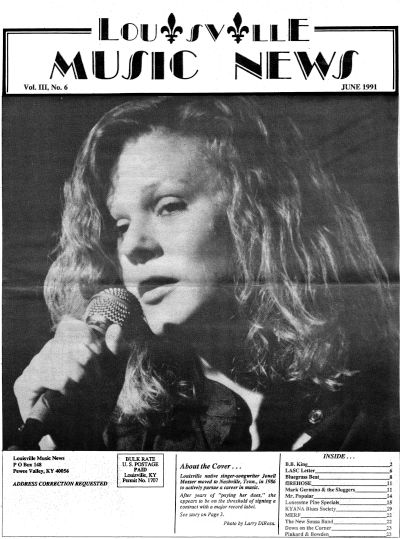 Let me tell you about ....
Jonell Mosser
Singer and Songwriter
By Jean Metcalfe
"Any record labels sniffing around?"
"Uh huh."
"Can you tell me more?"
"I can't." I want to, but I can't."
"Will you keep us posted?"
"Absolutely. I'll announce it to the whole world as soon as I can. I really will."
It was midday on Sunday, May 5, the day after Derby Day, and Jonell Mosser was explaining to me the status of her career. She had done a dynamite late-night performance the previous evening, and despite an earlier warning that she would probably be feeling a little bit fuzzy, she was alert and frequently chipper throughout the lengthy interview.
Jonell spoke candidly about her past, her present and her hopes for the future, as we sat in her adoptive father's home on River Road in Louisville.
I asked how her interest in music had come about. Jonell responded:
"My mother sang beautifully, although if she were here she would say, 'I do not.'"
"And she also played a little piano. She played beautifully when she chose to play."
"I think cigarettes took her voice away from her early on, but she smoked to the end of her life. You choose one thing or another, I think. I did. For a long time I chose to smoke, instead of sing, when I was into acting."
Five years after Jonell's father died, when Jonell was eight years old, her mother, Joy, married Bob Whitehead. Whitehead, who adopted Jonell, played trumpet and flugelhorn in big bands.
Jonell's brother, Larry Mosser, played in a local band, America's Children.
"They played all kinds of things," she said, naming two groups whose music they did: Blood, Sweat and Tears and Chicago.
"They were a horn band. They were great. Allen Hatton (a member of the International Champion Bluegrass Student Union men's barbershop quartet, and a director of The Thoroughbreds, Louisville's record-setting International Champion men's barbershop chorus) was in that band. And John Richards, who owned City Lights; and Michael Johnson, a great guitar player, not that Michael Johnson." She couldn't recall the drummer's name at the moment.
We chuckled about Jonell's opening remarks the previous evening at her performance. She told the audience that she had taken the shirt off her brother's back. Literally. She explained that she wanted to wear a Derby shirt onstage, and that she had asked Larry for the one that he was wearing. He agreed to give her the shirt if she would give him one of hers. He did and she did.
Besides her brother Larry, Jonell has a "sister" Debbie Kincheloe.
"She's not my blood sister, but she looks so much like me, and everybody thinks that we're sisters and she lives with my husband and me, and she takes care of everything for me ... it's so much easier just to say 'My sister.'"
After Jonell's mother married Whitehead in 1968, they moved from Lyndon, Ky. -- Jonell was 9 -- to Cherokee Parkway in Louisville, where Jonell grew up.
In 1985 Jonell's mother bought the house on River Road because Whitehead had always wanted to live on the river.
While attending Atherton, Jonell put together a band to participate in their annual variety show. She was the organizer, the leader and the lead singer, but she doesn't remember the name of the group. She does recall that they played "old Blood, Sweat and Tears tunes" and the Three Dog Night tune, "Celebrate."
"Ah, we were funny, I'm sure," she reminisced.
Jonell transferred to Walden School for her senior year to study acting. While there she participated in the school's Renaissance Fair.
"I was part of the crew that built that stage out there, the one that's the third-scale model of the Elizabethan stage at Stratford in Canada. We were really proud of that."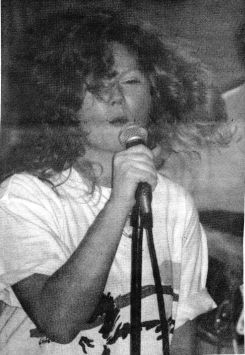 Jonell Mosser turned in a fiery performance at Air Devils Inn's 'Derby with the Devil' party at the Highland American Legion Post on May 4. PHOTO BY JEAN METCALFE
Jonell attended Western Kentucky University in Bowling Green, and planned to pursue a career in the theater. Of Nancy Niles Sexton, under whom she studied Shakespeare, Jonell said, "She was very much an influence on me. ... I admire her in so many ways, as a person and as an actor, and as a teacher. I always wanted to teach Shakespeare after I took (classes) under her, too, though she'd probably laugh at that, because I'm sure I wasn't that good. But I got so much pleasure from it. I loved the language."
While at Western, Jonell began to encounter some negative influences in the theater department. She started hanging out with "old hippies" instead of theater people. She was playing music every day and, to her mother's dismay, dropped out of college to pursue a career in music.
She explained: "When you get up out of bed and you pick up a guitar every single day and you start to realize how much that means, how much your life starts to change when that's what you start to pursue ...." She didn't finish the sentence; the excitement in her voice finished it for her.
Jonell said that it was her very positive experience in the theater in high school that had led to her initial decision to pursue a career in the theater at WKU. One such experience was having Mr. & Mrs. Barry Bingham Sr. (Jonell's mother was Mr. Bingham's secretary at the time) attend a play she was in on her birthday. The next day Bingham came back to his office from lunch with a gift-wrapped present for Jonell.
"It was Chanel No. 5, the one and only time anybody's ever given me Chanel No. 5. I've still got the bottle."
Jonell started playing music with bass guitarist Kathy McNece, who had dropped out of Western and was managing a fast-food restaurant (she nows plays with Wild Rose); Ann Meyers, a guitar teacher, on lead guitar; and Cathey Stamps, a WKU student, playing drums.
"We formed a band and called it Yo Mama. It was a four-piece, all-girl rock band, and we were horrible. But we had a lot of soul. Dad and Mom came to see us, and now when Dad talks about it he says, 'Oh, yes, Yo Mama ... interesting.'" Jonell laughed as she imitated her father and his assessment of the all-girl rock band.
I mentioned that I had once seen the famous cellist Yo-Yo Ma on Johnny Carson's "Tonight Show." The host and his guest were discussing the latter's name. Ma laughingly agreed that it might sound humorous to his American audiences, but that he would rather be called "Yo-Yo Ma" than "Yo Mama."
Jonell laughed heartily and said that once when her group was playing at Cantrell's in Nashville some customers had come there expecting to hear Yo-Yo Ma play his cello.
Despite the fact that the group was "horrible," Jonell said that she learned a lot: what it takes to put a rock band together.
In the days of Yo Mama, the four members shared lead vocal honors. These days Jonell handles the vocals and does not play an instrument onstage with her group. (She had previously, on occasion, played guitar with them.)
Jonell's decision to move from Bowling Green to Nashville in 1985 came about after she married John Cowan of New Grass Revival fame.
"We got married right out here in this very yard," she said.
Although Cowan was born in Minerva, Ohio, and "claims" Evansville, Ind., where his mother lives, he lived in Louisville for a number of years and attended Eastern High School. Jonell still thinks of Cowan's family as her family, despite the fact that she is no longer married to him. She doesn't keep in touch with them as often as she should, she admitted.
"I have been blessed, really. ... He (Cowan) is my friend. We're much better friends than we were husband and wife."
Jonell is now married to Bill Gardner.
"He's a carpenter. He sings. He sings beautifully. The first time I ever heard him sing, I was maid of honor at a wedding and he sang ... an original tune. I was very surprised. I didn't know how well he does sing. Had no idea. He was just a friend of a young friend of mine. I always thought of him as a very young man, not one that I would date. I always dated guys ten years older than I."
Gardner takes singing lessons and plays guitar, and plans to pursue a career in music. Jonell also takes an occasional singing lesson from the same teacher.
"In 1986, I started going to every club and seeing who I wanted to sing with," Jonell said.
"I just 'brassed' my way into most every gig situation."
"The Kingsnakes from Nashville, not The Kingsnakes from Boston, echh ... the real ... The Snakes. I heard them play ... one of the greatest blues bands ... Kenny Greenberg is one of the guitar players, Michael Henderson is the other. ... Kenny is from Louisville. ... I heard them play (at the Bluebird in Nasvhille) and I just walked right up to Michael Henderson on the break and went, 'You really play the blues,' and he said, 'Well thank you so much.'"
"And I ... said, 'I sing the blues.'
"He said, 'Oh, you do?'
"I said, 'Yes, I really do, and I'd really like to sing with you,' and he was kinda like 'Oh, great, another crazed female.'
"And I said, 'No, really, I sing the blues.'
"He said, 'Oh, you really sing the blues.' I said, 'Yes, I do.'
"He said, 'Well you wanna sing with us?' I said, 'More than anything.'"
Henderson asked her what she proposed to sing, and she named about five standards. They let her sing with them.
When Jonell finished the song -- she thinks it was "Mustang Sally" -- Henderson said to her, "All right, come to sound check and we'll really work one up." When Jonell went to the sound check, they worked up "Don't Miss the Water Till The Well Runs Dry."
After that Jonell started singing with other groups as well.
"I became a woman singing with a lot of different groups, but I didn't have my own group. So the first time my group came out, we were playing Summer Lights (a music festival held in Nashville Tenn.) in 1987."
"Here I had done all this singing and had all this hype ... and they said, 'What do you call this band?'
"And I thought, 'Well, it's either make or break it right now,' and I had twenty minutes to come up with a name."
While pondering a name and reminding herself that all the names she had thought of in the past had been "so stupid, or cutesy or so weird," she happened to spot in her bookshelf a copy of Dorothy Parker's "Enough Rope."
"I thought, 'That's what it is. It's either gonna strangle me ... I'm either gonna sing or swing.'"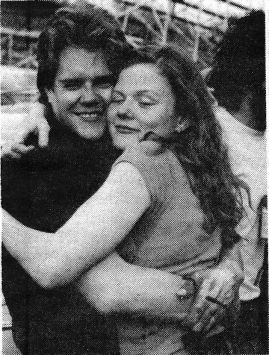 'A VERY HAPPY YEAR': Jonell and John Cowan at an Appreciation Fest in Bowling Green, Ky., in 1985.
"That's the thing about Nashville," she said. "You cannot go there, I don't care who you are, and expect to just walk in and have it handed to you. A lot of people ... think, 'Well, if just the right person hears me I'll be a star, I'll be riding in the back of a Cadillac by Tuesday,' and it doesn't happen that way."
One of the things Jonell did when she went to Nashville was sing in a group with Karen Staley and Lee Satterfield, then called The Girls, now called Girls Girls Girls. They hired out to do session work and, when not doing sessions, they sang as a trio with guitars. Jonell still sings with the group.
Jonell's band Enough Rope has gone through many personnel changes since that 1987 appearance at Summer Lights. The first group consisted of Dana Belzer on guitar, Chucki Burke on drums, Doug Sisemore on keyboards, andByron House on bass.
Belzer went to Hollywood to write for television, and wrote for such shows as "Miami Vice." Jonell thinks he still writes for television from his home in Maine.
She replaced Belzer with John Cowan's
best friend, Tom Britt, who had been "going nuts" playing "straight country gigs" with Dottie West.
That left Tom Britt, Denny Bixby, and James Hooker, who played piano.
Denny Bixby subsequently left to play with Nanci Griffith. (Hooker currently plays with Griffith.)
When Bixby left, a friend of Jonell's recommended "the greatest bass player alive," who was living in Virginia Beach, Va., and not working. The bassist was Victor Wooten. He played with Jonell's band for two years. Jonell spoke highly of Wooten:
"He was better than my friend had said. And the sweetest ... ohhh, he's the most wonderful man. Once I found Vic that was it. I did not want another bass player until he started going off with Bela Fleck."
"And Byron played with us a little bit more, and I started getting Michael Rodes, cause he's such a great, great session player." (Jonell explained that Rose was not with them for the previous night's performance, because he was in San Francisco playing with Steve Winwood.)
"I've been blessed with the very best session players to come and play for me. I really have been blessed."
Jonell stopped for a moment to tell me the names of Enough Rope's current personnel:
Brothers Tom Britt and Bob Britt, the two guitar players; Jim Greasy on saxophone; Dale Armstrong on drums; and Michael Rodes on bass. When Mike isn't available, Jonell uses Glen Worf and Byron House, who worked for Bill Lloyd and Radney Foster.
House plays with the group Duck Butter Blues Band, a group that I had once been told plays only at Picasso's in Bowling Green, Ky. Jonell, who has sat in with DBBB, said that they also play at the Ace of Clubs in Nashville, and that Al Kooper also plays with the group.
Jonell wrote a few "very juvenile" songs when she was with Yo Mama, "but I didn't have a good concept of what made a good song. You just don't know. It's like learning anything, how to dress yourself, how to walk."
Jonell spoke of a song, "Mama's Dream," that is apparently one of her favorites. The original words were written by Katrina Larson, and the original tune by Ann Meyers, the lead guitar player for Yo Mama.
"It was a very poignant but difficult song to sing and to express, because it was very resentful."
"We played it in Yo Mama, because there were certain lines that had to be said. Once we read them on paper they had to be sung. Like the line 'I don't expect that love will last forever, but it would be nice if friendship stood its ground.' That had to be sung."
"But there were parts of it that were so difficult and almost embarrassing to sing ... there was a verse about 'A day's gonna come when Mama's gonna get old and I'm gonna have to listen to her moan' ... that kind of feeling ... people didn't want to hear that."
When she went to Nashville and started singing with The Girls, the other two, who were songwriters, told Jonell, "You have to do original stuff, too." Jonell said to them, "Well, let me play you this song."
"The first time I played it for them I realized how incomplete a song it was. So I went home that night and started working with it."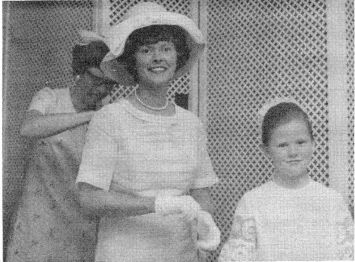 Eight-year-old Jonell Mosser stands beside her mother, Joy Mosser, just prior to her marriage to Bob Whitehead in 1968. Jonell's godmother/aunt Ruth French is at left.
She took the Yo Mama days version of "Mama's Dream," an "epic poem" of five verses and four bridges, and Katrina's original song of some seven or eight verses, and pared them down. She added some stuff of her own and rearranged it musically.
Jonell quoted part of the song:
The day came that Daddy finally left us
He couldn't live with Mama's
righteous line
She was always keeping score
She was always wanting more
So the love that they had
finally died.
And I wonder what will happen now
to mine.
Cause love is learned by
visual direction
Children learn to do what children see
And I'm always keeping score
And I'm always wanting more
And there are women easier to love
than me
But I'm all thatts left of Mama's dream.
When Jonell started playing the song with Girls Girls Girls, "It really became a piece. It became a critique song, beginning, middle and end," she said.
They played "Mama's Dream" at The Hall of Fame, a bar in Nashville, for a "big bunch of producer types ... chewing on their cigars. They talked through the whole set," Jonell said with disdain.
The trio started with one of Karen's songs, "Face In the Crowd," which became a hit for Michael Martin Murphy and Holly Dunn. Next they did Lee's song "Swedish Moon," which became a No. 1 hit in Canada. Jonell then sang "Mama's Dream."
She described for me what happened:
"The first line in the song is 'I never got along too good with Mama.' (As Jonell continued, her voice began to sound as if she could bite nails.) And this big old boy in the first row went, 'You can't say that, "You never got along too good with Mama." It's like sayin' you don't like apple pie.'"
(I had a great laugh while replaying this portion of the interview; Jonell's imitation was even funnier the second time around.)
"So through the whole rest of the song I'm thinking (the words spilled from her lips in a non-stop string of invective) 'Dammit, I will never sing this song again. Nobody understands me. Nobody can ever understand what I'm trying to say in this song. I'll never sing this song in this town again.'
"And I come off the stage and I'm furious inside and I can't express myself. And I walk right into a man, a very tall man ... I walked right into the center of his chest, and I look up and see one of the handsomest men I've ever seen in my life. And he goes, 'That song, that song about your Mom, did you write that?' and I went, 'Well, yeah, I did,' because I did write some of it.
"And I was thinking, 'This guy is so handsome.' He looked so familiar to me. I can't believe it ... and he's looking down at me and he goes, 'That's a great song. You should do that song. I don't know when I've heard a better song.'
"And I go, 'Who are you,' and he said, 'I'm John Hall.'"
(Hall is the founder of the rock group Orleans, and writer of their hit songs "Dance With Me" and "Still the One." He also wrote the Janis Joplin hit "Half Moon" and produced Bonnie Raitt's album Takin' My Time.)
Jonell, who considers herself a singer and a songwriter, now writes songs with Hall and his wife Johanna. She would be leaving in a few days to go to their home in Upstate New York for a week of writing.
The day before her departure, however, she would be doing background vocals on an album with Leroy Parnell. Jonell described Parnell as "a Texas blues guy ... being marketed as country."
"I call it Texas rhythm and blues with a twang," she said. "Great singer, great guitar player. I did his last album. Barry Beckett produced him."
Although Jonell has not done an album of her own, she told me that she is "being produced right now by two different factions. I guess the most official is Fred Foster," she said. "He produced Roy Orbison, Kris Kristofferson, Willie Nelson, and he's very, very good. It's like having an old pilot."
" ... [W]hat has never come about, and what I'm still lobbying for ... is to record with my band without outside interference."
"For anybody who's never been to Nashville ... if you're in a showcase situation, people listen to you. You'd better be good. ... They come to draw from you ... other songwriters, other musicians ... and they expect something good, 'cause they're gonna give you something good. And if you're just mediocre, if will become painfully obvious to you. It did to me, the times when I was ... mediocre.
"But a true musician can figure it out, 'Hey, I'm still a fledgling. I need to go grow up a little bit more.'
"I don't know if every person does, but I needed experiences like that to understand how immature I was as a songwriter. And John and Johanna had been writing songs for twenty years. And the first time we got together I had all these great ideas and they knew how to channel them, put 'em into a song and make it a real song, with a beginning, a middle and an end, with coherence."
Jonell admitted she was intimidated at first, but, she said, "I took a chance and they didn't make fun of me. A lot of what I had to say was immature, but a lot of things songs are written about are the same things over and over again. That's why things are cliches. Because they're truths, I mean, inside of you.
"But you have to put a spin on them. You have to be brave enough to put yourself out there, and be willing for people to go, 'Well, that's funny' or 'That's sick,' or 'That's weird,' but say, 'Welp, that's me.' You have to be accepting of that, and they were not afraid. I love them. They're like family to me. And ... the tapes that have ... truly my voice and the feeling that I want to get across on tape, John Hall has produced on me."
"And Fred (Foster) has produced some great sides on me. Make no mistake, he's produced some great sides on me. But they're a little more controlled and not as dangerous as I want to be. And John has produced some very dangerous records on me, I think. They're on masters (but) they could be records. We've probably got six sides that are masters.
"But I don't want to realease an EP. It seems that's what everybody does first ... release an EP and then go tour it. But I want a whole album first. I don't want to cheat the record company and I don't want to cheat me."
I asked Jonell, "What are the best parts and the worst parts of being Jonell Mosser?"
She paused for a moment, then gave an example: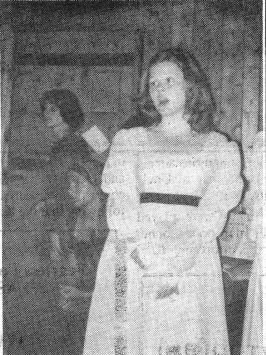 RENAISSANCE WOMAN?: Jonell Mosser performs in Walden School's Renaissance Fair in 1976 or '77.
"For anybody who was at the gig last night the best part was at the end of the gig because I relaxed completely. ... I was good and warm and relaxed, and the guys were playing so great .... There is a certain point where there is no thought of the moment before or the moment to come. You're not living in the past or the future at all. And it's like I'm ... it's very pleasureable ... it's not like sex ... it's not like eating something you like ... or drinking something you like very much (long pause). I can only say it this way: Most of the time in our lives we live remembering the happiness of something that's just happened or looking in anticipation to what's coming.
"When it's really like the best it can be and I'm very in that moment and what's coming out of me (pause) it's not just bouncing off the people that are out there listening to it or off the guys that are playing with me. It's become a living thing. It's a living thing that's like an echo that gets louder, thrown from the person
that I'm singing to back to me louder, louder, louder, louder ... not in volume, but in intensity, for me. It's not like anything in this life.
"I mean I did drugs years ago and I know what things like that are, and that's one thing. And you know, having a great meal and drinking wonderful wine and really treating yourself well, having a great massage ... that's one thing. Those are the things that give you personal pleasure just within the confines of your body. This isn't like that.
"This is like having something supernatural -- I don't mean that ghostly supernatural -- I mean natural ... like Nietzsche talked about the overman ... and that was translated as superman, in a poor translation ... to go over and beyond ... you have to go under first. How can I put it?
"It isn't just that X factor that comes and drops on top of your head. It's like raising my level of consciousness. ... Every moment that passes is more contained. It's living exactly the way I want to live -- exactly.
"How many times can you say that in your life -- that I'm doing exactly what I want to do right now, and not thinking about the past or the future, but right now."
"I've had the most jaded people you've seen in your life come up to me with tears in their eyes, and even that isn't important -- if it's important to them, then it is -- but I wasn't singing for their compliments ... it was because I could do nothing else. It's so good. It really raises me to another level of consciousness."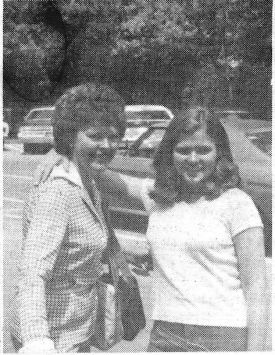 'BYE, MOM': Frosh co-ed Jonell Mosser gives her mother, Joy Whitehead, a parting embrace in the parking lot at Western Kentucky University. The 1977 photo was snapped by Jonell's father, Bob Whitehead.
"Gee, it's a buzz like no other when I come off the stage."
That special feeling happens almost every time Jonell performs, she said, but there are a few exceptions:
She did her first label showcase, for the NEA Extravaganza, twelve days after her mother died. "I was not there. I'm sorry, I tried to be there. I tried to give it all. I tried to dedicate it to her and say 'This is for my mother. I'm going to get this record deal.' ... I sang well ... but the magic wasn't there. But there was a certain level of professionalism that we raised ourselves to, and it was fine."
I asked what would happen if she stopped feeling that special feeling when she performed -- when performing became just a job for her.
"If it ever does, then I'll stop. I will stop. And I'll teach. I'll teach voice or maybe go back to school and teach English or Shakespeare or whatever I feel like doing. Maybe I'll just have kids. Whaddya think?"
But for the moment, Jonell Mosser knows exactly what she wants to do:
"Damn the torpedoes -- full speed ahead."
We spoke of the difficulties of the life she has chosen, and how stardom is an elusive thing.
"Whoever said life was gonna be easy?" she laughed philosophically.
She spoke with great enthusiasm about her band:
"They are such great musicians. Yeahhhhhh. And they play in an ensemble ... they play with each other and feed me and feed each other and let me give to them. It's sooooo good."
The worst part of being Jonell Mosser?
"Okay, let me give you an example. It was one time I was at The Bluebird (a cafe in Nashville, Tenn.). Now the Bluebird to me -- the first person in the first row is about as far away from me as you are (close enough to reach out and touch) -- ... is the proving ground, because they're right there and they're looking right at you. ..."
"The worst thing is to be giving out the best you can, to be playing original songs. ... I'll give you a perfect example: I played a set of almost all original songs. The only songs that were covers, nobody could have recognized. They were obscure. And a woman came up to me (after the set), not with affection or pleasure in her face or in her eyes, and went, 'You do 'em all.' And I said, 'I beg your pardon.' She said, 'Janis, Bonnie, Aretha, you do 'em all.' It went through my mind, 'Do I tell her I played only original songs?'"
Jonell did not take it as a compliment.
"I wasn't doing Janis, I wasn't doing Bonnie, I wasn't doing Aretha, I was doing Jonell. ... I must say, in all honesty, that I listen to them, Bonnie Raitt, Janis Joplin, Aretha Franklin, I listen to every one of then. Ella Fitzgerald I really listen to. Billie Holiday I really listen to. And I pray that I'm influenced by them because they are great musicians and great singers, and they know about great songs."
"For about eight years when I was in Bowling Green, I played in a band called The Ken Smith Band. We did cover tunes and we played six nights a week. It was not easy.
"This was after Yo Mama, but before I moved to Nashville, which was when I met Johnny C. (Cowan) because he was friends with Kenny Smith.
"[It was] a good band. Byron House was the bass player. We did a lot of singing. Jane Pearl was in this band. We did all cover tunes, everything from Temptations to Michael Jackson. Quite a range. Six nights a week for several years, and then three nights a week for several more years, when Kenny bought his club, which is Picasso's. We played in clubs before Picasso's, and then he made enough money that he bought Picasso's, and now he's a club owner.
"And I watched those people get older and drunker, and older and drunker. And they were sweet. A lot of them were great people. ... The good outweighed the bad always. But it started to get bad, and when you do cover tunes you come up against a ceiling, a level of musicianship that you cannot rise above, because you're doing cover tunes.
"I went to Nashville. I worked my butt off to shed that club image and to play my own music and to really give of myself and to get past that ceiling and break the envelope. I did that. I did it in Nashville and I paid my dues, busted my butt to do it.
"And I came back to Bowling Green. It's one of the reasons I rarely play Bowling Green anymore. I came back, I played a set of good original tunes. I think the only cover in it was 'I Can't Stand the Rain,' that Ann Peebles tune. I played one of the best sets for these people (her voice was getting emotional and she spoke with the fervor of an evangelist) I gave them every fiber of me. And the set ended, and some drunk out in the audience yelled, 'Me and Bobby McGee.' I almost ....
"And this is the low part. I came off the stage and all these people (said), 'You've got to do Joplin, you've got to do this Joplin tune,' because I did it years ago. They were still at that level and I had left it. If I didn't do Joplin -- and I didn't -- they thought I was snubbing my nose at them, and they turned their backs on me."
"If they wanna hear 'Me and Bobby McGee,' she (Joplin) recorded it. There is a recording for them to go and listen to. If they wanna hear me then they wanna hear me. If they want to hear an imitation of Janis Joplin they're not gonna hear it from me anymore.
"And they get mad at me. There are people that get mad at me for that. And that's dumb. It's wasteful. They're wasting their emotions on being mad at me because I won't do Janis Joplin tunes for them. And that's the low point for me."
We spoke of the difficulty of introducing original songs to audiences.
"Maybe it's egotistical, but I never thought that I couldn't do it. I always was sure that if I did it with integrity, whatever it was .... This is what my mother told me: 'If you have true personal reasons why you're doing it, and those reasons have integrity, you'll be fine. It may not be easy.'
"And ... I said 'Mother, I'm dropping out of college and I'm gonna play music for a living.' And she went, (Jonell laughed a very hearty, boy-are-you-in-for-a-rude-awakening laugh, imitating her mother.) 'Oh, I hope you're ready for a very difficult life, my dear, because you will have one.'
"Has it ever been easy for me?" Jonell asked, then answered the rhetorical question with another hearty laugh.
I asked Jonell if her family soon came to understand and accept her decision to drop out of college in her senior year to pursue music.
"They didn't see for a long time, because it (her musicianship) wasn't quality for a long time. You have to learn how to do it first."
"When I married John and moved to Nashville they were still thinking, 'Well maybe she is gonna do it, but they still weren't very sure. When I met John and Johanna Hall and started writing with them, Mother went, 'Now this is the real thing.' Nothing means more than your mother's approval."
"Is that why many songwriters write songs about their parents?" I asked.
"Sure. Always."
(Later, in a telephone conversation with Jonell, she happily related that she had just finished writing "So Like Joy," a song about her mother, whose name was Joy.)
"Well, you become your parents," Jonell continued. "I'm so much like my mother."
Jonell's goal?
"To write great songs and to be a successful musician. I don't wanna be Madonna or anything."
In the May 24, 1990, edition of the Nashville Scene, under the headline "Act Most Likely to Be Signed to A Major Label, JONELL MOSSER," the columnist declared:
"The voters think this will be Jonell's year, and we hope the labels are listening.
"She's always been a showstopping vocalist, with the fury of Janis and the soul of Aretha. Her material never falters. Her band can turn on a dime.
"She can sing smiling pop, strutting funk or screaming blues.
"She's a natural onstage, and she's a looker -- if you're worried about her video potential. Bonnie Raitt proved that there's a market for a rootsy woman who can sing anything, but only sings what she wants to.
"So what's not to like? Beats us."
We talked about the loud sound levels at which so many groups play these days, and which many people (parents especially) fear will cause hearing loss to concertgoers.
"I think people should be very careful and ... when I go out to hear bands ... I always have ear plugs with me. Always. ... I can't personally wear earplugs when I play, because if I'm singing I have to hear everything."
"There are certain guitar sounds, there is a certain level of overdrive you have to have. But I think if you've got somebody who's a strong person playing a drumkit pretty hard, and you put the kick ... I mean, the whole thing about the band is the kick drum and the bass guitar are one thing. When that kick hits, that bass guitar plays.
"Now, laid over the top of that are guitars and/or guitars and keyboards and/or guitars and keyboards and sax. It's just a little pyramid that's built there.
"And if you don't have a good sound man, if the room is a certain shape or of an acoustic nature, there is high end to deal with and voices have to be laid up on top of that. It gets louder and louder and louder."
I related that I had asked Greg Martin, guitar player for The Kentucky HeadHunters, about the loud sound levels at which they play, and he told me that there are certain sounds that he can get from his guitar that he just cannot get at the lower volumes.
"It's true," Jonell said.
What does Jonell do in her spare time?
"I love to go play miniature golf. I love to go play with the dogs; "Brother" is mine and Deb has a dog, "Stormy," who lives with us. I love to eat out. And I've got flowers all over my house. The little old lady who owned the house before I did planted peony bushes and all kinds of things that come up every year; I love that.
"I love to horseback ride, but I don't get to do that very often. I like to walk out in the country. I've rappelled; I haven't done that in a long time, but I love to do stuff like that."
"Do you ever take a vacation?" I inquired.
"Oh, yeah," she replied in a dreamy, wistful voice, "... the best and the longest vacation I've taken in a long time, my mother sent me to Ireland. But, see, Maura O'Connell (who went with Jonell) is a friend of mine. This was when her mother was alive, too. Both our mothers died within a year of each other.
"And I went to Ireland. Mama sent me there for a mon*th because the last Christmas she was herself she couldn't do any shopping at all. So, I just closed my house down and came back here and I did everything I could for her. And of course she couldn't buy anything for me; I bought the stuff she was buying for everybody else. So she asked Johnnie C, and John went, 'Send her to Ireland, she'd love that.' And I did." (Jonell is Irish.)
"I went to Ireland for a month and every place I went I sang. I even went up to the North. ... That was great. And in Ireland when people say, 'Oh, you're a singer ... well, sing for me,' they mean ... open your mouth and sing right now. ... There were guitars there sometimes, but they usually just wanted you to sing a cappella." ...
I laughed, and asked if it was somewhat like comedians who are spotted in public, and are told to "Be funny."
"That's right, 'Be funny -- right now.'"
"But you did it, and I'll bet they loved you too," I suggested.
"I did, and I think they did like me."
I asked Jonell to share with our readers a funny, scary or interesting experience from her music career.
She described something that happened with Yo Mama when they were "really playing the dives":
"We played Three Brothers Lounge, a biker bar in Bowling Green, Ky. ... We passed the hat. We got eight dollars, five bullets, a pack of Winstons, a couple of joints, a couple of pills -- who knows what they were." (I put words in her mouth: "Nobody wanted to find out.") Nobody did find out. We threw those away.
"Guitar picks ... and banjo picks, metal picks for your fingers and thumb, and a bracelet from somebody's mental hospital stay. Okay? I think that guy sat in with us that night.
"And we thought that was quite a bit: eight bucks, a pack of Winstons. ... I still smoked cigarettes then so I was glad to have that."
What would Jonell Mosser like to say to our readers?
"I hope that I don't have an overblown opinion of what I'm doing. But I'd like to think that (pause) I mean I want to be a good singer and I want to entertain people. That's important to me. It's also very important to me to try to cover ground that hasn't been covered before, musically. And emotionally, as an interpreter, whatever I am."
"If a person on the street would ask me, 'What do you do for a living?' I would say, 'I'm a musician,' and in a way there's something funny about being a musician for a living, because I'm getting paid for entertaining but (pause) almost everybody, I won't say everybody, say every other person, expects something more than just entertainment from me. And that is a compliment.
"When they come to see me once ... the next time they come to see me they expect something more than just entertainment. And they feel like they've gotten it, that I've given out emotionally to them, and they come back for that. That's cool."
"Nietzsche says that a true marriage, a real marriage, is when two create more. The sum is more than the two separate. And what I do is such an intangible ... thing ... I mean what I do for a living, all true musicians do for a living, is that it creates a marriage with every person that it has real contact with.
"And that gives me a great deal of satisfaction. That makes me feel that there is a particular reason for me being alive and doing what I do right now. It gives meaning to my life."
"That's not just out of me. See, they give back to me. ... The first time I figured this out, that it was more than just (she affected a high-and-mighty voice) 'playing a nice song for the nice people,' that it had meaning, it wasn't that I came to some profound understanding that I was 'giving them something' (she poked fun at herself by saying the latter phrase in an exaggerated do-gooder voice). No. I came to the realization that they were having the time of their life -- the person I could see -- they were having a great time, just completely relaxed ... and groovin' on it, but I was profoundly affected. There was more in me afterwards.
"I was tired and I was drained and I was sweaty. I was a mess, stinking of cigarette smoke and beer and everything else, but there was something better in me. So maybe I gave out, but they gave back to me. And they didn't even know. They were just out havin' a good time."
"But then, this is somebody who always came back ... and ended up saying to me, 'Do you know what you did to me?'
"It's like a resultant tone. Do you know what that is? Two notes are played and then you hear a third somewhere else? ... Is that magic? Or is that natural science?
"When it's really right, like it should be, it's like a resultant tone. And it's there. And it's something that happens in the natural, but how can you describe it? You can't. You have to experience it."
I presented a worst-case scenario to Jonell: If she couldn't get a contract with a record label and her career took a downturn, would she go back to playing cover tunes where people didn't listen, where she was merely background music for noisy audiences?
"I did that. I'd do commercials, sing backgrounds on albums like I've been doing. I'd do sessions, I'd do commercials, I'd write songs for other people. But, no, I wouldn't go back to singing six nights a week, cover tunes. I did that. No, thank you very much."
"I'd do it (write songs) anyway because it has meaning for me, because it has a great deal of meaning for me."
Although Jonell confessed that it is important to touch people with her songs, she qualified it:
"But I don't want them to think I need that. I don't want to demand anything from my audience that they can't give. I don't want them to think I'm needy. ... I always expect to have to win them over. I never expect to walk in and for them to love me .... The first instrument was the human voice. A human voice expressed in song or grunt to tell another person something ... trying to convey something to another person. That's what songs are all about.
"And that's all we want as humans is to be understood. (She laughed.) Being a woman, all we ever want is to be understood. But not really," she added hastily, then threw her head back and laughed uproariously. "Not completely, I don't want you to know every bit about me, but I want you to understand," she continued in a "Cathy"-like scenario.
Then she spoke in a more earnest tone: "I think there is that need to preserve a little mystery, but to be understood. I think most people are like that, not just women."
"You're happy being Jonell Mosser?" I asked the 32-year-old singer-songwriter. Actually, it was more a statement than a question, as I had already determined the answer.
"Ohhhh, I am. I'm a lucky woman. ... there really is so much love in my life that I hope I preserve and I encourage. I try."
She spoke of someone who had been at her performance the night before:
"A fellow that I had never met before was standing outside and he said, 'You don't know it, but I'm one of your biggest fans.'
And I just walked over to him and I put my arm around him. ... He obviously hugged me and then thought I was going to release him. But I stood there with my arm on his shoulder. ... I was drawn from his happy vibes and he was drawn from my happy vibes. And it got bigger and bigger as we just stood there. And it was as good for ... (Finding herself in the midst of a well-known cliche, she started over, this time in an intentionally leering voice.)
"It was as good for me as it was for him."
It was impossible not to giggle at her irascibility.
She became serious for a moment and mentioned that she has to be careful as this kind of thing can sometimes get out of hand, especially when someone is inebriated. She depends on Debbie to steer her away from those situations. People are sometimes offended, she said, as they do not always understand this precaution.
Speaking of her future, which I predicted would be good, she said:
"It's gonna be my life, whatever it's gonna be. As long as it's not dull, I don't care. As long as I'm not a fake. As long as I don't turn into a fake, and I pursue what for me has heart, the path that for me has heart, then I'm doin' the right thing. I know I am.
"And God's lookin' out for me all the time. I swear, since Mom's been gone, I feel like there's a voice speaking for me up there."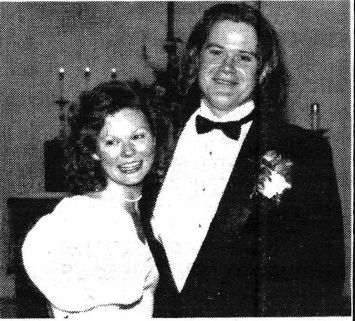 Darrell Gardner and Jonell on their wedding day. PHOTO BY RICHARD CRICHTON
I told Jonell that Jon Vezner's singing of "Where've You Been?" at a songwriting seminar in Louisville had touched me very deeply. (The song had been inspired by Vezner's grandparents, and very closely paralleled my own parents' life. Jon's performance of "Where've You Been?" at the seminar was in 1988, prior to the time his wife Kathy Mattea's recorded it. The song went on to win a record-setting number of prestigious awards for Kathy and Jon and co-writer Don Henry.)
I told Jonell that I had complimented Jon and told him how the song had touched me. Tears had come to my eyes and I was sure I detected tears in his.
Jonell mentioned that she had sung on "White House Keys," a cut on Don Henry's new album, Wild in the Back Yard. Henry had heard her sing his song with Girls Girls Girls.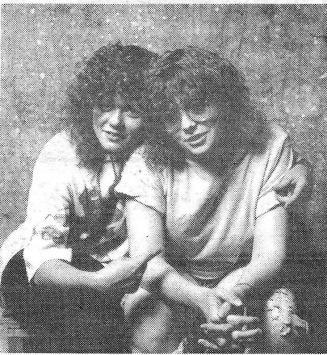 Jonell and Debbie Kincheloe. PHOTO BY RICHARD CRICHTON
Jonell then returned to the subject of the Vezner-Henry song "Where've Your Been?" She offered her interpretation of my reaction to the song, and of Vezner's reaction when I shared it with him:
"A part of you felt understood," she said. "And a part of him felt understood, that he's unable to express in any other way than in a song, because talking about it does this (makes you cry, which both of us were doing) to you."
Jonell spoke of the Jackson Browne song, "For A Dancer," and quoted some lines for me:
"And it's so true," Jonell said, continuing to recite:
There was a moment of silence. Then it was time to turn off the tape recorder and look through Jonell's family albums.
On my way home that sunny Sunday after Derby Day, I found myself pondering the odds of a person signing a record deal
with a major label. Even with talent as considerable as Jonell's, the odds against it are probably close to astronomical.
My negative thoughts were brushed aside by the words Jonell had used earlier to describe her career plans:
"Damn the torpedoes -- full speed ahead."
Tags: