March 2004 Articles
Cover Story
Kevin Gibson
Features
Eddy Metal
Columns
Berk Bryant
Roz Carothers
Mike Stout
Paul Moffett
Chris Crain
Keith Clements
Martin Z. Kasdan Jr.
Jason Koerner
Eddy Metal
Kimberly Cecil
CD Reviews
John Bohannon
Kevin Gibson
Amanda Lee Anderson
Amanda Lee Anderson
David Lilly
David Lilly
Bob Mitchell
Bob Mitchell
Larry Alexander
Performance Reviews
Martin Z. Kasdan Jr.
Martin Z. Kasdan Jr.
David Lilly
Eddy Metal
Mike Stout
Blogs
Got Shows?
Send Them To Us
Bookmark Louisville Music News.net with these handy
social bookmarking tools:
Available RSS Feeds
- Top Picks
- Today's Music
- Editor's Blog
- Articles
Add Louisville Music News' RSS Feed to Your Yahoo!

Issue`: March 2004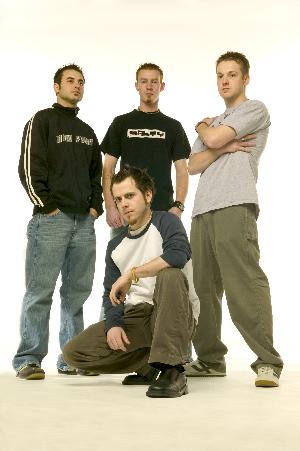 Eclectic The Band
Eclectic The Band
By Kevin Gibson. Photos by James Moses
Packed houses and screaming throngs of fans are the way of life for these four lads. Every show seems to be standing room only. And when the band's manager tries to reserve a small room at a major downtown hotel, the clerk says, "It's for Eclectic the rock band? Are they going to play?"
So these four young men known as Eclectic sit down with their manager T.R. "Doc" Smith and a music journalist they've never met to conduct a private interview: one table and six chairs in a mighty room that's 3,000 square feet if it's an inch. But this band isn't on tour and this isn't Rolling Stone we're talking about. This is a group of Louisville guys, all 24 or under, who worked all day then came to the Galt House's Samson Room to talk to a daytime marketing guy who likes writing about music in his spare time. And they're all itching to go watch the University of Louisville men's basketball game and to have a beer.
So, no, these guys aren't rock stars. Not yet, anyway. They are the sum of their parts and then some, made up of a humble engineer, a maintenance specialist, a sales tech and a ... what's your occupation again, Brendan Kavanaugh?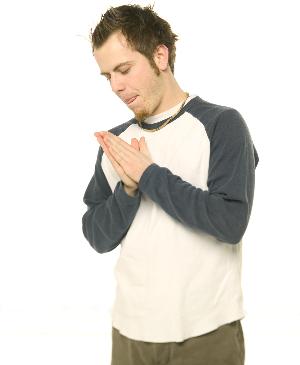 Brendan Kavanaugh. Photo by James Moses
"I'm a pimp," says the lead vocalist and his words echo through the enormous empty room. (That's rock `n' roll speak for a retail sales specialist.)
So why are they packing rooms with every gig?
"The most important thing that brings people back," said lead guitarist Justin T. Smith, "is the passion we have, the passion we show in our music. People love that. People don't get to see that a whole lot in bands."
His manager - and father - agrees.
"You've got great songwriting ability, great composition and to top it off, this wonderful stage presence," Doc said. "That's what I saw when they were still raw and not even developed. Every song would take me into their world. When you can do that to me, you're accomplishing something."
Yeah, Doc has been around the music business a year or two. But we'll get to that later.
What Eclectic has become is yet another Louisville band that has developed such a buzz that it seems ridiculous to think that they won't find fame and fortune in their future. There are so many who seem so ripe for fame's picking, so many bands to follow in the footsteps of Days of the New, My Morning Jacket, Tantric, Flaw ... you get the picture.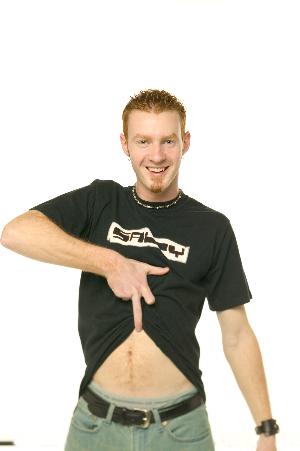 Justin Smith
And Eclectic's draw is indeed its passion. And this band has people behind it who believe and are willing to work to make it happen.
They have a young man named Daniel Welborn running street team operations; he's a young guy who has experience doing promotions with Six Flags Kentucky Kingdom and more and his reason for being with Eclectic is his love for the band.
Then there's sound tech Ed Clifford; his stepsons persuaded him to attend an Eclectic show and he's been hooked ever since. "I couldn't imagine being a sound engineer for any other organization," Clifford is quoted as saying on the band's web site.
Publicist Lori Riddle does her job with Eclectic from long-distance while pursuing a Master's degree from the University of Missouri-Columbia School of Journalism. Meanwhile, the band's webmaster, Megan Richardson (bass player Jamie's sister), said she's in this three years now not just to fulfill sisterly duties, but because she is a believer.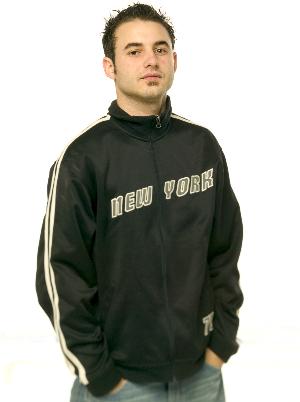 Terry Smith
"I signed on to work with the band in the very beginning," she said. "Even though they weren't the band that they are today, you could always see that they were destined to do great things."
So what is it that makes the crowds keep coming? "You can't describe what draws everyone to the band," she replied. "You have to experience it. Their aura on stage is addicting. I've been able to see countless national and local acts, but I've never left a show as fulfilled as I do when I see Eclectic. They have a song for every mood and draw a group of fans as eclectic as their music."
And these guys are being played on local commercial radio, which ain't easy either. Says WLRS promotions director Davie Hill, "What I look for in a band besides their ability to play and sing is: Are they having fun? Can they get the crowd to give back what the band is giving? Eclectic does all that and more, making everything feel spontaneous."
WLRS DJ Ken Mudd said of Eclectic's single "Breathe," which has been in the top five (hitting No. 2) requested songs in the Louisville market, "[They] have taken the music to the next level. The bar has just been raised ... and others will have to climb it."
And then there's Doc. Doc is a marketer from way back and he knows the music business from a special perspective and has the additional advantage of being father to Justin and drummer Terry. And he has his own reasons for jumping on the Eclectic bandwagon, many of which are complicated.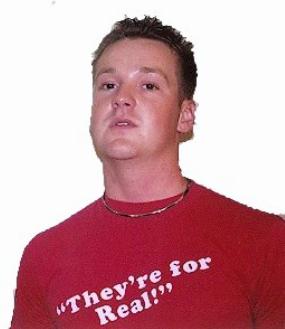 Jamie 'Weez' Richardson
Doc grew up with country music: His father was involved in country music and that influence led Doc to develop country acts later in life. His wife is a gospel singer who not only has used her husband's development services but also has supported him in pursuing them elsewhere. And, of course, Eclectic was kind of a no-brainer.
"At the beginning of 2002, I started watching these guys together and I said, `There's something here I've been looking for 15 years."
The band came to him and asked him to represent them, but he said no. He thought it was time for them to do their own thing, find their own way.
"But I kept thinking, `These guys have got something here.' I was watching and thinking, `There's something magical about these guys.' They came back to me again and I said, "If I take you on, this is how it's going to be.'"
And so began a different stage in Eclectic's passion for playing music. As it turns out, it was never about the interviews in ridiculously large ballrooms.
But musically, it began sooner.
The Making Of A Band
Kavanaugh's family photo albums contain numerous pics of little Brendan playing toy guitars in his jammies. He tried writing rap songs and tried guitar lessons and by the time he was 19 he was at UK and playing acoustic gigs. Soon, he quit college to pursue music full-time. This brought him home to Louisville, where he ran into Justin and the two began writing songs. This collaboration, which took place close to five years ago, was the foundation on which Eclectic was built.
As the story goes, Eclectic actually had a gig before it even really existed. The Jeffersontown Gaslight Festival contacted Brendan to see if his band would pay a gig at the 2001 version of the festival. He didn't have a band, but he said yes anyway. So Brendan began making a few phone calls. He contacted Justin, whose brother Terry played drums. Terry had no drums, so he rented a set and this gave them most of a band - but no bass player was to be found. Didn't matter. Kavanaugh remembered that his former college roommate, Jamie "Weez" Richardson, had a bass guitar. Like ex-Beatle Stuart Sutcliffe 40 years before, suddenly, without ever having planned it, Richardson was a bass player in a band. It took a couple of all-nighters, be he learned the songs in time for the Gaslight Festival (although the rumor is he had to read some of the chords from a cheat sheet come showtime).
And all this, musically, makes the band Eclectic extremely, um, eclectic. Why? Well, there are distinctive personalities and musical backgrounds at work. Kavanaugh's influences range from Bob Marley to Radiohead; for Justin, it's Eric Clapton, Eddie Van Halen, Joe Perry and more; Richardson lists among his influences the Red Hot Chili Peppers, Outkast and Miles Davis. Richardson, in fact, only bought the bass for fun. He was wrapped up in classes at the University of Kentucky and had only bought the instrument for personal entertainment. (By the way, his influences range from the Red Hot Chili Peppers to Miles Davis. Analyze that.)
Terry, meanwhile, entered the fray almost as accidentally as Richardson. He was a baseball player during most of his teen-age life. He played drums as a youngster - he cites Chad Smith (Chili Peppers) and Tommy Lee (Motley Crue) as influences - but gave it up to swing lumber and catch fly balls. But after high school was done and Terry's baseball career was finished, his brother led him back into music.
And so Eclectic was on its way. Sort of.
You see, Eclectic's first name was ... Irishanna. No, this is not a Celtic band. The name was to be pronounced "ear-ish-awnna;" and it meant nothing. But it might as well have been Gaelic for "what a ridiculous name we have," because it was so fleeting that hardly anyone noticed. (Think of the film, "That Thing You Do." In that flick, the name of the band The Wonders, which was initially spelled "The Oneders," was repeatedly mispronounced as "the oh-need-ers." Eclectic learned the same type of lesson about keeping it simple.)
But Irishanna it was.
"Brendan came up with it," Justin said. "I don't know why."
"He used to dress up as a leprechaun," Richardson interjected. (For the record, Kavanaugh isn't exactly blessed with extreme height.)
"People started bringing pots of gold and shit" to gigs, Kavanaugh said and they had to change the name to Eclectic.
Ahem.
The band hit the college bar scene in Lexington to hone their chops and wait for Richardson to graduate. Naturally, they played a lot of covers so the drunken coeds and frat boys could dance, but there was always a higher goal.
"From the day we started," Kavanaugh said, "we played a few originals. I had about 50 songs, but only about four that were complete. It was about 70 percent covers."
"But our goal was to be an original band," Justin said.
Afterward, it was back to Louisville and it was about two years ago that Eclectic unleashed itself on the River City. It has been a slow and steady climb; they played their final cover show last year and the boys eventually convinced Doc to come on board as manager.
Recalled Doc: "At the beginning of 2002, I started watching these guys together and I said `There's something here I've been looking for 15 years. The boys came to me and said, `Would you work with us,' and I said, `Naw, just do your own thing.' But I kept thinking, `These guys have got something here.' I was watching and thinking, `There's something magical about these guys.'"
Still trying to formulate a plan - Kavanaugh and Justin will tell you they weren't terribly organized in their approach - they came to Doc again.
"I said, `If I take you on, this is how it's going to be.' They agreed. I signed them in November 2002 and took them straight into studio the next February."
Thus the album Tables Turned was born.
Hard Work, Dedication And Lots Of Fans
They recorded at the Sound Kitchen in February and put in some grueling 14-hour sessions. What started as a four-song demo grew into a full-length album. Eclectic debuted the finished product with a bash at Headliners Music Hall in November - 250 fans were left out as the place quickly filled to capacity and by 1 a.m. the bar was sold out of every major beverage.
"We brought to the fans a taste of Eclecticville," Doc said in a press release recapping the event. "The city is growing, the population growth is in a steep climb and Tables Turned is the ticket to a new, innovative and passionate act that is destined to take the world by storm."
Wait a minute. Weren't these guys just playing at the Gaslight Festival with rented drums a couple or three years ago? What gives? Are these guys rock stars already?
Not really. They've just methodically - and musically - paved their own way.
Richardson's sister Megan summed up the band's sound thusly: "Take Sister Hazel, mix them with some Red Hot Chili Peppers and Hootie and the Blowfish, then stir in Lifehouse, Nickelback, the Counting Crows and Caroline's Spine and you might be able to receive a sampling of their sound. To put it simply - they are eclectic."
And beyond the tasteful mix of styles they blend into their songs, their work ethic is nearly unheard of.
"What Eclectic has done," Doc said, "is taken the grit-and-guts approach ... when we went into the studio, we said, `No more cover tunes. We're just going to take our lumps.' The clubs asked us to come back anyway. In that way, I think Eclectic has helped open a door to what couldn't be done before."
And that may be just one thing Eclectic has checked off its long list of goals. Truly. This is a band that focuses on writing songs and keeping the shows tight and energetic, while their supporting cast takes care of the business end. They approach the band not so much as "if" they will find success, but "when." For instance, late last year when "Breathe" was added to regular rotation on LRS, the band didn't throw a party or run through the streets screaming (another "That Thing You Do!" reference in case you were wondering) - they merely marked it off their list of things to do.
"We sat down in November 2002," Doc said. "We said we want to do this and this and this. Later, I started listing the goals we had reached and Brendan said, `damn!'"
"Nothing that is going to happen right now is going to surprise us too much," Kavanaugh said.
It was also around the time of the recording sessions that the band members stopped taking any salary from the money the band brings in. Every nickel goes back into the band coffers.
"We took it as a challenge and we did it," Richardson said. "All the money we make gets put right into the bank."
"It's drive and determination," Justin said. "I've been around the music business since I was young kid, since I was 12 or 13 years old. I just learned from studying people in the business the things you have to do to allow yourself to reach certain goals and become successful. One of those things is invest in yourself. That shows you have determination. More than likely others are going to take that chance to invest in you too."
Doc said he has talked to nine different labels about possible opportunities for Eclectic. "We didn't contact them, they contacted us," he noted. "These days in the music industry they are looking for energy and passion, truly gut-wrenching passion. There's probably more buzz (about Eclectic) in L.A. and Atlanta than in Louisville in lot of ways."
But he and his boys are waiting for the right thing, not just looking to sign on the dotted line. Whether they build their own label and secure distribution or find the right deal with an existing major, they're only looking for the method that will best help them achieve their goals. So what will they be doing in two years or five years or 10 years?
"We won't be playing in bars, that's for sure," Kavanaugh said.
"Between now and the next 24 months," Doc said, "these guys will be out touring full-time. These guys will become platinum-selling artists. In 10 years, Eclectic will be its own successful company."
"In 10 years, we want to build our own empire," Richardson agreed. "We're just challenging ourselves because you have to challenge yourself in order to do anything."
"We're going to keep doing what we're doing," said Terry, summing it all up.
"Bren's going to retire from music and become the all-time winningest jockey at Churchill Downs," Richardson said. Ouch, another short joke.
"Yeah," Kavanaugh said, "I'll lose about 40 pounds." Then he launched into a PG-13 jockey joke that won't be printed in these pages. Afterward, laughter echoed through the Samson room.
"Come back in five years if you want and it will be the same four of us in this room and we can talk about the same stuff," Kavanaugh said.
To which Doc, ever the promoter, added: "These guys have a conviction that they're in it for the long haul. They've got an album full of great songs. We went in there and spent thousands of dollars on it and they came out with some great songs because of their ability and willingness to be developed and be creative in the studio. They have all the makings of a Grammy winner."
That will be one more thing to check off the list.
Tags: