May 1990 Articles
Cover Story
Jean Metcalfe
Features
Jean Metcalfe
Columns
Paul Moffett
Earl Meyers
Performance Reviews
Dallas Embry
Wally Stewart
Paul Moffett
Jean Metcalfe
Jim Powell
Bob Bahr
Jean Metcalfe
Gary Johnson
Jean Metcalfe
Joyce Trammell
Bob Bahr
Jean Metcalfe
Bob Bahr
Calendar
Staff
News Item
Jim Powell
Preview
Staff
Staff
Book Review
Paul Moffett
Errata
Staff
LASC
Diana Black
Diana Black
Staff
Jean Metcalfe
Joyce Trammell
Marian Maxwell
Letters
Staff
Industry Review
Paul Moffett
Music Business News
Rocky Adcock
Staff
Carol Lindsay
Jean Metcalfe
Paul Moffett
Diana Black
Staff
Staff
Paul Moffett
Jean Metcalfe
Blogs
Got Shows?
Send Them To Us
Bookmark Louisville Music News.net with these handy
social bookmarking tools:
Available RSS Feeds
- Top Picks
- Today's Music
- Editor's Blog
- Articles
Add Louisville Music News' RSS Feed to Your Yahoo!

Issue`: May 1990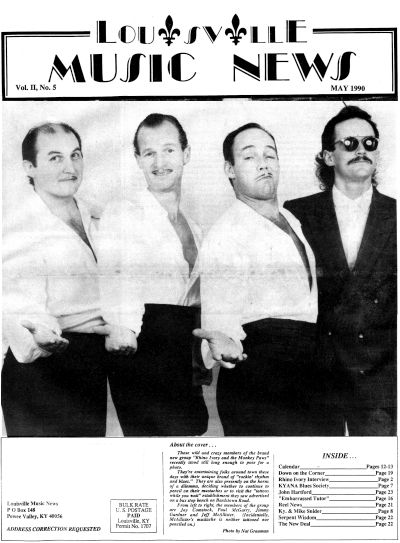 Rhino Ivory And The Monkey Paws
"Too big to be real "
By Jean Metcalfe "
(This reporter met with the members of Rhino Ivory and the Monkey Paws ih a conference room at the office of their agent in late April. The gathering consisted of Jay Comstock, electric bass, guitar and vocals; Jimmy Gardner, lead vocals, bass, guitar, megaphone and resident comic and mime; Paul McGarry, guitar and vocals; Jeff McAIlister, drummer on loan to Lonnie Mack; Max Maxwell, drummer filling in for McAllister, and Paul Moffett, Louisville Music News.
It was a wild and crazy interview, with Gardner and Comstock in starring roles. The evening was full of laughs and I had a great time.)
"We're gonna get those tattooed on — I'm getting tired of people saying they're fake."
"Yeah, I think we ought to go with the Wayne Newton thing myself."
"Tattoo a 'stache on, man, why not?" That's Jimmy Gardner and Jay Comstock quipping about the pencil-thin, penciled-on mustaches they and Paul McGarry sport as part of their on-stage personas when they're performing as Rhino Ivory and the Monkey Paws. Max Maxwell eschews the fake mustache.
Jeff McAllister explained how the group's name came about: "Jay and I were in a hotel room in Ontario and we were watching TV after a gig one night (they were on the road with Lonnie Mack at the time and, one presumes, thinking of what they might do if the Mack association ended) and he looked over at me — we were both about ready to snooze, sitting there in our underwear as we usually do in all our time off — and he said, 'Rhino Ivory, that's a great name for a band.' I went, 'There you go,' and then we gave it to Jimmy and he said, 'Okay, how about "Monkey Paws"?' and so we kinda put it together. Is that true?"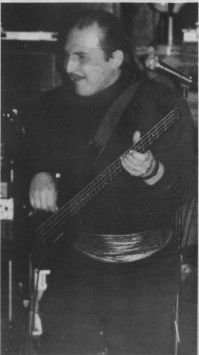 Jay Comstock. Photo by Jean Metcalfe
(Comstock later told me that the television movie they were watching had elephants and rhinos in it and that he had just said the words"Rhino Ivory" out loud. It was McAlIister who suggested that it would be a great name for a band, Comstock said.)
Gardner: "First it was the Silver Monkey Paws and then it was Johnny and the Monkey Paws. I've always wanted to have something I owned or something that I was involved with named Monkey Paws. I wanted to have some kind of product (the group is laughing now) I don't know how to put it in words. Like, if you own a monkey paw, a real honest-to-goodness monkey paw, if that monkey is still alive it is gonna do everything you say, without question, because you own a part of it, so if you have a big enough monkey paw, the possibilities are endless. It's a good luck thing, I think."
Moffett: "He couldn't climb the Empire State Building with one paw missing ..."
Gardner. "No, but I'll bet I could get him to mow my yard." (Laughter fills the room.) The group is entertaining off stage as well as on.
Sitting around a table with them is, well, an experience.
Lacing their comments with wisecracks and hilarity, the guys in the band told of their music experiences and of the bands they have been associated with and tried to get it all in the right order. Gardner's imitations of local music business folk and others kept the laughter coming. Too bad his impression of local musician Wayne Young didn't get preserved on tape. It was marvelous.
Back in 1973 or '74 Comstock and Gardner fonned a group called Doug Coconuts and Blue Hawaii. "We were the only people in Louisville, as far as I know, say, east of Fontaine Ferry, that were playing reggae music. And the only person that would book us was Cosmo. Tommy Cosdon (Cosmo) booked us twice.
"And so here we are," Gardner continued, looking in Maxwell's direction, "gonna play at your Dad's (Marvin Maxwell's) store, only it was called the Headrest at the time. (It is A now Mom's Musician's General Store.) You weren't born yet. (Much laughter.)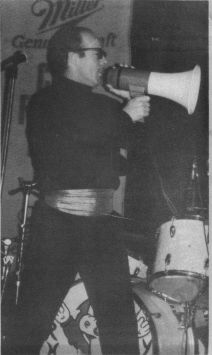 Jimmy Gardner. Photo by Jean Metcalfe
"We brought our own lounge chairs, we were unloading your (referring to Comstock) bat-wing car, man. (To the group) He had some kind of Chevy station wagon ("'60 Chevrolet station wagon, Bel Air," Comstock interjected), with nice fms that you could get gouged on going around 'em, the car, unloading our equipment, wearing flip-flops and deck pants and, like, you know, a foot of snow and cameras, lots of cameras around our necks, very important. And we went in (chuckle, chuckle, pause) and everybody went to sleep. It was great. But everybody really felt rested after we were finished." (He stretched and yawned to describe the audience's reaction, quoting what he thought they were saying: "I feel great now.") And so we disbanded, pretty much."
"We did play a VFW," Comstock reminded Gardner, as if to save face.
The Mighty Water Kings came several years later; they played their first gig in January of 1987. Both Comstock and Gardner played in a number of bands after the demise of the Coconuts and before they formed up the Mighty Water Kings.
The very first Mighty Water Kings members were Comstock, Gardner, Tony Bowles, Matt Lowe and Tobin White.
"We were rehearsing at my house in Louisville, Kentucky," said Gardner, "and the keyboard player (Lowe), right after we started rehearsing, he gets another gig with some traveling country band and he decides he needs the money and he leaves (huh, huh) and so I called Mike Murphy on the phone; I've always wanted to play in a band with Mike Murphy, the saxophone player — the premier saxophone player (pause) of Camp Taylor." Everyone laughed and agreed that Murphy would "definitely dig" that remark.
(Comstock told me later that Murphy truly is an outstanding sax player, without geographical limitation.) Comstock picked up the story at that point: "Jimmy said, 'Hey, Murph, what do you think about maybe being in this band?' And Murph was in another band at the time, you know, so we didn't know how he was going to take it, but Jimmy said, 'Don't worry about it, Murph's always wanted to play in a band with us (Comstock breaks up with laughter) and I've wanted to play in a band with him, so why not just call him?' so he did. (Gardner interjected, "It was real easy.') And he got off the phone with him (Murphy) and I said, 'Well, Jimmy, what's the deal?' and he said, 'I think it's cool, he's coming over.'" (More laughter.)
Gardner: "And he was there in half an hour (lots of laughter) and he was blowing with us and that was it."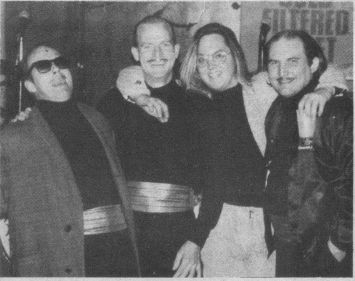 From left to right, Jimmy Gardner, Paul McGarry, Max Maxwell and Jay Comstock mug for the cameras after their April 14 performance at Rascals. Photo by Jean Metcalfe
"That was like a week before our first date and we had to do some real woodshedding 'cause we were kind of in a panic when Matt Lowe left," Comstock said. The memory seemed to be very vivid.
After that combination had played together for about a year, guitarist Bowles joined Henry Lee Summer and they replaced him with John Burgard. "Who's like a local blues legend as far as we know," Gardner said. Burgard played with them for about a year.
Drummer McAllister joined the Mighty Water Kings in October of 1988 when Tobin took what Gardner termed "a maternity leave." Tobin's slot was not available when he was ready to return.
In the Fall of 1989 while he was teaching drum lessons at Mom's, McAllister learned from owner Marvin Maxwell that Lonnie Mack was looking for a rhythm section. McAllister immediately phoned Mack to discuss the possibility of McAllister and Comstock filling the drummer and bass positions. McAllister could hardly contain his excitement at the prospect of playing with the rock 'n' roll legend, but it took him about a week to get up the nerve to approach Comstock.
Mack came to hear the two at a Mighty Water Kings performance in Madison, Ind. just before Halloween of '89 and hired them on the spot. They had had only about two-and-one-half hours of rehearsing (they had expected a couple more) before they got on Mack's tour bus and played on stage with him at the Lone Star in the heart of the theater district in New York City. "1 was never so nervous," McAllister told me and his voice underlined the statement.
Comstock said that the pressures on them that evening were tremendous and you could almost feel it in his voice as he spoke. They were anxious to make a good impression, yet they had had only that one brief rehearsal. Stevie Ray Vaughn, a friend of Mack's, was expected to be there (a last-minute change kept him from attending), as well as several music critics, including one from Rolling Stone. Elliot Easton, guitar player for The Cars, did come on stage and play with them.
The Mighty Water Kings played the Kentucky State Fair with Anson and the Rockets in both 1988 and '89. In August of last year at State Fair time they picked up keyboard player David Barrickman.
"He came out and started playing with us and just kept playing with us," Gardner said.
"We didn't even agree to have him in the band, but he just kept showing up, didn't he, Jimmy?" Comstock added. Barrickman was with the band for about six months.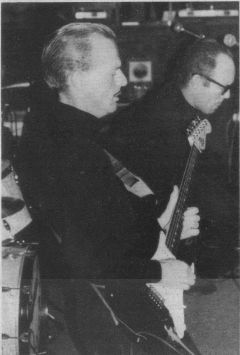 Paul McGarry plays guitar while Jimmy Gardner plays around. Photo by Jean Metcalfe
Comstock stayed with Mack for about six months before he decided the rigors of life on the road were not for him and his family (he has a wife and three children).
McAllister stayed on with Mack and has since appeared with him on David Letterman's late-night show.
Back home in Louisville, the group whose name was thatched in Ontario was beginning to take shape.
Comstock and Gardner wanted to play blues and r&b with a rock edge to it. Murphy always wanted to do jazz-oriented things. So Murphy formed up the group Murphy's Law and Comstock and Gardner put together Rhino Ivory and the Monkey Paws.
Murphy, Burgard, Jimmy Brown and Steve Inman are the members of Murphy's Law.
Gardner: "Max Maxwell was gracious enough to round out our combo in Jeff's place, while Jeff's gone and he's still playing with his brother Mark and the other guys in Spanky Lee. They're alive and well. I wouldn't want any of their fans to think that it would be 'dirt nap' for Spanky Lee because that's not the story at all. He's just on loan to us." "They (his band, Spanky Lee) let me out for weekends," Maxwell explained.
Although McAllister hasn't played a gig with Rhino Ivory as yet, he is considered to be the drummer for the group. McAllister sighed as he mentioned that he would have to learn 90 songs in order to play with RIMP, because Mack does not play a steady schedule of gigs. McAllister will be able to make his debut appearance with Rhino on April 28-29 when they perform at Night Visions.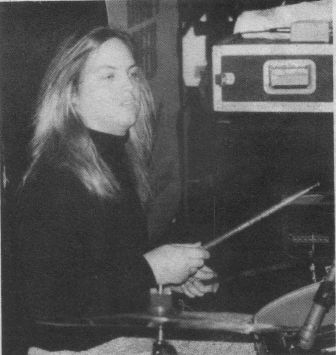 Max Maxwell fills in on drums for Rhino Ivory and the Monkey Paws at Rascals on April 14. Photo by Jean Metcalfe
Gardner said that the only way the group would perform again as the Mighty Water Kings is if Murphy were playing with them. And, according to Gardner, "If somebody comes up with a nice, big, fat bonus, sure" (they would play the gig).
"I do kinda hope we get back together sometime before one of us gets shot or something," Comstock mused. "Oi vay," Gardner tagged the notion.
Although it is not always possible to determine when the guys are serious and when they're not, they are often obviously not serious.
During our interview, Gardner did a very funny bit of shtick in which he imitated Mayor Jerry Abramson. The two attended Seneca High School together. After much laughing, the guys made it very clear that they think hizzoner is a fine person.
"Hey," Comstock said, "the Mayor gets a 'Big OK' from the boys in the band."
"We can't give the man a big enough OK," Gardner amened.
McGarry was quiet during most of the evening but did speak up when the subject turned to sequenced music. He doesn't like it at all. The rest of the group feel the same way. They don't believe it sounds as good as live musicians and, besides, it takes away their jobs.
Gardner did volunteer that the group's favorite song has sequenced drums in it. The song? "Big Ole Butt" by L.L. Cool J.
Gardner, responding to my question, said that if he had to put a label on Rhino's music it would be "rockin' rhythm and blues." They do only cover tunes, with one exception — a number written by Gardner titled "Ape Shape." "It's kinda in a Bo Diddley kind of bag but it's more rock," he said.
Besides Gardner, Maxwell and Comstock also write original music.
Gardner handles most of the lead vocals for the group. He also narrates, undulates and occasionally speaks through a megaphone for the group. Comstock and McGarry each take the lead vocals spot on a couple of songs during performances.
"Max has got a great voice, but we've decided not to let him sing because he sings better than anybody in the band and we figured that would just blow the whole deal, you know. He's the youngest guy, the best looking and he's got the most hair. There's no way we can let him sing," Comstock said. "Don't anybody tell Max," he said in a mock conspiratorial tone as Maxwell listened and smiled.
McGarry came in for his share of kidding. They teased him by saying that all the "chicks dig him." He blushed boyishly, but did not deny it. Gardner suggested that with the fake mustache McGarry looks like a young David Niven.
My suggestion that Gardner resembles Bruce Willis got this reaction from him: "I get that all the time." Comstock volunteered that there are those — probably the guys in the band — who say he (Comstock) looks like Grandpa Munster of television fame.
This reporter complimented the group on the costurnes they had worn at their April 14 performance at Rascal's. (And an enjoyable evening it was!) The black turtleneck shirts, black slacks and spangly cummerbunds had seemed very appropriate. They labeled the outfits "sorta Wayne Newtonish / Tom Jonesish."
"We also have some Tom Jones shirts (cut to the waist) that you haven't seen that are really nice, really nice," Gardner volunteered, adding that they also have some kooky outfits.
While telling about a trip to purchase fur for a costurne, Gardner spoke directly into our tape recorder's microphone to Bob Barker, explaining that the fur was fake. The subject of wearing fur prompted Gardner to tell a humorous joke wherein a woman wearing a full-length mink coat is accosted by an anti-fur-wearing activist:
Activist: "Hey lady, that's disgusting. What poor, little, defenseless creature had to die so you could wear that?"
Mink Coat Wearer: "My grandmother. I inherited 1t."
Politics aside, everyone in the room had to laugh.
"Mitch Miller," Gardner replied, when questioned about the origin of the cut-off he gives at the end of each song when RIMP is performing. The stage lights are cut off simultaneously with the music and it is very effective.
"Jimmy's the king, he's the quarterback, he's the king, he is the Palladin, he's the king of the big light cut-off," Comstock volunteered.
Juan Overfelt and Ben Durham are the "light and sound dudes," respectively.
"We keep Benny behind the (sound) board because he's way too good lookin'. I think he's got more perfect hair than Max," Gardner quipped.
There was also a funny exchange when I asked Gardner how he would describe his sensual on-stage movements. A suggestion from Moffett caused Gardner to comment, "Let's get this guy in the band." We never did come up with a name for it, but we had a great time in the attempt.
There was some really side-splitting stuff about the taking of their publicity photos which will not be elaborated on here. Trust me on this one.
And Gardner spoke about his wife: "My wife, Mary 'Yoko' Gardner. That's what I call her. Any time we're talking about the band and she gives me her opinion, (he says) 'Yoko, lighten up."' (Uproarious laughter from everyone.) Another imitation was inevitable.
There was some banter about the individual band members' astrological signs. They said they thought it was important to inform the readers of their signs since a lot of people are into that kind of thing. Each had a clever substitute name that sounded almost like the actual Zodiac names, but they, too, shall go unreported.
The subject of being on the road was brought up by Moffett who inquired if they did mostly gigs that they could drive to in under four hours.
Comstock: "Probably not even that. We get real tired of being in a car. Jimmy and I have been on the road together, combined, probably about 50 years."
"I was on the road for ten years with Midnight Special," Gardner offered. "We would be out eight weeks, come home for a week, go back out." Another group he played with was called Flack.
Comstock: "I was on the road with Free Fall for eight and a half years and we did some stuff like that too, only we would do things that were even more idiotic like go out for sixteen weeks at a time and then come back for a week and then be gone again. "
McAllister: "What I had to do was wear a three-piece white suit and black shirt and gold chains. I swear to God, I did. Yep, I did that disco thing with the Bob Brickley Band on the road...." He's glad the disco era is over, he says, yet he does say that it was good that he leamed how to play disco and that he got a lot of good experience playing on the road.
Maxwell said that he couldn't name all the bands he has played with. "I've played with everybody in town." He named several: Fire Department for almost a year, Bride and The Field.
All the guys have been playing music just about all their lives. McAllister, however, is the only one who does it for a living.
Gardner does electrical work, Comstock works as an electrician with his father's electric company, McGarry does lawn service work and Maxwell teaches music out of his father's store four days a week.
At the mention of Maxwell's father's store, Gardner spoke loudly into the microphone: "You can say we have the coolest equipment around town — 'Thanks, Marvin' — because Max is in our band. Max's dad, Marvin, gives us anything we want for free for our band." (Him, hint!?)
The years of music experience continued with McGarry: He played with Karen Kraft for about three years, overlapping with McAllister, who played with Kraft for about a year during that time. They were part of the Tuesday-Saturday house band at Flaherty's. Both agree that they enjoyed the steady money, but that the sameness of the performances and the audiences was not good for them, psychologically. They also agreed that it was a good experience, but that they wouldn't want to do it again.
When asked if any of the guys had "big star" aspirations, Gardner answered in the negative. "I just want to be an electrician, that's all I want to be," he sighed. "I'm so tired. I just wanta do electrical work." (He was into his act again.)
He went on to say that he would like to always be involved with the music business, but that if he is still playing when he hits 50, he does not want to be playing rock 'n' roll, he wants to be playing blues. "So, if when I turn 50, we're still doing Rhino Ivory, expect the blues."
I asked about any plans they might have to record an album. Comstock said that he and Gardner have talked about putting one together to have when people at their gigs want to buy them. They had talked about doing it with the Mighty Water Kings but never go around to doing it. Comstock said that they think they should go ahead and do it with Rhino group. Let's hope they do.
Upcoming gigs for Rhino:
April 27-28 — Night Visions.
May 3 — Chow Wagon on the Riverfront.
May 25 — Opening for Otis Day & the Knights on the Riverfront.
June 9-10 — CityFair on the Belvedere and Main Street.
The Miller Brewing R Company, through the River City Distributing Company in Louisville, provides a regional sponsorship to Rhino Ivory and Monkey Paws, as they did for the Mighty Water Kings.
"The people there are incredible people to work with.
They really are," Comstock told me.
In wrapping up the interview, I asked the guys if there was anything special that they hoped I would get across in the story.
Gardner suggested these words: "The guys were absolutely huge. Every one of them were God-like."
My sides ached as I picked up my reporter's notebook to leave.
Tags: