July 2001 Articles
Cover Story
Jason Koerner
Columns
Berk Bryant
Bob Baker
Decimus Rock
Mike Stout
Paul Moffett
Chris Crain
Keith Clements
Rick Forest
Muffy Junes
Laura Spalding
Jimmy Brown
CD Reviews
David Lilly
Jim Conway
Beth Jones
David Lilly
Jim Conway
Paul Moffett
Bob Mitchell
David Lilly
Performance Reviews
Kevin Gibson
Blogs
Got Shows?
Send Them To Us
Bookmark Louisville Music News.net with these handy
social bookmarking tools:
Available RSS Feeds
- Top Picks
- Today's Music
- Editor's Blog
- Articles
Add Louisville Music News' RSS Feed to Your Yahoo!

MSD
"What Lies Beneath"
Picture Marilyn Manson meets the Texas Chainsaw Massacre. Add elements from every horror movie and nightmare you've ever experienced. Now couple `the look' with some "killer" music.
Ladies and Gentlemen, we have ourselves a winner: MSD.
You could waste your hard-earned money and go see the hot new summer film "I Still Know What You Did Twelve Summers Ago" or whatever part the saga is up to now. This, of course, will only leave you disappointed by a yet again predictable series of ignorant decisions made by overpaid, undereducated actors/actresses. Or ... you could spend that money on something that's really scary, something that includes talent and better acting ... give up yet? Spell it M-S-D. Go see MSD `live `for a night of music and mayhem you won't forget - or regret.
Such Nice Young Boys...
The fine young men that make up this bunch are John Wells on vocals, Macus Wells on drums, Gote (originally from Houston, TX) on bass, and Robie and Samual (a San Fernando, CA native) on guitars. The guys in the band are not only great performers but are also quite considerate. An example: during the photo shoot for this article, besides helping each other with their blood and makeup, (completely ignoring the stares from my neighbor's children while changing on my deck), they were courteous enough to go to the store and pick up some carpet cleaner, still half-dressed in costume, to clean up the faux blood that soaked through the drop cloths onto my living room carpet. Thanks guys!
A Brief History about Halloween's Ambassadors to Louisville...
MSD was `born' on Halloween and has been on the rise in the Louisville music scene since October 1997. This night goes down in MSD history as the beginning of it all, the night they played their first show together (prior to Robie) at a party here in town. This was a bloody show, to say the least. The blood came from a butcher's shop. Hmmm ... cow blood + party = good time. This was a mere 15 days after Macus joined the band as drummer. The show was a success; and the make-up marathon continued.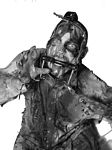 Photo By Jason Koerner
In October of 1998, the band acquired guitarist Robie after his band fell apart. John, who, prior to the addition of Robie, sang and played rhythm guitar, was now able to focus purely on vocals. The band's power, intensity and fullness of sound went through the roof. They really hit the scene in 1999.
The five-piece band, then complete, moved forward headlong, developing their talents and searching for new ways to captivate audiences at their live shows. The props got more intricate, the costumes gorier, the music darker and the following grew immensely. An average turnout at a show now ranges between 500 and 700, with their web site getting three times that many hits a day. Their debut drew fifty at the old Tek World last year, so they figured they were doing something right.
"The band always has a great turnout, and the kids love the music," says Jennifer Chang, owner of Tek World. "They have a good stage presence. They also respect the venue, are very considerate and enjoyable to work with," she concluded.
Tek World sells much of their merchandise, which I watched fly off the shelves while I was talking with Jennifer and Percy Chang. This despite the band's disregard of money. They claim they just want as many people as possible to be exposed to their merchandise and music. All the profits go directly back into the band fund. In fact, their second CD release show (which will have already happened by the time this is in print) will COST them money.
A Picture Says a Thousand Words...
Fake Blood: $12.81

Electrical Tape: $0.97

(2) Bottles Carpet Cleaner $11.85

Great Photo Shoot w/ MSD: Priceless
This issue's cover possibly the most provocative cover shot ever for Louisville Music News, with only Muffy's "Nude Greek Statue on a Fountain" cover as a possible contender. I'm saying this not to brag but to illustrate a point: image is everything, at least in the music business. The image a band presents is one that is representative of who and what they are and what they can do. Not everyone takes the "Shock Rock" path, and not everyone should. But in this case, I think MSD does an excellent job of expressing themselves through their music and imagery. The cover has John in the center, Samual at top left, Macus, top right, Robie, bottom left, and Gote, bottom right.
As far as this `look' is concerned, the ideas come mainly from horror films. Believe it or not, their parents are supportive of their creativity.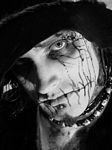 Photo By Jason Koerner
So while it's plain that the band's costumes and appearance are enough to make them noteworthy, what does their music say?
The Music Behind the Madness...
MSD's music finds elements sewn together from many influences, including, but are not limited to, Celtic music, the Misfits, Westside Connection and Nirvana. They do exclude country & western. Aside from their exterior, I also hear a lot of Marilyn Manson in the band, so it is not surprising that Manson's label, Posthuman Records, is said to be looking at them.
These lyrics are taken from the web site (www.entermsd.com) from the song "Burn This Night" which has to be my personal favorite. These should give you an idea of the writing style of the band...
"This is all my heart will bleed for,

ashes in your eyes will satisfy

All the world shall watch in horror as we slit the throat of serenity (screamed)

SHROUDED BY SCARS BUT NOTHING CAN KILL ME DISCARDED MY SKIN SO YOU CAN SEE ME AS I AM FROM THE SKY, WE'VE FALLEN LIKE ANGELS SCREAM AS WE BURN THIS BURN THIS NIGHT"
The power and intensity is in your face, and a listener cannot avoid getting sucked into it like errant star down a black hole. I hear the singing of Manson, the screaming of Aaron Lewis from Staind, and the fresh musical elements and effects that are getting harder and harder to find in music these days. These all create an addictive sound that leaves me singing the songs in my head all day long, wondering how they got there. (I honestly have a hard time turning off the CD.)
"They're Creepy and They're Kooky, They're Altogether "Spooky"...
"Mr. Spooky" is a doll created by John, who tends to be the artist in the group.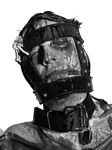 Photo By Jason Koerner
If Mr. Spooky could talk, what would he say? Who knows, his mouth is sewn shut, but he might ask the band to quit changing his forehead design. It's currently an "X," but formerly was a spiral, a blood drip, a cross and a curse word unsuitable for a family publication. The `mascot' just stuck with the band, and is the centerpiece of John's belt buckle and their stage shows.
*Remember Kids, do not try MSD at home.
The Highlights...
The band has played second stage at the Summer Sanitarium tour which also included such major acts as Korn, Metallica, Powerman 5000, System of a Down and Kid Rock. They have also opened for Spite, Carbon 14 and Three Doors Down. They also took first place at a Battle of the Bands at Bellarmine University.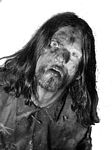 Photo By Jason Koerner
The group has managed to do all this plus put five #1 hits on the Fox's local countdown, including "Burn This Night," "The Frightening" (which held the spot the longest), "Slave" (which 100.5 DJ XXX Lex says is the most requested local song ever.), "Legend" and "Inside the Cold."
"The fans are great." John said. "They dress up, sing, and support us all the way."
Their Best Show was Metal Fest 2000.
The answer seemed to be preprogrammed into the brains of the group, because as soon as I asked, it came out like water from a faucet. The show took place at Headliner's last year and included many Louisville-area acts. There were fire-breathers, dancers and other attractions, including on-the-spot tattooing.
"There was a big crowd, great lights and a big stage. The place was over sold out," they said. This event was where their promotional video, produced by their management team, Revolver, was shot. This well-designed promotional packet is impressive, particularly for a local act. The Los Angeles-based management group heard about MSD and asked if they were interested in representation. The deal was done and the December 16 show is used as a demonstration of MSD at it's finest.
The band plays every show with the same intensity, whether there are 2 people or 2000. This, combined with the fact that they sensibly space out their shows, makes for one super-charged audience.
It Can't All be Easy, Can It?
Aside from the periodic stains and damages caused by their eccentric outerwear, there are a few controversies and challenges that come with being MSD. One of those challenges is getting to a venue 4 to 5 hours early to prepare the stage with props and enough protection from the "goo."
At times, shock rock has other disadvantages. Freedom Hall sure thought so, when My Own Victim was booed at a halftime show during a Louisville Fire game. MSD would have gone down the drain in a crowd like that, so they were not allowed to play.
Don't you hate it when you run out of blood right before a big show? The band went through two gallons of the goo at the June 1 show at Tek World. Plastic, dropcloths, things splatting off the stage ... these guys are "Gallaghers of Metal."
Makeup Please...
Asked how much their average make-up cost was, the reply was somewhat surprising: "Not too much."
"It's easy to find the stuff during Halloween, but other times, it is hard. It (costume) is a bitch to make yourself," one band member said.
"So we have John make them!" joked another member.
Every sick thing you have ever seen from movies or during All Hallows Eve has been tried or is currently practiced by MSD.
What's in a Name?
The origin of band's name remains a mystery. When asked, they replied "It's just a label." The letters apparently do not stand for anything in particular, and to answer the obvious question, the band says it has nothing to do with the local sewer system folks.
How Do You Feel About the Louisville Scene?
"We love it," The entire group said in unison. "It is stronger now than it has been in a long time. There is so much talent in this city. We are heavy pro-502. This community is like a big brotherhood of friends."
This was easy to believe, coming from the mouths of tattoo owners with "502" and the city symbol permanently etched into their skin.
The band's message? "Much love to the 502 Scene."
What Lies Ahead?
MSD tries to keep their hopes and dreams in perspective. They want to go "as far as they can." Seems fair enough, right? Some current goals include being seen and heard by as many people possible. Go to www.entermsd.com and take a look around. Use the web site email address to contact them about shows or whatever else comes to mind.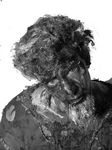 Photo By Jason Koerner
By the time you read this article, the new CD will be on sale at live shows and CD Warehouse (Inside Tek World). You may even want to look at ear-X-Tacy. The CD is done by Canyon Productions and mixed and mastered by Chris Cassetta.
"What's Your Favorite Scary Movie?"
The band has a lot of favorites when it comes to this category. Here is the top of the list: The "Evil Dead" trilogy, "The Nightmare Before Christmas" and, of course, the old B/W version of "Night of the Living Dead."
Go see for yourself what makes MSD one of the hottest bands in Louisville right now. You can send me your feedback to JJKSLACKER@cs.com.
Jerry Barksdale provided graphic manipulation for the image on the cover. His specialty in graphic design is in material that dwells in the darker side of art. If you are in need of wicked artwork, email Jerry at EROXTHIS@aol.com. A big "thanks" goes out from me to him for making my pictures of the band come to life the way I envisioned.
<
Tags: