January 2015 Articles
Cover Story
Paul Moffett
Features
Eddy Metal
Columns
Mike Suttles
Eddy Metal
Blogs
Got Shows?
Send Them To Us
Bookmark Louisville Music News.net with these handy
social bookmarking tools:
Available RSS Feeds
- Top Picks
- Today's Music
- Editor's Blog
- Articles
Add Louisville Music News' RSS Feed to Your Yahoo!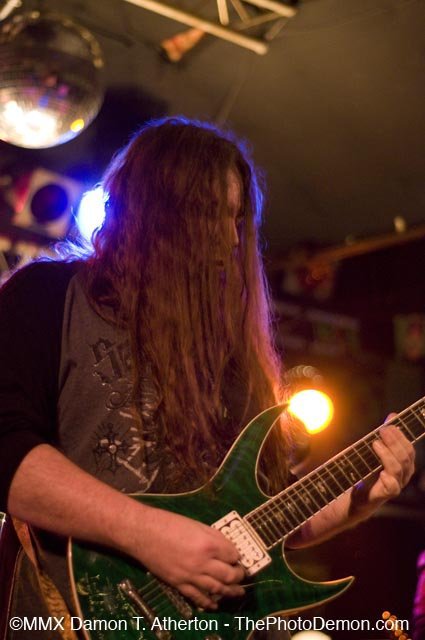 News From the Pit
Happy New Year Beetchez~!!!
I hope you all had as good a Christmas/New Years as I did. I started out 2015 opening for Saving Abel on New Year's Eve and it was a hell of a way to start a new year! Playing right before a national act was gonna be sweet (Well, at least until Saving Abel canceled at the last minute,l leaving the venue without a headliner on NYE. That's okay, though, because we Louisville bands saved the day by kicking some butt and filling their time slot! I can't say it hurt my feelings playing a later and longer band set on NYE. We had a blast.) I turned 45 on Christmas day and I gotta tell ya, I never thought I would live to be 45 years old because of my wild younger days of sex, drugs and rock n' roll (I used to eat LSD like candy when I was 16, and bang three chicks a day. The Eighties were rad!) But 45 is here, and I'm amazed at how fast time flies. Seems like yesterday that I was a young pup, singing for thrashers Inhuman at the Toy Tiger almost every weekend. Now that I am older, wiser and much more laid-back, I appreciate the important things in life much more now, like family and true friends. People who stick with you through thick and thin. Loyalty and lifelong friendships.
Friends come and go throughout life, but true friends are with you and have your back, always. There are a lot of good people in our music scene and I'm just happy to be able to play my music out and have a little fun every now and then. Hopefully, 2015 will be another great year for Louisville music. We had a ton of cool, down-to-earth new bands come out in 2014. I know that I will do my best to keep things going as best I can with getting you bands/musicians exposure through LMN. But don't forget, I'm not Nostradamus, you got to keep me informed! I'm old and my brain is hampered by partying in my youth. Send me showdates, CDs, band news, general info, gossip, funny stories, anything you think would make for a good read. I'm open to suggestions!
This month is another slow month. It always gets kinda slow this time of year, as everyone does the family/holiday band break thing. I don't mind taking a break for the holidays, but I like to stay active with my music if at all possible, hence the NYE show!
My NYE resolution for 2015 is to steer clear of all the bullshit drama this city produces (there are mucho haters out there who are jealous of my tallywhacker!), and also to try to get out and see more shows/live music! The internet and pure laziness has killed attendance these last few years. People just don't want to get offline and get out of that chair and come to the shows as much. When there was no internet, or computers on cell phones, shows were packed all the time. Laziness just seems like it is running rampant these days. I've been having issues with lazy band members, and I'm about to bitch-slap a MF over it. We can't let that shit happen anymore though, laziness ruins good things! So please put down that cellphone and actually go somewhere to see some live music. I went to a bar I never went to before the other night, Highlands Tap Room, and had a great time seeing good regional original music. You only live once, so go out, have some fun, meet new people. Have sex behind a dumpster in an alley! Who knows what kind of adventure you could be missing!
The Metal Grapevine
Bands, Send Me Your Youtube "Live" Videos
Bands, send me some live footage of your band kickin' some butt on video. If I like it, I'll put it online in Louisville Music News. Have many people see your band live in action, where it counts the most! Nothing beats a live performance. Please make sure the sound quality is decent. If it's not, I cannot use it. Send video links to: EDDYMETAL1@aol.com
Let the fun begin!! Check out Louisville's Some Kind Of Saint performing at Diamond Pub~!
Check out one of my favorite Louisville cover bands Scary Uncle playing Pantera's "Cemetary Gates."
RFK Final Tally
Okay, after all is said and done, after tax exempt, after employee discount from Toys R' Us, and after sale prices and last-minute donations from you good people – The RFK team walked out of Toys R' Us with $5759.27 in brand new toys for the Kosair Kids. Not a record, but not bad at all! Thanks to the Phoenix Hill Tavern for having us. BTW, the Kosair lady Stephanie Smith said this was much needed and that we contributed way more than anyone else in Louisville! Way to go peeps! See ya in November 2015!
Flaw To Record New Album Soon
Louisville rockers Flaw have returned with a vengeance and are prepping to go into a Nashville studio with a top producer at the end of January to record a few new tracks. The band has recently parted ways with drummer Chris Ballinger and will be having Johari drummer Coery Sturgill fill in until the band decides on a permanent new drummer. Vocalist Chris Volz commented "We are super stoked to get the new record out, it will be finished and released this coming summer 2015, the songs are slamming and back to our roots with the writing process, and we look forward to seeing everybody real soon on a full US tour in March/April 2015."
I wish the best of luck to those guys in 2015. Here's some old Flaw for ya! Enjoy.
Louisville's Creed To Play Reunion Show
Long before there was cheeseball commercial superstars Creed, there was another Creed, a four-piece band that hailed from Louisville and played out actively from 1993 - 1998. I was a fan and went to many of their shows and had an absolute blast. Those guys were cool as hell, and, boy, could they play! Well, these guys are back for a reunion show, and who knows, maybe they will get back together and jam with a "new" name at some point. You can see these Louisville legends at Diamond Pub at the big Flaw show on January 16. Creed will be opening the show, so be early because they play at 8 p.m. sharp. You don't wanna miss this, especially now that guitarists Kevin Hart and Andrew Mcallister are so much better on guitar. I really dig Kevin Hart's playing style. Dude is sick!
Old School Mining Company @ Highlands Tap Room
Well, I finally went to the Highlands Tap Room to see a show. It's a pretty cool little place to see a show and meet up with friends. It's very small.
You could have 30 or 40 people in there and have it looking packed. The stage is also small, and I was wondering how my band would even fit our gear onstage to even play the venue. A four-piece is okay, but a five piece band would be pushing it, spacewise. One guitarist would have to be on the floor (I wouldn't give a shit though). The PA System was small but amazingly, it sounded pretty darn good. Maybe it was the fact that the speakers were mounted way up high, out of the way. You could hear the vocals well. I went to check out Stephen Cleveland's (from Southern Kentucky's Luther) band Old School Mining Company, and I must say, those cats rock. It's a great blend of catchy, stoner groove, sludgy rock with balls. I've been a fan of Stephen's vocals from day one. Now dude is a beast! He has truly crafted and perfected his art of music making. Dude is a genius I think. My favorite song was "Alone." It is a smooth, soothing jazzy, laid-back and beautiful tune that thoroughly impressed me. It was pretty epic and was almost like an orchestra in a sense. Stephen also plays guitar in OSMC, which is even more impressive. The show was initially supposed to feature Luther, but Luther drummer Richard Bybee's mother is suffering from cancer, so OSMC stepped in to fill the spot. (My deepest condolences to Richard and his family.) Bassist Andrew Smith (also from Luther) is one mean bassist, too. I could watch him play that old rare Gibson bass for days without getting bored. He has a great slide sludge style that kicks ass. Drummer Jake Richey is very good as well. Since Luther was unable to play, Luther guitarist Jason Williams (that dude is one of the coolest cats in the scene) came up and played a few songs with OSMC. Sounded great, but Jason should have been turned up a little more. I had trouble hearing his leads. Aside from Stephen being a little out of tune on guitar once, it was a great show. It was a Monday and I had to get up early the next day, but I'm glad I went to the show. I avoid Monday shows like the plague, but I wouldn't mind playing one of the metal Monday shows at this cool little family-type bar. It has heart and an underground feel to it. Tattoos, piercings and black skinny jeans galore! The beer prices are good, too! The Highland Tap Room is cool.
R.I.P Steve Lewis (Thanks For Saving My Ass) Of The 80'S Louisville Metal Band Ransom
Long ago before I was even playing live music in this town, there was a Louisville metal band called Ransom that existed from (I think) the mid-to-late Eighties to early Ninties. I could be wrong though, those years are somewhat cloudy. The band was fronted by a giant burly wildman with long blond hair named Steve Lewis. The guy was a gentle giant and was super cool to all the fans who came to see the band. He was a good metal singer! Charisma and charm oozed from Mr Lewis. He was the life of the party. All eyes were on dude when he walked into a room. He was a funny cat, too. I remember going to Louisville teen clubs in the Southend just to see Ransom. One of them was called Saturdays. I'm sad to report that Steve passed away recently, of a broken heart. Steve's son was murdered two years ago and Steve did not take it well. Steve was found with pictures of his son all around him. It is truly a sad tale. But let's not forget the incredible memories of Steve and the Ransom guys playing out when the Louisville metal scene was so young! The guys paved the way for many Louisville metal bands and were an inspiration to me and many others. I remember one time at a big party, some monster of a douche bag insulted me and I ran up and punched him square in the face. I was very drunk though and then started to get my ass kicked (at one point my mind said "Run up and do a flying karate kick to his face!", because I took Tae Kwon Do for about a year or so and was pretty good! But my incredibly drunken body couldn't deliver, especially with slick-ass snakeskin boots on, so I slipped and fell on my way to deliver said kick, with the monster falling on top of me beating the crap out of me (lol), then dude's buddies jumped in and were helping the monster beat my ass! As if dude needed help! Ha! Anyways Steve saved my ass! Steve grabbed me up like a rag doll and put me outside where it was safe. (On a side note; later on, the monster respected that I fought so hard against such odds and we became friends.) R.I. P Steve, and thanks for being such a cool MF to a young metal loving punk like me way back when. We won't forget you.
The Original Rock Showcase Celebrates 15 Years Of Supporting Louisville Original Rock On Friday, January 2 @ Pht
After the demise of the infamous Toy Tiger in late 1999, Louisville needed a new venue that featured original rock/metal bands. The Phoenix Hill at that time was a cover band bar. I talked to the manager about letting me book original shows there, and he agreed. So in January of 2000, the original music scene showcases started it's long, triumphant march into Louisville history. The shows were a hit and almost every month was packed. Ridiculously awesome times were had by all. It was perfect. Original bands had a new lease on life and were now able to play their music out again to a venue that wasn't a hole in the wall.
Fast forward fifteen years, and the showcase is still running strong. Of course, the attendance has taken a hit, like most shows these days, but we do the best we can with what we have. Over the years, there have been many imitations and clones to my PHT showcase, and now it seems like everybody and their mothers has a showcase at PHT. But let's not forget the pioneering showcase that made all that happen, the showcase that set the standands for original music at PHT: The Original Rock Showcase Series. Celebrating fifteen years of partying and supporting Louisville rock/metal. We've literally had hundreds of bands on the showcase (way too many to list or count), everything from blues to death metal to punk and hippie music. Every style has been welcome at the ORSS. On January 2, we will be having our 15th anniversary bash and I'd like all of you Louisville rock/metal fans to attend! Bands performing are Some Kind Of Saint, Year Of The Gun, The Tri Tones, Old Soul Envy and Matt Jaggers. We start at 9 p.m. so be early! It's free before 9 too! Thanks for fifteen years of good times!
Lethean Review
Lethean is a metal band out of Elizabethtown that kicks ass. They were formed in summer of 2013. I really enjoyed seeing these badass rockers perform for the first time a few months back. Super-cool guys, too. Easy to work with. It's all-out metal with pretty killer vocals, which mean a lot to me and what I like musically. The fine vocals of Mike Lyons range from brutal screams to catchy melodic singing. It's a mixture that works well for this band and their brand of emotional but shredding heavy metal. The guitarwork of Dale Donaldson is tasteful but still heavy/shredding. Good tone. Good playing. No complaints here. I'm checking out their demo on Reverbnation, where they are ranked #1. Cool. Way to go guys! I can hear why. This stuff slams! Dale Donaldson's solos are nice and his use of pinch harmonics are nice. The riffs are creative and fun to listen to. The riffs in "Last Goodbyes" almost reminds me of Andy LaRocque of King Diamond. The sound quality on this demo is pretty damn good, I must say! This is one of the better bands I've heard out of that area, by far. "Corrupt" is a rocker of a tune that can appeal to almost any fan of hard rock/metal. The vocals on the singing parts are a tad dry for my tastes but it's not too bad this way. Drummer Derek Ray is a beast. I'm impressed, and can't wait to hear these cats let loose once again. If you get a chance to see Elizabethtown's very own Lethean, then do yourself a favor and go check them out at a club near you soon. If you love non-monotone metal with feeling and emotion, Lethean should be right up your alley. The sweet vocals, killer drumming, and ear piercing pinch harmonics of Donaldson should send you home with a smile on your face. All hail Lethean!
Musician Of The Month, Sons Of Medusa Shredder Alex Grimm
This month's feature is a young cat who is a major shredder and all out metalhead. Alex Grimm is lead guitarist for Louisville metal band Sons Of Medusa. Check them out when you get a chance. If you love the fast n' heavy stuff, then you won't be disappointed! This dude buys more guitar gear than I do!!
Regional Metal Compilation Seeking Past/Present Metal Bands
A guy named Thaniel Lee is putting together a compilation CD from unsigned bands from Louisville/Lexington/Cinci bands that existed from 1985 – 1995. His goal is to have volume 1 out by March 15, so Each volume will include a photo and a bio of each band and a printable cassette j-card. If you're interested, get in touch with him at thanielionlee@gmail.com. The deadline for submissions is March 1, and he will accept demos, live recordings, and garage tapes, but needs everything in a high quality.wav or aiff file. He will also need a bio of the band and a good photo.
A Lame Update
Drummer Evan Tucker of the band Lame is doing a lot better since his hideous car crash months ago. The doctors revived him three times that night, but now he's up walking around with his cast off. Evan is still wearing a back brace frequently, but he picked up his drums last week so he could rebuild his strength and muscle memory. Evan has been through a lot, but he is going to play again.
I'll keep you informed about the first Lame show back! It will probably be a few more months though.
We gotta give Evan time to recover.
The Interview Review, Seeing It Is Your Patriotic Duty
I can talk about movies If I wanna, so there! Kim Jong Un is going to frikkin' kill us for sure now, after this movie coming out! And you thought all the "you shall be bathed in a sea of fire" and "we will deal merciless punishment" lines were bad before the movie came out? Dawg is really gonna be teed off now! Omg.
Amazingly, we haven't heard much from ole Kim as of late. He has been awfully quiet, and that worries me. Maybe it was the fact that the movie depicts their Dear Leader as a closet Katy Perry fan, or that he likes Margarita's (um, why is that soooo bad?), or that in the movie he tells his countrymen that he is a god and does not poop or pee, because he has no anus. Or maybe it's because he hired a fat kid to be present on a Pyongyang street when the Americans happen to drive by on the way to Kim's palace of pleasure. As if to say "see, my people are well fed."
Kim tries to make friends with Americans James Franco and Seth Rogan by getting them laid by Asian hotties, super-stoned off some chronic, and letting them shoot Kim's personal tank. But the veil of deceit becomes transparent as the truth eventually comes out, leading to a deadly battle with the crazed pudgy leader. I have liked Rogan and Franco ever since Pineapple Express. Is it as good? No, but as an American, it is your patriotic duty to go see or purchase this movie online! We cannot let some foreign dictator tell us what to do, or threaten our way of life and freedoms. Farg that!
There are some good laughs and it's worth it just to see Dear Leader finally called out. The missile scene is pretty funny, too! I give the flick two-and-a-half stars.
Let's just hope Kim has a sense of humor, too.
The Hobbit "Battle Of Five Armies" Review
I was sooo looking forward to seeing this ending of this great story, but it fell flat. I'm a big fan of the book, and all the glory and emotion of the books ending was sucked out as if in a giant straw. It's as if the producer got really high, and said "Fuck it, we're done" without wrapping things up correctly, like the book does? A big part in the books is when the day is won, and the gold was dealt out to all those who deserved a piece of the treasure, the elves, the lakemen. But noooo, they don't even say what happens to the gold/treasure at all. WTF? Did they run out of time? Hell, they didn't even bury Thorin with the Jewel! Disappointing.
There were some good scenes here and there, but mostly it was garbled, CGI doo-doo that almost gave me a headache. CGI is cool, but it's almost too much, too fake! I almost prefer old-school effects, like in Star Wars. Yes, it wraps up the story, but it leaves out a bunch of important stuff that makes the book what it is, a classic. The dragon destroying Laketown, and the battle with Azog, and the dwarf army of Dain fighting the Goblin's were cool scenes. Two stars, says I.
Candlefly "Live" Review
We have another Elizabethtown rock band to review! Ya know, I've met nothing but good folk from E-town! That place has some classy peeps. Axe from 107.3 The Point lives there! All around good peeps. Candlefly is a five-piece alternative, rap-rock, party band with some metal influences here and there. Their influences range from Tool, A Perfect Circle to Pantera to Snot! Vocalist Daniel Muss describes the band as "We are pretty hard to label man, we mix things up well, but if we had to choose any band we sound like, I would have to say Sublime, Lincoln Park or something like that."
These guys formed Candlefly in early 2014 and have been playing out since. Guitarists Scott Smith and Jeff Dowell have a love for metal that is easy to see (who doesn't, right?). Decent guitar playing, but they prob need to upgrade their gear sometime soon. The guitar tones were a little bit iffy, and one of the guys had some tuning issues that should be taken care of. (Guitarists; I can't begin to stress the importance of having good tuning gears on your guitars. Many bands seem to ignore this, just as I did when I was younger, but to be a pro, you must have decent tuners at all costs. I recommend Grovers or Schallers). Vocalist and rap-rock demon Daniel Muss played an acoustic song called "Gentleman" by himself before the set and I was impressed. To rap and play like that without messing up is very good! And lyrics to his song were outrageous and cool. They were some raunchy and sleezy "tell it how you believe it" type lyrics. I gotta be honest, though, I've never been a fan of rap-rock. Well, maybe some Stuck Mojo! I'm going to check out a song or two off their demo now! "Murder" has a pretty clean rhythm guitar part that is nice. These vocals are not rap-rock at all. There is an Eighties feel to this song, as much as they would probably hate me saying that. Drummer Matt Rock is getting down on this track! The vocals are kinda sad and a tad whiny a bit at first, but soon they get going well and finish on a better note as he lets loose. "Dialogue" is a much better song, and it sounds very Eightie-ish, with a pumping, bass riff opening, at one point it almost sounds like U2. I like U2. This is an upbeat rocker of a song! The mood is much better than the last song, and the guitars are better. Vocals are better as well. Well done! The demo almost seems like a different band than what I saw live. It's good that Candlefly mixes up styles a lot. Who wants to hear the same shit over and over? To me, it's just boring and irritating. Live they have a heavier raunchier sound that comes across better in my opinion, but on tape they come across as a mellower alt rock band with Eighties influences! There is nothing wrong with that! The Eighties were a blast. Candlefly has a few things to work on, (like working more rap-influenced vocals into the songs, I really liked what Daniel did with "Gentleman") but it's not a large obstacle, and these cool dudes can easily fix the issues and become a much better band. They have the goods and good attitudes to make it happen! Check out Candlefly when you get the chance!
Props Of The Month
This month's props go out to Axe at 107.3 The Point in Elizabethtown, Kentucky, for being a super cool guy that everybody loves. This guy helps out our regional original/cover bands sooo much it's ridiculous. Every time I've been to his station, he has been super-cool to us! He lets bands come in and play acoustically, which is fun, and he never asks for anything or has a bad attitude. Dude is just a humble, down-to-earth cat who deserves all the good things in life because he is a good soul, and a credit to our state's music scene!! So, thanks, Axe, we appreciate you bigtime, bro! Keep up the great work.
The LMN Bad Humor Report - Tales From The Tattoo Studio:
I was chillin' one night with some tattoo buddies, when I thought of something. Why not get local tattoo studios to each tell a tale of an unforgettable experience as a tattoo artist/shop owner. Drunken customers, bad tattoos they've seen on people, fugly people who came in, tweakers who couldn't sit still, trouble starters, stinky mofos, hell, the possibilities are endless! One thing is for sure, it would be one interesting read after another! So let's do this thing!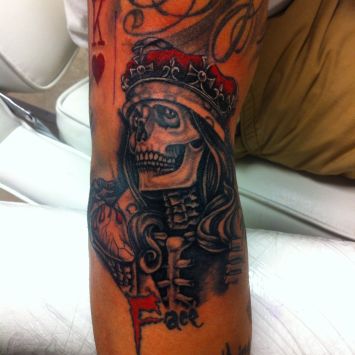 This Month, it's Truth's Tattoo's at 3510 Taylor Blvd. Truth's Tattoo owner Truth Lee, a super-cool cat who donated a shitload of Free Tattoos to raise money for the Kosair Kids for Christmas, more than any other Tattoo shop around! Dude has a big heart and some mad skills as an artist!
Eddy - Ok Truth, you've had your own tattoo shop a while now. Congrats on the recent success! Tell us about one of your most memorable stories of customers who have frequented your establishment~!! Don't hold back on us, we are grown-ups and can handle the reality of tattoo shop life! Ha.
Truth - "Hello, and to answer your first question the most memorable customer experience I've ever had was with Miranda's family. Four years ago this nineteen-year-old came to me, saying what everyone else does "hook me up on my tattoo and I'll bring my whole family to you!" To my surprise, after I tattooed her, she held true to her promise. My dear client Miranda passed away two years ago with unfinished works or art on her skin and business to be finished. Yet, even after Miranda's death, her mother, father, brothers, aunt and uncle still support my business til this day."
Eddy - What is the coolest tattoo you have ever done? And do you have a pic of your art that you think best represents you?
Truth - "The coolest tattoo I've ever done is a full back piece inspired by the Will Smith movie iRobot, it's a massive work in progress but is still the coolest piece I've done. Here is a picture of my work."
Upcoming Shows
3rd Street Dive
Saturday, January 17 — Rifle
The Brick Alley
Saturday, January 3 — Last Question and Untold Rellik.
Diamond Pub (on Baxter)
Friday, January 16 — Flaw w/ Hellfire Militia and the Creed reunion. 8 p.m.
Expo 5
Tuesday, February 17 — Flyleaf, Adelitas Way, Framing Hanley and Fit For Rivals. 7 p.m. $20
Friday, March 6 — 10 Years w/ Otherwise, The Glorious Sons and Luminoth. 7 p.m. $15
Sunday, March 8 — Mod Sun. 7 p.m. $15- $50.00
Tuesday, May 12 — Nightwish w/ Sabaton and Delain. 6 p.m. $35 - $170.00
Highland Tap Room
Monday, January 5 — Hellfire Militia. 11 p.m. Free!
Magbar
Thursday, January 29 — Atomic Thrillride and Jaida Blue. 9 p.m.
New Vintage
Friday, January 16 — The Dammit.
Phoenix Hill Tavern
Friday, January 2 — Original Rock Showcase Series 15th Anniversary Bash w/ Year Of The Gun, Some Kind Of Saint, Tri Tones, Old Soul Envy.
Wednesday, January 14 — Louisville Rocks w/ Untold Rellik. 10 p.m.
Friday, January 16 — Prey 4 Me.
Friday, January 23 — Untold Rellik, Better Than Salem, Big Fatty Band, Pazuzu and Sinful Lilly. $10.
Friday, February 6 — Original Rock Showcase Series fea. Maloik, Seasons Decay, Driving Beast Daisy and TBA.
Smokeys
Friday, January 23 — Soundtrip
Spillway Bar and Grill (Bowling Green)
Friday, January 9 — Flaw w/ Despite The Fallen and Chasing Layne.
The Southgate House Revival (in Newport KY)
Saturday, January 24 — The Greg Blachman Band, Life After This, Join the Dead and Lying In Ruins. 8 p.m. $7 at the door, or $5 online!
The Vernon Club
Saturday, January 10 — Four Year Strong, Comeback Kid, Expire, Handguns and Heart To Heart. 7 p.m. $16 - $65
Wicks (Goose Creek)
Saturday January 17 — The Dammit. 9 p.m.