January 2015 Articles
Cover Story
Paul Moffett
Features
Eddy Metal
Columns
Mike Suttles
Eddy Metal
Blogs
Got Shows?
Send Them To Us
Bookmark Louisville Music News.net with these handy
social bookmarking tools:
Available RSS Feeds
- Top Picks
- Today's Music
- Editor's Blog
- Articles
Add Louisville Music News' RSS Feed to Your Yahoo!

Issue: January 2015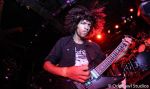 Alexander Strunk
Name: Alexander "Grimm" Sistrunk
Age: 23
Instrument: Guitar
Band/Former Bands: Sons of Medusa is my current band and I played guitar for Heart of Kings about 4 years ago.
How long on instrument: I' ve been playing guitar about 9 years now.
Equipment: Right now I use an Engl E530 Preamp into a Crown Xls1000 poweramp. I have a BBE Sonic Stomp in the FX loop and a BBE Green Screamer to boost it all. I use the new Orange Crush Pro 4X12 cabinet. I have several guitars but my main guitars are my Epiphone Prophecy Futura. I put the John Petrucci pickups from Dimarzio in it. Had them special-ordered in green and black bobbins. The other is my Schecter Jeff Loomis signature 7 string V. It has my signature pickups from Josh at J&J Old Louisville Music. It was originally satin black but I spent about three hours buffing to a high gloss finish.
Influences: Arch Enemy, Carcass, Nevermore, Amon Amarth, Bolt Thrower, Megadeth, Children of Bodom, Dream Theater, Exodus, Machine Head and many more.
My first gig: My first gig was in October 2013 with my current band Sons of Medusa. It was Music Fest 5. That day I was nervous all day and we got on stage and we did our set and it was great. It was an outdoor show and it was cold as hell.
Hobbies: I like to listen to music. Guitar is probably my main hobby. I like to modify guitars to fit my style instead of just buying one off the shelf. Im a big nerd. If I'm not playing guitar I'm usually on my Xbox playing Skyrim of Need for Speed.
Favorite movies: I love all of the Star Wars movies. The Underworld series is also one of my favorites. Any of Marvels movies. The Terminator movies are probably my second favorites after Star Wars.
Favorite food: I love tacos.
Favorite place: I don't really have a specific place but I like to find a place away from all the noise in the city and relax. So I guess just anywhere that's quiet and relaxing.
Favorite sports or team: I am not a sports fan by any means.
What I'm listening to nowadays: I've been listening to Revocation's newest album and I just recently got into a band called Allegaeon they are awesome. There is always some Arch Enemy on a playlist as well as Exodus.
Coolest thing I've done: The coolest thing I've ever done was in 2012. Some friends and I went to Sweetwater's GearFest and Jeff Loomis was doing a demonstration. One of my friends owns J&J's and they are a Schecter dealer. Their representative was taking care of Jeff's guitar and Jeff let me play it for a little bit. I was the last person in line to meet him and I got to hang out with him for about a half an hour.
Most embarrassing moment: We were playing at PHT a few weeks ago and I had tripped on a cable or something and almost fell off the stage. I used my guitar like a cane to get my balance. I still worry about that anytime we play on a raised stage.
Bad Habits: I am a perfectionist with my amp. It has to sound perfect or I get frustrated and buy a new one. Since I bought this Engl I have gotten better about that.
When/where did you first get some: It was when I got my first car. I went over my girlfriend's (at the time) house. We ate dinner with her parents and watched tv. Her parents was upstairs and her room was in the basement. Her parents went to bed and so did we.
If you could meet a Rockstar ( past or present ), who would it be, and why: l would say Michael Amott from Arch Enemy. He is one of my all-time favorite guitarists. Just something about his tone is perfect.
Who do you love: My family for all of the support of my music. And my bandmates for putting up with me for so long.