November 2014 Articles
Cover Story
Paul Moffett
Features
Eddy Metal
Columns
Sue O'Neil
Martin Z. Kasdan Jr.
Eddy Metal
Blogs
Got Shows?
Send Them To Us
Bookmark Louisville Music News.net with these handy
social bookmarking tools:
Available RSS Feeds
- Top Picks
- Today's Music
- Editor's Blog
- Articles
Add Louisville Music News' RSS Feed to Your Yahoo!

Issue: November 2014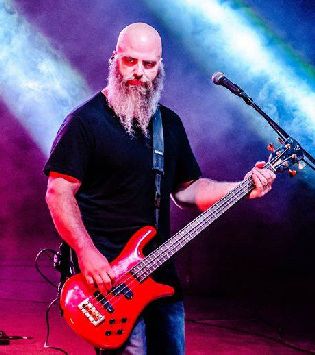 Jesse Vest
Name : Jesse Vest
Age: 37
Instrument: Bass
Band/Former Bands: My current project is The Louisville Crashers. Previous bands include Bad Dreemz, Superface, Dead Reckoning, Days of the New, Tantric, Voodoo Lounge, Goodfellas, etc.
How long on instrument: 27 years
Equipment: Spector Euro 4-string. My rig is an Ampeg SVT Classic head (American made) with a Marshall 4x12 bass cabinet, but I rarely use it. Most of the time I just plug into a direct box.
Influences: Metallica, Iron Maiden, Alice in Chains, Stevie Wonder, Sugartooth, Soundgarden, Led Zeppelin, Pantera, Fiona Apple, Bob Seger, many more.
My first gig: It was at a place called "The Ritz" in North Vernon, Indiana, with the lineup that would become Superface. I was 14 and got thrown out between our first and second sets when the cops saw me hanging out behind the bar. My beard hadn't quite come in yet.
Hobbies: Reading, pondering, watching far too much Netflix.
Favorite movies: Die Hard, Gross Pointe Blank, The 13th Warrior, LOTR Trilogy, pretty much anything with Bruce Willis.
Favorite food: Hard to say. Pizza is always a solid go-to meal. I will pretty much eat anything.
Favorite place: Colorado, or anywhere with trees.
Favorite sports or team: N/A. I think sports are largely a waste of resources. If we put half as much money and effort into our kids' academics as we did into their athletics, we'd be in a much better spot all the way around.
What I'm listening to nowadays: Fiest, Bjork, Grandma Strange, Portishead, Radiohead. I still occasionally listen to heavier stuff, but I've been getting into more laid back music in recent years.
Coolest thing I've done: This is a difficult question. I've been truly blessed and could literally write a book filled with all the cool things I've gotten to be a part of over the years. My usual answer to this question is touring with Metallica. My old band Days of the New got to open for them for forty-two shows in the summer of 199 8. I watched every show and was blown away every night. Those guys were very cool to us and didn't have to be. I've also played on the Tonight Show, The Late Show with David Letterman, and Late Night with Conan O'Brien. More recently, I got to play at the Super Bowl for NBC with The Louisville Crashers.
Most embarrassing moment: I don't embarrass easily. With that being said, my most embarrassing moment probably occurred in the last six months while on the reunion tour with Days of the New. I won't go into details, because the dust is finally starting to settle on that mess and I don't want to start any more BS.
Bad Habits: Being selfish, procrastinating, eating way too much sugar, not maintaining things (relationships, cars, house, etc.)
When/where did you first get some: I was a young nurse in Normandy, France. Shortly after D-Day, I met a handsome American GI. He had been wounded and as I nursed him back to full health, we became close and fell in love. We made love on our wedding night, and it was simply magical. We later had 3 children and relocated to Stovington, Vermont, where he earned a living as a woodworker. All in all, it was a good life.