October 2014 Articles
Cover Story
Paul Moffett
Features
Eddy Metal
Columns
Mike Suttles
Eddy Metal
Blogs
Got Shows?
Send Them To Us
Bookmark Louisville Music News.net with these handy
social bookmarking tools:
Available RSS Feeds
- Top Picks
- Today's Music
- Editor's Blog
- Articles
Add Louisville Music News' RSS Feed to Your Yahoo!

Issue: October 2014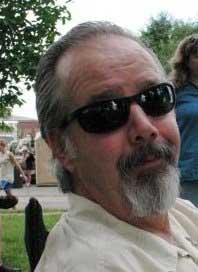 I've Got A Mind To Ramble
PREACHER FOR THE BLUES
I've heard many folks talk about (nd have had the experience myself of) "going to church" while immersed in the blues. That is never more deeply felt than while listening to Lamont Gillispie play some of the best blues harmonica I ever heard. I sat down with Lamont (Joey to his many friends) recently to talk about his life with the blues. We were nearing the end of our conversation when I asked him how he wanted to be remembered by people. "First off, I want to be remembered as a good father and husband. And I want to be remembered as a preacher for the blues." When the time comes that Gillispie has blown his last breath through the harmonica, there is no doubt that this man who respects and so deeply reveres the music that defines him professionally will have a blues preacher's robe waiting for him.
Lamont Gillispie, 61, was born in Louisville and spent his formative years here. During this time, the blues bug initially took hold. His older brother was into soul and R & B music and they would listen to WLAC out of Nashville. It was just a short jump into the blues from there. After high school at Corydon Central Gillispie began managing a local band. After seeing how much fun the band had "I found out what I wanted to do. I wanted to be up on that stage. Being the manager wasn't enough."
Gillispie comes from a musical family, the Gillispies from Greasy Creek, in Pike County, Kentucky. Family gatherings were often a huge jam session. There were a lot of acoustic guitars and banjos, with bluegrass music being the main attraction. But his Uncle Tag stood out because he played the harmonica. "Uncle Tag was my favorite uncle. I'd sit there and listen to his harmonica make all of this big sound playing with the guitars and banjos. Imagine that, such a big sound coming out a little thing like a harp. I was hooked from then on. I wanted to learn how to play." Gillispie is a self-taught harp player. "It took me about a year-and-a-half. I know I drove my former girlfriend and the two people who lived on both sides of me crazy while I was learning."
I asked Lamont about the harp players that influenced him. "I was at another family gathering when this friend from Canada and me were jamming. He said to me that I had some talent and he wanted to give me the names of some records I should listen to. The first one on the list was Little Walter's Boss Man of the Blues. I went to Karma Records and ordered it. When it came it I spent a lot of time with it." Lamont then talked about his own playing. "I can remember both Lefty Dizz and Sam Myers telling me don't sound like Little Walter and Sonny Boy. Develop your own style. Don't copy. And that's what I've done all my life. Develop my own style. Sure there are some things in there like other players but I've developed my own thing over the years. I've worked hard at it." Mark Stein, a former bandmate who has played with Lamont over the years says, "nobody I've ever known has worked harder at it and at promoting the music we love." Rick Cain, harp player with The KingBees stated, "In my opinion Lamont has been the standard bearer for harp players since the mid seventies. He has walked the walk. We all have different musical tastes and playing styles and Lamont has been true to his vision since I've known him."
Sometime in 1973, Gillispie piled into his Austin Healy 3000 and headed to Chicago. He had little but his harps and his record collection in the bucket seat. It was during the year-and-a-half he was there that he honed his chops and really began the long career he has had. It was in Chicago that he hooked up with his first mentor, Lefty Dizz. "Lefty taught me how to be a bluesman. He had my back. I hung out at the Checkerboard Lounge, Peppers (an after hours club), Theresa's Lounge. All of these Southside and Westside clubs. I'd go to jams and play. They all came to respect me for my playing. I got to know Buddy Guy and James Cotton and Muddy Waters a little." It was Lefty Dizz who Gillispie refers to with a deep respect. You can hear it in his voice and the greatest thing he took from Dizz was to respect the music. "He told me that if I play the blues right and keep it simple that I could play the blues anytime, anywhere. And that's what I've done. I respect the music." Denny Thornbury, another Louisville harp player adds, "He's always respected the blues and all the great players."
One of Lamont's favorite memories - albeit a bit intimidating at the time - was when Queen, the owner of Queen Bee Lounge told him to take over for Hound Dog Taylor in leading the band playing at the time. Taylor was too messed up and was running people out of the bar. "I wasn't going to replace Hound Dog. This white guy from Kentucky? No, no. (During his time in Chicago the folks ended up calling him Kentucky)." Queen walked over to Taylor and got him off the stage and Lamont took over.
Once he returned to Louisville, Gillispie found himself in The Stray Cat Blues Band. He thinks this band was one of the best of its time and could match up with any band. The band members were workhorses, often playing 150-200 shows a year. "We were all single, we had an old bus we travelled in, and we loved to play together." The Stray Cats toured a lot regionally playing in Bloomington, Richmond, and Lexington as well as in the hometown. "I think we had a big influence on a lot of musicians during the time we played. We were really tight and we all worked hard and respected what we did."
Screamin' John Hawkins credits the band for its influence: "He was the first professional harmonica player I ever knew. I didn't even know that "professional harmonica player" was actually a real thing someone could be until my dad snuck me into the Whipping Post to see the Stray Cat Band when I was still in grade school. Lamont and all of those cats back in the day were a huge influence on me and really shaped my decision to pursue music as a career, and I'm sure he had that same influence on countless others here in Louisville."
The Stray Cats were indeed a band of influence. Greg Martin of the Kentucky Headhunters confirms just that. ""I first met Lamont in 1977, he was then playing with The Stray Cat Blues Band at Woody's Tavern. The lineup was Lamont on harmonica and vocals, Ricky Mason on guitar, Bruce Lively on vocals, Dickie Durlauf on drums, and my friend Jimmy Brown on bass. I knew Jimmy from Guitar Emporium, we were friends, he must have saw something in me and invited me to come jam with the band at Woody's. We immediately hit it off, Joey and the guys took me to school, it was a life changing experience. After that first night, I kept going back to play with them, I guess they adopted me. Fast forward to 2014, Lamont, Bruce, Jimmy and I still play with The Stray Cats when time allows. Lamont is the real deal, not only a great harp player, a great human with a big heart. Those guys changed my life back in 1977 and helped me find my calling in life. I love Lamont like a brother, he has never strayed away from what he loves, Blues & R&B. He is one of those people that God puts in your life to make the world a better place. God bless him."
Lamont moved to New Orleans around 1984 and it was during this time that he met another one of his mentors, Sam Myers. But it wasn't until a few years later when they reconnected while Myers was playing with Anson and the Rockets at the State Fair. As we discussed their friendship, I could tell that Myers held a different spot in Lamont's heart. "Sammy taught me a lot. How to respect the crowd. How to dress. He and Lefty both did those things." The two of them continued to be very close friends until Myers passed away in 2006. Gillispie and his wife, Katie, went down to Jackson, Mississippi for the funeral. He was asked to play three songs the day of the funeral and he told me, "those were the three hardest songs I ever had to play."
As he and Katie drove from Jackson to the cemetery they could see a thick, dark cloud on the horizon. "You know the Delta is real flat and you can see for miles. As we got closer to the graveyard, that dark cloud was right on top of it, raining real hard. Like it was meant to be. As soon as we buried him and started to leave, it stopped raining." He immediately wrote his song that is featured on the Louisville Blues Compilation Volume II record, The Day The Delta Died (A Tribute to Sam Myers). "It happened like a story that had to be told. It's the first song I've written that has ever been on a record." Gillispie's eyes seemed far away in his thoughts and a little damp as he thought for a few minutes about his dear friend.
Lamont's next band was The Homewreckers. The band was very popular in the late 1980s and early 90s during the heyday of the blues in Louisville. Lamont just shook his head as he told me a story about the band. "We never got any gigs from the city or anything like that. It was because of the name, Homewreckers. I guess it meant something bad to people. Not to us, we just thought it was a good name for a blues band. Once I changed it to 100 Proof, we started getting the gigs."
Gillispie has now been with 100 Proof Blues for around twenty years and they've been a force for the entire time. The band was recently awarded the Blues Band of the Year at the Louisville Music Awards. Gillispie gives all of the credit for the award to the band. "It's not about me or a single person. It's about us and the work we do."
It's been a lifetime of playing the music he loves and, most of all, the music he respects. Susan O'Neil had this to say, "Lamont has always been dedicated to playing the Blues. He expertly applies authentic Blues stylings in the way he plays and sings and he is pure Blues entertainment." Scott Mullins, a former blues DJ in Louisville calls Lamont "the only true Bluesman in Louisville." I asked Lamont how he felt about that. "I'm humbled that anyone, especially someone like Scott would say that. I just play the blues, nothing else. I keep it simple the way the blues should be."
Once you've seen Lamont Gillispie on stage, you will not soon forget it. Sure the music is as good as it gets but Lamont also is a sight to behold with his colorful outfits. I had to ask him how he got started wearing the suits and dressing to the nines. "Both Lefty and Sam told me that I needed to dress up when I was on stage. They told me that when you're up on stage you should feel like you're a million bucks and you couldn't do that not dressed respectfully. And it's to show my respect for all those cats that came before me that dressed a certain way."
For the past year, Lamont Gillispie has been fighting cancer. He spent five months in the hospital after the Garvin Gate Blues Festival last year. The doctors removed his colon and stomach and made a pouch for his stomach. He had a colostomy bag for a while but was able to have that reversed. In time, he got out of the hospital and began to build up his strength while recuperating. It wasn't long before he was able to get out and perform again. He had to pick his gigs wisely because he didn't want to overdo things and have a set back. Lamont is a real fighter. He told me, "I decided that I was going to put on my trunks and boxing gloves and fight like hell to get back from this. And that's what I did. It was hard, real hard. But I did it for my family. I've got a great family. Katie, my wife, and my three kids (Christy, Josh and Jimmy). I'm real proud of them. I had to fight back for them."
It seemed for a while that Gillispie had gotten over the hump. He was looking healthier and playing a few more gigs. Then not long ago he got some more bad news. His doctors found a spot of his liver and one on his lungs. The cancer was back. He has recently begun taking an experimental treatment of some very strong chemotherapy. Lamont told me the first two sessions weren't too bad. But as the dose got stronger, it had left him feeling bad. And he thought it was affecting his harp playing and his singing. We talked about the prospects of what was ahead. "It was hard to hear it. I fought hard the last time but to be honest when I walked out of the doctor's office I didn't know if I could fight any more. It's taken me a while to get my head around this and I'm not sure it's completely there yet. But I know I need to fight it for my family."
Lamont Gillispie knows he is in for a long road for this bout with cancer. He is focused on beating it. Yet, he still worries about making sure that the fans get their money's worth when they come out to see the band. "I go back and forth figuring out if I should play when I can and then maybe having to sit out some songs or maybe a whole set." I assured him that no one would think any less of him if he had to do that. But as it is with people who love and respect what they do, Lamont wants to give his all every time he walks out on stage.
Lamont Gillispie is one of the greatest blues harp players I've ever heard. He has devoted his career to keeping it simple and playing nothing but the blues. He respects the music. He respects those who came before him. He is the consummate professional. I've often referred to him as Louisville's Blues Patriarch but no longer. No matter what happens from here on out. Whether he beats this cancer and returns full speed ahead to his love, the blues. Or whether he never plays the blues again. I will always refer to him with the deepest reverence as The Preacher for the Blues. Can I get an Amen to that!