October 2014 Articles
Cover Story
Paul Moffett
Features
Eddy Metal
Columns
Mike Suttles
Eddy Metal
Blogs
Got Shows?
Send Them To Us
Bookmark Louisville Music News.net with these handy
social bookmarking tools:
Available RSS Feeds
- Top Picks
- Today's Music
- Editor's Blog
- Articles
Add Louisville Music News' RSS Feed to Your Yahoo!

Issue: October 2014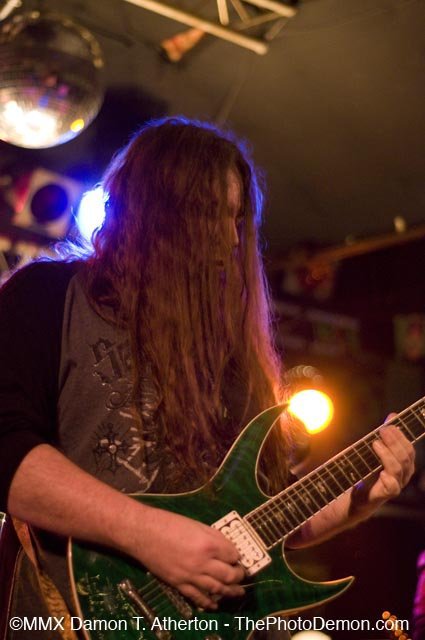 News From the Pit
When To Stand Up For Yourself..
This is a trying time for me. As many of you know, my little mini Yorkie terrier was attacked back in July by my thug neighbors Pitbull. I had to take this scumbag to court and I recently won our court case. The guy was ordered to pay the vet bills, keep his violent dog leashed/collared and muzzled whenever the dog is out. Victory eh? Well, not quite. The thug thinks that all people are scared of him, and that intimidation tactics and threats make him immune to the law. I have learned that this guy has robbed helpless old people in my neighborhood as they walked down the road. The police have told me that this guy has one of the longest criminal records in my area and to be careful. Heck, the other day I saw this, er, man, push a lady with a baby in her arms very hard, almost enough to make her fall down! Even after me winning in court, the thug repeatedly has had his dog running loose, and the other day his Pitbull almost attacked my Yorkie again! I barely made it to my dog in time to snatch him up. After that it got real ugly. This guy has purposely and blatantly paraded his dog around, as if to show off that no one tells him what to do, even the law.
Well, I've got news for you, you low-life hoodlum P.O.S. I will never be bullied or intimidated or run out of my home of 20 years by a law-breaking uneducated dumb-as-a-rock street urchin like you. I will protect myself, my home, my pet and my property!
Someone has to stand up to criminals like you, and that is exactly what I intend to do.
My neighborhood has suffered since this family moved in a year or so ago. They have brought hard drugs, numerous police incidents, a shooting/stabbing the thug was involved in, and right next door to my home has become a sanctuary for criminals and thugs. I've tried to be nice, but I've had enough. Good people in my neighborhood are scared and are moving because of it.
The thug thought intimidation and threats would keep me from calling authorities on his dog running loose, but I don't play that shit. It only pissed me off bad. After another incident where his dog almost attacked my dog again, and him threatening me a second time, I told him "F**K you!" right to his face and called the Police. The thug didn't like that too much, and the look on his face when an old man twice his age stood up to him, was priceless. This was no helpless old man he was picking on. He picked the wrong target.
Since then, the thug and his hoodlum buddies have threatened loudly to stomp/kick my Yorkie to death when given a chance. And I'm sure they plan a little payback for me standing up to them and telling authorities about his dog running loose. That's okay, though, because I have plans of my own as well. It's called CCDW. The Concealed to Carry Deadly Weapon Permit. I just bought a gun that is a beast. I seriously pity anything that this gun hits.
I didn't buy this gun to act tough or to send a message. I bought this gun for protection against very unsavory people with bad intent. People you cannot reason with. People who don't care about anyone else one bit. Criminals! I am taking these popular gun classes to educate myself on guns and how to properly use and care for them. I'm looking forward to taking this Gun Class, for I will be no victim.
I would like to take a minute to say THANK YOU to the Louisville Police Department (Sergeant Harry Webster, Detective Angela Snook, Officers Nett and Holland) and Sergeant Thompson and Susan Jones at Animal Services/Court for their assistance regarding this situation. Hopefully they will teach this young punk that you do not ignore the law. I don't care how good your lawyer is! (The thug bragged about how good his lawyer is. )
Police all over the U.S have been having a rough time lately (for the record, I was brought up to listen and obey any Officer of the Law! No exceptions.), and I just want to let everyone know that these brave people are not the enemy. These fine folks go out of their way and put themselves in danger daily, to make the world a safer place. And I see that now more than ever since my dog was almost killed by a criminal's pitbull. The police have been riding by my home, and checking up on me, and I am eternally grateful for that. God Bless The Louisville Police Department!
Now it's time to talk about what I know best, and what I've been doing in this town for 20 years: music!
I've DJ'ed on the radio, I've rocked the city's best clubs with my rock bands, I've written for Louisville Music News for 14 years now, and I've promoted thundreds of events and helped thousands of bands! But now it's time for me to finally ask a favor of you!! I want you all to come support my ROCK FOR KOSAIR benefit that I put on every November, to raise toys for the poor children at Kosair Charities for Christmas. This year, it's on Saturday, November 29 at Phoenix Hill Tavern, and it is the tenth anniversary show! Did you know that so far we've raised over $50,000 in toys for the Kosair Kids? That is about 114 to 116 shopping carts overflowing with toys! Believe me, it's a lot! I had to carry all the toys! Well, I did have some help, thank god!
So far, the lineup includes; Infantry #333 (the Pantera cover band featuring members of Flaw, 16 Bones and The Smokin Gorillas and Deadlight Redemption), Signal the Revolution, Krosjoint, Cinci's Zebras In Public, 16 Bones, Unleashed, Grindstone, Year Of The Gun, Rock Brigade, Mooseknuckle, Maloik, Punchdrunk, Digg, Jayson William Allen (of Poetry Of The Dead), John Hager (formerly of Centerfold), Tim Vacancy and more TBA!!
And don't forget, I've arranged four guitar giveaways for you fine folks! Thank you, JandJ Old Louisville Music Shop, Guitar Center, B-Mart and Music Go Round.
BUT..you have to get there early to get a free guitar drawing ticket with paid admission! And there will be only so many given away, so be early to be sure you get one! Show starts at 7:30 p.m. Sharp!
The Metal Grapevine
The Louder Than Life Festival Review:
For years, I have complained about this city never getting the big shows while other cities nearby rake in the cash from big festivals and concerts. I have always said that our city is scared to death of any kind of real rock/metal show; that our city's leaders are some uptight chickenshits who are beyond reluctant to take the risks associated with such a large venture, to make great changes needed to make our city a better brighter place and to bring in more people from all over. Well, I finally got my wish. The Louder Than Life festival was off the frikkin' hook! That means it was a very popular, fun and successful concert. There is no doubt that this show was the best concert we have ever had in Louisville, Kentucky, or the whole state of Kentucky for that matter. I saw 20,000 rockers having a blast, getting along, behaving, not fighting at all, enjoying the show and basically just peacefully letting off a little steam. It was beautiful.
First off, I (and I'm sure every other darn person that attended the concert) would like to thank Danny Wimmer Presents for bringing us such a great event! Simply awesome! Everyone absolutely loved this event, and it is now a part of Louisville history forever. Thanks for treating us here at LMN very well. I had a blast. I would like to sincerely thank Mayor Greg Fischer for having the balls and brains to see that this was a brilliant idea, and for allowing it to happen.
Finally, we have a Mayor who isn't scared of a "real" rock show and all the bright future possibilities an Annual Event like this could bring. I saw and met people from all over at this event. Michigan, Indiana, Ohio, Florida, California, Tennessee. Some awesome people too! People love to travel to see a good show. It's a fact. And now these people can come to Kentucky to spend their money! Why give all that money to other states year after year? It's stupid! Louisville is an awesome town, and it's about time we did something like this.
Gourmet man food, indeed! The food was outstanding, they had every kind of good food you could think of it seemed! I had some excellent chow that day! A turkey and gouda grilled cheese, Thai noodles, goat cheese tamales, and a killer steak sandwich. It was like no festival food I've ever had. Fancy and delicious grub! Two thumbs up on the food idea! The Bourbon tents were excellent as well. The whole idea to tie Kentucky Bourbon and rock together was brilliant.
The stage setup was smart. Two huge stages set up side to side, so that when one band went off, immediately the next band started playing. No waiting for 20 minutes for the next band! Sweet.
They had huge TV screens for the fans in the back to see the show better, but high winds kept them lower to the ground than planned. But, as the wind died down a bit, the screens were raised! And the smaller stage was real nice too, and it wasn't so small a stage, either.
There were plenty of vendors selling some cool stuff too. Rock clothes, hats, masks, jewelry.
Now, on to the music! I got a late start on Saturday (I'm bummed I missed Louisville rockers Flaw on the Marshall stage! Congrats to those guys for playing to a good 5000 people even at their early timespot! I'm glad we at least had ONE of our own on this awesome bill!) and made it in time to see Fuel sing their hit songs "Bad Day" and "Shimmer." Singer Brett Scallions is a fine vocalist live. He sounds just like his records.
Pop Evil came on and rocked out as well, but I was walking around at that time checking out the vendors and cool jewelry and stuff. People watching!
Southern California's Steel Panther certainly made their mark on Kentucky this day, as they easily won the hearts of rockers at LTL. I have been following this band for a few years now, and I love them! It's great to see them go over so well in my hometown. They are a blend of cheesy Eighties rock, comedy, and all-out outrageousness. Dressed in pink Spandex, armed with leopard-print guitars, these rockers are fun! Incredible musicians. too. They do tend to piss off some females at times because of their Eighties sex talk gimmick, but it's just a gimmick, people. Let's not make this a serious issue. Yes, they are profane and lewd, but I'm sure those guys aren't really like that. They probably have wives and ten kids at home. They do, however, like to see boobs, and I support the boob liberation thing, and welcomed the chance to see lovely boobies on the large screen TVs. There was one instance with a guy and a topless gal that was kinda wild, the guy proceeded to act like he was a hungry baby, and that the topless gal was his mother, if you get my meaning. Anyway, the guy was tearing that titty up! It had to hurt. The band played a bunch of new songs off their new album, and, of course, their classics "Community Property," "Asian Hooker" and "Death To All But Metal." Vocalist Michael Starr is one amazing vocalist. And I have to hand it to those guys, they have some damn good jokes! The crowd was in stiches! Long live Steel Panther! It warms my heart that my city liked this band that I like so much.
Theory Of A Deadman played, but I've never been much of a fan of their music.
Alterbridge came on and was very good as well. I didn't know that the singer Myles Kennedy was the same guy who acted on the movie "Rockstar," as the guy who replaced Izzy on vocals at the end of the movie. Myles has a great voice and impressed me much more than the last time I saw him perform. I have not always liked his vocals, but I think maybe it was that when I heard him sing before a few times, he was singing Guns N' Roses songs, and I don't think that music fits his style at all. Myles does much better with his own music than emulating Axel Rose.
I walked over to the smaller stage for a bit and got to check out Ohio's Miss May I, and they were good, all except the lead vocals, which didn't do it for me. Too growly and not enough melody. Sounded like every other cookie monster metal singer coming down the pike.
The music was fine though and I enjoyed hearing this new band. The sound coming from the smaller Marshall Headphones stage was real good, too.
Mastodon was next, and I have to admit, I like their music but have not been a fan of their growly vocals. Mastodon kicked butt, and the vocals seemed to have gotten a little better since the last time I saw them. They put on an energetic, good ole-fashioned heavy metal show and I enjoyed watching them play. This band is different, it's cultish, Sabbath-y at times, and sometimes really groovin'. The guitarist's Hitler haircut was kinda weird though. He needs to get rid of that fro, for real. But his playing was awesome! The guitar riffs and musicianship were in full force.
Limp Bizkit came on, and I wasn't thrilled, but opted to stick around to see what the big deal was. These guys have been out of commision for years, and now they are back. Never been a fan of Florida white-trash rap rock, but I have to admit they put on a pretty good performance. Frontman Fred Durst is great at getting the crowd going and talking to the crowd. The band was tight, and guitarist Wes Borland is pretty good, even though I don't see how he plays wearing all those crazy masks and ultra-tight-fitting pleather suits he wears. I love his use of effects on his clean guitar tones. The crowd seemed to really like Limp Bizkit, too. They played "Rollin" but stopped the song right in the middle to make sure the crowd was okay after serveral people fell down in the crowd (a classy move), "Re-Arranged," "My Way," "Take A Look Around," which is the theme song for "Mission Impossible 2," "Break Stuff" and they even played two cover songs, Guns N' Roses' "Welcome To The Jungle" and Rage Against The Machines' "Killing In The Name Of." Fred did much better than the whiney rap guy in Rage, if you ask me! Fred made security bring up someone in the crowd dressed up like a Ninja Turtle and had him dance around for the song. Then he started pointing out other superheroes in the crowd like the Flash, and another Ninja Turtle. My metal friends will give me shit, no doubt, but I enjoyed watching Limp Bizkit rock out.
Stone Temple Pilots were next and I was looking forward to hearing STP with new singer Chester Bennington. The verdict? Chester is a damn good singer, but STP needs Scott Weiland, heroin and all. Those vocals are hard to sing, so it is no easy task to replace Weiland. Chester did an excellent job, but I find that he can't quite get the growlier, edgier vocals as well as the higher notes. Chester has that crystal-clear, high voice, but he is not so much of that growly type singer that STP demands at times. Chester was almost too darn clear and clean. He is no doubt a great singer, though, and deserves some credit for even trying! However, some fans were not happy about this change. One guy was walking around yelling "F**k you Chester, you ruined STP!" You could tell this cat wasn't the brightest individual to grace the event, but hey, everyone has an opinion. Guitarist Dean Deleo had an awesome guitar sound and tone! Maybe the best of the night. Every song seemed really slow in tempo I thought. Most bands play everything a bit fast when playing live! As always, bassist Robert Deleo was his usual badass self on bass guitar and backup vocals. This is one band that I used to hate, until I saw them live. The change in singers is a huge change and I don't know if STP will survive it. Several people said that they liked STP's new songs with Chester, but Chester doing the old songs weren't up to par. It's a shame that something like heroin can destroy such a good thing. If I was a rockstar, there is no way in hell I would let any drug take my music away from me. Weiland is an awesome singer, and even high on Heroin, somehow he still managed to kick major ass. It didn't seem to affect him as much as it did other singers. But drug addicts like that are difficult to depend on, so I can totally respect STP's choice to move on with someone more dependable. The band was tight as always, but the band's extra slow tempos got to the crowd and quietened them down a bit. Not so good for a show like this. They played "Vasoline," "Wicked Garden," "Plush," "Interstate Love Song," their new song "Black Heart," "Dead and Bloated," and "Trippin On A Hole In A Paper Heart." Not bad, but I miss the heroin addict.
Next up was Korn, the epitome of nu-metal. I'll be honest with you folks. I'm old-school metal to the core and really never got into the whole Korn/Limp Bizkit nu-metal thing when it came out in the mid to late Nineties. But saying that there are a few songs of theirs that I do kinda like. The guitars are kinda cool sounding, too, even though I never cared for seven strings. Jonathan Davis is a darn good frontman and quite a singer though. I like how he mixes vocal styles up constantly. One second he is actually singing, the next its brutal growls, the next its vibrato weird stuff. Very creative. They played their little musical "Twist" song where Davis does aboriginal-type vocal sounds that are just bizarre. It did mix well with the music, whatever the hell it was. Korn had the place really bumping! The crowd went nuts! The younger folk really love Korn, you could tell. The sound was good and the band tight. I've always admired the bass guitar sound that Korn has; it's really punchy and cuts through very well. They played "Falling away From Me," "Got The Life" and Jonathan Davis whipped out his bagpipes for "Chutes And Ladders," - which made everyone happy - "Coming Undone," "Freak" and wrapped up with "Blind." the guys were all business this day and did not waste any of the fans' valuable time with talk. They just rocked out!
Judas Priest played last, and every old-school metalhead was in ecstacy. The crowd had thinned because of the cold weather (it was in the forties by then), but those who knew about JP stayed. Hell, I would have stayed in the cold wet rain! This was the first time in thirty years that JP played in Louisville with original singer Rob Halford, and to have them return like this, on such a big stage and at such an awesome show, was incredible. I got to see my wish come true that we get a show like this, and I get the added bonus of seeing my favorite band of all time headlining? Too good to be true. That is what everyone I know was thinking. People were excited about JP playing this event. More than you know!
New bands/sounds are awesome too, but the classics will never die. That is what people talked about this day. Judas Priest returning to Louisville, whole and complete. Well, they were missing guitarist KK Downing, which is a huge bummer for me, but they found a great replacement for KK, in young K.K lookalike Richie Faulkner, who did amazingly well. His solo was ridiculous. Did you guys hear that kid shred? Wow. Rob Halford was his usual self: wicked. True, he cannot sing quite as well as he did when he was 28 (today's young vocal demons cannot even do it now!), but he does the best that he can, within his limits. And he does really try to do well. That being said, Rob did well Seeing JP was like hooking back up with an ex-girlfriend that you always cared for. There's always going to be a place in your heart for that somebody. And that's how we metal fans feel about one of the creators of metal, Judas Priest.
They played new songs "Dragonaut" and "Redeemer Of Souls," but I wish they would have played "Secrets Of The Dead" and "Cold Blooded" instead. Why do the best songs always get put on the backburner? They also played "Turbo Lover," which was great, "Breaking The Law," that Rob let the crowd sing mostly (he was probably catching his breath!), "Metal Gods" and, to my delight, "Devil's Child," plus the all-time classic, "Victim Of Changes," which was the highlight of Louder Than Life to me! For an encore Rob came out on his Harley for "Hell Bent For Leather" and they also played "You've Got Another Thing Coming" with new guitarist Richie Faulkner's blistering solo. The last song of the night was "Living After Midnight."
Wow. What a day. I was beyond tired. My feet ended up having blisters on blisters! My only complaints for the whole festival were parking, and maybe to have a few more bathrooms! We had to pay $15 to park almost two miles away from the entrance to the event. Way down past the sand company on River Road! That pissed me off. Parking past a certain point should have been $5, not $15. How is paying $15 to park right next to the venue, and having to pay $15 to park two miles away fair?
I was tired before I got to the front gate! Hopefully, parking will be planned better and more fairly priced next time, IF there is a next time. I hear some of the rich snobs in that neighborhood are complaining about noise and traffic. My response is; Look, you whiney, stuck-up beeyatches! You deal with Thunder Over Louisville, which brings trouble and multiple arrests, noise way louder than any rock concert, and trouble galore! You deal with countless concerts/festivals at the Water Tower. You deal with the Snorecastle Festival and Derby events every year. And now that our great city has realized our potential with an annual huge rock festival, you will now deal with this as well. This city has needed this like a man in the desert dying of thirst needs water! It brings jobs and money and visitors to our city, like never before! And now we have our chance, so don't make things difficult just because you don't like rock or metal. If those boring-ass bands at Snorecastle are allowed to have their day, then so should we! Whats fair is fair.
I just couldn't make it Sunday for Kid Rock and FFDP. My feet were blistered and I was exhausted, and I had a concert to play with my band. But I had my bro Clark Staples get some killer pics for you guys! I did hear there were even more people there on Sunday. That is crazy, because Saturday was nuts!
All in all, the event was just excellent. There was one disturbing occurance that had my group bewildered. We walked towards a group of people and some guy was wearing pants that had the front so low you could see his crotch (trust me, I wasn't trolling for penis shots, I like the ladies, but there was no avoiding this sight!!), the weird part was, this guy didn't have a penis! My date noticed it first and said, that guy doesn't have a dick! And sure enough, dude either had it tucked under the sack, or he had a vagina! It was weird. It seemed he was wanting to show everyone! A "Hey, look at my folded/tucked/missing peter" type of gesture!
Here are some highlights of LTL, enjoy!
Rock For Kosair 10, is Saturday November 29 at PHT:
Well, I've learned one thing. It's hard to book bands on Thanksgiving Weekend! I'm not trying that again if I can help it.
Okay, here it goes! You know the drill after nine years! Over 15 bands on three stages, four guitar giveaways from J and J Old Louisville Music Shop, Guitar Center, B-Mart and Music Go Round, tattoo giveaway, with all proceeds going to buy toys for the kids at Kosair Charities!
This year the lineup features: Pantera cover band Infantry #333, featuring members of Flaw, The Smokin Gorillas, 16 Bones, Deadlight Redemption and more), Signal The Revolution, Cinci's Zebras In Public (awesome!), 16 Bones, Unleashed, Krosjoint, Grindstone, Rock Brigade, Year Of The Gun, Mooseknuckle, Digg, Jayson William Allen (of Poetry Of The Dead), John Hager (formerly of Centerfold), Maloik (new band featuring incredible very young musicians!) , Punchdrunk, Tim Vacancy and more TBA!!! Show starts early this year! 7:30 p.m. Sharp!!!
Mötley Crüe "The Final Tour" with Alice Cooper and The Raskins on October 14:
It looks like the infamous coke-snorting, heroin-doing, groupie-banging legendary rock band Mötley Crüe will finally head out to pasture. All I can say is, it's about time. And no, I am not a hater! I love MC! But when performances slip and your singer sounds like total doody and doesn't sing half of the lyrics, it's time to re-evaluate your future. Nikki and Tommy are good to go, but poor old Mick with his spinal disease just can't do this much longer. And MC is Mick Mars! So it wouldn't be the same. And Vince just plain doesn't have it anymore live. Some songs sound decent I admit, but on the old classics that are hard for anyone to sing, he suffers, er, the audience suffers. Dude sounds like a dying cat with pneumonia. But like I said, that shit is hard to sing! Trying singing the verses on key in "Shout At The Devil" and see how well you do! So with all due respect to The Crüe. I agree with this decision to retire the band. I've seen some seriously badass MC shows in the past, too. Almost every album tour all the way back to MC at Cardinal Stadium in 1984 with Ozzy. Classic.
So if you wanna see the guys one last time, now is your chance to see one of rocks raunchiest, nastiest, sleeziest and rockin' metal bands ever! Get your tickets to this show October 14 at The KFC Yum! Center.
BTW, Alice Cooper is opening! I saw Alice two years, ago opening for Iron Maiden in Indy and he was awesome! Alice still has the heart and abilty to kick some butt.
And there is a new band that kicks some serious butt opening the show: The Raskins, a band comprised of brothers Logan and Roger Raskin. These guys are high energy rock n' roll, mixed with metal and a tad bit of punk thrown in for good measure. The band seems to be making some waves with their new twelve-song, self-titled CD. They just got off a tour with Scott Weiland and Saving Abel and are super stoked about opening for Alice Cooper and Motley Crue. Who wouldn't? I would shit a brick.
I posted a Raskins video for their song "We Had It All" below. Enjoy!
Here is some old MC in their heyday. Classic US Festival footage.
Devil City Angels (featuring Rikki Rocket of POISON, Tracii Guns of LA GUNS and Eric Brittingham of CINDERELLA) Is Coming to Expo 5 on October 19:
I just heard of this new supergroup of Eighties rock stars, and it sounds like a great lineup! This is a last-minute show, with ppening acts Wicked Sinsation and Year Of The Gun! My band plays first, so be there at 7 p.m.! $20 in advance and $25 day of show! All ages!
Slipknot, Korn and King 810 Coming to Lexington in November:
It's a seven- and eight-string guitarfest!! All you lovers of nu-metal should be ecstatic about this upcoming show at Rupp Arena on November 22. I've seen Slipknot a few times (once at Rupp Arena about 6 years ago) and they put on a decent show, but I've never been a big fan of Korn. Seems everyone else and their mamma does love Korn though, so it should make for an interesting show indeed. The nu-metal kids should be out in droves for this one! I'll see if I can't get the venue to up some free tickets for you good folks to win! It sure doesn't hurt to try! "We've been waiting a long time for this," states Slipknot's Corey Taylor of the tour. "Not only do we get to tour with friends who we respect, we've also chosen a band that represents the fury of the future. Slipknot is coming to your town. And hell's coming with us."
It's GWAR!!!! ARRRRGGGGHHHHH!!!
Yup, it's true, the monsters of metal are returning to Louisville to spew nasty, slimey, stuff all over you people! Ah, it's good, er, clean fun! The legendary band will be in Louisville on Tuesday, October 21 at Expo 5 w/ Decapitated and American Sharks! This is gonna be a barnburner of a show. It's been awhile since I've seen GWAR, I think it was at The Oasis about five years back. Maybe it's time for me to see these cats again. I remember the first time I saw GWAR, I hid in the back to not get shit sprayed on me, but a giant Jesus ended up spewing goo out of a giant rubber schlong, all the way across Headliners to the back of the club, to hit me directly in the face. It was a helluva shot. The show is $20 and starts at 7 p.m. I think there will be local bands on the bill as well, so get there early.
Carcass and Obituary coming!!! Oh Hell Yeah:
Metal lovers should nut at the news of this monster of a show coming to Diamond Pub on November 8. Look up Terryharper.com to get your tickets! And get ready to get bloody!
Pantera Cover Band (featuring Flaw Members) to play Rock For Kosair 10:
One night only, people!!! Don't miss the Pantera Tribute band "INFANTRY #333" (Official All Star Tribute Band Honoring the Life of Dimebag Darrell) Featuring members of FLAW, The Smokin' Gorillas, Sixteen Bones, Deadlite Redemption and more. One Night Only Nov 29 at ROCK FOR KOSAIR. Don't miss this exclusive Feature presentation of PANTERA music.
New Video by Zebras In Public:
Be sure to check out the new video by Cinci's Zebras In Public! And do not miss them at rock For Kosair on Saturday November 29 at PHT.
Props Of The Month, Creature Of Exile!!!
Back in the day, bands didn't cancel shows. It was a rare thing. I couldn't tell you how many times I've played sick or sung with bronchitis and a nasty fever. Sadly, nowadays it seems like bands cancel if they get a cramp in their toe or if they get a sniffle. One band in particular shares the same "the show must go on" thinking of old. Creature Of Exile had an emergency where their singer could not make it to a show scheduled, but the band, not wanting to put a strain on the promoter at the last minute, showed up and played anyways! To me, that showed great dedication and good morals. Good people! Guitarist Jon Massey stated "We have never cancelled a show and we aren't going to start now!" Not only was the band awesome, but I got to see Creature Of Exile's music up close and delve into the musical aspect of the band's music, while not distracted by vocals. This band is smokin'. Technical and precise, the riffs are heavy and dark. And their attitudes are gold. I wish more bands were like these guys. So thanks a ton, guys. This will not go unnoticed.
Stagecoach Inferno "Single" Review:
I'm checking out the newly released single by Louisville's Stagecoach Inferno. I've been waiting to hear this band for some time and I'm glad I finally my chance.
Guitarist Stephen Casciato works at Guitar Center and has helped me with many purchases. He is a good dude! I thought this track "How The West Was One" would be brutally heavy but it's not. It has an old-school feel bigtime, as remnants of semi-old Metallica come to mind. Vocalists Hunter Correll does a pretty good job, but it's not what I thought I would be hearing. Hunter has a real manly, rough James Hetfield-type vocal style but can do some higher notes as well. There is actual singing and note hitting, and that makes me happy. There are way too many cookie monster clones in metal today, especially in Louisville! Seems the more you sound like farts are coming out of your mouth, the more you are rewarded! I've seen some ridiculously terrible vocals. I love the good old days when men sang! And that is what Stagecoach Inferno does! They aren't skeert to do shit the old fashioned metal way. I love that! The guitarwork of Stephen Casciato and Brennan Ray are pretty good. It's old-school metal through and through. I dug the short solo in the track! Good guitarists and tone.
The sound quality of the recording is nice. I'd like to hear more than just one song, these guys should release more! Now I just need to see these cats live in action.
Waverly Haunted House Review:
A bunch of us went to the Waverly Haunted House opening weekend, and I was looking forward to it because, I had only been there at an outdoor concert, and had never been inside ever. The tour starts with a show outside of the Hospital in the back. They had some actors do the thriller dance, many dressed like the dead. It was incredibly cheesy. Since when do haunted houses have dancing? A gross misuse of funds if you ask me. Next a light shone on the outside of Waverly, and soon the old hospital came to life, with veins pulsating, the hospital grew a heart that pumped, huge ghosts appeared in the windows, bats flew out of the place, and blood started running down the walls. All this was an illusion created by digital image projection, but you could hardly see the source of the images, so that made it cool. After that, they let us into Waverly. We walked a long a way through several rooms with the usual haunted house theme, but most were hospital-themed with crazy or dead people laying about! Their 3D area was pretty good, too, the best I've seen in a few years. They had a crazy tunnel that you walked through, with spinning walls that made you feel like the bridge was flipping upside down. It was a hideous illusion that almost made me ill. You could barely walk! Very well done! My favorite part that I liked about Waverly was buying paintballs to shoot at zombies! It costs extra but it was oh, so fun. I was aiming at the zombies' heads and crotch! Turns out that I was quite a good shot. Poor zombies! This was good fun. The Michael Jackson thing was lame, but the 3D and zombie-shooting was awesome! Check it out!!!
Industrial Terrorplex Review:
I haven't been to this place in years. The last time I went they had the awesomest 3D haunted house experience I've ever seen! And the best 3D effects! The place still has the goods as me and my lady friend found out. In this haunted house, they can touch you and do!! I saw some creepy costumes in this place. They had a Silent Hill themed area with hot chicks walking all creepy, like in the movie. It was smoky and there were fenced, maze-like areas where you walked through. I couldn't see shit! As far as I know I probably walked into a hot Silent hill type zombie chick and felt her boobs. They had this one room that had two dudes with chainsaws and machetes butchering animals and humans. It was disturbing. What was even more disturbing was that there was no way out, and these guys were surrounding you and messing with you hard. I was relieved after they finally pulled open some kind of what looked like a meat locker door? They had evil midget clowns with slides in a blood-splattered room. At one point, someone's prosthetic nose got stuck to my shoe and wouldn't fall off. They had an elevator with wood plank walls that hid a creature of some type, which appeared out of nowhere. Cool. Many times it was pitch-black and you had to feel around to get anywhere. And always there was someone sneaking up on you and hissing in your ear. We came to a room with a laser light and an inflated half wall that you had to push yourself through. The laser effect was awesome! You couldnt see anything and fog was everywhere. A very cool effect. People would jump up out at you out of nowhere and you could not see them coming at all, which was a good scare in itself. My lady friend called it "the Birth Canal." It was a claustrophobe's nightmare trying to get through the inflated wall rooms with no light and your only way of getting around is feeling around in darkness and hope you touch a wall leading out. They also had a large demon statue that was huge.
The passageways and designs on the walls were awesome! One wall seemed to close in on us! Dungeon, castle-like and downright spooky is what it was! The 3D area wasn't near as good as it was years ago for some strange reason. The effect didn't seem near as powerful. Overall it still was a killer time, and you should definitely bring the family for some great Halloween fun. My lady friend said that Industrial Terrorplex scared her way more than Waverly. The actors at Industrial Terrorplex hound you, touch you, terrorize you and one even humped me! Not being able to find a way out was kinda disturbing, espeically with the crazy lights they have! Industrial Terrorplex still has the Halloween goods, so be sure to visit them soon!!! We had a blast! Special thanks to the Terry Campbell and Jeff Webb for letting me come out to review!
Musician Of The Month, Drummer Ryan Murphy:
This month's feature is drummer Ryan Murphy, a talented cat who has been rocking this town for decades!
Upcoming Shows
Bogarts
Monday, December 1 – Halestorm. 7 p.m.
The Brick Alley (in Frankfort)
Friday, October 31 – Fear Of Falling. 8 p.m.
Brewskees
Saturday, October 11 – Springliner and Lucidai.
Saturday, October 18 – Rockaway Drive, Running With Tarantulas, Ars Enigma and Thread.
Saturday, October 25 – Atomic Thrillride.
Friday, October 31 – Kingslayer and Heart Of Kings. 9 p.m.
Diamond Pub (on Baxter)
Sunday, October 12 – Sonata Arctica w/ Delain, Xandria, Fatal Step and Mild Trauma. 7 p.m. $20-$60
Saturday, November 8 – Carcass w/ Obituary, Exhumed and Noisem. 7 p.m. $25
Sunday, November 30 – The Misfits w/ The Revenants, Vice Tricks, Dead Dick Hammer. 7 p.m. $20
Expo 5
Friday, October 10 – Whitechapel w/ Upon A Burning Body, Glass Cloud, Eye Ov The Storm and Sounds Like A Lawsuit. 7 p.m. $18
Friday, October 17 – Louie the Local Guy Presents:
Prayer for Pauly Benefit Show (Louie's nephew)! All Ages 6 hours 3 Stages 20 Bands and Silent Auction.
Bands are: Driving Beast Daisy, Creature of Exile, Bury the Wicked, Consider This, Spontanious Internal Combustion, Starticus, Last Question, The Jereactors, Untold Rellik, Kingslayer, Digg, Deven Roberts and The Indigo Children and many more! Special Guest Headliner TBA
Sunday, October 19 – Devil City Angels (featuring Rikki Rocket of Poison, Tracii Guns of LA Guns and Eric Brittingham of Cinderella) w/ special guests Wicked Sinsation and Year Of The Gun. Show starts at 7 p.m. Sharp. Don't be late because I'm opening the show! $20 ADV/$25 DOS
Tuesday, October 21 – GWAR w/ Decapitated, American Sharks, Bearhammer, Granshaw, Sons Of Medusa and Methods Of Madness. 7 p.m. $20
Tuesday, December 2 – Black Veil Brides w/ Falling In Reverse, Drama Club and Setting It Off. 6 p.m. $25
Phoenix Hill Tavern
Friday, October 10 – Velcro Pygmies w/ Unleashed.
Sunday, October 12 – Chili Cookoff, Unleashed, Maloik and HTH.
Saturday, October 18 – Opiate (The Tool Experience). $10
Thursday, October 30 – Macabre w/ Panzerfaust, Abominant and Fornicus. 7 p.m. $10
Friday, October 31 – Puddle Of Mudd w/ Some Kind Of Saint and Trust Divided. $20. 8 p.m.
Friday, September 19 – Metal Mayhem – fea. Consider This, Lethean, Candlefly, Driving Beast Daisy, Enchiridion, Attack Of The Pacifists, Anthony Dematos, Shane Shepherd and Madison Marie.
Friday, November 7 – Candlefly, Old Soul Envy, The Tri Tones, Lethean. Free before 9pm. Only $5 after 9.
Saturday, November 29 – The tenth annual Rock For Kosair Childrens' Benefit concert. Proceeds raised go to buy toys for poor kids for Christmas. So far we've raised over 50 thousand dollars worth. 15 bands on 3 stages! 4 Guitar giveaways from J and J Old Louisville Music Shop, Guitar Center, B-Mart and Music Go Round! Prizes! So far, bands playing are :
Infantry #333 (the Pantera cover band featuring members of Flaw, 16 Bones and The Smokin Gorillas), Signal the Revolution, Krosjoint, Zebras In Public, 16 bones, Unleashed, Grindstone, Year Of The Gun, Rock Brigade, Mooseknuckle, Maloik, Punchdrunk, Digg, Jayson William Allen (of Poetry Of The Dead), John Hager (formerly of Centerfold), Tim Vacancy and more TBA!!
The Vernon Club
Wednesday, October 15 – Stray From The Path , Counterparts, Expire and My Ticket Home. 6:30 p.m. $15
Friday, October 24 – Combichrist w/ William Control, Davey Suicide, Darksiderz, Empyrean Asunder and Shawna. 6:30 p.m. $20
Wicks (Baxter)
Saturday, October 18 – Unleashed.