October 2014 Articles
Cover Story
Paul Moffett
Features
Eddy Metal
Columns
Mike Suttles
Eddy Metal
Blogs
Got Shows?
Send Them To Us
Bookmark Louisville Music News.net with these handy
social bookmarking tools:
Available RSS Feeds
- Top Picks
- Today's Music
- Editor's Blog
- Articles
Add Louisville Music News' RSS Feed to Your Yahoo!

Issue: October 2014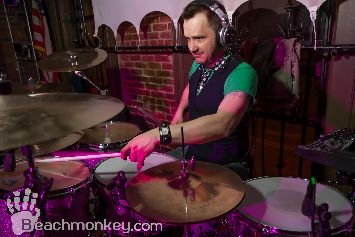 Ryan Murphy
Ryan Murphy
Age: 44
Instrument: Drums/Loops/Pro Tools
Band/Former Bands: Full Contact Karaoke, The Good Chiggens, 16 Bones, Peter Searcy, Dirt Poor Robins, Velvet Saints, Turn 3, End Of Me, Wax Factory, Jefferson Tarc Bus and thousands more.
How long on instrument: When I was a kid, I had always wanted to play drums. I was just drawn to it. I started getting serious about at 16. 28 years later .
Equipment: Yamaha Drums and Hardware, Sabian Cymbals, Remo Drums heads and my live Pro Tools rig
Influences: I'm influenced by many Louisville drummers. Max Maxwell, Brad Canaday, Johnny Roy, Jeff Jarboe, Paul Culligan, James Kottak and many more amazing drummers in this town. Of course, the late great John Henry Bonham and all the amazing musicians that I am blessed to get to share the stage with.
My first gig: Classic backyard party. Senior year of high school. The band is rock'n! We are jamming on "Rock N Roll" by Zepplin and mid-song my bass drum beater pops out of my pedal. So I am freaking out and looking for my drum key to fix my pedal. I then realize my date had my key. Long story short. I get my drum key, fix my pedal and rock the drum solo and the end of the song. First gig lesson, never let your girl have your drum key.
Hobbies: Cycling, painting by numbers, helping educate the political right, marching against Monsanto.
Favorite movies: Casino, Good Fellas or any other mafia movie. .
Favorite food: El Taco Luchador!!
Favorite place: Home with my family.
Favorite sports or team: The Germantown Lookouts!! Greatest T-Ball team on the planet
What I'm listening to nowadays: Angels and Airwaves, 30 Seconds to Mars, Need To Breath,
Coolest thing I've done: Rock'n the drums for the troops in Guantanamo Bay Cuba
Most embarrassing moment: On stage? There are so many to choose from. Ok, it's the late 80's (big hair Aqua Net era) and I am rocking a gig at the Toy Tiger. I think the band was called Hyde. Anyway, we were opening for Fire Dept, so I was playing Perry Scroggin's drum kit. The place is packed, I'm rock'n! My stick flies out of my hand. I have no idea were it went. I turn my head and quickly realize my stick was dangling from my stiff Aqua Net 80's dew. People in the front are cracking up watching me struggle to get the stick out of my hair. I miss those days. NOT!.
Bad Habits: Chewing my toenails while driving. You kids don't try that at home .
When/where did you first get some: Some?? Food? Drums? Wait, what are you asking me?!
If you could meet a Rockstar ( past or present ), who would it be, and why: Just one? The it would have to be Diamond David Lee Roth. I would love to hear that dude rambling on and on. Not to mention I'm a huge Van Halen fan/
Who do you love: My kids, wife, my family, chocolate chip ice cream, The Sopranos, The History Channel, Yamaha Drums and Sabian cymbals