September 2014 Articles
Cover Story
Paul Moffett
Features
Eddy Metal
Columns
Nelson Grube
Martin Z. Kasdan Jr.
Eddy Metal
Blogs
Got Shows?
Send Them To Us
Bookmark Louisville Music News.net with these handy
social bookmarking tools:
Available RSS Feeds
- Top Picks
- Today's Music
- Editor's Blog
- Articles
Add Louisville Music News' RSS Feed to Your Yahoo!

Issue: September 2014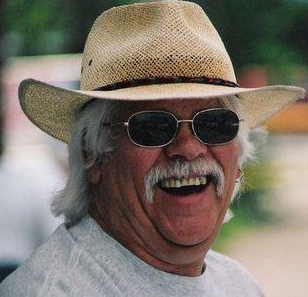 I've Got A Mind To Ramble
Mississippi Adam Riggle
Hang on to your hat and your seat. No one warned me and I about fell out the window. Mississippi Adam Riggle is a man possessed with a musical feeling and is self-destined to take it to the world. He enlightened me one afternoon at his home and this is what he said.
"The first person that I saw making music was my Dad picking out songs on his guitar. He was playing only the chords and getting a big full sound on songs like "Pipeline" and "Little Red Riding Hood." I said I wanted a guitar and I got one when I was ten. Because I wouldn't take lessons, I soon lost interest. That changed when I first heard the blues. What got me interested was Clapton's album, Unplugged, with the old Robert Johnson songs like "Malted Milk." I was sitting around playing it at some friend's house. Clapton's blues made me want to play. I found out about serious blues from reading liner notes and then I realized that Clapton didn't write those songs!
The first time that I heard Son House play – that grabbed me in a new place. House is the culmination of the blues – as a feeling – not as a type of music! Going back from all the recorded stuff today – let that be a lake of blues and behind that is a river of blues and behind that is a creek of blues and behind that would be a drop of water and that would be Son House.
It is logical that to get to the point of making this music, you gotta have something inside of you that's gotta come out. And if you don't get it out through your music, well, it might just come out in a destructive way. Music is created from within. After you know your instrument and what it should sound like, after your training, then you gotta put the sheet music away and play what it is that you gotta say musically.
It's like with the slaves – you go out to work and you always have the urge to make some noise while you work. And the harder you work – the slave had no outlet – it makes you want to holler at the top of your lungs. You go out by yourself and talk to God and yell and scream it out! The blues shouting equals voice development – and like field hollering as communication – you don't have to have had any musical training. Maybe you got an old geetar with two strings on it and you hit one something and it resembles a noise you once heard and you make it over and over again like a drone. You start yelling along with the chord noise and that was the blues. And maybe people came by and liked the noise and the beat and they started singing along and dancing to the song. And maybe your groove got deeper and longer and the people danced. And all of a sudden it was Sunday morning and people were in church saying: 'What happened anyway?' And it was about the music and not about doing stuff for show. And people wondered could they find that feeling again? Where did it come from and where did it go?
So the now "guitar player" decides he wants to make more sounds. He watches others and tries his hands at his chosen craft. He don't give up and he still hears the sounds that he wants to make and one day the guitar gives him back what he has been hearing since the beginning. You get to one level alone and you get confident in it, then you get with a band or start one. Now you're mowing grass on Saturdays to make some money to buy old blues records. Then you meet some people with the same kind of vision as you. For me that was Brick Marlin on harmonica. Our common area was Delta Blues.
We were too young to play in bars and our parents wouldn't allow it, anyway. So, we played coffee shops like at book stores and it was good just to get to play in front of people.
Now in my opinion, a person doesn't need props like hats, nice shoes, dress-up clothes or a bag of guitar tricks to feel the blues. The blues must come from within. The blues feeling can be a monster. It can push more than music out of you and this is not always a good feeling. It is more like low down stuff. Lots of people can't get to this stage out of their own feelings. They may try drugs and/or alcohol to get them there but that's just a prop.
Do you have to have the blues to play the blues? Well those who convinced you to play – Muddy Waters for example – he never lost his blues. Their blues did not go away with money and success. The blues never leaves some people. There was this old man in Mississippi that had all kinds of problems – house burned, turned to alcohol, had a bad car wreck, fought lung cancer that spread to his brain, lost all his women and his money. He never gave up playing the blues. Cats that watch guys like that – it might get them to thinking that alcohol and drugs will get them into the blues faster but that ain't the way it works. Some never grow out of this – they play to party – and every night.
If you do it without the extra stuff then the blues will help you get through it. The artistic brain never quits working. Blues music helps you to get rid of your blues.
The first jobs that I played, was not good stuff. You just try to be the best that you can be. I could hear what I wanted my notes to sound like. I could feel and hear what it was that I wanted to create and what I wanted the guitar to do. I got my confidence up playing in front of some people down in Mississippi. I wanted to see all the sights and absorb all there was about that place. It really is a different country than where I was from. Economically speaking, the white folk were the only ones with any real money. It was still segregated and the blacks were held to non-skilled jobs that didn't pay so much. There was still the social stuff like blacks not working in stores as blacks could not wait on whites.
When we went from Memphis to Clarksdale, we noticed a really big slow down. Everything and everyone moved at a slower pace. The music sounds different in that environment and there were lots of open spaces. The Delta is a flat expanse of land where all the trees were smaller and there were just a few buildings. If you left that space and walked out into a cotton field, you were really alone. There was no shade and there was nothing for sound to bounce off of and come back at you. In those wide open spaces, you could make as much noise as you wanted without worrying about somebody complaining. You could compare this to a tree-lined park at home and notice some real big differences.
With no echo bouncing the sound back, the sound carries further and it makes your voice not as loud as it really is. Suddenly you get that gut moan and you try harder. You get guttural and look around and say to yourself, "Now who was that?" They used to call this the "cornbread voice." You sound like Muddy starting a song and if someone stops and watches, you know you're starting to do it right.
Dad wanted a picture of me playing in front of a place in Clarksdale. He took the picture and people started asking me questions. One was a piano player and he said that he liked my playing. He was playing at Smitty's Red Top Lounge and why didn't I come by there at ten o'clock that night, so we did. Dad went in to check the place and the doorman said "Bring him in." I was too self-conscious to get up there and play. It didn't help me having the only white face in a juke joint. We sat a set and then a white piano player got up there and said for me to come on up and sit in. I made excuses 'cause I knew that I couldn't keep up. I talked myself out of it this time. Then the next time Dad took me down there, I was ready. I got up there with Wesley. He sang and I played and he said I was doing pretty good.
I was invited back in August to play the Sun Flower River Festival. Despite my nervousness that happened. And then Dad was driving me down there six or eight times a year for me to sit in with those guys. They were digging what I was playing. This was my education. Those guys never practiced. They'd yell out the name of the song and the key and away we'd go. They gave me confidence. Confidence in oneself is what makes it. I got a real education working with and for real working musicians.
I played around Clarksdale with a lot of guys. If I did something wrong I'd expect to get yelled at and told to sit down. But, when I'd start to take my axe off, they'd tell me to stay up there. We'd play it until we got it right and then I'd feel good about it all. It was all about the music down there. We were really more like friends. It's a different kind of musical camaraderie down there. Ever body tries to help others to make them better! You can't buy that kind of learning."
What about Louisville Blues? Well, don't write this down but a lot of people around here have a convoluted idea of what the blues really are. It's not "blues-based" or "blues influenced" if you are playing the blues. It's the blues. I mean Elvis didn't have "just" a blues influence. Neither did Big Boy Crudup. Blues done right is a whole lot like preaching done right. And we could go on talking like this forever."
Mississippi Adam Riggle and his band can be seen at this year's Garvin Gate Blues Festival in October.