September 2014 Articles
Cover Story
Paul Moffett
Features
Eddy Metal
Columns
Nelson Grube
Martin Z. Kasdan Jr.
Eddy Metal
Blogs
Got Shows?
Send Them To Us
Bookmark Louisville Music News.net with these handy
social bookmarking tools:
Available RSS Feeds
- Top Picks
- Today's Music
- Editor's Blog
- Articles
Add Louisville Music News' RSS Feed to Your Yahoo!

Issue: September 2014

Jazzin'
PRELUDE:
Well, there's not really much to say, so let's jump right in to the music.
RECENT CONCERT
William Hooker Trio at Dreamland
Drummer William Hooker brought his trio to Dreamland on Wednesday, August 20. Unfortunately, the gods were apparently conspiring to prevent a full performance. I had heard that Hooker was caught on the highway and running late, and the opening acts, Christopher Tignor and Alexander Turnquist started late. There's a weeknight curfew of 10:00 p.m. for live music at Dreamland, so by the time Hooker took the stage at 9:40, there was only time for a mini-set. Bassist Luke Stewart set up a slow R&B groove, Hooker began playing accents and patterns with mallets, switching to brushes as Ed Ricart's off-kilter guitar started off on some phrasing that, to me at least, evoked Captain Beefheart's jagged energy. The trio, led by Hooker's visual cues, explored other musical territories, with Ricart switching to acoustic and then back to electric guitar, and Stewart using a bow on his electric bass, before the opening groove returned and they took it out. All in all, a tasty appetizer; here's hoping for a return engagement where Hooker and company can serve up a main course.
ON THE HORIZON
Tyler Park Jazz Festival, Sundays in September
The Tyler Park Neighborhood Association will present its Fifth Annual Tyler Park Jazz Festival every Sunday in September, from 4:00 to 6:00 p.m.. This family-friendly free event features some of the Louisville area's best jazz performers. The lineup is The Jamey Aebersold Quartet (9/7), The Dick Sisto Trio (9/14), The Mike Tracy Brazilian Ensemble (9/21), and the University of Louisville Jazz Ensemble ,(9/28). There will be food available through Valu Market, no outside alcohol, "BYO" lawn chairs.
Indy Jazz Fest, September 11-20
Indianapolis will host its annual jazz festival at a variety of venues, from theater and club to outdoor. The headliners include Maceo Parker , Tom Harrell , Grace Kelly , and Steve Turre . Details on the schedule, ticket information, etc., are available at www.indyjazzfest.net.
JD Allen Quartet at Dreamland
On Friday, September 19, Dreamland presents the JD Allen Quartet . They released their most recent album, Bloom (Savant, www.jazzdepot.com/savant.html), in April. Opening the night will be the Dreamland Improvisation Company, a revolving collection of Louisville's most creative musicians creating spontaneous collaborations of free improv. Dreamland is at 810 E. Market Street (in the alley behind Decca Restaurant), http://dreamlandislouisville.org.
Jazz at Lincoln Center Orchestra with Wynton Marsalis at the Kentucky Center
In a season otherwise short on jazz, the Kentucky Center brings back the Jazz at Lincoln Center Orchestra with Wynton Marsalis for a concert on October 1. Ticket information at 502-584-7777, www.kentuckycenter.org/Kentucky-Center/14-15/Jazz-at-Lincoln-Center-Orchestra-with-Wynton-Marsalis/12244#tab-show-information-link. It's way past deadline time; I thought I had read that this tour will feature music from Thelonious Monk and Art Blakey, but I can't find confirmation on that. So, don't quote me .... But the concert will showcase great musicianship and arrangements, regardless of the repertoire.
SELECTED CLUB AND OTHER LISTINGS
The Laughing Derby at The Comedy Caravan , 1250 Bardstown Road, Louisville, KY 40204, 502-459-0022, http://laughingderby.com. The Don Krekel Orchestra will continue its gigs there on third Monday of each month, which this month will be September 17. Also, the club will now offer a menu of sandwiches, salads and more. I've heard rumors that there may be more jazz events; if any of you have specifics, please contact me. Please contact the club for any post-deadline information.
The Nachbar (969 Charles Street, 502-637-4377, www.myspace.com/thenachbar)features "Nachbar Jazz" on Wednesdays, with Jacob Duncan . Check the club for updates or changes. The club also has a Facebook page with occasional updates.
HAPPY 20 th ANNIVERSARY To The Jazz Kitchen (5377 N College Ave., Indianapolis, IN 46220; phone: 317-253-4900; www.thejazzkitchen.com), presents nightly offerings of local and regional jazz; check the website for the full schedule and updates. A road trip might be advised for: Ira Sullivan , September 5; Claire Daly , September 12; Gust Spenos & His Band Featuring Wycliffe Gordon , September 13; Tom Harrell with Luis Perdomo, Ugonna Okegwo and Johnathan Blake, September 19; John Abercrombie , Oct 20; Jason Marsalis , Nov 15; Larry Carlton , Dec 5. Other shows may be added, so check the site.
Please sign up for updated local jazz listings: The Louisville Jazz Society provides weekly e-mail updates for local jazz happenings. Be sure to sign up for the e-mail "Louisville Jazz Society's Jazz Insider" at www.louisvillejazz.org. It is both impossible for me to try to provide complete listings here, and it would be duplicative of the weekly listings in the Courier-Journal and LEO and the Louisville Music News' monthly music listings, www.louisvillemusicnews.net.
EIGHTH NOTES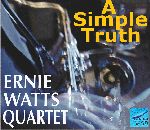 Ernie Watts - A Simple Truth
Ernie Watts
A Simple Truth (Flying Dolphin Records, www.erniewatts.com)
Here in Louisville, we've been fortunate to have the opportunity to see sax master Ernie Watts in concert twice the past few years. His working group consists of Christof Saenger, piano, Heinrich Koebberling, drums, and Rudi Engel, bass. On the opening and closing pieces, "The Sound: Morning" and The Sound: Evening," Watts' tenor weaves warmly and invitingly through lovely orchestrations by Ron Feuer. The rest of the album is split between originals by Watts and Koebberling and their interpretations of a wide range of material from others. Keith Jarrett's "No Lonely Nights" begins with a cappella sax before the others join the leader, with effective use of brushes on this lovely ballad. The drummer's "The Road We're On" is uptempo, and demonstrates Watts' ability to play fast yet cleanly and articulately. Watts' own "Acceptance" is a hard-swinging blues with African rhythms adding interest. Dizzy Gillespie's rousing "Bebop" has an effective bass/sax solo near the end. Another ballad demonstrates the exquisite communion among these musicians, as they wind their way through Billy Childs' eloquent "Hope in the Face of Despair." The last quartet piece is the title track, which seems to embody Watts' dedication of this album "EXTRA SPECIAL THANKS [all caps on the cover] to Charlie Haden, my inspiration and infallible guide to beauty in music for almost thirty years – we love you." Written before Haden's passing, the release of this album less than a month later embodies the spirit of haden, who was Watts' bandleader in Quartet West.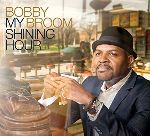 Bobby Broom - Shining
Bobby Broom
Guitarist Bobby Broom has been getting a great deal of exposure this summer opening for Steely Dan, with an organ-based trio. His new recording, though, finds him fronting his working trio with longtime bassist Dennis Carroll and relative newcomer Makaya McCraven on drums (only on board for half a decade, now). Notwithstanding an extensive discography as a leader, this marks Broom's first album dedicated to standards. What might quickly turn trite in lesser hands becomes an exercise in thoughtful reimagining. "Sweet and Lovely" kicks the album off with Latin-flavored drumming and a chordal introduction, before the trio moves to swing for the soloing. The title track, "My Shining Hour," is propelled by McCraven's rolling toms. A lesser known ballad, Lerner and Lowe's "The Heather on the Hill," begins with gentle a cappella guitar, with bass and brushes easing in. Fats Waller's classic "Jitterbug Waltz" takes new life in a riff-driven arrangement by Carroll. Broom teases out the melody in slow tempo on "Oh, Lady Be Good" before the others join and take it to midtempo, trading fours before Carroll shines in his solo spotlight. The closing number is a lightly swinging take on "The Tennessee Waltz." This album represents a true trio endeavor, with each member contributing to each song, not just accompanying the leader. In taking on such well-known pieces, Broom's approach seems to be looking for the notes that are less obvious, and making this album of standards refreshing and enjoyable.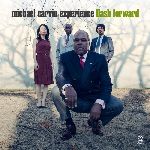 Michael Carvin Experience - Flash Forward
Michael Carvin Experience:
Flash Forward (Motéma 156, www.motema.com)
Master drummer Michael Carvin has assembled a group of younger musicians who sound great together. They are Jansen Cinco on bass, Yayoi Ikawa on piano, and Keith Loftis on tenor sax. Throughout, the quartet frequently nods to the John Coltrane classic quartet of the early to middle 1960s, starting with the spirited opening track, "So What." Loftis reaches high in a soulful rendition of Horace Silver's "Sayonara Blues." Bobby Hutcherson's "Same Shame" isplayed as a long invocation. Carvin plays with taste throughout, generously showcasing his musicians rather than soloing just to show his superb chops. His brushwork is subtly reinforcing on the less-is-more rendition of the classic ballad "You Go To My Head." It's been eight years since Carvin's last recoding as a leader; I hope this release leads to more new material from this talented group.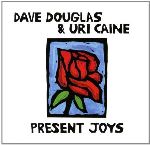 Dave Douglas & Uri Caine< - Present Joys
Dave Douglas & Uri Caine
This album of duets between trumpeter Douglas and pianist Caine carries forward the spiritual themes of Douglas' recent releases, Time Travel (2013) and Be Still (2012). Caine had been part of Douglas' groups for years, and this new album reunites them in a series of hymns from the shape-note tradition, plus originals in the same vein. The result is an elegant, somewhat formal yet warm recording of music which is notable for grace rather than "jazzy" runs. The songs range from elegiac to spirited, but it's clear that whether old or new, slow or fast, the musicians are reverent and play with heart and conviction. The cover art, like the music itself, is new yet evocative of ancient traditions.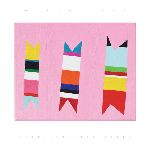 The Nels Cline Singers - Macroscope
The Nels Cline Singers: Macroscope
(Mack Avenue, www.mackavenue.com)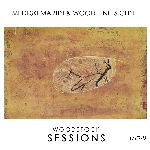 Medeski Martin & Wood + Nels Cline -Woodstock Sessions Vol. 2
Medeski Martin & Wood + Nels Cline
Woodstock Sessions Vol. 2 (www.mmw.net)
Nels Cline is now perhaps best known for being Wilco's guitarist, but that's just one hat he wears. Two new releases show him leading his tongue-in-cheek named band, The Nels Cline Singers, and jamming with Medeski, Martin & Wood. Both these albums make me think of Jimi Hendrix and his movement in the direction of jazz before his untimely death. They also call to mind the blistering work of John McLaughlin on his early solo album, Devotion. Both these releases make me think that with all the hyphenated "-jazz" categories, there ought to be one called "psychedelic-jazz," a distinct difference from "acid-jazz." For those not in on the joke, The Nels Cline Singers consist of Cline, Trevor Dunn on bass, and Scott Amendola on drums, plus guests. "Companion Piece" lulls you in with a gentle guitar trio opening, before transforming into a rock-jazz piece with echoes of John Cipollina. "Canales' Cabeza" is old school fusion, followed by "Respira," a multi-layered piece with wordless vocals. And so it goes, as Cline and comrades stitch together an influence from here, one from there, and one from somewhere else, indeed, into an album that highlights the electric, eclectic playing of the leader. Cline becomes the fourth member of the trio Medeski Martin & Wood, in a recording which pulls together pieces from a 2-hour, live-in-the-studio performance. Like Cline's own album, this pulls from blues, rock, psychedelia, and more. There are short songs. like the eerie and moody opening, "Doors of Deception," and longer works such as "Los Lank," which calls to mind the urgency and intensity of the early Tony Williams Lifetime. Another lengthy song, "Looters," moves from temple bells and arco bass weirdness to a space blues. Both albums are highly recommended to lovers of adventurous music, especially within a primarily plugged-in context.
LOCAL JAZZ CONTACTS
With two now-fifteen-year-old daughters, it's hard to get out as much as I would like to hear music. As a result, picking and choosing which performances to catch sometimes require that I postpone seeing some of the local musicians and singers in order to not miss the one-night-stands from out-of-town artists. Invariably, I feel guilty, so in an effort to assuage my guilt and, more positively, to provide more exposure to our community of great local jazz performers, I am initiating this feature containing website and e-mail contact information. I am only including those artists who have given their permission to me; some have indicated a preference for website listing only; others have only e-mail addresses. If you wish to be included, drop a line to me with your permission and preferences, at mzkjr@yahoo.com. I reserve the right to edit and to exclude those whose connection to jazz is, in my opinion, tenuous; and this feature may end up online if it begins to take up too much space in print.
MIKE TRACY: www.michaeltracy.com, michael.tracy@insightbb.com, saxophonist and teacher Mike Tracy
UNIVERSITY OF LOUISVILLE JAZZ PROGRAM: www.jazz.louisville.edu
BOBBY FALK: www.myspace.com/bobbyfalk, drummer and composer Bobby Falk;
WALKER & KAYS: www.walkerandkays.com, singer Jeanette Kays and guitarist Greg Walker;
JENNIFER LAULETTA: www.jenniferlauletta.com, singer Jennifer Lauletta;
JEFF SHERMAN: jeff.sherman@insightbb.com, guitarist Jeff Sherman;
RON JONES: www.ronjonesquartet.com, rjmusic@ronjonesquartet.com, saxophonist Ron Jones;
STEVE CREWS: www.jazzcrews.com, jazzcat@iglou.com, pianist Steve Crews.
CODA
1) I am always interested in your comments. Contact me at mzkjr@yahoo.com.