September 2014 Articles
Cover Story
Paul Moffett
Features
Eddy Metal
Columns
Nelson Grube
Martin Z. Kasdan Jr.
Eddy Metal
Blogs
Got Shows?
Send Them To Us
Bookmark Louisville Music News.net with these handy
social bookmarking tools:
Available RSS Feeds
- Top Picks
- Today's Music
- Editor's Blog
- Articles
Add Louisville Music News' RSS Feed to Your Yahoo!

Issue: September 2014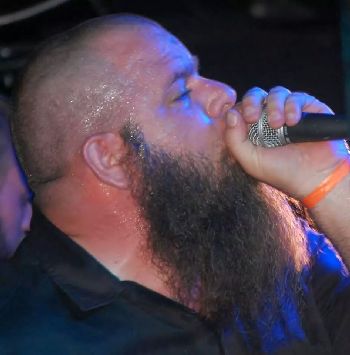 Richard Kurtz II
Name: Richard Kurtz II (Rich)
Age: 38
Instrument: Vocals for Bury The Wicked. (I play guitar and bass. I sit behind the drum kit from time to time and make noise in somewhat of a time signature. I love playing piano....but I think most of my talent resides in playing the TV remote)
Band/Former Bands: Violenza, Straining To Vent and, currently, Bury The Wicked!
How long on instrument: 23 years (Kind of embarrassing really..... I have been fronting bands longer than most of the bands we play with have been alive!)
Equipment: Throat, tongue, lips and lungs. All my own signature stuff. Really though, I use AKG wireless Mics live, and MXL gear in the studio. At our practice space (so deep in Anderson County you forget your damn name on the way), we use a mix of Crown amps and some generic POS amp that looks like it was fished out the dumpster and a Mackie board. Sounds good, and that's what matters. We rehearse without monitors most of the time......just mains. You just never know what you might get in a club/gig and we try to be prepared for that.
Influences: So, so, many! Bands: Killswitch Engage (it was an absolute honor opening for them this past month), Lamb of God, Upon a Burning Body, Megadeth, Dream Theater, Death Angel, Metal Church, Anthrax, Queensryche, Crimson Glory, Sanctuary.......waaayyyy too many more to think of right now. Vocalists: (Don't judge me on some of these, I like singers that stand out, regardless of genre) Geoff Tate, Ozzy, Brian Fair, Van Morrison, Morrissey, Randy Blythe, Howard Jones, Josh Groban, Lacey Mosley, Chuck Billy....I could seriously go on for days here. My influences evolve all the time. Anything can be an influence as we trudge through the day. I head to the Dairy Queen, flip the blinker on, and suddenly I have a power groove of double bass and a slow china two count going all over my steering wheel and I start to hear vocals, and guitar lines.....and then the horns of the 90 cars behind me honking because we missed the last two cycles of the traffic light because I was rocking the hell out in my own little steering wheel/dashboard one-manned band practice. My church choir is a definite influence as well. Taught me much about building harmonies. Nothing like a Psalm done in tight four-part harmony to inspire me.
My first gig: Man, I was 14 years old, living on a military base in central Louisiana. I met a guy named Ron who played guitar, and I had gotten my first guitar about a year prior to meeting him. I knew power chords, and like one friggin' scale. And I was pretty terrible at both. We decided to form a band called Bigger Than Life (Which I purposely left out of the list of bands above). We put together three completely instrumental songs and entered the local Band Battle. Two Guitars, one drummer (by drummer I mean a guy who could hit the snare and floor tom somewhat in a semblance of a time signature), and no bass player. We were so amped. We kept watching Cliff 'em All to get hyped up for our show (God, we were lame). Show night came, and in our heads we thought we were going to have the biggest show anyone had ever seen, and our stage show was going to be OFF THE HOOK!!! In reality, there were about 20 people there. A good quarter of them were parents. Our parents. But it didn't matter, because in reality, we all stood completely still, stared at our shoes and prayed we wouldn't throw up from nerves before the three song set was over. But, you know the next day we were like "Dude! We ROCKED that place last night!!!!!!" We were so naïve!
Hobbies: Hunting/Fishing and all things outdoors. I love anything that shoots, my bows and guns. Skateboarding is a hobby of mine still. Yes, my big fat self still rides a skateboard. Mostly I just like to ride fast bowls and carve and grind anymore, but yeah, it's still a part of me. Anything my kids are involved in becomes a hobby for me quick. I coached softball, learned cheer, coached baseball, skateboard with my son.....they keep me goin'! You gotta be involved with them.
Favorite movies: The Lord of The Rings trilogy, The Rite, Breakfast club, anything involving an exorcism, Rising son (The Christian Hosoi Documentary), the book of Eli and the transformers movies. Oh, and Overtime featuring Louisville's own John Wells.
Favorite food: Dood, have you seen me? All of them!!! Mexican if I had to choose just one.
Favorite place: Louisiana. My in-laws are down there. I met my wife down there. There is just something about the bayou that I connect with. The only place I know that you can catch bass, catfish, gators, bull sharks and crabs at the same spot......okay, that last one sounded a bit off.....but you know what I meant....right?
Favorite sports or team: Football. Cheerleading. The Saints, LSU. I know I just lost a couple of fans for not naming UK or Louisville, but yeah, tell me all about it at the next show! Any of the Extreme Sports.
What I'm listening to nowadays: Everything! Anything from old school Ratt to Upon a Burning Body, The Smiths, Killswitch, Skid Row, 7th Time Down, Aaron Lewis, Big Daddy Weave...I just hit shuffle on my playlists and go! Good songs are good songs regardless of genre, and I try to keep myself open. I even have some Eminem, Adele and some Men At Work MP3s in rotation. I probably lost some cool points right then, huh?
Coolest thing I've done: Gave my life to Christ. It doesn't mean I am a fanatic, or a Bible-thumping crazy religious nut, but it does mean I have something to believe in and a new confidence and strength to draw from.
Most embarrassing moment: Damn Eddy, really? I gotta tell on myself? Fine. Here goes. There are two. Here goes. I was helping my dad clean out his office when he retired. He was in law enforcement for years and years. It was about 10 PM when we loaded his SUV with the last load. Everything fit in the back but he had this 24-inch statue of an old school state trooper that had a glass globe that covered it. I removed the globe and set it in my lap for safe travel. We got almost home and we stopped at our local gas station for something to drink. I got out of the car and set the globe in the seat while we went in. When we came out, I had totally forgotten about the glass globe in the seat and I jumped right in the passenger seat.....shattering the globe between my ass and the leather seat. Pieces flew everywhere man, all the way to the back windshield. I got out quick and spot checked myself for cuts.....yeah there was blood. I brushed the loose glass from my pants and my dad came around to my side to see if I was ok. It was dark, and there was one light on the corner of the gas station wall outside. I decided we better get a better view in the light......we walked over to the side of the building in full view of the light and I pulled my pants down and asked my dad to look to see if I was cut pretty bad (there was blood as I mentioned above). So, I am bent over, bleeding from my ass cheek, with my dad's face about 4 inches from my ass when another customer rounds the corner. All I remember was the absolute look of horror on her face when I asked aloud "how bad is it?" as blood covered my pants and the back of my legs.....turns out I had a 3 inch piece of glass still embedded in my ass cheek. The next thing I yelled out was "Pull it out!!!" and the poor woman sprinted to her car and locked the doors immediately. Long story short, I removed the piece of glass, but I will NEVER get the look on her face out of my mind. She was horrified, and frankly, so was I.
Bad Habits: Crop-dusting Fish (Bury The Wicked's drummer) on stage. I get side tracked when telling stories and forget in the middle what the hell I was talking about. I like to announce any and all bodily functions. I eat my cheeseburgers a layer at a time, first the top bun, then the bottom and then the meat. I fold the buns like a taco. Maybe that one falls under OCD or whatever.
When/where did you first get some: In a tent. A long time ago.
Who do you love: My wife (Crystal), kids (Jayden, Layne and Serra), the rest of my family (Rob, Ruth, Courtney, Kaysie and Saydie), My mom and dad, my in-laws, my brothers in Bury The Wicked, and Christ. And of course, anyone who has supported Bury The Wicked thus far. Fans, friends, promoters. I know I am forgetting some, and if I did, I'm sorry!!!