May 2014 Articles
Cover Story
Paul Moffett
Features
Eddy Metal
Columns
Mike Suttles
Martin Z. Kasdan Jr.
Eddy Metal
Blogs
Got Shows?
Send Them To Us
Bookmark Louisville Music News.net with these handy
social bookmarking tools:
Available RSS Feeds
- Top Picks
- Today's Music
- Editor's Blog
- Articles
Add Louisville Music News' RSS Feed to Your Yahoo!

Issue: May 2014

Jazzin'
PRELUDE:
Better late than never - that's my story and I'm sticking to it!
RECENT CONCERTS
John La Barbera Retirement Celebration at University of Louisville
John La Barbera, who survived years on the road writing and arranging for Buddy Rich, retires after 23 years at University of Louisville School of Music; the celebration took place Saturday, April 5, at Comstock Concert Hall, and proceeds will be used to establish a scholarship in La Barbera's honor. (My profile of La Barbera, previewing this event, was in LEO Weekly, at http://leoweekly.com/music/b-sides-156.) He recently released his third album, Caravan (reviewed by me at http://leoweekly.com/music/reviews/caravan), and plans to record a fourth one in the near future. La Barbera came out to direct U of L's Jazz Ensemble I, and was met with a standing ovation. Not unexpectedly, many of the pieces played were from Caravan, the title song being the opener. Another piece from the album was next, "Accordin' To Gordon," an original originally written for colleague Ansyn Banks' first album. With no apparent irony, a presentation from Louisville's Public Radio Partnership was next.
Unbeknownst to La Barbera, his brothers Joe (drums) and Pat (saxophone) quietly took over the chairs previously occupied by student band members, as the band played an original by Joe, "Yours or Mine or Blues," from Fantazm, the second album by John's Big Band. They played two other pieces together, "Incompatible (Incompatibilidade De Genios)" (from Caravan), with alumnus Brandon Coleman guesting on guitar, and "Message from Art," a tribute to the great Art Blakey, written by Joe and originally on John's 2004 debut, On the Wild Side. Joe began the Golson-esque piece with a solo, and continued to drive the band through a particularly exciting solo by Pat. Sandwiched between those two pieces was an award-winning composition, "Modal Step," by U of L alumnus Javier PĂ©rez, performed with him on guitar and his wife, Francy Montalvo, on piano.
Not surprisingly, given the high level of musicianship of the students under John's direction, the band swung its collective rear off even without Joe and Pat on the classic jazz compositions "Bags Groove" and "Night in Tunisia." John's best known composition, "Tiger of San Pedro," wryly dubbed by him as "my hit," closed the evening out in grand style, reuniting the brothers for a piece from the first album. The audience wouldn't let the night end, however, until there was an encore from the new album, the Jazz Crusaders' "Young Rabbits." While John La Barbera is retiring from his faculty position, he will remain active with private students and will pursue further recording and touring with his Big Band. Godspeed, John, and thanks for all the great work thus far.
ON THE HORIZON
Dick Sisto Quartet at The Clifton Center
From the Press Release: The Dick Sisto Quartet will perform music from the DVD documentary "Soul Searching: The Journey of Thomas Merton" at The Clifton Center, 2117 Payne Street, on Sunday, May 18th at 7:00 p.m. In the last of his five performances at The Clifton Center as part of the 2013-14 Live at the Clifton Center concert series, Dick Sisto and his quartet will present the first complete performance of the music he composed for the documentary chronicle of Thomas Merton's life by award-winning filmmaker, Morgan Atkinson. The music, which has been widely praised, was described by one critic as "bringing life and substance to the story." The concert, like the first four in the series, will be held in a unique and intimate setting in which the audience is seated on stage with the musicians with the beautiful Eifler Theater as a backdrop. A cash bar will be available. Tickets are $10 and can be purchased at CliftonCenter.org or at Carmichael's Bookstore, 2720 Frankfort Avenue.
The Don Braden Organix Trio featuring Vanessa Rubin at U of L
Louisville native Don Braden is best known as a superb saxophonist, but he also plays flute and other instruments. He returns home for a rare engagement with the excellent singer Vanessa Rubin and Braden's own Organix Trio on Thursday, May 29, at Bird Recital Hall, at the University of Louisville School of Music. Braden and Rubin recently released Full Circle, a collaboration - including Braden's Organix Band - with Kyle Koehler, on organ and Cecil Brooks III on drums, both longtime colleagues of Braden. For ticket information, call the University of Louisville School of Music: 502-852-6907.
Lexington Jazz Festival
The Lexington Jazz Festival takes place Sunday, June 1, and will feature 1:00 p.m. - O-Zone, 2:30 p.m. - The Library Players, 4:00 p.m. - Jamey Aebersold Quartet, and 5:30 p.m. - Kim Pensyl with His Band. Gates open at Noon, concert will be held Rain or Shine at Talon Winery, 7086 Tates Creek Road, Lexington, KY 40515, (859) 971-3214, www.talonwine.com; festival details at www.lexingtonjazzfestival.com.
Peter Brötzmann, Hamid Drake, and William Parker at Dreamland: Documentary and Performance
It's not often that Louisville jazz lovers have the opportunity to hear jazz from the more progressive, avant-garde artists. On Saturday, June 7, Dreamland, (located in NuLu at 810 East Market Street) will bring a trio of masters of this genre to town: German saxophonist Peter Brötzmann, with William Parker on bass and Hamid Drake on drums and percussion. They have worked with one another off and on for decades, and I, for one, am looking forward to this. Advance tix at www.ticketfly.com/event/576941-peter-broetzmann-hamid-drake-louisville
As a prelude, there will be two showings of a documentary, SOLDIER OF THE ROAD: A Portrait of Peter Brötzmann at Dreamland, on May 22. More info at the venue's Facebook page: https://www.facebook.com/events/612367902180583
SELECTED CLUB AND OTHER LISTINGS
The Laughing Derby at The Comedy Caravan , 1250 Bardstown Road, Louisville, KY 40204, 502-459-0022, www.comedycaravan.com; new site: http://laughingderby.com . The Don Krekel Orchestra will continue its gigs there on third Monday of each month, which this month will be May 19. Also, the club will now offer a menu of sandwiches, salads and more. I've heard rumors that there may be more jazz events; if any of you have specifics, please contact me. Please contact the club for any post-deadline information.
The Nachbar (969 Charles Street, 502-637-4377, www.myspace.com/thenachbar) features "Nachbar Jazz" on Wednesdays, with Jacob Duncan . Squeeze-bot returns to the Nach Bar for "Summer Squeeziness," every Sunday from Memorial Day Weekend May 25) through Labor Day Weekend (August 31). Check the club for updates or changes. The club also has a Facebook page with occasional updates.
HAPPY 20 th ANNIVERSARY To The Jazz Kitchen (5377 N College Ave., Indianapolis, IN 46220; phone: 317-253-4900; www.thejazzkitchen.com), presents nightly offerings of local and regional jazz; check the website for the full schedule and updates. A road trip might be advised for May 11: Jane Monheit Sings Judy Garland and more; May 12: Donny McCaslin and the Butler Jazz Ensemble ; May 16: modern jazz from Switzerland, the band Journeys ; May 17: Steve Allee/Dick Sisto ; May 24: Victor Wooten ; May 28: Vanessa Rubin/Don Braden ; May 31: Annie Sellick ; June 14: Larry Coryell with Larry Gray and Paul Wertico . Other shows may be added, so check the site.
The Blue Wisp Jazz Club in Cincinnati, is now at 700 Race St. (513-241-WISP). Wednesdays remain the province of The Blue Wisp Big Band. As of deadline time, May is packed with mostly local and regional talent; however, a road trip would be warranted for Annie Sellick , May 29-30. For details and the full schedule, the website is: www.thebluewisp.com.
Please sign up for updated local jazz listings: The Louisville Jazz Society provides weekly e-mail updates for local jazz happenings. Be sure to sign up for the e-mail "Louisville Jazz Society's Jazz Insider" at www.louisvillejazz.org. It is both impossible for me to try to provide complete listings here, and it would be duplicative of the weekly listings in the Courier-Journal and LEO and the Louisville Music News' monthly music listings, www.louisvillemusicnews.net.
EIGHTH NOTES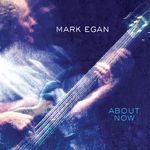 Mark Egain - About Now
Mark Egan
About Now (Wavetone Records, www.wavetone.com)
Bassist Mark Egan came to the attention of many jazz fans as part of the Pat Metheny Group and has recorded and toured with many top artists, including visits to Louisville a few years back with Larry Coryell. His new album features his melodic, virtuoso playing with colleagues Danny Gottlieb (the p.m.G drummer who, with Egan, later formed the group Elements), and keyboardist Mitchel Forman. The first piece, "Sailing," actually feels like something the p.m.G might have done, with an airy yet solid groove. "Slinky" lives up to its title, with sophisticated funk bubbling through. The title track is a ballad, opening with a bass introduction, soon joined by piano and drums. Egan acknowledges being influenced by Jaco Pastorius, but is no mere clone. Indeed, the occasional "Jaco-isms" are more restrained than what Pastorius himself might have done. More of that Jaco influence comes into play on "Graceful Branch," another aptly titled tune. Throughout these and the rest of the nine songs (all Egan compositions), Forman switches between acoustic and electric pianos, and Egan utilizes several different basses, all to capture the proper moods of the pieces. If you are looking for what Frank Zappa might have called "stunt bass," look elsewhere. However, if innovative yet melodious bass playing in which serving the higher goal of group expression is the goal, Egan is your man.
Joel Harrison - Mother Stump
Joel Harrison
Mother Stump (Cuneiform, www.cuneiformrecords.com)
Guitarist Joel Harrison has two new releases, Mother Stump and Leave the Door Open, the latter a collaboration with sarod player Anupam Shobhakar (www.whirlwindrecordings.com). I focus here on Mother Stump, an homage to his musical roots. For Harrison, those roots are eclectic and varied, stretching beyond the realm of artist such as Wes Montgomery or Jim Hall. Indeed, on the first two songs, "John the Revelator" and Paul Motian's "Folk Song for Rosie," Jimi Hendrix comes to mind, with Harrison's guitar swooping and squealing with barely contained energy. He tones down for more reflective pieces, Buddy Miller's "Wide River to Cross" and his original, "Refuge." Perhaps I am just showing my age, but I particularly like Harrison's rendition of Al Kooper's song from the very first (pre-commercial) Blood, Sweat and Tears album, "I Love You More than You'll Ever Know," which sounds like some of the classic Kooper/Bloomfield jams while capturing the essence of early BS&T. Harrison's arrangement of George Russell's "Stratusphunk" is perhaps the most overtly jazz-oriented piece here, with excellent support (here and throughout) from bassist Michael Bates and drummer Jeremy Clemons. They revisit the Motian piece, with an entirely different and more folky sound, calling it "Folk Song for Rosie (a slight return." Leonard Cohen's "Suzanne is played with a combination of subtlety and power, and the album closes with two additional interpetations of pieces by others, Luther Vandross's "Dance With My Father Again" and a reprise of "Wide River To Cross." You may recall that the Jazz Factory brought Harrison to Louisville this past decade, and it's been a great ride to keep up with his career since then.
LOCAL JAZZ CONTACTS
With two now-fifteen-year-old daughters, it's hard to get out as much as I would like to hear music. As a result, picking and choosing which performances to catch sometimes require that I postpone seeing some of the local musicians and singers in order to not miss the one-night-stands from out-of-town artists. Invariably, I feel guilty, so in an effort to assuage my guilt and, more positively, to provide more exposure to our community of great local jazz performers, I am initiating this feature containing website and e-mail contact information. I am only including those artists who have given their permission to me; some have indicated a preference for website listing only; others have only e-mail addresses. If you wish to be included, drop a line to me with your permission and preferences, at mzkjr@yahoo.com. I reserve the right to edit and to exclude those whose connection to jazz is, in my opinion, tenuous; and this feature may end up online if it begins to take up too much space in print.
MIKE TRACY: www.michaeltracy.com, michael.tracy@insightbb.com, saxophonist and teacher Mike Tracy
UNIVERSITY OF LOUISVILLE JAZZ PROGRAM: www.jazz.louisville.edu
BOBBY FALK: www.myspace.com/bobbyfalk, drummer and composer Bobby Falk;
WALKER & KAYS: www.walkerandkays.com, singer Jeanette Kays and guitarist Greg Walker;
JENNIFER LAULETTA: www.jenniferlauletta.com, singer Jennifer Lauletta;
JEFF SHERMAN: jeff.sherman@insightbb.com, guitarist Jeff Sherman;
RON JONES: www.ronjonesquartet.com, rjmusic@ronjonesquartet.com, saxophonist Ron Jones;
STEVE CREWS: www.jazzcrews.com, jazzcat@iglou.com, pianist Steve Crews.
CODA
I am always interested in your comments. Contact me at mzkjr@yahoo.com.