May 2014 Articles
Cover Story
Paul Moffett
Features
Eddy Metal
Columns
Mike Suttles
Martin Z. Kasdan Jr.
Eddy Metal
Blogs
Got Shows?
Send Them To Us
Bookmark Louisville Music News.net with these handy
social bookmarking tools:
Available RSS Feeds
- Top Picks
- Today's Music
- Editor's Blog
- Articles
Add Louisville Music News' RSS Feed to Your Yahoo!

Issue: May 2014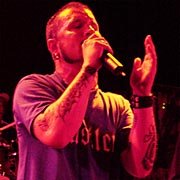 Jacob Carter
Name: Christopher Volz
Age: 4
Instrument: Vocals, singer/songwriter, guitar, percussion, engineer.
Band/Former Bands: FLAW, 5BoltMain, Chris Volz (solo) .
How long on instrument: Voice lessons at 10 years old, classical guitar at 14, engineering for about 6 years. All together about 30 years of experience.
Equipment: Vocals= Shure Beta series microphones (87a), guitars= Dean (mostly acoustic), percussion= custom djembes and congas/Tama, engineering with Steinberg-Cubase DAW and PC Windows 8/ M-Audio monitors.
Influences: I have a very wide range of musical influences. I grew up listening to my parents' favorites as a toddler: jazz and classical. At about ten, my first two records were 'The Beatles' Yesterday and Today and Van Halen's Diver Down on vinyl … I know, I'm old. Next came my classic rock introduction to bands like Led Zeppelin, Jimi Hendrix, The Doors, Steppenwolf; the list goes on and on. I then became engulfed in the early metal movement with bands like Metallica, Ratt, Motley Crue, Def Leppard, etc. All the while, one of my favorites at this time was Journey, and on the side, I was jamming stuff like Beastie Boys and Run DMC. Can't forget the next level of rock with bands like Deftones, Faith No More, Helmet, Alice In Chains, Pearl Jam … I guess you can say that I took a little bit from all of these artists at some point.
My first gig: My first gig was at the famous Stone Pony in Asbury Park, NJ back in 1991 (before Flaw).
Hobbies: Music of course, music engineering, writing music, drinking music, eating music, sleeping music, playing music … oh and a few other things like sports, camping/outdoors, grilling out on a nice day, traveling, my family and being around good friends.
Favorite movies: I really love true war flicks, action movies, and documentaries.
Favorite food: Red meat! Anything on the grill, a good salad, and sushi.
Favorite place: I would have to say my favorite places on the planet have got to be between Australia and Tahiti. Had the most amazing times there and the people are so friendly and caring. The scenery is about the best there is, too.
Favorite sports or team: Washington Redskins (football), Washington Capitals (hockey), Washington Wizards (NBA), I'm a home-team kinda guy and was born and raised in Maryland, not far from D.C. I do go for the Louisville Cardinals when it comes to college sports though!
What I'm listening to nowadays: Still the same as I did years ago......Deftones, Alice In Chains, Journey, Chris Cornell, Hatebreed, Beastie Boys, a wide mix.
Coolest thing I've done: See the world/travel, sign a major label recording contract and have kids.
Most embarrassing moment: On Ozzfest Europe 2002 we were playing in Dublin, Ireland. When we started our set I tried to yell out over the mic to the thousands of fans watching us and say how happy we were to be in Dublin ... it turned out we were about 60 miles outside of Dublin and they take their provinces REALLY seriously over there. A few people kinda cussed me out … oh, well, gotta laugh it off and you can't please everyone.
Bad Habits: Cigarettes. Working on quitting those damn things.
When/where did you first get some: In school, junior high, this girl asked me into the girls' bathroom and she took over … she was older than me. I was not expecting it to go down like that, literally..
If you could meet a Rockstar (past or present), who would it be, and why: Probably Layne Staley, just love his harmonies, they are so unique, would love to thank him and grill his brain.
Who do you love: My family/kids, the U.S. troops, and all the people who have supported my music career over the years. Couldn't do it without you! See you all soon on tour!