April 2014 Articles
Cover Story
Paul Moffett
Features
Eddy Metal
Columns
Sue O'Neil
Martin Z. Kasdan Jr.
Eddy Metal
Blogs
Got Shows?
Send Them To Us
Bookmark Louisville Music News.net with these handy
social bookmarking tools:
Available RSS Feeds
- Top Picks
- Today's Music
- Editor's Blog
- Articles
Add Louisville Music News' RSS Feed to Your Yahoo!

Issue: April 2014

Jazzin'
PRELUDE:
Happy "Retirement," John La Barbera!
Don't miss the special celebration, see below for details.
Thanks, Paul Moffett!
In addition to supporting the Louisville music scene through Louisville Music News for a quarter century, LMN Editor/Publisher is a great guy who recently helped me outside the music world. No details, I just wanted to share my sincere appreciation for his kindness and assistance in public.
RECENT CONCERTS
Tierney Sutton at the Clifton Center
Singer Tierney Sutton's "After Blue: The Joni Mitchell Project" tour alighted in the Clifton Center on March 20. She was joined by guitarist Serge Merlaud and cellist Mark Summer (from the Turtle Island String Quartet), both of whom play on her 2013 After Blue album (covered here last month). Known primarily for her jazz stylings, Sutton's voice was like a third instrument in the chamber setting. While much of her program was made up of songs from Mitchell's repertoire, somewhat surprisingly there was only one from Mitchell's Mingus album, a fun "The Dry Cleaner from Des Moines." Sutton covered a wide range of the repertoire, with interpretations of classics like "Woodstock," as well as lesser known pieces, including the dramatic "Little Green," about Mitchell's giving her daughter up for adoption. As you may know, Mitchell recorded an album of (mostly) standards, Both Sides Now, in 2000, and Sutton incorporated some of this material as well, including a lovely version of "Don't Go to Strangers." For her encore, Sutton sang the lively bossa nova from Jobim, "No More Blues;" it was a delightful way to end the evening. Like Bill Frisell, and perhaps others, Sutton remarked from the stage about how special the theater is, and it sounded sincere, not just a variant on the "Let's rock, Louisville" patter. Throughout both sets, Turner displayed consummate mastery of his instrument, at times deftly changing back and forth between arco and pizzicato, and at other times, turning the cello into a percussion instrument. Merlaud switched between acoustic and electric guitars, at times with a folk orientation, at other times, with a more jazz-oriented approach. Thanks to the Clifton Center for continuing its commitment to presenting diverse programming, and for keeping jazz in the mix.
Java Men Reunion at the Rudyard Kipling
Ah, the Java Men . . . Todd Hildreth, keys, Craig Wagner, guitar, and Ray Rizzo, drums; the original lineup played the Rud to a solid house on Saturday, March 22. There were no song announcements, just two solid hours of thoroughly enjoyable music. Grounded in a blend of traditional organ trio and fusion, the band was soaring from its opening number. The pace slowed after three songs with a slow blues, sounding like an updated take on "Please Send Me Someone To Love," with Wagner's double-time solo returning to straight time, followed by soulful organ sounds. Rizzo's mallet work enhanced the ballad that followed. The band closed with a shredfest, a fast shuffle. Later in the week, Rizzo, now based in Brooklyn, presented a series of Motherlodge events, which I was unfortunately unable to attend. Here's hoping for another Java Men reunion the next time he returns to Louisville.
Colin Stetson at Dreamland
Saxophonist Colin Stetson performed a remarkable solo concert on March 27, at NuLu's Dreamland Theater, the small space packed. For background on his unique work, please see my preview from LEO Weekly, at http://leoweekly.com/music/man-alone. Justin Walter opened, playing an electronic valve instrument and a table full of electronic devices. His sound reminded me of the ambient music of artists such as Steve Roach and Robert Rich, although where they tend to stretch out, Walter kept his pieces fairly short. Stetson, with microphones around his neck and in front of him, played pieces primarily from his New History Warfare series, including volume 2, Judges, and 3, To See More Light. He set up swirls and cycles of saxophone, and added emphasis with percussive tapping on his instruments. His ability to utilize circular breathing was a major component of his sound, as wave over wave of music washed out over the audience. Not jazz, but there were a number of jazz players (including Graeme Gardiner and Drew Miller) in the awestruck audience.
D'Arkestra at Dreamland
D'Arkestra (http://darkestra.net) celebrated the release of its new album, Little Voices, with a concert at Dreamland on Sunday, March 30. The full personnel is Brandon Coleman (guitar), Zack Kennedy (drums), Graeme Gardiner and Drew Miller (saxes), Joey Thieman (trumpet), Mike Smith (trombone), Jose Oreta (bass), Wade Honey (keys), and vocalist Carlie Schoner. Miller, who also played EWI and occasionally sang, leads the group and writes virtually all of its material. Opening act, Shutaro Noguchi, combined guitar, percussion and vocals with loops and effects, for a fascinating set. Miller and company then took over, with music drawn primarily from the new record, beginning with its first track, "Hold." A medley from the album, "Unorthodox Juice" and Frank Zappa's "Egyptian Strut" soon followed, a good mix which demonstrated the combination of jazz chops and rock energy which characterizes much of D'Arkestra's music. Coleman's guitar playing was harder edged than I have heard him play when leading his own band, but it fit well with the music. A change of pace, both compositionally and stylistically, came later in the evening, with an arrangement of "Water from the Same Source," originally by Rachel's (Here is a live version:
).
They later closed with what I would characterize as the swaggering matador sounds of "Cavalier Poets," also from the new release. For more information on D'Arkestra, a colleague's article from
LEO Weekly
may be found at http://leoweekly.com/music/b-sides-154.
ON THE HORIZON
John La Barbera Retirement Celebration at University of Louisville
Over the years, I have evolved from being amazed at how well U of L student jazz ensembles, under the direction of John La Barbera, have performed, to expecting topnotch work. La Barbera, who survived years on the road writing and arranging for Buddy Rich, retires after 23 years at U of L, and the celebration takes place this Saturday, April 5, at 8:00 PM, University of Louisville School of Music, Comstock Concert Hall; tickets $20, students with ID $5, available at box office or call 502-852-6907. All proceeds will be used to establish a scholarship in La Barbera's honor. My profile of La Barbera is in LEO Weekly, at http://leoweekly.com/music/b-sides-156. He recently released his third album, Caravan, and plans to record a fourth one in the near future. The night itself should be a blast, with former students coming in from around the country, and lots of special guests and surprises.
Louisville Jazz Society Presents International Jazz Day Celebration
I am extremely pleased that the Louisville Jazz Society, on whose Board I have served for many years, is collaborating with the folks at International Jazz Day (http://jazzday.com) And the Louisville Free Public Library to present a program at from 12:00 - 1:00 PM, Wednesday April 30 at the Main Library (301 York Street). Mike Tracy, Board member, saxophonist, and Director of the Jamey Aebersold Jazz Program at the University of Louisville School of Music, will showcase an ensemble from around the world, including Ecuador, Brazil, Russia and Kentucky.
New Orleans Jazz and Heritage Festival 2014
The 2014 edition of Jazzfest includes pop headliners Bruce Springsteen and Phish, and many more, but the jazz side is amply represented by many New Orleans artists such as Ellis Marsalis, Branford Marsalis, Astral Project, and many more, plus guests Pharoah Sanders, Gregory Porter, Chick Corea, and the list goes on. The official site, with daily schedules, ticket information, etc., is http://www.nojazzfest.com. Concerts and in-store performances go virtually around the clock, and the best source of information I know for all these performances is http://www.jazzfestgrids.com.
SELECTED CLUB AND OTHER LISTINGS
The Laughing Derby at The Comedy Caravan , 1250 Bardstown Road, Louisville, KY 40204, 502-459-0022, www.comedycaravan.com; new site: http://laughingderby.com . The Don Krekel Orchestra will continue its gigs there on third Monday of each month, which this month will be April 21. Also, the club will now offer a menu of sandwiches, salads and more. I've heard rumors that there may be more jazz events; if any of you have specifics, please contact me. Please contact the club for any post-deadline information.
The Nachbar (969 Charles Street, 502-637-4377, www.myspace.com/thenachbar)
features "Nachbar Jazz" on Wednesdays, with Jacob Duncan . Check the club for updates or changes. The club also has a Facebook page with occasional updates.
HAPPY 20 th ANNIVERSARY To The Jazz Kitchen (5377 N College Ave., Indianapolis, IN 46220; phone: 317-253-4900; www.thejazzkitchen.com), presents nightly offerings of local and regional jazz; check the website for the full schedule and updates. A road trip might be advised for April 9: Christian McBride Trio ; April 12: Charlie Hunter/Scott Amendola ; April 13: Poncho Sanchez ; Red Baraat : April 27. Other shows may be added, so check the site.
The Blue Wisp Jazz Club in Cincinnati, is now at 700 Race St. (513-241-WISP). Wednesdays remain the province of The Blue Wisp Big Band. As of deadline time, March is packed with mostly local and regional talent; however, a road trip would be warranted for Tim Warfield , April 12. For details and the full schedule, the website is: www.thebluewisp.com.
Please sign up for updated local jazz listings: The Louisville Jazz Society provides weekly e-mail updates for local jazz happenings. Be sure to sign up for the e-mail "Louisville Jazz Society's Jazz Insider" at www.louisvillejazz.org. It is both impossible for me to try to provide complete listings here, and it would be duplicative of the weekly listings in the Courier-Journal and LEO and the Louisville Music News' monthly music listings, www.louisvillemusicnews.net.
EIGHTH NOTES
Jimi Hendrix Experience
Miami Pop Festival (CD) and Jimi Hendrix: Hear My Train A'Comin' (DVD) (Sony Legacy, www.legacyrecordings.com )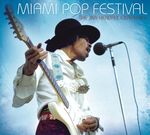 Jimi Hendrix Experience - Miami Pop Festival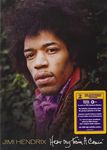 Jimi Hendrix Experience - Hear My Train A'Comin'
What's most striking about Jimi Hendrix's performance on Miami Pop Festival (and the excerpts available as bonus footage on the DVD) is that he is playing music from his soul. Already a legend in the making from his first two albums, his Monterey Pop Festival guitar-burning act would only have been known to the promoters and audience through news reports, as the film of the event was not released until December 26, 1968, seven months after this concert. Sure, the film segments show him playing guitar with his mouth, gyrating, and all, but it's the musicality, more than the showmanship, which makes this an essential addition to the discography. Case in point: the relatively rare instrumental "Tax Free," with almost nine minutes of sometimes jazzy improvisational music. "Hear My Train A Comin'" and "Red House," both Hendrix blues originals, capture Mitch Mitchell's fiery (no pun intended), Elvin Jones approach to rock drumming. The DVD is an expanded version of the PBS documentary, full of interviews, behind-the-scenes footage, and so forth. Assuming that many of you saw it (or will next Pledge Week), I'll focus here on the extra features. As noted, some 23 minutes of music (and interviews with promoter Michael Lang and engineer Eddie Kramer) from Miami is on film. Additionally, there's a 22-minute excerpt from the New York Pop Fest (July 17, 1970), 16+ minutes from his last concert (in Germany, September 6, 1970), and "Purple Haze" from the BBC. The 1970 segments demonstrate what Hendrix was saying in interviews at this (sadly) late stage of his career, that he was trying to move on from being perceived as a freak show guitarist to a musician who could take his audiences on deeper journeys. The producers acknowledge that these extras are technically imperfect, but that should not be a deterrent to the enjoyment of rapturous versions of "Voodoo Child (Slight Return)" and a lengthy, jammed-out "Spanish Castle Magic," to pick two highlights.
Miles Davis:
Miles at the Fillmore – Miles Davis 1970: The Bootleg Series Vol. 3 (Sony Legacy, www.legacyrecordings.com)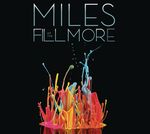 Miles Davis- Miles At The Fillmore
In Spring 1970, near the end of my freshman year at Tulane, I was an early adopter of Miles Davis' groundbreaking Bitches Brew. I can still remember being carried away the first time I heard the swirling sounds of the three keyboards through headphones on the LP-side-length opener, Joe Zawinul's "Pharaoh's Dance." So, full of anticipation, that Fall I picked up the new 2-LP Miles Davis at Fillmore: Live at the Fillmore East, which was so dark, dissonant and scary that I just couldn't deal with it. As later revealed, the original release chopped up songs into four side-long medleys, "Wednesday Miles," etc. Besides the abrupt editing, the sound was sometimes murky and dense. Now, 44 years later, Sony/Legacy has released the stunning complete set of concerts from the June 17-20, 1970 run, with remarkable audio clarity and with each night's set complete. The personnel was saxophonist Steve Grossman, electric bassist Dave Holland, drummer Jack DeJohnette, percussionist (and occasional flutist and wordless vocalist) Airto Moreira, and the two-keyboard assault team of Chick Corea (electric piano) and Keith Jarrett (organ). DeJohnette and Jarrett had played together in the groundbreaking Charles Lloyd Quartet, but Miles had them moving in very different directions; fast and hyperfunky drumming, and almost psychedelic, often freeform organ.
Each of the four nights begins with the same three songs, "Directions" (by Zawinul), "The Mask," and "It's About That Time." The pieces flow into one another, guided by Miles' musical cues, but each night's versions differ in the solos. Immediately evident on these recordings is that the quiet ebb and flow of the studio version of "It's About That Time" (from In a Silent Way) has been replaced by far more urgent push-and-pull, devil take the hindmost approach. On the first two nights, the next song is the title track from the recently released Bitches Brew, in turns ominous, spooky and otherworldly. On the second two nights, a brief ballad medley, consisting of "I Fall in Love Too Easily" (not your grandparents' version) and Wayne Shorter's "Sanctuary." They each lead to "Bitches Brew," and the final version from this run is absolutely ferocious, with Grossman's very free soloing evoking Shorter. The final night is also noteworthy for the transition to the relatively rare "Willie Nelson," a more upbeat way to close the night. Abbreviated versions of "The Theme" close out each concert. The only encore for the four nights is found on the June 18 set, "Spanish Key," chaotic and jarring. As noted, the audio quality is magnificent. Corea's clearly on the left, Jarrett on the right; DeJohnette and Moreira's parts are quite distinct and clear.
In addition to the full concerts, there are three selections from an April 11, 1970 performance at the Fillmore West; the April 10 show was released only in Japan back in the day, and not in the States until 1997. They sound like they were recorded differently, and Jarrett was not yet on board. Perhaps this augurs another "bootleg" down the road, of the complete Black Beauty sessions. In any event, in an era of downloads and compressed mp3s, the hard copy is well-packaged, with many period photos, and an informative essay by reissue co-producer Michael Cuscuna. There's also a foldout poster of the band, with reproductions of then contemporary coverage of these concerts from Rolling Stone and other publications.
Matt Wilson Quartet + John Medseki:
Gathering Call (Palmetto PM 2169, www.palmetto-records.com)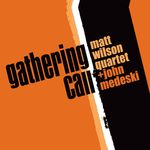 Matt Wilson Quartet + John Medseki - Gathering Call
Matt Wilson's talents as a drummer are wide-ranging, as his hefty discography as both bandleader and sideman attest. Indeed, I noted his subtle contributions to Jane Ira Bloom's Sixteen Sunsets here last month. His quartet includes Jeff Lederer: tenor saxophone, soprano saxophone, clarinet; Kirk Knuffke: cornet; Chris Lightcap: bass, with the addition of guest pianist John Medeski. Medeski sticks to acoustic piano, and the overall sound of the album is rooted in the exploratory music of the 1960s, not the jamband aesthetic for which many recognize Medeski. The songs include two by Duke Ellington, the opening "Main Stem" (sounding like Mingus meets Monk) and the hard-swinging "You Dirty Dog." Wilson originals include "Some Assembly Required," which feels like some unearthed gem from the vaults of '60s progressive jazz, and the title track, briskly calling musicians and listeners alike to attention. Another original, "Hope (For the Cause)," features eloquent brushwork on a slow, evocative mood piece. Hugh Lawson's "Get Over, Get Off And Get On" is a strutting boogaloo, full of soulful inflections by Lederer and Knuffke. While each of the musicians can and do certainly take solos, the approach to the album overall seems to be more of a group statement. The horns frequently intertwine, the piano comps as much as solos, and there is but one bass solo here; Charlie Rouse's boppin' "Pumpkin's Delight" sets up Wilson's only drum solo.
LOCAL JAZZ CONTACTS
With two now-fifteen-year-old daughters, it's hard to get out as much as I would like to hear music. As a result, picking and choosing which performances to catch sometimes require that I postpone seeing some of the local musicians and singers in order to not miss the one-night-stands from out-of-town artists. Invariably, I feel guilty, so in an effort to assuage my guilt and, more positively, to provide more exposure to our community of great local jazz performers, I am initiating this feature containing website and e-mail contact information. I am only including those artists who have given their permission to me; some have indicated a preference for website listing only; others have only e-mail addresses. If you wish to be included, drop a line to me with your permission and preferences, at mzkjr@yahoo.com. I reserve the right to edit and to exclude those whose connection to jazz is, in my opinion, tenuous; and this feature may end up online if it begins to take up too much space in print.
MIKE TRACY: www.michaeltracy.com, michael.tracy@insightbb.com, saxophonist and teacher Mike Tracy
UNIVERSITY OF LOUISVILLE JAZZ PROGRAM: www.jazz.louisville.edu
BOBBY FALK: www.myspace.com/bobbyfalk, drummer and composer Bobby Falk;
WALKER & KAYS: www.walkerandkays.com, singer Jeanette Kays and guitarist Greg Walker;
JENNIFER LAULETTA: www.jenniferlauletta.com, singer Jennifer Lauletta;
JEFF SHERMAN: jeff.sherman@insightbb.com, guitarist Jeff Sherman;
RON JONES: www.ronjonesquartet.com, rjmusic@ronjonesquartet.com, saxophonist Ron Jones;
STEVE CREWS: www.jazzcrews.com, jazzcat@iglou.com, pianist Steve Crews.
CODA
1) I am always interested in your comments. Contact me at mzkjr@yahoo.com.