April 2014 Articles
Cover Story
Paul Moffett
Features
Eddy Metal
Columns
Sue O'Neil
Martin Z. Kasdan Jr.
Eddy Metal
Blogs
Got Shows?
Send Them To Us
Bookmark Louisville Music News.net with these handy
social bookmarking tools:
Available RSS Feeds
- Top Picks
- Today's Music
- Editor's Blog
- Articles
Add Louisville Music News' RSS Feed to Your Yahoo!

Issue: April 2014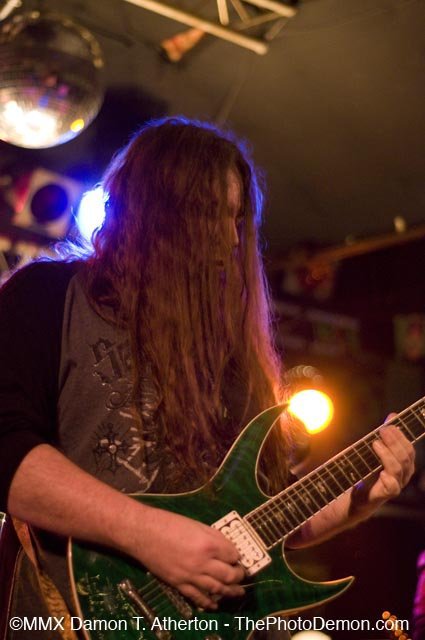 News From the Pit
Farg a Buncha Winter!!!
Winter is over! Thank god! This 70 degree, shorts-wearing-day one day, and a 25 degree "nuts disappearing into your body" day the next, is killin' a mofo. Mother Nature, make up your fargin' mind, bitch! What a dreary nasty long cold winter we have had to contend with. That was the fiercest winter I've seen here in louevil in many years. There is a ray of hope shining through the dark ominous clouds! Spring is upon us! Not only that, but we have some great shows coming up this spring/summer, too! Rob Zombie on Derby Eve will be a hot ticket; Volbeat/Trivium; Alice In Chains; Bonaroo; Rockstar Mayhem Festival; Jackyl on Derby Eve; Primal Fear; Flaw with local; Befuddled Fest (see info below); Cannastock2014; Sevendust acoustic/Aaron Lewis/Three Days Grace at the new Mercury Ballroom, and later in October, Motley Crue will be playing their Farewell Tour at KFC Yum Center. It looks like this year should be one to remember. I'm excited to be included in some of these big shows happening, because there is nothing like being able to play the music you created to a bunch of people. I know a lot of you probably won't agree, but it's better than sex (well, at least just as good, sometimes better if the chick just lays there like a slug, lol).
Sorry about last month, peeps, I was sick as farg with the flu, and wasn't up to my usual long arse column. But I'm better now, and I'm back to my old smartass, informative self. I'm stoked because I'm already booked to play two festivals this summer, and I just live for that shit. I've noticed a surgence in good metal bands recently, and that is a good thing, because there for a while I was thinking the metal scene was kinda dead around here. I got to see some great bands recently, like Creature Of Exile, Bury The Wicked, Heart Of Kings and Empyrean Asunder. It's always good to see some new blood in the scene, and these bands are pretty rockin', indeed. I'm hoping to get out and play some new venues this summer and maybe get to play some out of town shows as well. I've had several offers recently. Our problem is that since some douche totaled my Ford Explorer while I was getting laid a few years back (It's true - I heard a big crunch and ran outside half naked, still with a huge boner, and saw my car sideways on the sidewalk, melted as if Pepe Lepew walked by.). I don't have a darn truck to haul around gear. I have a little car now and I can barely fit in my guitars and such. Hauling band gear is a mothertrucker! U-Haul will financially rape you, and I don't know anyone who has a truck we can borrow. Sucks. I hope none of you bands have this problem. Oh well, I guess I'll have to deal with it and rent a fargin U-Haul or something! You've probably heard the saying "only a dedicated musician would cram $7000 worth of gear into a $500 car to drive 100 miles to a gig that pays $100." Some might call that moronic, but alas, that is what the original music scene has devolved to. And to me, it was never about money, it's about getting your music out there to be heard. Hell, that's not the worst of it either; a lot of cities use a pay-to-play system, where you fork up cash immediately and then have to sell tickets in a town where you hardly know anyone. Yeah, that sounds like fun! NOT.
Ticket selling. That is a touchy subject with me. I don't mind when its opening for a national band, like when we opened for Skid Row or Quiet Riot, or even local rockers Flaw (my band Year Of The Gun is opening for them on April 18 at Diamond Pub, so get tickets from us, and I'll deliver! Eddy 502-367-2080) but when local promoters want you to sell tickets to a regular, normal, run-of-the mill local original show with no nationals or bands with a huge draw, well, then it just becomes stupid and unjustified. Everyone knows it's very hard just to keep a band going in today's rough times, let alone having to sell tickets and keeping track of sales/money. I wish things could be simpler like back in the day when the door was divided equally amongst local bands at local shows.
I guess I can wish in one hand and crap in the other.
The Metal Grapevine
Send me your band's live Video, and maybe I'll post the MF (if it's not too fargin' hideous):
Yup, you read it right! This here MF will officially post your band video on our Louisville Music News website if I like it, and you aren't a complete a-hole. Have a bunch of idiots you don't know watching you fuck up playing the wrong chord or part, or singing hideously off-key! Wouldn't that be just too cool of me? You can thank me later, tater! But in the meantime, make sure the shit is somewhat audible (not just fuzz). I'll only post halfway decent sound quality. So don't make my boss bitch at me! Try to keep things professional, like my pro narration skills!
Rob Zombie to rock Iroquois Amphitheater on Derby Eve:
Yup, you read it correctly, the king of horror rock, Rob Zombie will be playing an outdoor concert right here in Louisville! This is a rarity, indeed. We never get any good outdoor shows anymore, and now we get to rock out with some heavy metal on Derby Eve Friday, May 2? That's just too damn cool if you ask me. Iroquois Amphitheater was always a cool venue, but they never seemed to have metal shows much, which always bummed me out.
But now we get one on one of the coolest days of the year! Yes, this show show should be off the frikkin' hook, I'm thinking. Tickets are $39.50 each, and this will sell out, so take my advice and get your tickets now. Do not wait!! Rob Zombie always puts on a great show, and it has me wondering how he will adapt to the smaller venue, especially when he has such a huge stage show with all the props and fire and evil artwork. It should be very interesting. Props to AC Entertainment and Production Simple for making this very cool event a reality! Doors at 6 p.m. Show is at 8 p.m.
Volbeat to play Louisville Palace:
Danish superstars Volbeat are heading this way in April. I don't know what it is about this band that drives people so crazy for them, but no matter what, you have to admire their success. They will be at Louisville Palace on Wednesday, April 23 with Trivium. I remember seeing Trivium several years ago at Jillian's before they were famous, and I must say, those guys were very cool. Such polite fellas and very down to earth back then. I would like to check out this show. Hopefully I will be able to cover this event and see what all the hubbub is about Volbeat, and see some serious shredding by Trivium. Those guys have come a long way since that night at Jillian's. I've been itching for a good show at the Palace and this is it! This will sell out, so if I were you, I would get my tickets asap before its too late.
Alice In Chains Heading This Way:
Seattle rockers Alice In Chains are heading this way in the month of May, first at The Horseshoe Casino Pavilion in Cincinnati, then at Elizabeth Indiana at Horseshoe Casino on May 22. I saw AIC a few years back at Louisville Palace and was very impressed with their new singer, William DuVall. He is no Layne Staley, as he isn't nowhere near as dark and foreboding as the classic and legendary Staley, but DuVall does have a heck of a voice and is a darn good replacement. It just seemed he was way too happy of a frontman to be in Alice In Chains. Alice In Chains is a dark expression of music. But if anyone were to replace Staley it should be DuVall. I wouldn't mind seeing them again as it was very much worth it. So you AIC fans should get your tickets asap because these shows will probably sell out.
Flaw to kick off tour on April 18 @ Diamond Pub
Louisville rock legends Flaw will be heading out on a short tour in mid-April to stretch their legs and will be taking Signal The Revolution with them. But before they go, they will be having a kick off bash right here in Louisville at Diamond Pub on Friday, April 18, so you should all come out and support those guys before they enter a new chapter in their lives by going for broke one more time. I swear, these guys have more lives than a cat on crack! Other talented bands on this tour kickoff bill are Centerfold, Year Of The Gun and Hello Agony. So be sure to get up to the show early to support these great Louisville original bands.
Call me to buy tickets from our opening band Year Of The Gun. (buy your tickets from us, and help us pay off our new demo, I'll deliver personally! They are $12. Eddy 502-367-2080)
Here's a sample of our new music.
https://soundcloud.com/year-of-the-gun/that-mouth-of-yours
Get Ready, Befuddled Fest (Quiet Riot, Days Of The New, Bulletboys, Faster Pussycat, Tantric, and more) is Coming
We have a dooesy of a show coming up at The Rustic Frog in New Albany Indiana right across the bridge on August 29, 30 and 31. Befuddled Fest is a three-day festival featuring such bands as Days Of The New, Tantric, Bullet Boys, Quiet Riot, Faster Pussycat, Psychostick and a whole slew of local original bands like Dirty Cheese and The Hoodie Thieves, Nova Red, Popkiss Chainsaw, Year Of The Gun, The Mad Taxpayers, Stone The Crow, Vintage Voodoo and a lot more when things get fully confirmed. As well as fine music, they will have an assortment of activities/entertainers like a Volleyball Tournament, Magicians, Fire Breathers, Clowns, Illusionists, Dancers, Hula Girls, Contortionists and a wide selection of food booths (I hear these place have and all manner of festival stuff. This promises to be a fun weekend. I'll fill you in when I have more info.
Alice In Chains Heading This Way
Seattle rockers Alice In Chains are heading this way in the month of May, first at The Horsehoe Casino Pavilion in Cincinatti, then at Elizabeth Indiana at Horseshoe Casino on May 22. I saw AIC a few years back at Louisville Palace and was very impressed with their new singer William DuVall. He is no Layne Staley, as he isn't nowhere near as dark and foreboding as the classic and legendary Staley, but DuVall does have a heck of a voice and is a darn good replacement. It just seemed he was way too happy of a frontman to be in Alice In Chains. Alice In Chains is a dark expression of music. But if anyone were to replace Staley it should be DuVall. I wouldn't mind seeing them again as it was very much worth it. So you AIC fans should get your tickets asap because these shows will probably sell out.
Cannastock2014, a Kentucky Herb and Music Lovers Dream
Cannastock is a free admission, three-day, Cannabis Awareness music festival that will be held in Woodstock, Kentucky (near Somerset, Kentucky) on August first through the third. There will be live music for three days! Free onsite camping available. There will be a parking fee to compensate the venue location. My band Krosjoint played last year and we had a blast. There were hippies, rockers, hipsters, smokers, tokers, midnight pokers, that show had it all! I'm excited for us to be playing this year as well. Krosjoint fit well with the crowd/event theme. The festival features all kinds of music from original metal bands, rap, to Dj's, to country, to folk music, to rock cover bands, and whatever else you can probably think of. Last year's event gained a lot of notoriety around these parts and I am expecting this year to be even more memorable. It's too bad they couldn't secure the same farm location as last year (it was very cool), but I'm sure Cannastock founder Arthur Van Winkle won't let us peeps down. I will be sure to fill you in when I hear more news!
Louevil's Unleashed unleash new Tune: "Time To Fight"
I'm checking out my favorite band of louevil youngsters Unleashed's new track, "Time To Fight," and it sounds great! This band never ceases to amaze me, and this track is no exception. Great vocals, great lyrics, great songwriting, and great musicianship. Hunter's a guitar man through and through, but his vocals are really getting better and better. At this speed, it's frikkin' scary what could happen in a few months more! The way he changes up the melodies from one line to the next belies his age. It's almost as if a ghostly genius composer stole Hunter's soul, just because the spook wants to rock! Hunter has very different and creative thinking on tone placements. I also admire how Hunter extends his vocal notes to optimal use. He has good range and power! Many singers around here don't have Hunter's vocal skills, even given at his young age!
It's a mid-tempo song with really melodic vocals by Hunter and Elise Hagan that work amazingly well with the catchy, groove-laden music. Elise's vocals are wonderful by themself, such feeling and emotion does that young lady convey. When you really hear this music, it's hard to believe these rockers are so young. I think they are ages 14, 15 and 18, if I'm not mistaken. The guitar tone is pretty, and the riffs are tasteful and well-thought-out. Hunter's lead guitar solo nails it!
This blows my mind still to this day, how he plays these hard riffs and sings brilliantly dead-on like he does, at the same damn time! Dawg is a multitasking beast. Serious concentration must be attained for this stuff. A Fact: a lot of singers playing and singing at the same time lose concentration in either the guitar riffs, making it a bit sloppy, or in the vocals overall, creating subpar vocals. Even rockstars do that stuff. Well, I don't see that slacking/concentration deficit in Unleashed's Hunter or Elise. And Luke Stanton is the quiet kid with the skill on the skins. The guy can play RUSH/Neil Pert covers live at age 14, to many people, so Luke gets thumbs up for that accomplishment. Not many young drummers have done this, or played such cool shows as he has. Yeah, you can say that this is a rare example of very talented kids who got it going on! No BS!!! They should be on a national tour. They are very close to being ready to do stuff like this, in my opinion. These kids, and their parents are great friggin' people and I love them to death. The badass music is just icing on the cake for me. These kids got some great music gear too. Not some $300 cheap-ass crap amp that sounds like dogshit (like 8 out of 10 louevil bands use regularly, and think nothing of it.) or a guitar that was bought at a pawnshop for $150 bucks. They run with all pro gear and instruments, and it sounds sooooo good together. I supported these kids when I first heard them because they had a SPARK about them, a musical spark that could not be denied! And I will continue to support them as long as I can, because I believe in these kids and their rock n' roll Partridge-type family they got going on. Families Rule! I cannot imagine my dad driving us to gigs, getting us great gigs and helping out with the exoposure. I believe one day they will be kicking major ass playing to thousands worldwide, and then I can come sit in the front row of their concert with a fine assed hootchie and we'll watch Unleashed for free!!! And if they don't let me in I'll start a riot!
UNLEASHED's "Time To Fight!" Arrrrgggghhhhhhh!!!!!
Rockstar Mayhem Festival 2014 Lineup
I've always ranted and raved about how much fun I've had at The Rockstar Mayhem Festival every year that I attended, and this year seems like a pretty decent lineup as well. It's a bit too modern for my tastes, but I'm sure many younger folks will love it. The lineup is Korn; Avenged Sevenfold; Asking Alexandria; Trivium; Cannibal Corpse; Suicide Silence; Miss May I; Mushroomhead; Emmure; Texas Hippie Coalition; Veil Of Maya; Upon A Burning Body; Darkest Hour; Body Count (Featuring Ice T); Ill Nino; Wretched; Sister Sin; King 810; Erimha and Islander. Our chance to see this blistering show is July 19 in Noblesville Indiana at the Klipsch Music Center, which is an awesome place to see big shows at! Get your tickets now!
( Eddy: picks of bands I would stop and actually watch play whilst avoiding drunken, sweaty, fat guys on the verge of falling/passing out/yakking all over on you! Bands I would personally like to see on this bill are Trivium, Sister Sin (the brunette chick is smokin' hot and has a great metal voice), Suicide Silence, Texas Hippie Coalition (maybe they'll burn with the fans???), Bodycount with Ice T (I loved that album. Metal and rap that I actually liked!!!) and last but not least Ill Nino (they rock).
Jefferson Tarc Bus, calls it quits...for now
One of Louisville's most well-known cover bands, Jefferson Tarc Bus, is calling it quits - well, at least for now. This band was a great louevil cover band, period! The last few years, they went through a few member changes and maybe that has something to do with it, but somehow I don't think this bus will be out of service for too very long. Bassist Dave Moody adds "It's not so much a 'break up' as a 'break.' We have been going HARDCORE for 11 years, and it was just time. I am extremely proud of what we accomplished over the years, including playing every IMPORTANT gig a cover band could play, such as Kentucky State Fair, Pittsburgh Steelers games, Chow Wagons, and many other things. But what I'm most proud of is our charity work! We have raised hundreds of thousands of dollars for local charity. We are just overwhelmed by the love and support we have been shown since announcing it. Thank you, Louisville. We love you more than a fat kid loves cake!"
Eddy: Hey now! I'm a fat MAN, and I love cake!!! Farg off Dave! Lol.
LMN Musician Of The Month
This month's feature is bassist Jacob Carter of Signal The Revolution, so be sure to scroll through our LMN website to Louisville Rock Close-Up to read about one of Louisvilles premier bassists.
Central Kentucky's Creature Of Exile and Bury The Wicked on the prowl
Central Kentucky's Creature Of Exile just keep getting better and better. I had them on my original music showcase several months back and they were good, but not like this. This band has gotten exponentially better over those few months time. Much tighter as a unit and much better vocals from Danny Camden. The duo guitarwork by John Massey and Jerrod Messick is formidible and violent, yet attain a certain melodic edge when called upon. Beauty and The Beast you could say! The drums of Eric Lyons are brutal. Excellent death metal, and I'm not even really into death metal these days, but I quite enjoyed watching these fella's tear shit up. Bury The Wicked is another band who is just decimating lately. This band is another central Kentucky band who has gotten loads better over a short time. Nowadays, this five-piece band just sounds incredible. Great vocals by Rich Kurtz and soulful, stand-out leads by guitarist Matt Ryan make this band one of my current faves. Great songwriting and blistering performances make this a band to look out for. These bands haven't got as much attention in the louevil area, but I'm going to do my best to change that. These guys are also great people to work with and are about as cool as a band can get. It is a pleasure to work with such bands.
A lot of louevil bands are pricks who think they are too good for their own good, which is a joke, because some of these a-holes are seriously lacking in some areas. Like the guy who sings like my butt farts, but still thinks he is the total shit. I now see why he books his bands with other mouth farters, because to go up against a true vocalist would reveal how retarded he truly sounds! And maybe bring him down off his high horse a few feet. Then there is the Southend band who is soooo cool, that they only jam with bands who only can adequately pass the coolness test. Can you say "Douche?"
So now you see what I deal with here in good ole louevil. Thank god, all the bands aren't like this, only a handful of rockers who think since they have played the scene for so long, that it gives them the divine right to act like a rockstar. I have pretty much given up on these kinds of people, and now focus on the good, humble, down-to-earth. talented and up-and-coming rockers of this areas future! For there are many. And they can actually sing!
https://www.facebook.com/creatureofexile
https://www.facebook.com/pages/Bury-The-Wicked/116683008348673
Surprise, local band Krosjoint to record 2 songs about Weed
Our doomy, stoner Southern metal band will be going into the studio in the next month or so to record one-and-three-quarters of a song, or two; new badass songs becase we are some broke ass bitches. We tried to get the engineer to take food stamps in trade, but he already had enough himself. So we gotta find someone to record us who is starving! Songs we are fighting over recording are "Sweettooth Ghanni." a strain of suggary goodness that I once had. "Judgment" (choosin tha nugz-choosin tha nugz!!!), "Woller," a country-fied version of "Wallow," dedicated to Marcus sleeping/wallowing around on my dirty basement floor the morning after a big bottle of whiskey and big bag o' hairy fungy. And "Fail To Remember," a song we wrote and completely forgot about because we were high.. Send us food stamps so we can afford to record all four!
Try out a sneak peek at "Sweettooth Ghanni" Live!!! We'll see you phucks at Cannastock2014!!!
The "Lady Killerz" R Coming, Insane Female rock/metal vocalists Converge For One Female-Fronted Rock Showcase on Friday May 9 at PHT
I've got one twizted concert coming up on Friday, May 9 at Phoenix Hill Tavern. It's female singers night, all night long! Metal, rock, anti-industrial, thrash, whatever, you'll hear some crazy shit, I'm sure. The regional lineup of Lady Killers is Corprit Convict, Spontanious Internal Combustion, Empyrean Asunder, Caducus and Last Question. The show starts at 9 p.m. and is free before 9. Only $5 after 9 p.m.
One of my favorite bands is Italy's Lacuna Coil, and Cristina Scabbia, their vocalist is my dream wife!
I would thou runst my penis thru a cheese shredder for one night of forbidden passion with Mrs Scabbia. Don't tell her husband!
Check out some Italian Goth Metal! Is she smokin' or what?
https://www.youtube.com/watch?v=ASsIAKlbF7c
Empyrean Asunder "Live", Keeping Louevil Weird and Heavy
I finally got to see Empyrean Asunder in action, and this band is a trip. It's thrash punk anti-industrial goth metal. I don't know what the hell it is, but it's pretty cool whatever it is. The band is fronted by pretty Olivia Asunder and had guitarists Eroxthis and Morbid in tow. There wasn't a drumset for the live set, but drums and keyboards were sampled in by computer, as well as effects samples, and various sounds like air raid horns and other electro music stuff. The guitars were downtuned and heavy but the tones were a bit muddy for my tastes. The playing was pretty good. Nothing flashy, but some groovin' heavy riffs over samples galore. Olivia is an eye catcher that had people going WTF? Seeing this little thin Gothic-looking chick belting out some seriously low death metal growls is soooo cool. Jaws were dropped to the floor. One person said to me "how can she do that when she barely weighs 100 lbs!?" I just shook my head and continued watching the show. Olivia can sing, scream, whisper ever so softly, or whatever is needed vocally from her at that moment. She reminds me of the chick singer for Otep. She is a good frontwoman and I think she will get only better being so young as she is. Makeup, masks, cool sounds, metal, synths, samples, techo, electro, punk, attitude, and more metal. The band really amps up the metal more than their recorded music I've noticed. Slipknot meets Lacuna Coil meets NIN. I'm not to knowledgable about this music so excuse me if I get stuff wrong on this review. It sucks getting old! I'm trying! The programming and samples added to this live performance is very cool, and nicely done. I wish I could do that stuff. Just plug in your PC and rock out bigtime!
The lack of real drums, and the thickness of real drums is a bit of a tone sucker, though. I wonder if having a electronic drum set used would be more ideal?? Either way, it's neat and modern. Wanna see something different and exciting? Check out louevil's female-fronted Empyrean Asunder live. where metal, industrial, techno, electro, goth, and several other styles of this type collide in a collage of anarchy and madness.
Empyrean Asunder Live at Diamond Pub....
Louevil's Great Floods Gets Signed
Little Heart Records is excited to announce our first new signing of 2014: Great Floods. The Louisville, Kentucky 4-piece hardcore band "is honored to have the support of a workhorse label like Little Heart. LHR has given Great Floods the green light to make our debut record as fast, ugly, and violent as we can, and we promise to deliver. "We look forward to sharing a roster already dense with talent, but rest assured that our EP is going to be a fresh kick in the teeth for fans of the label." adds singer/guitarist Nicholas Smith.
The band is currently at work on their debut EP which will be out later in 2014. In the meantime they have a new video for the EP's first single "Limbs."
"Limbs" can be seen here:
For more on Great Floods:
Facebook- https://www.facebook.com/greatfloods
Reverbnation- http://www.reverbnation.com/greatfloods
Heart Of Kings Live Review
I finally got to see this newer young louevil original band and I really liked it, much more than I thought I would. This band's demo did nothing for me, but seeing them live made all the difference in the world. Their demo does not do them justice at all. The band has two singers. The main singer Larry Selvidge has a great melodic voice and can sing quite well. He has range and diversity. Parts of it reminded me of the melodic singing parts in All That Remains when they were still metal. I liked ATR because they incorporated melody with brutal screams as well. Coolness. And anyone who knows me knows that I value a singer who can carry a tune, so Selvidge's singing won points instantly right there.
Screamer Dustin Jones does a fine job adding screams where they need to be. Hints at louevil metal veterans Incursion come to mind when I hear Dustin scream. He has a damn good scream. The drummer Nabeel Asif Qureshi is a friggin monster. Hard Hitting, and powerful in the extreme. I really enjoyed watching that MF let loose on the skins. I was like "dayyyyyuummmmm, dawg is killin' it!" A good nickname for Nabeel would be "The Kraken" because he was so fast it seemed like the dude had 8 arms, and he plays like a fargin monster! Guitarist Micheal Raymer has some good guitar rhythm chops and decent metal tone. Nice riffs, requiring speed and dexterity! These guys could use a second guitarist, though, I'm thinking. A lead shredder from hell. It would thicken up guitar tones and they could layer the fuck out of the songs to more effect! That could be icing on the cake. Bassist Bruce Goodfeisch holds his own in this rockin' original band. The band has decent songs and some pretty powerful grooves. They are young, so yeah, there is still some work they need to put into polishing up their sound, but I'd say they are off to a great start indeed. One thing is that they should consider upgrading their amps/cabs asap.
(Bands; I know quality heads/cabs are not cheap (believe me I know! I have $4450 in my head/cabs alone) , but if you want to have that crushing sound and memorable tone of the ages, then you simply got to pay the price. There is no way around it! Try Craigslist and the surrounding cities. Sometimes you can get great gear for crackhead prices, especially if they are country mofos living in the boonies! It can be worth the drive.)
Other than that, thumbs up to Heart Of Kings. I'm looking forward to seeing them in concert again soon. Good band, good people.
Auzman Propaganda, Man - A Local Review
I received a CD named Auzman Propaganda, Man.
Apparently this is a one-man band music project by local musician Austin Whitely. Austin handles all the instruments on this recording. "Lady At The Front Desk" is an alternative rock song that reminds me of Nirvana or of an underground grunge type band. The music is a bit chaotic with a lot of guitar scratching, and plenty of what I call guitar chicka chicka's, but the music comes together well and works great with the semi-whiney melodic vocals of Whitely. This could fit in with punk rock, rock-a-billy or just plain hard rock. While I'm not a huge fan of this type of music, I must admit I like Austin's vocals. Fans of Curt Cobain would no doubt be into this project from this first song on. The lead guitar isn't the greatest, but neither was Nirvana's and you see how well they did. "Make A Scene" starts with a very distorted, rockin', fast-groovin' bass riff and quickly develops into a industrial rock endeavor in the vein of Nine Inch Nails or something. I got to hand it to Mr Whitely. He is quite the creative individual. This is some interesting, crazy ass shit! True industrial goodness, as Mr Whitely puts it, and I agree. Fans of NIN and industrial punk rock would like this as well as Nirvana fans woulda liked the first song. I like the cool delay enhanced clean riff in the breakdown. Decent vocals. I don't get many CDs like this so this is a breath of fresh air. "Soothsaid" offers a dramatic intro with wind and keyboards/piano. The intro vocals don't really do it for me, but fortunately they get better when the guitars kick in to a heavier part. An abrupt stop, then the piano part repeats for a short while till the heavy chorus comes in again. Lead guitar solo in full swing. It's not bad, but need a bit of work. It definitely has that underground garage band type vibe. The ending vocals get worked up to some decent melodies and feeling. Like I said, it's not my kind of music but I can see fans of punk, grunge, industrial getting into this guy's work. But let's face it. The guy needs a band. And maybe an upgrade on guitar tone. The drums sounded thin, like computer programmed drums. Great CD cover and packaging. The music is some weird underground alt/punk/grunge rock. Creative and not overly boring. My advice would be for Auzman Propaganda, Man to find some underground rockers and put together a live project. If some of these songs could be reproduced and sound just as good live, then he could have something that people can see "live in action." to me, that is a huge part of making music. Playing your music to people.
Upcoming Shows
Brewskees
Saturday, April 5 - Fall Of Dusk and Atomic Thrillride. 9 p.m.
Saturday, April 12 - Bury The Wicked.
Busters (In Lexington)
Saturday May 31 - Join The Dead and Coalescent. 7 p.m.
The Brick Alley (in Frankfort Kentucky)
Friday, April 18 - Zeroking, Bury The Wicked and Triaxle. 8 p.m.
Diamond Pub on Baxter
Friday, April 18 - Flaw Tour Kickoff with Flaw, Signal The Revolution, Year Of The Gun, Centerfold and Hello Agony. 7 p.m.
Thursday May 8 - Powerman5000. 7:30 p.m. $15-$30
Thursday May 22 - Primal Fear, Stagecoach Inferno, 18Xray. 7 p.m. $20- $50
Expo 5
Wednesday, April 23 - All Time Low, Man Overboard and Handguns. 7 p.m. $20
Haymarket Whiskey Bar
Sunday, April 13 - Great Floods, Shook Like Dead Mean, Greyhaven, Ari., '68 and The Contingent. 6 p.m.
Headliners
Wednesday, April 30 - Somo. 8 p.m. $18-$50
Highlands Tap Bar
Monday, April 14 - Ohlm. 10 p.m.
Magbar
Friday, April 1 - Ohlm, Joe Buck Yourself and Call Me Bronco. 10 p.m.
Saturday, April 19 - Ovids Withering, Littledidweknow, The Engineered, Demise Of The King, Eschatos, Order Of Leviathan. 8 p.m.
O'Shea's
Saturday, April 5 - Soundtrip. 9 p.m.
Phoenix Hill Tavern
Friday, April 4 - Boozer, Caducus, Rust N' Bones, Atomic Thrillride, Luie Brangers. $5 and Free before 9 p.m.
Thursday, April 10 - Primer 55 with The Black Order, Bury The Wicked, Right To Violence and Far From The Vine . 7 p.m. $10
Friday, April 25 - Join The Dead.
Friday May 2 - "Derby Eve" Jackyl. 8 p.m.
Friday May 9 - Corprit Convict, Spontanious Internal Combustion, Empyrean Asunder, Caducus and Last Question. 9 p.m. Free before 9 p.m. Only $5 after 9.
Spinelli's Downtown
Saturday, April 5 - Yautja, Gravemouth, The New Shitbirds and Ain't Worth Killin. 6 p.m.
The Vernon Club
Friday, April 4 - Icon for Hire with Even Memory, Beyond Doubt and Forgetting Scarlett. . 8 p.m. $12.
Saturday, April 5 - Emarosa 7 p.m. $10.
Monday, April 28 - We Came As Romans. 7 p.m. $15.
Wednesday May 14 - Upon A Burning Body. 7:30 p.m. $12.
Thursday May 22 - Primal Fear with Stagecoach Inferno and 18XRAY. 8 p.m. $20-$50