February 2014 Articles
Cover Story
Paul Moffett
Features
Eddy Metal
Columns
Nelson Grube
Martin Z. Kasdan Jr.
Eddy Metal
Blogs
Got Shows?
Send Them To Us
Bookmark Louisville Music News.net with these handy
social bookmarking tools:
Available RSS Feeds
- Top Picks
- Today's Music
- Editor's Blog
- Articles
Add Louisville Music News' RSS Feed to Your Yahoo!

Issue: February 2014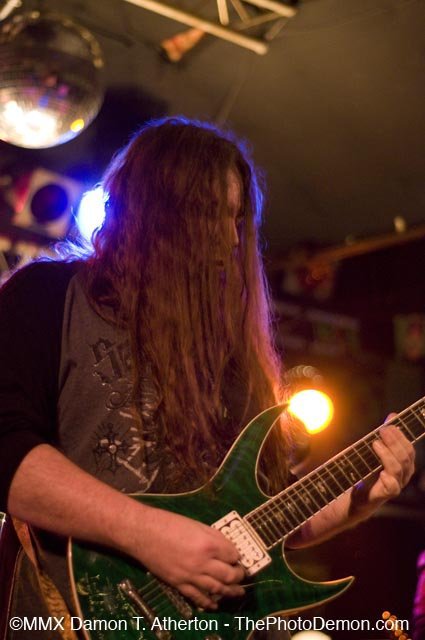 News From the Pit
MERF, Metal and My Frozen Nuts.....
Howdy ye metal loving folks! OMG, this weather is hideous. It's been so cold that water pipes burst during band practice (which caused chaos), and my nuts (Planters extra salty. Ha!) froze to my frikkin' car seat. Not fun at all. And just think, an ex wanted me to move with her to Iowa. Ha ha! That's a good one. No thanks, Pocahontas, I'm as far north as I care to be. It's bad enough right here in Louisville with that cold-arse river. Things are always slow this time of year musically in tha Ville. And while it's not so bad taking a break and hybernating like a big ole grizzly bear, one does tend to get bored a bit. One cool thing to occupy my time is that I am now an official board member of MERF, the Musicians Emergency Resource Foundation, formerly the Musicians Emergency Relief Fund. It is an organization that has been around since the Eighties, when friends of Marvin Maxwell founded it with money left over from benefits for Maxwell, who had torn up his ankle in a car wreck. The goal is to help musicians in a bind. Say a member of a band gets his hand mangled in a cheese grating accident? The MERF board has a meeting and decides if this person meets the criteria for assistance - a working Louisville (or from Louisville) musician, which includes the seven counties of the metropolitan area. If it is a valid case of someone needing help, and everyone votes to help, then MERF comes to the rescue. Is that not a great organization? It's a wonderful idea, no doubt.
I don't know why they asked me to a meeting, but I'm thinking my popular Rock For Kosair Benefit might have gotten me on the board. After all, $50,000 worth of toys donated to Kosair isn't anything to laugh at.
Alas, everything has at least one negative aspect. I have to be 100% honest with you peeps, which is the way I roll (even though it pisses some people off). I kinda always thought MERF was a members-only organization for those who play top 40 covers, or only those who know or are in good with the MERF board/founders. I had heard numerous times that MERF didn't really have anything to do with the true Louisvillerock/metal scene. There was even a long standing joke that I had heard "you had to know the Maxwells or someone in that group to get any assistance from MERF." So, as you can imagine, us edgy high-gain hardcore rockers felt a bit left out.
Discarded. Rejected. Heck, bad stuff happens to us too. Probably more so!
But when I was invited to a meeting, I saw a ray of sunshine through a very cloudy winter day! If accepted, I would do my best to include the real Louisville original rock and metal scene the best I could. It turned out that they really just didn't have a reputable representative of the underground rock/metal scene in the board/organization. The board was a group of super-cool people who only want to help folks. They do everything for free, and donate quite a bit of their time to do so. It was a delightful and very friendly meeting, and I'm so glad I went! Funny peeps, too.
So after the meeting, I was voted in. I really like to be able to help people, and now I'll have quite a few more chances with MERF. I promise to try to get us rockers an equal amount of help out of this MERF money we raise. And you don't have to be in a cover band playing "Bulls On Parade" every night! We will go over any application, and although we cannot promise anything, we will certainly do our best to review the case and see what can be done to help. In this doody economy, every little bit helps.
Another great thing about this is that MERF will be more than likely be having a Toy Tiger Nineties Hardcore Reunion late this summer (see info below).
Shows - Shows - Shows!!!
Not too much happening right now, cause it's the dead of winter (whoa, that would be a cool band name!), but there are a few shows in the mix, like Volbeat/Trivium, Chimaira, Dark Tranquility, 10 Years, Primer 55 and more.
Yeah, it's cold. But you can wrap up in bundles like the little brother in "Christmas Story" and get out of the darn house and go see some live friggin' music, whether it be nationals or some Louisville original rock! Heck, come see me play on Friday, February 7th at Phoenix Hill Tavern. My band Year Of The Gun will be playing our new CD in entirety!! Hope to see you peeps out.
We play at 10 p.m.
Peace.
The Metal Grapevine
MERF Toy Tiger Nineties "Hardcore" Reunion:
I have been complaining about this for a few years, that all these Toy Tiger Reunions were all based around Fire Dept (whom I love) and the Eighties crowd that revolved around them, when there was three decades of live music that happened at the Toy Tiger. My point is, there was so much more to The legendary Toy Tiger than Fire Dept.
My generation was the Nineties original metal scene at Toy Tiger. Bands like My Own Victim, Faceplant, Shattered Reality, Rathbone, Shapeless Matrix, Flaw, Drunk Monkey, Luther, Psycho Soul, Inhuman, Paglina, Incursion, and a ton of other bands as well. We had some rip-roaring shows in the mid-to-late Nineties. My goal is to reunite some of the bands for one reunion show. Yeah, I know it will be hard to do, getting bands to reform after 15 years, but I'm willing to give it a try to see if it can be done. I have some doubts because it's been many many years, and people have kids, careers, wives, or don't even live here anymore. But if I can set up a decent lineup of these bands, this will happen. I really want to make this reunion happen. It would be one really cool party. But ... if bands are lazy and indecisive, then it probably won't happen. I will be contacting bands very soon to see if it is a possibility to play the reunion, so some of you might be contacted soon!
I plan on having people in the music scene at the time, there to help run/host the show too, people like Black Frank, Louie The Local Guy, Jeff Vernon, Toy Tiger's Mary Powell, etc..
All the proceeds will go to MERF so we'll have more money to help people with. And yes, even hardcore, super-fast, brutal metal musicians can apply for assistance! There's a new MERF in town, and we aim to help all you scalywags, from bluegrass to death metal. I'll have more news later.
Musician Of The Month:
This month's musician of the month is Donnie Highland, a drummer who has rocked Louisville for many a year, in many a band. A good guy who kills on drums! Be sure to check out his feature in this months edition of LMN Online.
Bad Humor Report; Local Band Lynched for Not Being Trendy:
I noticed on Facebook the other day that other people and myself are getting tired of musical trends and the unsigned bands who strive to stay on top of all of them. It's one thing that has vexed me from the start when trying to make my own music. When Korn came out everyone flocked to buy a 7 string, and suddenly there were 500 Korn knockoffs. Everyone tried to play grunge, too. Hip hop rock had been overdone, too, in my opinion. It just doesn't sound very fresh anymore. All the "Yeh yehhhh's" and the whiney rap vocals don't do a thing for me. The brutal extreme metal has lost it's allure as well, now that every heavy band sounds like the cookie monster, pretty much. Where has the actual singing gone in metal? Forget what's popular, what's in, and what people are listening to. Take the time to write music from your heart, no matter how weird or different you think it is. Who gives a crap what anyone thinks! I actually have a song called "Putt Putt and Anal," which is a groovy lil' tune about golf and slippin' one up your ole lady's tater! I've written some questionable music in my time, I know this. But I've written some awesome riffs, too, some music I'm quite proud of. Some of the best music, to me, is the very different, ground-breaking stuff. So when writing, be bizarre, don't limit yourself or tell yourself what's got to happen writing-wise. Let that sh*t go, and just go with the flow and see what happens. You could be pleasantly surprised. And for god's sake, quit worrying about your band's image and how cool you look. Concentrate on the most important thing, the music, dillweed!
Volbeat and Trivium coming to Louisville Palace:
Two new rock titans are heading this way to Louisville's coolest venue, the Louisville Palace Theater, on Wednesday April 23. This should be a barnburner of a show and will sell out, so you might want to get your tickets ASAP. I've never seen Volbeat before, and would really like to. I kinda like them. It's a lot better than most garbage on the radio these days. One cool fact I found out is that their manager (and the guy who discovered them), Scott Frazier, is a Louisville native, who also manages Saving Able and Flaw. Small world, huh? Congrats to Scott for his success in the music business. Volbeat is a juggernaut these days and the money should be rolling in bigtime.
Trivium is another band that has come a long long way. I remember seeing them/meeting them many years back at Jillian's when they opened for Lacuna Coil. Very, very, nice young guys and talented, too. Nowadays, they are some serious shredders and their popularity has soared! They have evolved leaps and bounds since those Jillian's days! The technical prowess of their music is off the hook. So ,yeah, this should be a monster of a show., in a pristine venue of epic porportions! Get your tickets NOW!! Or be left out day of show. And you know you would be one crying, whining mofo!
Motley Crue Signs Death Pact, Farewell Tour Heading To Louisville Later This Year:
OMG, say it isn't so. After 900 years as a band, Motley Crue has signed a death pact agreement, an agreement stating that after this next farewell tour, they will never tour again. I must say that I have been a MC fan since 1984's Shout at the Devil album, and I have seen the band probably six or seven times at least, including the infamous "Bark At The Moon/Shout At The Devil Tour!" Alas, time and ongoing drug use has caught up with the guys and they simply cannot perform like they used to.
Apparently, they wish to go out on top. Poor Mick Mars has his spinal disease and can barely stand up, Vince Neal sounds like a dying cat these days and his performance is a shadow of what it used to be. Nikki and Tommy are still good to go, though. I saw them last year and it was kinda painful to watch. A few of the songs didn't sound right, Vince hardly sings anymore, has the audience singing most of his parts (lazy singer syndrome), and "the love to play music" seemed to have left the band members. Maybe it is time to hang up the old pointy guitars once and for all. However, there will be one final Motley Crue tour, and they will be stopping off here in Louisville at the KFC Yum Center. Drummer Tommy Lee says "We've always had a vision to go out with a big f**king bang, and not play County Fairs or clubs with one or two original members. Our job here is done!" It could take almost two years for this massive tour to be completed though, and the band has chosen Alice Cooper to be an opening act for this farewell tour, so that should be interesting. As for the guys, they will be busy doing their own things when the tour is done: Vince will continue on in music and his restaurant businesses, Nikki will focus on Sixx A.M and his radio show, Tommy has some "big surprises ahead" that he can't talk about just yet, and Mick plans to move to Nashville, finish his solo album and write a book. Whatever they do, they deserve some peace and happiness. They made a lot of people happy in their days. I was one of them.
Motley Crue will be rolling into Louisville on October 14. If you haven't never seen them live, this is your last chance!
New Venue Alert, The Mercury Ballroom:
We have a new, awesome venue! A sister venue to Louisville Palace theater, so you know it will be nice. The Mercury Ballroom is the new name of Live Nation's House of Blues Entertainment division's spectacular new intimate music venue, scheduled for an April opening in the heart of downtown's historic theatre district, and the all-new sister venue of The Louisville Palace.
Featuring state-of-the-art sound and lighting systems, great sight lines, and the booking strength of the world's largest live entertainment company, Mercury Ballroom will showcase many of the music world's biggest tour names that have performed at HOBE's other clubs, including such acts as Imagine Dragons, Third Eye Blind and one of the first names planned for Mercury Ballroom in Louisville, Christina Perri.
"Mercury Ballroom is going to be all about being true to Louisville," said HOBE President Ron Bension. "We're excited to bring the best artists and shows into this great new club and to the best music fans in the country. We're really proud to be coming to Louisville and honored to be working with Bill Weyland and his great team at City Properties Group to bring this historic building to life.
"We have a long history of bringing entertainment to the city at the Palace Theatre and The Yum! Center and we hope to continue to play a key role in Louisville's civic commitment to unique entertainment."
In addition to a special VIP lounge with highly personalized service, and premium balcony with seated service, the 900-capacity facility located in the historic Wright-Taylor Building at Fourth and Chestnut, will feature space for both live music and private events with leading industry audio, lighting and video technology.
Cheap Trick's Robin Zander T o P lay Acoustic Show at Headliners on February 4:
Cheap Trick vocalist/guitarist Robin Zander will be playing an acoustic set at Headliners on Tuesday, February 4th. I've seen many a band in my day, but this guy is amazing. He has the voice of an angel and plays/sings at the same time like its nothing. Rarely does one sound so good while doing both at the same time! But Robin does every time! He is a musical master. If you love melody and feeling/emotion in your music, then by all means, get to this show! I'm going to try to make this. I haven't been to Headliners in years, and want to see how they fixed the place up. This sounds like the perfect opportunity. Ohhhhh yeah. I hope he plays "The Flame."
Regional Original Melodic Rock Explosion on Friday February 7th at PHT w/ Some Kind Of Saint, Popkiss Chainsaw, Zeroking (West Virginia), Stephen Trusty and Year Of The Gun:
Regional original melodic rock comes alive on Friday, February 7 at Phoenix Hill Tavern, as some of the region's finest melodic rock bands come together for a show. Alternative rock band Some Kind Of Saint is sounding excellent these days and has some great new material, and peeps will be excited to see the new singer and guitarist for hard rockers Popkiss Chainsaw (since they booted out former singer Billy Burton). Zeroking, a band that has opened for Soil, Drowning Pool, Black Stone Cherry, Boba Flex, Nonpoint, Pop Evil, etc., will be in town from West Virginia to rock for you peeps, and Stephen Trusty from The Tri Tones will be playing an acoustic set to start off the night at 9 p.m. Last but not least, my band, Year Of The Gun, will be playing our new CD in its entirety. We've gotten some great response from it and we can't wait to rock it out and play a brand-new tune as well. These bands are not trendy , nor do they follow any styles or popular genres. They do what makes them happy. These bands are a refreshing change in today's music and styles. Support original music! It's FREE before 9 p.m., and only $5 after 9.
Southern Kentucky's 4FORTY9 Set To Release Killer Rock N' Roll Album:
Burkesville, Kentucky's melodic rockers 4Forty9 (a darn good original band) are about to release an eleven-song album, titled "Prevail." The band will be releasing it on Saturday, February 22 and playing a release show in Burkesville that night at the Community Center. There will be two opening bands and the band will then play an all-new set, as well as some older songs as well. 4Forty9's album "Prevail" was recorded and produced by themselves. Review coming next month!
Remembering Randy Rhoads- Crazy Train, The Book:
Even 32 years after his death, guitarist Randy Rhoads is still talked about with great respect. I have been a fan of Randy's playing since I was a boy. I was at Books-A-Million recently and I saw a book called Crazy Train - The high life and tragic death of Randy Rhoads. I bought it instantly. As a fan of Randy. I feel as if I got to almost know Randy by reading this in depth book about my guitar hero. I found out a lot of stuff I didn't know. Randy was truly a great human being, and very humble and quiet for someone of his musical calibur. Not like the usual heavy metal guitarists that everyone conjures up in their mind, loud and obnoxious with a huge ego. Randy's ridiculous riffing speed and classical stylings made him an original. What bummed me out was that his relationship with Ozzy and Sharon towards the end wasn't as happy-go-lucky as Ozzy has always portrayed. I have learned that that is bulls**t. He wanted out because of the debauchery in that lifestyle, and the crazy people around him at the time. One guy even brought a dead goat backstage to Randy and said "I sacrificed this goat to you." The band was also originally to be a band, called The Blizzard Of Ozz, not a solo project. When the album came out it was titled Ozzy Osbourne! Randy and the rest of the band were not happy at all. After many incidents, Randy finally told Ozzy he wanted to quit rock n' roll and go to school to major in classical guitar. But Ozzy and Sharon (probably mostly Sharon) had found their meal ticket and weren't letting go, even threatening Randy with lawsuits. Ozzy even physically attacked Randy while drunk. It wasn't a good situation and he no doubt felt trapped. What a horrible way to end the life of such a talented musician. If only Randy didn't take that fateful innocent joyride in a plane with a coked out (they found a huge bag of cocaine in the pilot's drawer on the bus) busdriver, who didn't even have a valid pilot's license at the time.
Who knows what great things Randy would have achieved. I think he would have went on to be the greatest guitarist ever. R.I.P., Randy.
Introducing Devils Due, A Tribute to Eighties Rock:
Louisville rocker Dave Moody is back with a new project called Devils Due, a Eighties hair band tribute from Cincinnati that plays Kiss, Ratt, Motley Crue, Poison, Bulletboys, Bang Tango, Steelheart, Bon Jovi, Skid Row, Dokken, Whitesnake, Twisted Sister, Faster Pussycat and much more. I love this type of music and I saw a few videos of these guys jamming out and it looks like good, dirty, unwholesome, Spandex-wearing, Aqua Net spraying, raunchy fun. Just like the Eighties! According to Dave, his new band members are some characters, indeed, and put on quite the energetic show. The band is Staci Michaelz on vocals, Richard Grand on guitar, Sid Lawless (a.k.a. Dave Moody) on bass, Jay Jay Black on drums.
I'm thinking about going to see them live this Saturday night, February 1, at Phoenix Hill Tavern if I don't get too hammered at band practice earlier that night. If I'm able to make it out, then I shall do a live music review! Whatever happens, it's good to see Dave back in action with a new fresh project that promises to be a fun endeavor. Good luck to those guys, and may the schwartz be vit you!!
Empyrean Asunder in the Studio:
Anti-industrial band Empyrean Asunder entered Treehouse Audio for their first full length CD since reforming with all new members. The CD, titled Serpent, will be released late February. The CD will also contain a bonus EP from melancholic electro act The Secret Confession. See these guys n' gals next on February 28 at The Warehouse, then at Phoenix Hill on March 7.
Six Foot Fall to Head For Home:
Louisville's Six Foot Fall has changed a few things and recorded a new eleven-track album titled We Belong To Them. First off, they have had a few member changes, and then they changed the band name from Six Foot Fall to Head For Home. Head For Home is Austin Talbert on vocals/guitar, Joe Vitzenty on guitars/backing vocals, Jeff Hall on bass, and Mike Gillis on drums. "Alice Is Waking Up" starts out with a pretty clean sounding riff that I like. Then it;'s get Foo-fighter-ish as it picks up a bit with more gritty guitars. I have always liked the vocals of Austin Talbert, a nice young man with good vocal tone/range. Austin's strengths are melodic melodies, and sustaining notes. The music is radio-friendly and has a good feel to it. It's laid-back and kind of dreamy melodic rock. Fans of Nirvana, Foo Fighters and a lot of modern rock would probably like this pretty well! Studio quality-wise, for an album that was recorded in an apartment (Austin's), this doesn't sound too bad. However, if the band had recorded with Louevil cream of the crop producer/engineers Michael Sanders or Jordan Haynes, this would have been much better sounding. It's almost scary to imagine how good this would have sounded. It's a decent song. "Dead Leaves" has a lovely acoustic intro with some orchestral keys thrown in for ambience. This is different. The orchestral sound is thick. The drums sound isn't doing it for me on this track though. They sound very thin. This is kind of a weird song, but it's cool. They aren't following any trends on this one, that's for sure! A little more effect on Austin's voice would have been nice, in my opinion. There is some, but not much. A little hall reverb and a smidge of delay would have worked well with Austin's actual singing. I just hate dry vocals.
"Dreamworld" has a real cool riff that starts right off. It's an alternate picking, clean riff with flanger/phaser effects that heads into a heavier rockin' rhythm. I think this is my favorite. The vocals are a bit loud in this one, a bit overpowering. I like the guitar tones and riffs. Decent playing. The melodic guitar layering reminds me of Lacuna Coil, in places! Laid-back, trippy rockin' tunes! They should go back in a top-notch studio to record these! I like the originality and harmonies/melodies in the vocals quite a bit, but some of the lyrics seem kinda iffy at a few small places. But of course, these guys are young and only have room to grow. I'd say they are off to a hell of a start with songwriting and ideas like this. I just wish the recording was better. Check out Head For Home at a club near you soon!!!
New Band Alert, Stanley Ipcuss is smokin!!
Stanley Ipcuss? Seriously? I love that! If you don't know, Stanley Ipkiss is a fictional character in the comic, and later movie, The Mask, starring Jim Carrey. I actually own the original comic the movie was based on! Coincidence? Maybe!
The comic is one of my favorites! In it, a geeky guy named Stanley Ipkiss, who gets bullied a lot, finds a mask that transforms hims into a murderous and seriously twisted vigilante. The comic is waaaay better than the movie, because its ruthless. Anyways, back to this fine band.
This three-piece band of very young cats, ages 19-21, are on to something here! First off, these guys are persistent and have a great "go get 'em" attitude. I like that. Secondly, they rock!
Honestly, I wasn't expecting too much, but what I got was originality and soul. I love to eat crow!
For real, though, these guys are cool.
"Beauty In A Square" is one jazzy classy, laid-back. rockin' mofo. The feel. The soul. Whatever this is, I really like it. It's music you can listen to, to enjoy life. It doesn't stress you out, or grind on your nerves like metal sometimes does when you need peace of mind. It's sit back in your chair and smoke a doobie after you've worked a ten-hour day, and gotten a flat on the way home music. Subtle jazzy guitars and beautiful singing by Chris Cassidy. Groovy drums, too. I like the siren sound in the breakdown in the middle of the song. Perfect! I can't hear the bass too well in this demo, though. I'm kinda straining to hear it. Cassidy's vocals remind me quite a bit of Lenny Wolf of the Eighties rock band Kingdom Come, a Zeppelin-ish sounding band that featuring Louisville drummer James Kottak. Cassidy can sing. I want to hear these guys in a good studio. Wow. That could be awesome. The song "Nothing" has bass that I can hear. Unfortunately it's a poor bass tone. This song is kinda rockabilly or something. It has some pretty guitar fills in it. These lyrics are killing me. "I don't give a f**k if you like my songs/I don't give a f**k how much sh*t you talk." There are a lot of f**k's in this song, but it only gives it a punk rock/rebel attitude that I think is cool. You can play pretty music and still be a punk! There are no rules in music and these fellers mean to test that. This is young band with promise. They got some work to do, but I see something good in the future if they keep up with what they got going, the jazz/punk/soul rock thing, and market the crap out of it. It could be a gold mine! These guys haven't even played a show yet, but I'm going to remedy that pretty soon I'd wager.
In the meantime, check out these two tracks by Stanley Ipcuss at http://www.reverbnation.com/stanleyipcuss
New Band Alert, Co Morbid:
Co Morbid is a brand new, four-piece, old-school metal/rock/punkish band with diverse styles incorporated into one powerful entity. I've heard some decent stuff about them. The band consists of Cory Smith on vocals, Trent Combs on drums, Tyler Hasting on guitar and Aaron Simon on bass. The band doesn't have a demo yet, but I will do a live review in the next month or so!
Upcoming Shows
Brewskees
Saturday, February 1 - Untold Relik and Last Question.
Saturday, February 15 - Untold Relik and Rusty Old Crows.
Saturday, February 22 - Warehouse 86 and TBA.
Saturday, March 1 - Louie's Birthday, Bash w/ Threads Of Sorrow, Atomic Thrillride, The Jereactors and Sheppard/Smith/Sexton.
Saturday, March 8 - Despite The Fallen and Mangeled Atrocity.
Cafe 27 (New Albany , IN)
Sunday, February 16 - Method Of Madness, For All You Know, Heart Of Kings, Tomorrow Never Ends, Spontanious Internal Combustion and Toxicodendron. 6:30 p.m. All Ages. $5
Diamond Pub on Baxter
Saturday, February 1 - 10 Years w/ Trapper Schoepp, Future Thieves and Field Of Kings. 8 p.m. $15
Friday, February 7 - Wreckonize, The Underground Avengers, Elephant Room, Josh Woods, Mad Marlon and Devious T. 8 p.m. $12
Saturday, February 8 - Hellfire Militia, Luther, Stagecoach Inferno and Stonecutters. 8 p.m. $5
Saturday, February 22 - Chimaira w/ Iwrestledabearonce, Oceano, Fit For An Autopsy and Reflections. 7 p.m. $15
Friday, February 28 - Dark Tranquility w/ Omnium Gatherum and Exmortus. 7 p.m. $20- $50
Saturday, March 22 - The Ocean, Scale The Summit, The Atlas Moth, Silver Snakes, Ohlm, Eschatos. 7 p.m. $15
Thursday, May 22 - Primal Fear, Stagecoach Inferno, 18Xray. 7 p.m. $20- $50
Expo 5
Wednesday, February 26 - For Today, w/ Like Moths To Flames, Stray From The Path, The Plot In You, Fit For A King. 6 p.m. $15
Wednesday, April 23 - All Time Low, Man Overboard and Handguns. 7 p.m. $20
Haymarket Whiskey Bar
Saturday, February 22 - Rust N' Bones, Been To The Gallows and Atomic Thrillride. 8 p.m.
Headliners
Thursday, February 13 - Hopsin. 8 p.m. $22
Wednesday, February 19 - AER w/ RDGLDGRN 7 p.m. $15- $23.99
Saturday, February 22 - Old School, Willie Jeffries and Blind Sight. $10 8 p.m.
Monday, March 17 - The Neighbourhood. 7 p.m. $20
Magbar
Friday, February 7 - Beast In The Field, all Dead, Devil And The Darkness and Full Zenith. 8 p.m. $6
Phoenix Hill Tavern
Friday, February 7 - Popkiss Chainsaw, Year Of The Gun, Some Kind Of Saint, Zeroking (from WV) and a acoustic performance by Stephen Trusty of The Tri Tones. Free before 9 p.m. It starts at 9 p.m. Sharp!
Saturday, February 1 - Two Sly Duece, Jason Allen Williams and Heavens Gate Gospel Revival.
Saturday, February 22 - Redline.
Friday, March 7th Empyrean Asunder, Bury The Wicked, Heart Of Kings, Creature Of Exile and CoMorbid. Free before 9 p.m. Starts at 9.
Friday, March 14 - The Tri Tones. 9 p.m.
Thursday, April 10 - Primer 55 w/ The Black Order. 7 p.m. $10
Spinellis (Downtown)
Wednesday, February 5 - Endeavor, Servants, Stay Fubar, Co Morbid, Fur and Teeth. 7 p.m.
Third Street Dive
Every Wednesday, in February. Floodwater! Free!
The Vernon Club
Saturday, February 8 - Attila w/ I See Stars, Capture The Crown, Ice Nine Kills, Myka Relocate. 6 p.m. $18
Wednesday, February 19 - Backtrack, Beartooth, Cross Me, Greyhaven, Illwill, Iron Noose. 7 p.m. $10 . 7 p.m. $10
Saturday, March 8 - Emmure, Volumes, Thy Art Is Murder, Gideon and Sworn In. 7 :30 p.m. $20
The Warehouse
February 28 - The Tri Tones, Heavens Gate Gospel Revival, Empyrean Asunder, Creature Of Exile, DJ Rhino of The Boombox Poets, Untold Relik, Chaos And Reason. 7 p.m.