February 2014 Articles
Cover Story
Paul Moffett
Features
Eddy Metal
Columns
Nelson Grube
Martin Z. Kasdan Jr.
Eddy Metal
Blogs
Got Shows?
Send Them To Us
Bookmark Louisville Music News.net with these handy
social bookmarking tools:
Available RSS Feeds
- Top Picks
- Today's Music
- Editor's Blog
- Articles
Add Louisville Music News' RSS Feed to Your Yahoo!

Issue: February 2014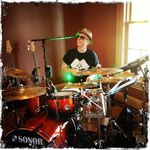 Donnie Highland
Name: Donnie Highland
Age : I am 47 years young, but today I feel more like I'm 62 years old.
Instrument : Drums, percussion. I also am not a bad vocalist.
Band/Former Bands: I am currently performing with thre steady groups, From Paris (no, not Paris KY.), What Ever Will (recently reunited and it feels so good) and Full Contact Karaoke band. Former bands would include the Predators, Front Porch Prophets, Voodoo Lounge, UGLY (RockRidge), Outspoken (Lava/Atlantic), Thumper and the Plaid Rabbits, Almost Noah, Baby Jane, The Dave Michaels Band, and numerous other bands. I'm pretty much a hired gun nowadays...you gotta' eat! (Can I use that slogan?)
How long on instrument : I started playing drums at age 6. I started playing professionally at age 13. So yeah, 83 years total.
Equipment: I am currently using a set of DW Collector's Series in ultra-white marine finish and/or Sonor Force 3007 series maple, black/orange sparkle fade. Sabian and Paiste cymbals, Vater sticks, Remo and Aquarian heads.
Influences: Absolutely! I'm influenced in some way by any and all things musical, from the greatest to the most amateur, I'm influenced.
My first gig: My first gig was at a bowling alley in the Indian Trail Shopping Center with a band called Bootleg. We played for free/exposure. The first paying gig I played was at the Pine Ridge Country Club with a band called Dynasty. I was 13.
Hobbies: Not at the moment. When I get some free time, I should find a couple.
Favorite movies: Geez. Um...Citizen Kane, A Christmas Carol (1938)...uhhh, The Count of Monte Cristo, Pulp Fiction, The Jerk, Caddyshack, just to name a few.
Favorite food: sushi.
Favorite place: my bed.
Favorite sports or team: I don't keep up with sports. Go U of L!
What I'm listening to nowadays: Anything from ABBA to Zappa!
Coolest thing I've done: It's a toss-up between visiting the Acropolis and the Parthenon in Greece and recording the string arrangement for the Outspoken ballad, "Way I Am" with the legendary Paul Buckmaster at Bad Animals Studio X in Seattle.
Most embarrassing moment: Falling off the back of an 8' stage because I busted the base on my drum throne. Then, of course, I busted my ass and hilarious laughter ensued.
Bad Habits: Smoking cigarettes and watching Captain Kangaroo.
When/where did you first get some: Not by my own choice, I first "got some" at the ripe old age of 9. I believe she was 14 or so and apparently had her own agenda goin' on. This particular experience happened at her house while her parents were at work. So, Becky, if you're out there and you read this, well ... thanks?
if you could meet a Rockstar ( past or present ), who would it be, and why: Hmm...past? Perhaps Elvis Presley. Why? Because it's Elvis Presley. Present? The current POTUS. Why? If I answer this I might get a visit from the Secret Service.
Who do you love: If I answer this question, I'll probably get kicked in the crotch by week's end. So, I'll say I try really hard to love aeverybody and everything. I really do.