February 2014 Articles
Cover Story
Paul Moffett
Features
Eddy Metal
Columns
Nelson Grube
Martin Z. Kasdan Jr.
Eddy Metal
Blogs
Got Shows?
Send Them To Us
Bookmark Louisville Music News.net with these handy
social bookmarking tools:
Available RSS Feeds
- Top Picks
- Today's Music
- Editor's Blog
- Articles
Add Louisville Music News' RSS Feed to Your Yahoo!

Issue: February 2014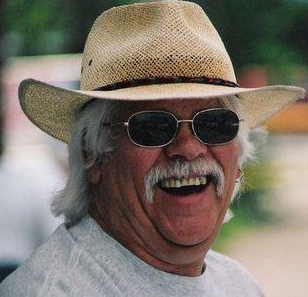 I've Got A Mind To Ramble
An interview with Rocky Adcock at Nancy's Bagel Grounds on Frankfort Avenue the home of great rye bagels and cream cheese – at least that's what we had, along with some hot tea.
Rocky states his bias up front "There are guys who play just for the glory, to drink every night and to get as many women on their side as they can, and then there are those who are serious about their music. About THE music."
Rocky started playing guitar at age 10, being strongly influenced by that Elvis fellow's success. Rocky played jobs as a guitar player with the Vandells at Whispering Hills, Bloomfield Theater and other odd places and they played old Fifties music and contemporary R & R.
When Bill Hasewell (brother of Jim Hasewell) asked him to join the Aztecs, he switched to the gass guitar because there was no one else to play bass. His role in Louisville Music as a bass player was set, as he went on to play with the Aztecs 1963, the Epics in 1964/65, and the Mystics in 1966. He flew to Detroit to join the group. The Aztecs featured a young lady by the name of Sherry Chenault (now Edwards) as the vocalist. The Aztecs were very popular at the Golden Horseshoe in Lebanon.
Nineteen-sixty-five found Rocky in Nashville, playing on Diana DeRose's album, with Johnny Cash laying down some piano tracks for her just because he was in the studio that day. Harold Bradley, the most recorded guitarist ever, was on the session and Wayne Glore, leader of the Epics also played guitar, Unfortunately, DeRose died unexpectedly a year later and so did the chance of her album making it big on the charts and of the Epics being her road band.
Rocky interrupted this flow to talk about how "the Union was strong through the 60's, they'd get ya jobs and protect you on the job where or wherever you were working and everyone was in the Union. Today it don't matter much and not much of anyone who simply gigs locally joins the Union, even traveling groups that play club and bar gigs rarely belong. There is little benefit." Then he tangentially remarked, "in those early years everyone used to dress up – thought that they were somebody as musicians and this all changed in the 60's when the hippie bands made it big and not many have yet made the change back to dressing well for their time on stage."
Rocky went on to play with The Bob Thorpe Band. He watched the Mystics morph into the Single Swingers, then the Heavyweights, which was probably the best big club show band to come from Louisville. He subbed with the Monarchs, the Casuals, sat in with the bluegrass band the Cumberlands and musicians Jim Smoak and Ricky Skaggs, Herb Clinard and Ernie Campbell. He also answered Union calls to play with Jerry Lee Lewis, David Alan Coe and Chuck Berry. He also played a gig with Bo Diddley. He went to College 1970-74 and didn't play much, but jammed with UK musicians in Lexington. In 1975 he took a regular job at U of L, where he met Bill Dean. He left the University in 1986. He had already joined Winston Hardy's Original blues Band in 1980. He and Hardy's collaborations continued through local blues history until Hardy's death in 2000.
Rocky was president of the Musician's Union (AFM Local 11-637) from 1992 thru 1996 and also was Business Agent for the Union from 1985 to 1992. Being president disqualified him from competitive contracting, except playing Music Performance Trust Fund jobs with local members. As president, he tried to encourage the International Union to compromise with independent musicians on some common ground, grow its base and attempt to negotiate local gigs. This would have significantly raised the pay standard for all local players. But it was futile - not only did the International not want it, neither did local club owners. "I don't want to denigrate the local clubs and owners, but they are not always a friend to the players," he stated emphatically.
Among Rocky's campaign scars he counts the two Winston Hardy CD's – the one that I have is Mumbo Jumbo featuring Rocky on vocals; Andy Brauner on guitar and lap steel; Sam Harris on drums; Joe Moore on harmonica; Joyce Stewart on vocals plus James Warfield on electric bass and a host of guests and other contributors." The Original blues Band was probably the most popular of the early blues ensembles. Big Foree Wells was a regular feature with the band - actually almost every blues musician in West Louisville played in Winston's band at one time or another. When blues came to the East side, it was Winston who took it there. "After that, he and I had it made in spades," Rocky elaborated, seemingly on a roll, "It's like the blues were 'over there,' meaning the West End, and there was nothing anyplace else. Then, Winston, me and Scott Mullins and Curtis Marlatt started talking things up and low and behold there were jams and then there appeared clubs that featured blues and other persons interested in organizing as well as performing and moving, and our conceptions of things grew! Scott's Saturday night blues radio show was instrumental in giving birth to the local blues scene! There were a number of individuals instrumental in bringing about this phenom as well, Sue O'Neil and Keith Clements, to name two more. I can say that all that are playing the blues in Louisville today are playing from the days of Winston Hardy. And it all started with the Original blues Band appearing at the River City Jazz and blues Festival in 1980!"
I asked Rocky what he thought of the hope for Louisville blues and he replied with "I have great hope for Louisville blues – it is a great blues town. There are more blues bands per capita here than any other town – even Austin, Texas. We are a small city. We have, as well, a viable Blues Society and several local and regional Blues Festivals including Garvin [Gate], the first one which Curtis Marlatt, I and the Society produced.
I asked Rocky what he would like to say to Louisville, and this is what he told me: "Let me say this: any musician who aspires to fame must be extraordinarily talented, typically a writer of songs who can sing and locate to one of the big production cities, L.A., Chicago, New York, Nashville, Atlanta; any city that has a chapter of Grammy University. Then there is absolutely no guarantee that s/he will succeed. There may be another possibility on the horizon, in fact it's here. Publish to one of the electronic music sites and hope for a monster download. Probabilities are not high. That being said, let's stay real."
Elaborate further, I requested, "well, all music is local. It is performed, written, recorded, listened to and shared locally. Louisville has a formidable music scene and history, people here love music and by my observation we have many local bands playing various venues that have a solid fan base, irrespective of their genre. Typically we are cover bands that play other's recorded music. Typically, a band will have a few instruments: guitar, keyboard, bass and percussion. Some groups may have a horn section. Nearly all will have a singer or two, female, male or both. Exceptions will be found in all genres. There is one reality among almost all musicians. We are called sidemen. Whether we are recording, accompanying, subbing or on a call list we are still sidemen. Some sidemen are very talented and much in demand. Even if he sings, but is not the lead singer, he's a sideman. It is factual that some of our local musicians have done road gigs and in some cases sided with some well-known up to star level entertainers through the years. Nevertheless, the truism remains and the sideman comes home a little older, wiser and not a whole lot better off than if he had retired from Ford. One quality about the musician remains, however: s/he never quits playing. By the way, a lead singer is not a sideman. In pop bands s/he is an essentiality. The most respectable aspect of the local music scene is the social structure. It's almost like family. Players and fans alike are often involved in jam sessions, event planning, local recording activities, media opportunities and PR. Jam sessions, especially in the blues and rock genres provide opportunity for regulars and occasionals to play-bond with peers and mentors. The only requirement is that one knows the instrument and can play with some degree of confidence. It's not only fun, it's educational and fundamental to the social enterprise. And someone may embrace you and call you "brother" which is quite common among musical friends of long standing."