October 2013 Articles
Cover Story
Kevin Gibson
Features
Eddy Metal
Columns
Berk Bryant
Mike Stout
Paul Moffett
Mike Suttles
Martin Z. Kasdan Jr.
Eddy Metal
Alexander Campbell
Blogs
Got Shows?
Send Them To Us
Bookmark Louisville Music News.net with these handy
social bookmarking tools:
Available RSS Feeds
- Top Picks
- Today's Music
- Editor's Blog
- Articles
Add Louisville Music News' RSS Feed to Your Yahoo!

Issue: October 2013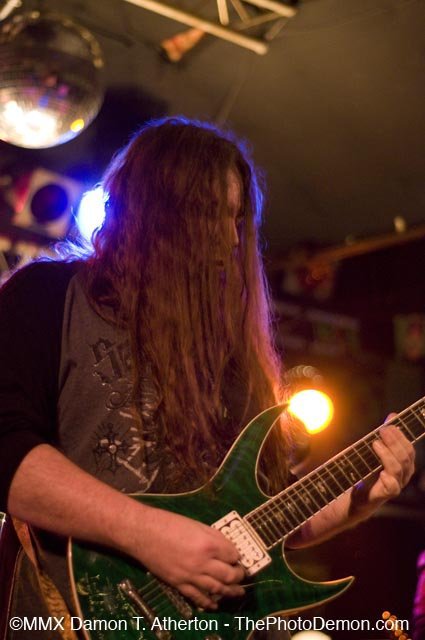 News From the Pit
How's it going, peeps? Going good here, I reckon, but man, it's weird getting old. When one gets to be my age (43), you have to appreciate every day you have on this planet. Take nothing for granted. Eject negative idiots from your life and love your family like no tomorrow. I honestly never thought I would live to be this old. I recently lost a family member that was a great person. Funny, sweet and always with a smile on his face. Death really makes you think about your life. I haven't seen much death in my life, so it hit me pretty hard. I'm going to try to be a better, more positive, human being.
Everyone gets old, though. I found a long hair growing out of my ear the other day! I used to have hawk-man vision, but now I need reading glasses to look at stuff close up. And taking a fargin whizz has become a challenge (kidney stones). What the hell is up with that doo doo? I guess I should be happy at least that I still have my hair, teeth and my peter works triumphantly.
Oh, well, I can say I have lived a very interesting and pleasurable life while I was here. Not many people can say they have seen and done the things that I have, however odd.
The scene is doing fine these days, and it seems that a lot of bands that disbanded a while back have worked things out and have gotten back together. Centerfold, Trust Divided, Deliver Us From Evil, and I even heard a rumor that Nova Red might be getting back together, too. Bands. Never let any one individual get you down or destroy your bands/music/what makes you happy. I couldn't tell you how many times I have had people try to destroy what I do. I've had an evil woman trying to break up my bands for years, and I finally had to take her to court recently to stop the constant harassment. Haters will always hate! There is no way to avoid it. I recently got into it with some nutcase online over me posting online that Obama is the worst president ever. I wasn't even serious (as if I know what some president in 1809's policies were!) I was just ranting like I do sometimes. But because I voiced my political opinion (and many others' opinion, lol) this person is trying to get bands/people to not play my kids benefit? And if they DO play my kids benefit, then this person said he will "not" like them anymore! OMG, the horror of such a thought. I'm dead serious here people! I'm still trying to figure out how insulting Obama has anything at all to do with a kids benefit. We have some very talented and good people in our scene, but we also have some crazies and negative haters running loose as well.
Oh well, welcome to the Louisville music scene.
Let's now focus on the good we do as a rock scene.
Okay peeps, we have two benefit concerts coming up that you should definitely support. These two Louisville benefit concerts have gathered much attention these last several years, as a great cause and as a great party and awesome regional original music showcase. They are The Rock For Kosair Benefit on Friday, November 15 at Phoenix Hill Tavern, which I started in 2005 to benefit poor families in Louisville for Christmas and also the MF5 (The Jeremy Noe Memorial) Benefit for Cancer Research (also known as Metal Fest) at the Bullit County Fairgrounds, started by Allen Ashbaugh, on Friday and Saturday, October 25 and 26. Each of these shows will have tons of awesome bands performing at the event. These shows have gained much popularity in the region and are a great way to do some good for your community and to get word out about our regional original musicians. There has been some excellent musicians playing at these concerts over the years. If there were two benefits out of the whole year you had to attend, these two would be the ones to go to. Interesting people, prizes, friends, and causes that are hard to look away from. I've listed more detailed info below, so be sure you check out the bands and all the info regarding these shows coming up very soon. Think of the poor kids who might not be having a Christmas, and the people sick with cancer who are waiting for a cure, to be well once again. So have a heart and support these two causes.
The Metal Grapevine
Louisville Music News will be "ONLINE ONLY" from now on: With newspapers all across the nation in financial trouble because of the internet, LMN has joined those that have stopped printing. In the past years we have reduced the newspaper to only a slight semblance of what it used to be when times were better, but fret not, we aren't going anywhere. You can still find us online at louisvillemusicnews.net and louisvillemusic.org, so pass the word around that to get Louisville's REAL music news, you've got to visit us online.
MF5, the Jeremy Noe Memorial Cancer Fighting Weekend:
Promoter Allen Ashbaugh is back with another Cancer Benefit Concert for metal lovers. His 5th Annual Cancer Benefit MF5 will be held at Bullit County Fairgrounds on October 25 and 26. MF5 (formerly Metal Fest) is an annual music festival to support the cure, research, and treatment of cancer. Donations will be going to http://www.jimmyv.org/ which gives 100% of its donations to research or treatment. Every year for the past four years, Allen and several bands from Louisville, Kentucky and the surrounding regions have come together for two nights of rockin' music and friendship. Allen and friends are back for MF5 in 2013 to do the same!!
Friday night features Kyzer, Billtown Road, One For The Doc, Underwater, Moonlight Theory, Yesterdays Diary, The Lost River Cavemen, The Lonesome Cowboys, My Addiction and Second Nature.
Saturday night features Luther, The Stonecutters, 6 to the Third, Slit Throat Vendetta, Granshaw, Devil And The Darkness, Great Floods, They Left Her Body In The Woods, Sons Of Medusa, Chigger, Two Pump Chump and Bury The Wicked. Also two huge bounce houses, one pink ambulance that we can sign, vendors, food vendors, a movie outside both nights (weather permitting), costume contest, pumpkin painting contest, and pumpkin chunkin'. Should be a good time.
Rock For Kosair IX:
Win one of four guitars! Help us rockers help Louisville's unfortunate families have a Christmas: Friday, November 15 at Phoenix Hill Tavern is Rock For Kosair IX, the 9th Annual Benefit for Kosair Charities! We have over fifteen great bands for you, and a ton of killer prizes for you to win, including four sweet guitars from generous Louisville businesses like JandJ Old Louisville Music Shop, Music Go Round, Guitar Center and B-Mart, as well as several tattoo giveaways from Tatu Jefferson Mall, Cryptic Ink Tattoos, Mystic Lounge Tattoo and Art Studio and Stay Gold Tattoo Studio. We have tons of prizes!! But you have to get to the show early to be able to get a FREE (while they last) drawing ticket with paid admission. There will be only so many of these drawing tickets, so the early bird will surely get the worm!
Oh, yeah, who is playing this year? Check out this year's lineup! Three stages of live music featuring Whitener, Signal The Revolution, Iron Bells, Jefferson Tarc Bus (with new singer!), Centerfold, Trust Divided, Unleashed, The Josh Goodlett Band, Year Of The Gun, The Smokin Gorillas, Some Kind Of Saint, Billy Jack (Jack Brizendine and Billy Burton acoustic collaboration), Seedus and more.
So far in eight years we have raised from forty-two-thousand to forty-five-thousand dollars in toys to take to Kosair Charities. I'll give you idea of what I'm talking about. We took roughly one hundred and twelve BIG shopping carts, overflowing with toys, to Kosair. Is that awesome or what? It makes me feel so good to do this that words cannot describe it. But we need your help, people! Without you this will not succeed. We need you to tell all your friends and family and get them to commit to coming to this event. This event goes straight into our community people, unlike other benefits where you never know if the people that need help ever see a dime of the money or not. So tell peeps of the super-cool prizes designed to bring you peeps in by the droves! Ten dollars could win you something very cool indeed.
Eddy's Pick of Badass National Shows 2 not miss:
(See venues and dates below in upcoming shows!) Otep at PHT; old-school metal legends Fates Warning at Diamond Pub; metal legends Overkill, Kreator w/ Warbringer at Diamond Pub; Danzig and Texas Hippie Coalition at Expo 5; Clutch and The Sword at Expo 5; Trivium and Devildriver at Expo 5; Ill Nino at Vernon Club; Halestorm at Headliners. Tons of great shows. This is good.
Iron Bells, A chat with Demi Demaree:
I took a few minutes to chat with Louisville's rock/rap/hip-hop movement leader Demi Demaree about his newer project Iron Bells and a few other things that interest Demi (and me). Demi and the Iron Bells guys have agreed to perform at my Rock For Kosair Benefit. Let's see what Demi has to say about the new band.
Eddy: Demi, tell us a little about your newer project Iron Bells. How does the music differ from The Villebillies, and is it the same guys in Villebillies?
Demi: Iron Bells is myself on lead vocals and guitar, Malcolm McLaughlin on lead guitar and vocals, Ron Ping on bass and Tim Bernauer on drums, Malcolm being the only member who was not in Plan of Man and Villebillies. Iron Bells is a straight up rock band. Our first album, Black Gold, will be officially released December 3 but the album will be available at our release show at Diamond Pub on Barret November 3th. You can find more info on our site Ironbellsmusic.com, islandearthmusic.com and Facebook, of course.
Eddy: Would you say your vocals in Iron Bells are similar to Villebillies, or do you sing more in Bells?
Demi: My vocals on the Iron Bells project aren't really like what I do for Villebillies. First difference is I don't rap at all. Its more melodic and singing the whole time. These songs on the Black Gold album are written entirely by myself lyrically and most of them started as my acoustic solo material. After I started getting the rest of the band together, they became the full-on rock sound of Iron Bells.
Eddy: If you had to introduce just one song by Iron Bells to the world, which one would it be? Whats it about? And why that song?
Demi: Picking one song to show the world is way too hard. I've heard them all so much. They all have their own meanings to me. As a band, we decided to make our first video for the song "Skeletons." Not because its a message the world needs but because it gives the listener a peek into what our vibe is. The song is basically about the feelings of guilt that haunt someone after they realize they in fact are the one in the wrong. I'd say most people have skeletons in the closet and can relate to that.
Eddy: What are your favorite original bands in Louisville these days?
Demi: That's kind of tough to say, really. I'm old school, so I still listen to Kinghorse, Hedge, Bush League, etc, but right now I'm digging The Vice Tricks. I like that rockabilly punk rock sh*t. Gotta be biased and shout-out Elephant Room, too even though they're on Island Earth with us.
Eddy: Demi, like me, you believe in UFO's and alien life on other planets. You are very passionate about this topic. I myself have seen stuff that I am hesitant to discuss because it is soooo unbelievable. Most people would think me crazy, for sure. But it's 100% true what I say and I had witnesses with me. Tell us about your beliefs and some of the bizarre stuff you have witnessed in your life to be so interested in this "often ridiculed" subject.
Demi: Of course I believe in extraterrestrials. I've been researching this phenomenon for a long time. Why are they here? How'd they get here? What roll do they play in our existence? We can go on for ever with the subject. I think some people just fear the unknown until it smacks them in the face.
I've seen objects move from right to left at high speeds at great distances as well as held top secret documents in my hands, but these days we've got other countries and our own astronauts etc coming out saying that we are definitely not alone. That's just tip of the iceberg.
Eddy: Do you think the aliens are good or bad? I think there are both, but the bad ones have the most influence on our world.
Demi: As far as aliens being good or bad I agree with you in saying both. Depending on what we would say is bad. It's opinion really. We as humans eat meat, dissect every known creature on the planet and send apes to space, right? So if something does the same to us, it's bad? Could some aliens actually be us in the future? Could they be the fallen angels from the past? The demons of old? I don't know. I do know it fascinates the hell out me though and I have a constant voice in my head that tells me to keep looking, so that's what I do.
Eddy: Thanks for taking the time to chat with me bro, and also thanks a ton for helping/performing at Rock For Kosair IX on Friday November 15th at Phoenix Hill Tavern. This is going to be a fun night for Louisville, and I can't wait to hear your new jams live in action!
Demi: Hell yeah man, it'll be a great time for a great cause! See ya soon. Cheers.
Trust Divided Returns:
The Louisville rock band Trust Divided has returned from a year-and-a-half hiatus while band members served in the armed forces. I recently played a show with those guys (and learned never to shake an Afghani's left hand lol) once again and they sounded very good. They have a new guitarist named Chase Groher, who is very young. But don't let his age of fourteen fool you, this kid is on top of things for such a young age. He has the tone, skills and stage presence to rip it up whenever he plays. Chase went into a nice guitar solo and ripped it up! He seems like a good kid. So congrats to Trust Divided for being home and jamming again, and to new guitarist Chase Groher for doing a great job. Welcome back guys! BTW, you can see TD at RFK on Friday November 15 at PHT.
DUFE Returns:
Evansville Indiana's Deliver Us From Evil are back after a hiatus and are almost ready to unleash the DUFE metal once again. They should be ready in a month or thereabouts, so I thought I should let you metalheads know that those guys are going to be back in action very soon. I'm glad they will be back. These are some good guys who play some good music. I've dealt with some egomaniacs over the years but these guys were always down to earth and easy to work with. I was sad when they disbanded earlier this year. I'll bring them up again once they are ready! So be on the lookout.
Jefferson Tarc Bus's NEW Singer Is......:
Jefferson Tarc Bus is back in action with a new singer in tow. The new full-time singer for JTB is Patrick Michaels, one heck of a singer and a guy who can hit some really high notes. Pat can sing songs that many other good singers cannot. When I first heard about this, I was thinking "wow, this is perfect for JTB." They could not have asked for a better replacement singer for the widely popular and talented former vocalist Jack Brizendine, another great singer in Louisville. The band is excited to no end and are looking to expand upon their already lengthy song repertoire. The band has also agreed to play Rock For Kosair on November 15, so be ready for some brand new JTB, in front of a packed crowd!
Centerfold Returns:
Another Louisville band is back in action and can't wait to play out! The popular newer band Centerfold that rocked the Louevil music scene (for a very short but effective time) broke up about a year-and-a-half ago because of personal issues and crushed many of the members who had high hopes for their music, but all that has been resolved and the band looks forward to playing out again very soon. You can see these guys at Rock For Kosair IX at Phoenix Hill Tavern! Welcome back guys.
New Band Alert, Creature Of Exile:
I'm checking out a new four-piece metal band called Creature Of Exile from Louisville/Harrodsburg/Danville. Heavily influenced by bands such as Pantera, Deicide, Dying Fetus, Goatwhore, DevilDriver, Lamb Of God and more, these guys take it to the extreme. Wow. This is some pretty powerful stuff. Chock full of badass metal riffs and brutal vocals that destroy. This is the heaviest stuff I've seen out of that area in a long time. There is a mixture of old-school thrash and death metalish styles that makes Creature Of Exile what they are: effective. The lead guitars of John Massey are brutal, yet classy and melodic. I like that. Super chunky heavy rhythms (serious thrash tone) with a beautiful soaring melodic solos over it! Just because you play heavy music does not mean you have to abandon melody in the music. The leads are not the most technical, like most death metal players try to be, but in my opinion, they don't need to be. If the feeling is there, then you should do it! John's leads are wicked and work great with the music.
The band has some mid-song stops that come off perfectly. Pauses and stops in heavy songs kick ass! The vocals of Danny Camden are cool. This guy sounds like a frikkin' demon. He has some brutal tones as he mixes it up old-school to death-to-pig vocals to hardcore. On the demo he uses effects to great effect to really bring out the screams. The drums and bass are rockin' as well. You would have to be a drummin' fool to be able to keep up with these riffs. I'm impressed with the groove this metal band has. A lot of bands sound heavy but don't have that certain groove. Creature Of Exile is on it from the get-go. So far every song is rockin', and I admit I'm a picky mofo. They kind of remind me of Chimaira a little, on how they mix old and new school styles together. One thing is certain: these Kentucky boys have the metal goods, so whatever you do, don't run from this Creature. Embrace this Creature with open leather studded arms when they come to terrorize your town.
New Band Alert, The Yat Machines:
The Yat Machines is a three-piece band from New Albany that plays rock, metal, funk, blues and groove. They have a nice mixture going for them. They call their unique mixture "Brown Rock." It's the accumulation of several different styles of music these guys have been influenced by over the years, like vocalist/bassist Tommy Leewe's love of grunge, blues and progressive rock, and bassist Sean Paul Welch's love of rock, blues, metal and funk, and drummer Travis "T-wat" Watkins' preference for all-out metal. Together they make a formidable ensemble. I'm digging the soul that this band has, added with a touch of attitude. Decent guitar riffing by Sean Paul Welch brings out the soul in The Yat Machines. The vocals of Tommy Leewe are not bad either. He has a very bluesy feel. The band has no quality demo, but is working on one currently. I had to listen to them live on Youtube video to hear the sound of these rockers. I like it. These guys need that demo badly, though. You got to have an outlet for people to see/hear your music or all is lost. I could tell right away that these guys have some skills going for them. If you like Clutch, Down, C.O.C then you should get into The Yat Machines. I just wish I had more to listen to so I could give you folks a better review. There wasn't much to go on, so I did the best I could with what I had to work with. I want to hear these guys live, so I will probably book them very soon. Ha! I love finding rockin' new bands and helping them get the exposure they deserve. Stay tuned for more on TYM.
Musician Of The Month, Terry Harper:
This month's feature is drummer Terry Harper from the band Whitener. Terry has been rocking this scene from a very early age and is still going strong. Check out Terry's feature in LMN's Louisville Rock Close Up.
Upcoming Shows
Diamond Pub
Tuesday, October 8 – Dope w/ Soil and Leaving Eden, Poetry Of The Dead and Festival Of The Damned, Six 2 Six. 7 P.M $15 – $35.00
Tuesday, October 22 – Otep w/ Stolen Babies, Heavens Gate Gospel Revival, Lydia Can't Breathe, Spontaneous Internal Combustion and New Years day, 7:30 p.m. $15
Wednesday, October 30 – Filter w/ Red and We As Human. 7 p.m. $20
Wednesday, November 6 – Eye Empire, Stardog Champion (Ex Breaking Benjamin) and True Becoming. 7 p.m. $10
Sunday, November 17 – Fates Warning 7 p.m. $18
Monday, November 18 – A Band Of Orcs w/ Empyrean Asunder and Threads Of Sorrow. 8 p.m. $10
Thursday, November 21 – Kreator, Overkill and Warbringer. 8 p.m. $25-$75
Saturday, November 30 – Iron Bells CD Release Party w/ Smoke Shop Kids, Vice Tricks, Buffalo Rodeo.
Expo 5
Friday, October 18 – Twizted w/ Madchild, Blaze, Aqualeo. 8 p.m. $20
Thursday, October 24 – Danzig w/ Doyle, Texas Hippie Coalition, Butcher Babies and A Pale Horse Named Death. 6 p.m. $25
Thursday, October 31 (Halloween) – Clutch w/ The Sword and American Sharks.
Friday, November 1 – Taking Back Sunday, w/ Polar Bear Club and Transit. 7 p.m. $25
Sunday, November 3 – August Burns Red w/ Blessthefall and Beartooth. 7 P.M $20
Tuesday, November 5 – Bleeding Through w/ Six Feet Under, Winds Of Plague, Oceano, Gideon and Sworn In. 6:30 p.m. $20
Friday, November 15 – Trivium w/ Devildriver, After The Burial, Sylosis. 7 p.m. $20
Saturday, November 16 – Chunk! No! Captain Chunk! W/ Counterparts, State champs, Living With Lions, Stay fubar, Blindside Drop. 6:30 p.m. $15
Headliners Music Hall
Monday, October 14 – Between the Buried And Me w/ The Faceless, The Contortionist and Safety Fire. 7 p.m. $18
Tuesday, October 15 – Senses Fail w/ For The Fallen Dreams, Expire and Being As An Ocean. 7 p.m. $15
Wednesday, November 27 – Halestorm w/ Redlight King and Stars In Stereo. 7 p.m. $20
The New Vintage
Saturday, November 9 – Iron Bells, Lost In Eden and Season At Sea. 9 p.m.$5
Phoenix Hill Tavern
Friday, October 4 – The Whiskey Riders, Littledidweknow, Demise Of The King and Creature Of Exile. Free before 9 p.m., and only $5 after 9.
Friday, October 11 – The Tiffany Tucker Band. 9 p.m.
Tuesday, October 29 – Huntress w/ Stonecutters and Ritual Void.
Friday, November 1 – The Devil And The Darkness, Old School Mining Company, Krosjoint and Bury The Wicked. Free before 9 p.m., and only $5 after 9.
The Vernon Club
Sunday, October 13 – Ill Nino w/ Sunflower Dead, In Cyde, Audible Point and Corprit Convict. 7 p.m. $15-$30.00
Monday, November 11 – The Story So Far w/ Stick To Your Guns, Such Gold, Rotting Out and Souveniers. 6 p.m. $16