August 2013 Articles
Cover Story
Kevin Gibson
Features
Eddy Metal
Columns
Berk Bryant
Mike Stout
Paul Moffett
Sue O'Neil
Martin Z. Kasdan Jr.
Eddy Metal
Alexander Campbell
Blogs
Got Shows?
Send Them To Us
Bookmark Louisville Music News.net with these handy
social bookmarking tools:
Available RSS Feeds
- Top Picks
- Today's Music
- Editor's Blog
- Articles
Add Louisville Music News' RSS Feed to Your Yahoo!

Issue: August 2013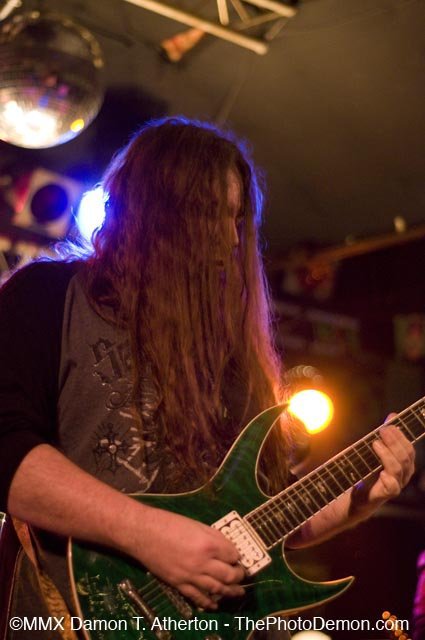 News From the Pit
This summer is turning out to be a blast. There is nothing like playing your own music you created from nothing , and seeing people respond. I just played Diamond Pub for the first time, opening for Skid Row (check out my Skid Row/Diamond Pub review below), and this weekend coming up I'm playing a Cannabis Awareness Festival in Berea, Kentucky, and I get to play with Quiet Riot later this month, so I'm pretty much walking on air right now. I'm a happy camper. I'm proof that good things can happen if you be patient and work hard on your own music, however difficult at times!
I''ll be honest with you folks, too: there have been tough times as well. I feel I can tell you people, my readers, the truth. We older rockers have been purposely left out of shows and "dissed" quite a few times on some of the bigger shows we should have been on, by some bands that we reached out in friendship to, because we were older, or for whatever reason/not trendy enough/not pretty enough. It's been very frustrating, and it's been pretty tough holding my tongue. There has been major douche-bag actions from some of the bands around towards us older rock/metal veterans, but there has been good support as well, so I guess it's not all bad. I would like to thank the people who have supported us older rockers who disagree that one has to quit just because you get old. Farg that.
It's all good though. I'm proud of the time I grew up in. The Eighties music. The birth of thrash and hair bands. All of it! I wouldn't trade the sights and sounds I've seen/heard for anything.
Well..maybe a sh*tpile of cash! Ha.
I try to stay positive, remain patient (which is rough for me! My dad said I'm the most impatient person ever) and get the word out about our music the best I can.
Yeah, a record deal would be nice and all, but I'm honestly happy just being able to play out on a small scale, be it in front of 600 or even 30 people. It doesn't take much to make me happy. Having people hear my music is all the incentive I need to put in the hours.
I do admit this though. It does put a smile on my face to see the haters thwarted when we do well.
As someone heavily into our city's music scene, I see so many bands worrying themselves to death/and to an early grave, all to get the ever so elusive record deal. Trying to create and maintain an image or certain music style that is "in." I've never been much into all that. I'm one of those cats who believes the music is the most important thing. How you dress and how pretty you are is irrelevant.
I am a rocker, and that is how it is- take it or leave it. Trends come and go..
The Metal Grapevine
First Annual Cannastock Review:
Wow. Anticipation was, um... high for this event! Ever since I heard about this unique Cannabis Awareness event in Berea, Kentucky, I have been a supporter. Not only was the guy who created it, Arthur Vanwinkle, a member of Kentuckians For Cannabis Reform, a super cool guy, but he has some really good points about every topic he brought up regarding the legalization of hemp and cannabis. States out West have pretty much made it legal, so how much longer will our uptight Bible Belt thumping leaders hold out on us? To the north, Canada is a weed haven, from what I hear. Mexicans have always had it going on. Queen Elizabeth used to smoke green to ease her monthly pains. Heck, even good ole George Washington used to smoke a bowl a day! How can you argue with George Washington? Let's put it this way. How many people do violent acts while high on marijuana? As opposed to being drunk or high on things like cocaine or meth? Very little. The worst you could expect would be someone running out of the Circle K with a few bags of twinkies!
Something like 30 bands were to play this event located in a privately owned farm near Berea, Ky. The farm location was perfect. It was in a valley between some mountains. Very pretty. The day started out crappy in Louisville, it was raining and dreary looking with a grim forecast. But I had let bad weather forecasts ruin plans of mine for a few times in a row when it turned out to be nice, so we braved the storms and went anyway. At Lexington, the storms ceased and the sun came out! We had heard that state police were having Road Blocks and I.D checks on the way there and everything, so we were fully prepared for whatever. We encountered no police at all on the way there or back. It was all good. In fact, I heard the State Police were pretty cool about the whole thing. So props to those guys for making sure everything was safe for all involved, and basically just doing their job.
We arrived and were glad we came, because it instantly looked like fun. There were hundreds of people, good people, having fun and just being themselves. It was private property, so anything was acceptable! There were hippies, rappers, country folk, city folk, smokers, tokers, drinkers, thinkers, potheads, people with illnesses that only marijuana can help, like people with cancer and glaucoma. It was a neat little gathering of people. Pipes, bongs and doobies. The smell of marijuana was all over, and people freely toked, smoked, puffed and passed. The stage was cool, too. They had a pretty nice little set up. The weather cleared up nicely so we partied a bit; later on, it started to sprinkle a bit, right before my band was to play, so that kinda put a damper on things a bit, but we still played and had a great time. The PA System cut out on us twice, which sucked. I don't think they were ready for the wall of sound that my band issues forth. We use pretty powerful music gear. Up until we played, the bands weren't so loud and heavy. I think maybe people were too stoned/messed up or bummed by the rain to get into us as I had hoped. Some great people liked us and that is good enough. We had a blast regardless. Some bands never showed up, probably because of the police scare or rain predictions, which is rude and inconsiderate in the extreme. So they added a band or two at the last minute. They had a pretty diverse lineup with rock, country, rap, metal & acoustic acts.
Heavens Gate Gospel Revival, The Whiskey Riders and RustNbones were on the bill, so I was glad about having some friends bands on the bill as well.
I'm not a big cover band fan at all, but I did like the cover band Kung Fu Grip from Lexington or Richmond, I forget which. They were great guys and sounded fantastic. They play an eclectic mix of cool funky rock tunes. That bassist was off the hook. These guys need to play Louisville soon! Channel 36 News from Lexington was there and was covering the event, and even filmed my band in the background, which was cool.
I watched that news segment several times. Ha.
The rain had bummed us out a bit, (I was soaked) so we packed up and headed home with a smile on our faces. Great people, great location, great cause! Not only did it educate people about the good that hemp and cannabis legalization could do for our failing economy, but it brought people from all races together peacefully (it was beautiful) and showcased regional musicians all at the same time. How can you argue with that? I cannot wait for Cannastock 2014. Great job, Arthur Vanwinkle, and the wonderful staff at Cannastock. Next year will be epic! You have my support.
Louisville's Busy Bees:
The following bands have been very busy playing out and are pushing their music harder than ever. These guys and gals are the current Louisville original music scene! Show some support and check out some of these great original bands- Signal The Revolution, Popkiss Chainsaw, Some Kind Of Saint, Year Of The Gun, Talk Of Spring, The Tri Tones, IIattatime, Rockaway Drive, Heavens Gate Gospel Revival, Krosjoint, The Whiskey Riders, 18 Xray, Rifle, Overload, Ohlm, Stonecutters, The Revenants, Two Pump Chump, Unleashed, Boozer, RustNBones, Shines Negative, Underwater, Lost In Eden, Branded By Hate, Granshaw, Jet Black Orchid, Reign Of Revelation, Poetry Of The Dead, Created To Kill, Six Foot Fall, Anagnorisis and Demise Of The King, plus more. Excuse me if I left out a band or two, my memory isn't what it used to be. These following bands are just getting going or back on track, so in a few months time, they should be rockin' full steam – Luther, Hellfire Malitia, Trust Divided, Chigger, Devil And The Darkness, Bonejinn (reforming with a few original members), Bearhammer, Great Floods.
Props to you bands for soldiering on and getting your music heard the best you can!
Skid Row/Diamond Pub review:
Wow, what a fun night. I finally got to play Diamond Pub Pub and Billiards after waiting almost a year (I was getting frustrated, lol), and my first time was a doosie. It was great.
I got to open for a band I have liked a long time, Skid Row. Leading up to this show, I heard a bunch of negative crap like "No Sebastian Bach this and that, waaaa, waaaaaaa, waaaaaaaaa."
Thanks for the photos to Life of the Party Entertainment>
Yeah, yeah, MF, I liked Bach too (even partied with the guy before), but he left the band fifteen years ago, get over it! What you DO need to know is that Skid Row does not need Bach. Not after the performance I saw at Diamonds. Skid Row killed it! They were tight as hell.
Bach's replacement is a very good singer and seems like an awfully cool cat as well. He didn't hit every single note on the classic albums, like I heard one person complaining about, but he came very close indeed, maybe reaching98%.
Truth be known, not even Bach could hit those notes exactly these days, I'm betting. Those old studio takes probably took forever to get right, and in a "Live" application would be extremely hard to duplicate perfectly. Almost impossible!
Considering all that I just said, I give two thumbs up to Skid Row singer Johnny Solinger, who did very well. That dude can sing like a mofo. It felt as though Sebastian was there all along. Highlights of the show were Dave "Snake" Sabo and Scotti Hill doing dueling solos. They were shredding! I loved it. I always thought Scotti Hill was the better guitarist, but I have changed my mind, Snake Sabo was really cutting loose this night! My favorite tunes at this show were "Slave To The Grind," "Youth Gone Wild," "Monkey Business" and "I Remember You." They played a bunch of stuff, though, going on two hours worth, like "Piece Of Me," "Big Guns," "18 and Life," "Makin A Mess," "In A Darkened Room" and a song that I don't think mixes well with SR's sound, "Psycho Therapy." Sorry, but punk and Skid Row just don't mix. The band played at least two new songs, and I really liked "Kings Of Demolition." It's an energetic, heavy rocker of a song with tons of attitude/character and should be checked out if you haven't heard it yet. The band was energetic and seemed very happy with the attendance/crowd participation. I was bummed they didn't play "Quicksand Jesus," though.
The band didn't look very old at all. Their skills were tight and they worked well together as a unit.
One thing that made me go "huh?" was when earlier in the night Skid Row's road manager burst through the doors into the bar area and said "You have to turn that sh*t off now," all rudely, referring to Skid Row's hit "18& Life," which was playing on the club's sound system. I was standing right there and I thought he was joking and I laughed a little, but he didn't laugh at all.
He said the band was not happy with Skid Row's old music being played in the club with former singer Sebastian Bach. Apparently there are hard feelings still left deep inside towards Mr Bach.
But to me, it was ridiculous.
Diamond Pub made every possible move to make Skid Row happy/comfortable playing there, and the road manager was just a jerk (even though he said I was an awesome guitarist after we played, ha!). To avoid Skid Rows music with Sebastian Bach is almost impossible, and to get mad/be rude to the club that is helping you for playing the old music is frikkin' retarded. I didn't care for the way that road manager was talking to the staff of Diamonds, who were so good to all involved, so here I am to say so.
The local opening acts Signal The Revolution, Some Kind Of Saint and Year Of The Gun did very well and had great crowd response for each band. Some Kind Of Saint was playing there for the first time, too, and had a very good set. Their new material is their best they have put out, especially the song that starts out with clean guitars. As an experienced musician who played Diamond Pub for the first time, I can say that it was a pleasure to play there. The staff was great, the sound coming from the PA was crushing and reminded me of the Toy Tiger days! The sound guys were knowledgeable, fast working and helpful. The food was good, the V.I.P room was very comfortable and classy, and the guy running the place couldn't have been a better host. Jared is one classy cat. Besides all that, the club even promoted the event well, which many venues don't do anymore at all.
Venues like give me hope in a time when we bands don't have very many options on the table, as far as places to play out with a decent stage and PA are concerned. Diamonds, Headliners, Expo 5 and Phoenix Hill are the cream of the crop as far as Louisville's venues go. So you people make sure you support Diamond Pub so they will be around for a while. The sound there is so much better than when the stage was downstairs in the basement in the Jillian's era.
MF5, the Jeremy Noe Memorial Cancer Fighting Weekend:
Promoter Allen Ashbaugh is back with another Cancer Benefit Concert for metal lovers. His 5th annual Cancer Benefit.
>MF5 will be held at Bullitt County Fairgrounds on October 25 and 26. MF5 (formerly Metal Fest) is an annual music festival to support the research and treatment of cancer. Donations will be going to http://www.jimmyv.org/, which gives 100% of its donations to research or treatment. Every year for the past four years, Allen and several bands from Louisville and the surrounding regions have come together for two nights of rockin' music and friendship. More info as I receive it.
R.I.P Debbie Harper:
It is with great sadness to announce the passing of a great lady. Debbie Harper, mother of promoter Terry Harper passed away recently. I knew she was ill, but I had no idea she was so bad off, so this whole thing kinda of knocked me for a loop. I'm not going to sit here and say we were close, because we weren't. We were friendly acquaintances. But I will say this: I knew Debbie from working Terry's shows as door person for many years, and the truth is, I don't think I've ever met a nicer/sweeter lady than Debbie was. She was always kind, helpful and funny! She was always cracking jokes. She treated us here at LMN with respect. Her smile lit up the room when you walked into a Terry Harper show. It was the first thing you would see, and that was a good thing. She put you in a good mood for a good night of rockin' music! Even though I didn't know Debbie that well, it still brought a tear to my eye when I heard the news. That's how cool she was! Deepest sympathies go out to Terry Harper and the Harper family in this very rough time. Terry's shows won't be the same without her smiling face at the door. R.I.P Debbie! We will miss you!
Flaw Reunion/Interview with guitarist Jay Daunt:
Everyone knows who Flaw is and that it was one of the top rock bands to ever come out of Louisville. Excellent vocals, catchy guitar riffs and plenty of attitude made Flaw what they were. I know this band well as I have played shows with them a long time, dating back to 1997, and even before then, when a few members were in Shapeless Matrix. Over the years there have been several attempts to reform Flaw. There were a few member changes, but something bad always happened and things imploded. Drug and alcohol abuse were high, and some members didn't take the music as seriously as others.
The fact is, it was never the same as before the heyday of Flaw. But according to original guitarist Jay Daunt, there may be a full blown Flaw reunion with original members in the works. A serious and sober Flaw. If that's true, those guys are holding a key to greatness, in which they only have to find the "right" door and unlock that MF. I took a few minutes to chat with Daunt regarding this turn of events.
Eddy: Jay, tell us about this latest Flaw reunion, how it came about, and why this time is different? I would hate to see people (including myself) get excited again, only to be disappointed if things did not work out. We want a 100% guarantee this time!
Jay: After several conversations between myself, Volz, Lance, Ryan, Ballinger and Scott Frazier, we decided that we were all in a place where we felt we could make Flaw work again and mend the mistakes we had made in the past. Everyone has matured and learned to deal with their demons through sobriety, spirituality and family. We did not undertake this endeavor lightly as we are all aware that the name and place in music for Flaw depends on all of our actions this time. There have been several, half-hearted Flaw reunions that were a couple of members with other musicians stuffed in. We tried it and found that the only way we can make Flaw work is myself, Volz, Ryan, Lance and Ballinger AND it requires us giving our all which includes sobriety and focus on the goal of beautiful, aggressive, haunting music. That is exactly what is happening and will happen this time. Everyone has a right to be skeptical but we do not intend to disappoint our fans this time as I truly believe Flaw is back. You have my guarantee (for what that is worth:-))
Eddy: What are the immediate plans of the band, and do you guys have any label interest or financial backing?
Jay: The immediate plans are working on new material. Writing is going great and we plan to make this another album that plays front to back without a listener even considering the skip forward button. We have interest and are working with Scott Frazier and his management company on the business side. Things are moving pretty quick but we are making sure to keep everything in check. The writing and music has to be first. We are all amped about the chance for a rebirth and opportunity to do this now that we are not little kids:-) We will keep everyone updated through our Facebook [page] and will be posting teasers down the road.
Eddy: What have you and the rest of the guys been up to these last few years Jay? The scene hasn't seen you in forever it seems. I bet you can't wait to jam out again.
Jay: Everyone has been doing individual projects and living life. We love music but have all learned that music cannot be the only thing in your life or you will be hollow even with fans across the world. I am so stoked to get back on the stage with my boys and I can speak for everyone in saying that we will rip the phucking walls off when we are unleashed. We intend to do music from the beginning of Flaw through new material, and we cant wait.
Eddy: Cool. It was good talking to you, bro, good luck, and hopefully, we'll see you guys soon, live in action in Louisville! I would love for you guys to play my Rock For Kosair Benefit in November! You know you would get a prime spot!
Jay: Thanks for listening to me, my brother. We would love to be a part of the November show but we are not committing to shows until we are satisfied we have enough new material and are ready to record to get it to everyone. Part of the problem with the prior failure reunions were laziness and an attempt to simply tour on our name. This time it is new material and we will play to make it familiar to everyone. We cannot wait until we are back on stage but we are finishing the writing for ourselves and the fans first. I will keep you up to date and if you would like will give everyone an exclusive update through you whenever you would like. Rock on.
Black Sabbath coming to Indy:
The all-powerful Black Sabbath will be making a critical stop in Indianapolis on the 2013 World Tour. The show is Sunday, August 18 at The Klipsch Music Center in Noblesville. I had the pleasure of seeing the original lineup a few times in the late Nineties and I'm telling you right now that this is a rare opportunity to see one the top great bands in action before health and age become too much of a factor. Don't miss this chance. Do what you have to to see this show. Guitarist Tony Iommi is unreal and bassist Geezer Butler is still a fireball. And what can you say about Ozzy? Say what you want about Ozzy, but he is a "real" inspiration. What he has done is amazing.
It sucks that drummer Bill Ward won't be playing, but I'm sure one of the three fill-in drummers will be good enough to make it a great night. Get your tickets! Don't be a fish-eyed foo.
Quiet Riot coming to Diamond Pub:
On August 9, Louisville rockers Popkiss Chainsaw, Krosjoint and Rockaway Drive will open for Quiet Riot at Diamond Pub. I grew up to Quiet Riot. Every kid in the early Eighties had the record or cassette of "Metal Health (Bang Your Head)." It was huge. And my favorite guitarist of all time, Randy Rhoads (formerly of Ozzy Osbourne), formed Quiet Riot himself way back in 1973. Amazingly, I have never seen QR in action live. But that is soon to change, as Quiet Riot is coming to Diamond Pub on Friday, August 9. Of course, the band is without singer Kevin Dubrow, who died in 2007 of cocaine overdose and guitarist Carlos Cavazo (now playing with Ratt). It remains to be seen if these guys can now live up to the name. The only original member from the band's heyday is drummer Frankie Banali, but I'm sure he would not stain the reputation of a band that was voted into the top 100 Greatest Artists of Hard Rock, by hiring some guys that cannot hang. Seriously.
In fact, I'm willing to bet these new guys can play their butts off (I mean, what guitarist would refuse rocking with Frankie Banali??) and bring a lot more energy to the stage. So I think it would be a good bet to come see these rockers let loose for a bit. In addition to hearing all QR's hits, you have a darn good lineup of Louisville bands opening the show. Popkiss Chainsaw, Rockaway Drive and my band Krosjoint will be ripping off the roof of the joint early! Buy tickets from me and I'll deliver them to you. Don't Forget; by buying from the local acts, you help support Louisville music! Call me at 502-367-2080 or Email EDDYMETAL1@aol.com. Thanks!
Kamelot coming to Diamond Pub September 27:
I'm excited about this show. I've never seen Tampa, Florida's, Kamelot before, as they don't tour around here much. I dig their symphonic power metal style and the vocals of Roy Khan are awesome. I just recently learned that the band has a new singer, which floored me. A Swedish cat named Tommy Karevik has replaced Roy Khan. Khan's vocals were what drew me to Kamelot, so I guess I will have to check out some of the new stuff. Why wait? I love Youtube! I'm watching new Kamelot and the new singer is very good, almost as good as Khan. He sounds very similar to Roy Khan. Okay, I'm still liking the band's music despite a new singer. Feedback on Youtube says that the new guy is doing very well at filling Khans rather large boots. Man, that would be one tough vocalist to replace! This Swedish dude has balls. Get your tickets, this is going to be sick. In a good way!
Comedian Kevin James coming to Louisville Palace:
On Tuesday September 10, actor/comedian/writer/producer Kevin James will be in town for a show at The Louisville Palace. He is the chubby, funny guy who played on "The King Of Queens" TV show, and many movies, including I now Pronounce You Chuck and Larry, Grownups and Paul Blart, Mall Cop. I didn't even know he was a touring comedian! I'm betting that he would be a funny mofo live in concert though. Raunchy too!
A lot of these TV actors are raunchy as heck when out on their own with no rules. Just look at Bob Saget, whom I thought was a complete dork and not funny at all. I saw his comedy special on HBO and it was hilarious and very dirty, indeed. The man played guitar and sang a song called "Buttplug Made Of Leather." So I think I might try to attend this show because I got to support the chubby guys like myself! I just saw Grownups 2 and it was very funny, so let's see what Kevin James has to offer live in concert. Get your tickets, this might sell out!!
Rock For Kosair IV, Seeking Bands and Theme:
Yup, it's about time that I started to get an idea about how I want to present my annual Rock For Kosair Benefit Concert in November. If you have a theme or idea about a band that would be perfect, give me a shout and I'll see what can be done. Of course, the most important thing is to raise as much money as possible for toys for the kids at Kosair Charities for Christmas. So I'm going to need all the help I can get doing this. So far you people have been great help and have really shown that you do care. So my deepest most sincere thanks to you. Let's make this year the best ever. If you have ideas how to generate more money for the kids, I'm all ears. EDDYMETAL1@aol.com
Musician Of The Month, Billy Burton:
This month's feature is none other than the popular vocalist and former Louisville vocalist of the year, Popkiss Chainsaw's Billy Burton, so be sure to check out my Louisville Rock Close Up feature in this month's issue! You can see Billy in action on August 2 at Phoenix Hill Tavern and August 9 at Diamond Pub with Quiet Riot.
Upcoming Shows
Diamond Pub
Wednesday, August 7 – American Head Charge w/ Blue Felix, Dead Horse Trama and Dahmers Closet. 7 p.m. .$12
Tuesday, August 27 – Wretched w/ Antibiotic, Allegaeon and Rivers Of Nihil. 7 p.m. $10
Friday, September 27 – Kamelot w/ Delain and Eklipse. $22-$70
Sunday, November 17 – Fates Warning 7 p.m. $18
Thursday, November 21 – Kreator, Overkill and Warbringer. 8 p.m. $25-$75
Expo 5
Friday, August 9 – Asking Alexandria w/ Upon A Burning Body and Crown The Empire.
Thursday, October 31 (Halloween) – Clutch w/ The Sword and American Sharks.
Headliners Music Hall
Monday, October 14 – Between the Buried And Me w/ The Faceless, The Contortionist and Safety Fire. 7 p.m. $18
Tuesday, October 15 – Senses Fail w/ For The Fallen Dreams, Expire and Being As An Ocean. 7 p.m. $15
Lisa's Oak street Lounge
Saturday, August 3 – Chigger, Branded By Hate, Hellfire Malitia, Fudgeknuckle, Norfallen and Lysura. $5 8 p.m.
Phoenix Hill Tavern
Friday, August 2 – Two Pump Chump, Popkiss Chainsaw (unplugged), Year Of The Gun, Boozer and RustNBones. Free before 9 p.m. Only $5 after 9 p.m.
Friday, August 9 – Goliathon, Belladonna, Lost In Eden, Maddie Won't Smoke, Darren Bruner Acoustic and My Two Cents.
Friday, August 23 – RustNBones and Thread.
Saturday, August 24 – Hot Action Cop and Jet Black Orchid. 7 p.m.
Friday, September 6 – Unleashed, Krosjoint, Heavens Gate Gospel Revival, Graveyard Romeos and T.B.A. Free before 9 p.m. Only $5 after 9 p.m.
The Spillway Bar (in Bowling Green)
Saturday, August 17 – Luther and Stonecutters. 9 p.m.
Rubbies
Saturday, August 3 – Junior Diabetes Research Fund Benefit!! Featuring Ohlm and Digby. 9 p.m.
Props Of The Month
This month's props go out to Jared at Diamond Pub and Billiards, who has opened his heart and venue to our city's music scene. The guy is putting up everything, including his reputation, for you bands. He could have made it where dime-a-dozen cover bands play there all the time. We original bands could have been left out in the cold, but not only did he welcome us, he allowed us to showcase all kinds of louevil music from screaming black metal to commercial radio rock. No one is left out. And for that, I salute you Jared. Keep up the great work bro.