March 2013 Articles
Cover Story
Marie Eddy
Features
Marie Eddy
Eddy Metal
Columns
Berk Bryant
Mike Stout
Paul Moffett
Gary Sampson
Martin Z. Kasdan Jr.
Eddy Metal
Alexander Campbell
CD Reviews
Martin Z. Kasdan Jr.
Performance Reviews
Eddy Metal
Blogs
Got Shows?
Send Them To Us
Bookmark Louisville Music News.net with these handy
social bookmarking tools:
Available RSS Feeds
- Top Picks
- Today's Music
- Editor's Blog
- Articles
Add Louisville Music News' RSS Feed to Your Yahoo!

Issue: March 2013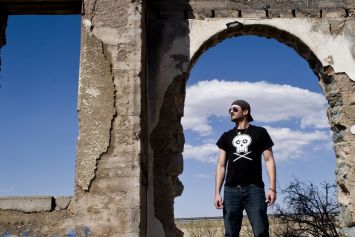 Alex Morgan
Name: Alex Morgan
Age: 31
Instrument: Drum kit, and I can play some guitar as well.
Band/Former Bands: DELIVER US FROM EVIL, Secretariat, American Mutt and I did a US tour with Silent Civilian.
How long on instrument: I started playing violin and iano when I was three. Played those until I was in about 6th grade, and then discovered the drums. My mom got me a $300 percussion plus drum set at a pawn shop and you couldn't get me off that thing. I'm really lucky that my neighbors and mom were so tolerant of me through my learning process. Haha. Real lucky. I started jamming punk rock songs and metal songs. But in school (Princeton Indiana) I was lead snare in marching band for three years, and played kit for Pep band at basketball games and also in Jazz band. Jazz band was cool because we actually got hired for gigs at corporate and special events. We played at the grand opening of the Toyota plant in Princeton Indiana in 1995 which was kind of a big deal. There were about 1,500 people there. We played Bennie Goodman and some big band stuff and wore tuxedos. It was fun.
Equipment: I'm endorsed by Trick Drums (www.trickdrums.com), and use Evans heads and a mix and match set of cymbals, including my 21" power bell Sabian ride cymbal, Vater 5B sticks, and iron cobra double pedals with an Axis driveshaft and trick beaters. Kindof a Frankenstein so to speak. Works for me.
Influences: LOTS. Abe Cunningham (Deftones), Dave Grohl (Nirvana/Foo Fighters/Queens of the Stone Age), Vinnie Paul (Pantera), Nick Menza (Megadeth), Joey Jordison (Slipknot), Bill Stevenson (Black Flag/Decendents), Jordan Burns (Strung Out), Mario Duplantier (Gojira), Igor Cavalara (Sepultura), Dave Lambardo (Slayer), Kevin Talley (6 feet under - DÅÅTH - Chimaira…and pretty much every other death metal band), Andols Herrick (Chimaira)…..and SO many others I'm sure.
My first gig: My first violin recital happened when I was 4. I remember waking up and looking into the mirror and thinking, "Oh my god, I can't believe I'm going to play in front of 500 people". I got there, they lined up about 15 kids in a straight line facing the crowd, and when it was our turn, we took two steps forward, and started playing our piece. I remember taking the two steps, and then started playing, but then my brain shut off, and I don't remember actually playing, but the crowd was clapping when I finished. I later realized that I played it perfectly after watching the video…because after strict rehearsals, you are programmed, and when the adrenaline kicks in with the crowd watching, they only thing you will remember is messing up. And if you don't mess up, then your mind and body just takes over and you just play what your programmed to play. My first gig in a cover band was at a place called Maryland street lounge in Evansville Indiana. I joined the band a week before our first booked gig, and had to learn 40 songs for a three hour set. I was nervous, but the crowd was small, and I ended up pulling it off no prob. After that, I learned a 40 song set for another cover band but was playing in front of 1,800 people at a place called Marina Pointe (Baja) in Evansville. I was in the car in btw sets listening to the songs on a CD they had given me, learning them still. I ended up pulling that one off too. Pretty nerve wracking. DELIVER US FROM EVIL's first set was at a place called Grinders coffee shop in Evansville. We were a power trio then with a singing bass player. We played Pantera, Metallica, Slipknot, Mudvayne, Chimaira, and some originals. It was a blast. The last tour I did was with a band called Silent Civilian from LA. I had a week to learn their entire set and flew to LA, played the songs with the band one time through, and we jumped in the van and drove 30 hours to San Antonio and got there 30 minutes before our set of the first show of the tour. And I had to play another persons kit. Pulled that one off somehow too. It was INTENSE!!!! But had a total blast. Then we did 27 more dates after that.
Hobbies: One of my hobbies turned into my profession. I have been into cameras since I was 12. I am now a business owner and have been a pro Photographer for 8 years now. I shoot weddings, commercial work, lots of bands (Gojira, Cannibal Corpse, Hate Eternal, Chimaira, Metallica, The Absence, Skindred, Slayer and many others), lots of political stuff, and I have recently switched into video doing commercials and documentaries. I also Skateboard, Snowboard, play pool, rock climb (indoor only so far), play a lot of guitar, Call of Duty, shoot guns, golf, kettle bell training and other fitness endeavors. You have to be somewhat of an athlete to be a metal drummer. If you want to feel good every night you play at least.
Favorite movies: Star Wars, Indiana Jones, Back to the Future, Good fellas, Gangs of New York, The Aviator, Dark City, most food documentaries, Rocky's, Harry Potter is pretty sweet, Dark City, True Romance and every other Tarantino movie….and so many more.
Favorite food: Sushi. I cook a lot too. I have many favorite foods. I try to keep it as healthy as possible. Lots of vegetables, chicken, pork, fish, some steak here and there, rice, eggs, portabello mushrooms, zucchini and squash, and IPA's and Malbec wine. haha. Pretty much sums up an average meal day.
Favorite place: St. Augustine Florida……and Nice France. And Amsterdam.
Favorite sports or team: I was a Lions fan until Barry Sanders retired. Stopped caring much after Jordan. Ricky Henderson was my favorite baseball player. I'm still a Colts fan at heart.
What I'm listening to nowadays: Gojira, Alice in Chains, Duran Duran, Men at Work, Heiroglyphics, Jurassic 5, Tribe called quest, Pantera, Deftones, Boscoe France, Battlecross, The Absence, Cannibal, Wu-Tang, DJ Shadow, Black Keys, NOFX, Portishead, and SO many more.
Coolest thing I've done: Photographed Gojira's first Metallica show in Arras France, Shooting all the photos for the DÅÅTH album The Consealers, Shooting the photos for Cannibal Corpse's most recent record TORTURE, worked with Mitt , and just recently won Kevin Talley's first drum contest, snowboarded in Zermatt Switzerland, And played lots and lots and lots of shows.
Most embarrassing moment: I really don't get embarrassed. I just mess up and start laughing at myself.
Bad Habits: Cigarettes.
When did you first get some? Nunya! Ha.:
If you could meet a Rockstar (past or present), who would it be, and why: Vinnie Paul. Cause the dude rules.
Who do you love: Man. Pretty much anyone that has been a genuinely positive addition to my life. People that I know I can count on and that enrich my life. They know who they are. And of course, my Mom and Dad and sister and family, and my Dog Ollie. And my cat isn't so bad if she isn't peeing in my laundry basket.
What is some advice you can give to young players coming up: Just keep playing for fun. Keep it fun. Challenge yourself. Practice to a click track. Stay uncomfortable. by challenging yourself. Comfort and satisfaction kills an artists drive to create. Think outside the box. Be honest with yourself with your weaknesses. It's ok to not be as good as someone else. Focus on yourself. Identify what you need to work on and concentrate on it. Video yourself playing. Seriously. It's like athletes and boxers and fighters and their game tapes. They watch themselves play. Then, you can see what you look like and what your not playing correctly. It is very humbling to see yourself play for the first time. Your movements, the faces you make (which are pretty funny at first), and your mistakes. Making mistakes is normal. We are not computers. We are human. That is why a perfect performance is so gratifying. But mainly, keep it fun. Don't put a lot of pressure on music to make you money. Be good to music and it will be good to you. Don't make music a total party…..because 95% of those bands don't work out….or end up having to stop partying completely because it ruined their band or it just makes life harder. People don't want to hear a drunk person play. They want to hear a professional play. Your probably not gonna play your best if your hammered or hungover every night. Unless your Dimebag, which your not. Just be the best you can be, and things tend to work out. Oh yeah, and BE COOL. There are plenty of good players in the world to fill the gap. So if your a douchebag, you probably won't get hired even if you can play. And everyone knows that the guy on the internet forums hating and talkin' smack probably isn't a very good player. Don't be that guy. Because that guy never makes it past the keyboard typing their opinions.