February 2013 Articles
Cover Story
Kevin Gibson
Features
Eddy Metal
Columns
Berk Bryant
Mike Stout
Paul Moffett
Mike Suttles
Martin Z. Kasdan Jr.
Eddy Metal
Alexander Campbell
CD Reviews
Martin Z. Kasdan Jr.
Blogs
Got Shows?
Send Them To Us
Bookmark Louisville Music News.net with these handy
social bookmarking tools:
Available RSS Feeds
- Top Picks
- Today's Music
- Editor's Blog
- Articles
Add Louisville Music News' RSS Feed to Your Yahoo!

Issue: February 2013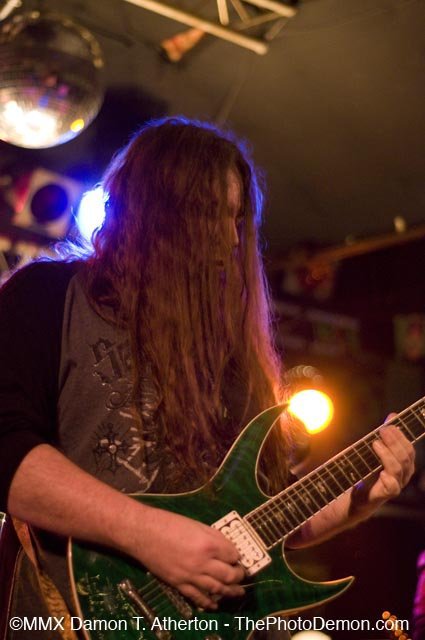 News From the Pit
Louisville Rock Scene's Second Wind
For such a dreary and usually quiet time of year, things are quite lively these days. Our music scene seems to be getting a second wind and is trying to come back strong. To those people that have contributed to this fortuitous turn of events, I salute you! We needed this badly. Hard times have fallen upon our once thriving music scene in the last five or six years, creating a virtual black hole out of which there was literally no chance anything good coming.
Promoter Terry Harper is promoting a bunch of shows for our Louisville original talent at The Vernon Club, a newer club that is pretty darn cool, and also at the new Diamonds Pub and Billiards location at 630 Barrett Avenue, which is another excellent venue where bands can rock out. I haven't played there yet, but I am looking forward to playing there soon, since I got both my bands back to kicking some serious butt. And, of course, the Phoenix Hill has a ton of original shows going on on a regular basis, since they now have an over-abundance of promoters booking shows there. Things are looking up for our rock/metal scene.
Not only are there a lot of shows going on, but a lot of bands are busy recording and getting their music out! It's an unusually busy scene for this time of year. But that is a great thing, because if it is this busy now, then imagine what it will be like come Spring and Derby time? I predict a fun 2013 for our original rock scene. We also have a bunch of national shows coming for your pleasure, both lighter classic rock and some heavier stuff, if you are up for an hour-and-a-half drive up to legendary metal club Bogarts in Cincinnati (see below in Metal Grapevine). Hopefully, Terry Harper will book us some badass oldschool metal shows for this spring and summer!
Although things are definitely looking up, I just wish a few other things would change for the better. One is that I wish "the music" was the important factor regarding which bands gets which shows these days. But that is not the case at all. Somehow it has devolved into a popularity contest, and the music doesn't seem to be as an important factor when determining such things. Now it's all about how many friends you can bring to the event.
It's a sad state in Louevil when terrible bands with inferior skills and equipment get opportunities they don't deserve, while those who excel at their art are left out. And that is exactly what is happening. It's all about 'da money' now! You could be a no-talent clown who plays on a super cheesy 30-watt combo amp (I've actually seen this used for a show) and if you have a ton of friends, then this is acceptable for a gig!! A top gig at that. It's fargin' retarded.
That, and I also wish people and bands would help each other more. I'll be honest with you, folks, I've been pretty angry about this topic for some time now. Bands nowadays seem only to care about themselves or only a certain clique they run with. I've been trying to get some gigs for both my bands and considering all the help I have offered others in the past (too many to list), we have been offered very few to almost no shows with other bands. And we have some darn good music, too. It's very discouraging and upsetting that people you have known a long time and have helped can't return a fargin' favor? It's not just me and my bands that I'm talking about either, it's the whole scene. Not enough supporting each other in general. I've seen some serious BS the last few years. Bands play a show and leave right after they play, taking the crowd with them, even telling the crowd to come with them. Bands insulting /disrespecting other bands. Douchebag moves like that!
So to all you rockers out there, please take my words to heart. We are in this sh*t together and will get nowhere acting this way. But together, working as a team, working together, great things can happen; heck, just look at The Lane Goodwin and Rock For Kosair Benefit'. So for your (belated) New Year's resolution, try to help out your fellow musicians a little more, "like" a friends Facebook band page, stick around for their set, be nice to bands you don't know, even have your friends stick around too, return some shows to those who have supported you, and even invite some ugly old dudes like me to play your show!
I can't really complain though. I've had some awesome shows in my day. Oh yeah! My band Year Of The Gun is back in action. We just played the New Year's Eve Bash at Phoenix Hill and tore it up! It's our first show in six months since we came back from a hiatus. We are rolling now and need some gigs, so contact me and we'll set up a "Gun Show!!!" I know. Cheesy! (I stole it from a scene in Anchorman with Will Ferrell. I love that flick.)
The Metal Grapevine
Create A New Name For My Column! Win $50!
It's been "News From The Pit" forever, but I feel it is time for a change. I've been throwing around a few ideas, but I thought I would give you fargers a say in this as well, since this column is all about you bastages anyway. If you have any ideas, please email me and let me know what's up. Think of something cool though. Something like: Louisville Rock Rant, The 502 Spew, Eddy's Metal Talk, Louevil Unleashed, Unsigned Xtreme, Metal Up Your Tater, etc. Be creative!! If I use your name, I'll give you $50. I know it's not a lot. But I'm a poor bastage and this is coming out of my own pocket, unless my boss Paul Moffett will up the dough (hint hint).
Molten Metal Erupts Once More at Bogart's!!! Down, Testament, Meshuggah, Cradle Of Filth, Overkill ALL Coming!
Bogart's is back to booking metal again, thank god. Here are several intense metal shows coming up; Down and Warbeast on January 30, Testament and Overkill on February 20, Meshuggah on February 21 and Cradle Of Filth and Faceless on March 20. Special thanks to Bogart's for bringing back the metal. I would be honored to once again travel there to see some live metal, and to review some more shows.
Italy's Lacuna Coil to Headline in Louevil on February 25: Wow. I'm totally stoked about this show!
This is one of my favorite bands. Italian gothic rockers Lacuna Coil are simply amazing musicians and songwriters, and whenever I've seen them I have complained that they did not have enough time to play on the packed bill of national bands usually on the high profile shows. Well It's looking like I might be getting my wish to see a longer more obscure set of material, including some older stuff ( that I really love), as well as new material off the new album Dark Adrenaline. Cristina Scabbia is without a doubt the best female rock vocalist out there. And she is super hot too! There is nothing about this band that I do not like. They are original and can write excellent songs. The double guitars are creative and very melodic. Not many bands have two lead singers ( male and female ) either! If you like gothic rock that is borderline mystical and yet still semi heavy, then by all means, do not miss this rare chance to see an unreal European rock/metal band that will blow you away, finally headline as they should be. The show is on Monday February 25 at Diamonds Pub & Billiards and will also feature local artists Poetry Of The Dead, Shines Negative & Unbroken Silence. The show starts at 7:30 and is $15 - $30.
DO NOT MISS THIS SHOW!!!
The Lane Goodwin Childhood Cancer foundation Benefit Results
Man, I totally planned on attending/covering this wonderful event for the newspaper, but several days in a row of bad heartburn had me laid low. Next year for sure! I got the lowdown on the show anyway and I'm happy to report that a very good deed was done for some people in need. On Saturday, January 12 the first annual Show A Thumbs Up For Lane Benefit concert was held. This event was created with the combined efforts of the Thumbs Up for Lane Goodwin Childhood Cancer Foundation (Thumbs Up Foundation) along with noNEG101, nonegNix founder Mr. "Positive" Frank Karaglanis. The two organizations came together to put on a great show at Diamond Pub and Billiards in order to help raise money for a great cause – funding to help support the Thumbs Up Foundation. The money raised (over $5000) will be used to help the organization get started so they can be a center for support for parents who have children with cancers. The organization will also raise money to help fund the research for a cure for childhood cancers.
The show had a great line up of bands that all came together in order to help support this great cause. Bands included Signal the Revolution, Code Red, Chase Allan, Cameron Jayne trio, Two Pump Chump, Zoo Kings, Manfred and Craig Neumann. No matter if you like country, rap, pop or rock, there was something for every one. Not only was there great live music, there was also a silent auction with great items donated from local and national businesses who came together for this great cause.
People from as far south as Tennessee came up to Louisville for the show. The Goodwin family, George and Angie Goodwin, were also in attendance. People were able eat and drink while enjoying live music at Diamond Pub and Billiards. Band members also enjoyed the night interacting with crowd during their performance or having conversations with the people in attendance. The shows host, Frank Karaglanis, is very grateful for all the support. Special thanks to Lissa Wight who had the vision that triggered the event from idea to reality. Also special thanks to Jennifer Osborne, Joey Brown, Jim Coyle who Emceed the event, Jared Mathews who donated the venue, and all the team lane helpers and all the wonderful bands that contributed to such a great and worthwhile cause.
Toy Tiger Reunion Again, Same Ole, Same Ole
I loved The Toy Tiger and many of the people at that legendary rock and metal club in Louisville history. I have the utmost respect for the club and its infamous history, but I have seriously got to get this off my chest. The people who run these reunions are nice older folk from an earlier era in The Toy Tigers history, and every time they have a reunion, it's the same darn thing almost: Fire Dept. plus other assorted cover bands from the fore-mentioned earlier era of rock in Louisville. My problem is that that music wasn't the only music featured at The Toy Tiger. My era is the nineties at The Toy Tiger. During those times the music scene in Louisville was a blast. It was a time when everyone prospered and went out to shows. Original music really came on strong and I seriously could not count the number of excellent shows that happened in that club. But, apparently that era is to be ignored and treated as if it never existed. To ignore the era of Louisville "original" rock/metal that included such historic Louisville bands as My Own Victim, Kinghorse, Flaw, Factor IX, MSD, Shattered Reality, Faceplant, Shapeless Matrix, Paglina, Drunk Monkey, Creed, Inhuman, Incursion, Luther, Superface, Engrind, Rathbone, Mindstorm, Kallus, False, The Revenants, E-Flat, Voodoo Machine, Dump Gang, etc, etc, should be a frikkin' crime. The list could go on and on. But for some reason The Toy Tiger peeps who book these shows will not acknowledge that era by having a Toy Tiger Hardcore Reunion. I booked many many shows at The Toy Tiger during the nineties and was a big part of the metal scene then (as a singer and promoter), and I'm telling you right now that some of these local metal shows are the only thing that kept the club going as long as it did when the cover bands started losing attendance. The Tiger was one of the first places I played, and it wasn't like the scene is now. Now the clubs in Louisville will let any moron off the street with a guitar play their venue or book a show. Some terrible bands get gigs! Back in the Toy Tiger days you had to earn the right to play there, or know somebody. I wish it were still like this in Louisville.
I owe so many good times and some of my best shows as an original musician to The Toy Tiger, so this topic really means something to me. One friggin' hardcore reunion show is all I'm asking. A tribute to all those bands, and hopefully a few of those bands could reunite for one night of Louisville metal history. What a great time that would be. I love and totally respect Fire Dept. and the great raunchy shows they put on (omg the partying!), but there was so much more to the Toy Tiger than just them. There are three generations that attended that wicked venue, and some recognition to the mid to late 90s era of Louisville music history would be nice. Because we rocked that mofo.
Musician Of The Month is
In February, we'll be featuring Joshua Napier, guitarist and vocalist of the Louisville pop band Talk Of Spring. I recently saw those guys and. Boy. was I impressed by their sound and skills onstage. They have come a long way and now sound better than ever. I had them on my show in January and boy did they sound great. I don't understand why this band hasn't taken off yet. They are young talented excellent songwriters who are a credit to this city's music scene. While I admit I do not know much of their musical style, there is no denying the talent within that band. Be sure to check out Musician Of The Month in This Issue!
Signal The Revolution lands cover story for March Issue of LMN
I will be writing a cover story for Louisville Music News in March Issue, and out of all the bands in this region I could have chosen, I picked Signal The Revolution as the band to look out for. These guys are making some noise and building momentum for something good. Hopefully the masses will pick up on one of Louisville's top bands, Signal The Revolution! Be on the lookout for March issue. This should be good.
Stonecutters News
Stonecutters will be entering the studio the first week of February to record a third full length album, entitled Creatio Ex Nihil. Release is set for April 2013 and will be available on CD and vinyl. I'll let you know about the CD Release Bash when I find out.
IIattatime Recording at EarlyGrayce
Louisville metal monsters IIattatime are currently hard at work on their six-song EP, due out in the near future. Two of the song titles are "Shapeshifter" and "The New Beat." You will have to wait for the rest of the titles! The guys are working with Jordan Haynes at EarlyGrayce Media. Jordan Haynes has quite the reputation for knowing how to properly record musicians. He has done some great work here in Louisville. So much in fact, that I'm going to contact him very soon about possibly recording one of my bands. Jordan has recorded several bands lately, such as Jovian, They Came Bearing Arms, Uh Huh Baby Yeah and Listen Listen Man. As well as the new EP, IIattatime will have new merchandise, too. This talented lineup should be crushing with Jordan recording them. I can't wait to hear the new stuff. I heard one of the guitar riffs the other day, and it's pretty brutal, yet intricate and skilled. I'll let you know when it hits the streets.
The Tri Tones, movin' on up
This three-piece impresses me more and more each time I see them. The rock solid drumming, the pounding bass and melodic vocals have all come together to form one interesting and hard hitting sound. They have a new song called "Vindicate" that really rocks, and is probably the best stuff I've heard them play. These guys are busy rockers and are moving up the ranks in this music scene. They are good decent people too, which means a lot in this day and age of egotistical A-hole musicians. My only complaint is that they need to upgrade their music gear a notch or two. If they did that? It would be beyond crushing. So if you like hard hitting music with soul and feeling, trust me, check out The Tri Tones!
Louisville Metal Veterans Return, as Nine
I just got a new local CD that I'm anxious to check out.
It's those wild-ass, crazy mofo's who used to be in Incursion. Those guys have been all but silent in the last year or two, which is not like them at all. Usually those guys are jamming in some sort of band or other. Apparently, they got sick of lounging around and formed a band called Nine. The band is: Van Avery on vocals, Jeremy Robertson on guitars, Eric Angelini on bass and Nik Houpt on drums. I'm throwing the CD in now! The first song is called "Seven." Wow. This stuff is pretty cool. It doesn't remind me much of their former band Incursion, as it has it's own identity. It isn't as heavy and dark, it's more groovin and has more feeling in my opinion. Van's vocals are wicked on this. The guy has come a long way from back in the day when it was all-out screaming nonstop. He has developed into an actual singer, with several styles thrown into one kalidescope of vocal talent. The high notes and screams mixed with the low growls are memorable and tasty. Nik is a beast on drums! Always has been. Dude is sick!!! I want this MF to lay down some drum tracks to some of my metal riffs. Ha! The guitars of Jeremy Robertson are thick and heavy, but not over-sludgy, like some of the old Incursion stuff used to be. Some of the time I could barely make out notes Jeremy was playing when he was in Incursion, but not now. It's crystal-clear and groovin as phuck. Jeremy must be getting mellower with age, as he seems to be more into the groove than ever before.
I'm digging this new change. "Crimson Ritual" starts out with some cool singing (yes, I said singing!) that I like very much, plus a slow, oldschool metal riff that cuts like a knife. Gone is the death metal doo-doo, replaced by emotion and power. Yes! Van's vocals are the best I've heard by him, by far.
This recording sets him apart as one of the city's top hardcore metal vocalists. Scary Uncle guitarist Adam Young recorded this CD at Van's house with rented mics and stuff, and he did an excellent job! Adam is one cool down-to-earth guy. I liked that guy from the beginning. I love how the guitar isn't near as intense as before but still hits a home run, regardless. I'm impressed and want to hear these guys live. Hopefully, I can get them booked on one of my shows soon. "She Will Smile" kinda of reminds me of Fear Factory and even some Burton C. Bell, which is a great compliment. Adam Young contributed some Middle Eastern-ish guitar lead on this track. I'm hearing some Morbid Angel guitar influence in "Taste Of Blood." The drumming in "I'm Not Sic (I Just Want To Kill.)" is just, well, sick!
My favorites on this demo are "Seven," "Lovelaced" and the entrancing "Crimson Ritual." I'm glad the guys have evolved into this music. It is an improvement in my opinion. In all aspects of these guys musical skills, vocals, drums, guitars. Now these guys have got to get their chit together soon so they can be playing out by spring or early summer. I will keep you informed on what the dealio is regarding their first show.
Overload's Pantheon Cd Release Bash
Louisville metal band Overload has a brand new CD that features eight thrashing metal-mad songs. It's entitled Pantheon and it will be released on Saturday, February 23 at Phoenix Hill Tavern. So get your ticket and check out Louisville's version of Lemmy Kilmister, Mark Jackson. He is an imposing figure up there going off on that bass, just ripping it up. The new songs include "8x8," "Distrusting Minute," "Frayed Threads," "Decade Gone," "God's Men" and "Prophets." the band recorded at Mike Taylor Sound, another heck of a good Louisville recording engineer/producer. Mike is real good on the heavier bands for some reason, so take note, you metalheads!
Year Of The Gun is Back
My band of Louisville veteran melodic rockers are back with original members after a six-month hiatus, and we are looking for a studio to record two songs. Such a rough decision, too. Having to choose between several great studios and choose which songs to record. It's stressful! Song's being considered are "Fallout," "Beautiful," "Lost" and "One More." We rocked new Year's Eve at Phoenix Hill for our first show back, and are now booking shows for March and April.
Hopefully, 2013 will be the Year Of The Gun!!! Ha!!! Cheese.
Uncle Sams Jamms owner Jeff Hillerich undergoes Brain Surgery
Everybody knows Gomez, ak.a. Jeff Hillerich, owner of Uncle Sams Jamms Music Store. Jeff recently underwent a minor form of brain surgery to repair some facial nerve damage that he has been having problems with. The Doctors had to drill a hole in his skull to do the work. Jeff's wife Pamela said that Jeff is doing great, is recovering and hopes to be back in the store in no time. Of course he will have to chill out for awhile and take it easy. You hear that Jeff? No wheeling and dealing at the store till you are better!!! Get better soon bud.
David LaDuke, Get Well
Any true oldschool Louisville music fan knows who David LaDuke is. He is an older gentleman and local musician who has supported our original music scene for many a year. He used to have a newspaper many years ago called Ballbuster Magazine that used to turn quite a few heads back in the day by supporting local rock and metal bands that no other publication would even think of supporting, and I loved the guy for that!!. I used to read it myself. He supported metal when hardly anyone did. David was an unselfish dude who wanted to help the scene as much as possible, and he did! David has had some recent health issues that have come to my attention. David had two brain surgeries in 2012 to try to repair a brain abscess. The two surgeries were a success, but there were some side effects from the second surgery that have turned his life upside down. David is slowly recovering, but it may take quite a while before he is back to the rock n' roll lifestyle. So till then, take it easy Mr LaDuke. And no headbanging or wailing on that guitar until you are 100% again!!!
Strip.m.ind502 Seeking Drummer
Louisville original rock veterans Stripmind502 are searching for a dedicated drummer who wants to play out and have some fun. These guys are darn good musicians so one of you lucky drummers should jump on this opportunity. Contact Kenny at 552-2424
Kid Rock Back, Again
On March 2 Kid Rock will be at the KFC Yum! Center again. Ha! I remember meeting Kid Rock at The Toy Tiger when he played there. He was a nice guy. I thought he was a greasy roadie though, instead of the main man Kid Rock. That surprised me. The man has got some serious talent and has made some noise in the music world with his no nonsense rap/rock/country style. I haven't seen Kid Rock in a long while, so it would be good to see how he has developed over the last nine years or so. This should be a popular show and should bring in a wide spectrum of people of all types. Rappers, rockers, metalheads, country rednecks. All want to see the Kid in action.
Fleetwood Mac Attack
This show at The KFC Yum! Center on April 11 has me interested. Back in my all-out metal day,s I used to make fun of this band like a jerk, but now that I'm older, wiser and much more laid-back I can appreciate this band for what it is: genius. I like several songs by them now, especially "The Chain."
I have never seen them in concert either, and I must hold a record for most concerts seen by a person in Kentucky. I would love to see guitarist Lindsey Buckingham in action, and to see if Stevie Nicks is as good as they say she is live in concert. I heard that on the movie School Of Rock. Even Christine McVie is back again for this tour. So this should be a special night for those fans of the Mac. If I can get free tickets I'm going to review this one for the paper for sure. It will be something different and cool for me.
Bon Jovi Stopping By
On March 14, Bon Jovi will be at the KFC Yum! Center for one night of Eighties rock n' roll hits. I just saw the band on TV at the 12/12/12 Sandy Benefit and they sounded real good. "Wanted Dead Or Alive" sounded especially good with the double acoustic intro and Jon doing the vocals this time (guitarist Ritchie Sambora does the vocals sometimes as well). I've never been a Bon Jovi fan at all (a few songs are okay I guess), but I had to endure all his hits over and over and over because I grew up at a time when there was no getting away from the man. I do like how he has helped the benefits so much and given much money and time and effort to helping people. That is a good person! And he still has the same band members I noticed (even the keyboardist with the fake long hair), so that is a plus, and should make for a cool Eighties flashback show for all of the diehard BJ fans out there. One thing is that you know that there will be a ton of hot females there, and that in itself might be reason enough to go check out these New Jersey rockers as they ride the recent wave of publicity and exposure regarding their career resurgence. Eighties rock isn't dead by a long shot, and it seems it's making a big comeback. Sweet!!!
The Who coming to Louisville
On Thursday, February 16 The Who will be making a stop on their Quadrphenia tour at the KFC Yum! Center. I have never seen The Who before and while it would be an interesting show to see, I don't think this show is quite up my alley. I'm sure that this show should do well with the older folks, though. After all, they are one of the great rock bands of all time. The band will be playing their album Quadrophenia in its entirety, plus a few few more hits from their career.
Upcoming Shows -
(I Cannot Print What I do Not Know, So Send Me Yo Chit.)
I had a guy contact me who was upset I didn't print his band's name on a certain show. I was never sent anything regarding this show except for one other band on the bill. I even contacted the band to find out the rest of the bands playing that night but I never heard back from them at all. So, people! If you want your shows to be printed in my column, please be sure to send me the darn thing. Don't count on someone else to do it. And please have all the bands on the show listed, so I can give everyone the exposure they need. I am a busy man, and don't have time to search for shows to print. If you want exposure for your event, then take a few minutes of your day and send it to me around the 19th of every month for the following month's issue. I will gladly help you bands in anyway I can, but I am not a prognosticator. I need to know when/where your band is playing, and who the other bands are that are playing on the bill. Send to Eddymetal1@aol.com
The Brick Alley (in Frankfort KY)
Saturday, February 2 – Shatter Messiah, Krosjoint and Bury The Wicked. 8 p.m.
Diamonds Pub and Billiards
(New Club located at 630 Barrett Ave.)
Friday, February 1 – Popkiss Chainsaw w/ 449, Jet Black Orchid, Six Foot Fall, Shape Shift, Chasing The End. 8 p.m. $5
Friday, February 8 – BoneJinn w/ Burning Babylon, Devil and The Darkness, Granshaw, Slit Throat Vendetta and Doomsayers Prophesy. 8 p.m. $5
Saturday, February 9 – Abominant w/ Littledidweknow, Esoteric Burial, Threads Of Sorrow, End It With A Shotgun and I Left Her Body In The Woods. 8 p.m. $5
Saturday, February 16 – Villebillies, Elephant Room and Signal The Revolution. 8 p.m.$10
Friday, February 22 – Ohlm, Sever This Illusion, Johari Window, IIattatime, Stagecoach Inferno and Dahmers Closet. 8 p.m. $5
Saturday, February 23 – Hurt Circle w/ Endeavor, Season at Sea, The Blue Soul Gypsies, Tree Meets Sky and Begging Victoria. 8 p.m. $5
Friday, March 8 – Drive By (featuring Blaze and Anybody Killa). 8 p.m. $15
Saturday, March 9 – The Flatliners w/ Arms Aloft, Nowhere Fast, Fast Friends and Put Up Your Dukes. 8 p.m. $10
Thursday, March 21 – The Bam Margera Experience w/ Fu*kface Unstoppable (feat members of CKY). 8 p.m. $20-$40
Dillingers in New Albany (formerly The Irish Exit)
Friday, February 1 – Po' Brothers, The Sundresses, Adventure, Majesty Upside $5
Saturday, February 2 – The Tunesmiths and Jack Holiday, and the Westerners $5
Friday, February 8 – Jason and the Punknecks and Anytime After Four $5
Saturday, February 9 – The Wild Feathers and TBA $8
Friday, February 15 – Dog House Kitchen $5
Saturday, February 16 – Riverboys EP Release featuring Ranger and TBA $5
Friday, February 22 – Local Villains' Vyie, Violet Knives, and Auto Defiance $5
Saturday, February 23 – Fifth on the Floor and Whiskey Bent Valley Boys $5
Headliners Music Hall
Tuesday, February 19 – Black Veil Brides w/ William control and Sacred Sorrow. 7 p.m. SOLD OUT!!!
Monday, March 11 – Circa Survive w/ Minus The Bear. 7 p.m. $20
Phoenix Hill Tavern
Friday, February 1 – Shatter Messiah (feat former members of Annihilator/Nevermore and Lexington's Pownd), Unleashed, Bury The Wicked and Rockaway Drive. Free before 9p.m. Only $5 after 9.
Saturday, February 2 – Taddy Porter w/ Filligar. 8 p.m. $10
Friday, February 8 – Quiet Hollers w/ Trophy Wives, Troubadours Of Devine Bliss, My Two Cents and Up&n.
Saturday, February 9 – Little Ozzy. 8 p.m. $10
Saturday, February 16 – Sunny Ledfurd w/ Two Far Gone. 8 p.m. $12 adv/$15 day, of show.
Saturday, February 23 – Overload's Pantheon CD Release Party. 8 p.m. $10
Friday, March 1 – Underwater, Year Of The Gun, Po Brothers, Some Kind Of Saint and The Mad Taxpayers. Free before 9p.m. Only $5 after 9.
Saturday, March 2 – BallistiX CD Release Party. 8 p.m. $10
Union Station
Saturday, February 2 – Sever This Illusion w/ Judgement, Devil And The Darkness, Dahmer's Closet, I Left Her Body In The Woods and Threads Of Sorrow. 8 p.m. –
Saturday, February 23 Louie's The Local Guy's Birthday, Bash w/ Deliver Us From Evil, Krosjoint, Tri Tones, Creature Of Exile, Burning The Bridges (Nashville). 8 p.m. Sharp.
The Vernon Club
Friday, March 1 – I See Stars w/ For All Those Sleeping, Capture The Crown, Get Scared and Ice Nine Kills. 6 p.m. $15
Saturday, March 2 – Let Live w/ HRVRD, Night Versus, Conditions, Rescuer. 6 p.m. $12
Friday, March 15 – Thousand Foot Crutch w/ Love and Death (featuring Brian "Head" Welch formerly of Korn) and The Letter Black. 7 p.m. $18
Wicks Pizza (Goose Creek)
Friday, February 8 – Band Battle w/ The Tri Tones and others TBA. 8 p.m.