February 2013 Articles
Cover Story
Kevin Gibson
Features
Eddy Metal
Columns
Berk Bryant
Mike Stout
Paul Moffett
Mike Suttles
Martin Z. Kasdan Jr.
Eddy Metal
Alexander Campbell
CD Reviews
Martin Z. Kasdan Jr.
Blogs
Got Shows?
Send Them To Us
Bookmark Louisville Music News.net with these handy
social bookmarking tools:
Available RSS Feeds
- Top Picks
- Today's Music
- Editor's Blog
- Articles
Add Louisville Music News' RSS Feed to Your Yahoo!

Issue: February 2013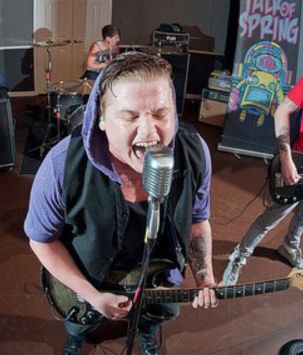 Joshua Napier
?>
Name: Joshua Napier
Age: 22
Instrument: I sing, play guitar, piano, bass and produce.
Band/Former Bands: I've been in Talk of Spring for little over 4 years now. I use to do an acoustic solo project under my own name.
How long on instrument: Been playing guitar and singing for longer than I can remember and started messing with production almost a year ago. As far as everything, else I started messing around with it after joining TOS.
Equipment: Whatever guitar I feel like playing, I have a Gibson Les Paul, a Gibson sg, a couple of strats, and a few acoustics. I play through my Egnater mod 5
Influences: I guess it's whatever I hear or see. Life has been the greatest influence I could ever have and with being ADHD, I just never know what to think about. So my brain is in a million places at one time. I'll be doing one thing and completely be thinking about something else. I try my best to let everything that happens to me in life be an influence in everything I do.
y first gig: Bulldog Cafe, opening for Audio At War and Kinsey.
Hobbies: I guess I just do whatever is thrown at me. I'm a pretty open person. You never know what opportunities can await you behind what is presented by the people and situations that come in life.
Favorite movies: I love Scream, anything Seth McFarland writes is pretty genius as well. I love a lot of movies that I grew up with like Tommy Boy, Ace Ventura, The Mask. Or movies that can make me think like SLC Punk, A Scanner Darkly, A Clockwork Orange.
Favorite food: I love Mexican food.
Favorite place: My favorite place is my man cave.
Favorite sports or team: Go Big Blue!
What I'm listening to nowadays: I've been listening to all the stuff I remember hearing in the 90's lately and modern classical music.
Coolest thing I've done: I loved going up to record in Chicago. We drank a lot of Slurpees, walked around Michigan Avenue and hung out. The food there was just amazing as well. I also took breaks and would go skate at this park underneath the Kennedy expressway. Even after it was freezing, I busted my ass on ice a million times, and got two parking tickets I still love Chicago.
Most embarrassing moment: I really don't get embarrassed much, but there was one time when I was on a cruise with Scotty, Jake, my paps, and a couple other friends. Well one of the days at sea ,we all were getting in the hot tub and my dad and our friend Shane waited till Jake, Scotty, and I got in then they took of there trunks, only to be wearing Speedos then got in with us. It was pretty funny.
Bad Habits: I have this bad habit of always tapping especially when it's quiet.
When/where did you first get some: When I was 18 in my car after watching Yes Man.
If you could meet a Rockstar (past or present), who would it be, and why: Definitely Frank Sinatra, I mean could you imagine partying with Frank Sinatra?
Who do you love: I love everyone, because they all influence my day in one way or another. I don't have hate for anyone because it's way too exhausting.