February 2013 Articles
Cover Story
Kevin Gibson
Features
Eddy Metal
Columns
Berk Bryant
Mike Stout
Paul Moffett
Mike Suttles
Martin Z. Kasdan Jr.
Eddy Metal
Alexander Campbell
CD Reviews
Martin Z. Kasdan Jr.
Blogs
Got Shows?
Send Them To Us
Bookmark Louisville Music News.net with these handy
social bookmarking tools:
Available RSS Feeds
- Top Picks
- Today's Music
- Editor's Blog
- Articles
Add Louisville Music News' RSS Feed to Your Yahoo!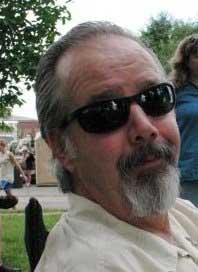 I've Got A Mind To Ramble
Keeping The Blues Alive with Jimi V. & Screamin' John
Twenty years ago the blues scene in Louisville was as hot as a Luther Allison guitar solo. There were more talented bands than you could list on three hands. More blues joints then than eve, where you could see live blues damn near every night.
It was around this time that Jimi Vallandingham (Jimi V.) and John Hawkins (Screamin' John) got together and formed a band that is still rolling strong in these parts, The Predators. Jimi had just gotten out of the rock and roll band he was in, The Hammerheads, and John was between gigs when they met up at Phoenix Hill one night. The conversation went something like this; Jimi: you want to get a band together? John: Let's do it. Jimi: It's got to be a blues band. John: That's the music I want to play, too. So began a twenty-year odyssey in the blues.
Asked how they came up with the name for the band, Screamin' John tells the story. "Tim Krekel had a band, The Procrastinators, at the time. One night I mistakenly referred to them as The Predators. Someone told me I had called them the wrong name, so I just kind of thought that I liked the name and stored it away to use as my own."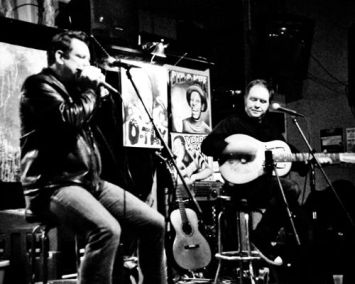 Jimi V and Screamin' John
When they got started, there was no problem finding a place to play. All of the members of the band were well-known rock and rollers, so people immediately gravitated to see them. Both say that it was odd to play blues songs in rock bars but they kept at it and very soon were playing in the blues bars around town, and bringing the rock crowd with them. Pretty soon The Predators were a mainstay in town and remain so today.
Jimi and John got into the blues through different avenues. Jimi was drawn to the harp and wanted his biggest influence, the late Jim Rosen of da Mudcats, to teach him how to play. He learned his lessons well and has become a force to be reckoned with. I was a judge at The KYANA Blues Solo/Duo Contest when Jimi V. and Screamin' John won the whole thing and earned a trip to Memphis for the International Blues Challenge. After the contest, I told Jimi that I could hear him invoking Rosen's sound and from his reaction it was obvious the reverence he held for Jim. Another of his influences was Lester Butler, the frontman for The Red Devils, a band out of Los Angeles. Jimi said, "I loved his attitude and sound. Actually, our band probably took our attitude about playing the blues from them."
John grew up in a household where his Dad played a lot of music. Ricky Mason was a friend of his Dad's and taught him "the Chuck Berry lick" on the guitar; he was hooked and on his way. When asked for blues influences, John said there were a lot of them but he spoke about how it was the local guitar players that were his biggest ones. The aforementioned Mason, Greg Martin, Steve Ferguson and Curtis Marlatt were the ones he talked about. As a teenager, John would go to the jams at The Rudyard Kipling and it was on these nights where he developed his hard-edged sound.
When asked where he got the nickname, John said it just sort of happened when he would go to the jam at The Rud. John Hawkins morphed into Screamin' John out of respect to Screamin' Jay Hawkins. "Pretty cool name and it's me. It fits me."
About three years ago, Jimi and John decided to branch out as a duo and Jimi V. & Screamin' John were born. Shortly thereafter they won the solo/duo contest that sent them to what both agree was the best experience in music they have had, the IBC in Memphis. Neither had any expectations of doing well that week. They not only did well, they made it to the semi-finals. That is indeed some real heady stuff. It put them in the upper echelon of solo/duos in the world. When asked how they did it, both accredited it to rehearsing, playing some original songs and having the set timed down to the second.
In both The Predators and their duo work, what stands out are the songs they play. They play some originals and strive really hard to choose songs that are off the regular blues playlist. You won't hear any "Mustang Sally" or "Sweet Home Chicago" out of these guys.
While most people would classify the band's sound as blues rock, I think it's better than that. I'm not a fan of blues rock and at one time would have agreed with that description, but over the years, I've come to appreciate and love their sound. It is grounded in the backbeat of the drums and bass but if you listen closely you'll hear the melodic side of the harp and guitar come through. A set of music from the band starts out coming like a train right at you and they never let up. Jimi stated that they like to bring it every set with hardly a break between songs. That was exactly what they did at October's Garvin Gate Blues Festival. Numerous people told me that their set was the best one they heard all weekend. That was quite the complement, considering the level of talent at the festival. Both of the guys said they were pumped up about playing the gig beforehand and didn't want to quit because they were so on fire and having a ball.
When asked what the future holds for the band and duo, both want to explore doing more original songs and continue to play the blues. That is a blessing for this town.
They both have other musical interests but when it comes right down to it, the conversation at the band's beginning says it all. "It's got to be a blues band. That's the music I want to play, too." We even ended our conversation just like you would expect from bluesmen. "Want to do a shot?" We did and toasted the blues.
Blues Night at Hoopla's Bar
A few months ago, the guys at Expo Five and DC Productions decided to start offering blues music at the venue on 7th Street Road. The first show probably couldn't be classified as successful. After taking a few months to rethink the approach, they are now ready to get it started again.
Blues Night at Hoopla's Bar at Expo Five will once again try to keep the blues alive by offering what is hoped to be a monthly blues night. They are getting things off to a roaring start on two Saturday nights in a row in February. On the 16th, Lamont Gillispie and 100 Proof Blues, fresh from their appearance at the IBC in Memphis will play and the next week on the 23rd, blues stalwarts da Mudcats will take over the stage. Appearing with da Mudcats will be blues matriarch and former singer with the band, Susan O'Neil.
These guys are serious about giving the blues their due and want to do something about it. They have stepped up to the plate and given all of us a great venue to hear the music we love.
If you truly care about the blues, then you need to get out to these shows. There will be a $3 cover charge and Hoopla's is an intimate setting off to the side of the large hall. Each band will play three sets from 8:00-12:00. Looking forward to seeing all of you there.