December 2012 Articles
Cover Story
Kevin Gibson
Features
Eddy Metal
Columns
Berk Bryant
Mike Stout
Paul Moffett
Djinn Shockley
Nelson Grube
Martin Z. Kasdan Jr.
Eddy Metal
Alexander Campbell
Blogs
Got Shows?
Send Them To Us
Bookmark Louisville Music News.net with these handy
social bookmarking tools:
Available RSS Feeds
- Top Picks
- Today's Music
- Editor's Blog
- Articles
Add Louisville Music News' RSS Feed to Your Yahoo!

Issue: December 2012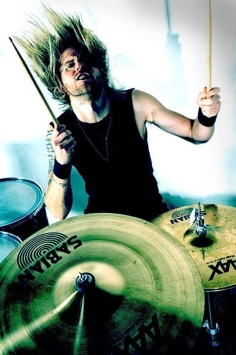 Justin Bush
Name: Justin Bush (they call me "Bush")
Age: 28
Instrument: Drums
Band/Former Bands: I'm currently drumming for four. I joined the band September 1st, 2012. I am the oldest in the band (by far), so I usually have to put those kids in their place when they piss me off. They also call me "Gramps" because of this. I formally drummed for Cameron Jayne & 86 Black, Rose Island, and Daybreak. I always look at my former projects as great stepping stones that have allowed me to grow into the musician I am today. 449 has truly been an amazing opportunity for me. Not only have I been blessed with an awesome band, but awesome brothers as well. I've never had such a connection, on and off the stage, as I've had with these guys. I feel very lucky for this, because I know this is hard to find.
How long on instrument: I've been playing music since the 5th grade. I started with the trumpet but once I picked up a pair of drumsticks in the 6th grade (11 years old), I knew that was the instrument for me. One of my favorite drumming memories is practicing in the house, in the kitchen while my mom cooked dinner. The only rule was I had to play her favorite music!
Equipment: I play a Yamaha Rock Tour 5-piece kit. I use all Sabian cymbals. 14" AAX hats, 18" & 19" AAX Crash, and a 20" AA Rock Ride. My favorite sticks are Vic Firth 5B sticks.
Influences: There's one guy that stands out to me the most when I see the word "influences"... Dave Grohl. The energy he brings to the stage is just so intense and, honestly, I believe that for anyone that wants to be successful in a rock band, you've got to do nothing less than to leave everything on the stage. I feel like that if I don't do just that at every show, then I'm wasting my time.
My first gig: My first gig, I think, was when I was It was actually my 16th birthday at my parents' house. We had a bunch of friends and family and the band consisted of my aunt and myself, we called ourselves "JUST-IN TIME". Even though it was at my parents' place, in front of friends and family only, it was my first time playing for a group of people. Needless to say, there weren't any mosh pits or anything. But, it still ROCKED!
Hobbies: I grew up racing motocross. My parents would take me racing on the weekends through my teenage years but I decided to do a little less of the racing about four years ago, mainly because broken bones started becoming a bit too expensive. Love me some Playstation. I'm either playing Call of Duty or MX vs ATV Alive. I enjoy doing some graphic design work on the side. I'm usually making the flyers for the band.
Favorite movies: Wedding Crashers, Dodgeball, Dumb & Dumber. I honestly don't go to the movies much. It has to be a pretty appealing movie for me commit to the theater. Yeah, I know...lame. I'm weird in that regard.
Favorite food: I'll eat just about anything but I'd have to say it's a toss-up between Mexican, Italian and McDonald's. It's hard to beat the number 3 at McD's!
Favorite place: I pretty much love to be near a beach, anywhere. Gulf Shores, in particular. I grew up with my parents taking my brother, my sister and me down there almost every summer. Lots of good times there. It's been a few years now, so it's about that time again.
Favorite sports or team: I'm a CARDS fan! I'm not too big into sports games. though. Sports racing catches my attention more than sports games. Motocross, for example. Being that I was around racing a lot growing up, that's usually what sparks my interest more than any other sports. I do like watching the NFL as well but don't really "have a team". I just enjoy watching it.
What I'm listening to nowadays: I'm pretty hooked on Halestorm these days. Those guys and gal straight up ROCK! I do usually like to turn on some Foo Fighters and Pearl Jam. I also like to listen to Sirius Octane a lot while in the car just to mix things up a bit. Nothing like the imaginary drum kit while driving!
Coolest thing I've done: The coolest thing I've done would probably have to be when I road my Honda Shadow Sabre from Los Angeles to Washington, DC in 10 days back in 2008. The best part about the whole thing is that it was all about raising awareness for POW-MIA of past and present wars. It was a real honor to be able to participate in something like that.
Most embarrassing moment: I'm not sure if this is the absolute most embarrassing moment in my life, but it's definitely the most embarrassing that I can think of at the moment. Back in 2003, when I was playing with Daybreak, I was 18 or 19 years old. The rest of the guys (kids) were about 16. Anyway, we were a fairly new band and we were playing a show in Oldham County at a place called Twice Told. We went through a song or two and everything was going great...but not for long! I count off the next song and as we were playing, something sounded seriously not right. 5 to 10 seconds into the song, we all stop playing. We then heard the lovely sound of crickets. Yep, my dumb ass was playing a different song from what the rest of the band was playing. So, for all you kids out there that are reading this...PAY ATTENTION TO YOUR SETLISTS AND YOU WON'T SCREW THE REST OF YOUR BAND OVER! Needless to say, I learned a big lesson the hard way.
Bad Habits: My name is Justin and I'm an iPhone-aholic. I get the shakes when I can't check Facebook or text messages every 5 minutes. Speaking of which, I just heard a "ding"...
If you could meet a Rockstar (past or present), who would it be, and why: Dave Grohl. Period. His raw, in-your-face rock n roll style and talent is what I strive for everyday. I've got a tattoo on the inside of my right forearm that says "Like It's Your Last". Which means, perform every show as if it's going to be your last moment doing what you love. When I see Dave Grohl performing, I can see "Like It's Your Last" on his face. That's what I love about the guy.
Who do you love: First and foremost, I love my wife and my whole family. They are the reason I'm successful in music and in life. My parents have always let me make my own choices in life growing up and they've supported me during those choices. Many good...some, maybe not so much, but they always had my back and were there for me. My amazing wife is unbelievably supportive of my dream of making music for a living. I know I can drive her crazy with all of my "music talk" and constant communication between the bandmates, but she has embraced me regardless.