June 2012 Articles
Cover Story
Kevin Gibson
Features
Eddy Metal
Columns
Berk Bryant
Mike Stout
Paul Moffett
Djinn Shockley
Mike Suttles
Martin Z. Kasdan Jr.
Eddy Metal
Alexander Campbell
CD Reviews
Kevin Gibson
Blogs
Got Shows?
Send Them To Us
Bookmark Louisville Music News.net with these handy
social bookmarking tools:
Available RSS Feeds
- Top Picks
- Today's Music
- Editor's Blog
- Articles
Add Louisville Music News' RSS Feed to Your Yahoo!

Issue: June 2012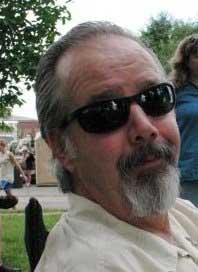 I've Got A Mind To Ramble
The State of the Blues in Louisville
I took a few days off of work during Derby Week so I could partake of some of the festivities. I'm out on the road working most of the time, so I don't get a chance to see live music around town as much as I would like. These few days would give me a chance to check out a couple blues shows. On Wednesday, I traveled down to The Chow Wagon to see da Mudcats and then later that evening I went to Gerstle's to see Lamont Gillispie's Harmonica Showdown, featuring Lamont, Rick Cain of the Kingbees and Eddy Weigleb of The Travelin' Mojos. I was one of maybe five or six people at The Chow Wagon who came just to see da Mudcats (there were 20-30 people eating and hanging around) and then there were less than a handful of folk who came to see The Harmonica Showdown.
I was very taken aback by the lack of fans attending these terrific shows. Couldn't get over it. It got me wondering about the state of the blues here in town.
The KYANA Blues Society is the driving force for the blues in these parts. I had a long conversation with Gary Sampson, the president of the society, about his perceptions on the topic. The society itself is stronger now than at any time in its history. There are between 475-500 members at any given time. Compare that with the 125 they had in 2005 when Sampson got involved.
There are more blues festivals now than in any recent history. The Germantown Festival is in its third year. The Water Tower fest is now mostly blues. The Garvin Gate Blues Festival has been back for five years after a ten-year absence, drawing crowds as large as it did in the Nineties. Other festivals in the region draw large crowds.
The society has had two of its entrants in the International Blues Competition make it to the semi-finals in the last two years. Their annual birthday party in November brings in a very large crowd to see a national act. The weekend after Derby, there were at least four or five national touring acts playing around town and in the surrounding area. Nelson Grube, a society member, says there is a rebirth taking place on the blues scene. He points to a new CD by Lamont Gilispie and 100 Proof, the festivals being well attended, and the emergence of Louisville band Little T & A.
All of these examples would seem to point to a very positive blues scene in Louisville. There is always another side of the story. Sampson is concerned about the lack of clubs that feature the music. There are a few that have blues bands now and then. Stevie Ray's Blues Bar, the torch bearer of the blues around town for a long time, is changing their format and now features other types of music as well.
I asked Gary if he thought there were any "real" blues bands left, bands that don't stray from the blues for R & B, blues rock or rock and roll. He named Tarnation Blues Band and River City Blues as bands he felt didn't get away from the blues. Even the most revered bands in town don't strictly play the blues any more. Some of my favorite bands throw in some songs that aren't necessarily blues. Maybe it depends on your definition of what blues music is. I cannot give you one but I do know when I hear the blues and when what's supposed to be blues isn't.
Louisville musicians have felt the scene ebb and flow. Larry Ferguson feels part of the problem is that young people are getting away from live music and, in particular, from guitar music. Susan O'Neil, who recently retired her band Blue Seville, thinks that there has to be an infusion of young people who are turned onto the blues. "All of the core blues fans around town are getting old and don't get out as much," Susan offered. She also thinks there aren't as many blues bands as there once were. Lamont has been looking for more places out of town to play, as it is getting harder and harder to land gigs. Rick Cain is fairly optimistic. He says that when shows are well-publicized, they are well-attended. On the other hand, he laments the fact that a lot of the bands are "playing the same old generic, overplayed songs." When bands do get a gig, they are getting paid the same thing they were years ago.
That being said, there are a couple younger people playing the blues around town. Mississippi Adam Riggle (featured in a recent issue of this newspaper) and Jimmy Davis from Madison, Indiana come to mind.
Here are my thoughts on the subject. The scene is lagging. It may never reach the heights it once achieved. That doesn't mean it won't or can't be a vibrant one. The blues crowd is getting older without much influx of young people, black or white. There do seem to be fewer bands that play "the blues." Not enough clubs feature blues bands. With the exception of weekend shows, radio stations do not feature blues shows in prime listening hours. Most bands play the same old, same old instead of playing their own songs. I mean, how many more times do you have to hear "Sweet Home Chicago"? Crowds don't get out enough. I know I don't. I am vowing to get out more when I am not away from home. All of us need to do the same thing.
I would be remiss if I presented a problem without identifying solutions. What can be done to enhance the state of the music I love?
There has to be a strong, viable "Blues in the Schools" program. It has to be across the spectrum, involving all grade levels from kindergarten to college. Young people need to be exposed to the music at a young age. I envision a program that requires all music and history teachers to incorporate the blues into their curriculum. Elementary students should be singing field songs and learning the history of our country's music. You could move it up a notch when they entered middle school. Choruses need to have the music as part of their repertoire. Once the students reached high school, history and social studies classes need to join with the music instructors to ramp it up even further. Universities need to ensure that there are classes designed to further the cause. The schools then have to involve local musicians in the program. I realize that this has been done before but never to the degree that I'm suggesting.
Local radio stations have to step up to the plate as well. One or more of them must feature the blues during prime listening hours. Even more importantly, one of the stations that caters to young African-Americans need to join the fight. There needs to be a huge effort to reengage the blues as part of their culture.
Our world has become so laden with technology that it has driven a lot of young people away from live music in general and blues in particular. The blues scene needs to become more active in that world. Bands need to have webpages and sites on social networks (kudos to da Mudcats who just recently added a page on Facebook and Lamont and 100 Proof have had a page for a while). Can anyone say Blues App?
The scene in town is far from dead but I'm afraid it's dying a slow death. All of us blues lovers must work together to save it. What can you do?