June 2012 Articles
Cover Story
Kevin Gibson
Features
Eddy Metal
Columns
Berk Bryant
Mike Stout
Paul Moffett
Djinn Shockley
Mike Suttles
Martin Z. Kasdan Jr.
Eddy Metal
Alexander Campbell
CD Reviews
Kevin Gibson
Blogs
Got Shows?
Send Them To Us
Bookmark Louisville Music News.net with these handy
social bookmarking tools:
Available RSS Feeds
- Top Picks
- Today's Music
- Editor's Blog
- Articles
Add Louisville Music News' RSS Feed to Your Yahoo!

Issue: June 2012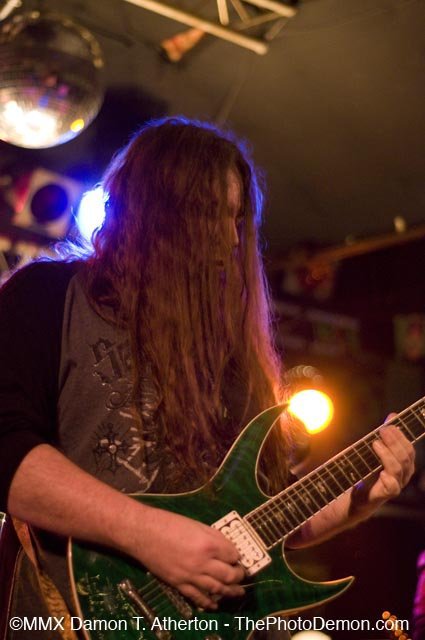 News From the Pit
Derby Ruled; On To The Summer Jams~!!! (I'll try to keep up in my wheelchair)
Summer is in full swing now and things are really heating up.
Derby was a blast! I went to the Derby and lost big. I didn't see one set of boobs. Fifty dollars to get in, and no hooters? I'm outraged. Our group did have a lot of fun, though. We saw some guy packing around a blow-up doll that he introduced as his girlfriend and some douchebags hacked up our beloved 420 bush. R.I.P.
Leaving the track after the Kentucky Derby was a nightmare! I was packed in like a sardine can, with about 200,000 people arm-to-arm. A sea of drunkards, and I was quite buzzed too! Not good at all. I was getting claustrophobic, and almost jumped the fence and said "f**k it!"
Concerts, concerts, concerts. We have a bunch of sweet concerts coming to town and the outlying regions, so if you are all about the shows then you are in luck. (see below)
The local scene seems to be doing a little bit better, too, thank god. There for a while it was positively stagnant. I recently had the distinct pleasure of being able to play the Phoenix Hill's big Derby Eve all-night bash, outdoors, opening for national recording artists LIT, and boy, what a cool show/time that was. I have been wanting to play one of the Hill's infamous outdoor national shows on the big stage for a long time now, and we (Year Of The Gun) finally got our chance. We had a blast rocking for 500 or 600 people, and the Lit guys and crew were very cool, indeed.
I would like to thank the Phoenix Hill Tavern for the opportunity to play such a cool and high-exposure show. It's great that they give unsigned artists the opportunities that they do. I have seen them use Louisville talent so many times it's uncountable. Sure, they could find other semi-nationals to open, but they give regional original musicians the chance to shine, and for that we should all be grateful. One of my bands has been trying for a while to get a national show like that, and I admit to getting frustrated seeing opportunities for national opening gigs pass us by. It's a vicious dog-eat-dog game when it comes to opening for nationals. Bands have to be on their A- game! When it finally does come to you, you get a bit over-excited. Ha. It took a long while, but I'm quite happy with the results!
I've been trying to get my band in the Hard Rock Cafe too, so I contacted the guy in charge and he seems like a cool dude. Hopefully we can get in there soon. Once upon a time, I was anti-4th Street Live, but I'm older, wiser and a bit more tolerant now that I am getting up there in years. Sometimes I don't take change very well. I admit it.
Alas, it's time to wake up and smell the coffee. Chit or get off the pot. Times are a'changin. and we older guys gotta get with the program or end up left in the dust. I thought since my bands are comprised of a bit older Louevil musicians that maybe that was the reason we didn't get opportunities like we would like to get.
Heck, one hater has been telling anyone who will listen to his BS that I am over the hill and way past my prime. Duh. When you hit 42 you will be past your prime too, pud.
Oh, well, everyone ages! I don't feel 42 and that is what counts. I still feel like a horny nineteen-year-old, and I'm not giving up on my music. I urge you older rockers who love to play to NEVER give up!!
A few years back, I thought I'd never play music again, and now I'm opening for nationals and playing music that came from my heart and soul. The truth is, I would be happy playing to 20 people.
I don't ask for much. Just a little respect and an ear to make bleed.
Nope. Sorry to all you haters, but I've still got some kickass music/shows left in me and I'll be rockin' this beeyatchee till I can't physically do it any longer. The owner of Louisville Music News, my boss Paul Moffett, is 67, and he plays music (guitar and vocals) out every week, and does Flamenco dancing and a number of other activities. Ask him if you think people should quit jamming at an older age!!! He would probably Flamenco spin you into a speaker cabinet, and then serenade you on your way out to the ambulance on the stretcher.
Don't mess with us older rockers:)
The Metal Grapevine
Bands-Venues-Promoters!!!
I'm not fargin' Nostradamus, nor am I Edgar Cayce, or Merlin the fargin' magician. I cannot print what I do not know. Send me your showdates/band news/events and I will hook you up. That is what I am here for. But you got to reach out and let me know what is up. I'm a busy bastage these days and sometimes I need help/reminding. So if I mess something up, I'm sorry!
I'm doing my best trying to keep up!! So cut a man some slack:)
But you lazy mofos have got to step up and get your info to me better/on time. Ha ha.
BEER!!! BEER!!! BEERPHEST!!!
Do you just wuuuuuvvvv beer? I know plenty of folks who do, especially my band members in Krosjoint! Anyways, if you love beer as much as they do, then you might want to attend Phoenix Hill Taverns first Annual Beerphest on July 7. It's a plethora of beer, brewed right here in our own little hamlet, and from far beyond. Raspberry, orange, lime, ales, darks, lights, they got it all, in two ounce samples of over 100 beers from over 25 different American and foreign breweries! They also have games, live music, food trucks, and beer seminars to educate your hillbilly butts on the fine art of suds making. The Hill has a heck of a night planned for you. Buy a ticket and you get to sample a chitload of beverages. Make no mistakes, You will be hammered.
And the Hill even has a designated driver option for those who do not want to risk a DUI. Very thoughtful of the people at Phoenix Hill. A darn good idea. Tickets are $35 in advance, and $40 day of show. And an extra $20 adv/$25 day of show gets you a ride home safe, and it benefits Wayside Mission, a great organization that helps our city's homeless.
I'm not a big drinker, but this sounds fun! I'm going to have to check this out. Can you imagine the hangover the next day?
It's almost like when I was judge for the infamous Chili Cookoff. Seventy different types of Chili were in my innards. Double Ugh.
Iron Maiden And Alice Cooper, Live in Indy
Thursday, July 19 at the Klipsch Music Center in Noblesville, Indiana, two titans of metal will converge upon the masses for one rare and rockin' event.
First of all, Maiden doesn't tour around here very much at all, if ever! If you love Maiden as much as I do, then you will bite the bullet and get your ticket to see these British metal legends in action!
The soaring vocals of Bruce Dickinson, the mean guitars of Dave Murray, Adrian Smith, and the bass god Steve Harris, and the insane drumming of Mr Nicko McBrain. How can anyone pass that up?
These guys are getting up there in years, so this might be your last opportunity to see these walking legends in action. Oh yeah, Alice Cooper is opening. Alice plays Louevil so much, maybe he should just move here. Ha. Get your tickets now! How can you not support Maiden?
L.A Cult-Metal MALICE Returns Almost 25 Years On
This is a special review for me, as I am one of the early LA metal scene enthusiasts and a cult follower of this legendary metal band. I used to ride around in my '77 Camaro Rally Sport. blasting Malice throughout the neighborhood while a cloud of smoke escaped out the window. I turned those Lynyrd Skynyrd-listening fools into LA Metal aficionados.
Once upon a time in the early/mid Eighties, Malice made some serious noise and had a formidable lineup of top-notch musicians. Unfortunately, the band failed to achieve the superstar status that other LA metal bands did, but they definitely left a mark in the metal world, a cult mark, if you will.
Malice was formed in 1981. They played the LA club scene and had a great following. playing their type of classic metal, comparable to Judas Priest. I admit I am a huge Malice fan, and have both of their full-length albums. To me, a metal authority, the two albums License To Kill and In The Beginning were two albums that should be in every oldschool metal head's CD collection. Malice's music is very early Eighties sounding but not in a cheesy way. They managed to bring some exceptional talent to the thriving LA metal scene in a time when most bands were all about the look rather than the music. Malice had excellent chops and wrote great songs. Guitarists Jay Reynolds (formerly with Metal Church as well) and Mick Zane were unholy on guitar and worked so well together that it almost brought tears. Their solos cut through your heart and ripped out your very soul. It was very emotional and moving playing. Malice's singer, James Neal, was an all-out vocal god. His recorded tracks are simply unreal. Neal's voice was super high-pitched and could reach heights other singers only wished they could achieve. Neal's vibrato technique was superb. His voice still gives me chills twenty-seven years later.
They also were part of the first legendary Metal Massacre sampler in 1982; indeed, they were the only band with two songs included. Malice toured in the US, Canada and Europe with bands like Alice Cooper, WASP and Slayer. The band's most memorable gig was in 1982, in Los Angeles at the Troubador Club. The support act was an unknown band called – Metallica. Talk about historic!
The Return: Malice decided to reform and cut an album with Steamhammer/SPV and bring back some true metal to the masses. They decided to re-record several tracks off the two albums, and add four new songs as well. Unfortunately James Neal was unavailable, so they enlisted former Helstar vocalist James Rivera, and former Black N' Blue drummer Pete Holmes.
James Rivera is another vocalist who kicks much ass. I first became a fan of James Rivera when he with the band Destiny's End. I loved his work in that band and have both albums (I wore them out!). I even traveled 100 miles to see them in Cincinnati with Iced Earth. (That was the night that I had a fist-fight with Iced Earth's guitarist Jon Schaffer.) Destiny's End blew the headliners away that night. Anyway, James and Destiny's End were great people. He even hugged me when we left that night. Super cool people.
James has the high-pitched vocals that were needed to recreate some of the earlier Malice classic songs like "Godz Of Thunderz," "Circle Of Fire" and "Against The Empire." Not just any singer can pull off some James Neal vocals, so finding the right guy was imperative. Malice got tight again as a band and played some shows in 2011 that went very well. So they went into the studio to record New Breed Of Godz.
The result: I am excited as heck. I get to review new material that isn't even out yet from a band I grew up to. It don't get much better. The title song sounds great and is one of the new songs. There are some nice guitar harmonies going on in the track and Rivera sounds better than ever. The chorus reminds me of Iron Maiden a little. "Hellrider" is smokin' too, but the effects on Rivera's vocals seem a bit cheap-sounding and maybe a hair overdone, especially the delay. A bit to much on the repeats maybe? The music is killing though. Definitely heavier this time around.
"Against The Empire" kicks ass. I think I might blow a musical nut! Ha. Rivera is awesome on this one! Very good recreation. "Branded" is another new track. It reminds me of Destiny's End a bit with the galloping riff. The guitar solo is wicked and has a wonderful tone with a fat chorus on it. I would have maybe ended it a bit earlier, though. Not bad, but not as good as the Eighties material. "Sinister Double" sounds decent but Rivera's vocals on this one are throwing me and my female guest off a bit. It's not that they are bad vocals , it's just that I've listened to the original track so long that I have come to expect Neal's ultra-highs every time. Rivera does things a bit different on this version. One of my favorites, "Circle Of Fire," starts out with a different beginning. Once again the vocals are throwing me off. Rivera is in a lower octave than the original. I don't like the change. You can understand the words much better with Rivera, though. The lead guitar in this wails. The music rocks. Rivera's vocals on "Stellar Masters" is better, maybe because the notes aren't as high. "Winds Of Death (Angel Of Light)" is a new ballad that sounds good, and so does Rivera. Great chorus and lyrics! Go James! Ha.
This is like "No Haven for The Raven" Part Two!!! Hell, yeah. I like this song the best so far of the new music. It's not heavy but there is feeling and emotion. And that is what gets me. A memorable track. I'll be singing this one for days I'm sure. "Air Attack" starts with an added air raid siren not on the first album. Very good! Rivera does good on this one except when he chooses to bypass the ending high notes in the verse. "Chain Gang Woman" rocks! I love how Rivera says Nasty. Cool.
I friggin' love this song. I sometimes change the words to "Gang Bang Woman" though. Rivera does great on this one, too. This is sweet. "Slipping Through The Cracks" is a cool new track that has a "Vigilante"-type feel that I like. Every song doesn't have to be heavy as hell. This is my second favorite new track! I like the bass-oriented grooves Mark Behn has going on. The bass stands out in this one.
"Godz Of Thunder" is the last song. The music is pounding. Good quality recording at Silver Cloud Studios in LA.
Alas, once again the vocals fall short of the original recordings. The notes in this song are not matching the originals. They are in a lower vocal range. Rivera was playing it safe. I would be too if I was expected to recreate that chit. I would be a nervous, stressed, worrying MF. But let's be honest; listen to Malice's "Gods Of Thunder" or "Circle Of Fire" on Youtube, and you will see that for anyone to recreate that singing accurately to the "T," you would have to find a fifteen-year-old-boy just out of opera training school with an unreal octave range that can break glass, or put someone's scrotum in a vise and squeeze till they hit the note. And then only maybe! As much as I love Rivera, he can only do so much these days. We Eighties rockers are getting up there in age, and 90% of the time, vocal skills go a bit downward as one ages. So considering everything I've said, James Rivera did an amazing job. I've always liked his vocals and I think it's a great fit for Malice.
There were only a few moments when the lower octaves put a damper on my recollections.
The band sounds killer. The guitars on the album are just as expected - badass. The new additions of guitar alterations work well, so well that I am willing to drive a few hundred miles to see them live when they go on tour. I'm going to talk to their people and see if they can stop here in Louisville. I can probably get them on at the infamous Phoenix Hill Tavern. But only if my band Krosjoint opens!
New Breed Of Godz comes out June 19 in the USA. It's already out in Europe.
IIattatime, Louevil 's Deadly Sin- to Open For Shadows Fall On June 2
IIatatime (pronounced two-at-a-time) is a death metal/hardcore band from Louevil with some very experienced musicians in it. Guitarists Lance Arny (Flaw) and Tim Edwards (CNWD), drummer Andy Russ (who also played guitar in Flaw) and vocalist from hell Todd Tripton (Caldera). These guys are opening for Shadows Fall at Phoenix Hill Tavern on June 2, so be there at 7 p.m. to see some seriously brutal Louevil musicians let loose. I'm listening to their new demo right now and OMG, it friggin' wails. "Memiors" makes me wanna jump up and sidekick someone in the forehead. The guitars are super down-tuned, sludgy and fat and grinding. The chorus is awesome. The low vocals and high melodic solos cut through. I love the way Lance Arny plays guitar. He use effects to get some great classic sounds. He has done that for almost twenty years, though. He has made it an art form. I'm going to have to pay that mofo to come over here and set my guitar rig up right. I bet he would have my gear sounding unreal. The vocals of Todd Tripton are nothing like he used to do. He has improved 900%. These vocals in this music are the best he's ever done, by far. Very good death metal vocals, indeed. You've heard of Pig Vocal style right? Well Todd does that and more. He is all over the place. I'd now have to say that Todd is the "Premier Death Metal" vocalist in town. Usually death metal vocals grind on my nerves, but these are classy somehow and notes are being achieved. Lance Arny's guitar solos work very well with the low-tuned, heavy-ass rhythms, especially the higher melodic notes over the low. The drumming of Andy Russ is sick. I always knew him as a incredibly talented guitarist, but I had no idea he was this good on drums.
I'm impressed by this recording from Earlygrace Studios. Jordan Haynes has gained a reputation for making bands sound great and he has done that for these guys. "The Dead Flamingo" is instantly grinding and killing pretty much all the way through. No pretty choruses in this one. It's all business. The stops on guitar are cool. These are some of the lowest tuned guitars I've heard I think. It does have a super-fat sound. I like the slower drums with heavy riffs. Not all drums need to be 100 miles an hour! This proves that well. A good effort from a hellacious metal band from here. I think come June 2, these guys are going to rip it up when they open for internationally known metal band Shadows Fall. Don't forget, be early for IIattatime!
New Band Alert, Johari Window:
Johari Window is a new band that kills. Comprised of vocalist/keyboardist Connor Hill, guitarists Michael Morgan and Dylan Hammond, bassist Nick Garing and drummer Chris Doty, I recently got to see them for the first time and I was impressed. These guys are young and talented and have a fat sound that would satisfy any true metalhead. It's a hardcore, thrashy sound with a modern hint to it. The guitars were killer and I loved their tone. Finally, a band with awesome guitar tone. (I'm picky as hell about guitar tone!) The music is chock-full of intricate technical riffs that suck you in. The vocals of Connor Hill are raw and brutal. He has some serious metal vocals and does some singing, too. I love when vocalists mix it up. The screams aren't too overboard like some metal vocals are. Right when I think the Louevil metal scene is dead, these guys show up and kick some butt. I predict good things from these guys! If you love the brutal stuff, you should check out Johari Window. I'm checking out a track called "Coup D'Etat" and it's pretty good. I liked them live better though. The band was very tight and had a good crowd for going on first. The drummer is sick. The time for Johari Window is now and you should seek them out.
You can see JW next on July 27 at Phoenix Hill Tavern. Be there!
Slayer, Anthrax, Slipknot And More At The Rockstar Mayhem Festival on July 24:
Are you guys ready for a show that will surely pummel you into submission? If so, get your tickets to see this monster of a show this summer at Riverbend in Cincinnati The lineup is Slayer, Anthrax, Slipknot, Motorhead, As I Lay Dying, Whitechapel, The Devil Wears Prada, Asking Alexandria and High On Fire. This is an all-day rock concert from hell that I highly recommend. These Rockstar Metal Shows are off the hook. The sound there is awesome!
Thank god Rockstar has the balls to pull off a concert this brutal. My hat goes off to them and LiveNation for making this happen. Do not miss this!
Dream Theater coming to Cinci:
Fans of prog rock/technical rock/metal should take note of this: one of the most talented bands in music today is coming to The Taft Theatre in Cincinnati on June 25. If you love unholy blazing guitar riffs, soaring high-pitched, vibrato vocals, and unbelievable keyboards and drumming, you should not miss this show. I have never seen them before and would like to possibly attend this musical feast. Get your tickets now! This might sell out.
Kiss and Motley Crue Coming:
Yes, it's true. These two classic rock juggernauts will be coming to Louisville at the KFC Yum Center on August 1 and also outdoors at Cincinnati, Ohio on August 31 at Riverbend. I've seen both in concert and they put on a good show. A theatrical show. No one does that better than Kiss, a childhood favorite of mine. Later I got into Motley Crue! Yeah, I saw both bands in their heyday, so I know what I'm talking about. It's messed up to think that wild azz Motley Crue is classic rock now.
Anyways, Riverbend is a great place to see a show like this, so get your ticket ASAP, as this will sell out.
Hint from Eddy: Word is that there is a ton of money going into the stage show, so this should be something special.
Journey, Pat Benatar and Loverboy to play Kentucky State Fair:
When I first heard about this show, set for Friday August 1y at the Fair, I kind of laughed. This is an oldschool Eighties show to the max, that most young people wouldn't give a damn for, I'm thinking. I've never seen any of these bands, so that would be kind of cool I guess. No Steve Perry with Journey, but the little Filipino guy, Arnel Pineda, they got to replace him is pretty darn good, maybe even better, so it probably won't be so bad, I bet. I always liked Pat Benatar's voice, but I had no idea she still toured and did music. That could be interesting. She used to be super-hot back in the day, and a mega-star with numerous hits. Her voice made the hairs on my arm stand straight up, in a good way. Oh yeah, and she never lip-synched like these chumps do in today's music. She would probably rather be run over by Sally Struthers than to do that lame crap. Pat has an amazing voice. I would like to hear her sing.
And last but not least, Loverboy. Laugh all you want, but the fact is Loverboy had some darn good songs! I admit I like quite a few of them, so farg off! Only because my older sister growing up listened to them 900 times a day, and her room was next to mine, and she had a bigger stereo than I did. It was an all-out music war at the Burke household, with KISS coming from my room, and Loverboy coming from her room. Dad must have been overwhelmed by teen music. My sister would swoon over a picture of Loverboy's singer Mike Reno. Anyways, hearing it over and over got to me, I was starting to like Loverboy. Oh no! So yeah, this is an Eighties cheese show, but it should be good fun and will take you back in time to another era. A fun and free era when life was much easier and carefree. Sounds good to me, sign me up!
On a side note; I just checked out some recent Loverboy footage on Youtube and they sounded great, vocalist Mike Reno sounded amazing. His voice hasn't changed one bit.
Def Leppard, Poison and Lita Ford Coming
On July 2 at Riverbend in Cincinnati, some Eighties rock titans will be paying a visit. We all know Def Leppard kicks butt in concert. I've done two DL show reviews, and both were awesome. I would see them again, just to see the guitar masters Phil Collin and Vivian Campbell in action once again. What a thing to behold. Badass musicians.
I've never seen Poison, so that would be cool. Just to say I saw them. Ok, fine, I do like a few of their songs. There, I admitted it. Be happy. I like "Look What the Cat Dragged In", "I Won't Forget You" and maybe a few more tunes! And Lita Ford is a darn legend.
Having once been in The Runaways, then doing her own thing and having a Smash Hit w/ Ozzy in "Close My Eyes Forever." Everyone loves that song. How could you not?
Anyways, this seems like a fun time for sure. A trip back in time to 1986. So take your Eighties-rock-loving rumps up to Cincinnati to one of my favorite outdoor venues to see a rip roaring good rock show!
Enjoy your summer, Eighties style.
Upcoming Shows
The Bank (in New Albany)
Saturday, June 30 – The Tri Tones. 9 p.m.
Bluegrass Brewing Company
Saturday, June 2 – Audio Addiction. 8 p.m.
Expo 5
Wednesday, June 6 – Yelawolf. 8 p.m. $20
Saturday, June 9 – Benefit For a Fallen Soldier, featuring Meanstreak and others TBA. 7 p.m.
Wednesday, July 4 – Tech N9ne w/ Krizz Kaliko, Mayday, Prozak, Stevie Stone, Big Smo, Bukshot. 7 p.m. $28
Friday, August 10 – Attack Attack, We Came As Romans, Woe Is Me, Abandon All Ships, Texas In July, In Fear And Faith, Secrets, Glass Cloud, At The Skylines. 4 p.m. $22
Gerstle's
Saturday, June 16 – Season at Sea w/ Listen Listen Man (featuring former members of Intheclear). 9 p.m. $5 21+
Gilbert's Bar and Grill
Saturday, July 21 – Ted Stryker reunion show.
Irish Exit (New Albany IN)
Friday, June 1 – Stripmind502, Bury The Willing, Deadstandstill and Threads Of Sorrow.
Headliners
Thursday, June 28 – Dieselboy w/ Bare and Mark Instinct. 9 p.m. $20
Saturday, June 30 – Eye Empire w/ Underwater and TBA. 7 p.m. $10
Mojo's (in Frankfort, Kentucky)
Friday, June 22 – Shatter /Messiah, Cains Rage and Krosjoint. 8 p.m.
Phoenix Hill Tavern
Friday, June 1 – Original Rock Showcase with Underwater, 16 Bones, Year Of The Gun and The Tri Tones. Free before 9pm.
Saturday, June 2 – Shadows Fall w/ Trumpet The Harlot, Howitzer and IIattatime.7 p.m. . $15
Saturday, June 8 – Lotus Blake, Field Of Kings, Carey Murdock, Violet Knives, Robby Cox, and also featuring local artists and live Tattooing by White Ink Art and Tattoo Shop. 9 p.m.
Saturday, June 16 – Boba Flex. $12 8 p.m.
Saturday, June 23 – Metal Meltdown w/ Johari Window and Prices On Our Heads.
Friday, June 29 – Dressed In Electric, Chakras, Out Of The Ashes and 16 Bones. 9 p.m.
Friday, July 6 – Original Rock Showcase with Bonejinn, Some Kind Of Saint, Krosjoint, Johari Window and TBA. Free before 9 p.m.
Vernon Club
Wednesday, May 30 – Smile Empty Soul. 7 p.m. $12
Saturday, June 2 – Anybody Killa w/ DJ Clay. 7 p.m. $12
Wednesday, June 13 – Anberlin 7 p.m. $15
Saturday, June 16 – Glass Cloud 7 p.m. $10
Wick's Pizza (Hurstbourne)
Saturday, June 9 – Unleashed. 9 p.m.